If you're a business owner or marketer, you know content creation can determine your success in this ever-changing digital world. The demand for high-quality content has never been greater. For some, producing well-written content requires hiring a full-time employee or freelance professional to craft your messaging. Thanks to generative AI, there's a new and more cost-effective way to create meaningful content – AI copywriting tools.
In this post, we'll provide insight into our picks for the best AI copywriting tools money can buy. Let's get started.
What is an AI Copywriting Tool?
An AI copywriting tool is a software application or platform that uses artificial intelligence (AI) and natural language processing (NLP) to assist people with generating written content. These platforms are trained on large data sets to understand every aspect of the writing process, including short and long-form content. AI copywriting tools are used in various ways, including generating headlines, post outlines, and webpage copy, and can assist with more common tasks like spelling and grammar checks.
8 Best AI Copywriting Tools in 2023

Subscribe To Our Youtube Channel
As technology evolves, AI copywriting tools pop up like weeds in a garden. Therefore, it can take thorough research to determine which ones are worthy of consideration. Thankfully, that's why you have us. We've taken the time to research dozens of tools to help you decide which is right for you. So, without further ado, let's dive into our top picks.
The Best AI Copywriting Tools Listed In Order
Expand List
1. Rytr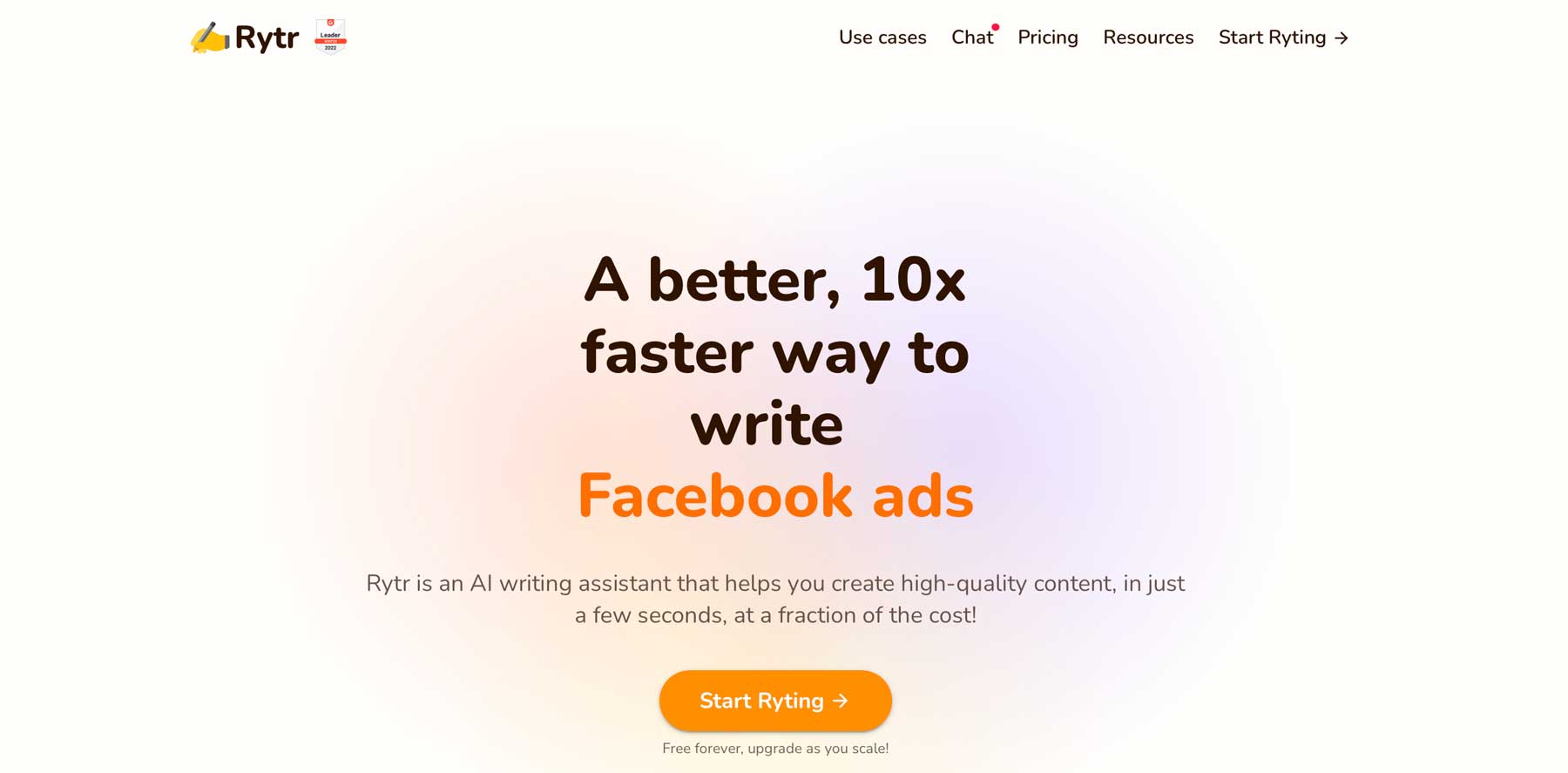 First on our list is Rytr. It's one of the more affordable entries on our list and is packed with features. Like many other AI writing software, Rytr is built on OpenAI's GPT-3 model. Its user interface is simplistic, making it one of the easiest tools to master. Despite its bare-bones interface, it offers several great writing tools, including rephrasing existing content, writing new content, a grammar checker, and a plagiarism checker.
Key Features of Rytr:
Write, rephrase, and run grammar and plagiarism checks
Simple yet effective user interface
Support for nearly 40 languages
Create custom use cases

One of the biggest benefits of Rytr over its competitors is the ability to create custom use cases. In addition to templates for blogs, sales pitches, call-to-actions, social media ads, and more, you can create a custom use case template. This allows users to train Rytr's AI to write in their style. In addition, Rytr comes with a text-to-image tool that will enable you to add images to your content without using another software.
Best For:
Rytr is an excellent option for those looking to incorporate an AI writing tool on a budget. It's an affordable option with multi-language support, allows you to create your own writing style, and offers tons of templated writing styles to boot. To get the most out of Rytr, you'll need to sign up for a paid plan, which starts at $9 per month. If you want to use Rytr to generate more than 10,000 words a month, you'll be best served by signing up for their unlimited plan, which will run you an affordable $29 per month.
Pricing: Free, with paid monthly plans starting at $9.
2. Jasper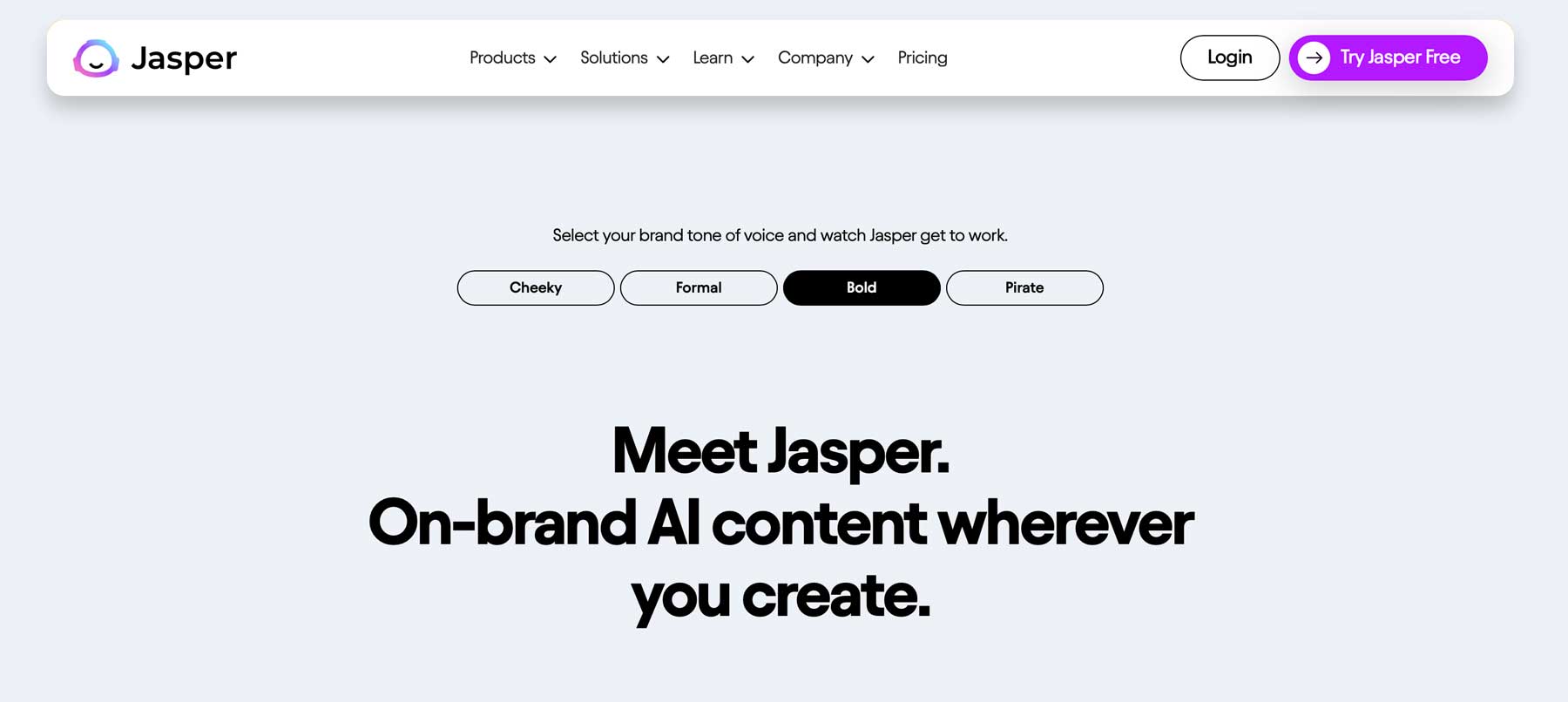 Coming in second on our list of best AI copywriting tools is Jasper. A big player in the field, Jasper has many tools to make the most novice user sound like a pro. With brand voice, you can provide links to the original content you've created, and Jasper will help turn it into a template that writes content based on your unique writing style.
Key Features of Jasper:
Create a brand voice
Over 70 content templates
Jasper chat for generating ideas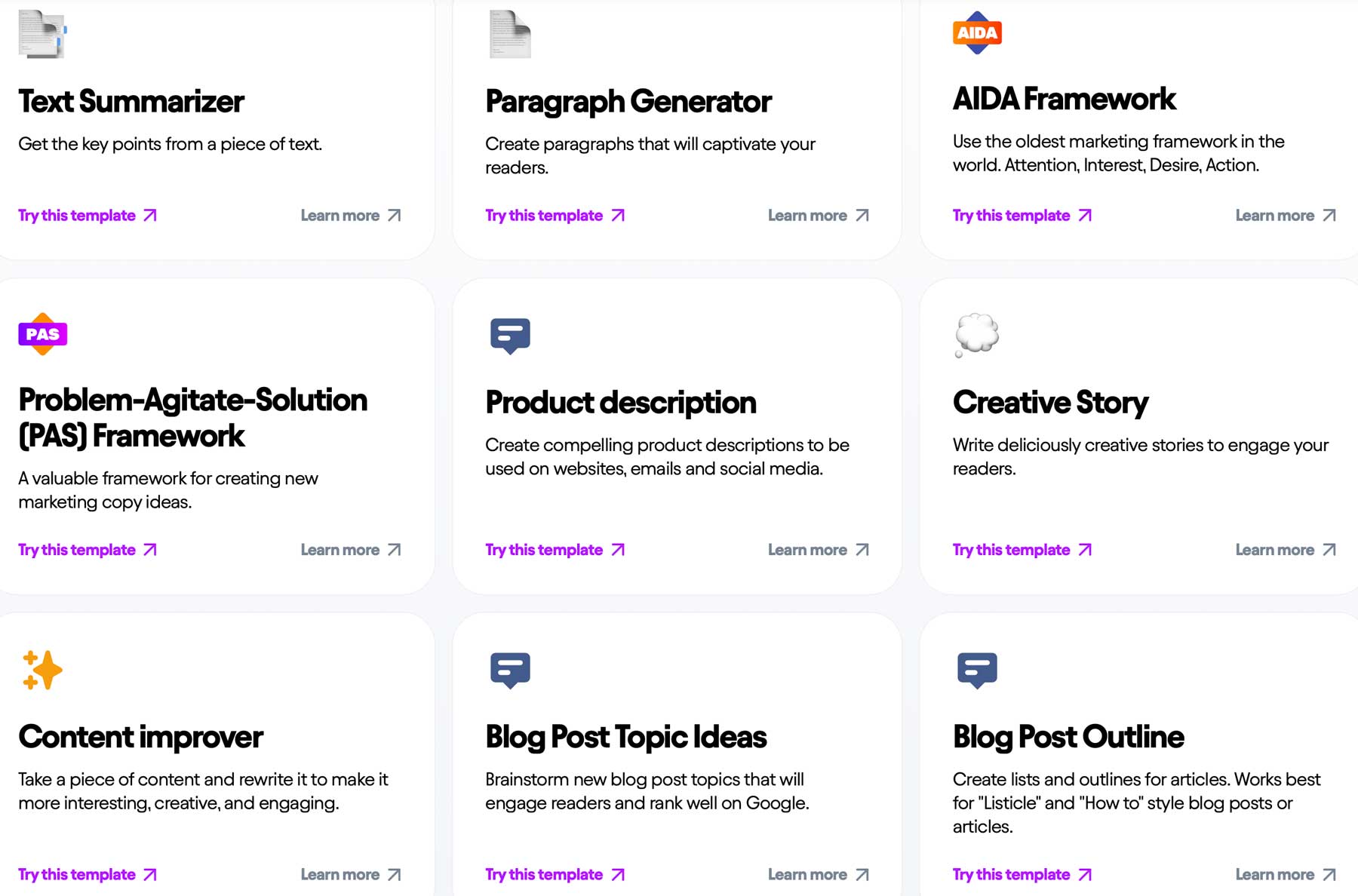 Another awesome feature of Jasper includes Jasper chat, which allows you to ask questions, have dialog, and spark writing ideas. Additionally, Jasper is king when it comes to templates. With over 70 content templates to jumpstart your writing, creating content for your blog, website, or social media is fast and easy.
Best For:
If you're looking for a multi-functional AI writing assistant to improve your writing, Jasper could be for you. With the ability to create a voice based on articles you've written and over 70 content templates, Jasper has much to offer. That said, Jasper is on the pricey side. If budget is a concern, we suggest trying Rytr.
Pricing: Plans start at $39 per month.
3. Copy.ai

Up next is Copy.ai. Like Rytr and Jasper, Copy.ai is based on the GPT-3 writing model. However, there are a couple of features that help it stand out from its AI copywriting tool competitors. The first of which is Workflows. This allows users to streamline the copy-creation process with facts-based, AI-powered tools. For example, when creating a new article, you can use Workflows to search a subject, identify competitor keywords, and then write content based on that information.
Key Features of Copy.ai:
Boost SEO with custom Workflows
Save relevant information in the Infobase for reuse
Create a brand voice to keep writing styles similar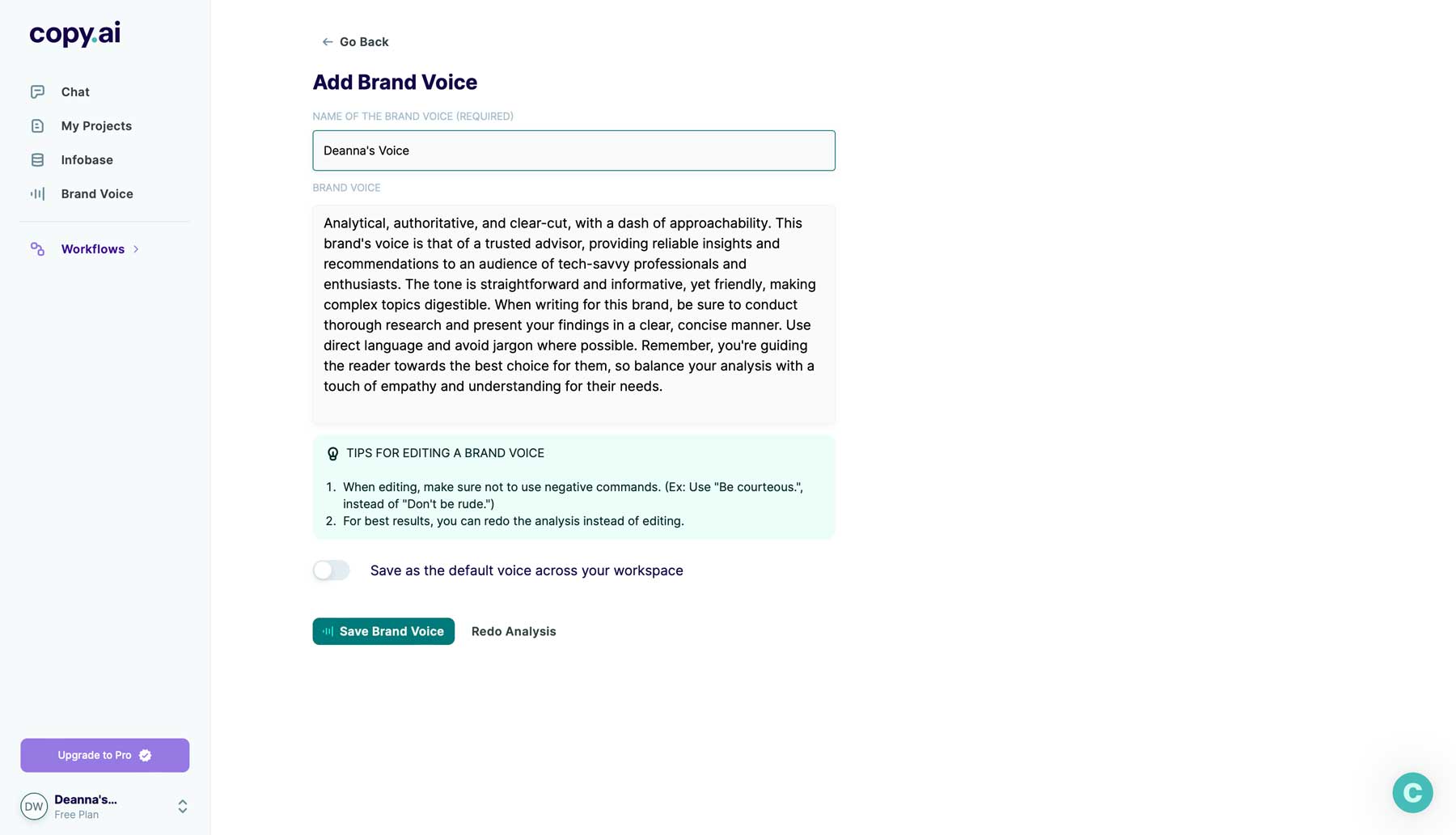 Another useful feature of Copy.ai is Infobase, which allows you to save relevant content for use in your writing projects. It works by adding content you wish to reuse, naming it, and calling on it during the writing process with a hashtag. There's also brand voice, which allows you to paste content you've written in the past and then generate a writing model based on your writing style.
Best For:
If you're a writer looking for a free AI copywriting tool to conduct keyword research on a budget, then Copy.ai is an excellent choice. With direct internet access, you can research your competitors and turn that knowledge into SEO-driven copy. It offers a free tier with 2,000 free words per month, so those just starting can use it as a tool to help grow their brand.
Pricing: Free, with paid monthly plans starting at $49.
4. Writesonic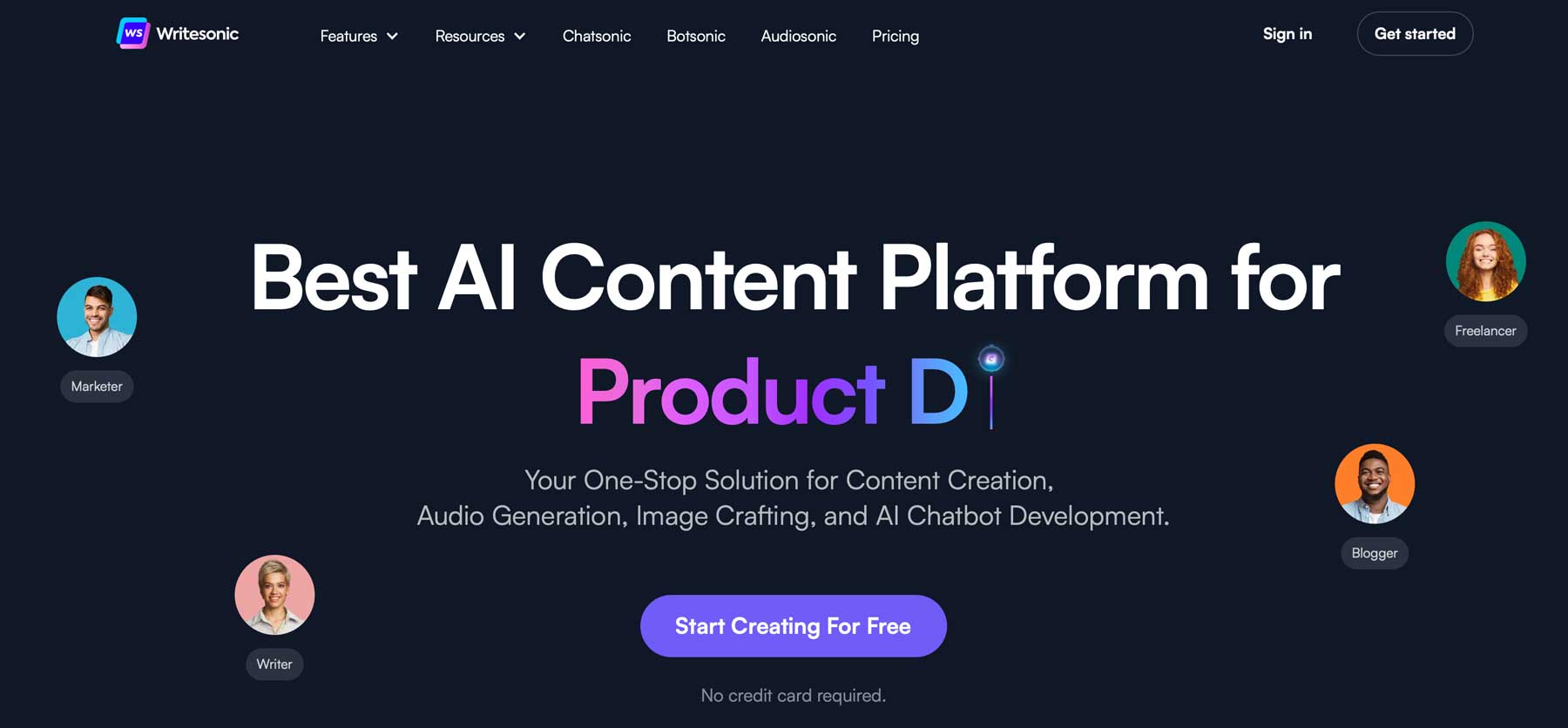 Writesonic is an advanced AI copywriting tool that helps you create all types of content, including blog posts, landing pages, product descriptions, and more. Based on our experience, Writesonic has one of our list's most natural-sounding AI algorithms.
Key Features of Writesonic:
Landing page generator
Create blog post outlines
SEO copy through a keyword suggestion tool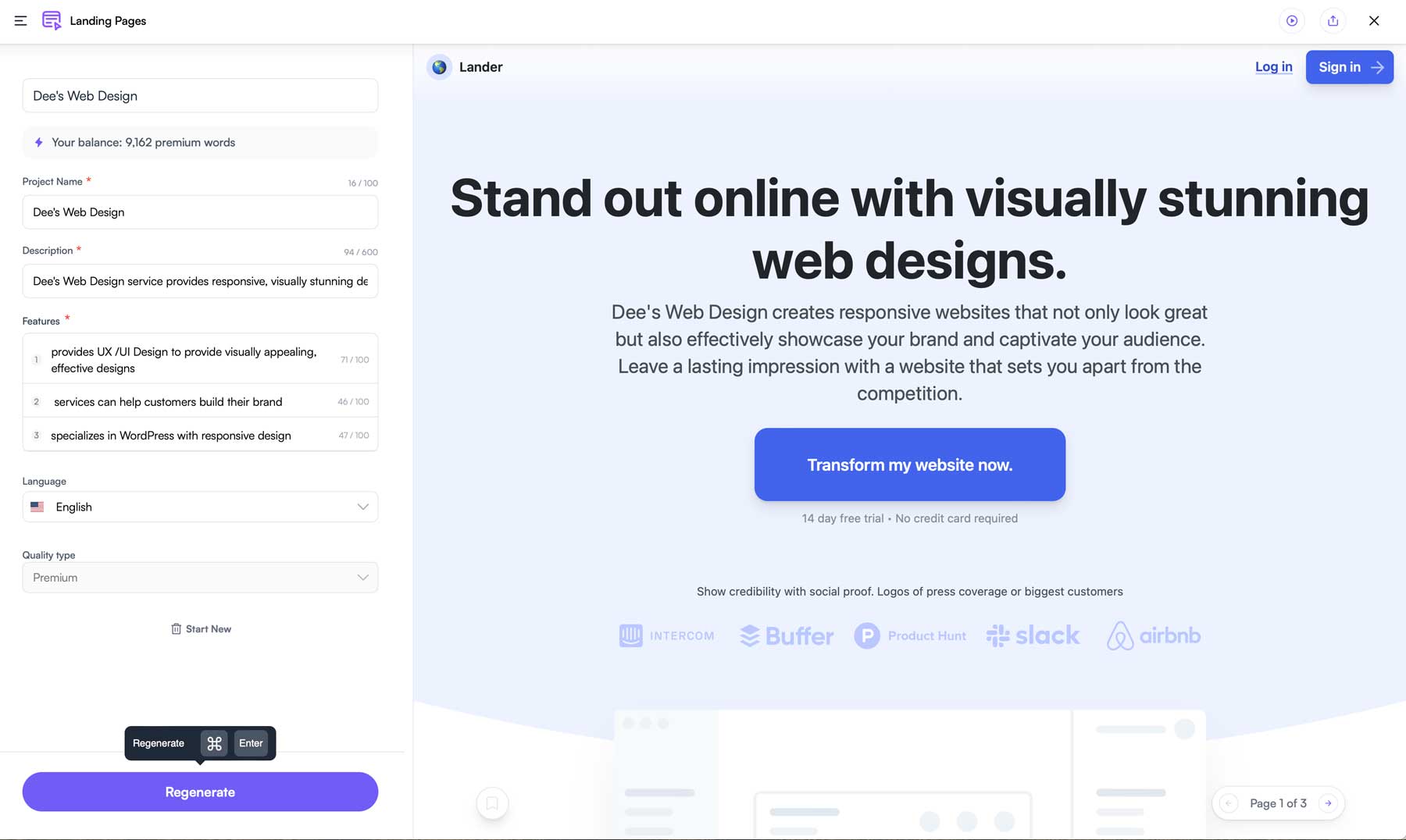 Writesonic provides a great tool for marketers looking to create landing pages. Provide a project name, description, and three points you wish to highlight, and it will generate a landing page design complete with supporting copy. Another great feature is content shorten, which helps reduce the word count of your content without sacrificing quality.
Best For:
If you're a content marketer looking for an easy way to write copy for landing pages or ads, Writesonic is the perfect choice. With an excellent landing page generator combined with their keyword suggestion tool, you can easily write sales-driven copy in a fraction of the time.
Pricing: Free, with monthly plans starting at $12.67.
5. Quillbot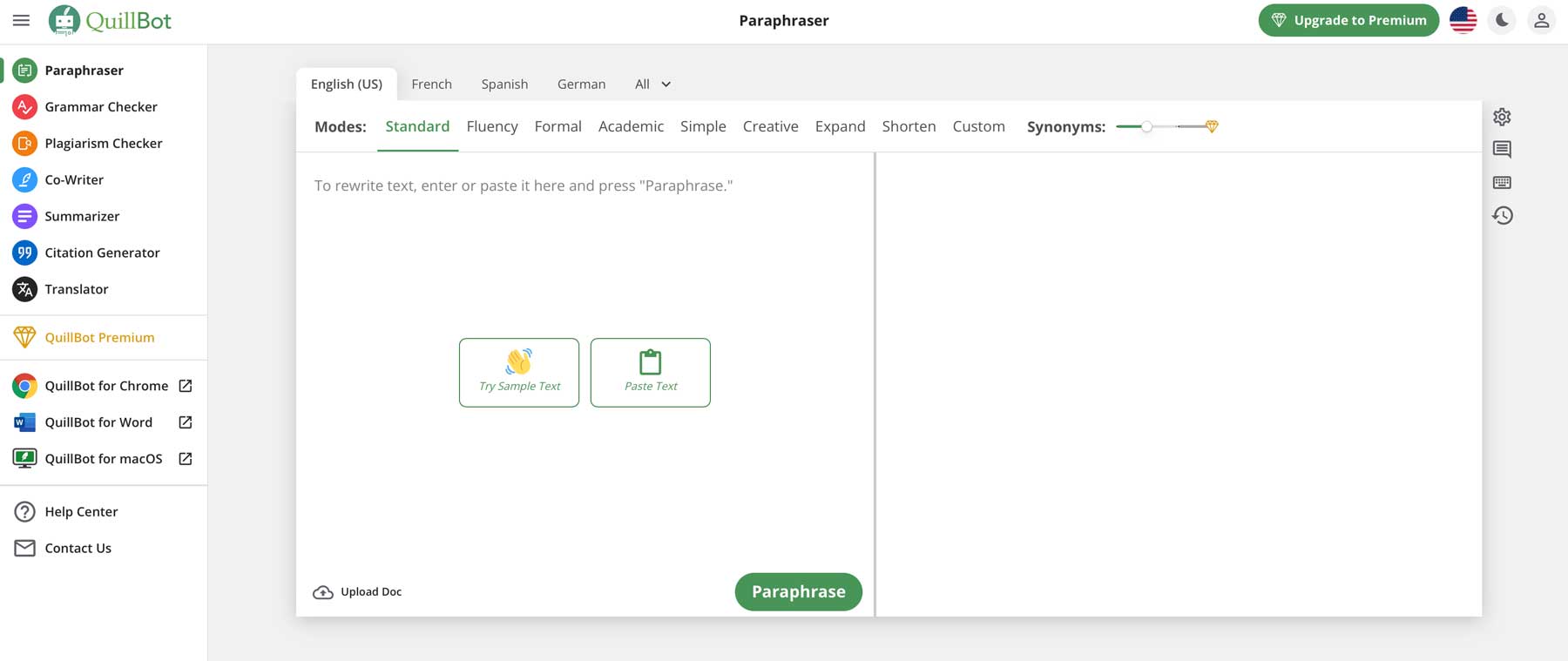 Our next best AI copywriting tool, Quillbot, is a true AI assistant. It allows you to paste your written content into the editor and check it for plagiarism, correct grammatical errors, and make suggestions to improve your written content. There's also a co-writer feature, which allows you to link to docs in your Google Drive to improve upon them.
Key Features of Quillbot:
Variety of tools to improve existing content
Translate content
Citation creator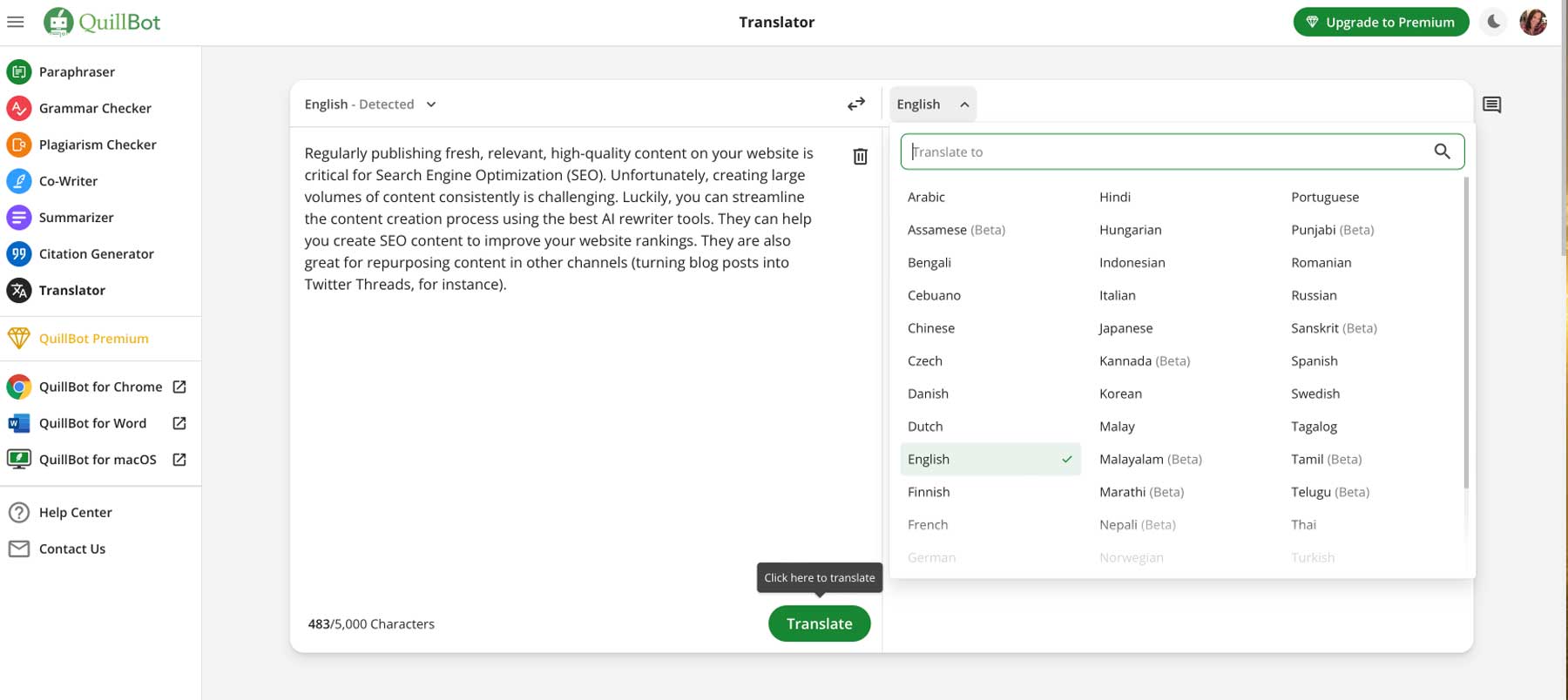 One of the most impressive features of Quillbot is the translator tool, which allows you to translate your content from English to one of more than 40 languages. This can benefit businesses in more than just the United States. Another cool feature is the citation creator, which allows you to cite important parts of your content on the fly.
Best For:
Quillbot is an excellent platform for people who need a quick way to improve their written content. With helpful features such as a grammar checker, citation creator, co-writer, and plagiarism detector, Quillbot helps ensure your content is informative and accurate.
Pricing: Free, with plans starting at $8.33 monthly, billed annually.
6. Describely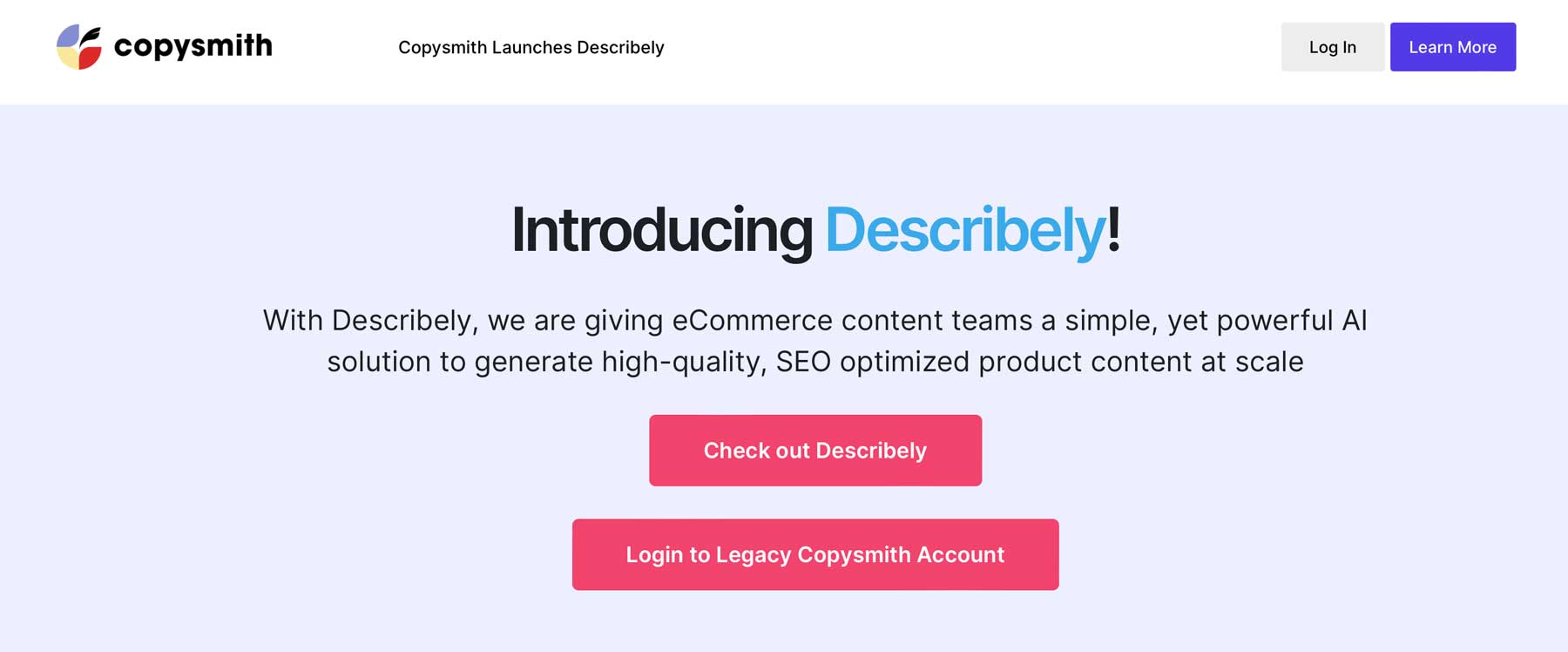 Up next, we have Describely. Its GPT-3 based ecommerce content generator is designed to assist marketers in writing high-quality, SEO-optimized product descriptions for their blogs, websites, and marketing copy. In addition to product descriptions, the AI features will research your product and suggest relevant keywords to help your products stand out.
Key Features of Describely:
Generate product descriptions, meta descriptions, and keywords
Integration with WooCommerce
Bulk edit products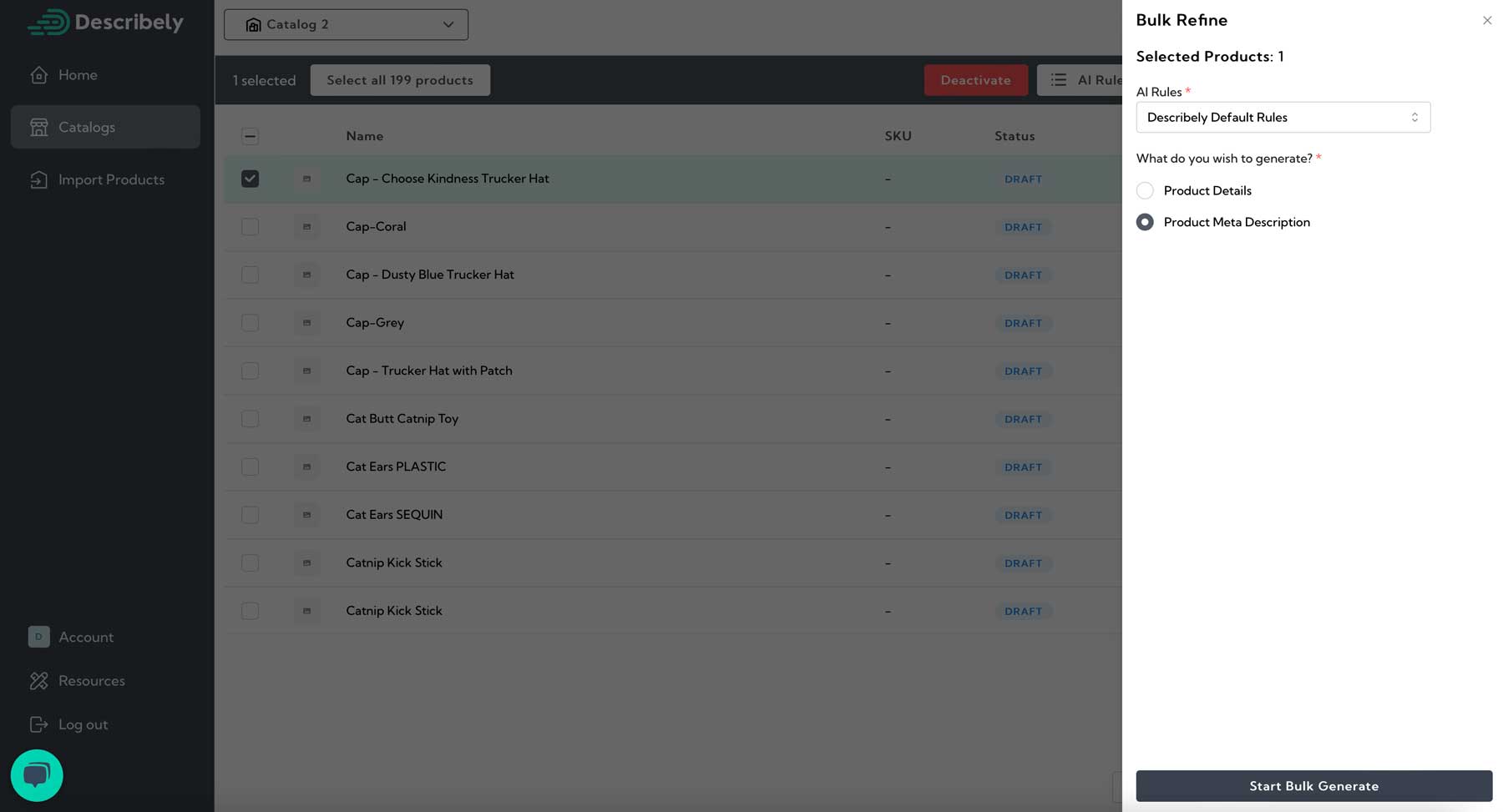 One of the most impressive features that make Describely worthy of consideration is its WooCommerce integration. If you have a WordPress website using WooCommerce, you can easily connect Describely to your store and then bulk-generate product descriptions, keywords, and titles in minutes. This is an excellent feature for people with too many products to manage and are tasked with optimizing them.
Best For:
Describely is an excellent tool for those with ecommerce sites that want to optimize their content for better exposure. Its AI assistant will generate product descriptions, titles, suggest keywords, and sync with products on your site with its WooCommerce integration. You can try Describely, thanks to its free trial, where you can sync unlimited products for a short time. Upon purchase of the Core plan, you'll benefit from a 30-day money-back guarantee.
Pricing: Free, with plans starting at $90 per year.
7. Wordtune

Wordtune is another excellent AI copywriting tool to help craft engaging content. It specializes in summarization, generating written content, and improving existing content. It also allows you to change the tone of voice for your writing, should you need to adjust it depending on the subject you're writing about.
Key Features of Wordtune:
Summarize lengthy content
Improve spelling and punctuation
Use different tones of voice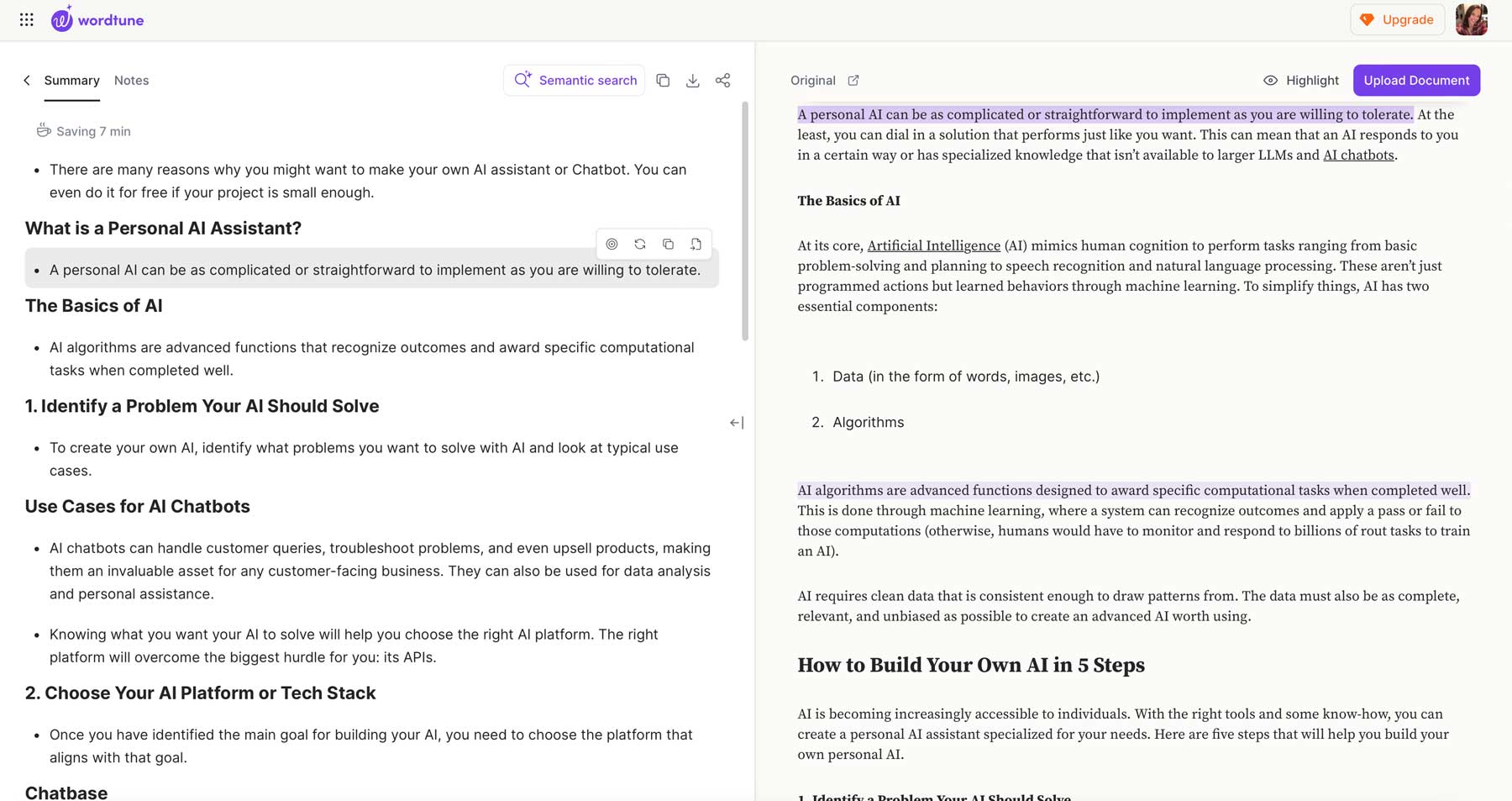 One of Wordtune's standout features is the summarization tool, which allows users to break down long articles into easily digestible facts. This is a great tool for people who are writing research-based content that can be time-consuming to create. Wordtune also does a great job of offering alternatives to sentences in your text. They provide 10 examples for every highlighted sentence, allowing you to visualize a different writing approach.
Best For:
If you're a technical or research writer, Wordtune's summarization tool is a must-have. Wordtune has a free tier that gives you 50 text generations per month, allowing you to test the platform thoroughly. If you can't live without it, paid plans are affordable, starting at $9.99 monthly for unlimited text creations and 30 rewrites daily.
Pricing: Free, with monthly plans starting at $9.99.
8. ChatGPT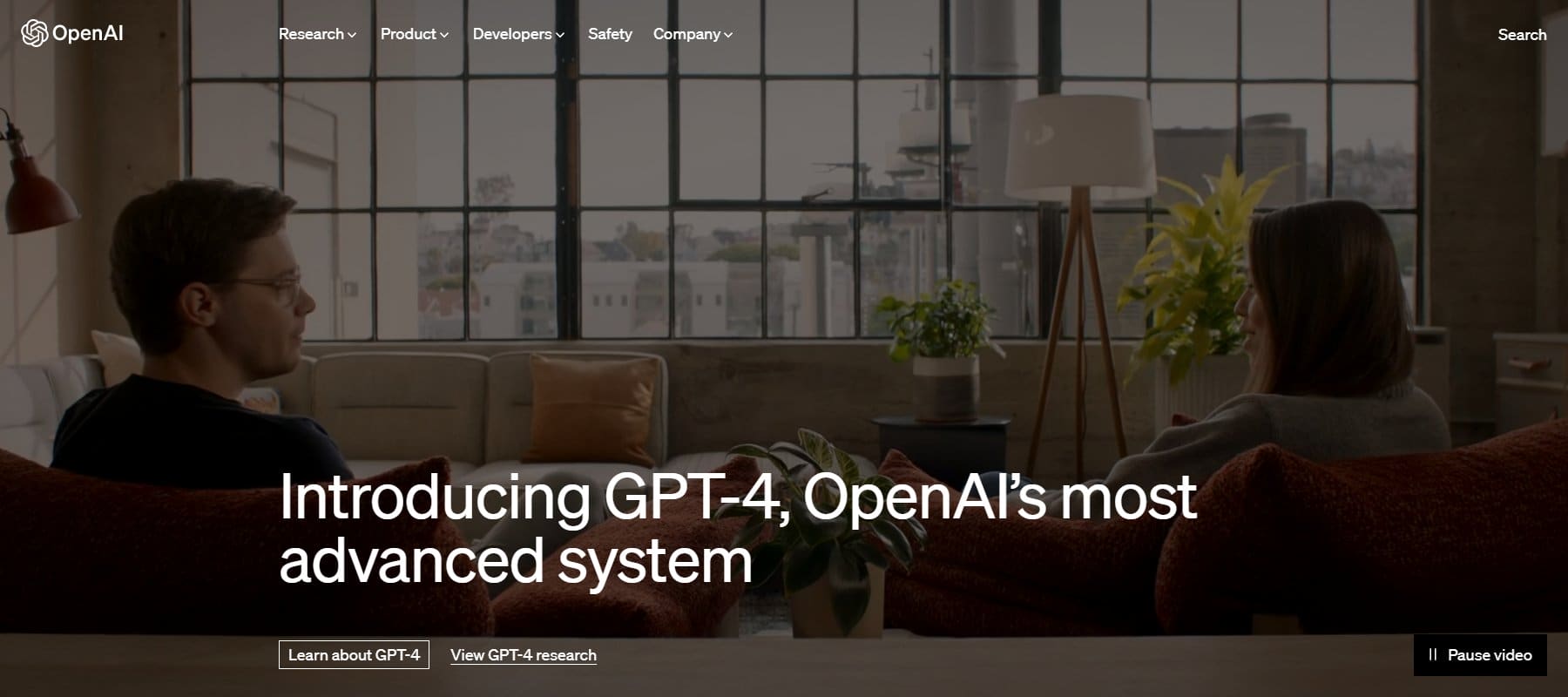 Last but not least, we have ChatGPT, the OG of AI copywriting tools. Some may view ChatGPT as so last year, but there are still plenty of things to love about it. First and foremost, ChatGPT is conversational, so you can ask it questions to aid you during the research process. It can also be used as a rewriting tool simply by asking it to rephrase a sentence or paragraph. Plus, it's a pretty good keyword research tool as well.
Key Features of ChatGPT:
Conversational chatbot
Can rewrite, paraphrase, expand on, or shorten content
Serves as a good keyword research tool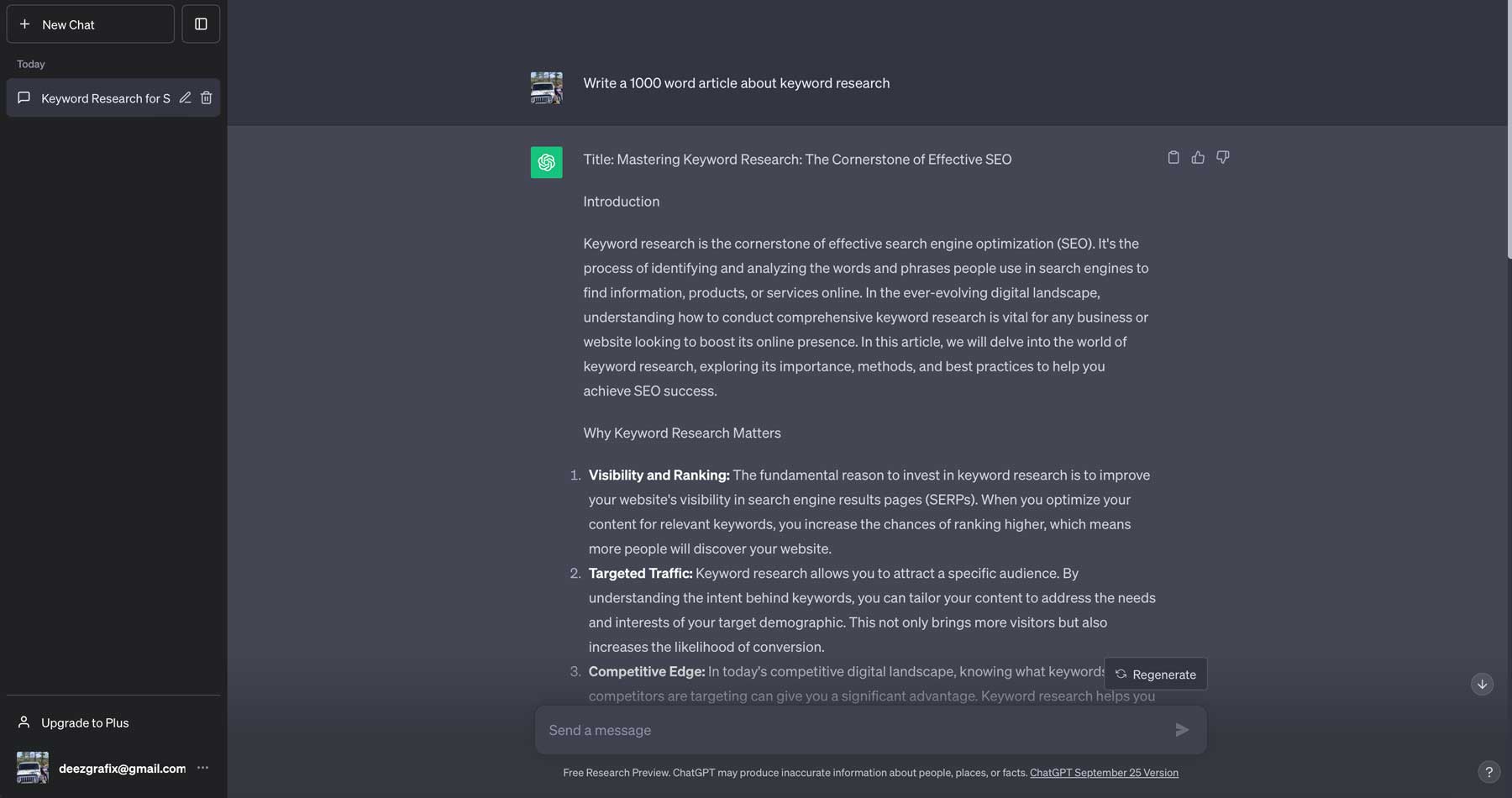 There are plenty of uses for ChatGPT, with one of the main benefits being an excellent tool for generating copy. ChatGPT does a decent job of quickly developing content about any subject you can think of. There are a few drawbacks, but that's true for any AI copywriting tool. It would be best if you always used it as a guide when writing content, and above all else, check everything it gives you. AI is prone to hallucinations (or flat-out lies), so you'll need to do your due diligence when using it as a copywriting tool.
Best For:
ChatGPT is best for people looking to refine existing content. It's great for paraphrasing, expanding on a subject, and rewording sentences to improve SEO readability elements like passive voice or adding transition words. That said, the best aspect of ChatGPT is that it's completely free to use, making AI copywriting tools accessible to anyone with any budget.
Pricing: Free
Comparing the Best AI Copywriting Tools
The best AI copywriting tool for you will depend on what you plan to do with it. Our list has complete solutions to platforms developed for a singular purpose. Either way, we recommend trying a few tools on our list, especially the ones with a free trial.
Best AI Copywriting Tools Price Comparison
To help you decide, we have created a useful comparison table with pricing, a notation of a free version, and links to each AI copywriting tool on our list.
What is the Best AI Copywriting Tool?
Even with all of the great options on our list, a couple truly stand out from the rest. Rytr wins the top spot for its affordability and simple interface. Plus, it offers a variety of writing tools, extensive multi-language support, and the ability to create custom writing styles. Our other top pick, Jasper, is a complete solution for all your writing needs. Some nice features are the brand voice customization and the sheer volume of writing templates. Whatever you choose, you can rest assured that your writing tasks will be much easier to tackle.
Need more plugins? Check out all our articles featuring the best plugins to use in WordPress.
Featured Image via VectorMine / shutterstock.com