Email can be kind of a pain. At times, it can be a real pain. That's why many companies are eschewing the concept entirely and moving to various other communication tools like Slack or Microsoft Teams for their internal communications. While email is often necessary for external communications, internal discussions and resource sharing can be done much more effectively and with fewer headaches. Best of all, replacing company email can be done for free, using WordPress itself as the platform for communication. In this post we'll show you a free WordPress theme created for just that purpose and go over how to use it.
Let's dive in!
The P2 theme by Automattic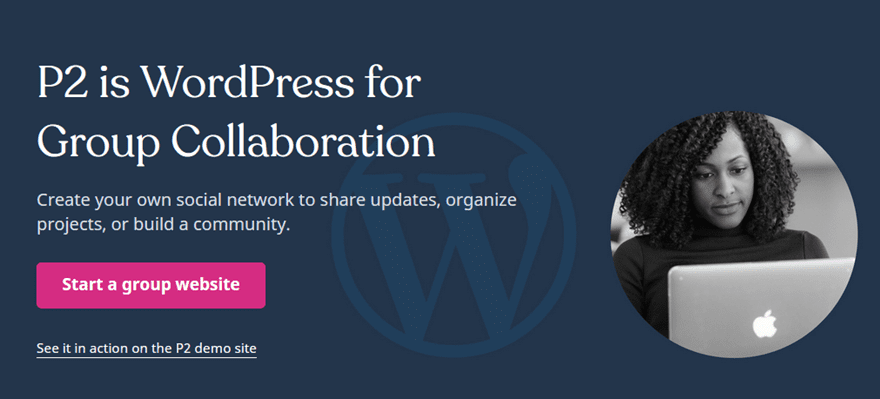 Designed and used by Automattic, P2 is a WordPress theme designed for team collaboration and communication. It's different than most themes because it's not designed as an outward-facing, end-user experience. Instead, it turns WordPress on its head and makes the whole installation a wonderland of edits and tags and real-time updates. All without having to go into the back-end admin panel and fiddle with settings and additional plugins for functionality. Everything you need to replace company email is built into the theme itself.
Now, we want to warn you. There are two versions of P2 floating out there. P2 Classic and P2 Breathe. If you are running WordPress.org (which means you're hosting it yourself and not on WP.com), do not install P2 Breathe. In our testing and experimentation, P2 Breathe was simply non-functional in every way that P2 needed to be. For us (and this might be different for you), it was a glorified starter theme
P2 Classic, however, works (more-or-less) as intended, letting you replace company email with WordPress. You can download and install P2 Classic directly from this link. The messaging around P2 on the official website isn't always clear, so we wanted to make it clear. Install P2 Classic, not P2 Breathe.
What Does P2 Classic Offer?
The P2 Classic theme lets you replace company email by basically taking over asynchronous communication.
With P2 you can post updates and invite others to contribute — keep conversations private, or make your site public for everyone. No more losing conversations and important documents inside email threads.
The major features (outside of front-end, real-time editing) are straightforward and simple:
Public or private messages (both short status updates and long-form posts)
Tagging single or multiple users in comments and posts
Tagging posts for easy organization and search
Custom P2 widgets for tags and recent posts
Using these in concert basically take the utility of an email inbox and make it much more useful and user-friendly. Let's dig in and see how it works in detail.
Using P2 Classic to Replace Company Email
Upon installation, your home page will look something like this. The elements should look familiar enough, given that this is with a clean installation of WordPress. The default widgets are to the right in the sidebar, and you can see the default first post and comment listed immediately as well as the normal WP sidebar (numbers 2, 3, and 4, respectively).
Before moving too far into using P2, remember that since it's WordPress, you will definitely need to set up each of your team members with a WP user account. That's how they will get tagged and be able to create their own messages.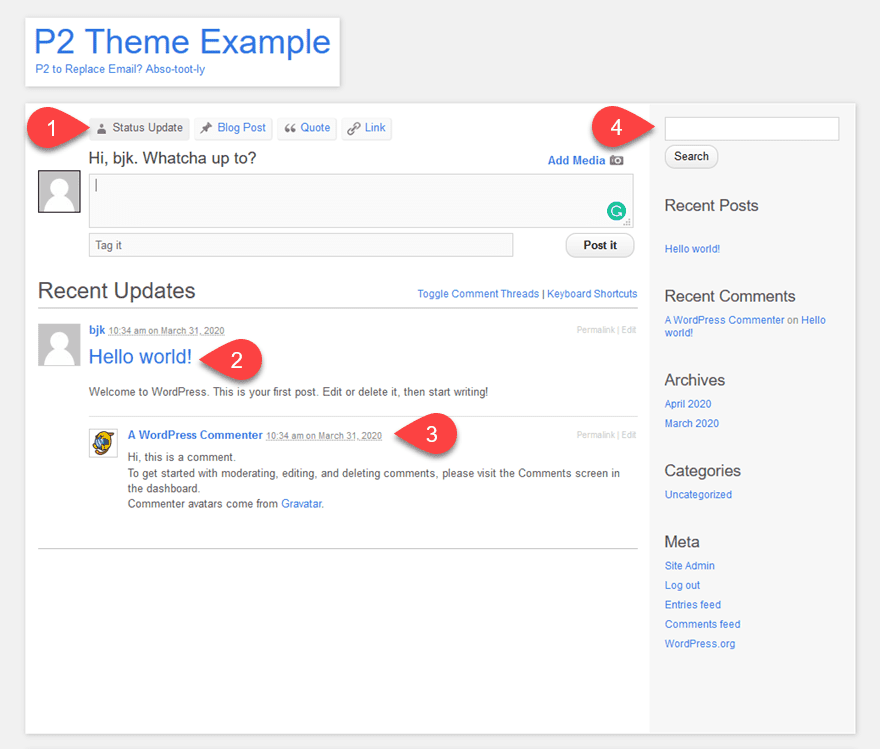 You will see both familiar elements, as well as the new additions that P2 itself adds in.
Where the Magic Happens: New Post
The status update/post/quote/link box. This area replaces the Add New Post section in the admin panel. You do not have to go into the dashboard to post. If you need a short, quick update to someone (think a Tweet or Slack DM), use the Status option. If you would normally send a full-length email, just write a Post.
Quote seems to us as the kind of update that gets used the least.

It can be used in the same way as a traditional email forward, using the tag feature and citation (The Entire Internet in the example above). However, given that it's not a 1:1 replacement for email, it's more likely that you will simply use replies and new posts for that.
Links, on the other hand, will be used as often in P2 as on Reddit. In the text box, just type a full URL (including HTTPS), and when it's posted, it will appear hyperlinked and ready for discussion.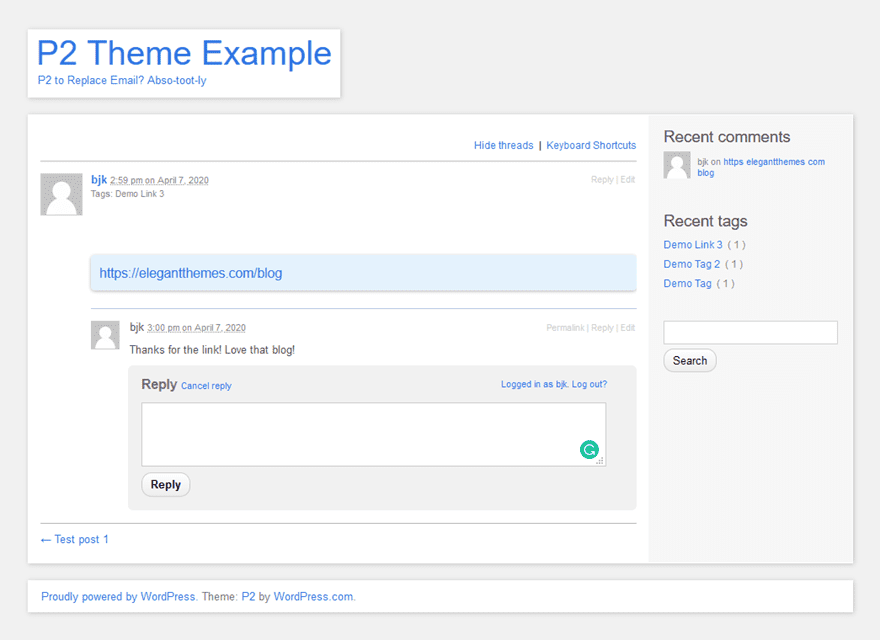 You can also tag people and categories (as you can see it's listed as Demo Link 3 in the example above, which you can also sort in the sidebar). Additionally, the replies show up immediately underneath the link, eschewing the need for lengthy email chains regarding resource sharing that tends to happen among teammates and committees.
Shortcuts
And no productivity software would be complete without its own set of keyboard shortcuts. Power users can rejoice because P2 Classic is no different.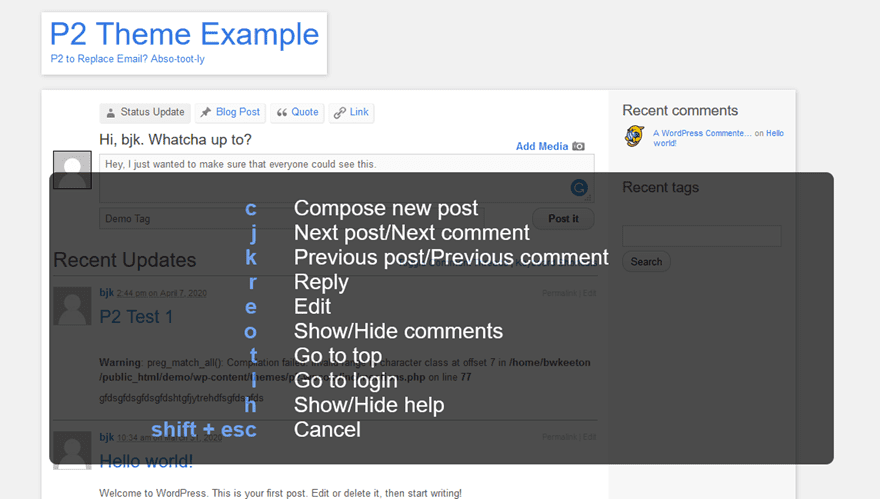 From creating new posts to editing and replying, simply pressing a button when not in a text field can speed up your communication with your team.
P2 Classic Custom Widgets
The other feature that sets P2 above the crowd is the inclusion of custom widgets. They are the P2 Comments and P2 Tags.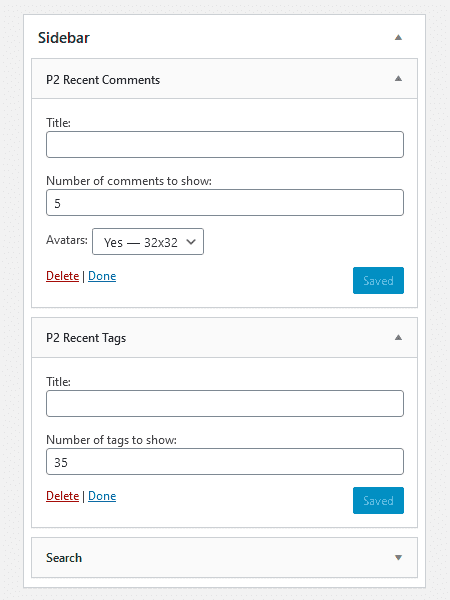 Anytime one of these is updated, the widget updates to keep things moving smoothly.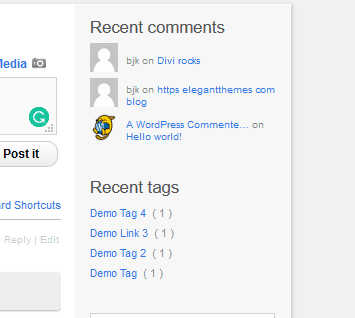 We have had it work both in real-time and on refresh, but we've found that the widgets are more consistent when updating via refresh. The posts and other updates have never failed to post in real-time, however.
Wrapping Up
In the end, when you put it all together, you have a very customizable, simple solution to team communication. If your company or team already works in WordPress, a simple installation with P2 might be a seamless way to keep things moving smoothly if email is bogging you down. Plus with all the plugins and customization available with WordPress itself, there is no end to what you can do to customize P2's functionality to suit your team's needs. So if you've ever thought about replacing your company email with something else, P2 Classic deserves a look.
What have your experiences been with replacing your company email? Share with us in the comments!
Article featured image by Microba Grandioza / shutterstock.com