If you run a travel agency, own a hotel, or like to blog about your globe-trotting experiences, you need to know the best WordPress travel themes for your website. As a business owner, you'll want to build a high-quality website to represent your business or brand. WordPress and the excellent selection of themes available for this software make creating a professional and effective website more accessible than ever. This article will explore the best WordPress travel and look in-depth at what they offer.
Criteria for Ranking the Best WordPress Travel Themes
When selecting each theme for this collection, specific criteria were considered. All these themes are relevant to the travel industry and fit for purpose. Every theme is from a well-known theme developer or marketplace. Each theme has a good design and an impressive feature list. And lastly, feedback and reviews of every theme were taken into account, as well as when they were last updated.
The 10 Best WordPress Travel Themes
We hope that by the end of this guide, you can choose a suitable travel-related WordPress theme for your project.
1. Divi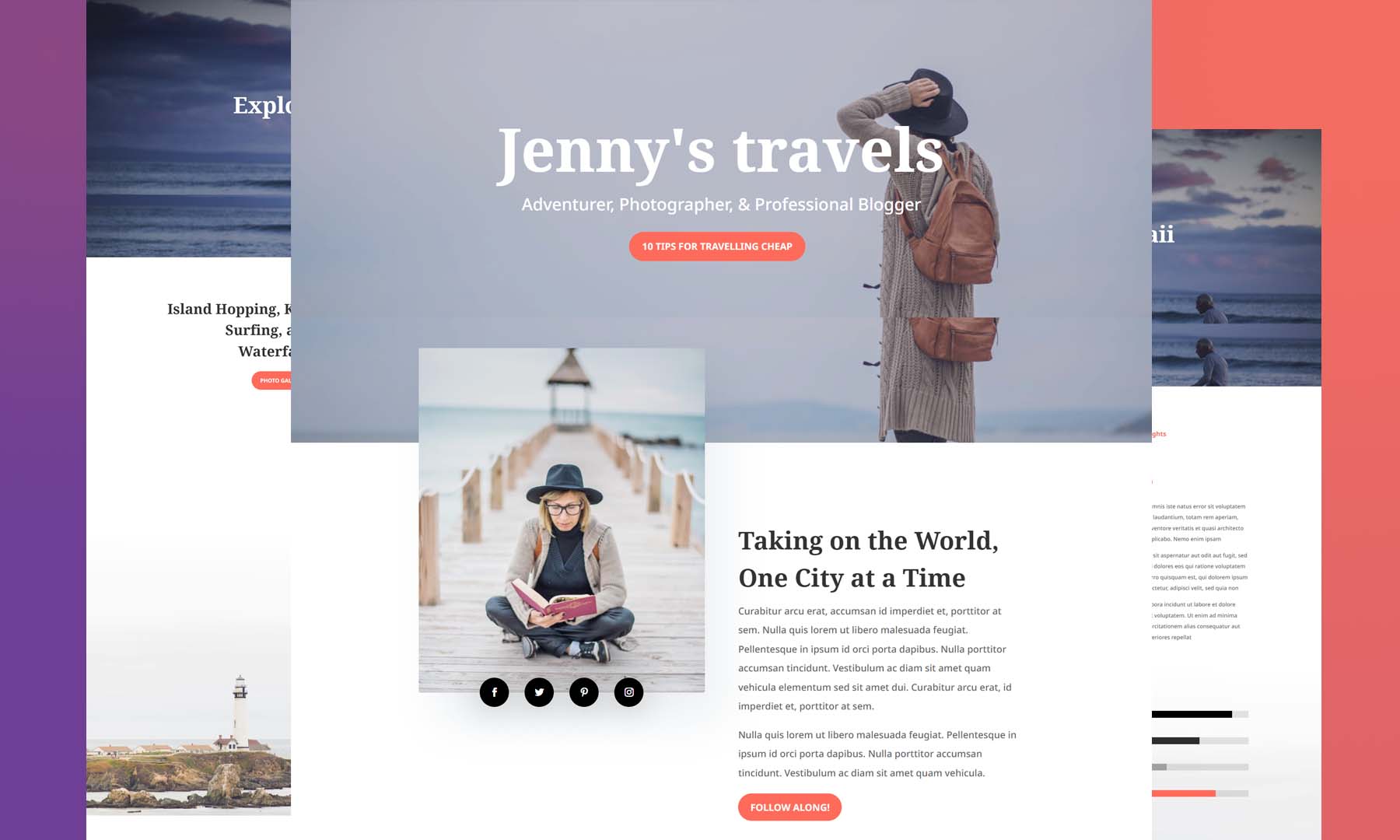 Divi is a powerful WordPress theme that can build you the best travel website, regardless of the vertical that you are in. For starters, the Divi comes with over 200 native modules that you can use to build any page for your travel website. Divi's dynamic content system pairs well with Advanced Custom Fields and Toolset, allowing you to push the envelope when building your travel website. Consider creating custom post types for trips, rentals, and more, and then use our powerful Theme Builder to create custom templates to style these pages within your Divi-powered travel website.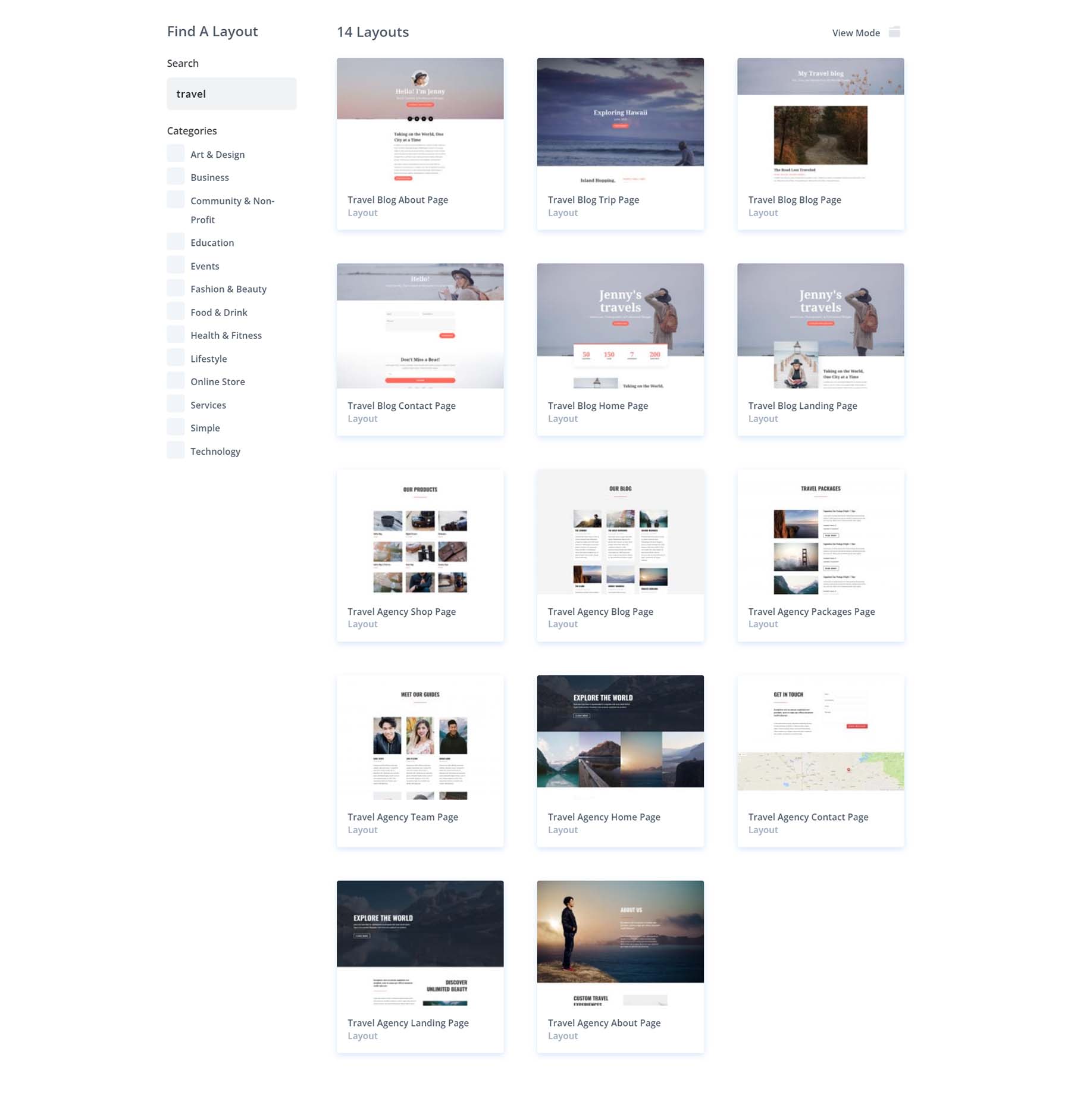 When it comes to design, your options are endless! You could start with one of the 300+ full website kits in our layout library. Mix and match different sections and pages together to create custom designs for your website. Alternatively, you can search the Divi Marketplace and pick up a slew of travel-related child themes that you can use within your Divi install.
Key Features:
14 travel-specific page layouts
Integrates with MotoPress and Amelia Booking for online scheduling
Gallery, slider, and portfolio modules to showcase travel photography
Theme Builder to create custom templates for travel-related custom post types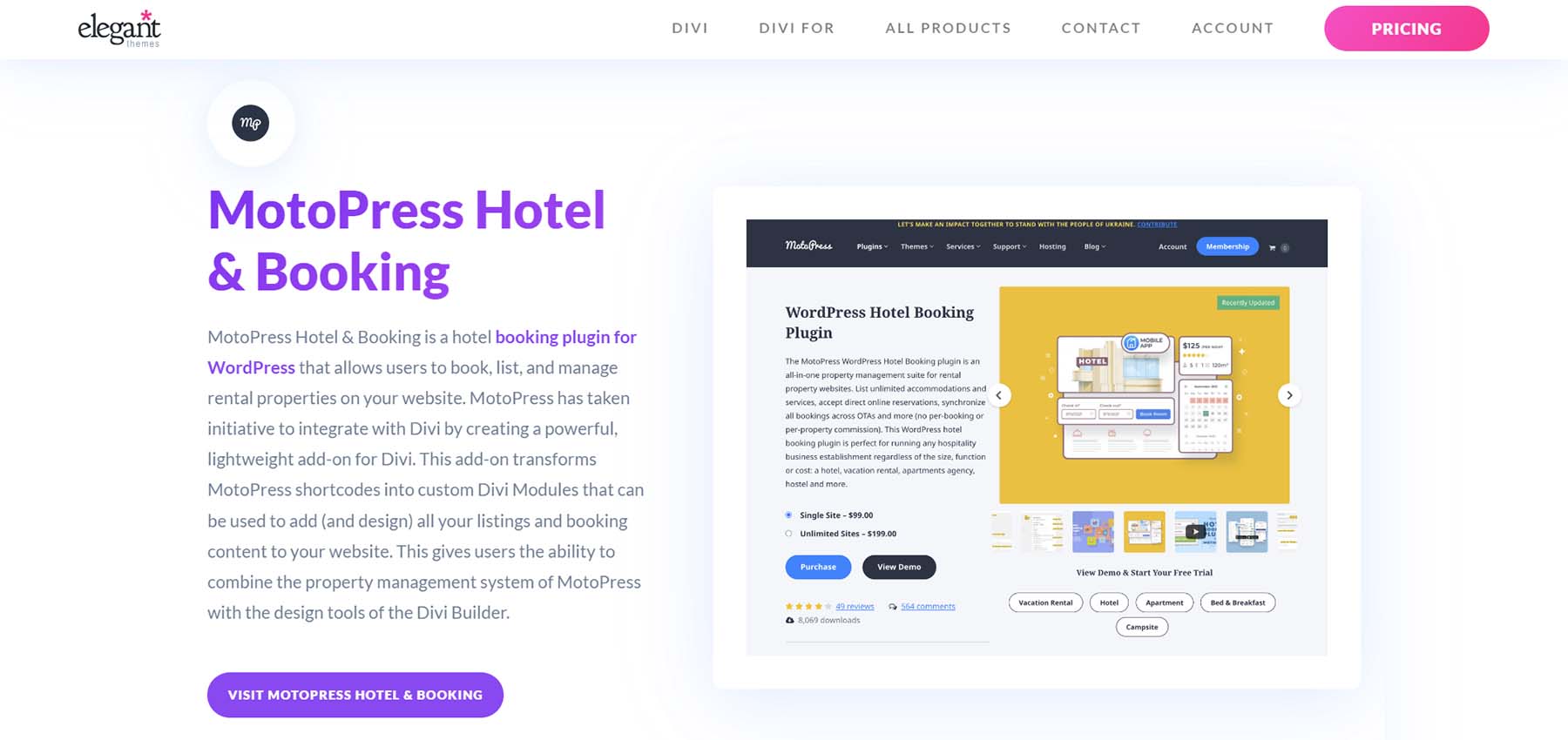 If you want to add any booking form to your travel website, Divi has native integration with the popular hotel booking plugin MotoPress. With MotoPress, you get native Divi modules that you can use to add booking forms, accommodation lists, rates, and everything else that you need to run to a travel booking site on one of the best travel WordPress themes available, Divi.
Best for: 
No matter what part of the travel industry you are involved with, you will benefit from using Divi as your website theme. From travel bloggers to hotels, cabin rentals to exotic experiences, if you are in the travel business, Divi is the best travel WordPress theme that you can use!
Pricing: Paid plans start at $89 per year
2. Booklium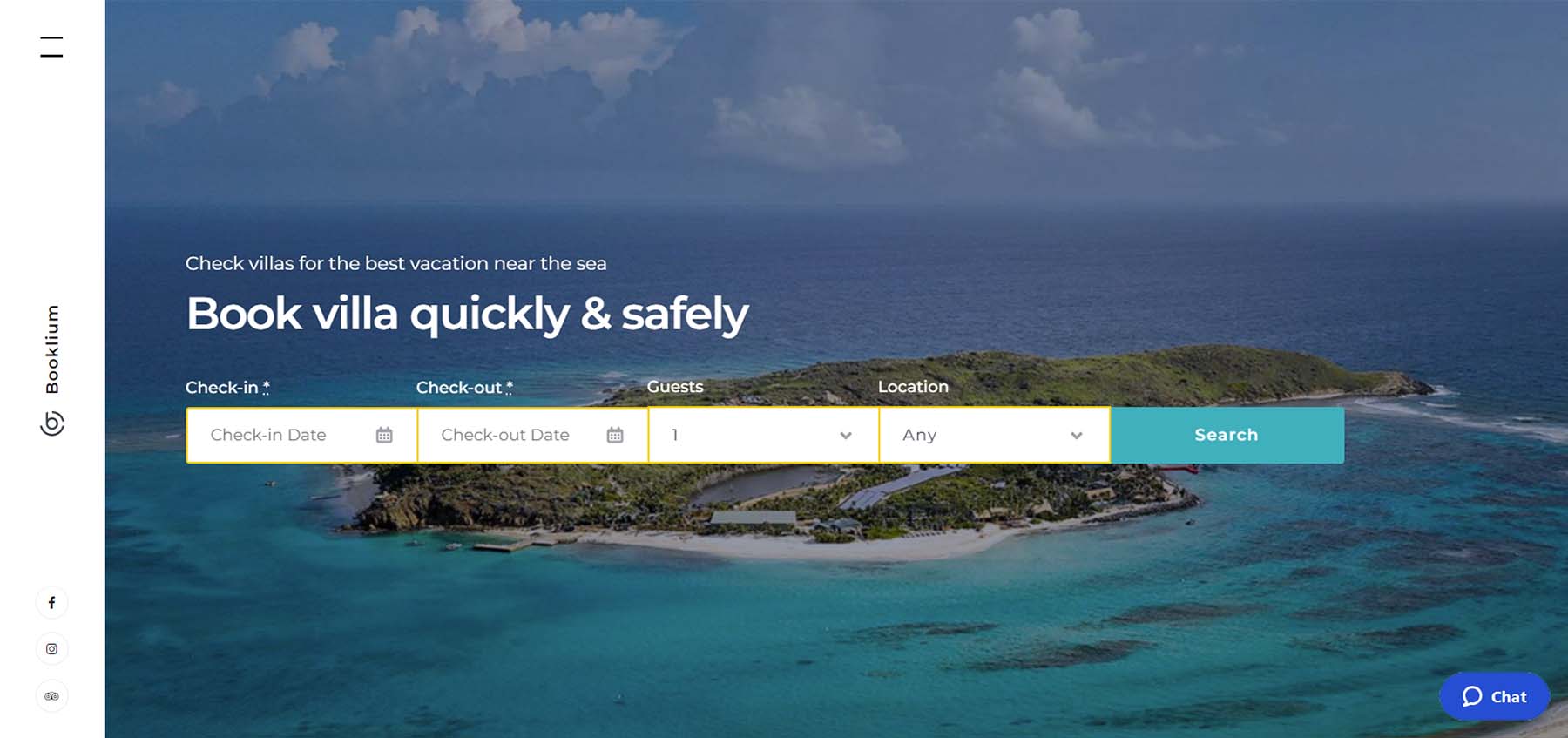 Booklium is a travel WordPress theme that has bookings on the brain. If you want to increase the number of online bookings your travel rental business receives, consider using Booklium for your website. Firstly, Booklium integrates seamlessly with the hotel booking plugin MotoPress. This brings a powerful booking platform to your website. Secondly, Booklium functions as a strong online travel agency channel manager. So when it comes to property management for your travel business, it has you covered. Instate seasonal pricing, collect taxes and fees, send out PDF invoices, and check your booking stats, all with Booklium. Collect payments online and allow guests to have their bookings instantly confirmed after reservation; the choice is yours! Truly, Booklium is one of the best travel WordPress themes you can use for your business today.
Key Features:
Manage an unlimited number of properties and bookings
Online payment processing with PayPal, Stripe, and more
Exhaustive and customizable online bookings calendar
Custom advanced search filters
Automated emails and reminders for admins and customers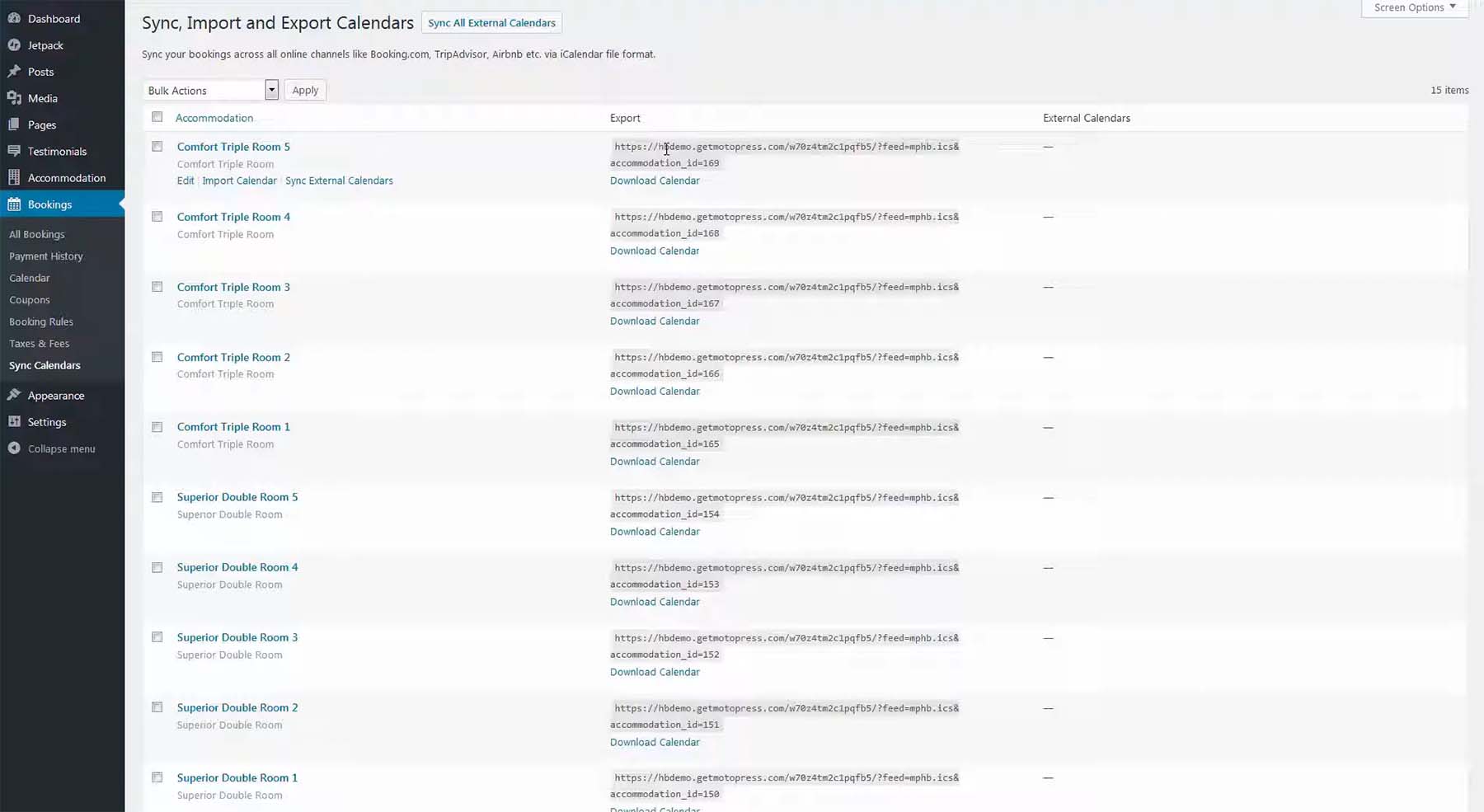 If you're already running a successful travel business using sites like Airbnb and TripAdvisor, adding Booklium to your business can help you create multichannel property distribution. Sync your external sites with your WordPress website using Booklium to avoid conflicts in booking across multiple channels. If someone books on an external travel website, your WordPress site will be able to manage and see this information with Booklium.
Best for:
Booklium was created with the bed and breakfast in mind. However, you would benefit from using this theme if you run any sort of hotel or vacation rental business.
Pricing: Paid plans start at $79 per year
3. Alpenhouse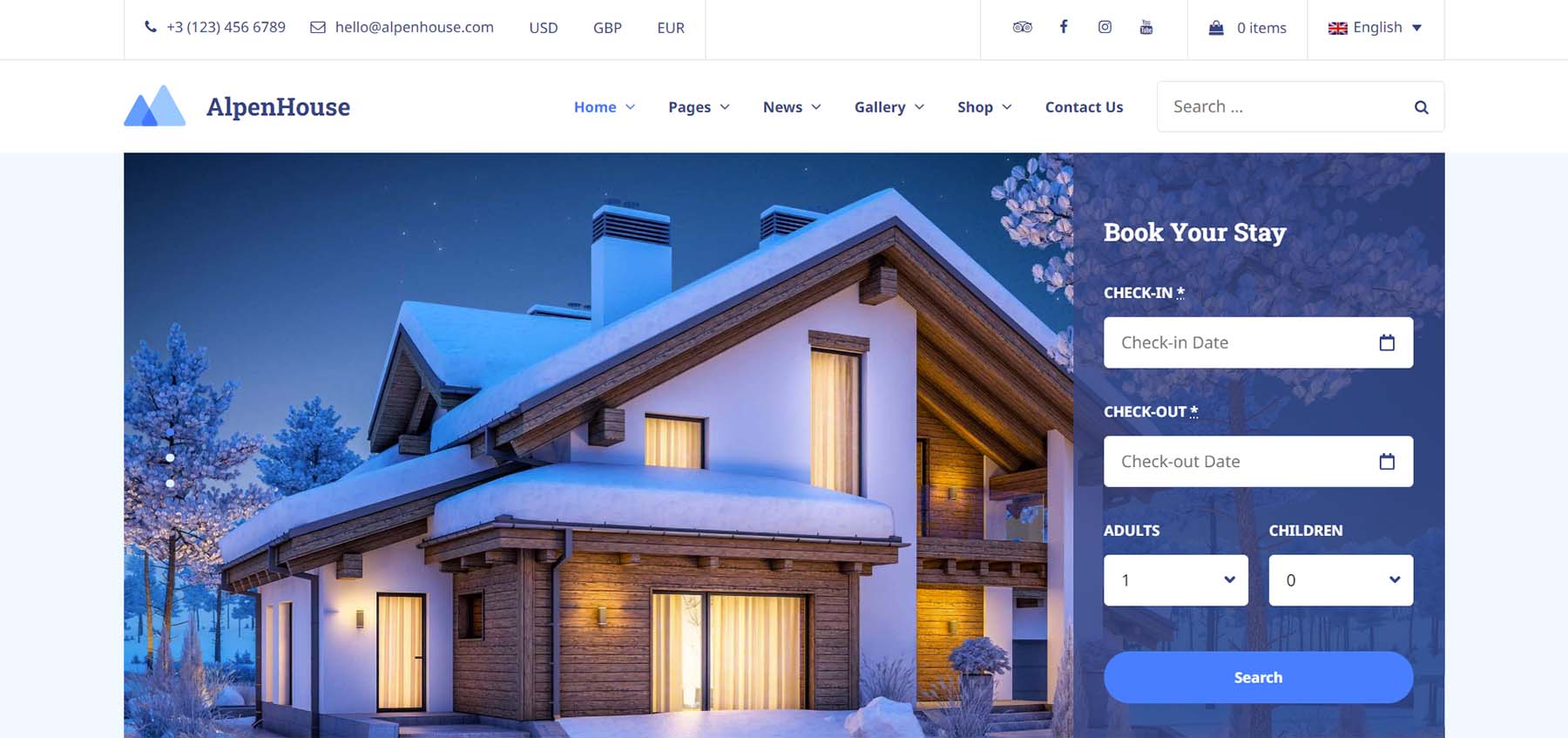 Alpenhouse is a WordPress theme that is most suited to those in the hotel industry. Customers can select the check-in and check-out dates on the front page. This theme also comes with The MotoPress Hotel Booking add-on, which takes your booking website to the next level compared to other themes on our list. Integrated with WooCommerce, you can sell additional products and services alongside your bookings. Or, you can use WooCommerce's vast library of payment processors to connect to the one you need. Alpenhouse also allows you to see revenue and booking statistics. So you'll always know how your business is doing. You can create unlimited properties and bookings, set seasonal pricing, integrate your website with MailChimp, and have a customized checkout form, all with Alpenhouse and Motopress.
Key Features:
Property reservation system for a single room to properties with multiple rooms
Accept offline payments and online payments with Stripe, PayPal, Braintree, and more.
Set custom and flexible booking rules that match your business case
Allow bookings to be confirmed by payment, by guest via email, or manually by the admin
Create discount codes and coupons while managing custom taxes and fees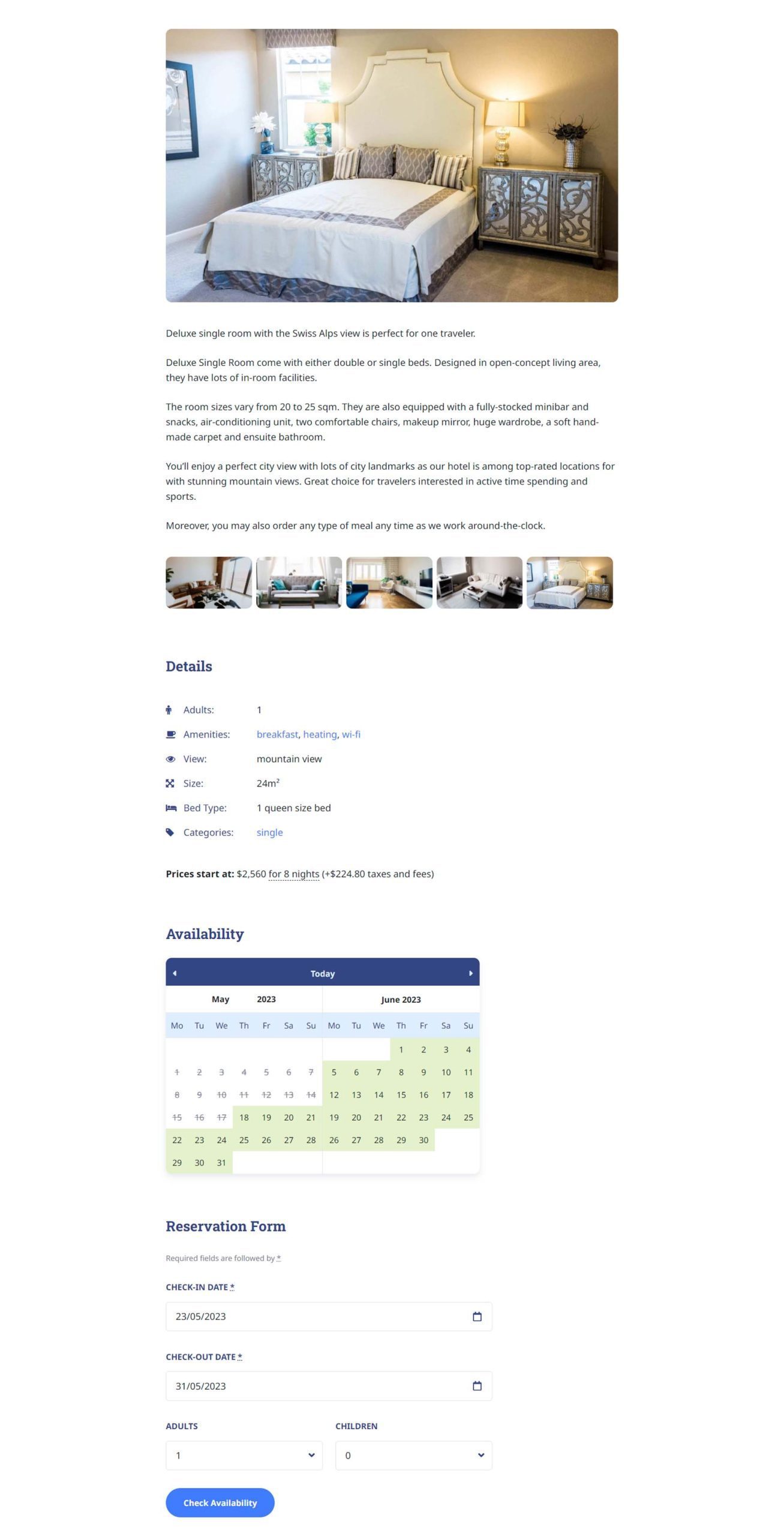 The listing page featured in Alpenhouse is genuinely one of the key features of this theme. You can have a reservation form directly on the listing page or an availability calendar, so people can see when they can book. You have a photo gallery, and plugin custom fields can be added to a listing showing the various amenities available.
Best for:
Alpenhouse is best to be used by those who are doing one of two things. Either you have a single property that you'd like to manage. Or, you have multiple properties that you need to bring online. Either way, Alpenhouse will help you monetize your vacation properties and set your travel business up for success.
Pricing: Paid plans start at $79 per year
4. Aegean Resort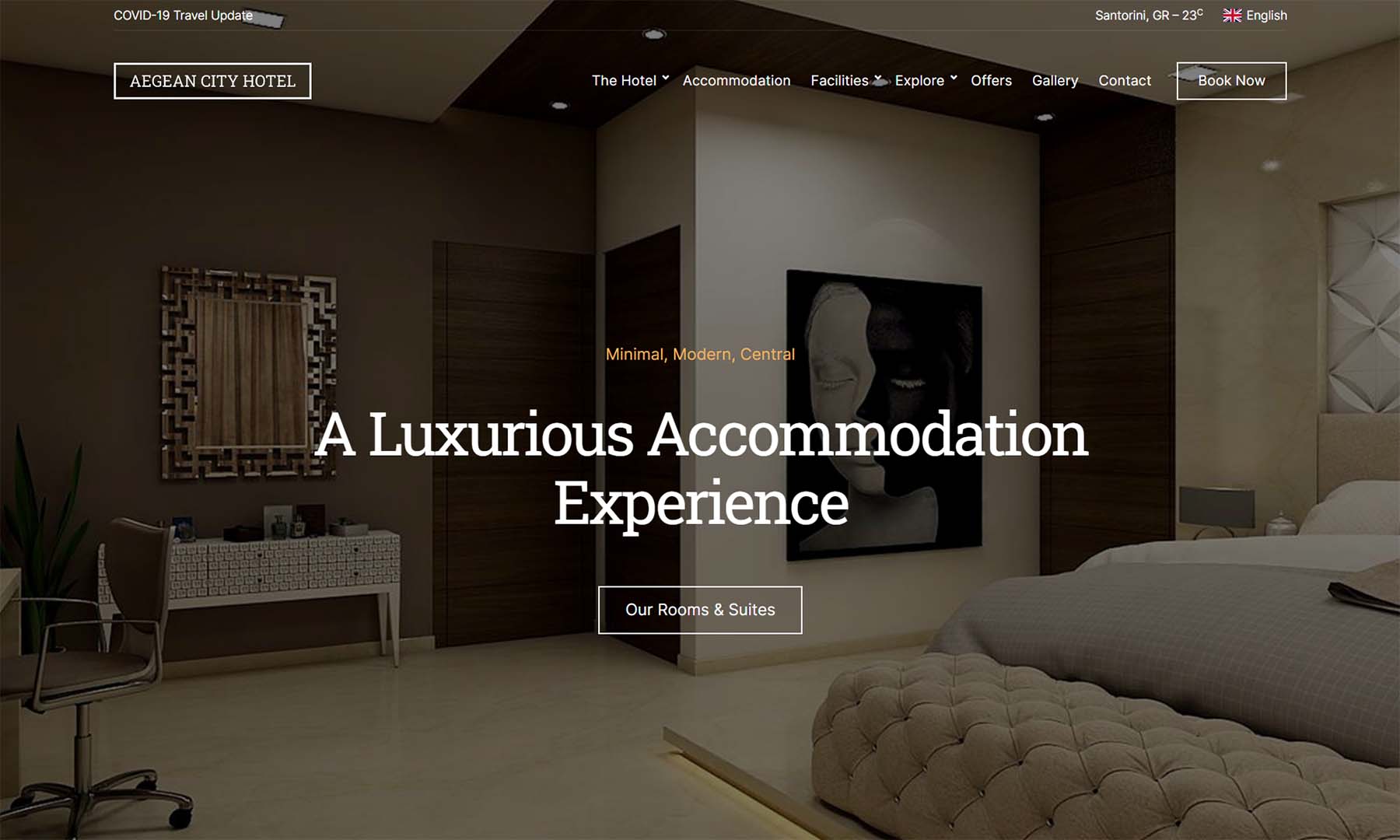 Aegean Resort is a travel WordPress theme that works elegantly with Elementor and Gutenberg. As such, visually building your website comes easily with this theme. The homepage lets you use a video, slider, or image in the header section, allowing you to showcase the beauty of your business. There are several premade demo pages for the accommodation custom post type, as well as the home page and some inner pages. You can use your page builder to modify and create your own listings, accommodation, and room pages with no code needed. The theme comes with three different theme styles that you can use to evoke a different look and feel to your website. Additionally,
Key Features:
Three website styles included: Resort, City Hotel, and Olympus Inn.
Accommodation custom post type with management
Integrate your 3rd party booking plugin or OTA (online travel agency) platform.
Customize typography and branding with WordPress Customizer
Multilingual support via Loco Translate, WPML, and Polylang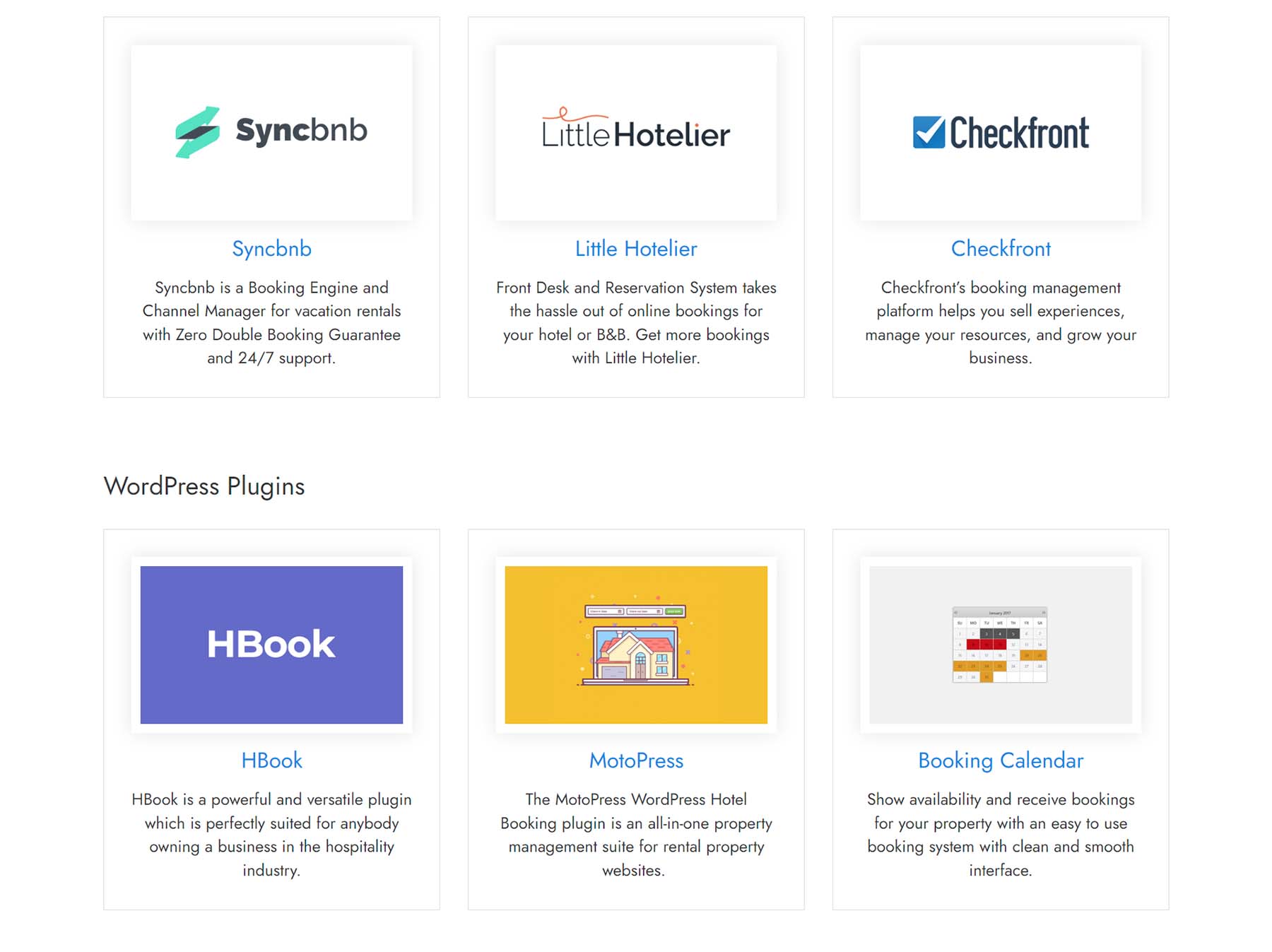 You won't get locked into a plugin when you use Aegeon Resort as your travel WordPress theme. Aegeon Resort connects with several booking engines in addition to WordPress plugins. Whether you're using a simple form builder like WPForms or a robust booking plugin like MotoPress, you can rest assured that you'll have the flexibility to take your bookings as you see fit.
Best for:
Aegeon Resort is best for people managing one or multiple properties with multiple rooms or experiences available. Suppose you're also looking to have control over the various pages of your travel website and are passionate about using Gutenberg to do this. In that case, Aegeon Resort is one of the best travel WordPress themes you can use.
Pricing: Paid plans start at $49 per year
5. Blossom Travel Pro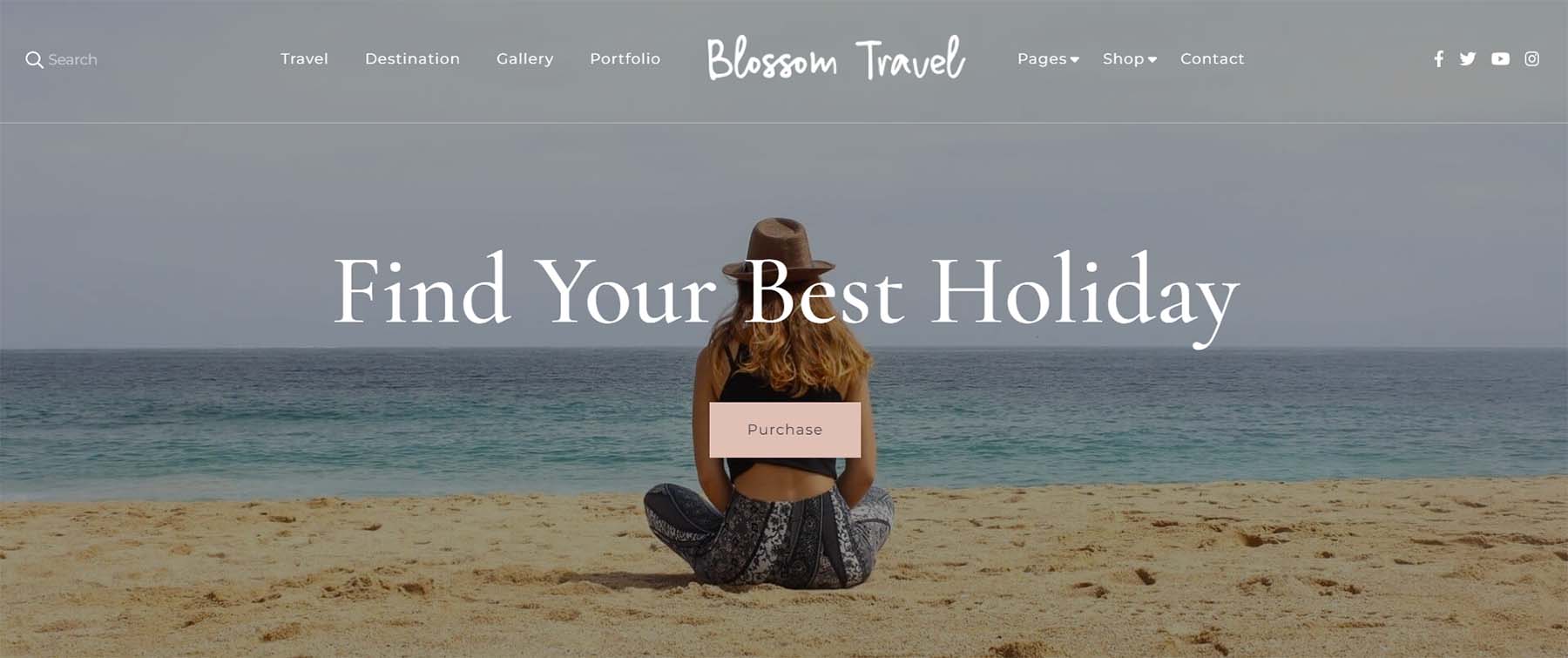 For the travel blogger among us, Blossom Travel Pro is the best WordPress travel theme. To begin, it is also available in a free version. So if you're stuck for funds or want to try out the theme before purchasing, you can do so. Secondly, Blossom Travel Pro gives you 600+ Google Fonts and unlimited color combinations to match your brand. Blossom Travel Pro is integrated with Max Mega Menu to customize awesome megamenus for your travel blog easily. Showcase your travel affiliations or brand partnerships with the affiliated brands/featured websites section. In short, if you're a travel blogger looking to make an impact in the space with their website, Blossom Travel Pro is one of the best travel WordPress themes to use.
Key Features:
Nine homepage sections
Multiple sliders, blog page, blog post, and pagination style options
Featured city guide homepage section
Integrated with HTML5 Maps
Newsletter and call-to-action banner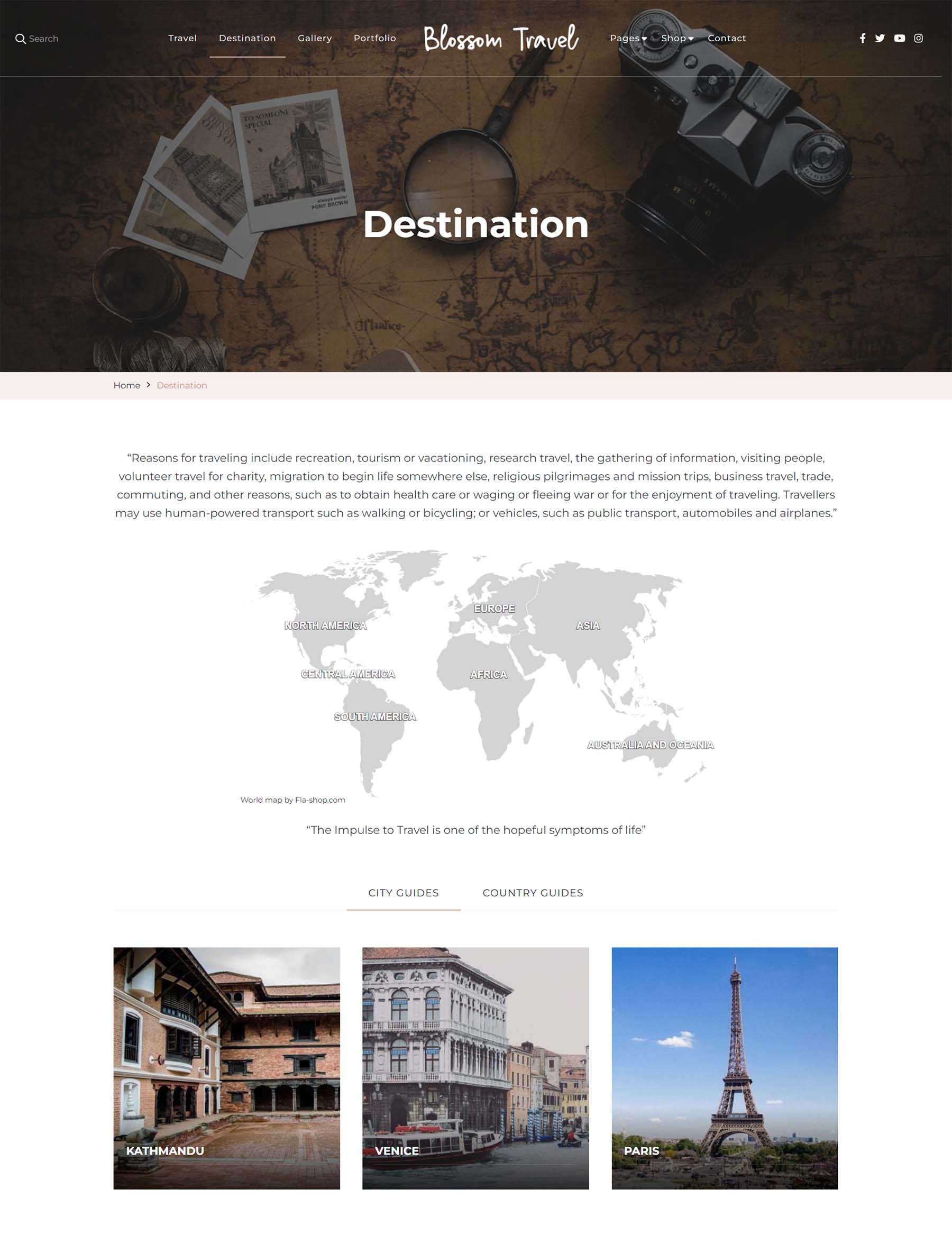 The city guide feature of Blossom Travel Pro allows you to group all the content about each destination that you've visited onto one page. The page features an HTML5 interactive map with a tooltip of the cool places you've visited. You can use each destination to show a gallery, a category of posts, a page, or whatever you'd like to share with your readers.
Best for:
Blossom Travel Pro is best for travel bloggers who want to share the stories of their adventures through words and writing.
Pricing: Free, Paid plans start at $59 per year
6. Travel Agency Pro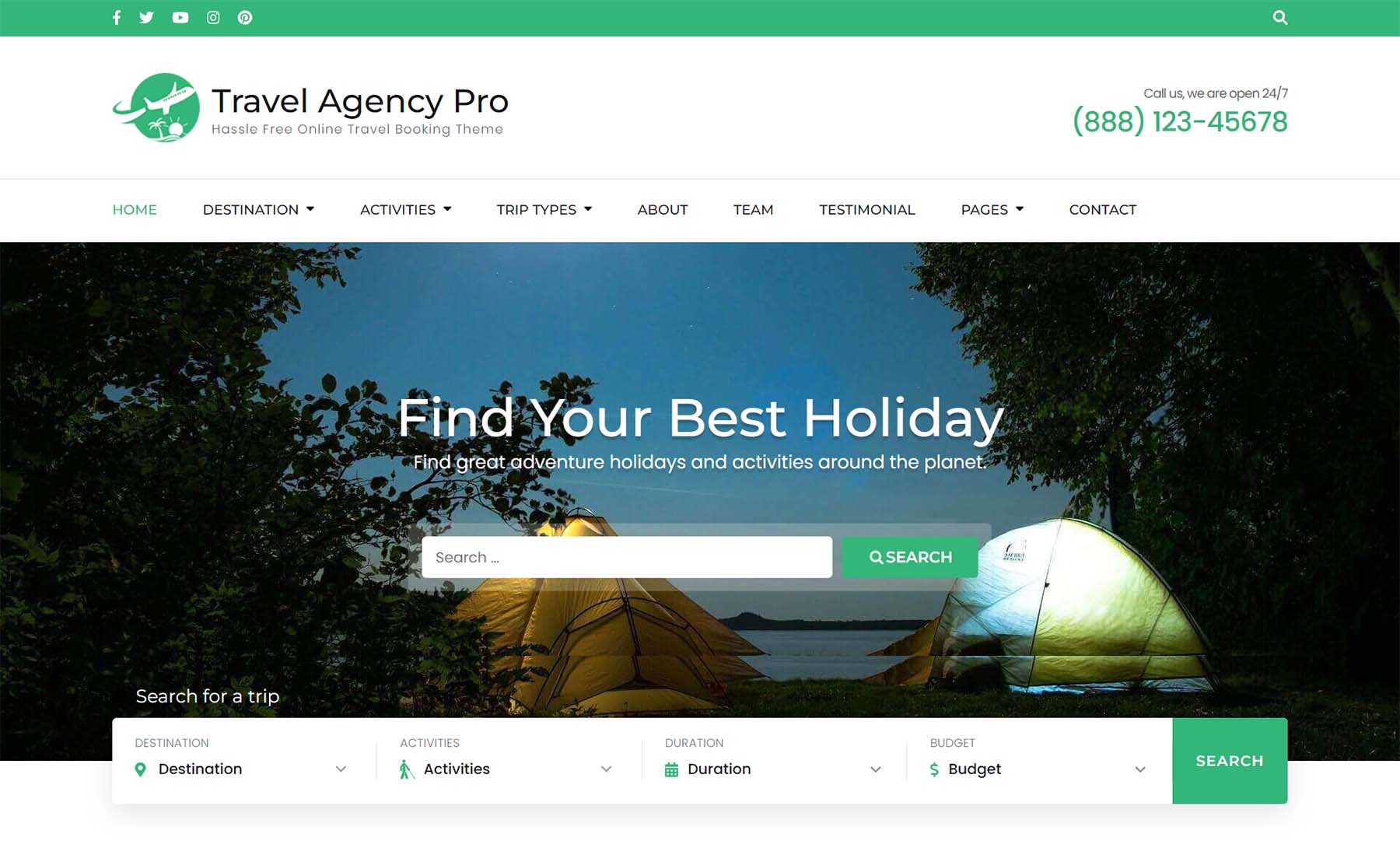 Travel Agency Pro is a WordPress theme crafted with tour and travel companies in mind. You can effortlessly incorporate various trips, destinations, and custom post types. Showcase various travel activities, emphasize your unique travel offerings, and enable visitors to book their desired trips conveniently. It has a set of one-click demos that you can easily be imported and five pre-built custom page templates for the about, contact, team, and testimonials pages. Travel Agency Pro is powered by WP Travel Engine, one of many WordPress booking plugins. As such, it is easy to create personalized trips with complete itineraries. This versatile plugin allows you to craft trips with multiple destinations while also allowing you to add a variety of activities seamlessly. Additionally, your visitors can instantly pay for their trips via ts online payments.
Key Features:
Four ready-made website templates
Ten home page sections
Compatible with WPML and Polylang
Custom post types for single trips, trips, and destinations
Advanced trip and travel search functionality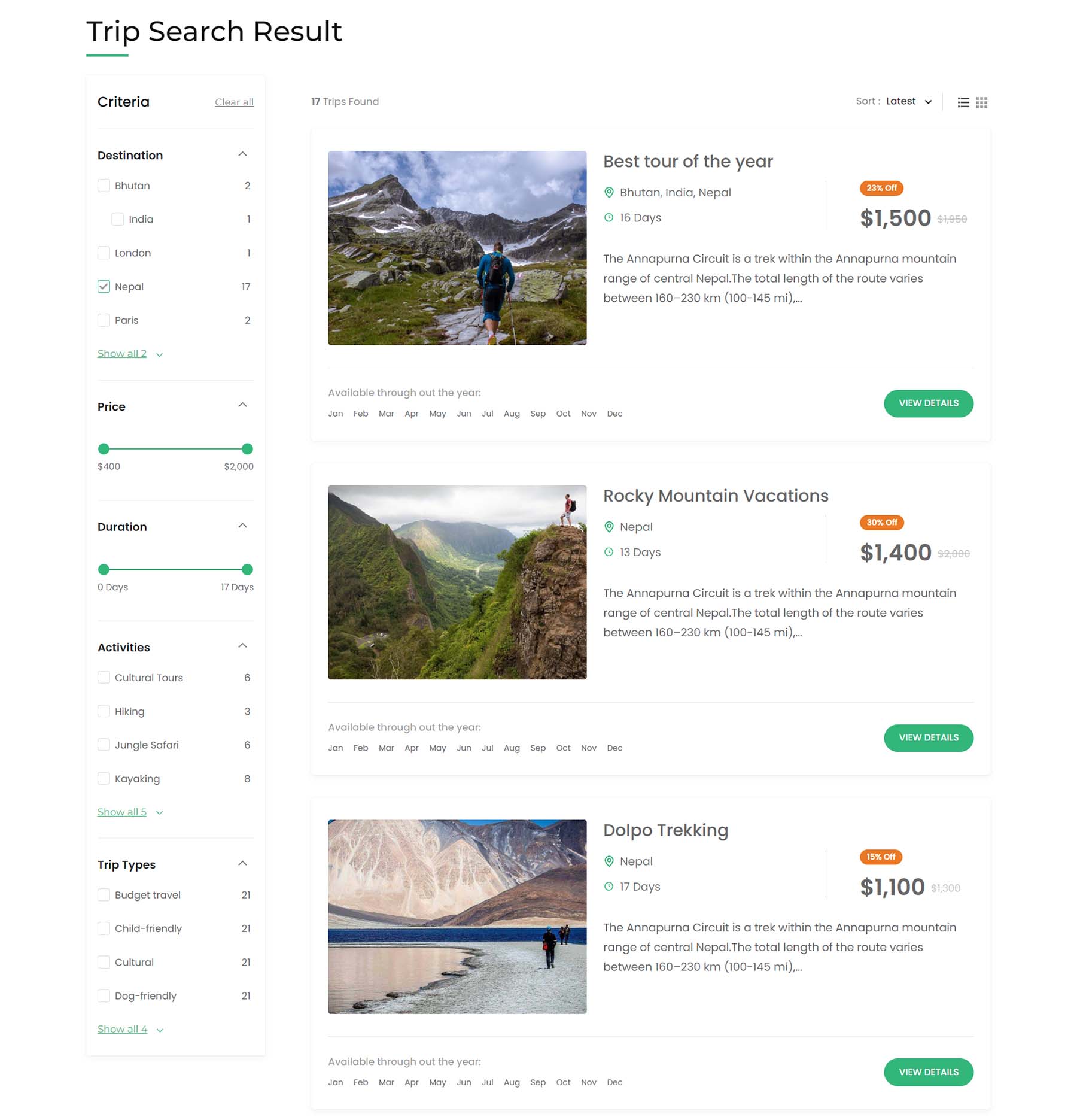 The search results page is a powerful feature that your customers will love. Firstly, you can customize the filters provided based on the custom fields that you create. Next, you can easily change the typography and branding on this page. Thirdly, you can see specific excursions, locations, and duration availability. You can also see if there are any sales available right within the search result.
Best for:
Travel Agency Pro is best suited for those looking to set up a booking site for their travel or tour-based business. Its integration with WP Travel Engine gives you the beauty and power you need to
Pricing: Free, Paid plans start at $59 per year
7. Qi Theme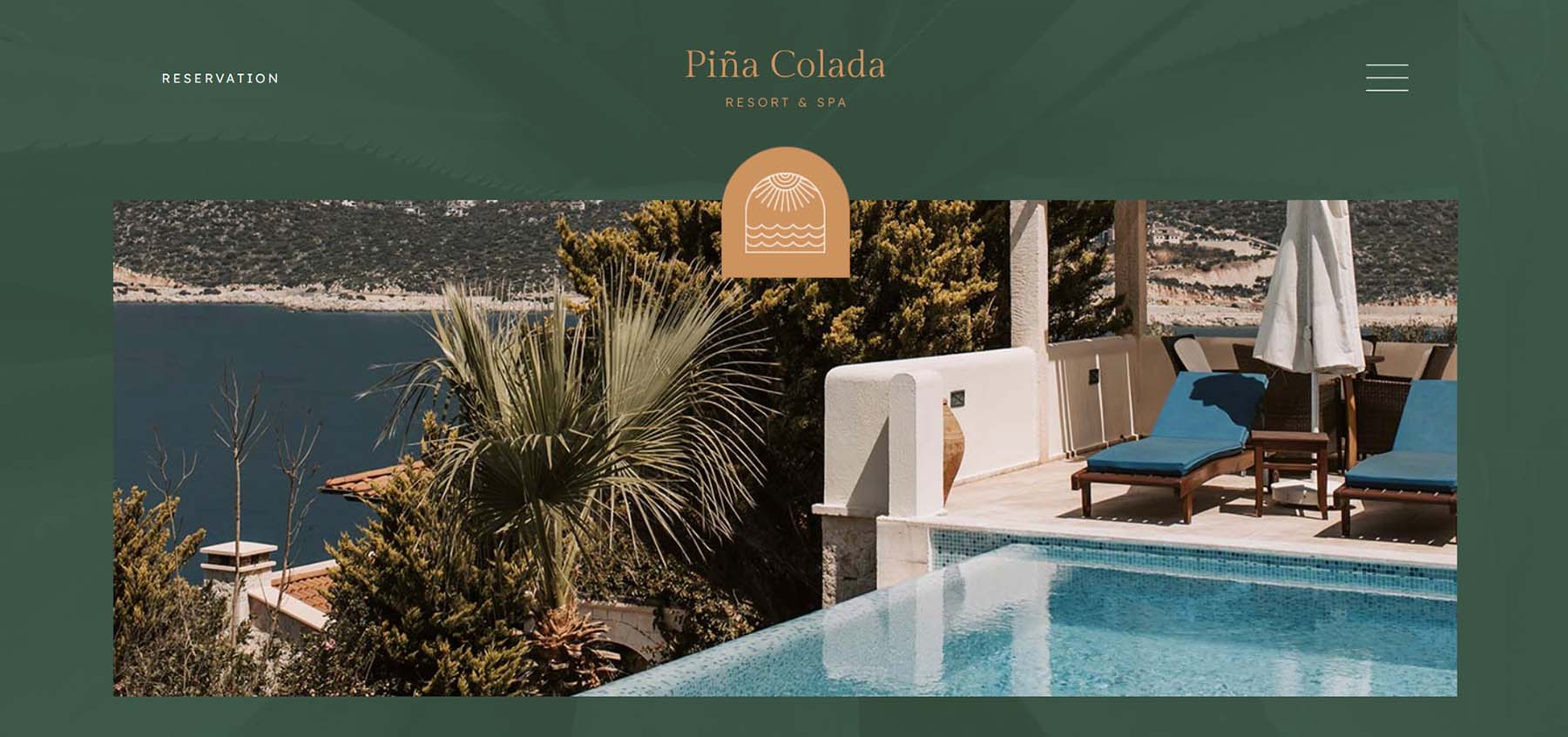 Qi Theme is a multipurpose theme that boasts more than 100 one-click demos. This means that bringing your vision to life for your travel website is well within reach when using Qi. The theme has several modules that can be used to create a stunning and visually appealing travel website. You can show off your travel photos in a project showcase, a stacked item scrolling section, a masonry slider, or even a simple grid gallery. Build your travel newsletter with native form styling for MailChimp sign-up forms and Typeforms. Qi also has several WooCommerce modules to combine to make a stunning online store for your travel business.
Key Features:
100+ flexible modules to build custom pages on your travel website
100+ one-click demos
Six premium and three free travel-centered site demos
Integrated styling with Contact Form 7, WPForms, and Gravity Forms for reservation, contact, and newsletter forms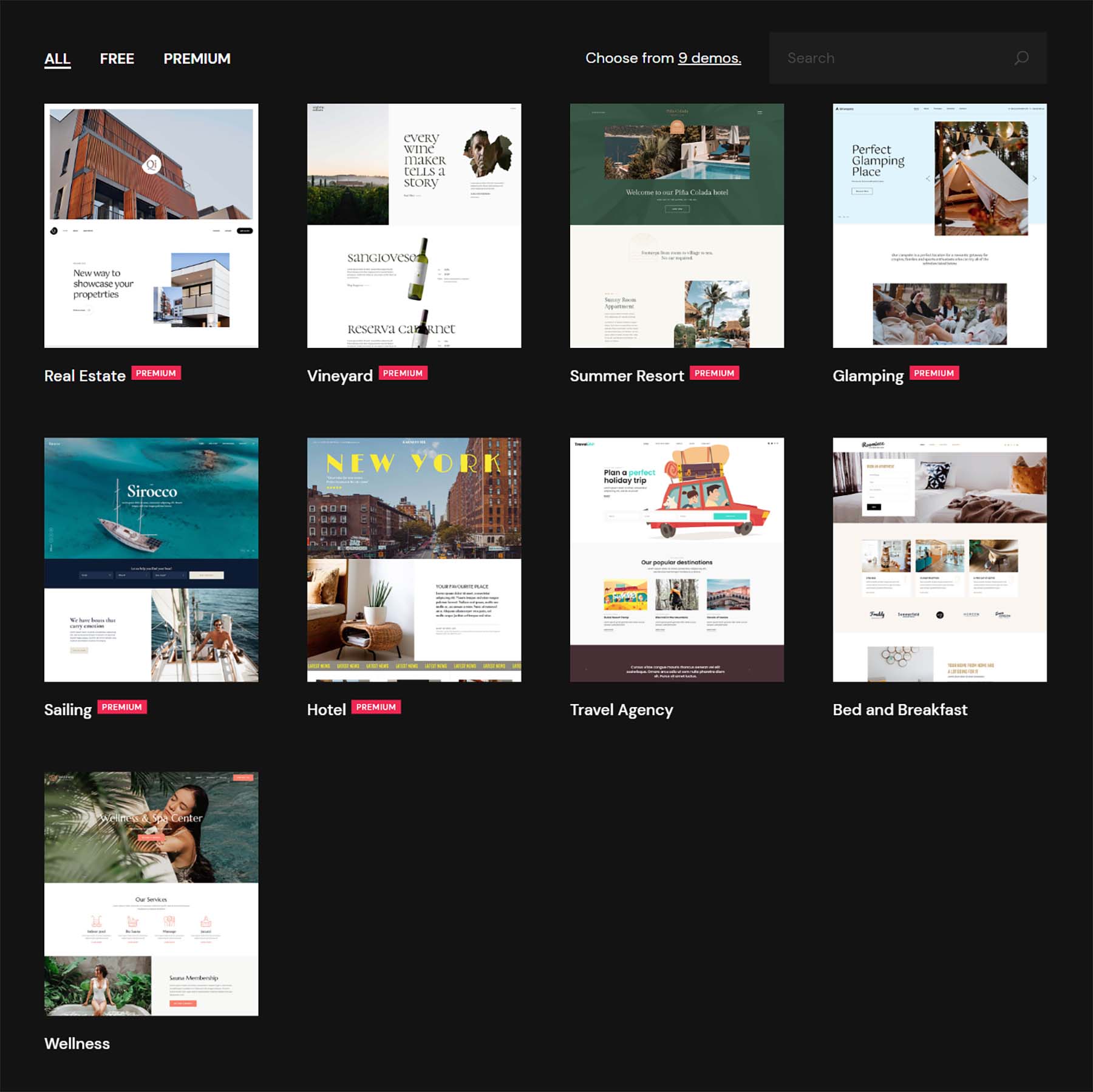 While Qi has over 600 site demos for its users, if you're looking to build a complete site for your travel business, Qi has got you covered. The theme has nine travel-centric site demos, three of which are free. If you're budget conscious, you can still build a beautiful site with the free Elementor page builder and a free Qi travel theme to get your travel business' website launched.
Best for:
For those looking to build an eclectic and visually distinct travel website, Qi is for you. If you are familiar with using Gutenberg and Elementor for your website-building needs, Qi's many travel-related demos will be easy to edit. Easily customize and remix elements of over 100 site demos to build the best travel website for your needs.
Pricing: Free, Paid plans start at $69 per year
8. Tourizto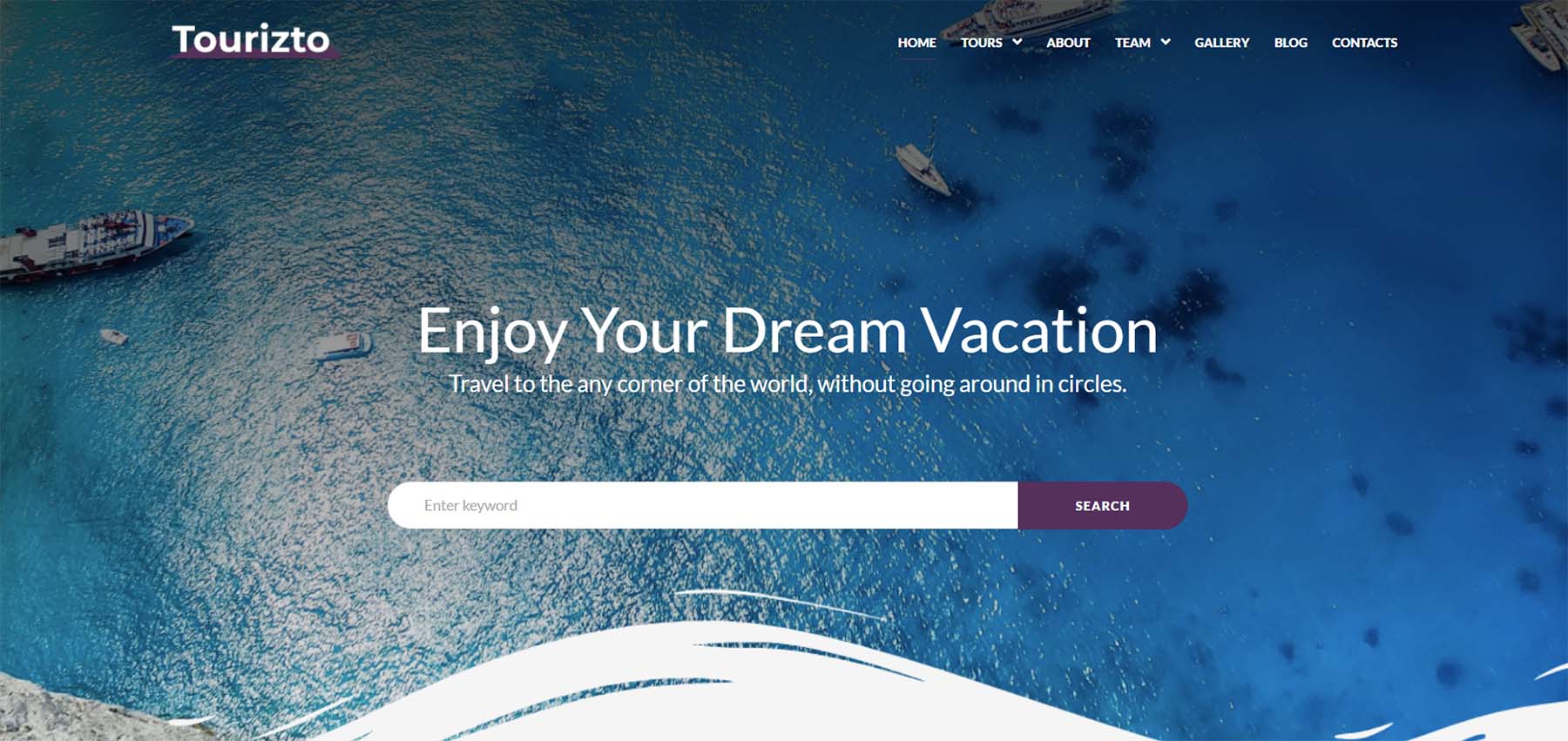 Tourizto is a simple WordPress theme for a simple travel business. If you're not keen on booking online on your website, consider using Tourizto. This theme is best used as a standard website site instead of a highly functional site with many complex features and setups. While the theme integrates with Contact Form 7, it may be used to use that plugin strictly for contact form reasons, not as a booking form. Tourizto comes bundled with JetPlugins, a plugin that adds additional functionality and modules to Elementor and any WordPress theme. Overall, if you're a company that relies more on offsite connections and sales for your travel business, Tourizto would be one of the best travel themes to use as an informational site for your business.
Key Features:
50+ dedicated travel widgets for Elementor
Integrates smoothly with Elementor
Includes high-resolution image pack
Homepage search bar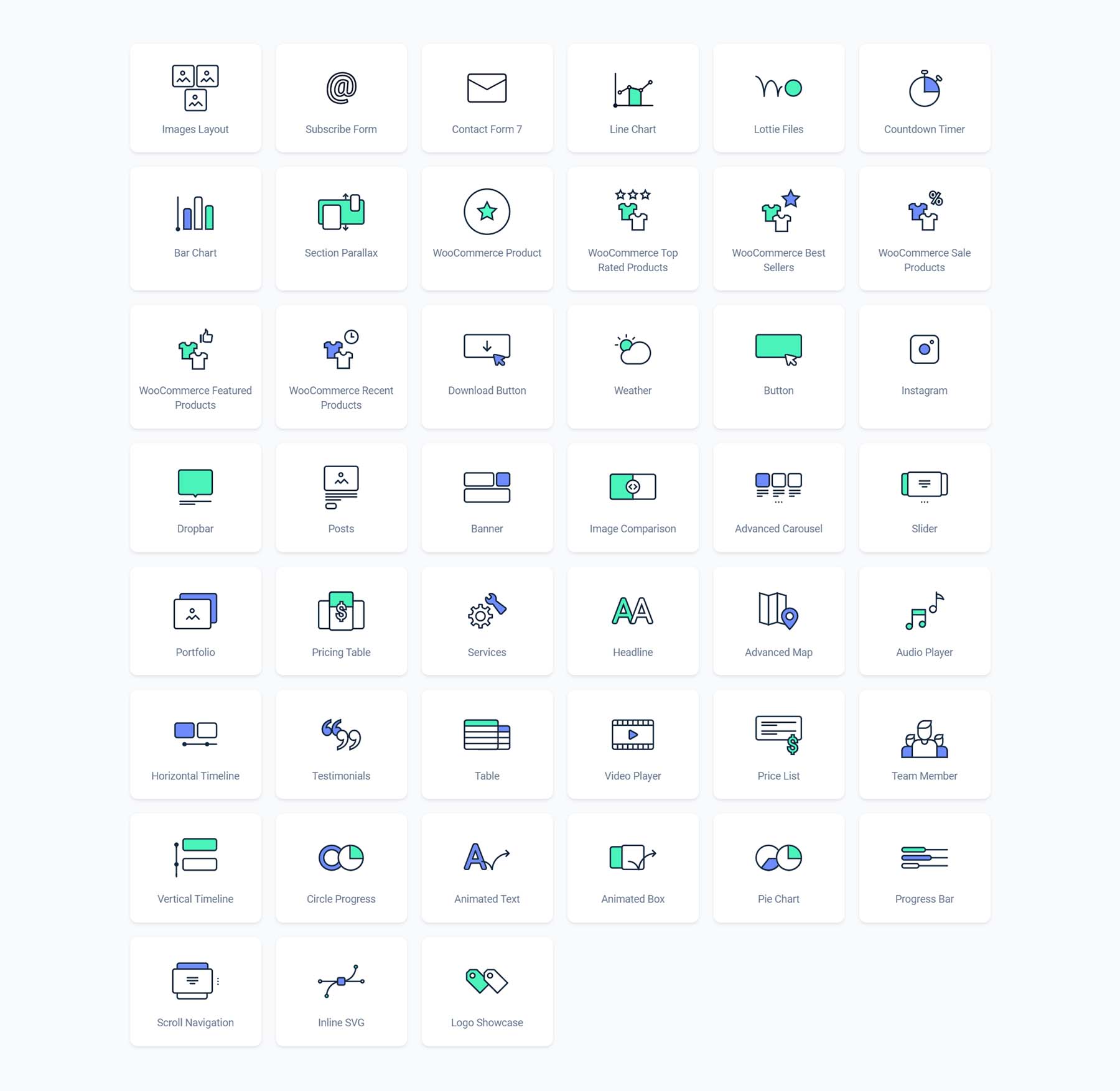 Jet Elements is one of many Jet extensions included with the Tourizto theme. With this, you can add additional elements to your website that you can use with the Elementor drag-and-drop page builder. From tabs to charts, SVGs, and more, quickly build the pages that your travel website needs with these additional tools in your toolkit.
Best for:
Those looking for a travel theme for their travel business and want a simple theme with minimal bells and whistles can feel safe with Tourizto.
Pricing: Paid plans start at $59 per year
9. Tripster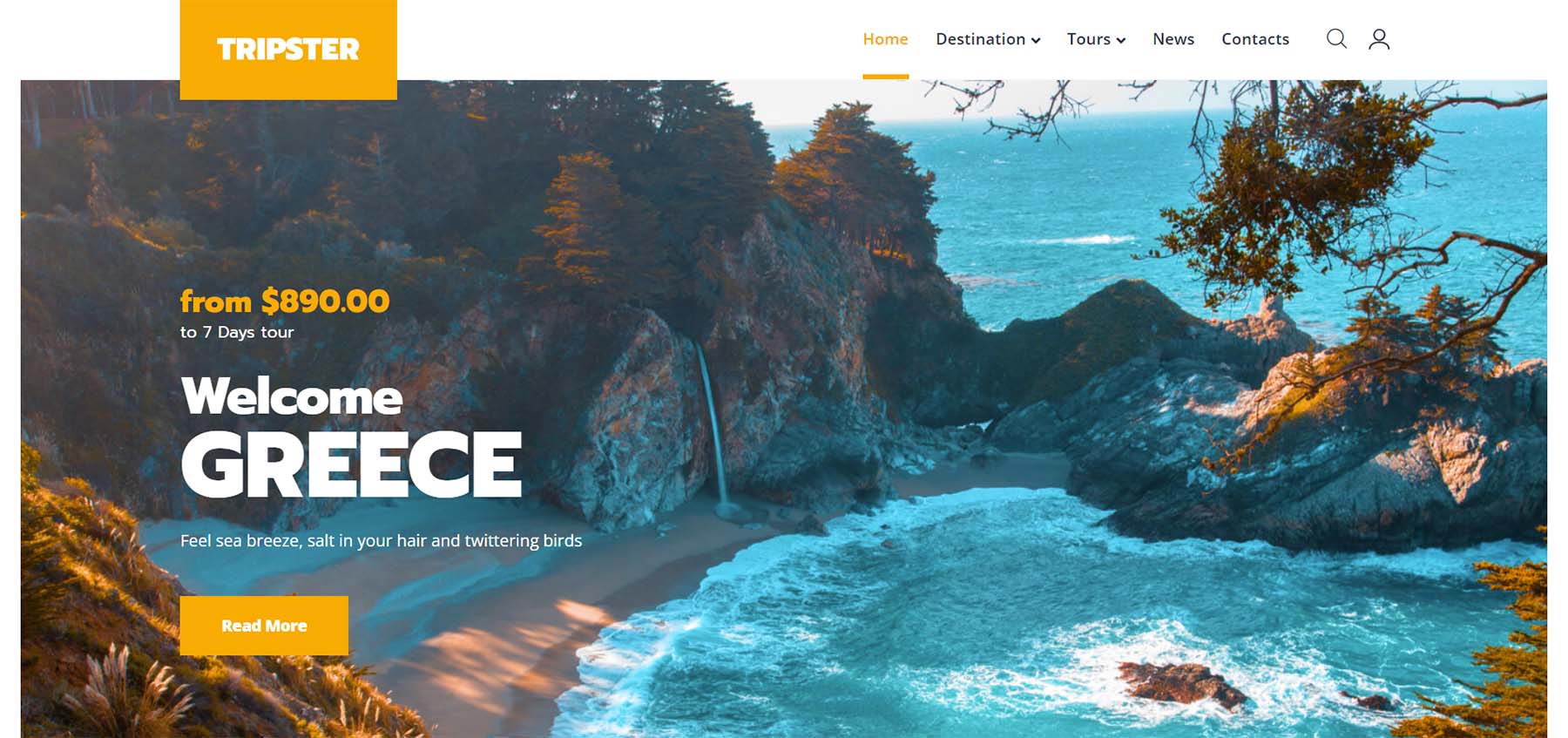 Tripster is another simple WordPress travel theme that uses Elementor and Jet Plugins. Build upon provided one-click demos to easily and quickly build your travel website. Add different trips and create stunning photo galleries with your new travel theme. Additionally, Tripster gives you a pack of high-quality stock images that you can use throughout your website. Whether you're writing a travel blog, travel reviews, or showcasing your travel photography work, Tripster is an excellent choice to build a solid travel-related website with supportive tools as you embark on your web design journey.
Key Features:
Integrated with Elementor and Jet Plugins
WPML ready for multilingual support
50+ dedicated widgets for travel for Elementor
One-click demo installation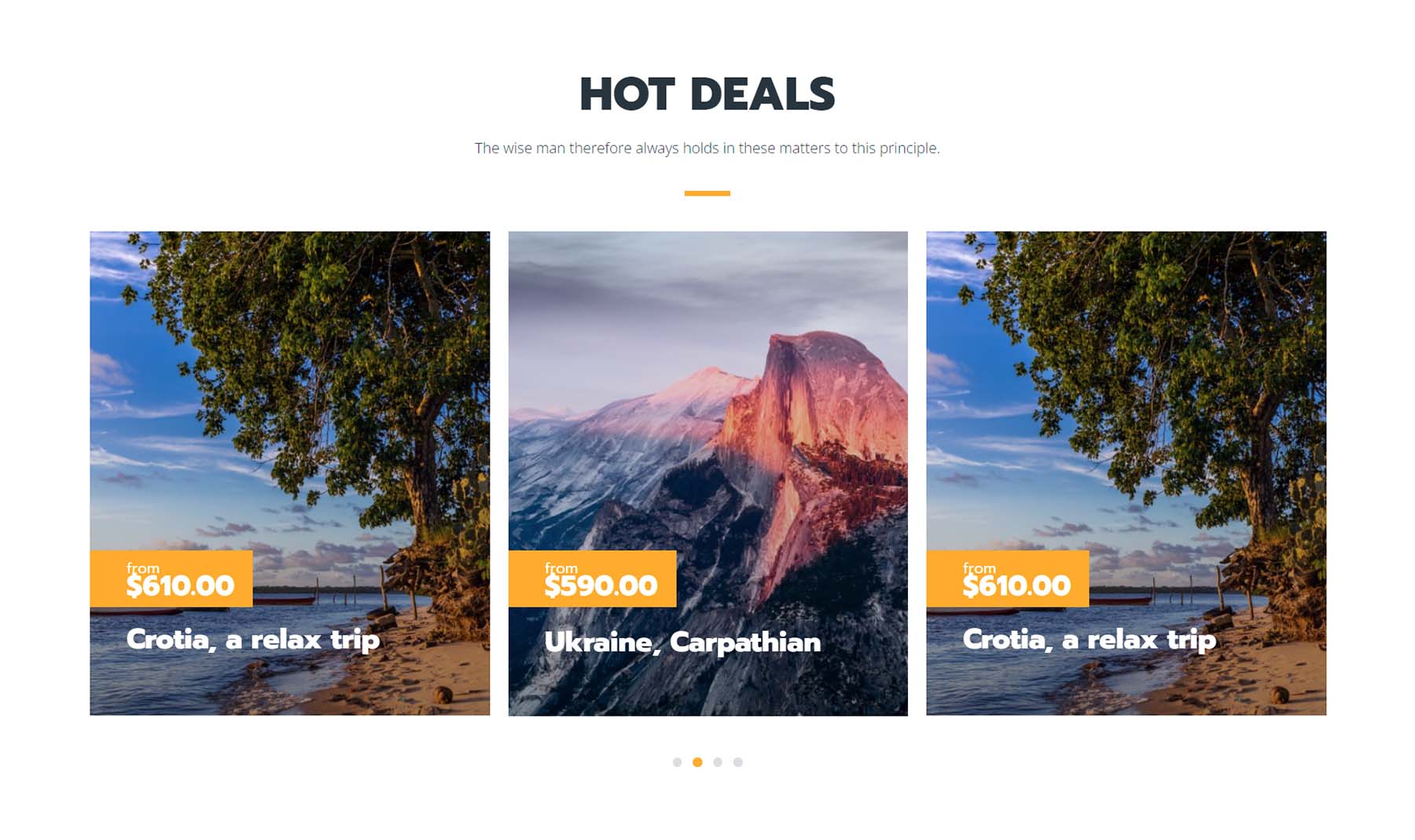 Showcase other deals throughout your site with the hot deals widget. Placed conveniently at the bottom of each tour, cross-promote other tours on your website to drive up interest for other tours hosted on your travel website.
Best for:
Travel businesses looking to build simple, clear, concise websites with Elementor will appreciate Tripster. With a focus on content, branding, and typography, you can create a beautiful website for your travel business with Tripster.
Pricing: Paid plans start at $59 per year
10. Travo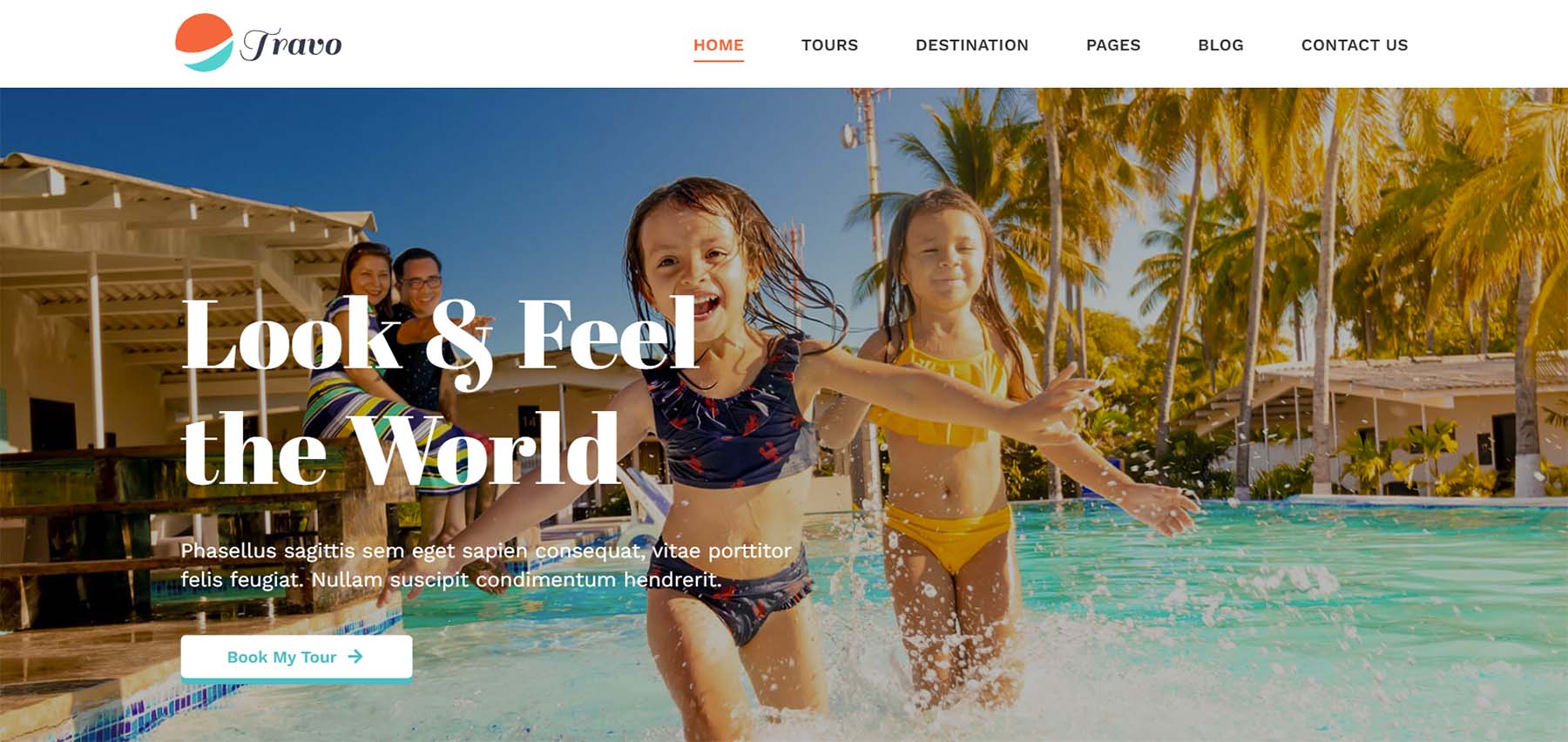 Travo is a simple yet effective travel WordPress theme that balances design, functionality, and ease of use. To begin, the theme is powered by Elementor, the popular page builder plugin. This means that you can easily do this with no coding required when it comes to editing and creating new pages, posts, trips, and more. Secondly, the theme comes with several page templates for tours and destinations. Whether you're a tour company, or a blogger talking about destinations you've visited, you have a good starting point regarding the design and page layouts used in your travel website. Lastly, though this theme doesn't have native booking or scheduling features or integrations, you can still use the free contact form plugin Contact Form 7 to handle light booking requests, contact forms, and more.
Key Features:
35+ pre-built page templates
Elementor-powered WordPress theme
Page templates for tours,  booking, and destinations
Contact Form 7 is compatible with booking, contact, and email newsletter forms
Best for:
For those looking to build a simple but effective travel website for their travel business, trust Travo. While it may not have all the bells and whistles of some of its competitors on our list, it still can make a decent travel website that can be upgraded with additional plugins or standalone as an informational travel website.
Pricing: Paid plans start at $67 per year
Best WordPress Travel Themes Price Comparison
Whether you're a tour operator, a travel agency, or an adventurous blogger, there is something for everyone in this collection. Here is a quick breakdown of our top themes and their pricing.
What are the Best WordPress Travel Themes Today?
For the most flexible WordPress travel themes, we highly suggest our Divi Theme. With a wide array of design modules and deep integrations with powerful booking plugins, Divi is the best WordPress travel theme for those who want to build a robust, feature-rich travel website. If you are maintaining multiple properties and want a native travel WordPress theme, Booklium and Alphenhouse are great choices. Both are deeply connected with the MotoPress hotel and booking plugin. Additionally, their interactions with external booking sites can increase your revenue and provide more significant margins for your travel business.
All in all, you alone can decide the best WordPress travel theme for you and your needs. We hope our list is informative as you look for the best travel theme for your next travel project. Make sure to check out our main post on the best WordPress themes if you're looking for more WordPress theme recommendations!
Frequently Asked Questions (FAQs)
Before we wrap up, let's answer some of your most common questions regarding the best WordPress travel themes. Did we miss one? Leave a question below and we will respond!
Which is the best WordPress travel theme?
The
Divi
Theme stands out as the best WordPress travel theme with many modules, design settings, and seamless integration with top-of-the-line booking, form, and eCommerce plugins. It's the perfect choice for those who want to create a travel website that's both beautiful and functional.
Which is the best free WordPress travel theme?
The
Qi theme
is a free multipurpose theme that is our pick for the best free WordPress travel theme with excellent free features such as three pre-made travel templates, integration with Elementor,  booking plugins, and Contact Form 7,
WPForms
, and
Gravity Forms
for reservation, contact, and newsletter forms.
Is WordPress ideal for creating a travel website?
WordPress is ideal for creating a travel website because it offers a variety of customizable themes and plugins specifically designed for travel websites. It also has plugins that easily integrate booking and reservation systems and social media sharing options for user-generated content and reviews. Additionally, WordPress can be user-friendly, SEO-friendly, and responsive, making it accessible to a broader audience.
How do I create a travel website with WordPress?
To create a website with WordPress, you can use a travel theme like
Divi
and relevant plugins such as a booking system like
Amelia
. Customize the design to match your brand and add engaging content such as destination guides, travel tips, and reviews. Remember to optimize for SEO and make your website mobile-friendly.
Which WordPress travel theme support bookings?
Themes, including
Divi
,
Booklium
,
Alpenhouse
,
Aegean Resort
, and
Travel Agency Pro
, offer the functionality to book directly from your website, so potential customers can view the packages and make their reservations in one place. In addition, this feature can help you save money on platform fees and commissions.
Which WordPress travel theme integrates with WooCommerce?
Themes such as
Divi
,
Alpenhouse
, or
Qi
come equipped with top-notch WooCommerce support, which allows you to quickly sell packages, merchandise, and other goods directly from your website.
Why should I make a travel website for my business?
Creating a travel website for your business is essential as it allows you to showcase your services, promote your brand, and reach a wider audience. It provides a platform to display travel packages, pricing, and customer reviews, making it easier for potential customers to plan their trips and ultimately increasing your sales and revenue.
How do I make my travel website unique?
Focus on a specific niche to make your travel website unique. Offer personalized itineraries, insider tips, and unique experiences. Emphasize the local culture, food, and attractions. Use high-quality images and engaging content to showcase the destinations. Provide excellent customer service and user-friendly navigation. Collaborate with local businesses to offer exclusive deals and promotions.
How do I make a profitable travel website?
To make a profitable travel website, focus on offering valuable content, such as destination guides and travel tips, and partnering with travel companies for affiliate marketing. Utilize search engine optimization and social media to drive traffic to your site, and offer easy booking options to earn a commission on travel bookings made through your site.
How can I promote my travel website?
To promote your travel website, focus on social media marketing, SEO optimization, and working with influencers and travel bloggers. Share visually stunning photos, write engaging blog posts, and offer exclusive deals and packages to attract potential customers. Utilize email marketing and online advertising to reach a wider audience.
So, let us know your favorite travel theme in the comments below. And if you think we missed one, we'd love to hear about it!
Article thumbnail image by WinWin artlab / shutterstock.com