Minimalist web design brings a "less is more" approach to building a website. The main goal of a minimalist website is to maximize user experience by using an elegant design that centers on content. But this kind of design is easier said than done. Thankfully, there are plenty of minimalist WordPress themes for you to use. In this post, we'll be looking at the best minimalist WordPress themes that help build a website that looks great and keeps it simple.
What is a Minimalist WordPress Theme?
When some people think of a minimalist WordPress theme, they think of a black-and-white website, maybe with hints of grey. For the most part, many minimalist themes adhere to a clean aesthetic look. Great emphasis is placed on whitespace, clean lines, and stunning typography. But don't be deceived; a minimalist theme doesn't always have to be black, white, and devoid of color. By experimenting with style and typography, you can use any one of our top best minimalist themes to build a clutter-free, minimal website for your business or brand.
10 Best Minimalist WordPress Themes
The best minimalist WordPress themes allow you deep customization options while balancing an elegant look and feel for the end user. Our list includes themes for online stores, blogs, photographers, and more. No matter the industry or type of website you're looking to build, we have a minimalist WordPress theme for you to use on your website today.
The Best Minimalist WordPress Themes Listed In Order
Expand List
1. Divi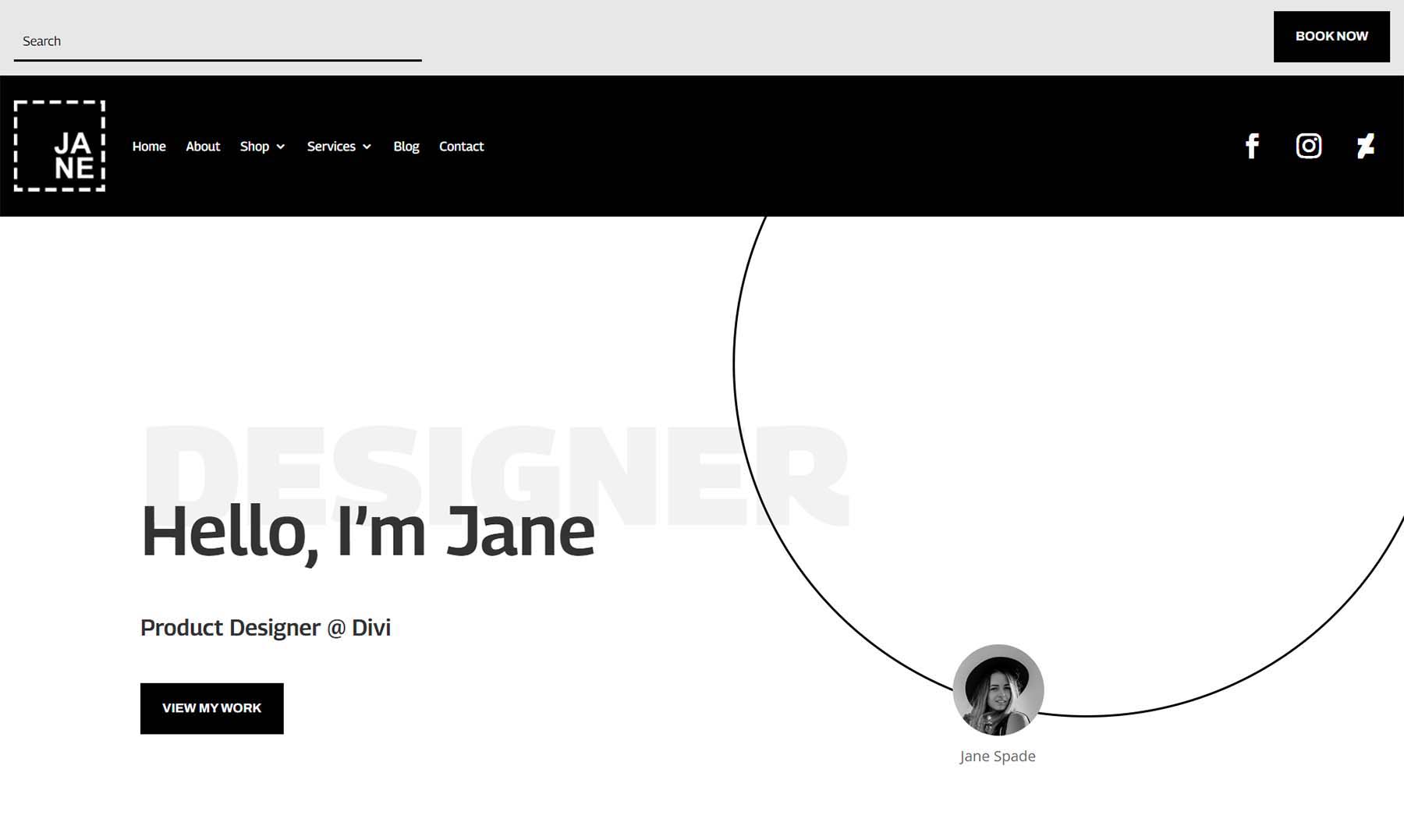 Divi is our very own WordPress theme with powerful design tools for adding minimalist design to your website with ease. Its powerful page builder is intuitive, drag-and-drop, and doesn't require any coding knowledge to build. Divi's robust layout library has over 2,000 layouts that you can quickly download and customize directly from your builders.
Divi has one of the best theme builders in the industry, allowing you to create templates and build your minimalist site from the ground up. Divi has more than 40 native content modules and WooCommerce modules that you can use to build any website or online shop. Plus, there are tons of free design resources available inside Divi and on our blog. You can download a minimal header and footer for your site or learn how to create a minimal product page using Divi's WooCommerce modules with ease.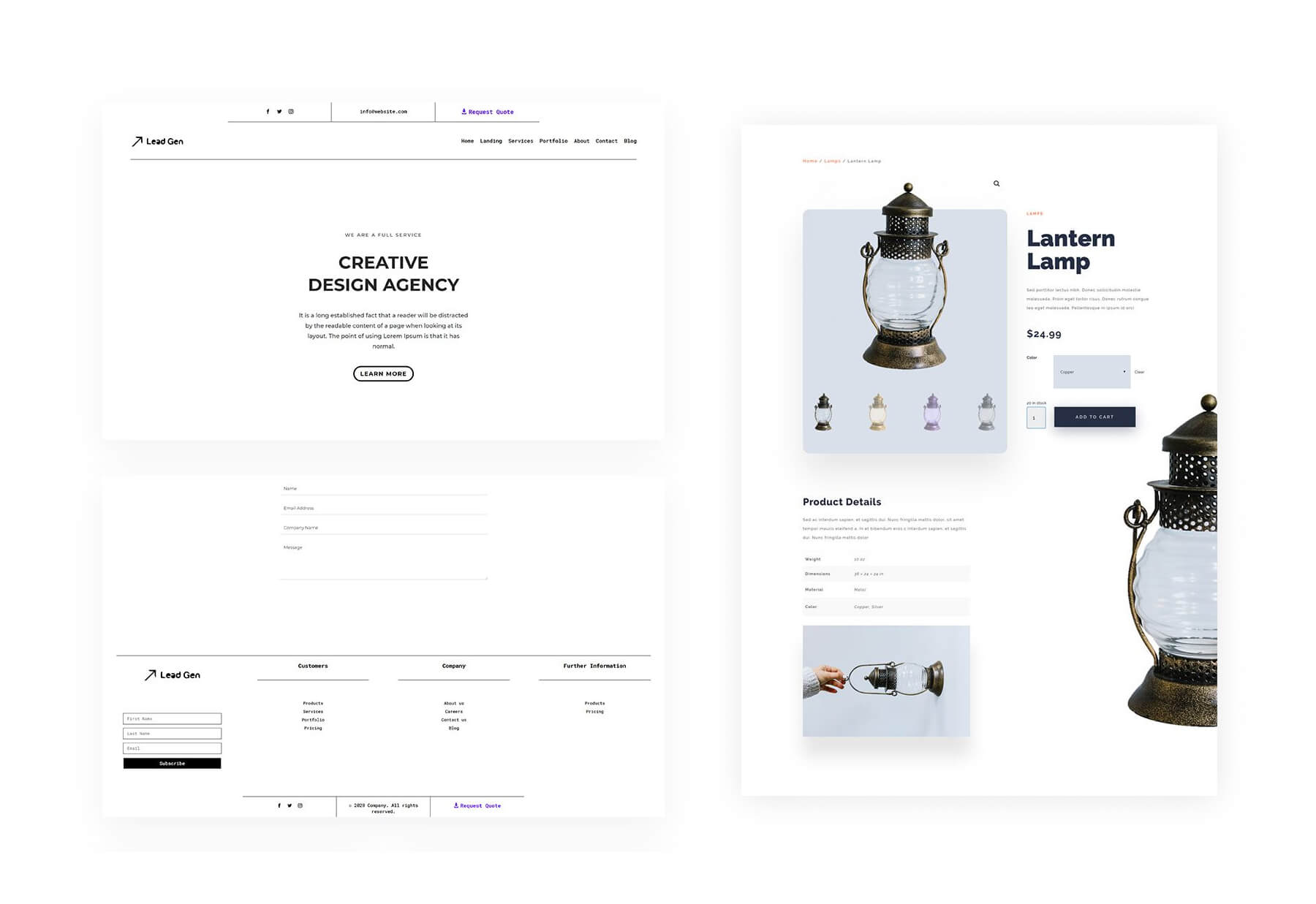 Key Features of Divi:
Style options for stunning text designs and fluid typography
Advanced background design settings for creating subtle gradients, patterns, and masks
Animations and Hover effects for subtle micro-interactions and user engagement
Built-in Google Fonts and Font Awesome Icons
200+ content, structural, and WooCommerce modules
2,000+ fully editable layouts
Intuitive, drag-and-drop visual page and theme builder
An exhaustive list of integrations with third-party services and applications
Built-in split testing, analytics, and conversion optimization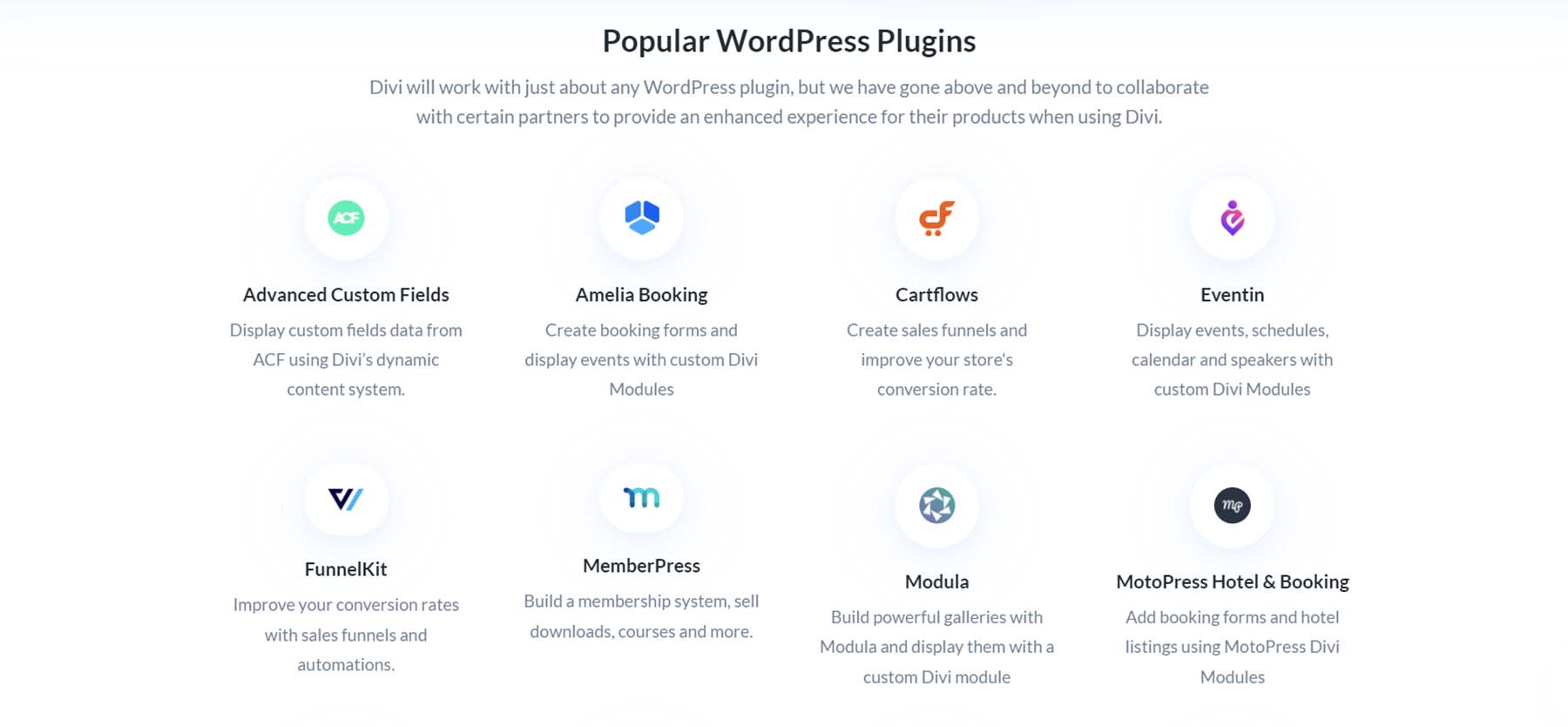 Just because Divi is one of the best minimalist WordPress themes, it does not mean that your integrations should also be on the lean side. Divi stands out as a WordPress theme that can connect to a variety of services. Whether you want to use Mailchimp for email marketing, Blubrry for podcasting, or MemberPress to build a private community, Divi enables you to connect to the services that matter most to your business while also allowing you to have a clean, minimal, aesthetic website.
Best For:
Divi is best for those looking to create a minimalist design for your site with powerful design options and resources. You have all of Divi's free layouts and built-in modules available to create clean and modern designs with impressive animations and hover effects to boost user experience and engagement.
Pricing: $89 per year
2. Astra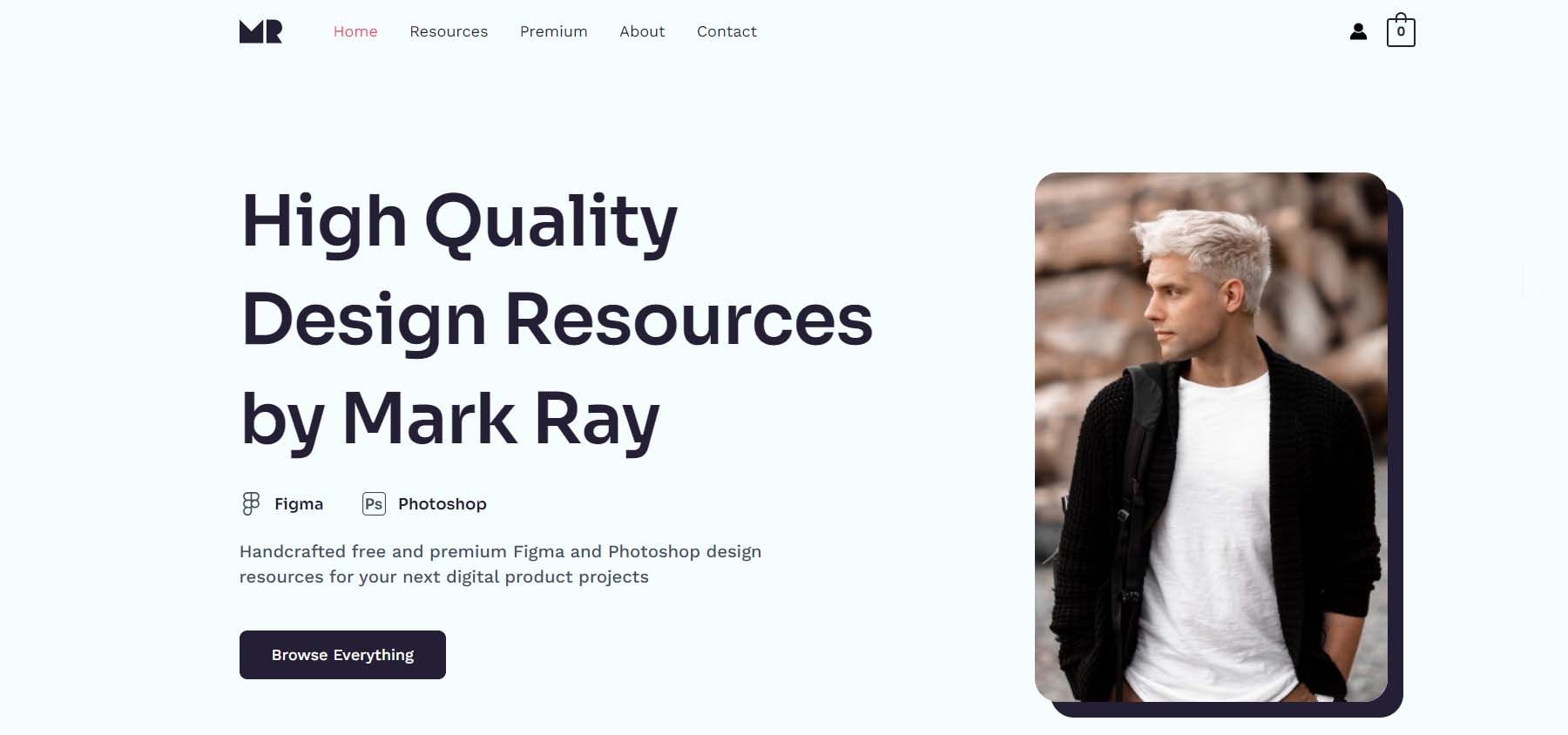 Astra has been named one of the most popular WordPress themes ever, and with good reason. This theme powers more than one million WordPress websites the world over. As such, this theme has made quite a name for itself among WordPress users. Astra follows a freemium model, so you can test out the free theme version today and upgrade to the premium version to get better features for your website. As a minimalist theme, Astra puts customization directly into your hands. You can use any one of the popular page builders to create any page layout you can think of. Astra also comes with a large library of starter templates that you can mix and match to create the perfect minimalist theme for your website. Focused on performance, Astra passes Pingdom, GTMetrix, and other performance site tests with flying colors.
Key Features of Astra:
240+ starter template library
Compatible with Gutenberg, Elementor, Beaver Builder, and other popular page builder plugins
Optimized code uses less than 50kb of resources out of the box
Drag-and-drop header and footer builder
WooCommerce ready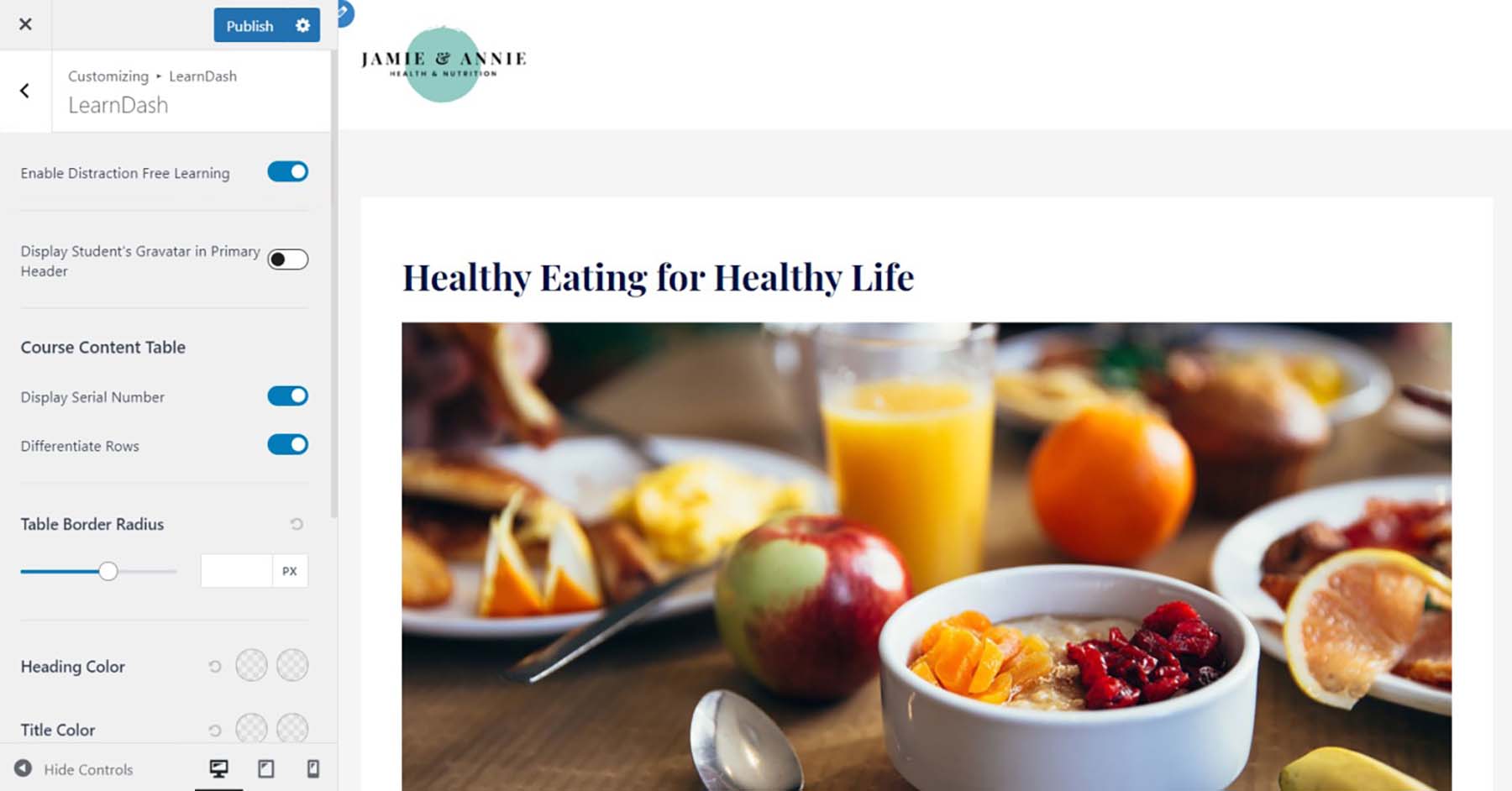 A key feature of Astra is its native integration with some of the best learning management plugins available for WordPress. Astra integrates exceptionally well with LifterLMS, LearnDash, and Easy Digital Downloads. Should you plan to sell digital products or hope to provide digital courses to your website visitors, Astra has the tools to extend a beautifully minimal and clean look to your products and online classroom.
Best For:
For those looking to integrate an easy-to-use WordPress theme with a learning management system, choose Astra. Astra is one of the best minimalist WordPress themes that you can use to sell your digital products and courses. Astra balances aesthetics with the functionality of some of the best LMS platforms available to WordPress.
Pricing: Free, Paid plans start at $59 per year
3. GeneratePress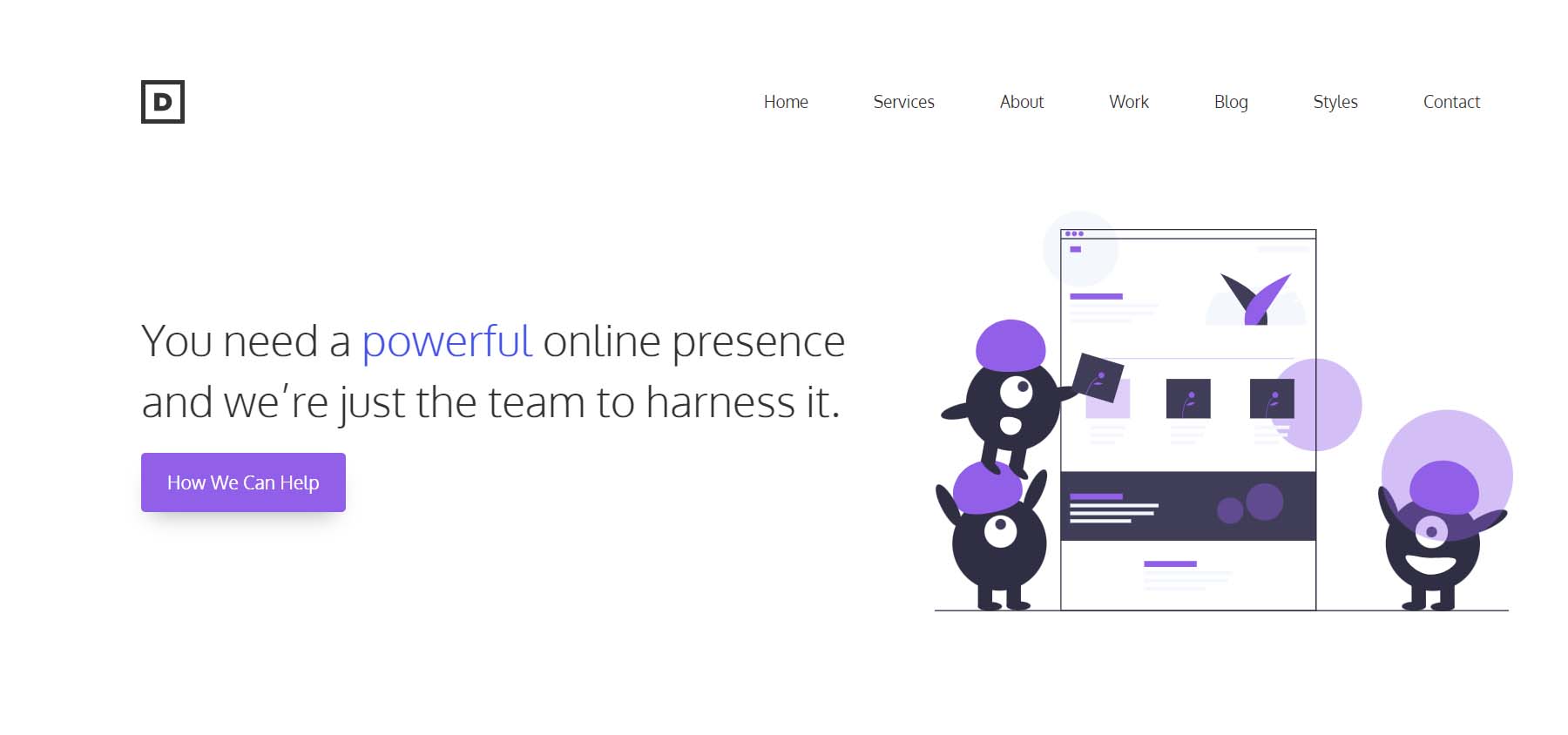 GeneratePress is a minimalist WordPress theme that goes the extra mile. It is one of the few themes on our list that is proudly WCAG 2.0 compliant. Additionally, GeneratePress puts great emphasis on its performance. If speed, clean code, and block-based building are key to your website, GeneratePress is one of the best minimalist WordPress themes that you can choose. GeneratePress prides itself on being one of the first WordPress themes to accommodate block-based theme building. This makes building a minimalist website a smooth process. You can use the GenerateBlocks plugin in addition to GeneratePress to increase the flexibility and design options needed to make a clean yet functional WordPress website.
Key Features of GeneratePress:
75+ stater site templates
Block-based theme and page builder
Customizable mobile menu, secondary aviation, and off-canvas panel
WooCommerce and Gutenberg ready
Follows WCAG 2.0 standards with built-in Schema.org metadata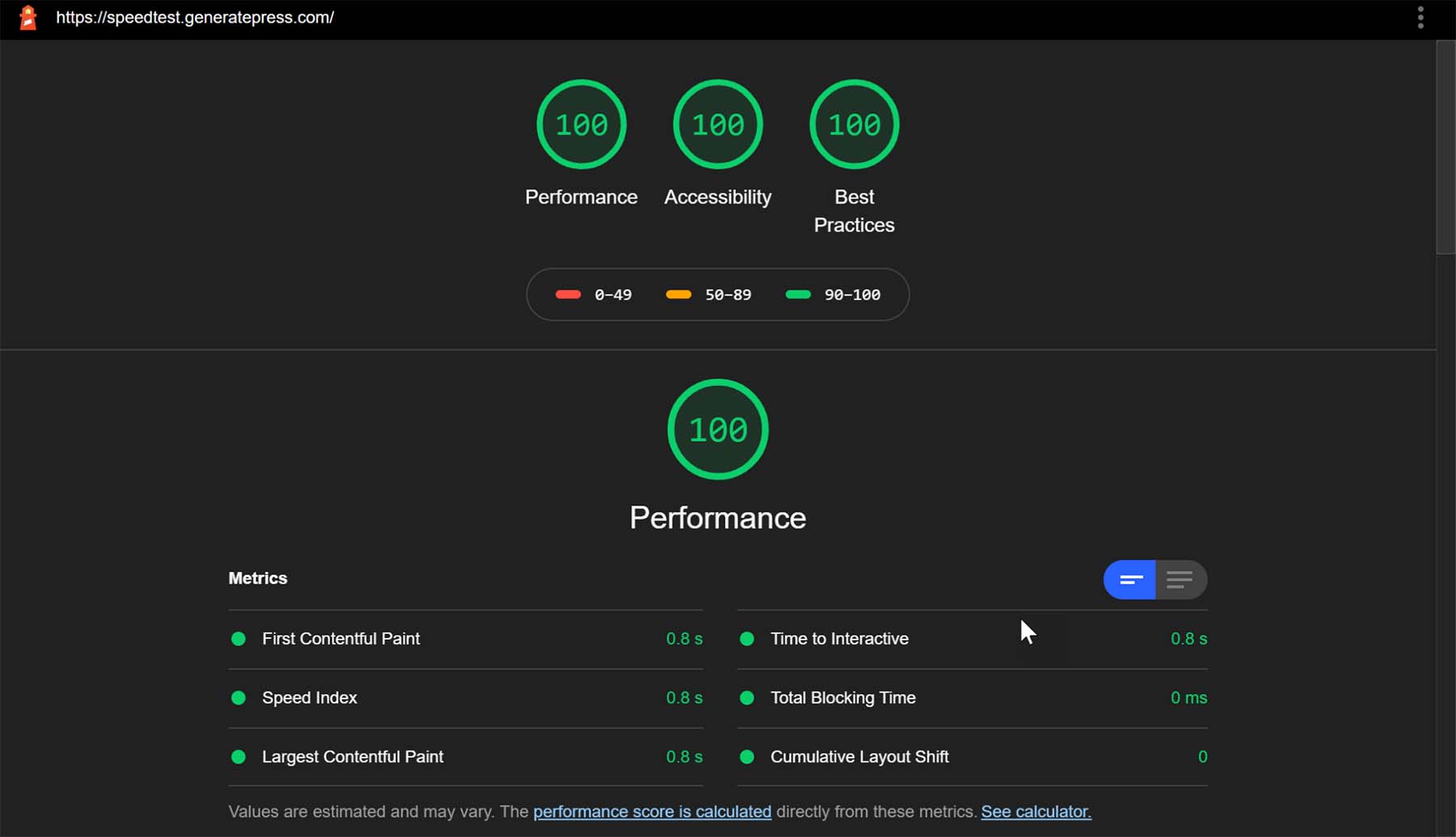 It's hard to argue with stats like these! GeneratePress is an agile WordPress theme that not only brings a minimalist approach to its design but also operates on a lean code base that makes its performance ratings hard to ignore.
Best For:
For those looking to build a beautiful, minimal yet accessible and performance-focused website, you must use GeneratePress. This minimalist WordPress theme beautifully melds minimal design with great adherence to speed and website performance.
Pricing: Free, Paid plans start at $59 per year
4. Hello Elementor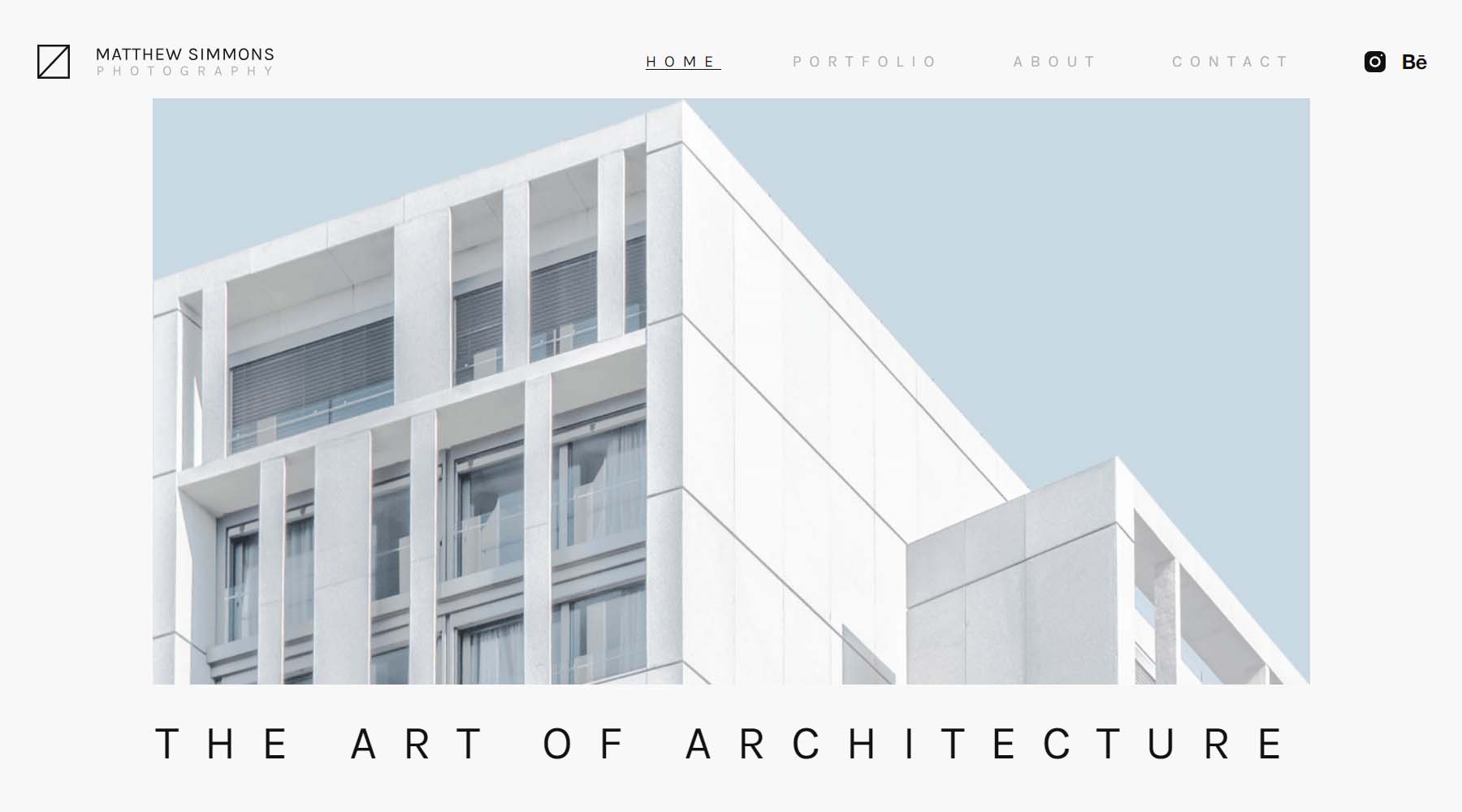 Hello Elementor is a beautiful vanilla theme that goes hand in hand with the famed page builder plugin Elementor. As the name suggests, Hello Elementor is the premier theme that you should use if you are a user of Elementor and you want to build a minimalist theme. The drag-and-drop builder makes it easy to use the hundreds of widgets provided in Elementor to create outstanding pages, posts, headers, footers, and more. Hello Elementor is also a very light theme, so it'll load quickly for your site visitors and perform well in search engines. Hello Elementor also works well with WooCommerce. The theme builder can quickly create custom product, checkout, and cart pages with your minimal design in mind. If you love using Elementor and want a solid minimalist theme to go with your favorite page builder, choose Hello Elementor.
Key Features of Hello Elementor:
100+ mobile responsive widgets for content, eCommerce, and more
100+ full website kits for a variety of niches and markets
Customize headers, footers, blog posts, archives, 404 pages, and more
WooCommerce ready
SEO friendly, RTL ready, and uses only 6 KB of resources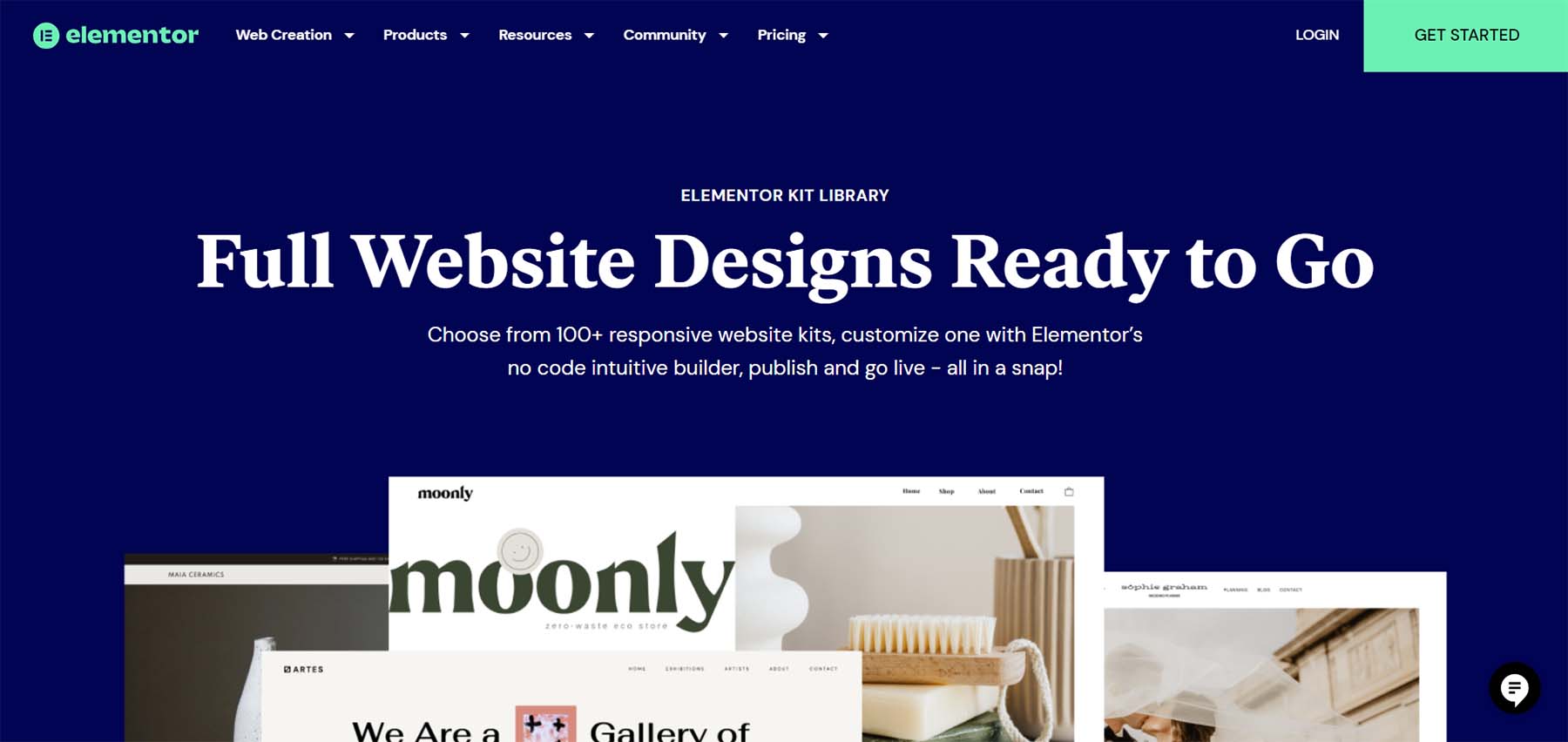 Of all the themes featured in our list, Hello Elementor's theme library provides the most modern and design-centric themes. Mixing and matching different elements of more than 100 themes is possible with Hello Elementor's easy-to-install website kits. A variety of minimalistic theme kits are provided, and it's a quick and painless process to import sections, headers, footers, and more from the library to build your custom WordPress site.
Best For:
Fans of Elementor would find that Hello Elementor is the best minimalist WordPress theme for their project. With an extensive library of website kits, hundreds of widgets, and a powerful page and theme builder, Hello Elementor will help you build the minimal website of your dreams with Elementor by your side.
Pricing: Free, Paid plans start at $59 per year
5. Neve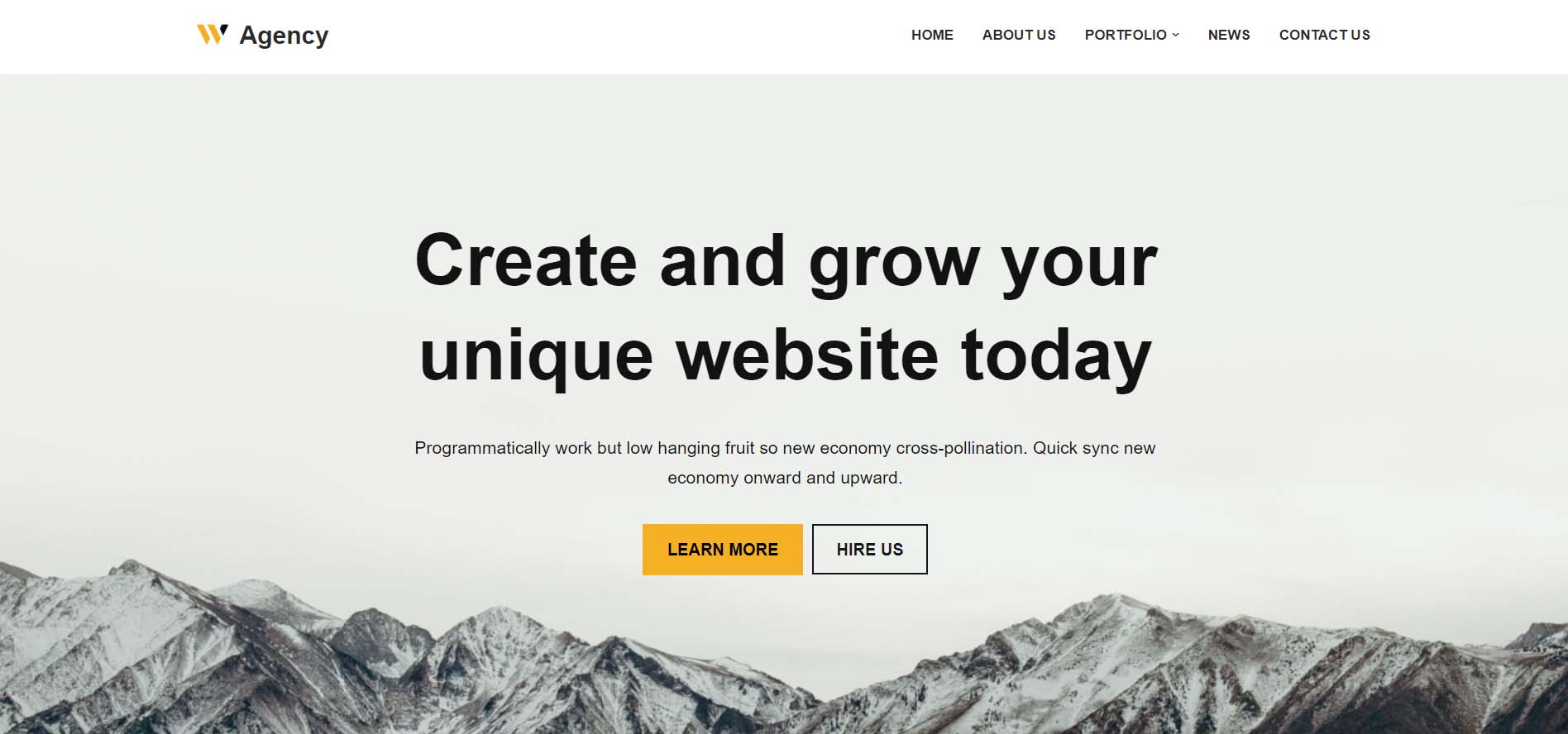 Neve is a freemium minimal WordPress theme that does more. First, it takes a mobile-first approach to its design. It takes performance seriously, as well as mobile responsiveness. Because of this, you'll be safe in having your minimal site perform well with search engines. It boasts fine lines, excellent use of padding, spacing, and sleek designs that make building your minimalist website a breeze. Neve has a series of starter themes to help you get your minimal website off the ground. Some of these themes can help you build a portfolio, business website, and even a WooCommerce store. With Neve's premium offering, customizing all aspects of your WooCommerce store is possible. Neve is one of the best minimalist WordPress themes for those who are looking for a theme that balances mobile styling, functionality, and design.
Key Features of Neve:
100+ one-click stater sites
Custom build header and footer with a drag-and-drop editor
Integrates with a wide array of page builders like Divi, Thrive Architect, Brizy, and more
Create and use global color palettes for sitewide branding
SEO-friendly, AMP-compatible, and optimized for speed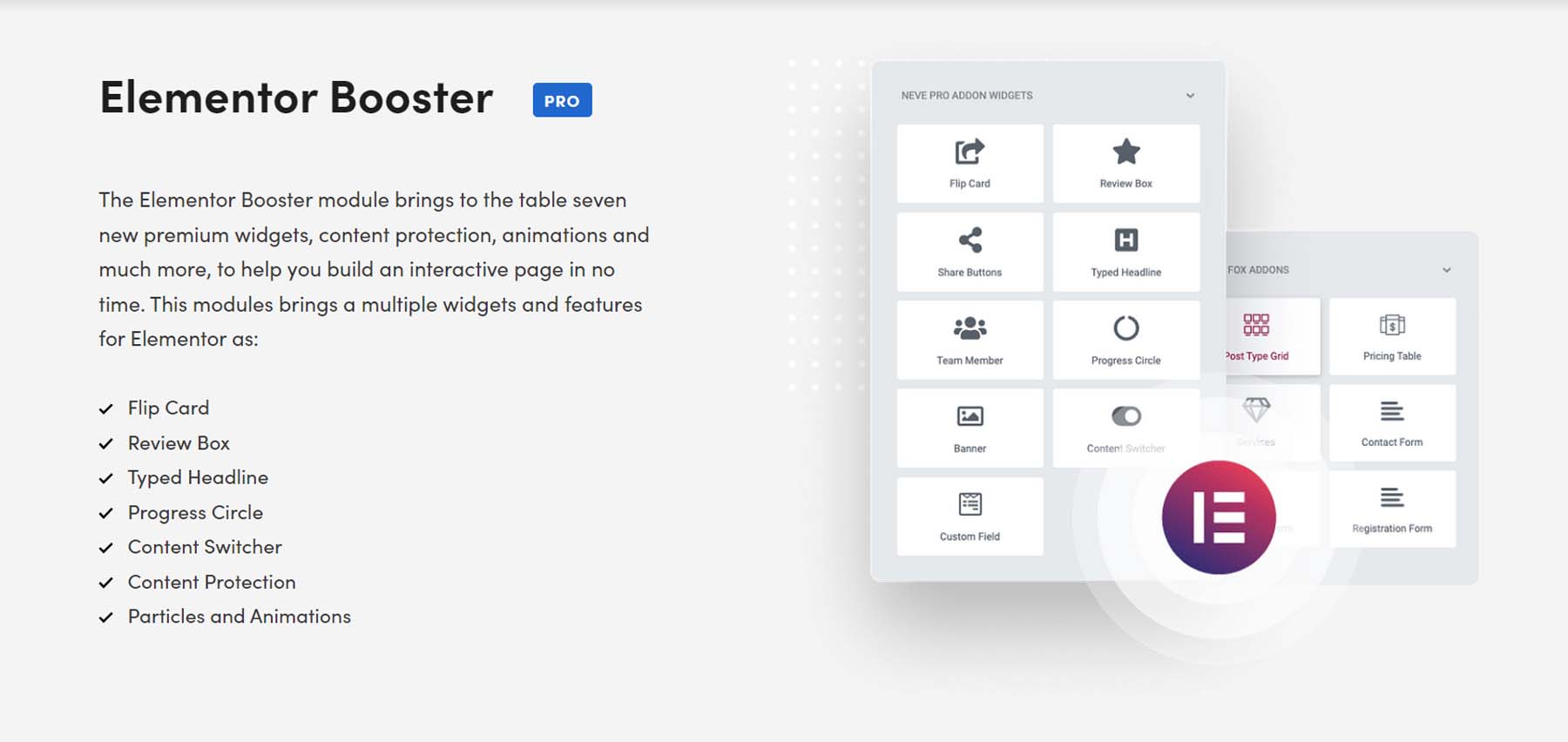 If you're a fan of Elementor, Neve has a dedicated set of modules that work well with the page builder. Additional animations, widgets, and more can help to create the perfect, minimal website for your business. And with the help of Elementor, you can build clean, unique, and exciting pages with Neve.
Best For:
If you have not yet settled on a page builder plugin, it will be a good choice to use Neve. With its flexibility, you can use, choose, and switch between many page builders and still build an outstanding minimalistic website for your business or brand.
Pricing: Free, Paid plans start at $99 per year
6. Kadence Theme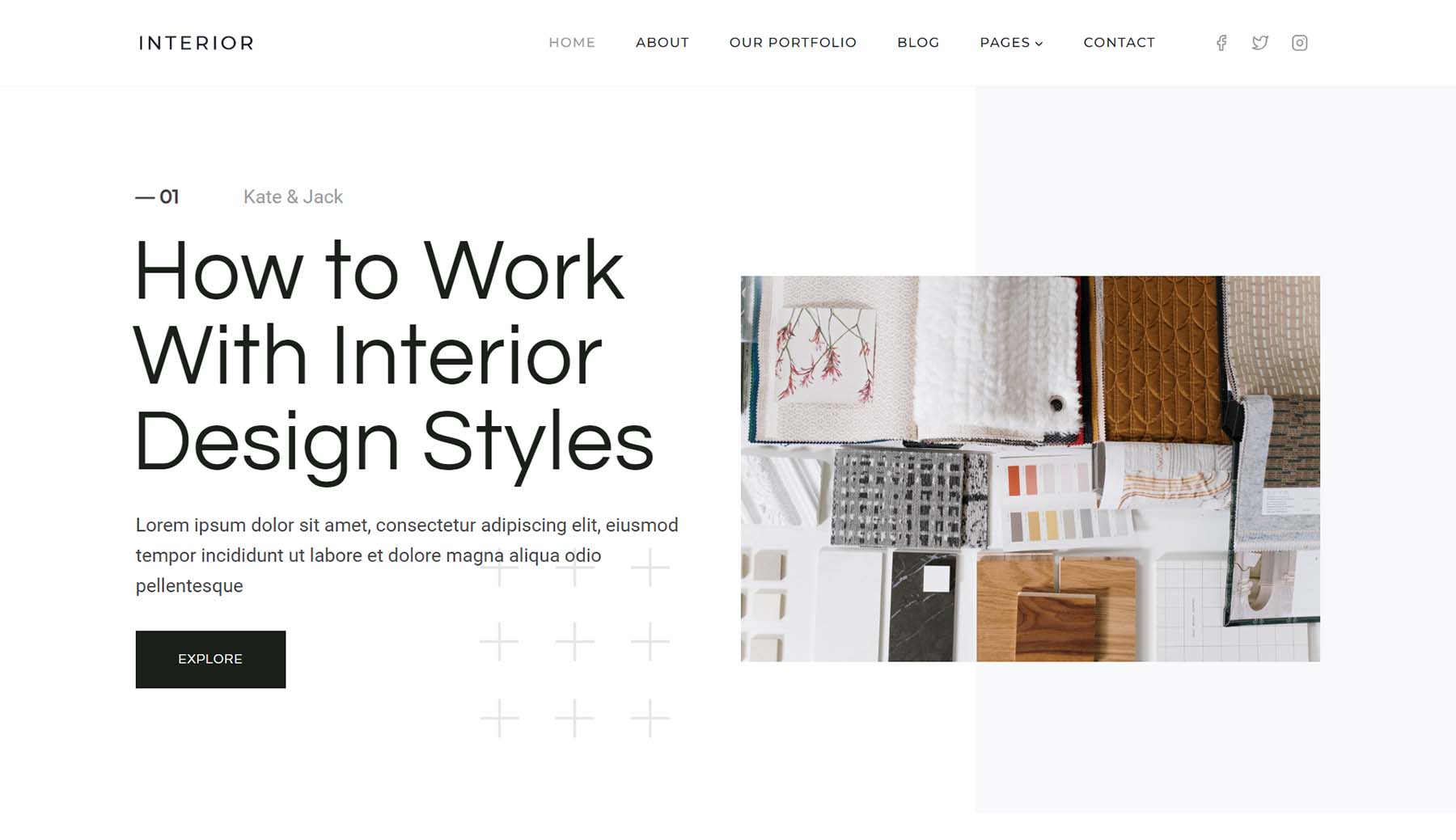 Kadence Theme is a WordPress theme that works with a few of the popular page builders but has a focus on building with Blocks and Patterns. This theme's minimal design focuses on tightly organized color pairings and typography that makes a statement. Kadence Theme comes with CSS preloading, breadcrumbs, and SEO-optimized code, ensuring that your website will run fast and perform well with search engines. Set global color options, global button styles, and sitewide typography to keep your site looking clean and your branding streamlined throughout your website's pages.
Key Features of Kadence Theme:
A library of 75+ no-code starter templates
Compatible with Elementor, Beaver Builder, and Gutenberg
Integrates with LifterLMS, Tutor LMS, and LearnDash for online course building
WooCommerce ready
Drag-and-drop, widget-powered header and footer builder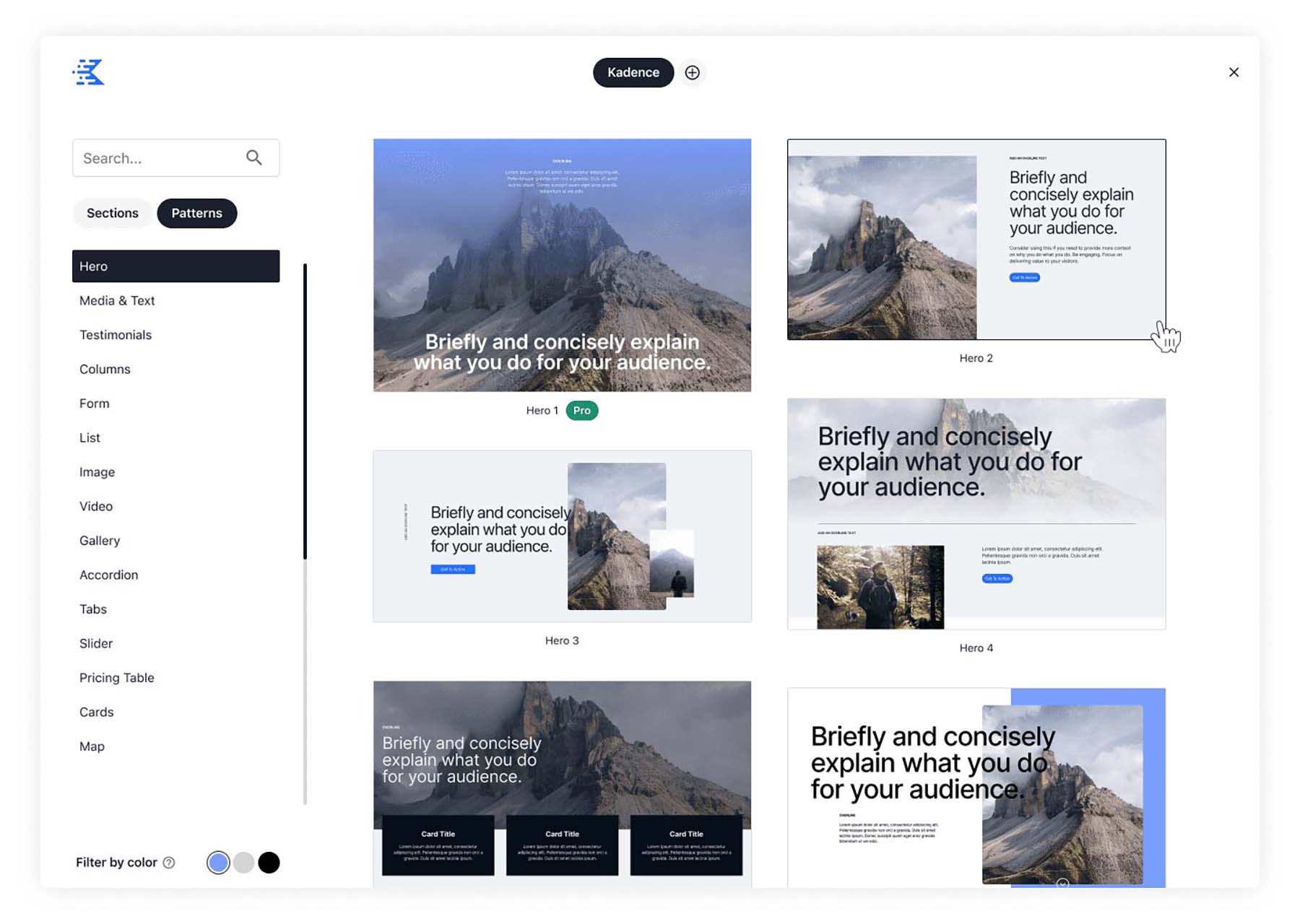 Hero areas, cards, post loops, and more can be found, fully designed, and ready to be customized in the Kadence Design Library. Powered by patterns, easily combine various patterns and blocks together for a faster website-building experience and seamless design process as you build out your WordPress website.
Best For:
If you want to stick to building with Blocks
Pricing: Free, Paid plans start at $79 per year
7. Botiga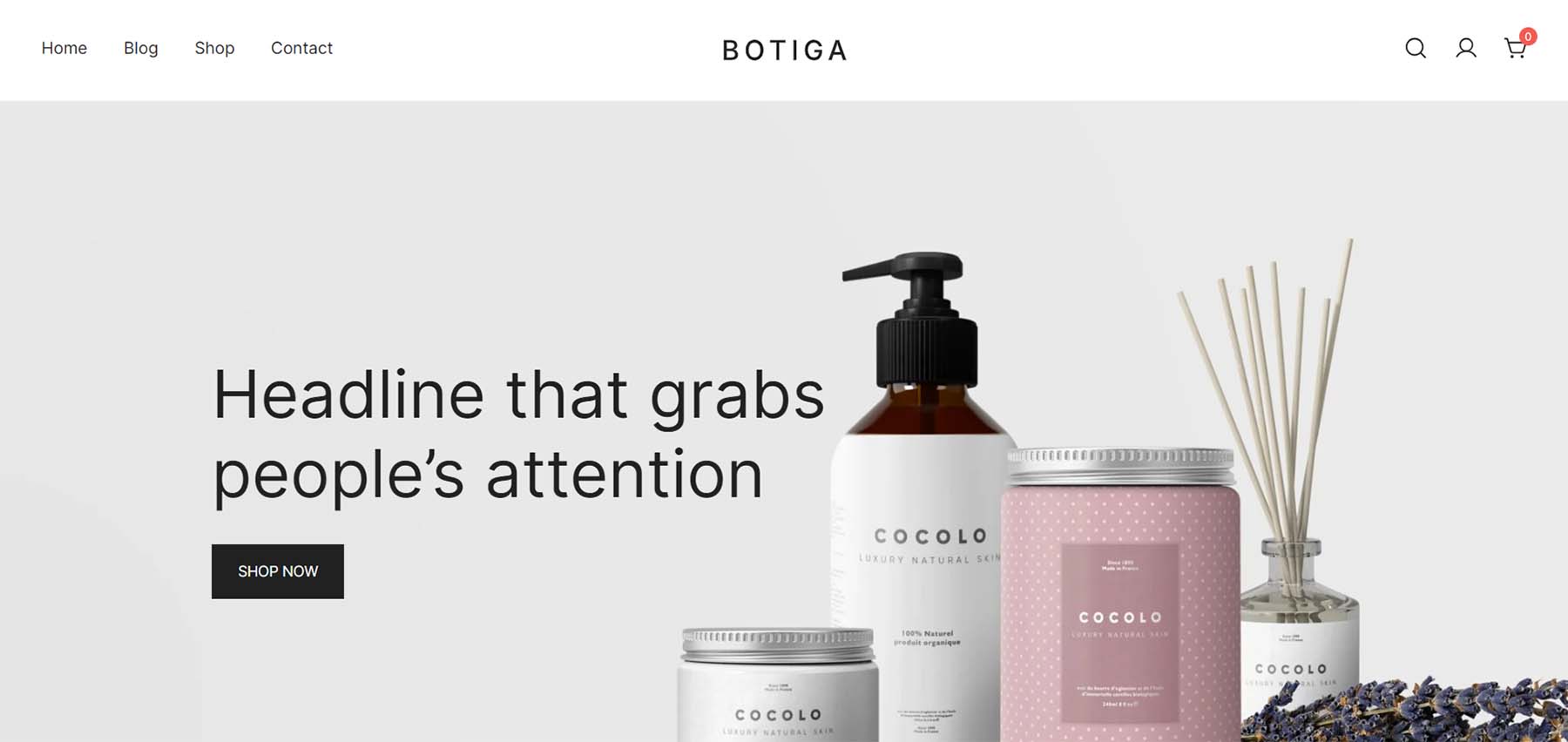 Botiga is one of the few eCommerce themes in our list of minimalist WordPress themes. This theme takes minimalism to the next degree. Firstly, its use of typography is outstanding. Whether seen through buttons or headings, the typography stands out and engages the user. Secondly, as an eCommerce theme, you can use its use of minimalism through its integration with WooCommerce. From its cart pages to product card designs, Botiga brings its minimal style to every aspect of its theme. It also works effortlessly with both Elementor and Gutenberg, so creating the perfect, minimal shop is made easier than ever. With features like product swatches, wishlists, advanced reviews, and much more, Botiga is a beautiful minimalist WordPress and a powerful WooCommerce theme.
Key Features of Botiga:
Drag-and-drop header and footer builder with an exhaustive library of widgets
Nine highly customizable product card layouts
Three product gallery layouts, two cart page layouts, and two checkout page layouts
Three blog post layouts and five archive page layouts
Instant sitewide live search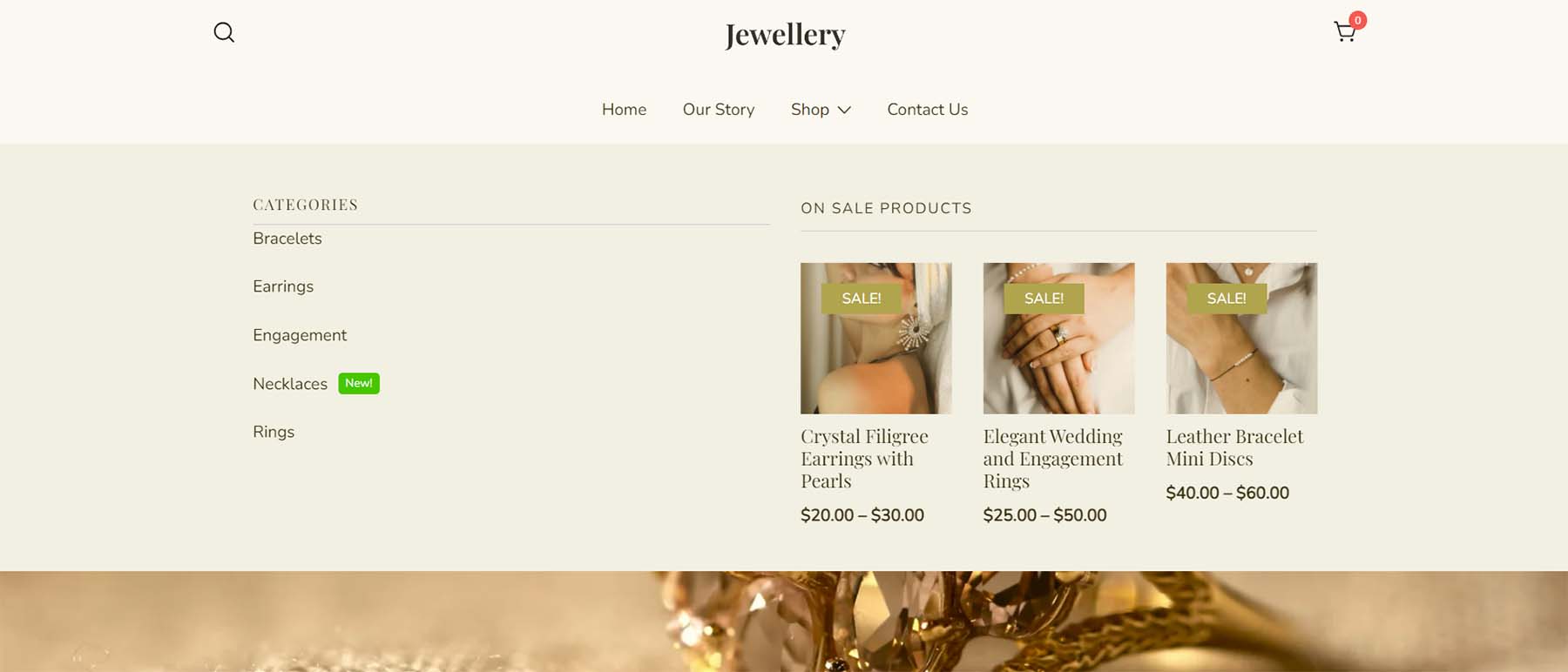 Easily build a feature-rich mega menu without additional plugins. Botiga comes with a native mega menu builder. Add widgets, badges, and more to submenus to create unique and helpful mega menus for your shoppers.
Best For:
Botiga is best for building a powerful and detailed eCommerce store. Powered by WooCommerce, and helped along by Elementor and Gutenberg, Botiga makes setting up a minimalist online shopping experience a walk in the park.
Pricing: Free, Paid plans start at $69 per year
8. Inspiro Premium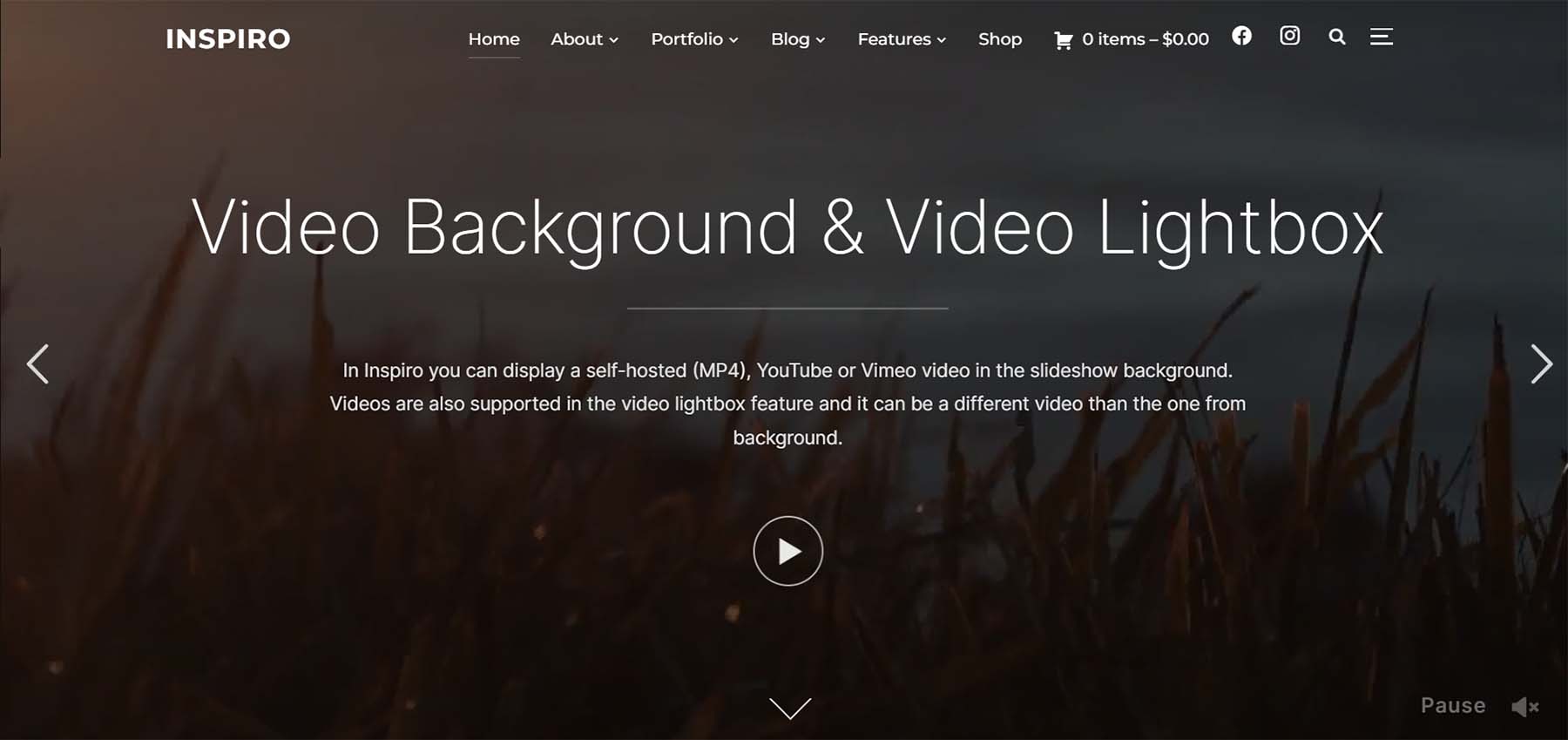 Inspiro Premium is a WordPress theme that uses videos and photos beautifully. You can use fullscreen video and photo content to create an eye-catching homepage with the Inspiro Premium minimal WordPress theme. This theme is great for those who are looking to build a minimal portfolio that allows their work to speak. Inspiro Premium comes with pre-made style kits and color schemes that make it easy for you to select and build your visual identity. The portfolio module comes with multiple clean and minimalistic layouts that you can use to showcase your work to the masses. Video integration is an important aspect of Inspiro Premium, and you can work with Vimeo, YouTube, and even self-hosted video in a myriad of ways throughout your website. Inspiro Premium melds minimalism with photography to create one of the best minimalist WordPress themes for creatives.
Key Features of Inspiro Premium:
Nine pre-built stater site templates
Pre-build header and footer layouts
WooCommerce-ready and Elementor-powered
Responsive grid and masonry layouts for galleries and portfolios
When building with Inspiro Premium and Elementor, you receive a set of minimal yet eye-catching page templates. Easily insert these fully-designed page templates with Elementors import tools and quickly build clean and beautiful web pages for your site.
Best For:
Creatives who use a lot of video and photos in their work will love working with Inspiro Premium. While this theme does have a free version, as a creative, gain full control of your site by choosing one of the best minimalist WordPress themes to build your portfolio, shop, or business website.
Pricing: Free, Paid plans start at $69 per year
9. Border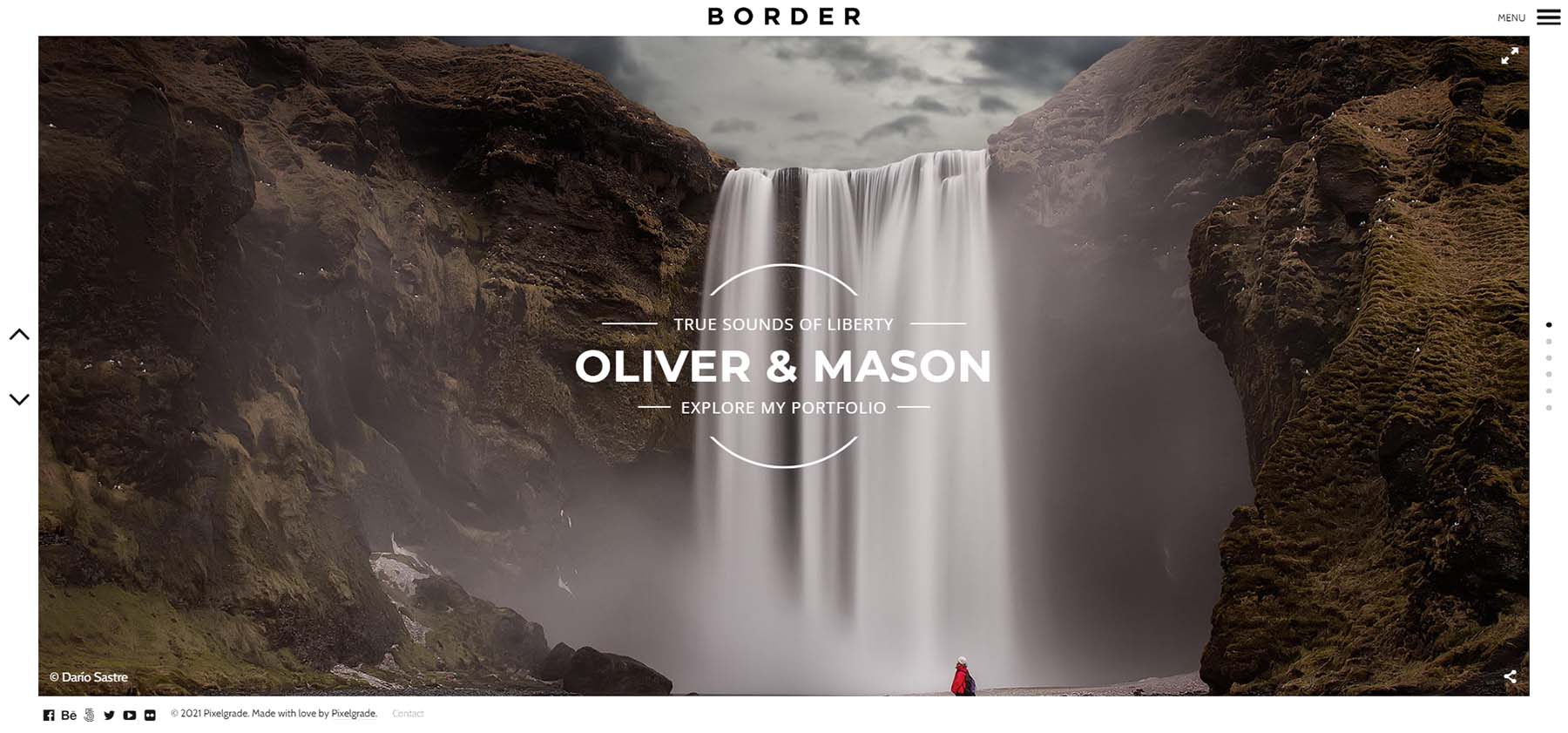 Border is a minimal portfolio WordPress theme that has a unique homepage layout. Opening with a fullscreen photo slideshow, Border's minimal approach to a homepage forces your site visitors to focus on your beautiful work before exploring the other parts of your website. The theme has a discreet footer layout with social media links, copyright text, and a compact menu. The homepage has a minimal slider with the pagination neatly tucked into your screen's left and right margins. Border has a vertical menu hidden behind a hamburger menu, providing your clients with a unique way to browse your website. With Border, crafting a minimal yet photo-centric WordPress website is simple.
Key Features of Border:
Multiple slideshow and gallery layout options
Built-in smooth page animations and transitions
Built-in right-click protection of your images
Gallery and portfolio custom post types
WooCommerce ready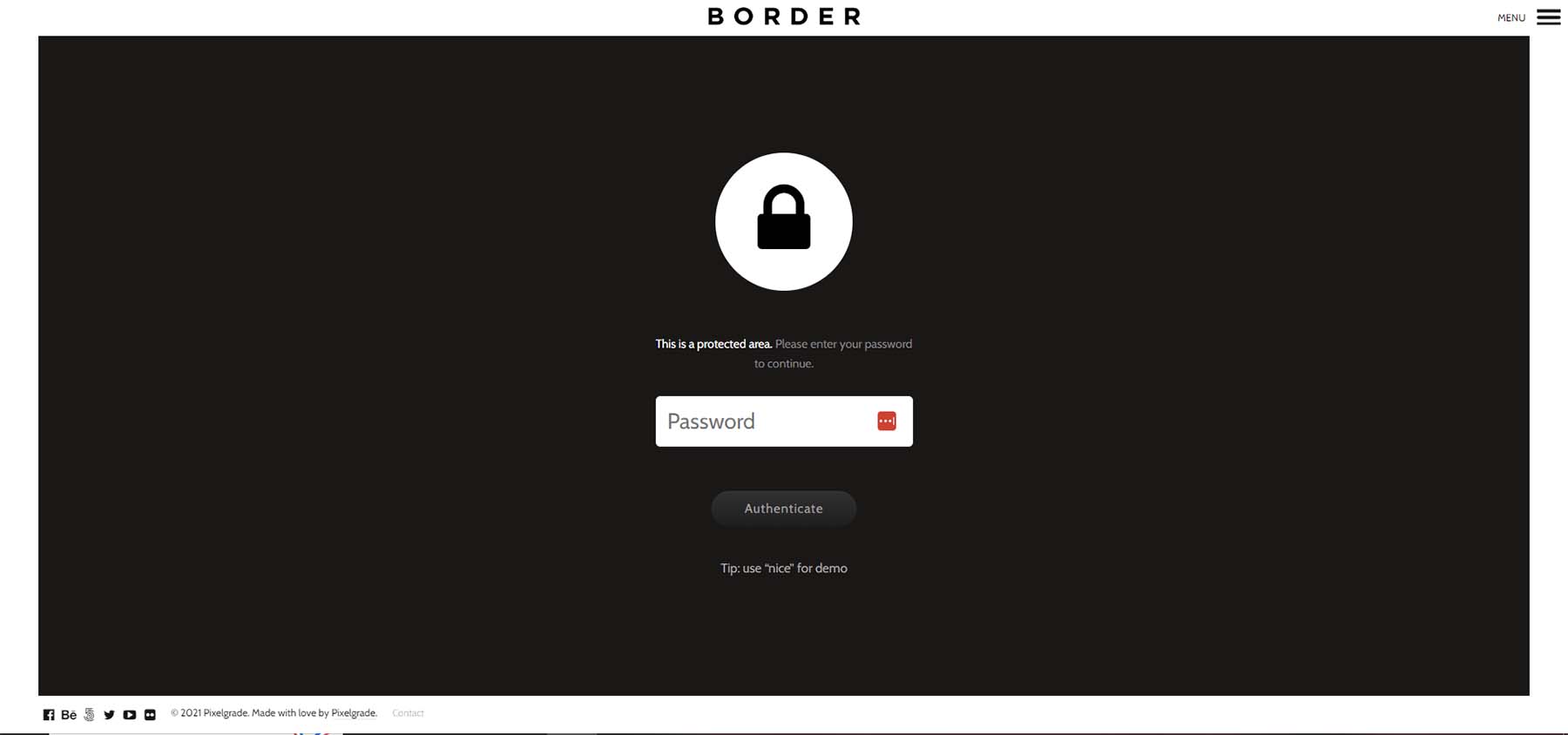 As a photographer, you will find Border's photo-proofing feature to be quite helpful. Allow your clients to have a password-protected space on your website to preview their photos, select their favorites, and download shots you've assigned to them.
Best For:
For photographers and those looking to build an eye-catching portfolio, Border is one of the best minimalist WordPress themes you can use. With its unique features and clean design, put your work front and center with a theme like Border.
Pricing: Paid plans start at $75
10. Minimal Pro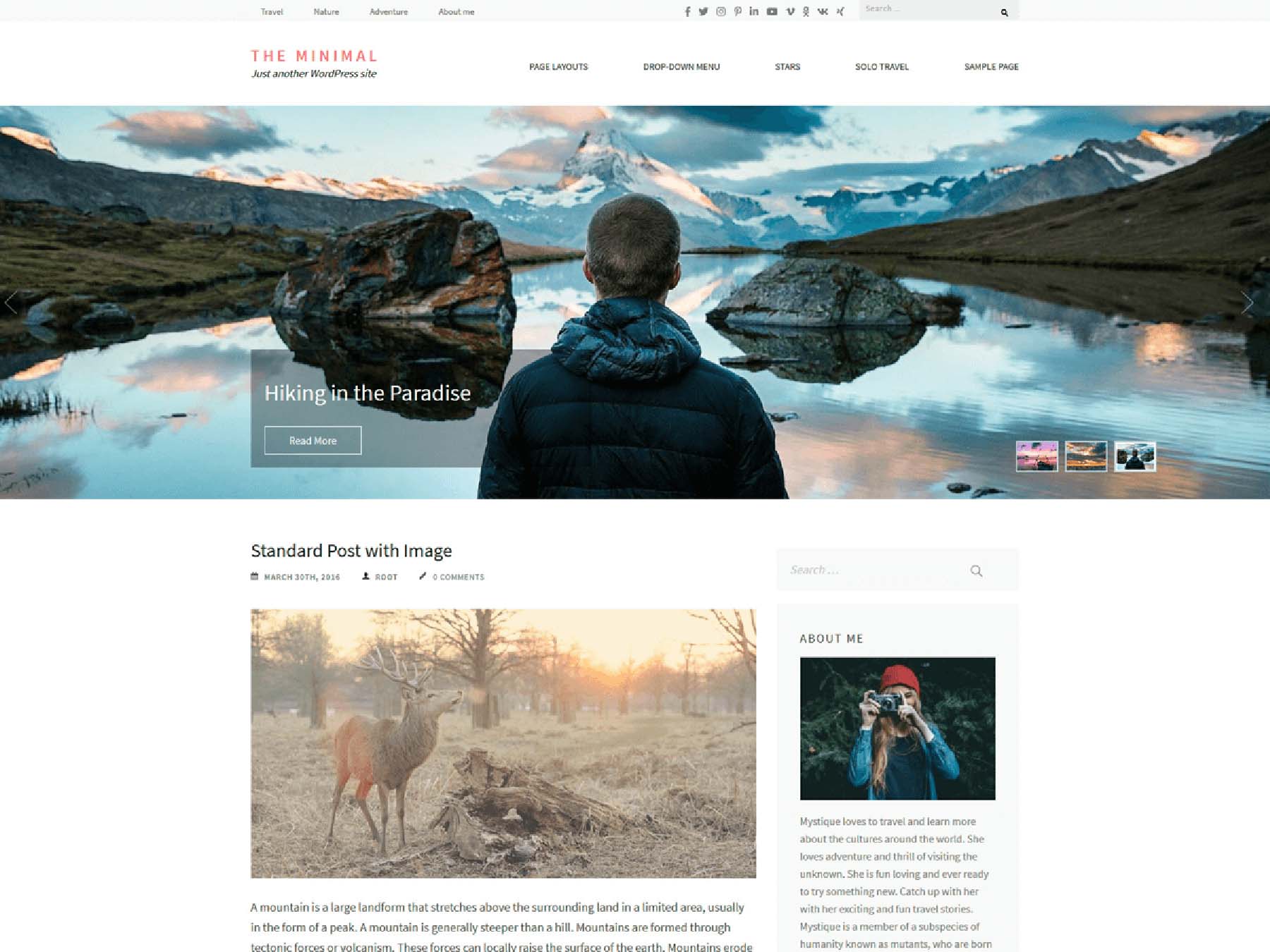 Minimal Pro is a minimalist WordPress theme for bloggers. Writers, bloggers, and content creators looking for a minimal WordPress theme will find it in Minimal Pro. Firstly, the theme has a wide array of customization options. All of which can be adjusted through its easy-to-use user panel. Secondly, the theme is SEO-ready and optimized with cross-browser compatibility, ensuring that your blog works on multiple browsers and can be found quickly on search engines. You can easily connect your social media accounts and have multiple sidebars to which you can add more than twelve custom widgets too. Minimal Pro extensively uses whitespace within its multiple homepage layouts and different featured image layouts. This gives you multiple options to create different minimalist homepage layouts to bring your blog a clean look and feel.
Key Features of Minimal Pro:
Six homepage designs, five header designs, and twelve custom widgets
Ad management and multiple ad placement areas
Advanced homepage slider options using posts, pages, and custom fields
600+ Google Fonts, unlimited color scheme options, and advanced typography selections
Supports WooCommerce, Polylang, Contact Forms 7, and WPML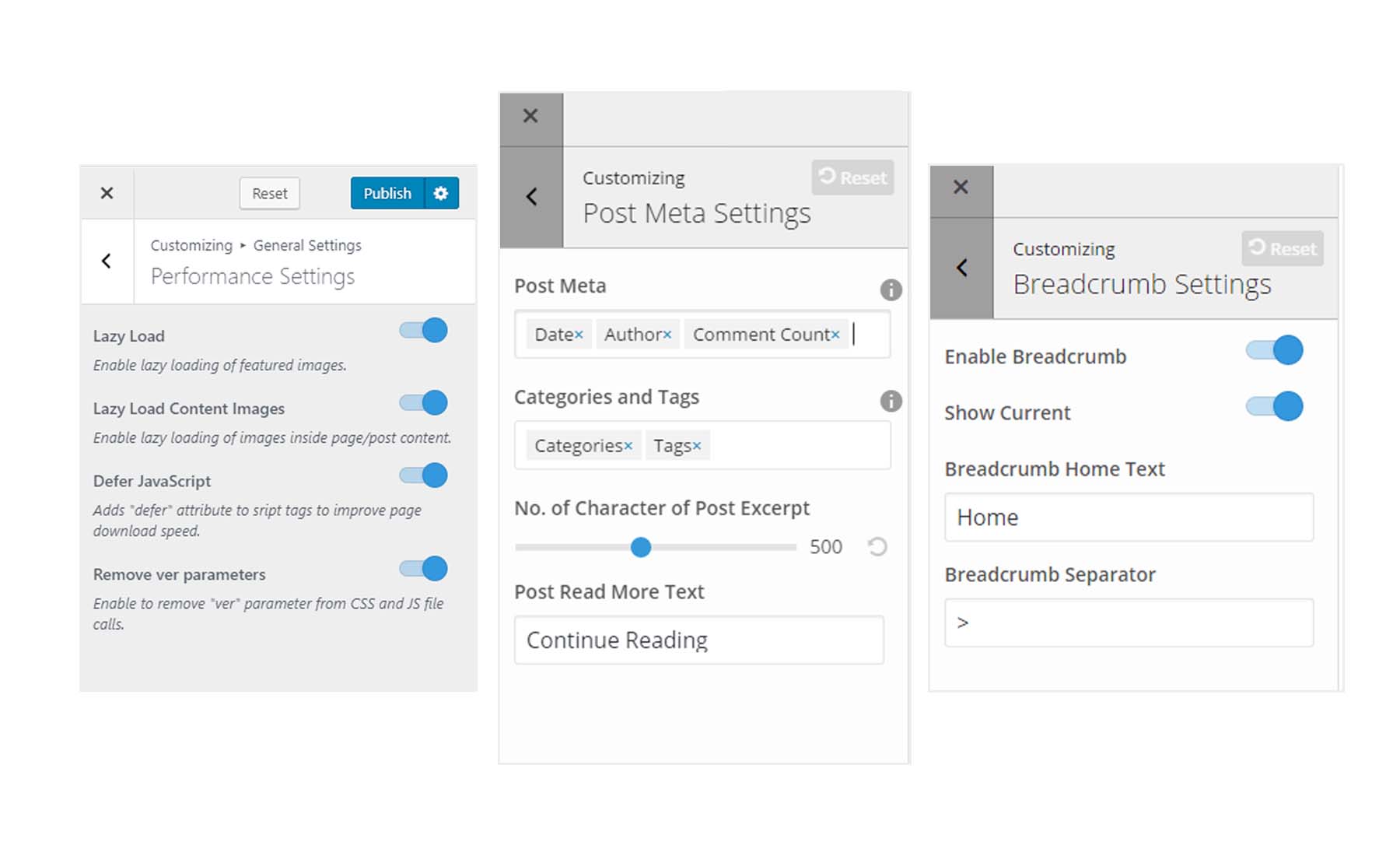 While Minimal Pro boasts a free version of its theme, the premium version adds features that can save you from adding extra plugins to your website. The theme's pro version comes with built-in performance settings for Javascript and lazy loading. Additionally, you won't need to add a separate breadcrumb plugin to your website as it has native breadcrumb functionality in the theme's pro version. These features and more make investing in Minimal Pro a good idea for bloggers and content creators who are looking for a solid theme for the blog that also considers a minimal style.
Best For:
Minimal Pro was built with the blogger in mind. If you are looking for a customizable, minimalist blog theme, Minimal Pro is the best theme for you. It also has a free version, allowing you to test all the available themes.
Pricing: Free, Paid plans start at $59 per year
Best Minimalist WordPress Themes Price Comparison
Now, let's take a look at our contenders and see how they compare in price. We'll also list the themes with free versions available for you to try before buying.
What is the Best Minimalist WordPress Theme?
At the top of our list is our very own Divi. As a powerful multipurpose WordPress theme, Divi can be a maximalist or minimalist as you desire. With a great library of minimal full site kits, a powerful page builder, and a deep blog of resources, Divi is the perfect minimalist theme for the website builder who wants maximal control over their minimalist website.
Finally, if you're looking for a minimalist theme that pairs well with WordPress' Gutenberg, accessibility, and performance metrics, GeneratePress is a theme that you should consider adding to your arsenal.
Frequently Asked Questions (FAQs)
Before we wrap up, let's answer some of your most common questions regarding the best minimalist WordPress themes. Did we miss one? Leave a question below, and we will respond!
What is the best minimalist WordPress theme?
Divi
, a versatile WordPress theme, tops our list of the best minimalist WordPress themes. Its minimal pre-built templates, robust page builder, and comprehensive resources make it an ideal option for website builders who desire complete control over their minimalist websites. Divi gives you the freedom to build a website in any style. That includes minimalism and everything else too!
What is the best free minimalist WordPress theme?
Astra
offers an impressive range of free features, including 18 minimalist templates, seamless integration with page builders like
Divi
and Elementor, and compatibility with WooCommerce. Moreover, the theme boasts minimal code and a user-friendly drag-and-drop header and footer builder, making it a top choice as the best free minimalist theme for WordPress.
What is a minimalist WordPress theme?
A minimalist WordPress theme is a theme that emphasizes simplicity and clean lines, with a focus on high-quality content. It typically features a minimalistic layout, a simplistic color palette, and modern typography. These themes are popular among bloggers, writers, and photographers who wish to showcase their work without distractions.
Can a minimalist WordPress theme improve website performance?
Yes, a minimalist WordPress theme can improve website performance by reducing the amount of code and features, resulting in faster page load times, improved user experience, and better search engine optimization. A minimalist theme's streamlined design and optimized code can improve mobile responsiveness and compatibility with various devices.
What is the most popular minimalist WordPress theme?
Divi
is not only the most popular minimalist WordPress theme but also the most popular WordPress theme in every category, with excellent features such as thousands of pre-built templates, a full-fledged theme builder, great support, and a lovely community.
Which minimalist WordPress themes offer the best integrations?
Divi
offers an extensive range of out-of-the-box integrations that cater to various needs, from forms plugins such as
WP Forms
and email marketing services like
MailChimp
and
ActiveCampaign
to social media websites like Facebook and e-commerce plugins like WooCommerce, making it a minimalist theme with best integrations.
What is the difference between a minimalist theme and a lightweight theme?
A minimalist theme focuses on providing minimalist design elements. While a lightweight theme refers to a theme optimized for faster loading times and better performance by reducing unnecessary code and features. Although both aim to simplify the user experience, a minimalist theme prioritizes design aesthetics, while a lightweight theme prioritizes speed and performance.
What is minimalism in web design?
Minimalism in web design refers to a design style that uses simple and essential elements, such as flat colors, clean lines, and ample white space, to create a clean and uncluttered look. It focuses on the essential aspects and removes unnecessary details, resulting in a user-friendly and visually appealing website.
What are the benefits of having a minimal website design?
A minimal website design can improve user experience by reducing clutter and distractions, making it easier for visitors to navigate and focus on essential content. It also facilitates faster load times, enhances mobile responsiveness, and improves search engine optimization (SEO) by improving website readability and reducing unnecessary code.
What are the principles of minimalist web design?
The principles of minimalist web design focus on simplicity, clarity, and functionality. It uses clean and uncluttered layouts, minimal graphics, and a limited color palette to create a visually appealing and easy-to-navigate website. The goal is to provide a seamless user experience while reducing distractions and unnecessary elements.
Need more themes? Check out our blog post about the best WordPress themes, compared and ranked.
Featured Image via KatePilko / shutterstock.com