Layers View:
A Brand New Way to Effortlessly
Control All Design Elements
is Coming to Divi!
We're excited to announce that soon a new Layers View feature will be added to Divi. This feature will help you speed up your workflow by allowing you to access the hierarchical layer structure of each and every design element.
Divi's Visual Builder and Wireframe Mode have undeniably become indispensable when creating websites with Divi. To take this experience to the next level, we're soon going to add the Layers View feature as well. Layers View will give you a structured overview of the hierarchy of your layout at any moment. This allows you to quickly make changes in real time and use Divi's efficiency features in an even more effective way.

What's to Expect
Layers View helps you reach full control over your layout structure.
Let's take a closer look at Divi's Layers View feature and its many benefits.
Navigate Instantly to Layers View
The Layers View of every design element on your page will be easy to access, but won't show up unless you actually want it to. The only thing you'll have to do is right-click any design element on your page and select the Layers View option for it to show up.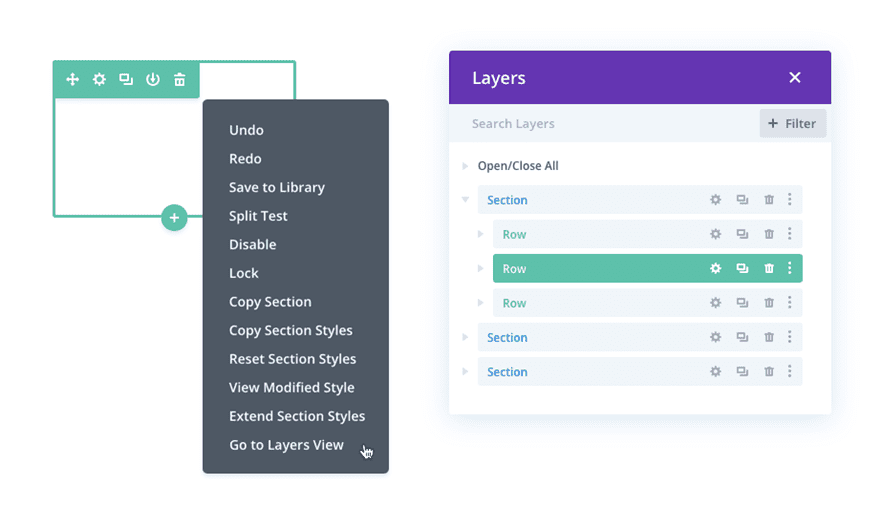 Expand & Collapse Nested Items
You'll also be able to view the hierarchy of your layout by expanding and collapsing nested items whenever you need to.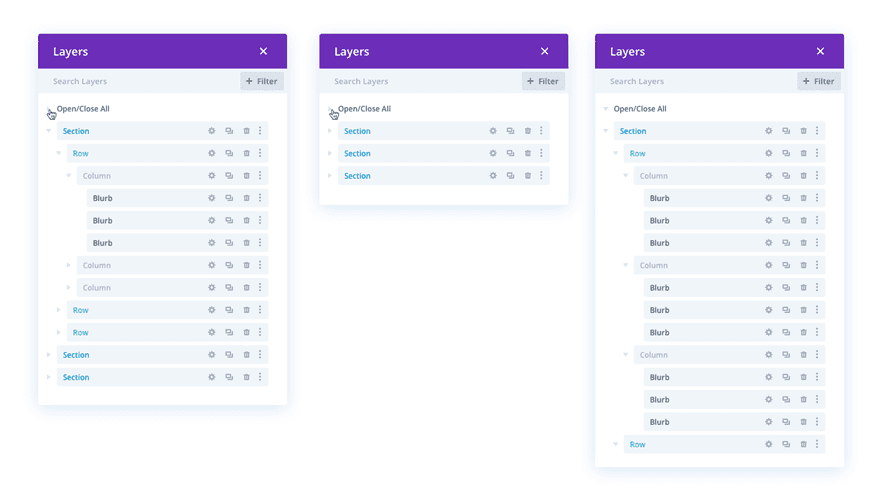 The Divi UX You're Used To –
Applied to Layers View
Layers View + Divi's existing efficiency features = The design experience you deserve.
Layers view will feel familiar at first sight because we're using the user experience you're already used to. Let's explore the intuitive built-in possibilities you'll soon be able to welcome.
Drag & Drop
The Layers View feature will allow you to easily drag and drop design elements and see the changes happen in real time. You can also directly drag a layer into the Visual Builder. This cross-experience will not only save you time, but it will also help you maintain a great overview.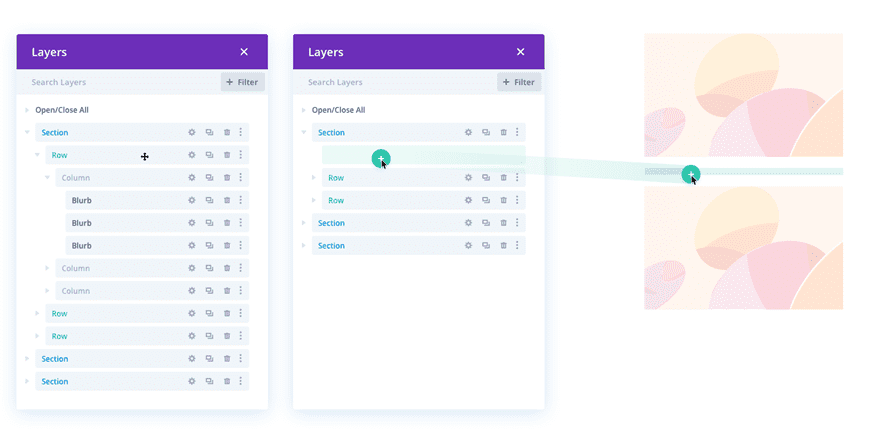 Filter by Type
The Layers View feature will include a filter option as well which will help you go from the entire layer structure to the layer structure of a specific design element in no time.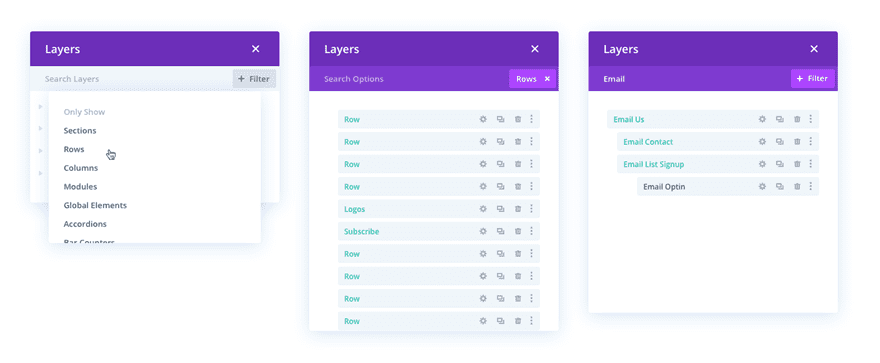 Multi-Select
You will also have the possibility to multi-select different design elements within your Layers View at the same time.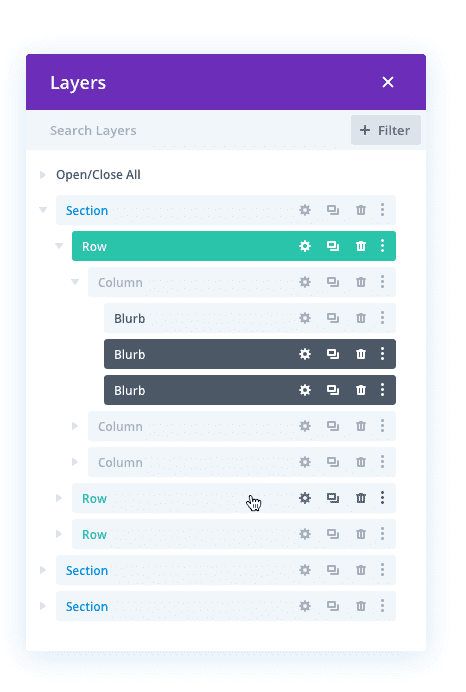 Rename
No need to switch over to Wireframe Mode to rename a section, row or module. Open the Layers View and change it as you go!
Right-Click
You'll be able to enjoy all of Divi's right-click options for each one of the layers in the Layers View as well. This includes design efficiency features such as extend styles + copy and paste.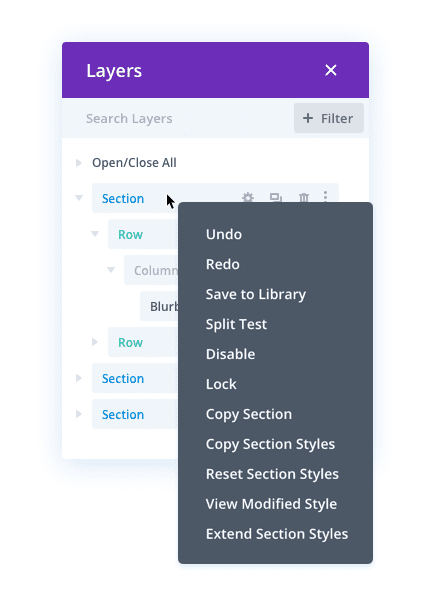 Highlight
Whenever you hover an element in Click Interaction Mode, the relevant element on your Visual Builder will be highlighted so you won't get the chance to mistake one section for another.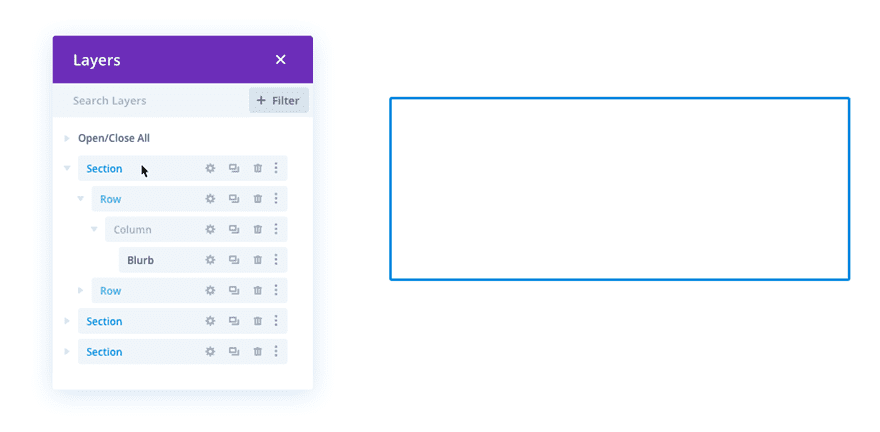 Divi Empowers You to be
Simultaneously Creative & Efficient
We're always focusing on how we can make your design experience quicker and better. Seeing all the beautiful websites out there that are created with Divi inspires us to strive for a continuously evolving version of Divi – day after day.
We're looking forward to seeing you take advantage of this awesome feature that'll speed up your workflow in no time. Let us know what you think of this upcoming feature in the comment section below and make sure you check back with us next week for more Divi awesomeness!