Social sharing and blogging go hand in hand. Every blogger wants their content shared on their followers' networks. But what if the network was brought to the blog?
That's the goal of a new blogging platform called Biosgraphy. First we will take a look at what Biosgraphy is, and then we will answer the following question: Can we make WordPress do what Biosgraphy does?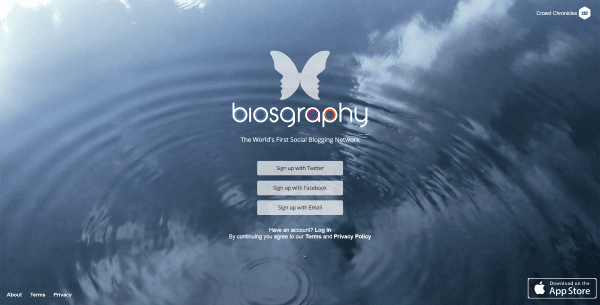 At its core, Biosgraphy is a blogging platform. What sets it apart from the rest is its integration with social media. This isn't a blogging platform where you blog and hope they come, or blog and then go tell everyone about it later. The social networking is fully ingrained into its essential essence (I knew I was going to say that one day!).
This is even seen in the interesting logo. It's a butterfly (social butterfly) with two people facing each other in its wings, having a conversation. Clever. Biosgraphy is all about sharing your story: your thoughts, writing, pictures, your creativity, anything that makes you, you.
Rather than blog posts, you have biogs. This is not just a clever play on words that really describes blog posts in a clever way. These are storyboards that include a cover page that can include your multimedia content. It uses a magazine design and the biogs can appear in reverse order. You can use hashtags and share with the public or with private users.
It's almost Pinterest meets magazine meets Tumblr meets Google + meets Twitter. It's kind of like Pinterest as a blog. So, you've seen this kind of platform before. It will feel familiar, but it has such a clean design that it will also feel fresh. Rather than just a blog or just a social network platform, Biosgraphy is a social networking blogging platform.
Elements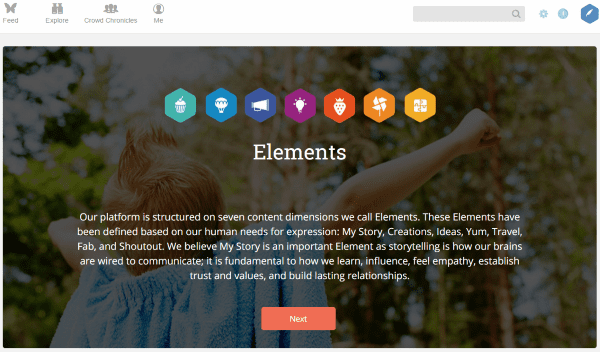 The platform design of Biosgraphy is based on seven elements of human needs and expression:
My Story
Creations
Ideas
Yum
Travel
Fab
Shoutout
This is designed to help users communicate, learn, influence, feel empathy, establish trust, establish values, and build relationships. You create content through this human interaction structure. This keeps you from just creating content at random without any focus. It drives the purpose of your content which also helps readers in sharing your content.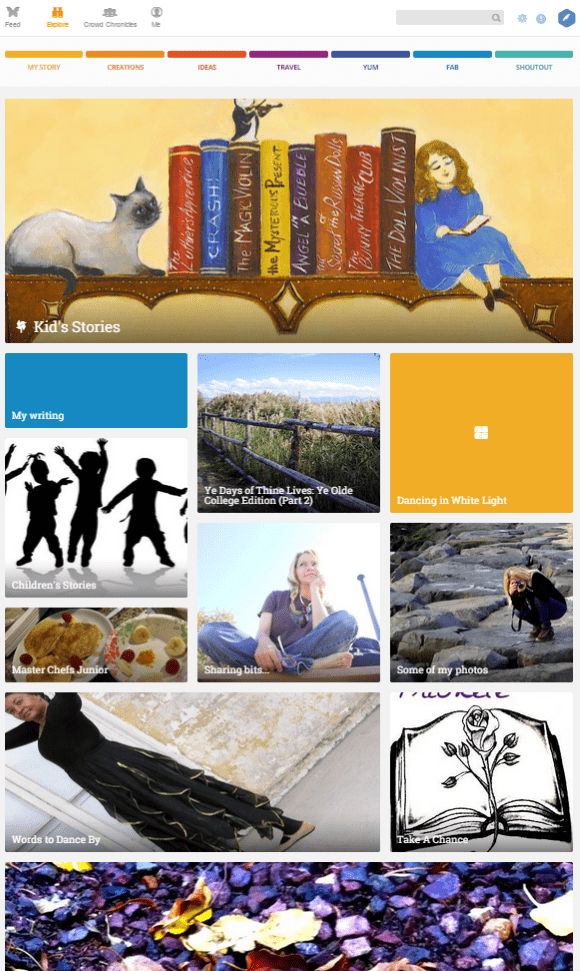 Header
Across the top on the left side you'll find Feed, Explore, Crown Chronicles, and Me. On the right you have Search, Settings, Notifications, and Create.
Main Navigation
Under the header you'll find your main navigation: My Story, Creations, Ideas, Travel, Yum, Fab, and Shoutout. These are your categories.
Content
Next is the content area. The content that appears here will be from Feed, Explore, Crowd Chronicles, or Me. Where the focus of the home page in WordPress is one the content you are providing to your readers, the focus on your Biosgraphy's home page is on content that you follow.
Feed
This is the feeds from crowd chronicles and friends that you follow. There are two sections under Feed: Trending and Most Recent. Before you can see anything in Feed you first have to follow a crowd chronicle or a friend.
Explore
Next is the content of other Biosgraphers. You'll see the name of the biog and the banner picture for the biog. Clicking on them takes you to the biog where you can read the posts, share their content, comment, and follow their biog.
Crowd Chronicles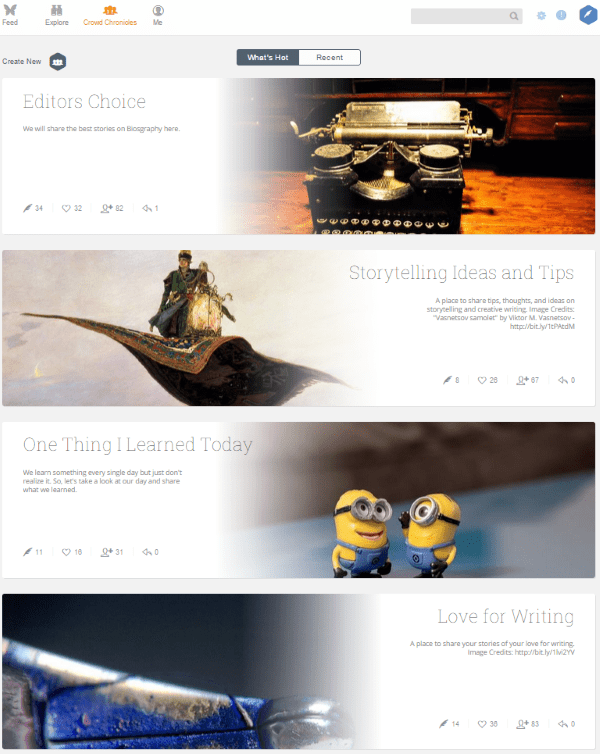 This section shows you hot and recent posts by other Biosgraphers. Crowd Chronicle is a way to publish to a specific topic, subject, group, or endeavor. You can opt-out of certain types of content, control the direction of the conversation, and establish your own following. Sharing content is easy because the social platform is built in.
Me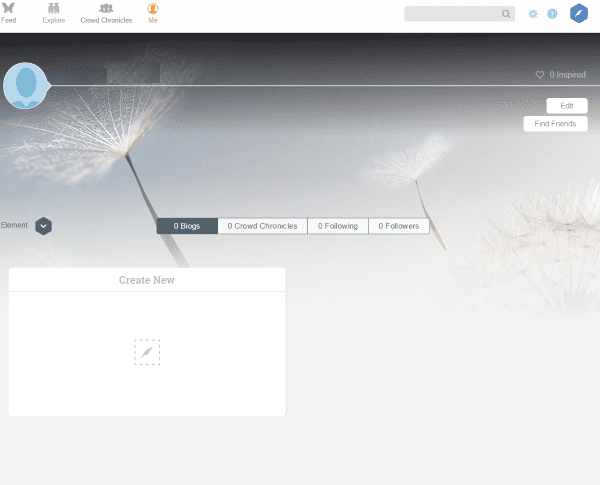 This is the content that you've created. This is more similar to your WordPress blog, where all of your content appears in reverse order. From here you can see the number of biogs you've created, the numbers of crowd chronicles you are following, the number of Biosgraphers you are following, and the number of followers you have. You can also create your content here.
Creating Your Biog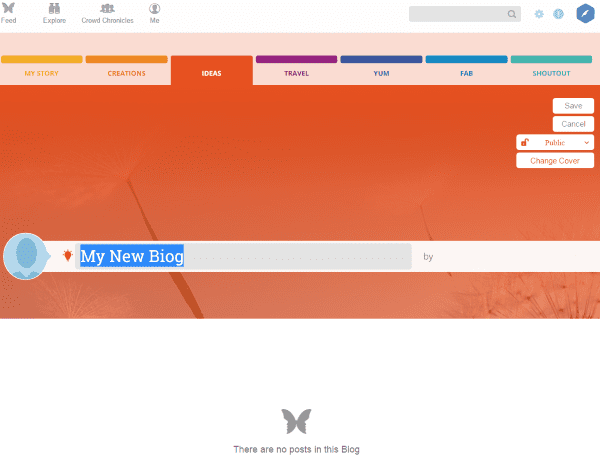 So let's dig into the content creation process. You can get to the content creation area by either clicking on Create New from the Me screen, or by clicking on the quill at the top right corner in the header. This loads up the editor and preselects an element for you. This is your first biog. The first thing you have to do is name your biog so you can get started creating your content. The title of your biog will be highlighted so you can change it.
You can change the element for the biog just by clicking on the one you want. Each element has a different background and color.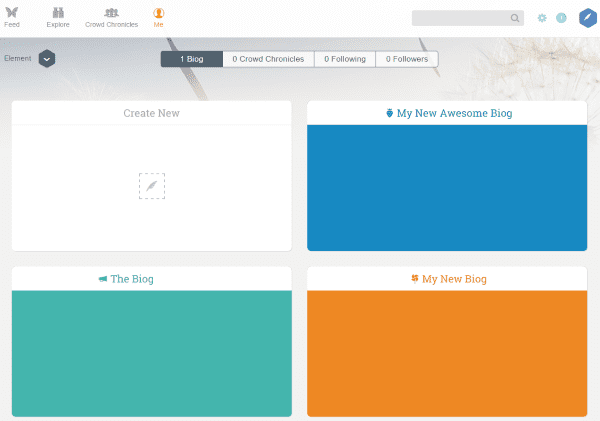 Creating a biog is a lot like creating a Pinterest board. You can access to all of your biogs on your home page. You can easily create a new biog and have one for each element. This way you can keep your photography on one biog, keep your writing on another, and keep your recipes on another. A biog can be a one-time post, or it can be an ongoing blog. That is completely up to you.
Creating Content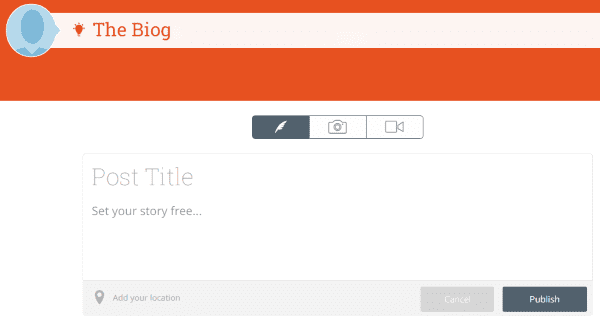 The content area will then change to an editor where you can write your content and upload images and video. You can also add your location if you want. When others see your biog, the location will appear as a map under your header (if you choose to show your location).
This section doesn't work the way I expected it to. I added some text and then clicked on the camera button. This asked me if I was sure I wanted to leave the page I was on. I clicked OK and it highlighted the camera. The content area was empty. I clicked on the icon for those fancy motion pictures and that icon was now highlighted. I went back to the quill, but my content was no longer there. I didn't want to publish it before adding a picture and I didn't see any way to save it as a draft. I clicked the edit button at the top and found a save button. That saved the biog, but not the title or contents of the post.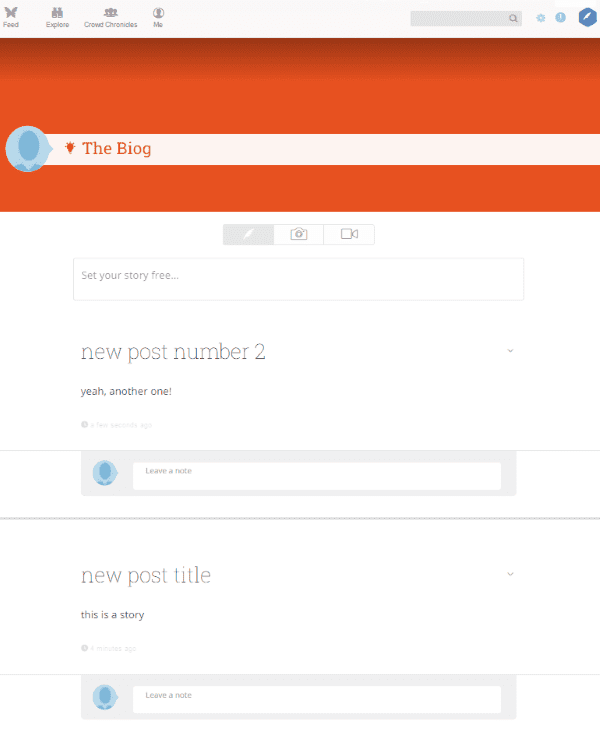 I created a new title and added some text and hit publish. This created a page that looked like a blog. It shows the latest content just under another editing screen where I can create new content. Under the post there was a place to add a note. This is the comments section. Unfortunately, comments cannot be moderated.
I did try adding photos again and saw that I could add text under the photo. This treats the photo as a featured image and lets you place text under it. I could only add one image and I couldn't be within the text.
Editing

Once you've created your content you can go back and edit or delete it. Just click on the arrow to the right of the posts title and choose edit or delete from the drop down menu.  The edit button doesn't appear on posts with images. You can only delete those.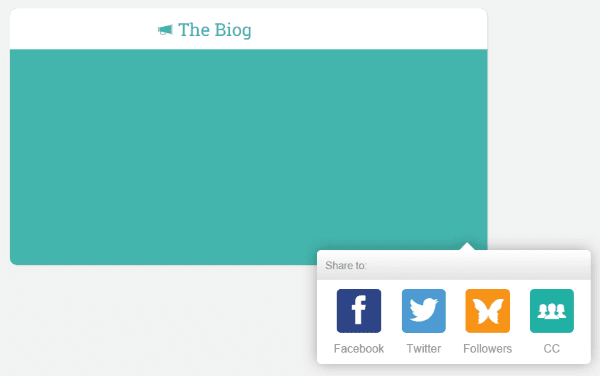 You can share biogs (even your own). You can 'heart' them (which is their version of liking something), you can follow them, and you can share them on Facebook, Twitter, with your own Biosgraphy followers, and with the crowd chronicles.
Thoughts About Biosgraphy
So can Biosgraphy replace WordPress? Well, it does have potential as a social blogging platform, but it's not really a complete content management system. It's more like blogging lite. You have no way to moderate comments. You can't place images within the text of the content. You can only place one image in a post, and then it works as a featured image. I wasn't able to paste in a URL. I could type it out by hand, but it isn't clickable.
For creating content, there is no text editing capabilities beyond your shortcuts in your OS. So, for example, you would hold CTRL and b for bold, CTRL and u for underline, and command and I for italics. Its elements push you to create content that's worth sharing on a specific topic rather than just writing something random or having a general conversation.
Biosgraphy isn't a platform that you can host a business with. You won't be offering courses and downloads, or installing WooCommerce, or building an auction site. You can use it to support your business – just like you do with Facebook and Twitter.
The sharing elements step up the game because the network is built into the blogging platform. You're not asking, or asked, to leave the blog and go to a social network. You're already there.
With all of the limitations, why use it? It doesn't bog you down with the details of blogging. It gives you an easy way to create content, whether it be text, images, or video, and then gives you an easy way to share that content with others. It also gives you an easy way to search for content that others have created. It's simple and easy to use but it does lack any high level features.
Biosgraphy has positioned itself to be the future blend of blogging and social network. They want to be your Facebook replacement and a blogging 2.0 platform. To me it seems more like Pinterest with a blogging element. I can see the social side of it being popular. I can even see the simple blogging being popular. But I can't call it next-level blogging. It's blogging at its simplest. It's a great platform for who it was designed for – creatives that want to share their creations. It's a great choice for creative to build a personal brand.
What does it have going for it? I think the crowd chronicles is one of its greatest strengths. Another is the ability to explore for biogs you might be interested in. This is difficult to do with WordPress, as it is not a social networking platform.
Can WordPress Do That?
WordPress can do some of it. It can do the sharing elements similar to Biosgraphy to a point. You can bring in posts from social networks that you follow, and you can share your content on other social networks. You will have to install lots of plugins that bring in content from those you follow.
You can add the social sharing element with a plugin such as Monarch or Jetpack. The advantage you would have is these plugins provide more networks and they can be implemented in more ways. For example, you can place sharing buttons in your footer, sidebar, on the content, etc. You can also have the sharing buttons fly in or pop up.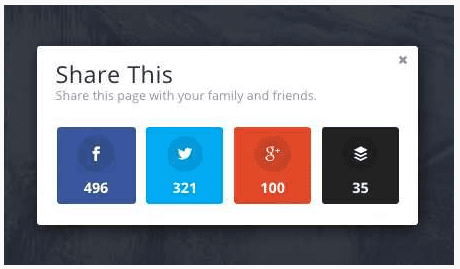 Monarch lets you place social sharing buttons on your posts, pages, and even images and videos. Users can follow your posts through your RSS feed. It shows how many shares the content has and gives you a great dashboard with analytics. It has lots of different styles and features.
Monarch is part of the $89 per year Developer plan, which includes access to all themes, plugins, layered Photoshop files, perpetual updates, and premium support.

Jetpack is a free plugin from Automattic that offers several social sharing features similar to Biosgraphy. First, it uses Publicize to push links of your content to your social media networks. Next is Sharing. This allows you visitors to share your content on their networks. Next is Likes. This adds a Facebook-style Like button to your content (only without the social network reporting feature). And last is Subscriptions. This allows users to subscribe to your posts and comments. They will receive notifications in their email.
One of the more interesting elements of Biosgraphy is it showing posts by those you follow. You see this in Feed, Explore, and Crowd Chronicles. You can show posts from those you follow on your WordPress site using Tint (expensive but works great), TwineSocial (only shows yours), Juicer (shows any, much cheaper than Tint), and Tagregater (needs latest PHP). Let's look at Juicer.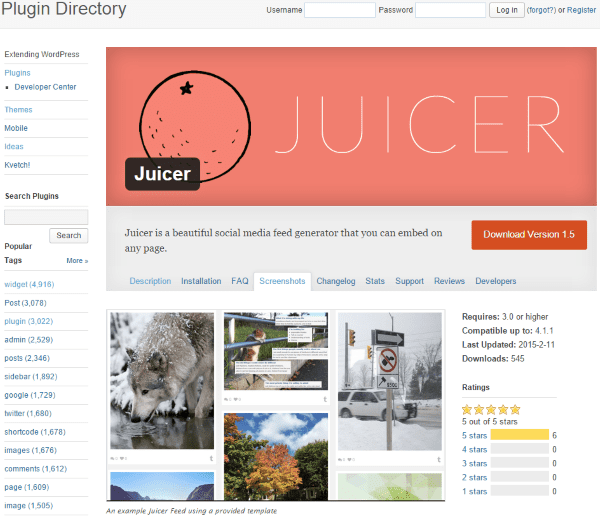 I installed Juicer because it gives you one feed for free. It's super easy to use. You go to Juicer's website, select the social network you want from the list, type in the username or hashtags you want, click to embed in your site, and then click on WordPress to get a shortcode. Place the shortcode on any page or post and you're done. I can share any of this content on my own networks. You can choose from 13 different social networks.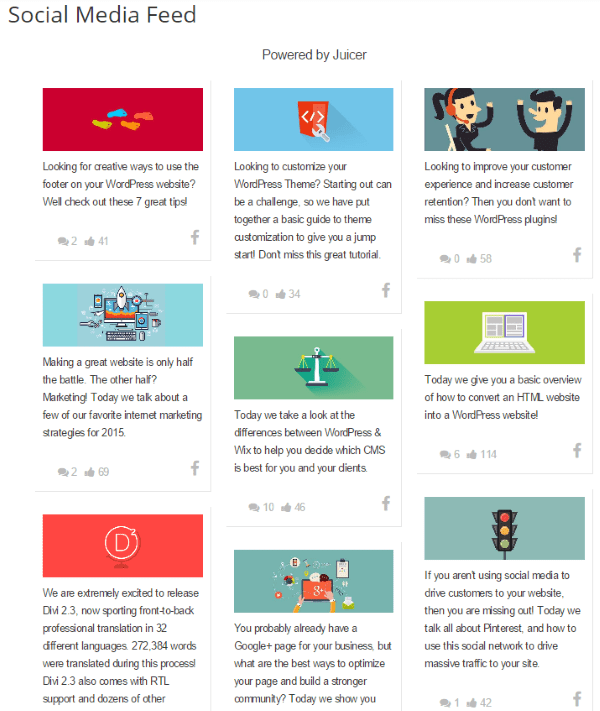 I chose Facebook and then typed in Elegant Themes. I placed the shortcode on a page and this is what it displays. It will display all of the content from ET's Facebook page.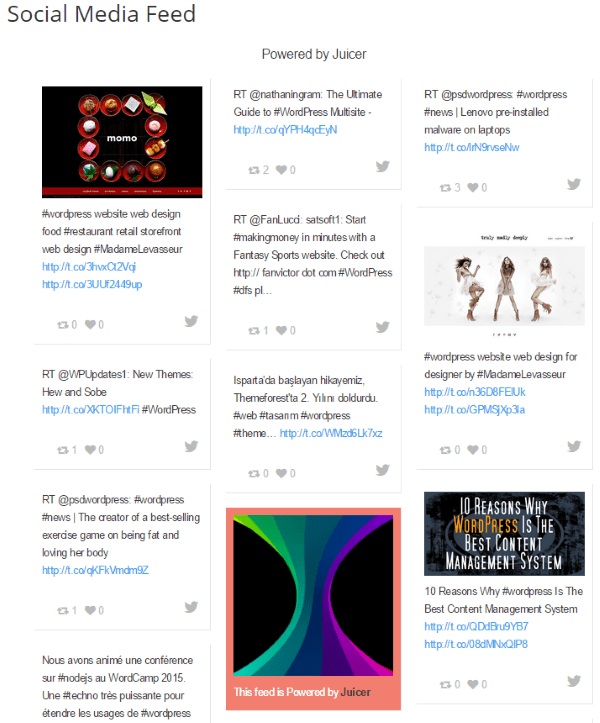 I went back and chose Twitter. This time I selected hashtags and typed WordPress. I went back to my page and refreshed and this is what is displayed. These pages go on forever (or until you quit scrolling).
If you want to display more networks, more accounts, and more hashtags you can upgrade to a premium account. The Free account, Small, gives you two sources (accounts and hashtags), 1 embedded feed, updates every 24 hours, all templates and custom styling, secure connection, and has Juicer branding. Medium is $10 per month and gives you 5 sources, 1 embedded feed, updates every hour, gives you moderation and filtering tools, and no Juicer branding. Large is $50 per month and gives you 15 accounts, 3 embedded feeds, updates every 10 minutes, and gives you analytics and analysis tools.
The One Element that WordPress Does Not Do
Your WordPress site is still your stand-alone site. Other sites are not linked to it and shared like they are with Biosgraphy. Biosgraphy is an enclosed community that can be interconnected and shared both within the network and on outside social networks. You can build your own community within your WordPress site, but it's still not an open social media platform. It would be a network built around your site. This is a great advantage for Biosgraphy and in my opinion is a good argument to add it to your list of social networks.
What's the Advantage of Using WordPress?
You own your site. You have complete control over how it looks, what elements it contains, your theme, your URL, your network. You can do anything you want to with it such as offer classes and tutorials as a membership site, host ads, have images and video within the content, add forums, and so much more. You can have any categories you want. You can add an extra layer of social sharing by using Disqus, which can be shared on social networks, unlike Biosgraphy where the comments cannot be shared (or moderated for that matter).
Thoughts About WordPress
As a blogging platform, WordPress has far more features and can be expanded to be almost anything you want it to be. WordPress does blogging well. However, a successful blog gets that way by being shared. It gets that way by interacting with others that are like-minded. WordPress needs the social networking tools that Biosgraphy has. These plugins will give you a lot of that functionality.
Wrapping Up
As a blogging platform that's expandable, WordPress wins hands-down. WordPress gives you the ability to build a full e-commerce platform. You can develop an online portfolio, share it with your social networks, build a newsletter subscription list, and sell from the portfolio. You can build a personal blog and change the way it looks on a whim. It's yours. You own it. You can do what you want to with it.
As a social networking platform, Biosgraphy is the clear winner out of the box. WordPress can be expanded to include many of the features that Biosgraphy contains, but not all of them. Biosgraphy is social media blogging but it's not a business platform.
Biosgraphy isn't for everyone as it does not offer e-commerce or the powerful blogging features that WordPress has, but for a simple system that will create a portfolio and show off your writing, images, or video, Biosgraphy delivers in its simplicity and its social sharing. It's a great place to show off and share your work but it doesn't replace the need for a WordPress site. In some cases, I can see it being a good WordPress alternative, but if you want any control over your site you will want to stick with WordPress. If Biosgraphy has the type of readership you are looking for, then instead of trying to replace WordPress with Biosgraphy, add it to your list of social networks that you are active on.
Your turn! Have you tried Biosgraphy? Was your experience similar to mine? What other advantages and disadvantages do you see with either platform? Do you have anything else to add? I'd like to hear about it in the comments below!
Article thumbnail image by chpavel / shutterstock.com