Are you looking for an email marketing platform for your online business?
If you want a popular solution, with over eight million users at the time of writing, MailChimp (reviewed here on Elegant Themes) seems the obvious choice. With an attractive and intuitive user interface coupled with an impressive breadth of functionality, it arguably provides you with everything you need in order to launch and manage a successful email marketing campaign.
However, there are alternatives available, SendinBlue being a notable example. While it is a younger company with a relatively small user base, it markets itself as a cheaper and superior alternative to MailChimp. But can it really stand up to the might of Freddie & Co.?
This article will provide you with a greater understanding of which option is right for you. We'll start with a brief introduction to both companies, including their respective features and pricing options. We'll then provide an exhaustive overview of their respective features, WordPress integration capabilities and customer support options, along with anything else you should know about before making the all-important decision.
Let's get cracking!
Editorial Note: Since the publication of this article SendinBlue has made numerous updates and additions to their product/service not taken into account for this piece. Please refer to their website for full details on their latest offerings.
Introducing SendinBlue and MailChimp
SendinBlue can trace its origins back to 2011, when its founder Armand Thiberge decided to 'democratize' email marketing. He did this by recruiting a team of web developers to formulate a solution for simple, efficient, and fairly priced email campaigns. The result: a platform with over 100,000 users to date.
Meanwhile, MailChimp's foundations go way back to 2001. Born as a side project funded by two web developers, the platform now serves eight million users, with 600 million emails sent per day. It is the go-to email marketing recommendation for a huge number of bloggers.
In terms of target customer, both SendinBlue and MailChimp don't seem to differ much. While they do both provide for experienced users, the core focus of both platforms is on giving email marketing beginners and small businesses the tools to create effective campaigns with relative ease.
SendinBlue: a Better Free Option Than MailChimp?
SendinBlue and MailChimp both offer free services which are somewhat limited in terms of functionality. But while MailChimp's service is "free forever", SendinBlue's free offering is only available for 60 days.
That may make you think that MailChimp has the edge here, but that actually depends on what your needs are.
Why? Mainly because of one little line on MailChimp's Forever Free plan features comparison chart:

In other words, MailChimp's free plan doesn't enable you to send emails automatically – for example, when someone first subscribes, or after they have been subscribed for a certain number of days. For many people the lack of automation renders MailChimp's free plan almost entirely redundant; only being usable when you want to email subscribers on an ad hoc basis.
Meanwhile, SendinBlue does offer automation with their free plan, albeit only for 60 days. (It's also worth noting that SendinBlue's free option limits you to sending a maximum of 300 emails per day.) To my mind, that gives you enough time to make a buying decision, which is ultimately what both service providers want you to do.
If you are looking for a free longterm email marketing solution then SendinBlue obviously isn't the right choice. However, if you require automation functionality, you're going to have to pay eventually, so both services remain viable choices.
For a full list of the functionality for free versus premium options, click here for SendinBlue and here for MailChimp.
SendinBlue: a Cheaper MailChimp Alternative?
SendinBlue claims to be "noticeably cheaper" than MailChimp, albeit only "in some cases", which makes the issue of pricing as clear as mud.
However, SendinBlue attempts to make the issue clearer – in their favor, as you would expect – with a comparison chart:

On the face of it SendinBlue appears to be the clear winner in terms of pricing, but things are not entirely as they seem.
The issue in comparing SendinBlue with MailChimp on pricing is that they follow two different models: SendinBlue charges per email sent, while MailChimp charges per subscriber.
For example, if you had a list with 2,001 subscribers and wanted to send just one email per month to your list, MailChimp would be the cheaper option at $30 per month (to SendinBlue's $39). However, if you had a list with 10,001 subscribers and wanted to send one email per month to your list, SendinBlue would be the far cheaper option at $39 (to MailChimp's $80).
In other words, you'll have to figure out pricing for yourself, because there is no clear answer as to which service is cheaper. Having said that, if you have a high number of subscribers but send a relatively low number of emails to those subscribers, SendinBlue is the far cheaper option.
For pricing charts, click here for SendinBlue and here for MailChimp.
SendinBlue: Better Functionality Than MailChimp?
If you're interested in finding out more about MailChimp's functionality, check out Brenda's excellent review here on Elegant Themes. Otherwise, here's a quick summing up:
Attractive and intuitive interface
Easy-to-use signup form creation
Drag-and-drop email builder
Customizable email templates
Solid email deliverability
Superb analytics reporting
Simple split testing
Segmenting features
Comprehensive technical knowledge base
Customer support by email only
There's no denying the fact that MailChimp offers a solid service. The only cracks in an otherwise smooth facade are the lack of telephone support and the potential issues with using affiliate links.
So how does SendinBlue compare? In the following few sections, I am going to take SendinBlue's service for a spin as a first-time user. Buckle up!
First Impressions
It's pertinent to note before we get started proper that SendinBlue isn't going to win any style or design awards, nor will it be lauded for its compelling copy.
It is a French company, and it would appear that the copy is still being written by non-native English writers. It's more a case of awkwardly worded sentences and typos here and there rather than overbearing incomprehensibility, but it is still somewhat distracting. One would expect that a company seeking international growth would invest in solid copy.
Furthermore, as you will soon discover, the interface as a whole isn't as polished as you might expect – certainly not so much as MailChimp's super glossy exterior: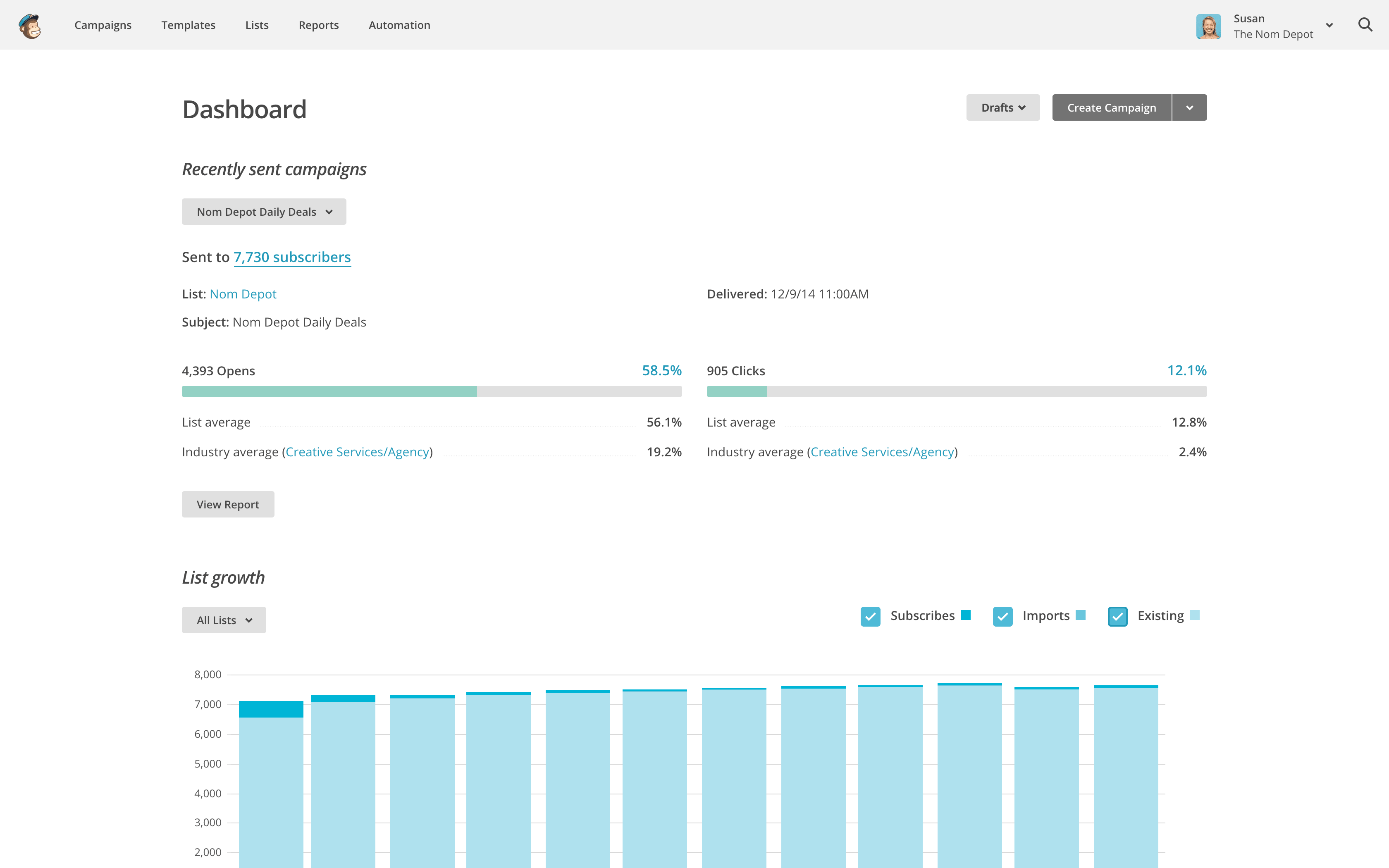 However, for the purposes of this review, let's not place style over substance in the importance stakes. From now on we'll put aesthetics aside and focus entirely on usability and functionality.
Signing Up to SendinBlue
Creating a SendinBlue account is a refreshingly simple process.
When you arrive on the homepage you will see a green Subscribe Now button:

That'll lead to a simple form in which you'll fill in your company name, email address and password. Once you've filled in your details and hit the Get Started button, you will indeed be ready to get started – you'll be taken straight to a welcome screen.
However, your account isn't fully activated yet. Here's what you need to know about SendinBlue's activation policy:
We manually verify that all new accounts comply with our terms and conditions (especially to ensure that your database is "Opt-in"). We make this verification after you have programmed and sent your first campaign to more than 10 contacts.

You can send test campaigns to less than 10 contacts even if your account has not been validated, but beyond 10 contacts your campaign will not be sent and will be saved as a draft.

Once your account is pending approval, an account executive will check your account within a maximum of 48 business hours.
It all seems straightforward enough, and gives us the freedom to get started without delay.
Creating Lists with SendinBlue
Creating your first list is remarkably easy, in the sense that SendinBlue has already done it for you.
If you click on the Lists menu item on your dashboard, you'll be presented with the following:

From this screen you can click on the Actions drop down menu and choose to change List Settings. Those settings are refreshingly straightforward: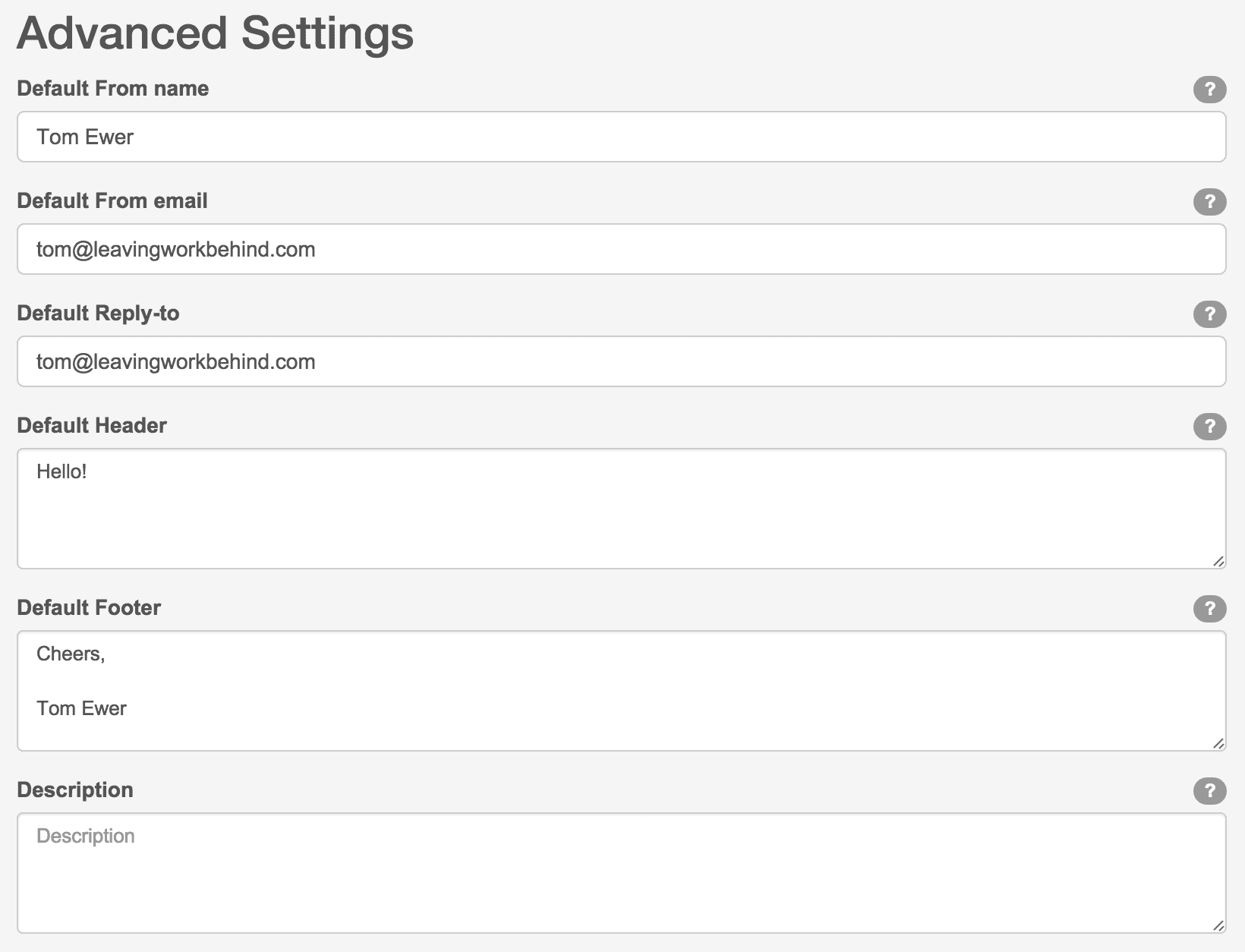 That's all there is to it with SendinBlue! Creating a list is certainly a more streamlined process than you'll find at most other email marketing service providers.
Creating Signup Forms in WordPress with SendinBlue
As WordPress users, we benefit from a highly functional SendinBlue plugin:

Once you've installed and activated the plugin, then connected your SendinBlue account with your WordPress website with a simple two step process, you'll be ready to begin.
SendinBlue's integration with WordPress is impressive. You can:
Access your lists
Create and send 'Campaigns' (i.e. emails)
View statistics
Create and insert signup forms
I started by adding a signup form to Twenty Fifteen's sidebar on a blog I launched recently:

I would describe the end result as functional yet underwhelming. If you're like me then SendinBlue's simple signup form markup is welcome – it enables you to make changes to the form's CSS with ease. However, if you're looking for a WYSIWYG-style form builder, you won't find it within the WordPress plugin.

You will however find it on the SendinBlue website (somewhat confusingly via the API & Integration menu option):
While this is no all-singing, all-dancing signup form creator like MailChimp's, it does give you a good level of control in defining how your form should look if you don't want to get your hands dirty with CSS.
Personally speaking, I am more impressed with SendinBlue's WordPress plugin than I have ever been with any other email marketing provider's.
Sending Emails in SendinBlue
In SendinBlue, emails are called 'Campaigns'. If you want to send an email, create a Campaign.
Doing so is a piece of cake – just navigate to the Campaigns page and click on the Create a new campaign button. You'll then be guided through a four step process:
Setup
Template
Recipients
Confirm
Of the above, step two is the one worth focusing on. As you would expect, the Template step is where you select a template for your email and draft your words.
When it comes to creating your email, SendinBlue offers three options:

All three options are impressive in their functionality. It seems to me that SendinBlue put a heavy focus on creating emails (a sensible move for an email service provider), and it shows.
In the interests of creating content that is readable for everyone, my pick would be the Responsive Design Builder. However, if you want to keep things simple, go with the HTML/Simple Text Editor (that would probably be my choice – I don't go for bells-and-whistles marketing emails).
The most important point is this: SendinBlue affords you both power and choice in terms of email creation options. Color me impressed on this front.
Setting Up Autoresponders in SendinBlue
SendinBlue doesn't do autoresponders – it does 'Trigger Marketing'. The phrase seems appropriate, as your emails will be based upon certain 'triggers' that are defined within SendinBlue.
New trigger marketing campaigns are created via the Campaigns screen, and the creation process is much like that for 'normal' emails. However, a great number of variables can be defined in order to determine who receives the email and when.
Trigger marketing gives you all of the usual functionality you would expect through its filters and exclusion options. With it you can create an autoresponder series, send emails to people who don't read emails or don't click on links, and so on.
SendinBlue's trigger marketing feature certainly gives me all the functionality I need on the autoresponder front.
Reviewing Analytics in SendinBlue
SendinBlue's analytics feature (known as Statistics) was not something I could test in-depth, because I didn't have a list to send to and analyze. However, its analytics features do impress on paper.
The Statistics dashboard gives you a lot of useful information with refreshing clarity:

It's clear that the SendinBlue team have worked very hard on producing in-depth statistical data pertaining to just about everything you could possibly hope to know. It's here, perhaps more than any other area, where SendinBlue's clear goals for substance over style shine through.
Although I didn't get to make use of SendinBlue's Statistics feature as much as I would've liked to, I was very impressed with what I saw. If you're a data freak, you'll be right at home with SendinBlue.
Other SendinBlue Features
Most of us primarily use an email service provider for a handful of basic reasons:
Creating lists
Creating signup forms
Scheduling and sending emails
Reviewing analytical data
However, when it comes to additional features, SendinBlue doesn't pull any punches. Here are a list of some features we've not had the opportunity to explore in this article:
SMS campaigns
List segmentation
Social network sharing
Transactional emails
Heat maps
But how does this compare to MailChimp? More importantly, are there any key features missing? I identified the following MailChimp features that SendinBlue doesn't appear to match:
A/B testing
Great third party app integration
Multi-user accounts
RSS-to-email
If you're in dire need of any of the above, SendinBlue may not be ready for you yet.
SendinBlue's Support Versus MailChimp
MailChimp is somewhat notorious for not offering telephone support – a decision it has stuck by throughout its exponential growth. Despite an excellent knowledge base and quick email support, you can't really beat the ability to pick up a phone and talk through an issue with another human being.
Meanwhile, SendinBlue's support offering is mixed.
First impressions aren't fantastic – the support link is hidden away at the very bottom of your dashboard:
The link leads to a support ticket form along with a link to their Support Center, which offers a pretty comprehensive list of tutorials for making the most of SendinBlue.
Their marketing copy claims telephone support, but I couldn't find a number. From a practical point of view, it appears that SendinBlue's support offering is certainly no better than MailChimp's.
Conclusion
SendinBlue strikes me as the plucky upstart; the underdog. It might be a little rough around the edges – perhaps you wouldn't want to introduce it to your mother – but for the most part, it does the business.
Perhaps more importantly for many email marketers out there, it can be seriously cheap when compared to the competition. For example, if you have a list of 10,000 and send say six emails per month, you'll pay $39 for with SendinBlue, while MailChimp will cost you $75.
In other words, unless you're sending a lot of emails to your subscribers, SendinBlue will almost certainly work out as the cheaper option.
And it should do, because the service clearly isn't as polished as MailChimp's. While it is making a good fist of providing equivalent functionality on most fronts, the less-than-professional copy, modest aesthetics and occasionally confusing interface highlights its lower budget and relative youth as a service offering.
SendinBlue is already delivering (excuse the pun), there's no doubt about it. A cynic would say that there is lots of room for improvement, while an optimist would point to an already impressive feature set, with plenty of potential for an even greater service down the line.
One thing is for sure: when it comes to choosing an email marketing service provider, SendinBlue is a serious contender; not to be ignored. If I were MailChimp, I'd have one eye over my shoulder. I for one am going to think long and hard about making a switch.
What are your thoughts on SendinBlue? Share with us in the comments section below!