WordPress is the world's largest self-hosted website creation tool, with millions of sites relying on it to deliver their content.
It is also an entirely open source project that supports a wide array of incredible themes and plugins, giving users the ultimate freedom to build and customize their sites however they want.
Today, users are finding all sorts of new ways to take their WordPress sites way beyond standard design and functionality, with some of the results proving to be nothing short of astonishing. Here are just 25 perfect examples of how they're doing it.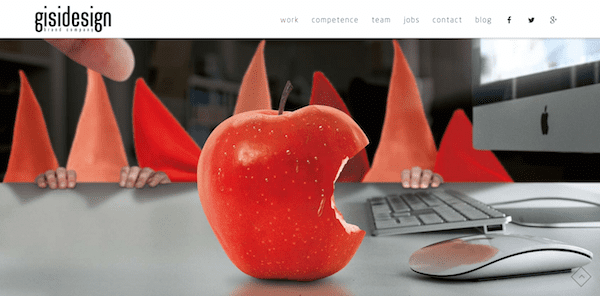 Gisi Design is a German brand company website that runs on the X Theme – ThemeForest's most popular WordPress theme.
The site has clearly been built to put visuals front and center while keeping text minimal and elegant. Browsing through each page will take you through some very beautiful transitions and animations that look incredible, whether you're browsing from a desktop or mobile device.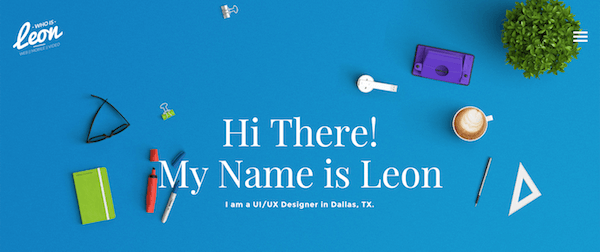 Who is Leon? As his websites proclaims front and center, he is a UI/UX developer in Dallas, TX, and as all good designer/developers, he utilizes his own website as a showcase of his abilities.
Critical types might consider it over-the-top, but one thing you can't fault is Leon's ambition in the execution of his design. Some rather innovative transition effects are coupled with an elegant flat design to create a cutting edge effect. The old phrase "I can't believe it's WordPress" has now worn so thin as to be antiquated, and this website rams that point home with gusto.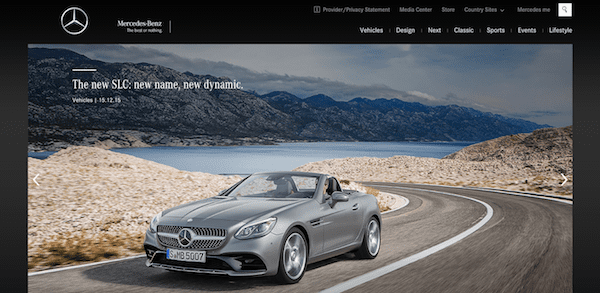 Mercedes-Benz is just one of the world's largest brands that has its international site running on WordPress.
With a slick and high-end looking custom theme to match its brand, the site clearly serves to highlight the images and videos of its cars. Many of its pages feature full screen sliders to show those images off to visitors.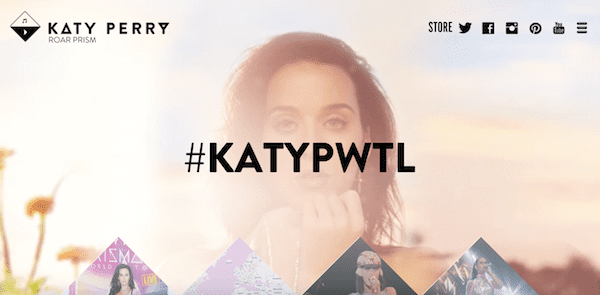 Huge celebrities use WordPress for their websites too, and singer Katy Perry just happens to be one of them.
Her site is all about parallax scrolling visuals, with large background images that change as you make your way down the page. Social media has a big focus here too and is emphasized around her site in some effective ways.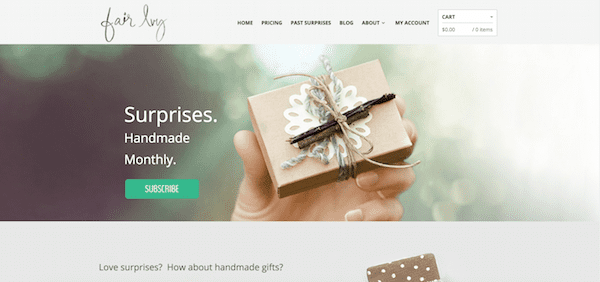 Fair Ivy is a gift subscription service with a website that runs on another one of ThemeForest's most popular themes, The Retailer.
The site maintains a clean and elegant look that's easy to navigate for users who are thinking about signing up. Those who do sign up for a subscription can easily access their account and see their cart items without being overwhelmed with too many visuals or effects.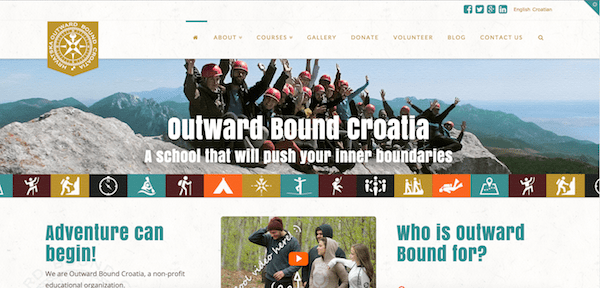 Outward Bound Croatia is an outdoor adventure organization that has a website running on the Integrity theme.
Scrolling through the site and all its gorgeous imagery will make you want to get outside and do something fun. The number counters on this one are also great for really making those stats and figures stand out.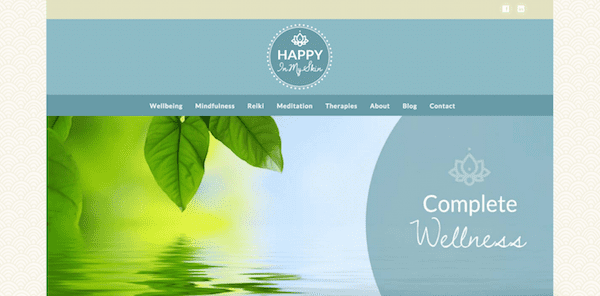 Happy in My Skin is a wellness therapy website that uses the Renew theme.
Right off the bat, the site offers visitors a look that's calm, serene and spa-like while highlighting just the essentials as you scroll down. Overall, it's a stunning example of a simple site that makes a big impact.
Neopolitan Clothing is an apparel company that uses a WooCommerce website and a custom-designed WordPress theme.
This one is all about black and white color schemes combined with large, striking headline text. It works extremely well to emphasize the images and details while still maintaining a clean and pleasant browsing experience.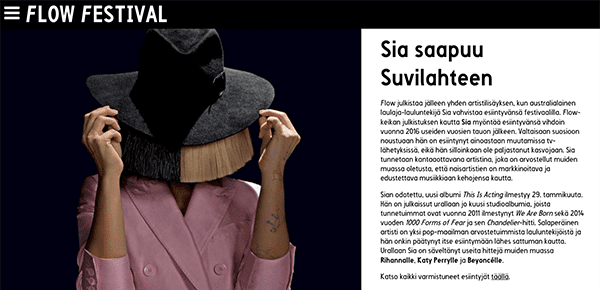 Flow Festival is a very cool looking website that uses parallax scrolling to highlight illustrated patterns.
The creative and colorful patterns used on Flow Festival help highlight the large images for each section, including the ones from social updates and recent blog posts. This is one website that's a lot of fun to scroll through just to see what's going to catch your eye next.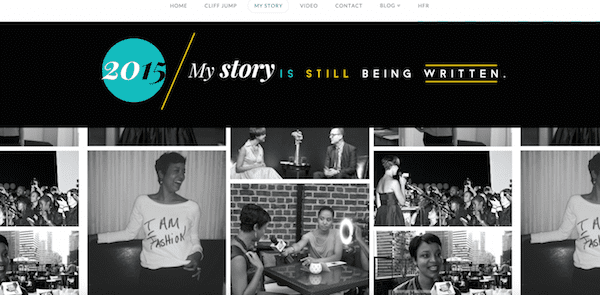 Brandice Daniel has a business coaching website that runs on the Icon theme.
The layout is minimal, yet it features impressive storytelling as you scroll down through all the sections. It's just one example site that may serve as a great inspiration for anyone looking to give their own personal WordPress site a makeover.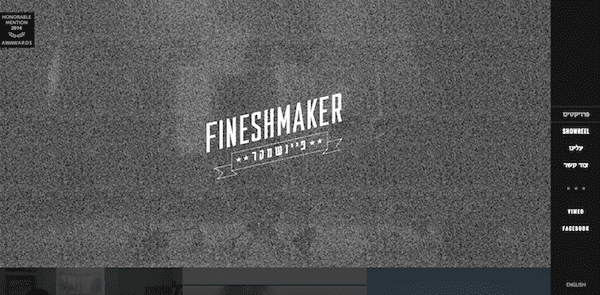 Fineshmaker is a boutique production company website that takes a unique approach to showing off their videos.
Videos are displayed in a grid and appear over the page when clicked. A simple and responsible sidebar can be accessed any time from the right, and there's a TV static animation effect that goes great with the overall theme of the site.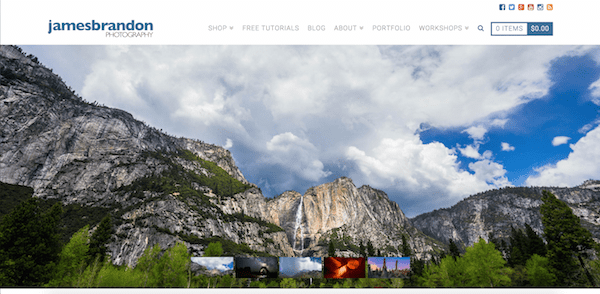 James Brandon's photography website uses the Ethos theme.
While the theme itself is ideal for sites with a news magazine style, this site is a good example of how a photography site can still look amazing without having to be all about huge images and practically nothing else. There seems to be a very nice balance here between photos, additional information and resources.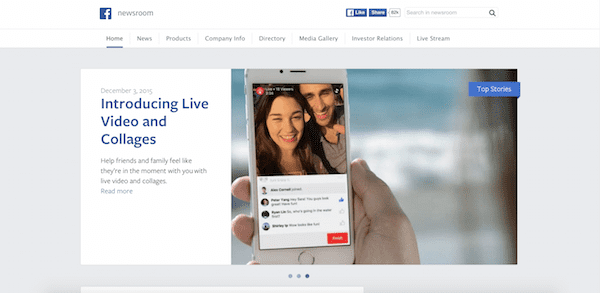 The world's largest social network uses WordPress to power its news blog.
Looking like an extension of Facebook itself, the blog has a very clean and minimal look that makes it easy to read and navigate. You probably couldn't mistake it for anything else but Facebook with that blue and white color scheme.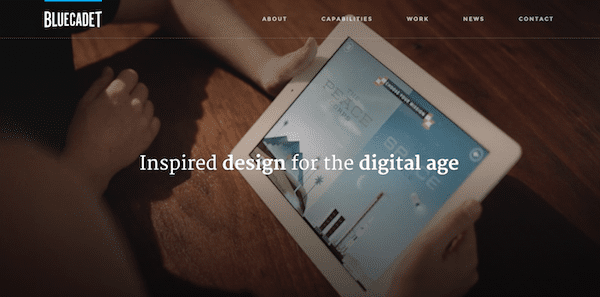 Blue Cadet is a digital agency that designs unique user experiences, and you can bet that they show it off through their own website as well.
Everywhere you look, there are smooth and engaging effects throughout the site that get visitors wanting to click to see more. Just scroll and hover your mouse over any image to get a firsthand look at how exquisite this site really is.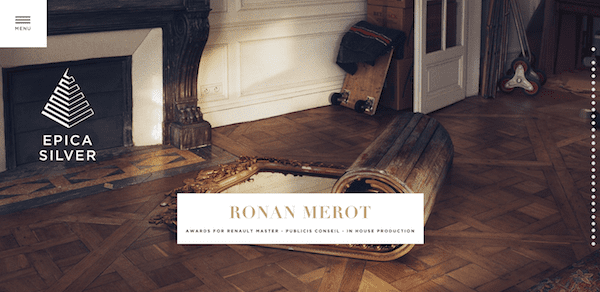 Wanda Print is a productions and creative studio with a site that really is mesmerizing to scroll through.
As you scroll down, full screen images will appear as one half of it slides from the top and the other slides from the bottom to fit together. The menu is always accessible when you need more than just pretty pictures to look at, plus there's a clickable headline that appears over each image.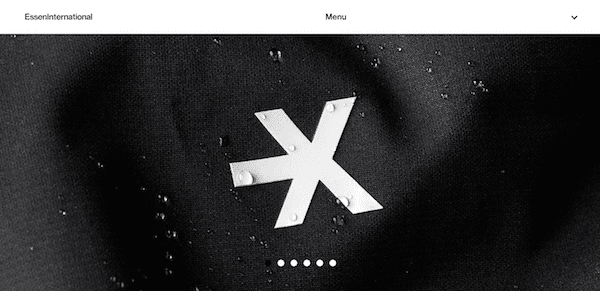 Essen International has a clearly common theme on its website: size!
Everything from the images to the text have been made to look larger than what you'd typically see on most other sites. Click the menu to see it drop down and take up as much as half of your desktop screen. For a site that keeps much of its content to a minimum, the oversized look works.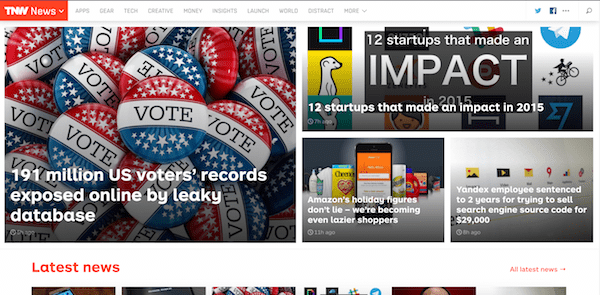 The Next Web is a popular tech news website that relies on WordPress to deliver its content.
The site puts its feature stories right at the top and then breaks its main categories up into sections with card-like article summaries. With a layout like this, you can get your news fix without being overwhelmed by too much clutter.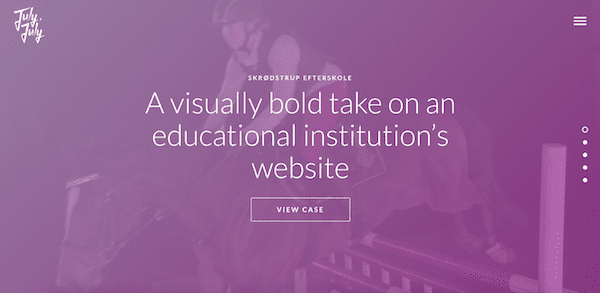 July July is a digital agency that may just be one of the most fun websites to browse through.
The site uses a lot of large images, videos and text combined with animation effects to make a big impression on visitors. Click on any case on the front page to see a superb presentation of its contents.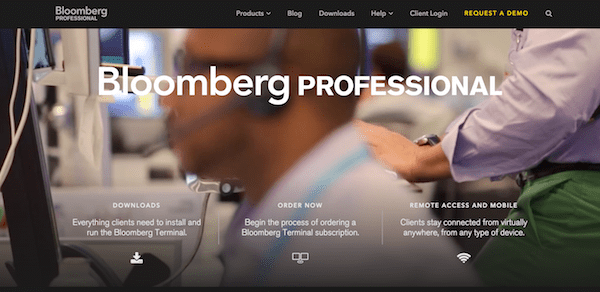 Bloomberg is another huge brand that uses WordPress to showcase and sell its products to customers.
The site features a large-scale video background with overlapping calls to action followed by featured blog posts that use full screen images and enormous headlines. This is one more example that displays the most essential information in an enticing way without overwhelming users with too much to look at.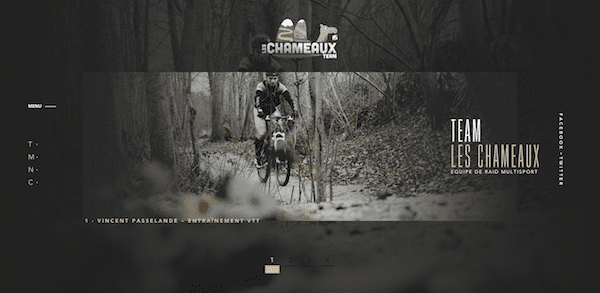 Team Les Chameaux is a French outdoor adventure team with a WordPress website that really captures what it means to be adventurous.
Watch as the images and text move in subtle ways around your screen as you scroll down or enlarge as you roll your mouse over them. The small menu on the left of the screen also has some really great mouse rollover effects.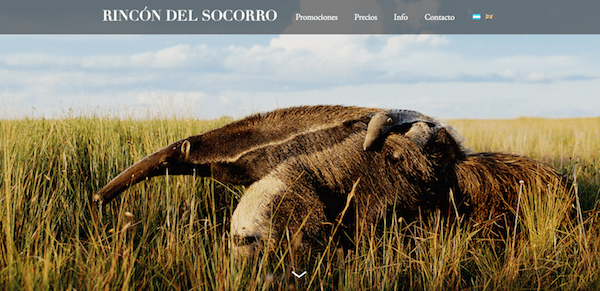 Rincon Del Socorro is a tourist destination website that wows its visitors with beautiful imagery from its natural ecosystems.
The site features parallax scrolling with videos and image galleries that visitors can view for even more great visual content. The text is beautifully formatted and there's just enough of it to accompany the imagery in a way that supports the overall storytelling.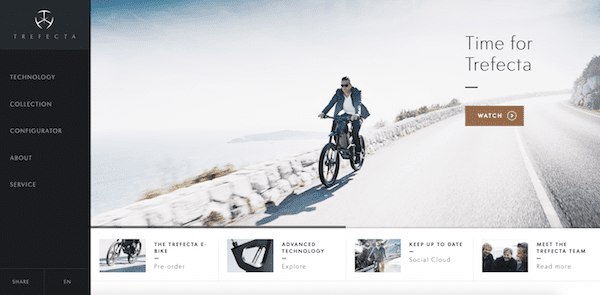 Trefecta Mobility is an e-bike company that uses WordPress to show off its innovative products.
Imagery and video are the big focus here, and clicking on Technology in the menu options on the left will trigger interactive animation of the bike that you can scroll through at your own pace. A quick browse through this site might be enough to make you want to pre-order one of these things.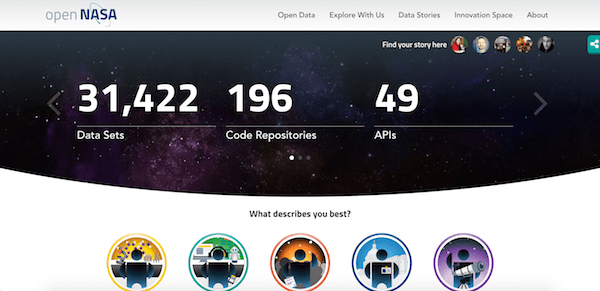 Everyone knows that NASA is the United States government space agency, and believe it or not, they're actually a huge fan of WordPress.
According to a WordPress.com VIP case study, the NASA Open Government Initiative team picked WordPress as its open source CMS of choice to host some of its websites that aim to help federal agencies generate more transparency, participation and collaboration. These include sites like open.nasa.gov, data.nasa.gov and code.nasa.gov.
Although not every NASA site is powered by WordPress (like the main NASA.gov site), you can check out NASA's Glenn Research Center WordPress page to see a small sampling of additional sites that use WordPress.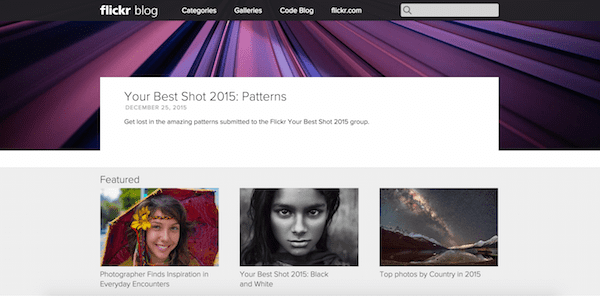 Yahoo's big photo-sharing platform, Flickr, uses WordPress for its blog section.
Since photos are what Flickr is all about, it only makes sense that they're the main focus of its blog. A full screen feature image and corresponding post appears at the top, followed by the most recent posts.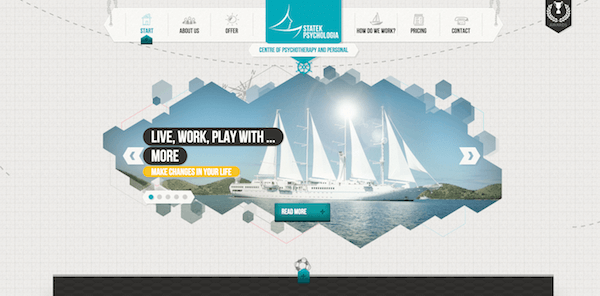 Statek Psychologia is a Polish psychotherapy website that's eye-catching in all the right ways.
At first glance it looks quite simple, but this WordPress site has some clever components you'll see as you browse through it. The geometric design features in the background and in the unique slider are pretty hard to miss, and as you scroll down, the menu that looks like it hangs from two ropes remains fixed while the footer can be expanded and accessed any time no matter where you are on the page.
Conclusion
If you've taken the opportunity to dive deeper into any of the websites featured above, you should have a good idea of just how versatile WordPress truly is. The possibilities really are endless, and it will be exciting to see what kinds of new and amazing things developers and designers might able to do with WordPress in the near future.
Do you know of any other cool WordPress-powered websites that are worth showing off? If you have one that comes to mind, feel free to mention it in the comments.
Editor's Note: This post has been updated as of 1-13-16 to ensure that all featured websites are running on WordPress.
Article thumbnail image by vasabii / shutterstock.com