Whether your aspirations are to earn top dollar as a freelancer or to land a lucrative job with a prestigious firm, there's one huge obstacle for you to overcome: the web design arena is ridiculously competitive.
Sure, you might have the design skills required for the job at hand, but how do you get your foot in the door? And what do you do if nobody is taking any notice of you? It's the classic catch-22 situation: need experience to get a job; need a job to get experience.
But standing out from a crowded applicant pool isn't unique for those working in web design – in fact, it applies to all industries. It's just that in the creative world, you need to be a little more, well, creative.
Landing your dream job starts with your resume. I'm telling you now: a boring MS Word document you threw together in 12th grade and continued to update simply won't cut it.
Fortunately, you're in luck: I've put together a collection of over 20 free resume templates to help web designers stand out from the crowd. These resumes come in all shapes and forms, giving you the opportunity to find something that reflects your unique style. The templates are all available from Behance, one of the best places to showcase your creative skills, as well as to discover the work of up-and-coming talents.
It's also worth pointing out that the vast majority of these templates are available in PSD format. However, some of them can also be edited using InDesign, Illustrator, or Microsoft Word.
Free Resume Templates
1. Mint Resume Design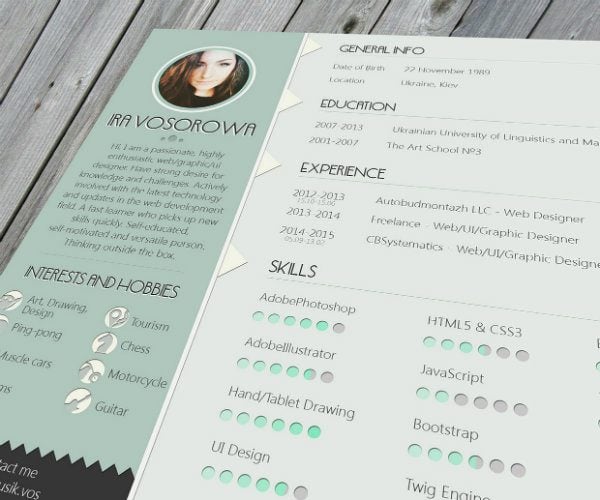 Let's start things off with this gorgeous, elegant mint number by designer Ira Vosorowa.
2. Dark Theme Resume Template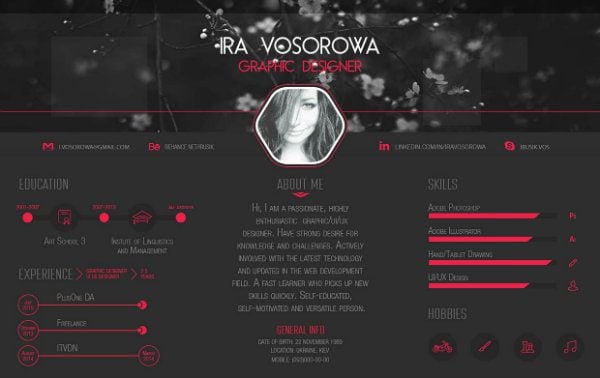 If elegance is not your thing, Ira has several other awesome resume templates in her collection. This is probably my favorite of her templates, with a striking dark skin and space for an attention-grabbing header image. The template is also available in two skins: neon pink and pale mint.
3. Mint Self Promotion Resume Template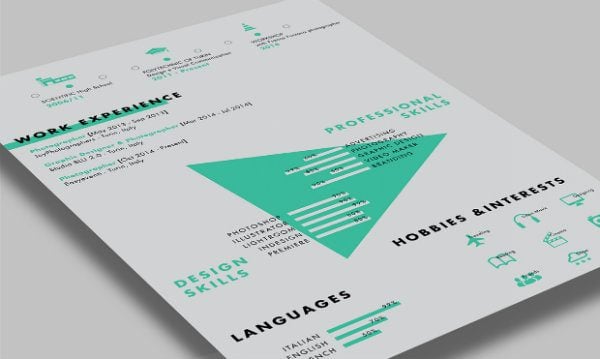 Continuing with the mint color schemes, next up we have Paolo Pettigiani's beautifully clean CV template.
4. Nawas Sharif Resume Template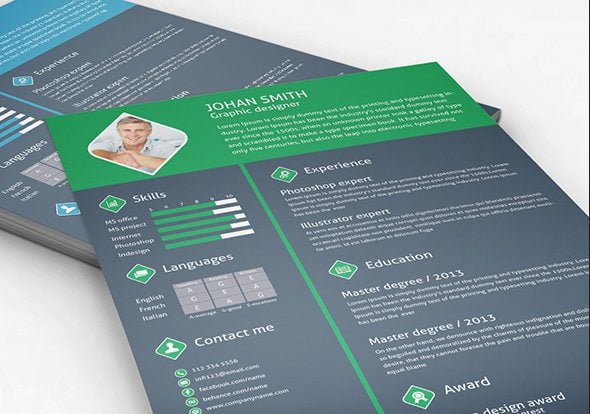 Our next template is available in three colors: blue, yellow, and green. Designer Nawas Sharif has done an excellent job with this one, also creating a cover letter template guaranteed to grab potential employers' attentions.
5. Ultra Minimal Resume Template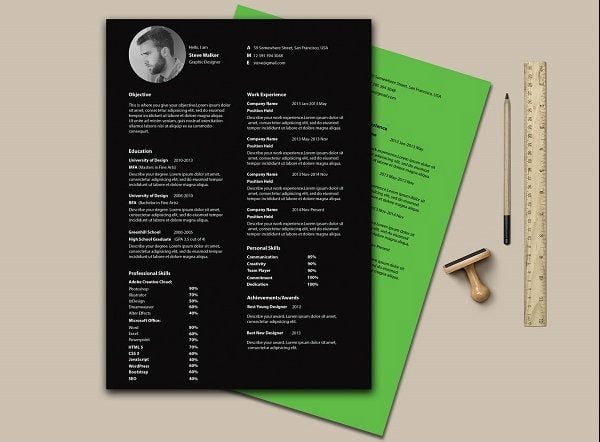 Saptarshi Nath's awesome template uses a clean, simple, and minimal design. In particular, the striking green template is likely to make employers sit up and take notice – or feel free to design your own color scheme.
6. Al Rayhan Resume Template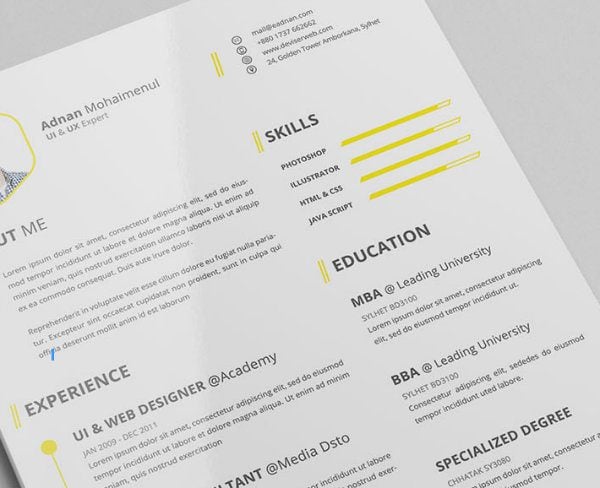 Another beautiful, minimal resume template next, this time from designer Al Rayhan. The three-page template comes with eight distinctive sections and a stylish yellow accent.
7. Jahangir Alam Jisan Resume Template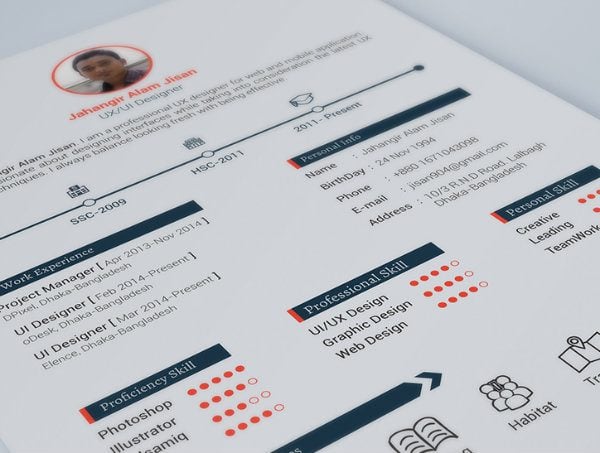 This stunning resume template was put together by Jahangir Alam Jisan. The template oozes professionalism and incorporates a modern design with a clean red and blue color scheme. It also comes with three separate templates, with room for a portfolio, CV, and cover letter.
8. Zippy Pixels Resume Design Template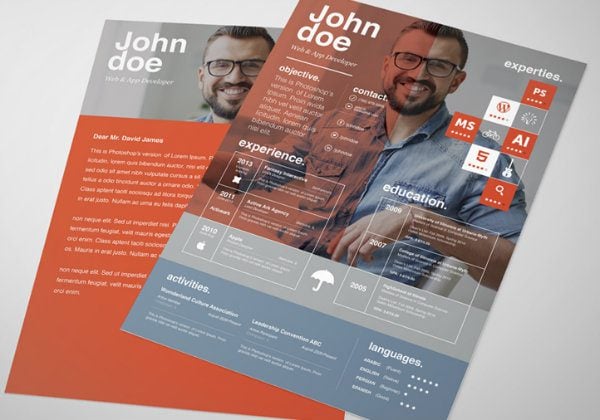 Zippy Pixels has put together a gorgeous collection of premium resume templates. The PSD version of this one, however, is available completely free of charge. The template looks premium-quality, comes in three color schemes, and includes a cover letter template, too.
9. Graphics Fuel Resume Template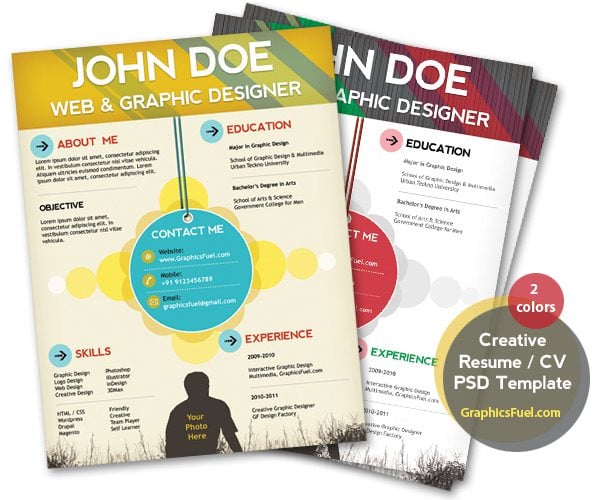 Another bright and colorful resume template up next. It features a cool header design as well as prominent contact details. It's also available in two colors.
10. Pixeden Resume Design Template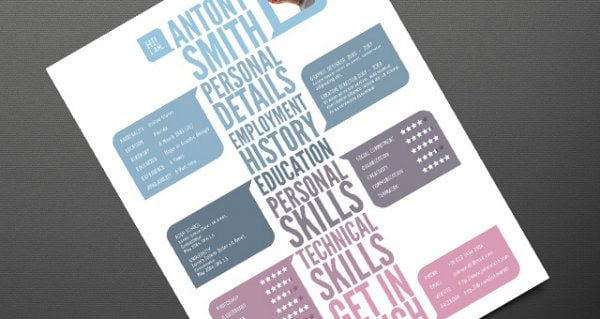 This creative resume was designed for maximum impact. The design feels modern and innovative, with the typography clearly the main design feature. The black-and-white version is available for free.
11. Ola Hamdy Resume Design Template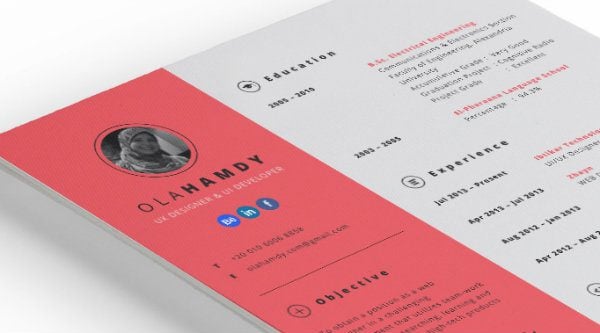 Ola Hamdy has created one of my favorite resume templates here, with two versions available – one soft pink, one light grey.
12. Creative Professional Resume Template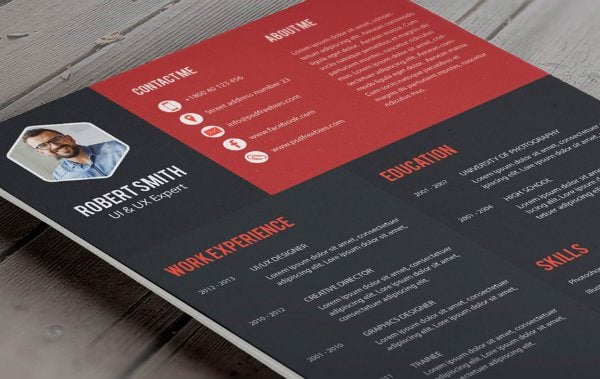 Now for one of my favorites, courtesy of PSD Freebies. This resume template screams professionalism while also showing some creative flair – the red-grey color scheme looks stunning.
13. Swiss Style Resume Template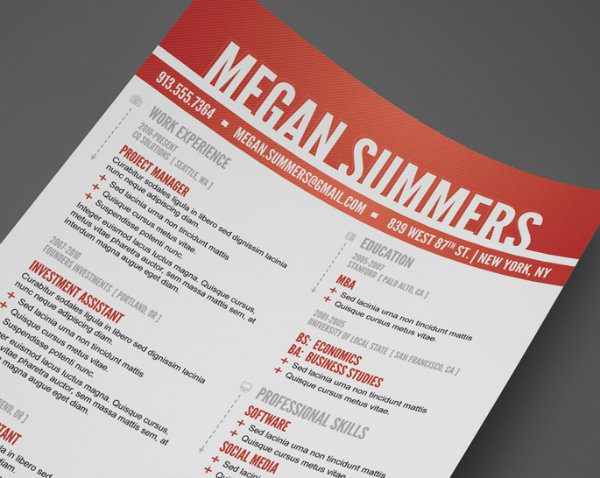 Mike Bradshaw's resume template also takes a more minimalist approach. Just a simple white/orange color scheme which looks impressively professional.
14. Fay Zodiac Resume Template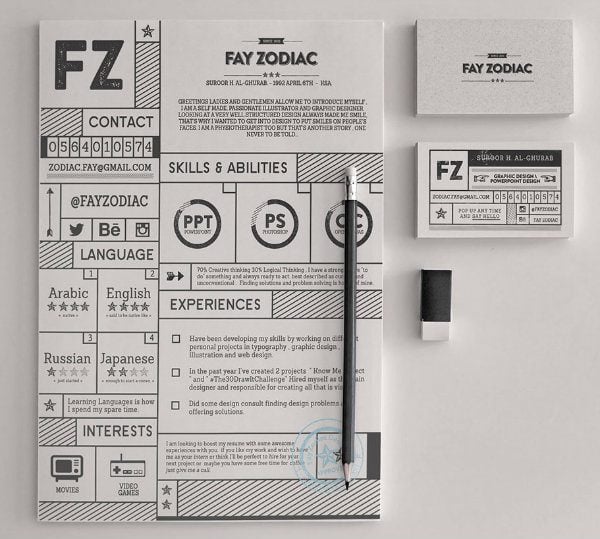 Next we have this resume template from Fay Zodiac – this has to be one of the coolest in this collection. The template uses an interesting layout with lots of fun fonts. It also includes business card designs, too.
15. Den Serduke Business Resume Template
This one is a simple-but-elegant design from Den Serduke. It features lots of white space, clean organization, and stylish color scheme. It also comes with a quirky business card design, too.
16. Light Minimal Resume Template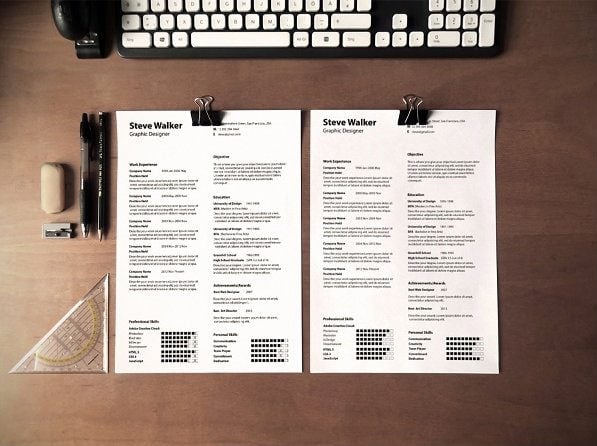 A super-minimal CV template up next, for those who'd prefer to let their skills and experience do the talking.
17. Ahmed Seneina Resume Template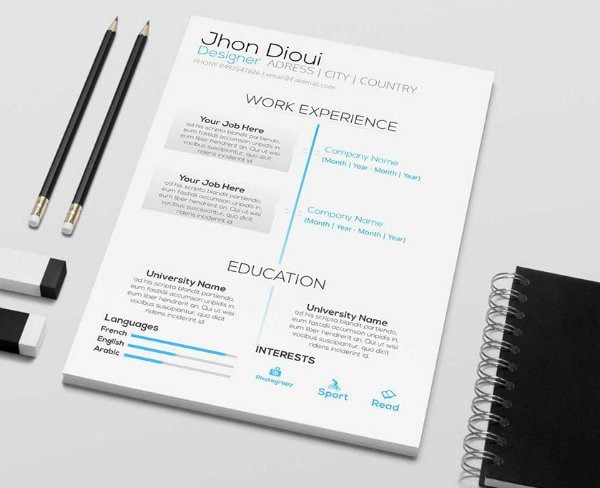 We're back to minimalist resume templates again, with this one designed by Ahmed Seneina. A simple design, sure, but it looks great.
18. Minimalistic Resume Template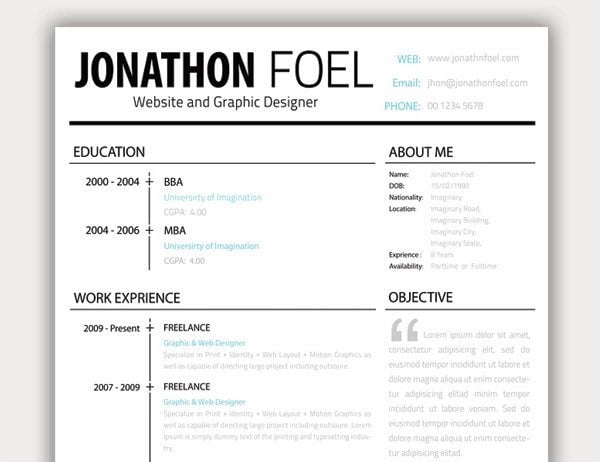 A gorgeous two-column resume template from Ashiqul Islam here. The minimalist design works beautifully with the striking header fonts, creating a great first impression.
19. Ashigul Islam's Swiss Resume Design Template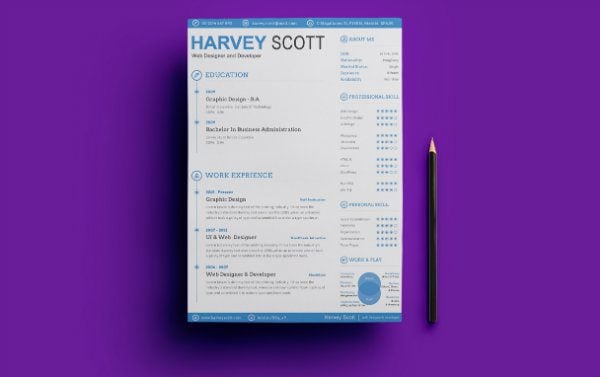 Another from Ashiqul Islam here. This one uses a similar minimal design, but this time, featuring a splash of color at the top of the bottom. This color can be fully customized, too.
20. Emiliance Ismailov's Resume Design Template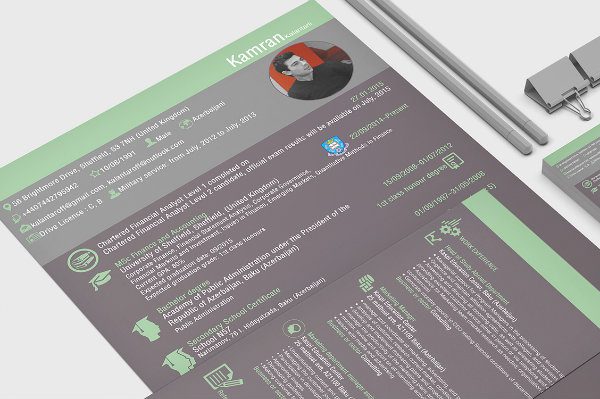 A clean and stylish template from Emiliance Ismailov. The color scheme is eye-catching and professional. This template was also updated for 2016 recently, too.
21. Createer Team Resume Template Design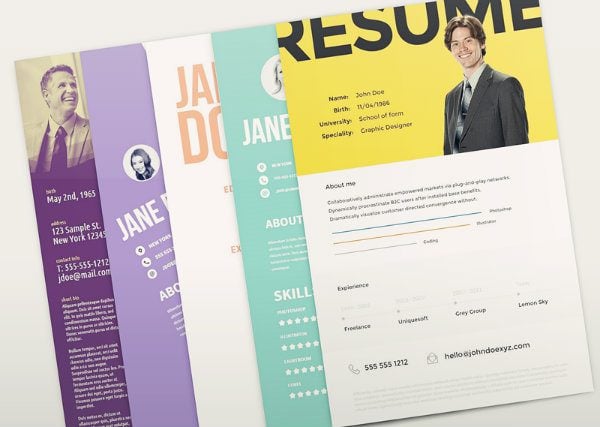 Next, Createer Team has assembled this pack of resume templates. Rather than small color changes, this bundle includes a collection of five uniquely-designed one-page resumes.
22. Alamin Mir Resume Template Design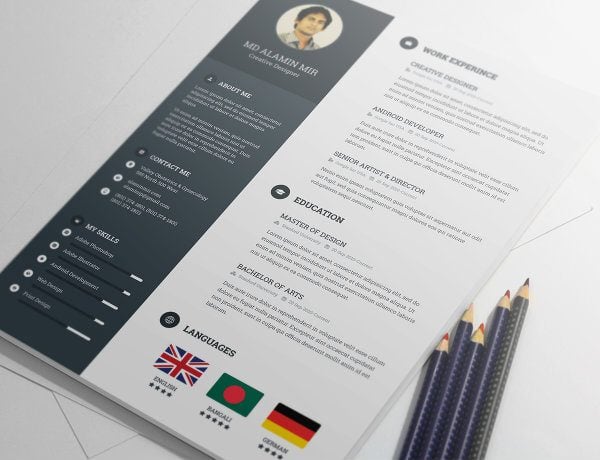 Alamin Mir has created this ultra-professional resume template, targeted at web designers and creative individuals. It comes with three separate templates – CV, portfolio, and cover letter.
Final Thoughts
And that's your lot – a run-down of 20+ free resume templates for web designers. If you have any styling tips for creating a custom resume, or you'd like to share your favorite template, let us know in the comments section below!
Article thumbnail image by liravega / shutterstock.com