Why are good marketing newsletters important? Because a huge part of marketing is keeping up with the action! To do your best work as a marketer (of any kind), you need to update your knowledge on a regular basis. But subscribing to every newsletter you come across just ends up filling up your inbox with tons of nonsense. It then becomes difficult to find the good stuff.
For that reason, I've put together a list of the best marketing newsletters you should subscribe to in 2020. You might have already subscribed to some of these! Take a few minutes to search your email inbox and label any of these that you might already have. Then use the label as a curated inbox of the best marketing newsletters.
Doing the research for this post, I found some pretty good ones that I didn't have in my own inbox! Let's discover them all together.
1. Total Annarchy – Ann Handley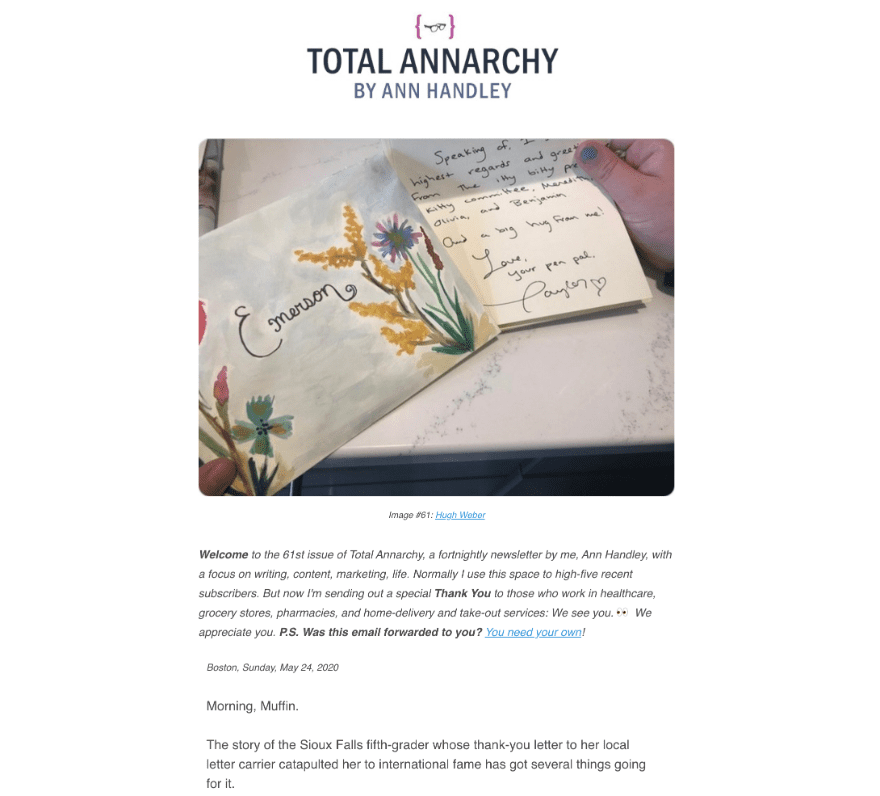 Ann Handley is considered one of the most influential digital marketers and thought leaders in the marketing world. Her company MarketingProfs helps train marketers across the world with conferences and virtual trainings.
Total Annarchy is Ann's biweekly newsletter. She includes all types of updated information about marketing and what's happening at that particular moment in the world. The special thing about Total Annarchy is her personal touch. Ann always shares a little bit about her own life; all the struggles, wins, and experiences. It's what makes her so personable and easy to read.
2. Orbit Media – Andy Crestodina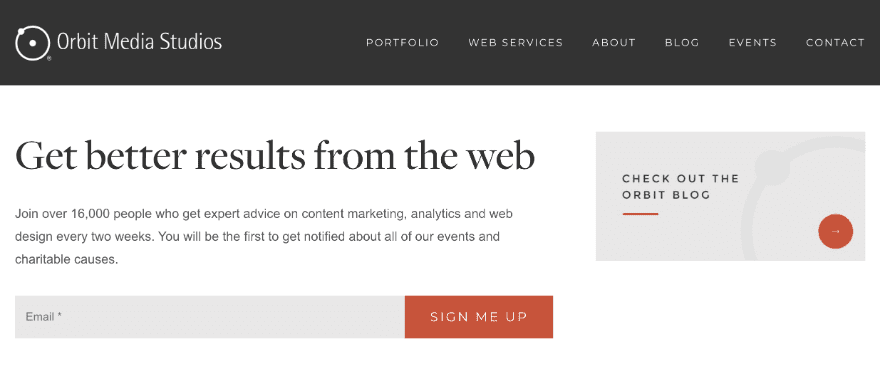 Just like Ann Handley, Andy Crestodina is a big name in the digital marketing world. He is the Chief Marketing Officer for Orbit Media, as well as an author and public speaker. He publishes articles on the Orbit Media blog and the newsletter promotes his best ones.
Andy also sends out information about events he participates in and others that he supports. He uses the "short and sweet" style of newsletters where he shares tidbits and useful links.
Sign up for the Orbit Media newsletters
3. Fresh Van Root – Rolf Mistelbacher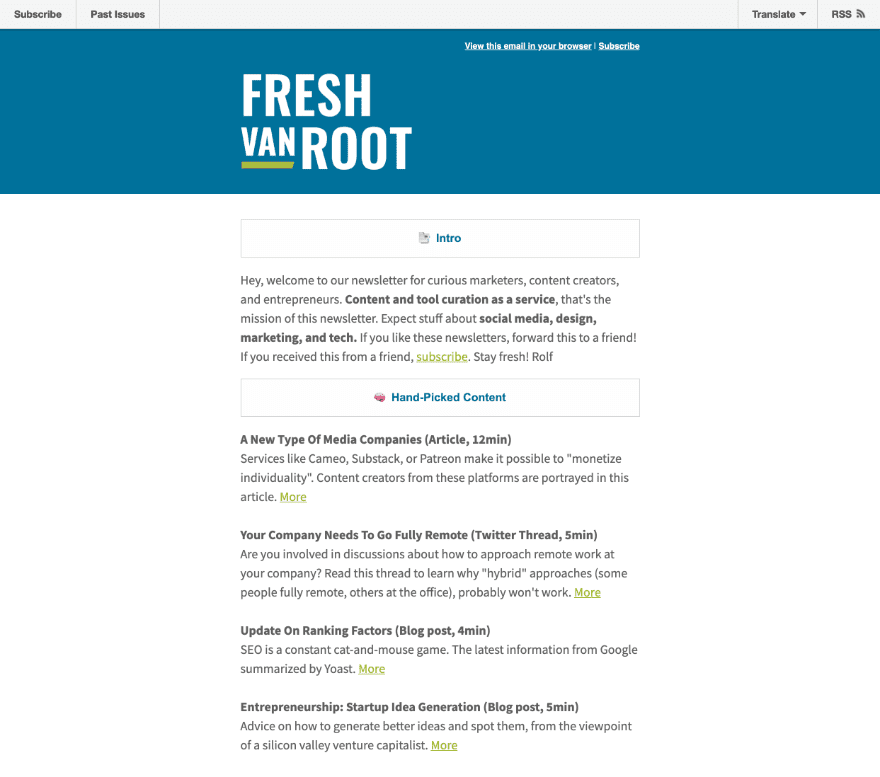 Fresh Van Root is a digital marketing agency that helps entrepreneurs and content creators stay ahead of the curve. The founder and CEO, Rolf sends out the newsletter every two weeks. His newsletter is a collection of great content marketing articles and tools he's found in the last few weeks. The design is eye-catching and attractive, making the newsletter easy to skim through.
Rolf's marketing newsletter is one of the newest in the bunch but he's doing a great job at it so far!
4. Christopher Penn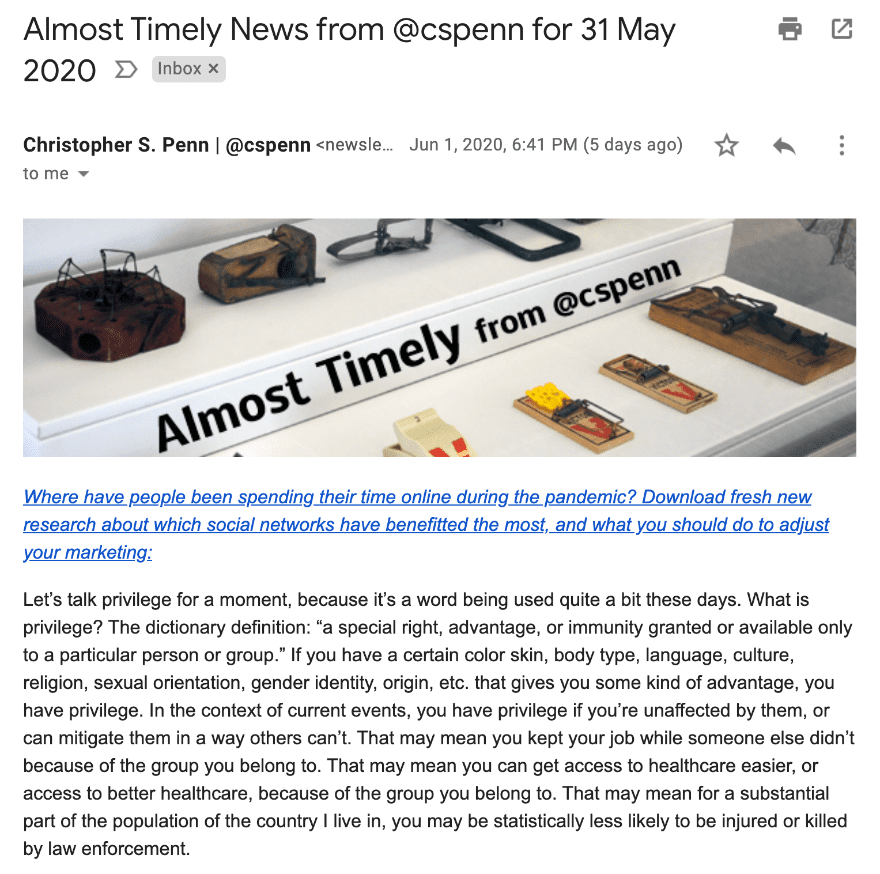 Christopher Penn is the co-founder and data scientist of Trust Insights. He sends out two different newsletters. The Almost Timely News is his personal newsletter and In The Headlights is the one for Trust Insights. Both are full of relevant content for marketers in all fields. Both newsletters are infused with Christopher's personality, much like Ann Handley's newsletters.
These newsletters are long and full of amazing content to stay relevant and ahead of the curve.
Subscribe to the Almost Timely Newsletter
Subscribe to In The Headlines Newsletter
5. Moz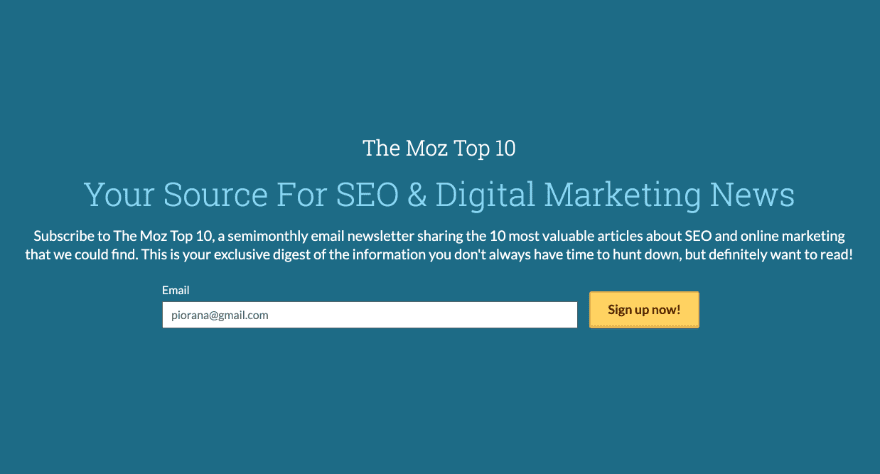 SEO is a big part of digital marketing. And there is no one more knowledgeable than Moz. Their bi-weekly newsletter is a collection of the best 10 articles about online marketing curated by their team. This is the type of newsletter you need if you want to read the best content without having to look for it yourself.
Subscribe to the Moz Top 10 newsletter
6. The Mention Memo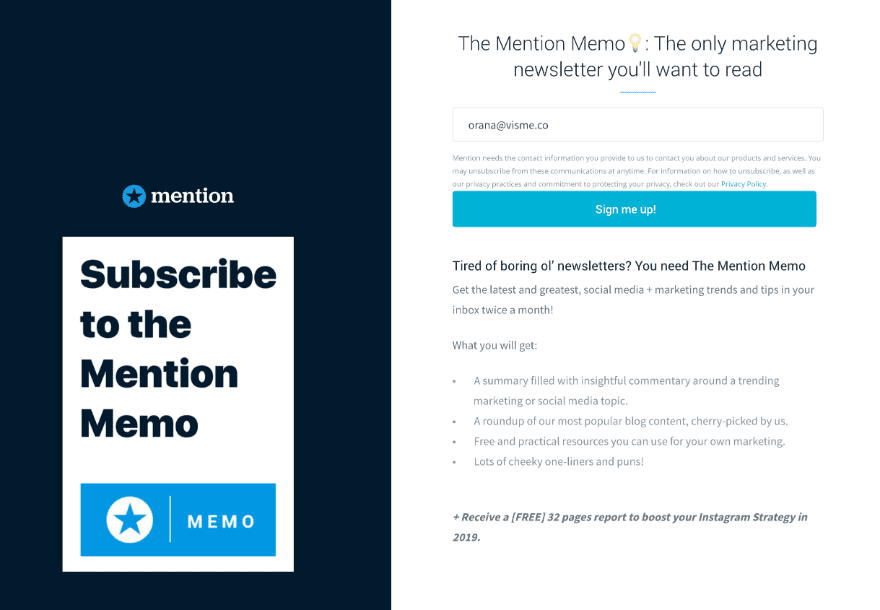 Not all marketing newsletters are the same. The Mention Memo is one of the off-the-cuff examples in the bunch. Their newsletters revolve around a specific topic each time. Their writers send out insightful commentary and links to their relevant blog content. They also offer resources for your own marketing.
The Mention Memo is also full of fun and lighthearted humor (gifs and meme, anyone?)
7. Neal Schaeffer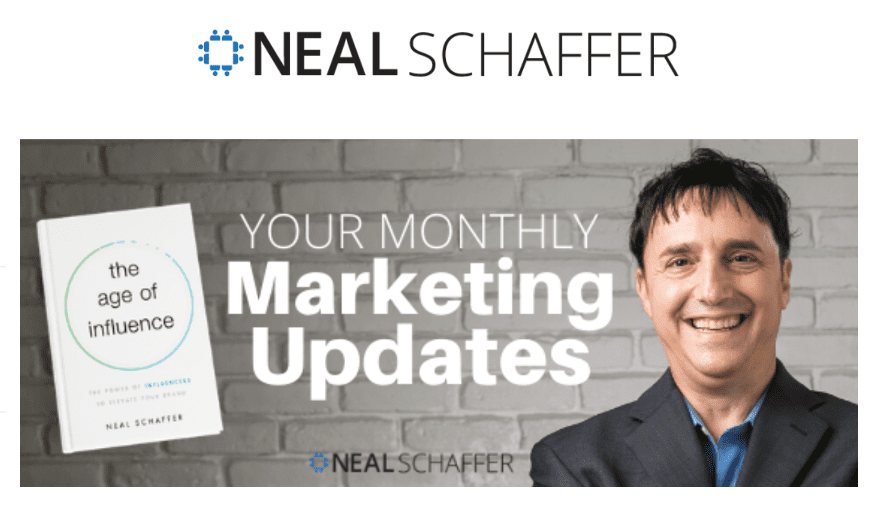 Neal Schaeffer is a social media marketing guru that helps entrepreneurs and companies with their marketing strategies and digital transformation. His newsletters are generally promotional of his own content. Thankfully, his content is good. He also writes books and conducts podcasts which he promotes in his newsletters.
The Neal Schaeffer newsletter goes out once a month.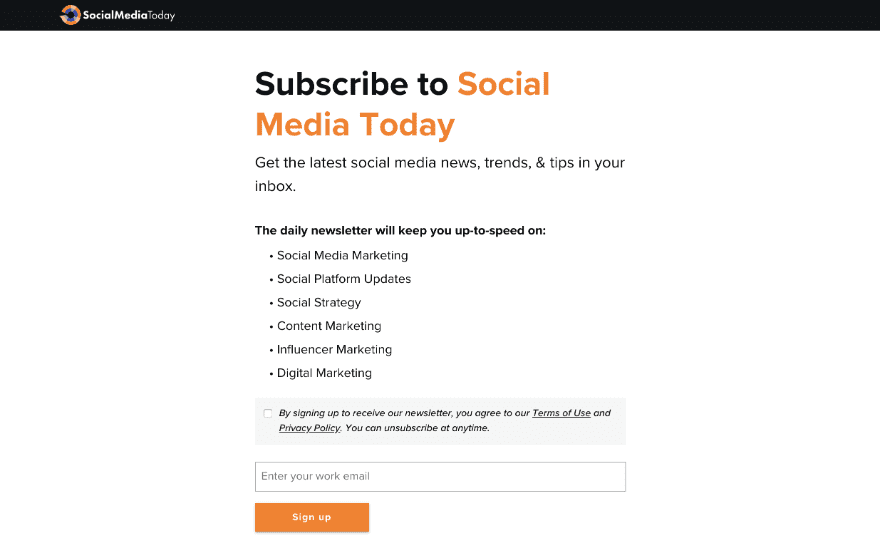 Social Media Today is one of the front runners when it comes to staying up to date with social media marketing. Their blog is a trove of knowledge and their newsletters are no different. This is a daily newsletter full of social media marketing trends and tips. They share curated content as well as the content from their own blog and channels.
Subscribe to the Social Media Today Newsletter
9. MazePress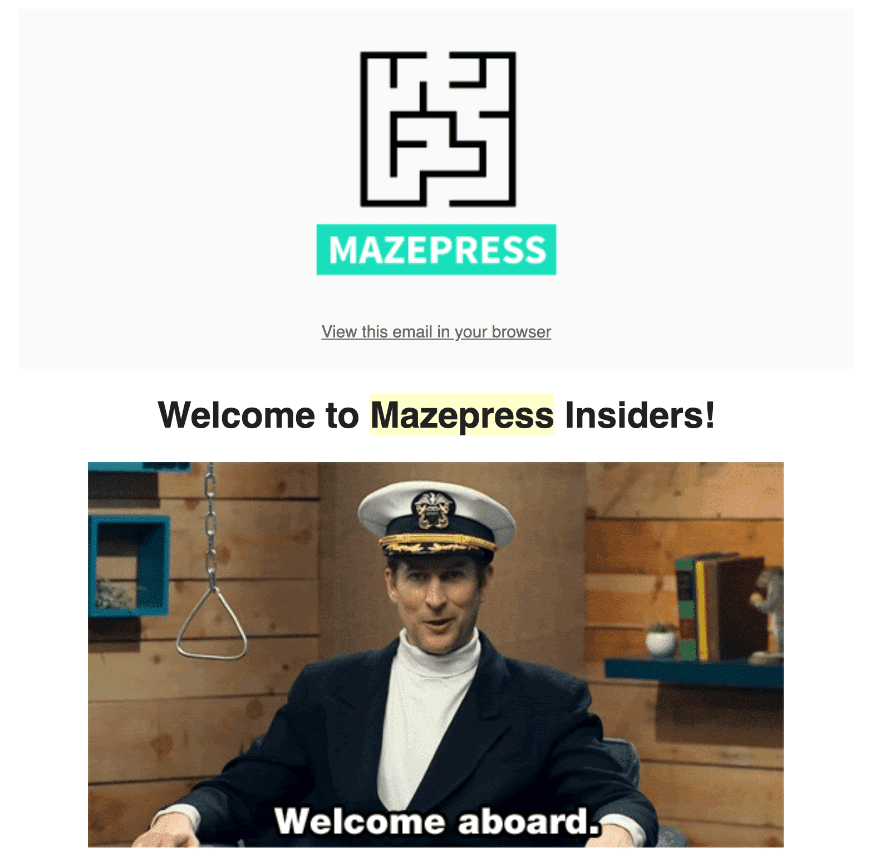 David from MazePress is a digital marketer that loves to help businesses of any size. He's the kind of marketer that infuses his personality into his content, including his newsletter. David's newsletter is not just another in the pack, it's definitely a little different to the rest. Apart from his newsletter, David also has a Facebook community and loyal social media following.
Subscribe to the MazePress Newsletter
10. The Daily Carnage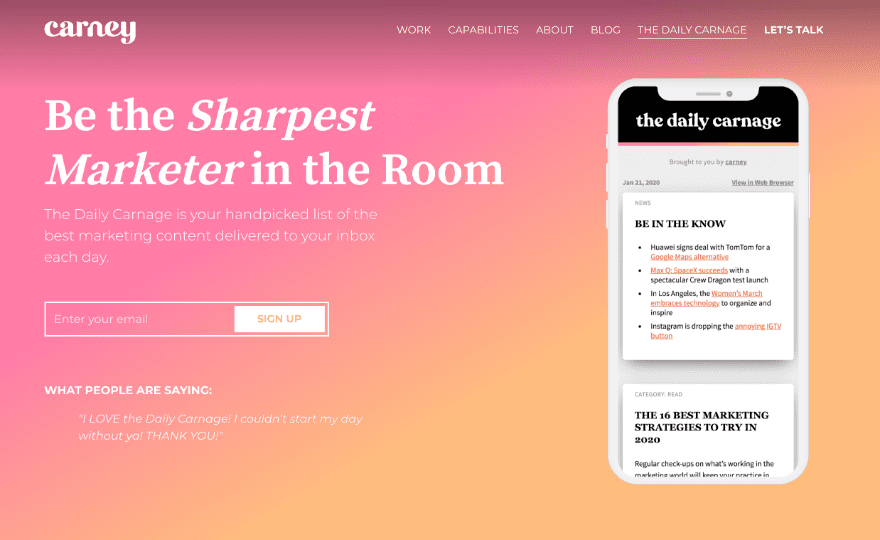 Carney is a digital marketing agency with plenty of high-class clientele. But what you'll love from them is The Daily Carnage. This is a unique newsletter because it's daily instead of being bi-weekly or monthly. Not surprisingly, The Daily Carnage is a favorite of many marketers around the world.
Every day, your inbox gets all the news and marketing updates you need to know right now. All the content is fresh and timely. The Daily Carnage is mobile-optimized for marketing knowledge on the go.
Subscribe to the Daily Carnage
11. Neil Patel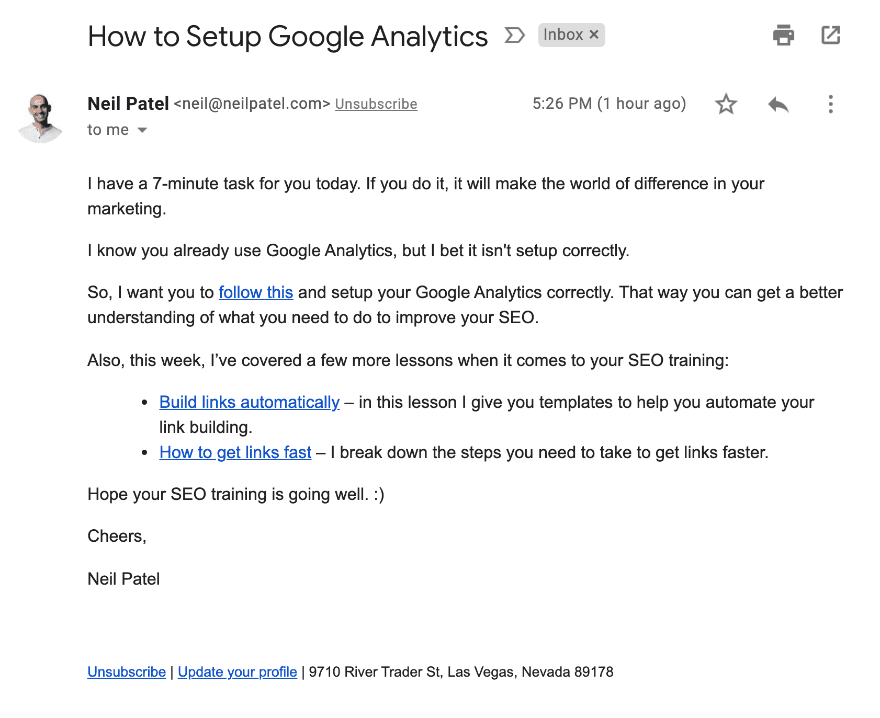 Last but not least, I've included Neil Patel on this list. His newsletters are never very long, just a bit of text and a link or two. But they are always very insightful and helpful. He concentrates the message on one particular topic and invites you to discover more, on your own terms.
Subscribe to the Neil Patel Newsletter
Your inbox should now be a happy place with all these marketing newsletters. Don't forget to label your favorite ones so you can find them quickly. I also suggest that you get rid of the ones that don't serve you.
Another great thing about reading the best marketing newsletters is learning tips and tricks for writing your own newsletters. Get inspired by your favorites to try out new things next time you send one out.
Are there any other amazing marketing newsletters that you love and I missed? Please add them in the comments below for the community to find.
Featured Image via Julia Tim / shutterstock.com