Every month, I update the community about our progress on Divi 5. Divi 5 is the next big version of Divi that will introduce a new foundation for the builder, focusing on improving performance, stability, scalability, and extendability. It won't come with many new features. It will, however, give our team and the development community the tools to push forward into the future. It will also make Divi much faster, among many other things!
If you want to learn more about Divi 5, check out my original announcement.
What We Accomplished Since My Last Update
Last month, we announced the release of Divi 5 Dev Alpha, the first phase in the Divi 5 beta program. This phase is focused on solidifying the new API and working with Divi creators to make sure we give them the tools they need to create great modules and convert their existing modules to take advantage of what the new version of Divi has to offer.
Over the past month, we released many significant updates to our new Divi developer documentation, including long-form tutorials that walk you through creating Divi 5 modules and converting Divi 4 modules to the new API. This new developer documentation is incredibly in-depth and will eventually dig into every function and hook in the new version of Divi.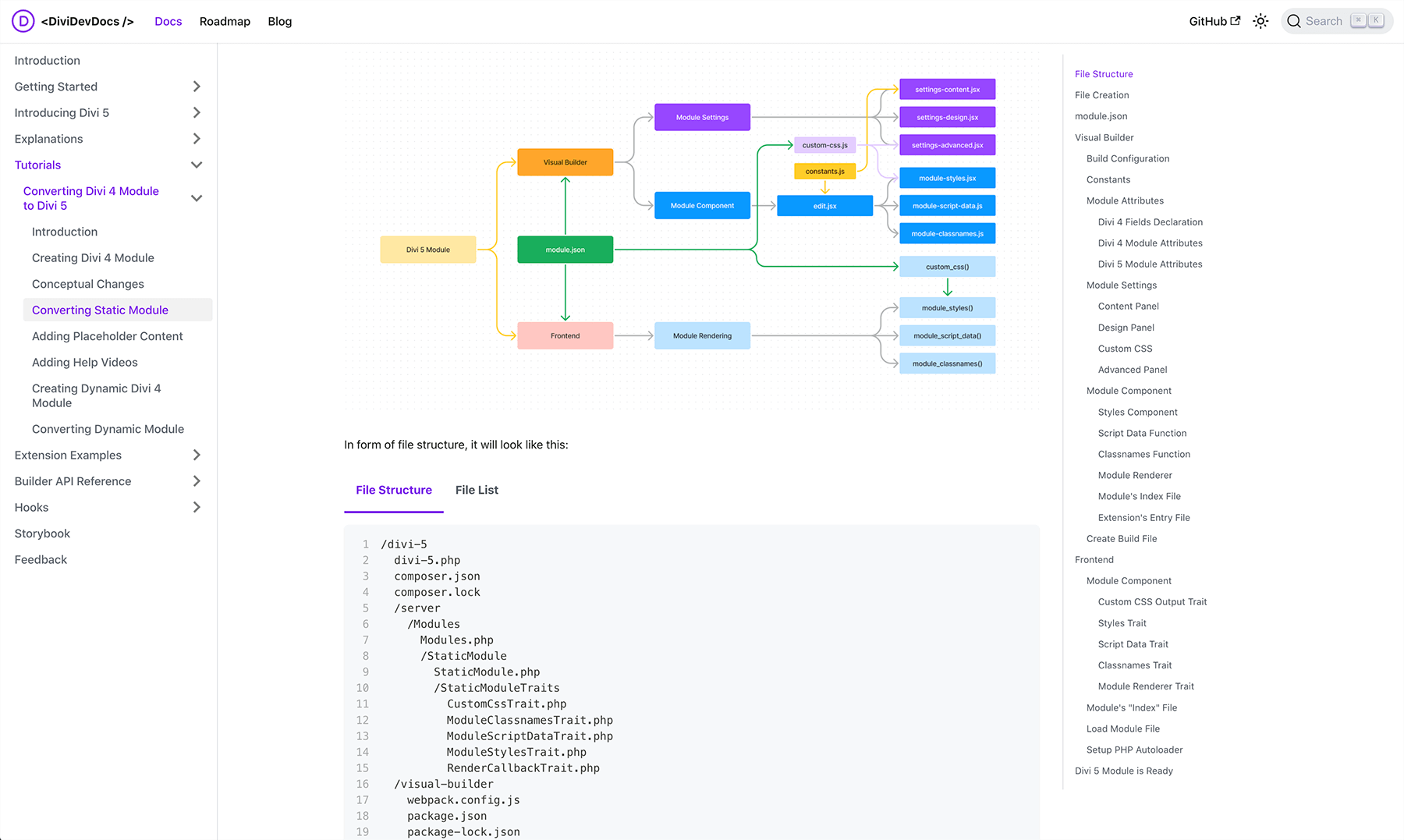 We improved backward compatibility with Divi 4 modules and are working towards our initial promise that nothing will break when you update to Divi 5. We also fixed random bugs found by participants in the beta program related to features and functionality already existing in Divi 5. That's one of the great parts of releasing these very early alpha versions; by the time we get to the final release, there will be no surprises.
The most significant update in this release was work involving Divi's element style components, which significantly streamlines the process of assigning design settings to individual module parts, making creating Divi modules faster for our team and the team community. It also opens the door for nested option groups.
Finally, we filled in many user-facing features, including the Global Elements, Divi Help Modal, Save to Library functionality, Section Divider settings, and more.
A Deep Dive Into Divi 5's Progression
I want to take some time to explain the five phases of the Divi 5 beta program and how we are approaching Divi 5 development so that you can put our monthly progress updates into perspective.
First, let's put this project as a whole into perspective. What is Divi 5?
Well…we are essentially recreating everything related to the builder from scratch! Iterating on the Divi 4 codebase isn't sustainable forever, and it's time to build a new foundation. So, how do we approach such an enormous project with such a daunting roadmap?
That's where the five phases of Divi 5 come in.
The Five Phases Of Divi 5
We are building Divi 5 piece by piece in a modular fashion, starting from a functional base. Every two weeks, Divi 5 gets a new version (we are currently on version 3), and a few new pieces of the puzzle are filled in. Everything that gets merged into Divi 5 is finished, and even now, Divi 5 works! It's just missing features.
This allows us to get Divi 5 into the hands of the community sooner because even though it's missing features, it works, and it's fast. You may even find that using an upcoming public beta version of Divi 5 is preferable to using Divi 4 if the missing features aren't features you use.
The first two phases of Divi 5 are Dev Alpha and Dev Beta. These versions will only be available to developers while we focus on solidifying the module API and getting feedback on the technology stack; all the while, we'll also be filling in features in preparation for the upcoming public phases.
The third and fourth phases of Divi 5, Public Alpha and Public Beta, will be the versions we release to everyone. These versions will be like a "Divi Lite" version of Divi 5. They won't be feature-complete, but they will have enough features to make them worth testing and using. From there, we'll keep filling in more features as we work towards the final version, which will be a regular update in the WordPress Dashboard on all Divi websites.
While it's hard to estimate when we will reach each phase, our goal is to get into the public beta stages this year so that everyone can get their hands on Divi 5 and come along for the ride as it gets better and better with each update. Divi 5 and Divi 4 will exist in tandem during the beta phases, receiving their own regular updates, and you will get to decide which version is right for you.
Stay Tuned For More Updates
I hope this post gives you a clear picture of how we plan to manage this massive project in the most advantageous way for Divi users. Even though this is a big project, you won't have to wait until the end to get your hands on Divi 5 and enjoy its benefits.
Right now, we're focused on ensuring the backend is solid during these first two development phases, and we're working towards the public beta phases as fast as possible.
We're also working on some great non-Divi 5 features that I think are exciting, so stay tuned for those as well. If you have any questions, be sure to leave a comment. Stay tuned for next month's update, and I'll see you in the next one!