This past year we took our Divi Design Initiative to a whole new level by giving away two free world class Divi layout packs every single week. Each pack includes all the pages needed to get a site up and running quickly. Plus all the custom images, graphics, and icons included are free for you to use without restriction. Looking back on the year, some of these freebies stood out from the rest. So, we thought we'd share the 10 most popular Divi freebies of 2018.
The 10 Most Popular Divi Freebies of 2018
1. Web Agency Layout Pack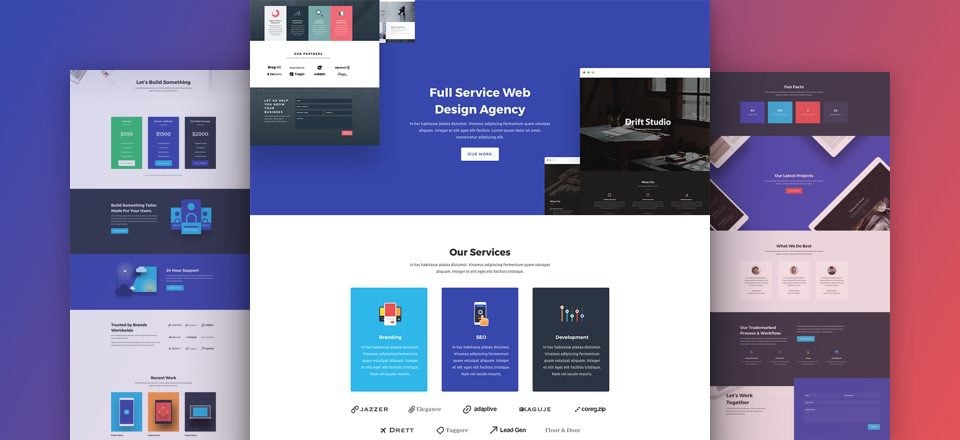 "This layout pack includes some important "must haves" for a Web Agency, including a pricing page, a services page, and a portfolio page. The design is tastefully colorful and clean throughout. The background images stage the content in creative and effective ways. I particularly love the CTA on the Services page. The Pricing page has exceptional color schemes with some valuable sections for establishing credibility (the trusted brands section is a nice touch). Plus, with the thoughtful inclusion of text (not just dummy text), I would expect any agency would be able to use these layouts out of the box, with only minor adjustments."
View The Live Layout Pack Demo
2. SaaS Company Layout Pack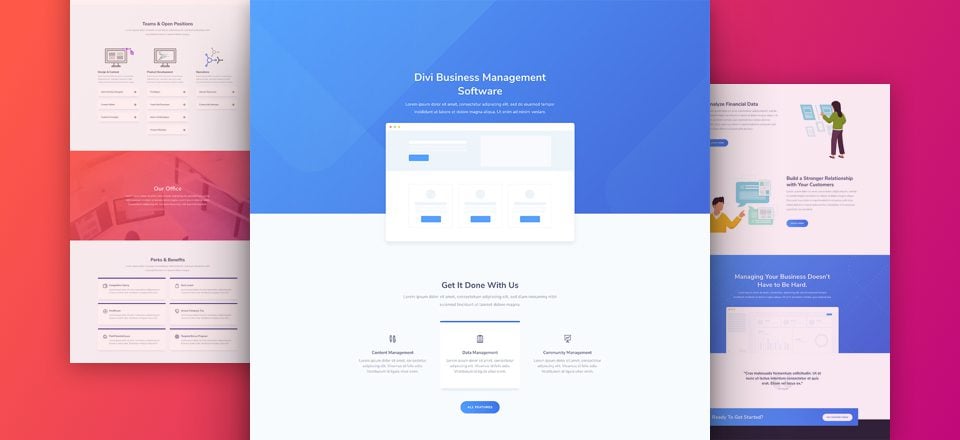 "This SaaS layout pack is designed to get your SaaS website up and running in no time. With seven stunning and elaborated layouts, your website will contain all the pages it needs with the necessary information which you can adjust to your own needs. A professional approach is the primary focus of this layout pack and matches perfectly with the stunning illustrations and advanced built-in Divi options that were used to bring you a completed and easy-to-install layout pack. On top of that, the layout pack includes, among other layouts, a documentation page that'll allow you to share your documentation in an elegant and targeted way."
View The Live Layout Pack Demo
3. Interior Design Layout Pack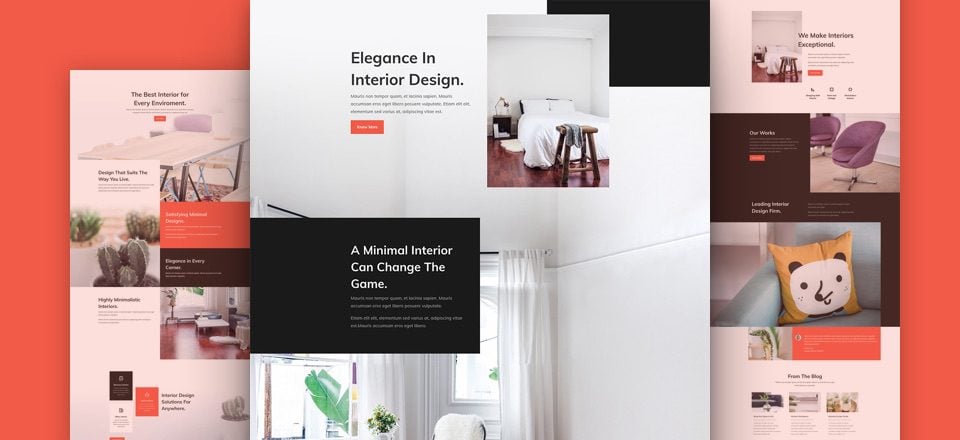 "This interior design layout pack represents the core values of each interior design company out there; style and expertise. With eight elaborated layouts that contain stunning and unique images, this layout pack is ready to bring your interior design website to the next level. Each one of the layouts is a combination of some of Divi's most desirable built-in options and look great on desktop, as well as on tablet and mobile."
View The Live Layout Pack Demo
4. Business Consultant Layout Pack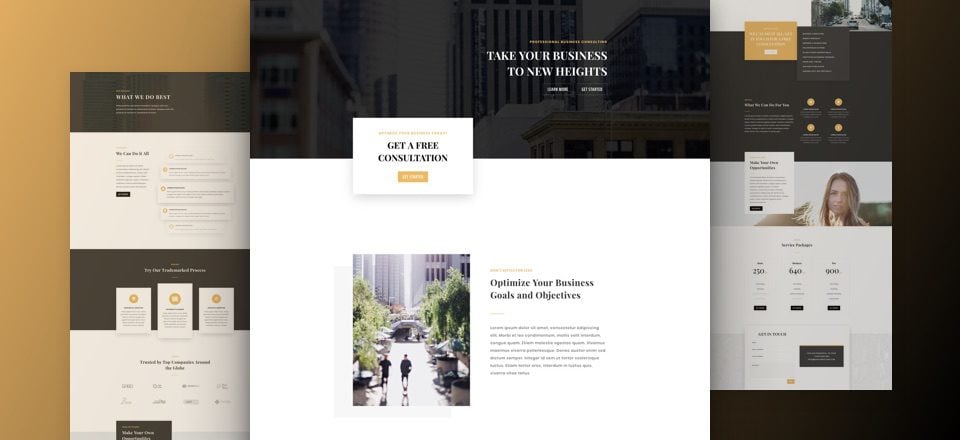 "This Business Consultant layout pack is just what a consultant needs to market their services online. The landing page is beautiful. The services page has unique design features that stand out. And the Case Study page layout has been thoughtfully designed to give the user just what they need. I love the overlapping technique used throughout the layouts because it makes those CTA's really pop."
View The Live Layout Pack Demo
5. SEO Layout Pack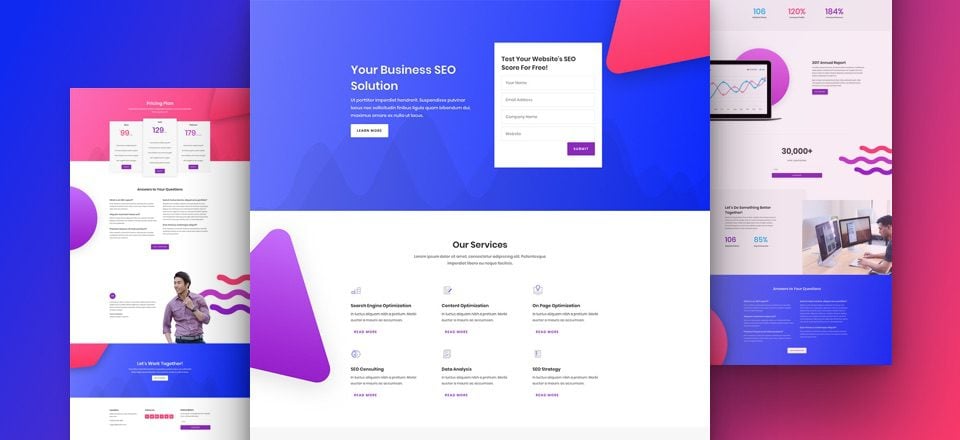 "This SEO layout pack follows, design-wise, many trends that evolved in 2017 and keep existing and growing in 2018. One of the biggest assets this layout pack has are the section backgrounds that bring vibrant colors to whatever type of website you might be creating with this layout pack. There are 8 different layouts included in this layout pack that provide you with all the elements an SEO website needs to communicate with its visitors in an elegant and easy way."
View The Live Layout Pack Demo
6. Software Marketing Layout Pack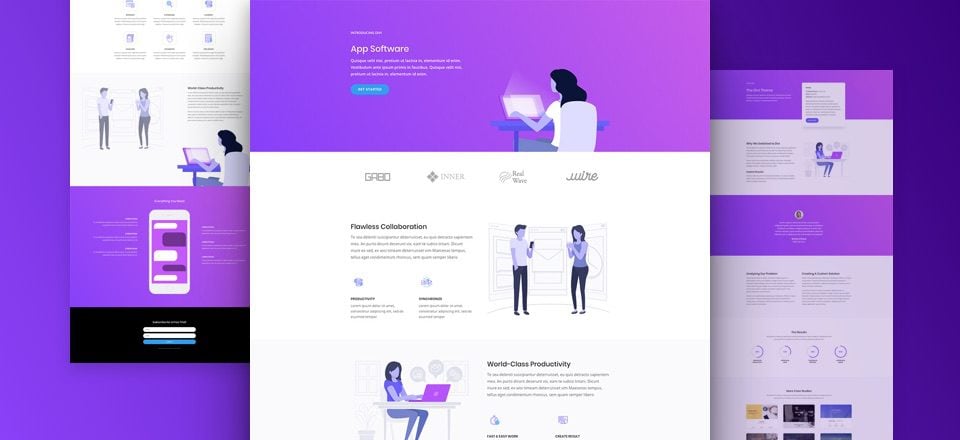 "The software marketing layout pack can be used for any type of website related to tech. The appealing illustrations that are included elevate the professionality level of your website and improve your company's branding. With its 9 different layouts, this software marketing layout pack allows you to build a software marketing website from scratch and finish it with just a few steps."
View The Live Layout Pack Demo
7. Digital Payments Layout Pack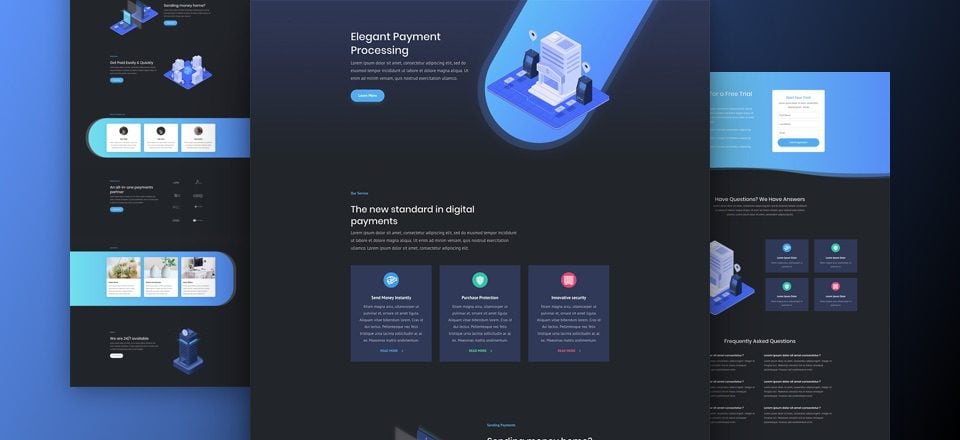 "This Digital Payments layout pack is designed to provide all the necessary pages to get an online digital payment company up and running in no time. Some of the key pages include a Signup page which will work well as a registration page. And the features page gives an exceptional framework for showcasing all featurres associated with the product. It would be easy to use the different elements on these pages (like those feature boxes) to add more content. Also, the map on the contact page is unique and fits the design theme perfectly. I know you are going to enjoy this layout pack."
View The Live Layout Pack Demo
8. Pottery Studio Layout Pack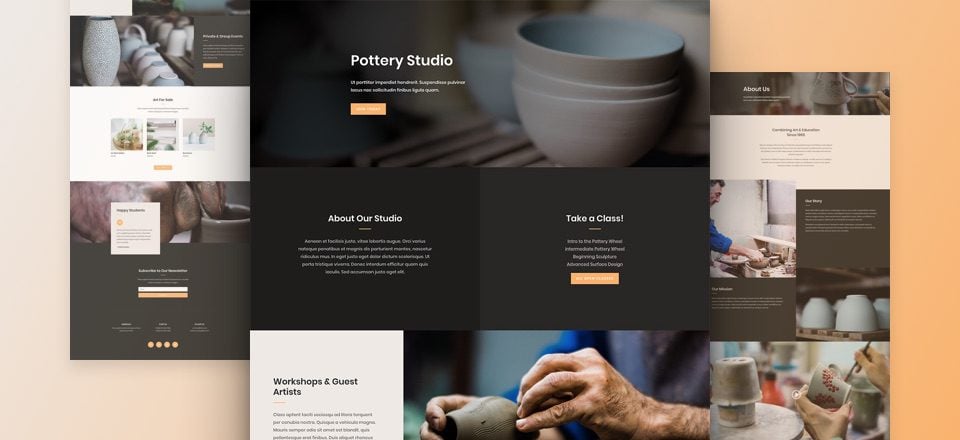 "This Pottery Studio layout pack is perfect for any Pottery business looking to expand their services. The Classes and Class page layouts will provide what you need to start marketing and selling Pottery classes online. The design is both familiar and unique. The testimonials standout nicely and the high quality photos used are as beautiful as they are professional."
View The Live Layout Pack Demo
9. Real Estate Layout Pack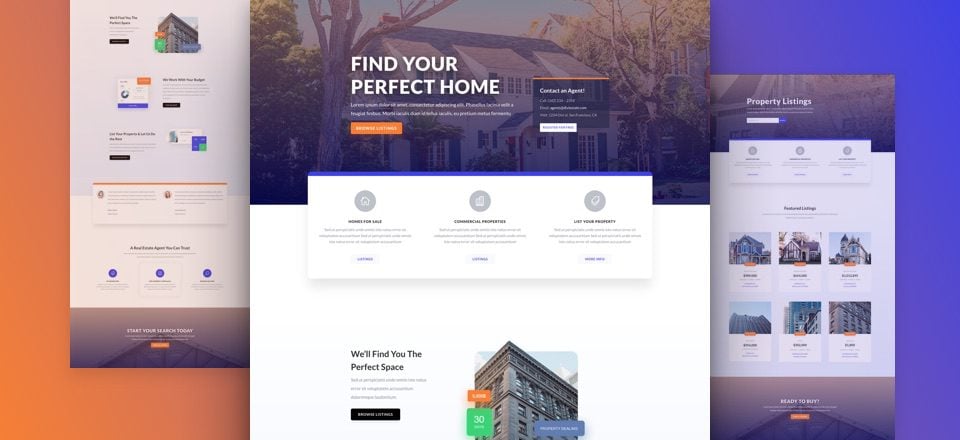 "The Real Estate Layout pack would be an awesome fit for real estate companies and agents. The color scheme works with the light background to make images standout. The header on the homepage has a unique desgin with dual CTAs which should help boost conversions. The Team page is also a nice addition since listing real estate agents is a must for any agency."
View The Live Layout Pack Demo
10. Food Recipes Layout Pack
"This Food Recipes Layout Pack allows you to focus on what's really important which is the tasty recipes you've worked on so passionately. The different layouts that come with this layout pack fulfill every communication need you have. The recipe page sets your creativity free by providing you with all the elements you need to present your recipes elegantly and effectively. You can reuse the recipe layout for every new recipe that comes out. The only thing you'll need to do is change the steps, media and copy according to your new recipe. And with the Visual Builder close within reach, this will take you almost no time."
View The Live Layout Pack Demo
In Conclusion
These community favorites definitely highlight some fantastic freebies that make us all here at Elegant Themes very proud. We love to help empower you to do all those wonderful things you do with Divi. So, if you haven't taken advantage of these world class layout packs, they are right there waiting for you in Divi. Start your year off right with some Divi awesomeness today.
Featured Image via Alex Gorka / Shutterstock.com