One of the advantages of Divi's design system with sections and modules is they can be pre-styled and reused on many websites. This has opened up opportunities to build libraries of sections and elements to help build your Divi websites. There are lots of places online where you can purchase them. In this article, we'll look at 7 places you can buy Divi sections and elements for your Divi projects.
I've only included those shops that specialize in these types of products and have a lot to choose from. There are a lot more online shops that have a couple of sections or elements.
Let's get to it!
(The online shops are in no particular order.)
7 Places You Can Buy Divi Sections and Elements for your Divi Projects
1. Divi Express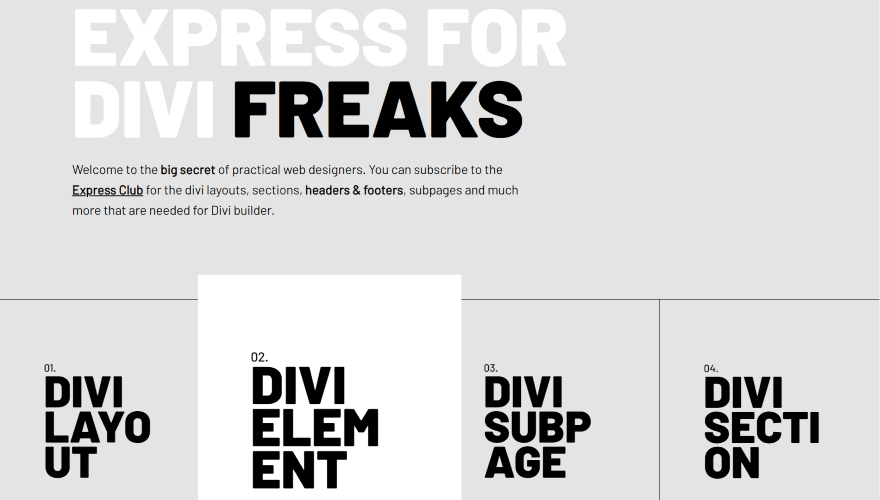 Divi Express provides lots of Divi elements and sections to choose from. Elements include 50 headers, 20 footers, 10 coming soon pages, and 50 404 pages. The headers have lots of variations with element placement, icons in the secondary menu, overlapping elements, and more. Footers have variations for contact information, links, social follow, sign-up forms, and CTAs. Sections include hero, card, content, gallery, pricing table, counter, email opt-in, FAQ, comment, logo showcase, team, and contact. Between them, there are hundreds of complete sections to mix and match to build your Divi websites. The site also includes lots of Divi layouts and subpages.
2. Divi Next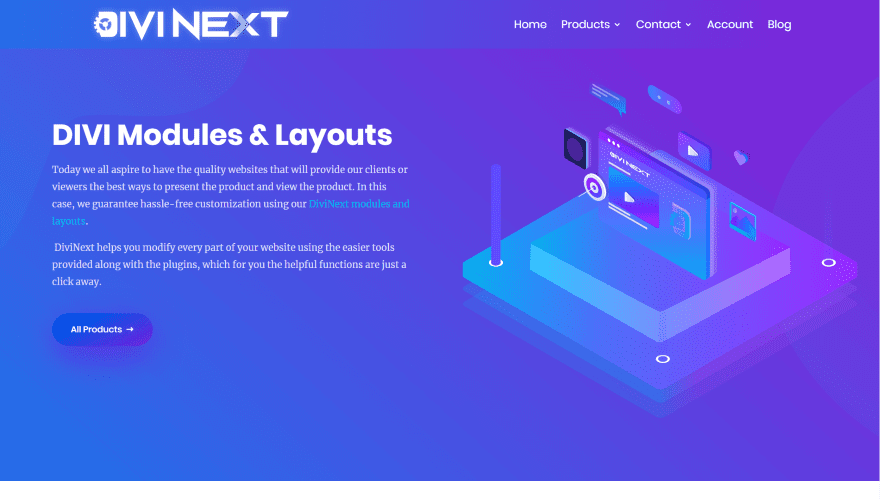 Divi Next has plenty of layouts to build your pages. They include over 50 footers with lots of background colors, background images, styled dividers, links, social follow buttons, maps, buttons, contact forms, and opt-in forms. Some of the footers create 3D angles to give the footer an interesting design. The site also includes over 50 404 pages, and custom modules (installed as plugins) for text, buttons, dual buttons, and headings with over 100 modules and premade layouts.
3. Divi-Childthemes.com
Divi-Childthemes.com has 29 bundles, with each bundle containing 10 layouts for a specific Divi module with multiple styles and layouts for each one. This adds up to a lot of options for each bundle, and there are multiple bundles for each of the modules. Bundles include accordions, blurbs, person modules, portfolios, pricing tables, tabs, testimonials, timelines, and ultimate kits. The ultimate kits combine multiple bundles for the different modules together, giving you a variety of each module in each kit.
4. Divi Den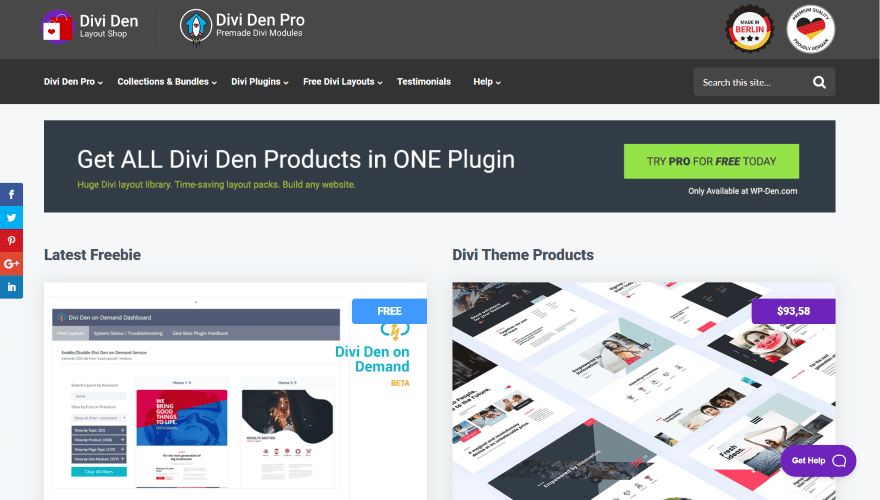 Divi Den specializes in large bundles of UI kits with all types of sections. They have 13 UI kit bundles that include dozens of modules, page layouts, and PSD files. For example, the Pixie bundle kit contains 93 modules with 3 blogs, 12 blurbs, 3 CTAs, 3 contact forms, 26 content modules, 3 email opt-ins, 6 footer modules, 10 header modules, 5 number counters, 7 person modules, 3 pricing tables, 1 value tabs module, 9 testimonials, and 2 filterable portfolios. It also includes a prebuilt page pack, 20 page-layouts, and 19 bonus tools with Word docs, PDFs, lots of PSD templates for social media, and over 100 custom icons.
5. Need Yesterday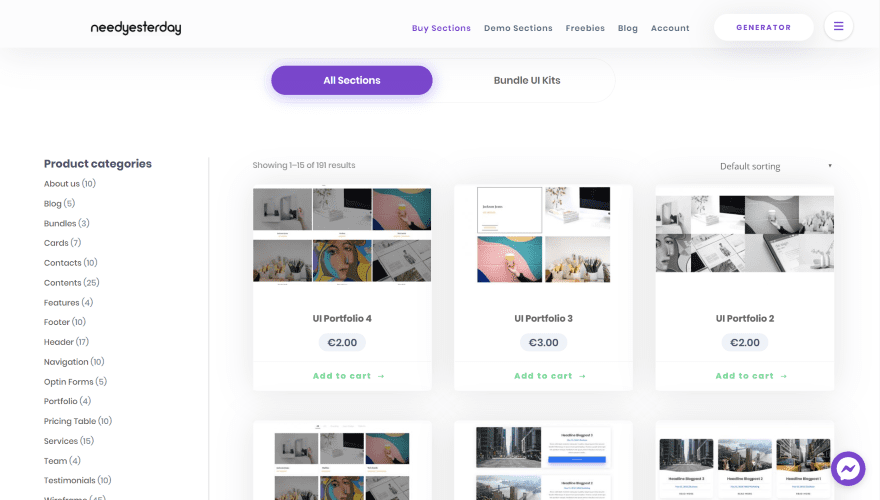 Need Yesterday has 191 sections and 3 UI kit bundles. Sections include 10 about us, 5 blogs, 7 cards, 10 contacts, 25 contents, 4 features, 10 footers, 17 headers, 10 navigation, 5 opt-in forms, 4 portfolios, 10 pricing tables, 15 services, 4 teams, and 10 testimonials. They also have a UI kit with 45 wireframe layouts, a bundle with over 80 layouts, and a bundle with over 180 layouts. What I find most interesting is the layout generator. This tool works much like Canva. It lets you drag and drop any of their layouts to create a unique page that you can purchase. This lets you purchase the exact sections and elements that you want.
6. Divi Monk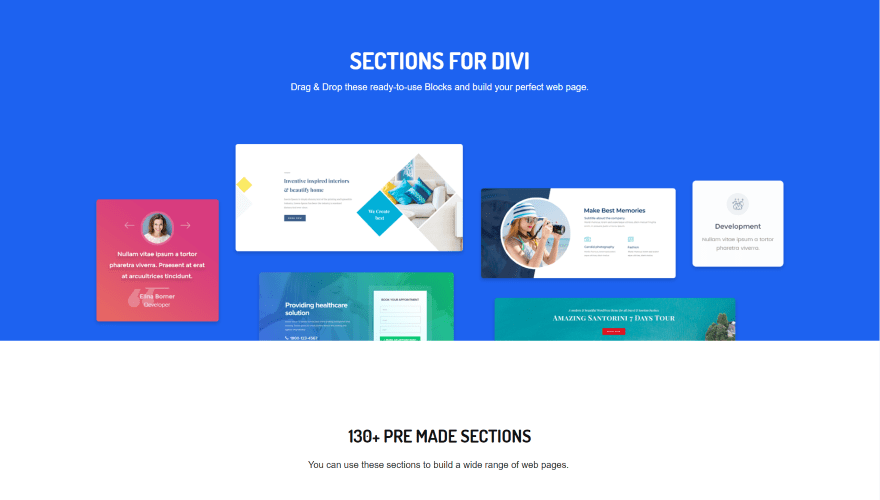 Divi Monk provides lots of Divi sections, modules, and templates that are available from a cloud-based library. They have over 130 sections including 9 features, 21 services, 18 CTAs, 17 hero sections, 15 contact info, 15 FAQs, 7 blog posts, 16 testimonials, 6 team sections, 6 pricing tables, 7 about, 5 cards, 5 portfolios, and 9 footers. Modules include 15 blurbs, 8 person modules, 6 accordions, 8 email opt-ins, and 6 contact forms. They also have 125 complete layouts with lots of styled modules and sections to your pages. They're professionally designed and conversion-oriented to improve sales.
7. How I Divi-t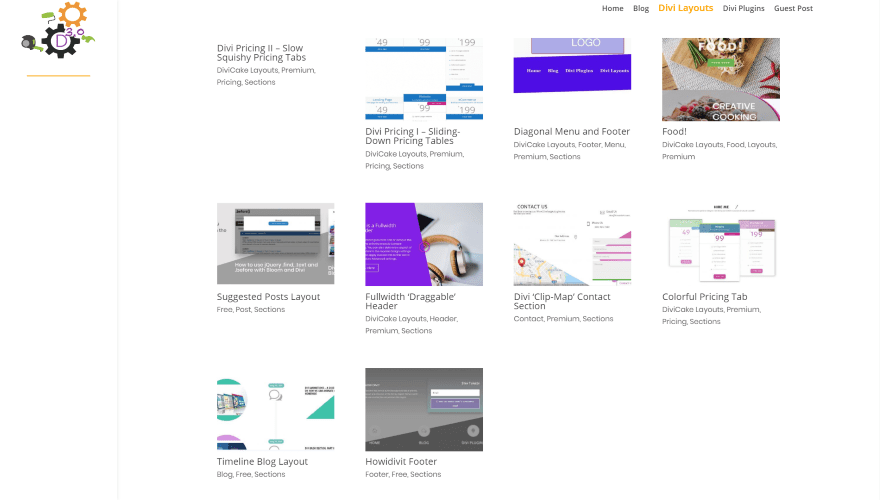 How I Divi-t has 9 sections that include 3 pricing tables, 2 footers, suggested posts, a full-width draggable header, and a clip-map contact section. The pricing tables have different effects including one with a sliding effect, one with a squishy effect, and a colorful pricing table with hover effects. The footers include one with a diagonal menu and one with an email form. The clip map includes several maps with different hover effects.
Ending Thoughts
That's our look at 7 places you can buy Divi sections and elements for your Divi projects. They have lots of pre-styled Divi sections and elements with different styles and customizations. Using sections and elements is a great alternative to layout packs and child themes. Rather than using a complete layout or a child theme, you simply use the sections you want. Mix and match them to create custom designs.
Using the Divi sections and elements helps save you time in the development process. They include pre-made styling, animations, CSS, images, and more. If you're interested in adding them to your Divi toolbox, you're sure to find some excellent choices on this list.
We want to hear from you. Have you checked out these places you can buy Divi sections and elements for your Divi projects? Let us know what you think about them in the comments below.
Featured Image via johavel / shutterstock.com