Welcome to part 2 of 5 of our Divi mini series How to Become a Successful Divi Web Designer. In this series, we're showing you a proven path that you can take from learning to build websites to becoming a professional web designer. We'll provide you with actionable steps that you can apply no matter if you're just starting out or if you're already an established web designer wanting to go to the next level.
---
One of the most commonly asked questions I see in many of the Divi Facebook Groups online and what I hear from aspiring web designers I interact with is "How do I start getting clients?" In this post, I'm going to expand on five tactics and strategies that worked for me when I started that you can implement in your web design endeavors.
Before we dive in, there are some things that I recommend you have in place and are prepared with before you start getting clients:
Be sure you can truly build a website from start to finish before selling your services.
Take care of the legal stuff – contracts, legalities like your business name, banking etc.
Have a good understanding of hosting, Cpanel and an understanding of email and DNS settings. This Elegant Themes Blog Post is a good resource for picking the right hosting company for you.
Make sure you're inspired and excited to get going!
Ok, let's get to it.
How to Start Getting Clients for Your Divi Web Design Business
1) Create Your Own Website First

I've run into several designers who are so consumed with getting their first few paying clients that they neglect the most import first step – building their OWN site first. Creating your own site first has numerous benefits such as:
Learning how to effectively build a site from start to finish.
Creating and refining your development process.
Getting familiar with good tools, plugins and basic coding.
Solidifying your services and products.
Creating an online presence that all leads, traffic and referrals will go to.
I get it, it's hard to build your site when you don't have much to show, but you can develop your services, mission and general information, FAQ's and more before you have any actual work to show. And building your portfolio will happen quickly when moving on to step 2.
2) Build Your Portfolio

Before you can expect a client to pay you, they're going to want to see that you can actually deliver and will more than likely want to see some of your work. So it's important that once step 1 is complete, you build out your portfolio! In order to start building your web design portfolio, you'll probably have to do some work for cheap or for free. And that's ok! That's how I started and once I had a handful of projects under my belt, I was able to start charging for my work because I had some examples of finished projects.
I recommend reaching out to organizations or non-profits that you may be involved with. You can also reach out to trusted friends and family who you know won't abuse your willingness to do some free/cheap work to get some experience under your belt. A word of caution: Don't advertise that you're doing work for free. You'll find yourself buried with "opportunities" and projects that will not pay your bills.
I began by doing free then cheap work for the church I was a part of, then doing some work for local bands who couldn't afford a big site. That led to some smaller paying jobs with small businesses in my local area. I recommend getting at least 5-10 projects completed to help make you look established before beginning to charge a good rate for your work. And if you only have a handful of projects to show off initially, I'd recommend making your portfolio fullwidth instead of a 3 or 4 column layout.
When I did my initial free/cheap work, I did the following:
I made it known that those first projects were only free because I was getting started and I would be charging for those services moving forward.
I told them NOT to tell anyone else that I was doing the project for free. That way potential clients didn't know that I was doing that work for free. For all they knew, those were happy, paying clients 🙂
I asked them to share their new websites and asked for referrals to anyone they knew who could use my services.

There's no shame in getting your first few opportunities from your family and friends. That's how many businesses, including mine, got their start. Once you have a website and you're ready to start getting clients, the most important thing to do is get the word out.
Set up a Facebook page for your business and engage in whatever social media networks you have already going. I found it very important early on not to bug people but I did make it known that I was doing graphic design and web development. My first few leads came rather quickly from people I knew because I already had a relationship with them. They liked and trusted me and were willing to give me a shot at working with them.
If you're working at first for cheap or free, there's not much to lose for friends and family working with you. There may be an awkward conversation if they don't like the work but if they do, then you've just created a good relationship and you'll gain access to their network as well. And that's how the referral train starts rolling!
4) Networking

Once you have a handful of sites in your portfolio, it's time to start getting out in the real world. One of the best and most affordable ways to do so is to get involved in a networking group. The term "networking" has a bit of a negative connotation to it and can feel intimidating, especially if you're not naturally social, but I highly, highly recommend it. Get involved in a closed networking group or look into meetups in your area that are referral based.
A majority of my leads come from my networking group since it is a referral group. All the members of my group are essentially a sales force for me and my business and I'm there for them as well. It's an incredible mix of give and get and if you're known, liked, and trusted within a group of people, you'll have access to all of their professional networks as well.
Here in the states, we have networking groups like BNI (which is a global organization), AmSpirit (which is the one I'm a part of) but there are now meet ups all across the world. So whatever is available in your neck of the woods, take advantage of it! You can also look into what meetups are going on in your area at MeetUp.com. Again, you can join groups of fellow designers and developers but I encourage you to also check out any networking events and groups with business people in various industries. That's where the referrals start happening.
5) Contribute to Open Source, Online Communities and Facebook Groups

When you begin as a Divi Web Designer, you already have a golden ticket to starting your business; being involved with the best community online – Divi Nation. There are numerous Facebook groups that you can plug into where you can not only learn from other designers but you can engage with them.
Here are some of the top ones I recommend checking out:
1) DiviWebDesigners by yours truly 🙂

2) Divi Theme Users & Elegant Marketplace


I'm not stating that you spam multiple groups saying that you're looking for work. In fact, that's a great way to spoil your very important first impression and you'll find your way booted out of a group. What I am saying is that if you start contributing, getting involved in conversations, assisting with problems, sharing tools and plugins that'll help, then you'll very quickly make some friends and perhaps, some opportunities.
Another area you can explore is contributing to open source. This is essentially offering your work to projects already online looking for assistance. Here's good resource for how you can get started if this interests you. You can also look into sites like Fiverr and other freelance sites that you can contribute to. But I recommend start with your friends, family, social media networks and face to face opportunities. It'll get you farther, faster.
In Conclusion
I hope these 5 steps on How to Start Getting Clients for Your Divi Web Design Business has inspired and encouraged you with some actionable steps you can apply! Again, this is all real-world experience that helped propel my web design career.
Tomorrow: How to Grow your Divi Web Design Business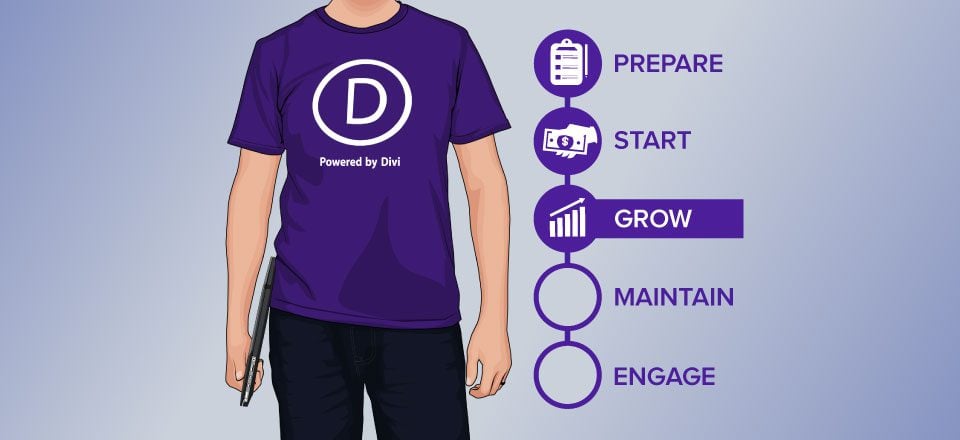 Once you've started your Divi Web Design business, it's time to grow it into something sustainable. Tomorrow, I'll explain the steps I took to grow my business and we'll go over tools, tactics and strategies that you can use to help grow yours!
Be sure to subscribe to our email newsletter and YouTube channel so that you never miss a big announcement, useful tip, or Divi freebie!