Over the weekend Rogue One: A Star Wars Story, the latest in what we can only assume is a long lineup of new Star Wars movies hit theaters. This, we're sure, is no surprise to you as the ads have been everywhere for a long time. So long in fact, that we thought it might be a good idea to plan something fun (and hopefully useful too) for the Rogue One release. And here it is! A brand new, FREE, Divi Layout Pack by yours truly (Geno Quiroz) which I've called DiviStar.
The basic idea here is that with all these new Star Wars movies coming out there is bound to be a groundswell of old and new members of the Star Wars fandom passionately following along as this beloved cinematic universe rapidly expands. We just wanted to make it easier for those super fans to create their online homes with Divi!
What's Included in The DiviStar Layout Pack
This Free Divi Layout Pack is designed for Star Wars fans and Bloggers. But as with most layout packs and child themes, it can be repurposed for just about anything.
This layout kit includes the following:
All-DiviStar.json – Includes the full layout and all the individual sections for a quick and easy install.
DiviStar-Full-Page-Layout.json – Is just the full page layout.
DiviStar-Layout-Desktop-Header.json – Is just the desktop header section in case you'd like to easily insert it into another page or post.
DiviStar-Layout-Mobile-Header.json – Is just the mobile header section in case you'd like to easily insert it into another page or post.
DiviStar-Layout-Blog-Section.json – In case you'd like to use just this section or perhaps re-purpose it for another design.
DiviStar-Layout-Footer-Section.json – In case you'd like to use just the footer somewhere.
DiviStar-Layout-Credits-Section.json – In case you'd like to have a standard credit section like this one in your library.
divi_star_sample_posts.xml – You can use this to quickly populate your project with the sample post pages used in the demo
Blog_Featured_Images.zip – This folder contains the CC0 licensed images used for the Post Featured Images and the Image Gallery on the demo.
Downloading & Using DiviStar, The Star Wars Rogue One Inspired Layout Pack
To use the new DiviStar Layout Pack on your own Divi website you will first need to download it via the button below.
To gain access to the download you will need to subscribe to our newsletter using the form below. As a new subscriber you will get even more Divi goodness. In addition to being able to download the DiviStar Layout Pack we will also send you The Ultimate Divi Landing Page Layout Pack as well as providing you with an ongoing source of new (and free) Divi resources, tips, tricks, and news.
If you're already on the list, simply enter your email address below and click download. You will not be subscribed twice.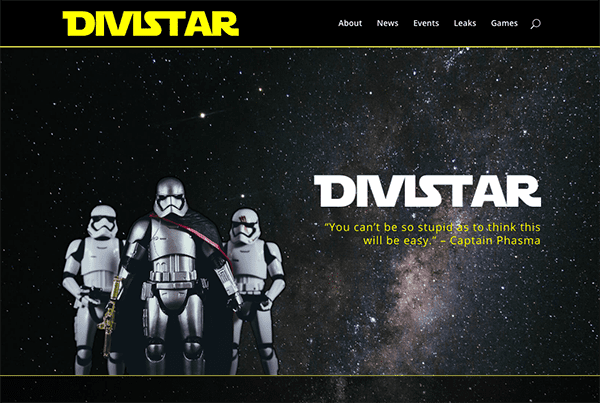 Installing the Layout Pack
Once you've completed the download above, locate the file divistar-layout-pack.zip in your downloads folder and unzip it.
Then, navigate in your WordPress admin to Divi > Divi Library and click the "Import & Export" button at the top of the page.
When the portability modal pops up go to the import tab. Click the "choose file" button and select the All-DiviStar.json file or any of the individual files you want. Then click the blue "Import Divi Builder Layout" button and wait for the import to complete.
Once the import has finished you will now have the ability to load your new DiviStar layout or layout sections on any builder powered post or page by going to Load From Library > Add From Library.
Installing the Demo Blog Post Pages
To import the sample post pages, navigate in your WordPress admin to Tools > Import and click the "Install Now" link underneath "WordPress".
Once installed you can select "Run Importer" and then "Choose File". Select the divistar_sample_posts.xml file in your download folder and click "Upload File & Import".
Setting Up the Blog Post Featured Images and Blog Module Categories
Next you will want to open up each post and assign it a "Featured Image". The option to add the "Featured Image" will be in the right hand column of the post editor page. The images that are used on the demo are included in the zipped folder called Blog_Featured_Images.zip.
Finally, go to the page where you installed the DiviStar Layout (or the blog section if you're using that by itself) and open up the "Blog" section in your builder. You will open up each Blog Module titled "Recent" and assign it the appropriate category; either "Featured", "Events", "Leaks", or "Games". This will match your blog module feeds with the categories imported with the demo blog posts.
And that's it!
DiviStar – The Perfect Divi Layout Pack for Star Wars Fan Sites
The DiviStar layout pack is perfect for anyone looking to launch their very own fan site or blog around Star Wars. It's got an excellent magazine style home page that brilliantly displays multiple categories of content.
Do You Have More Layout Pack Requests?
Are there any other layout packs you'd ike to see us tackle? We've seen that these resources are extremely helpful to the community and they'r even more helpful when we target niches and needs that you all recommend. So let us know what you'd like in the comments below and we'll get to work on it!
Be sure to subscribe to our email newsletter and YouTube channel so that you never miss a big announcement, useful tip, or Divi freebie!