Welcome to Day 14 of our Divi 100 Marathon. Keep tuning in for 100 days in a row of awesome Divi resources as we count down to the amazing release of Divi 3.0 on the final day of the series!
---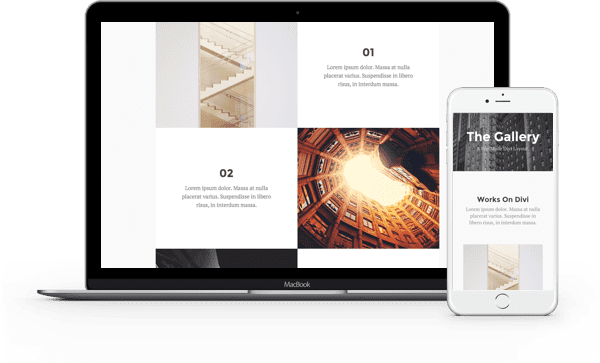 Divi provides users with a myriad of ways to display their images. Whether that's as full screen backgrounds, fullwidth sections, within a slider, a gallery, or as individual images on a page/post. But getting the right combination of elements–the right balance that results in a compelling page design–can be difficult for anyone. That's why in today's post we're giving away a new Divi layout pack specifically created to help you create stunning full page galleries with your Divi website.
The Divi Photo Gallery Layout Pack consists of five stunning gallery page layouts designed to provide you with a variety of full page gallery options to run with or to use as a starting point for own final design.
Downloading & Using the Layout Pack
To use this new layout pack you'll need to first download it's zipped file by clicking the download button below. Then, locate it in your downloads folder and unzip it. Next, navigate in your WordPress admin to Divi > Divi Library and click the "Import & Export" button at the top of the page.
When the portability modal pops up, select the import tab. Then, click the "choose file" button and go back to the folder you unzipped in your downloads folder. You can select the All.json file to import all of the layouts at once, or choose any of the individual layouts to import them one at a time.
After your selection is made click the blue "Import Divi Builder Layouts" button and wait for the upload to complete. Once completed, you will now find five new photo gallery page layouts available to you in your Divi Library.
From individual pages these layouts can be accessed by navigating in your Divi Builder to Load From Library > Add From Library and selecting the layout of your choosing.
Subscribe To Download For Free
5 Stunning Divi Gallery Page Layouts
All of the layouts in this pack use standard Divi Builder modules, arranged and configured in such a way as to create pages that are perfect for displaying your high quality images to site visitors. You can use all of these layouts as they are or tweak their settings to suite your needs. You may even choose to mix and match styles to get exactly the look you want.
Another great aspect of these layout packs, aside from the layouts themselves, is the wealth of Divi knowledge you can glean simply by studying the section, row, and module settings that come with them. The styles achieved in this layout pack may come in quite handy in a number of different pages, posts, or sections of your website–not just gallery pages.
Gallery Page Layout 01
Gallery layout 01 uses plenty of whitespace and clean, alternating grid of images to create a tastefully balanced gallery of six images. You could easily extend or abridge the number of images in this layout to fit your specific needs in a few clicks using the Divi Builder's duplicate or delete controls.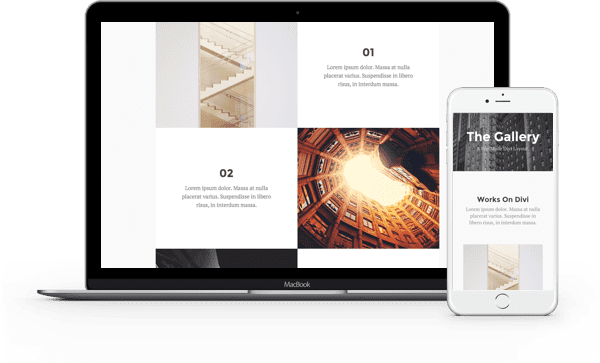 Gallery Page Layout 02
Gallery layout 02 is all about the images themselves. Where as the first layout depended on big open spaces to showcase its images, this layout carefully aligns the edges of each image perfectly so that a sort of full screen collage is the result. Perfect for fully immersing your audience in your work.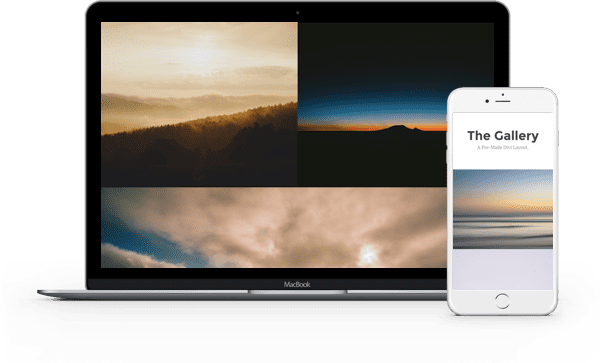 Gallery Page Layout 03
Gallery layout 03 is designed to make bold statements. This layout is probably best suited to showcasing images that require as much screen real estate as you can give them. Perfect for architecture, landscapes, and portraiture.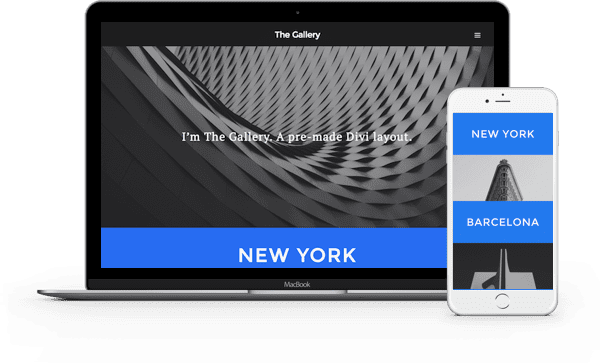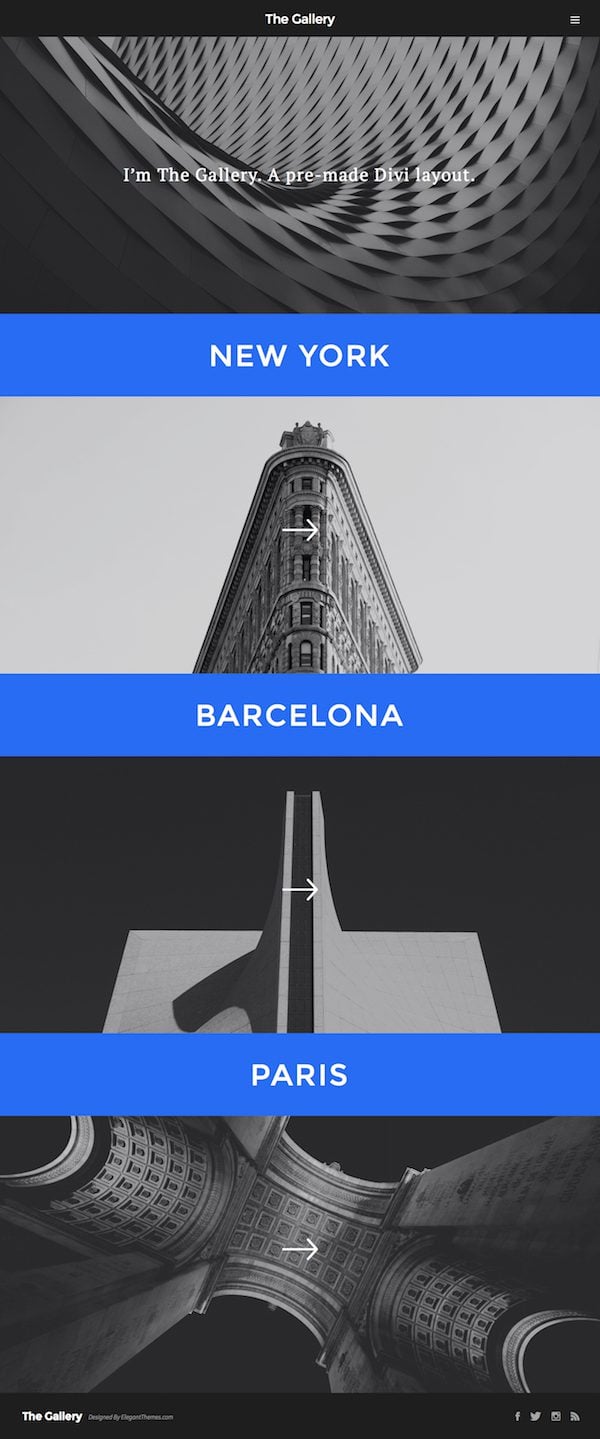 Gallery Page Layout 04
Gallery layout 04 is a bit of a hybrid between layouts 01 and 02. Not quite as much white space as 01 but not quite as all encompassing an image grid as 02. This layout is a great choice any time you need to provide a bit of context or other information for each image you're showcasing.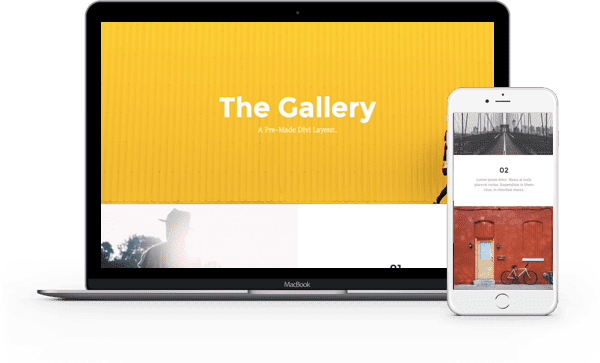 Gallery Page Layout 05
Gallery layout 05 provides a beautiful, clean, card design to display your images. This layout is perfect for displaying images with essential information such as collection, title, date, or location.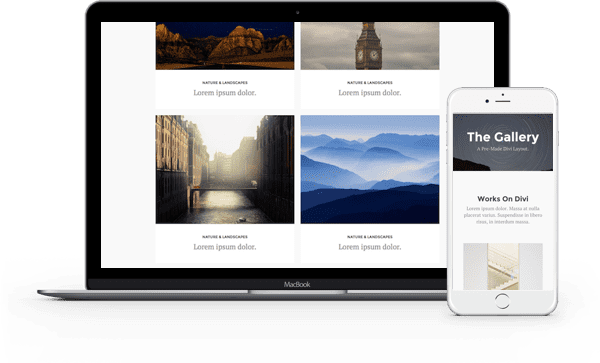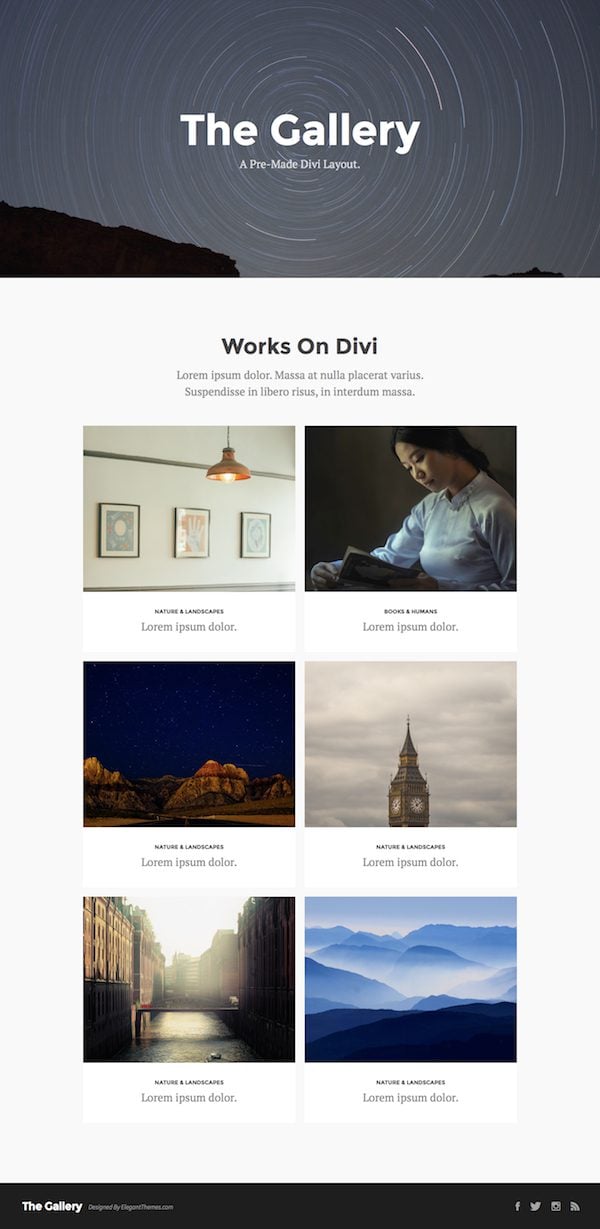 Stay Tuned: The Next Free Divi Layout Pack Will Be Published This Wednesday
I hope you've been enjoying these free layout packs as much as I have enjoyed creating them, because we've got a lot more to come! The next layout pack will be published in two days. Tomorrow's post will feature another free Divi extension you won't want to miss either.
Be sure to subscribe to our email newsletter and YouTube channel so that you never miss a freebie!

Divi 100 Day 14
The Countdown To Divi 3.0
This post is part of our Divi 100 marathon. Follow along as we post free Divi resources for 100 days in a row! This 100-day countdown will end with the game-changing release of Divi 3.0, including our brand new visual editor built from the ground up using React. Divi 3.0 will change the way you build websites with the Divi Builder forever!
Let the countdown begin.