Welcome to part 1 of 5 of our Divi mini series Creating Client Documentation to Empower your Clients and Save You Time. In this series, we're branching out from a typical module or Divi design tutorial by showing you 5 ways you can create Client Documentation with the primary purposes of educating and empowering your clients and in the process, saving you time.
---
In the world of web design, there are common struggles for all designers on each and every project. Those may include getting the information you need before starting a project. Educating your client on how to use their website once it's live. Answering the same questions over and over for each new client you have, etc. All of these issues can be drastically reduced by offering client documentation. This was a turning point for me and my web design business and I believe it can be for you too. Here's why:
1. Client Documentation Saves You Time

I realized I was spending enormous amounts of time via email, calls and meetings explaining the same steps and processes over and over with each new client. Then it hit me, why not automate this process? There's no better way to save some time than by creating a page or some documentation that a client can review before and after a project.
My rule of thumb that I want to offer to you is that any time you do something repeated, automate it. Either make a tutorial video, an email template, or a page that you can send to your client which will help you save your most precious asset, time.
2. Client Documentation Makes You More Valuable

These days, it's not enough just to be a good web designer or developer. Clients are looking for more. They want to have someone in their corner that they can rely on, trust and get advice to help grow their business and online presence.
Have you ever built a website then suddenly found that the client is asking you about marketing strategies, social media, SEO and more? By offering documentation for your clients, whether its strategies on growing their business, how to use their website or more, it'll make you more valuable. You'll find that your clients will start to view you as not just a designer or web developer but a trusted consultant for their business.
3. Client Documentation Sets You Apart from Your Competition

When you're starting out in the world of web design, you're up against stiff competition. Your competitors will have more clients than you, more connections than you, etc. But one area that you can capitalize on immediately is educating and teaching your clients. Providing your clients with tips, tools and strategies to help build their online presence and grow their business will immediately separate you from your competition.
I'm my experience, most web design agencies or freelancers will provide a site for a client then send them off into the wild not knowing what to do next. Take the time to empower and educate them and you'll see it'll go a long way.
An Overview of This Series
We're going to be focusing on 5 ways that you can create documentation with Divi and how they'll benefit you and your clients:
Part 1) Creating a Website Questionnaire
Part 2) Creating a Getting Started Page
Part 3) Creating a Moving Forward Page
Part 4) Creating a Custom WordPress Dashboard
Part 5) Creating a Client Resources Page
With that said, let's dive into part 1!
Creating a Website Questionnaire
The most common question I get asked is "How much will a website cost?" We as web designers know it's not that simple to answer. You need to find out the details, expectations and scope of the project before preparing a quote. I generally start with a short phone consultation in which I can tell within about 5 minutes whether they are going to be a good fit or not. My next step is my "Website Questionnaire for Proposal," which we'll go over below. I don't send a quote until this is filled out and all of my development/design questions are addressed.
Here's what my website questionnaire looks like: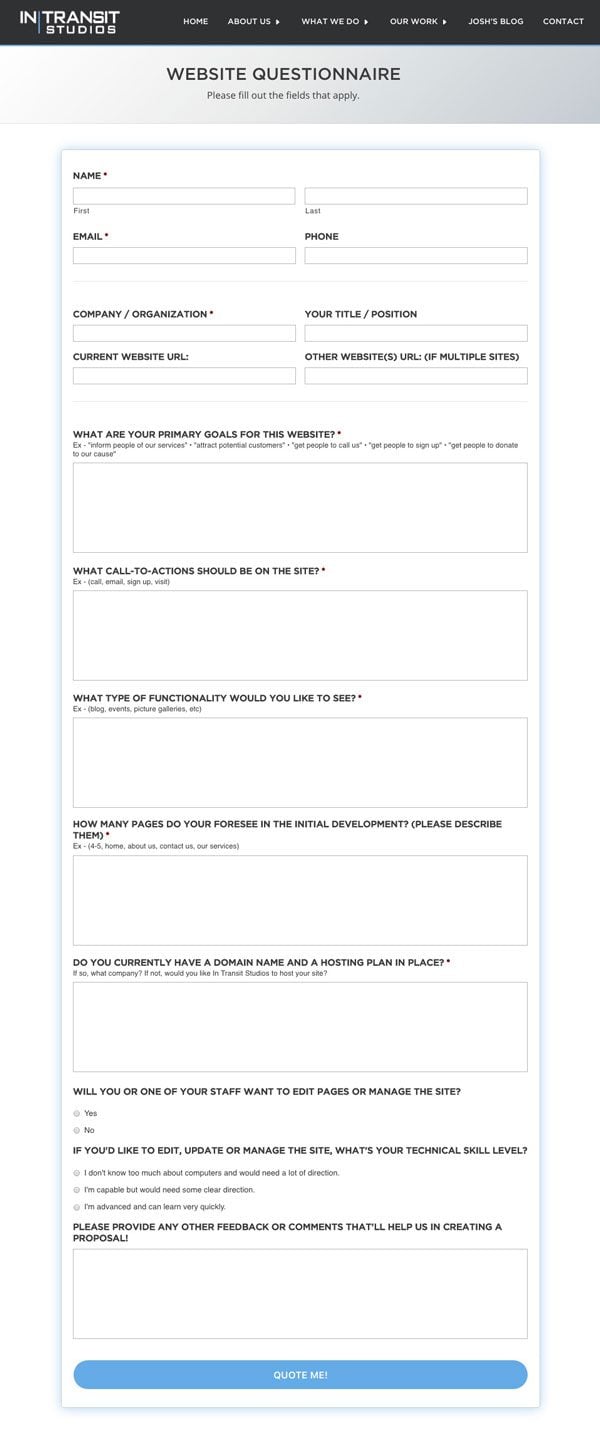 How This Can Benefit You
Questionnaires are a great way to get the information you need to think through and plan out a web design project. It's very important before developing a proposal or quoting a project to have all your basis covered and to make sure that the scope of the project is clear between both the developer and the client. Having a new or potential client fill out a website questionnaire can also save you hours on the phone and numerous back and forth questions via email or time in meetings.
How This Can Benefit Your Client
A well thought out questionnaire shows the client that you're serious about their website. The better the questions, the better the answers. Good questionnaires will force the client to think about what they want in detail and can often guide them into giving you much of the content and information you need.
Implementing a Website Questionnaire on Your Website
There are no right and wrong questions to ask and this process may look different for every agency and freelancer but in short, you'll want to get as much information as possible and make sure the client is serious before taking the time to develop a quote.
I use Gravity Forms for all my web forms but there are numerous online tools and form builders that you can integrate with Divi.
Let's briefly go over the questionnaire and I'll explain why I ask these targeted questions before quoting a project:
NAME
EMAIL
PHONE
COMPANY / ORGANIZATION
YOUR TITLE / POSITION
CURRENT WEBSITE URL
This is all basic client information that you'll need to know and is good to have on file. Side note: be sure to keep track of your prospects in detail. There's nothing worse than wanting to reach back out to a potential client and forgetting what company they're with or what their position is…
WHAT ARE YOUR PRIMARY GOALS FOR THIS WEBSITE?
Ex – ("inform people of our services" • "attract potential customers" • "get people to call us" • "get people to sign up" • "get people to donate to our cause")
Finding out the primary goal or purpose of a website will often help you quickly determine the layout, style and call to actions. This will also force the client to think about what and who the site is for. I include these examples to help guide the client in the right direction.
WHAT CALL-TO-ACTIONS SHOULD BE ON THE SITE?
Ex – (call, purchase, sign up, donate)
Knowing what call to actions your client wants is instrumental in creating a design that lines up with the purpose of the site. If a client wants people to sign up for a newsletter, call or donate, you can design the site with those in mind.
WHAT TYPE OF FUNCTIONALITY WOULD YOU LIKE TO SEE?
Ex – (blog, events, picture galleries, etc)
There's nothing worse than getting to the end of a project and a client saying "Oh yea can we add events and a store?" As a designer or developer, you know it's not as simple as it sounds. Getting a clear vision of the functionalities of the site will help prevent scope creep and will force the client to think about what functionalities they want in the site.
HOW MANY PAGES DO YOUR FORESEE IN THE INITIAL DEVELOPMENT?
Ex – (4-5, home, about us, contact us, our services)
What may sound like a basic 5 page site can easily turn into 10 to 15 pages if it isn't planned out. Knowing roughly how many pages a client is expecting is another way to prevent scope creep.
DO YOU CURRENTLY HAVE A DOMAIN NAME AND A HOSTING PLAN IN PLACE?
One of the most crucial pieces of information you need to know up front is if and where they having hosting. Web development can look very different depending on what hosting company the client uses. The hosting dashboard, CPanel options and server speed are all important factors you should account for before putting a proposal together. And if the client doesn't already have a domain name and hosting in place, you can recommend the hosting company you prefer.
WILL YOU OR ONE OF YOUR STAFF WANT TO EDIT PAGES OR MANAGE THE SITE?
I always want to know if the client would like to edit the site. Too many times I've previously completed a project then the client said they want to be able to update content. When you've added classes, divs and other code to pages, it makes it difficult for a client to be able to make any changes without destroying your design. If I know a client is going to want to update the site, I'll often try to simplify those pages in layout and design so the client doesn't mess them up 🙂
IF YOU'D LIKE TO EDIT, UPDATE OR MANAGE THE SITE, WHAT'S YOUR TECHNICAL SKILL LEVEL?
• I don't know too much about computers and would need a lot of direction.
• I'm capable but would need some clear direction.
• I'm advanced and can learn very quickly.
I just recently started asking this after realizing that just because a client "thinks" they can edit web pages without issue, doesn't mean that they can. This is a good way to judge someone's competence and to be able to plan out the amount of training they'll require.
PLEASE PROVIDE ANY OTHER FEEDBACK OR COMMENTS THAT'LL HELP US IN CREATING A PROPOSAL!
I recommend giving them a space to provide additional thoughts, comments and questions that they may have.
QUOTE ME!
Lastly, I like to give the button text a little more life than "submit" or something generic.
Once I get all this information, I review it and let the client know if I have any other detailed questions before preparing a quote. Generally this is enough for me to have an accurate scope of the project and I can prepare accordingly.
Well I hope this first part of our Client Documentation series has inspired you to create a website questionnaire if you're not using one already! Feel free to make this your own and add any fields that you think you may need.
Something to remember: You can often use questionnaires to get website content (mission statements, services, SEO terms, etc) without the client even realizing it. Remember, this is all about saving you time! If you find yourself asking the same questions over and over either on the phone or in a meeting with a potential client, consider using Divi and a form builder to help automate that process.
Try Creating Your Own Website Questionnaire with Mak
In this video our resident video tutorial specialist, Augustine Mak, takes my advice from the sections above and creates his own website questionnaire. So if you'd like a guided step-by-step tutorial to follow, this is the perfect resource for you.
You'll need these css classes to follow along with Mak:
Where indicated in the video add gf_left_half and gf_right_half to the appearance tab of the appropriate form fields in Gravity Forms. The associated css is already included in the Gravity Forms plugin, so adding the classes is all you need to do.
Subscribe To Our Youtube Channel
Tomorrow: Creating a Getting Started Page for Your Clients

Tomorrow, we'll look at creating a "getting started" page which will inform and prepare your client of your tools and processes before starting a project. How does this benefit you? Find out tomorrow 🙂
Be sure to subscribe to our email newsletter and YouTube channel so that you never miss a big announcement, useful tip, or Divi freebie!