Welcome to Day 59 of our Divi 100 Marathon. Keep tuning in for 100 days in a row of awesome Divi resources as we count down to the amazing release of Divi 3.0 on the final day of the series!
---
Last week we announced the 2016 Divi Showcase Contest finalists and opened up voting to the Elegant Themes community to decide which 3 websites would win 1st, 2nd and 3rd place along with over $17,000 in prizes!
Each of the 20 final websites were spectacular examples of Divi, showcasing clean, professional designs and unique approaches to using the Divi Builder; and these 20 websites were just a few of the over 2,000 websites that were submitted to the contest! The Divi community is a truly talented one to say the least, and picking only 3 winners was no easy task. The votes were close and the competition was fierce, but today we are excited to announce our winners!
First Place: Doers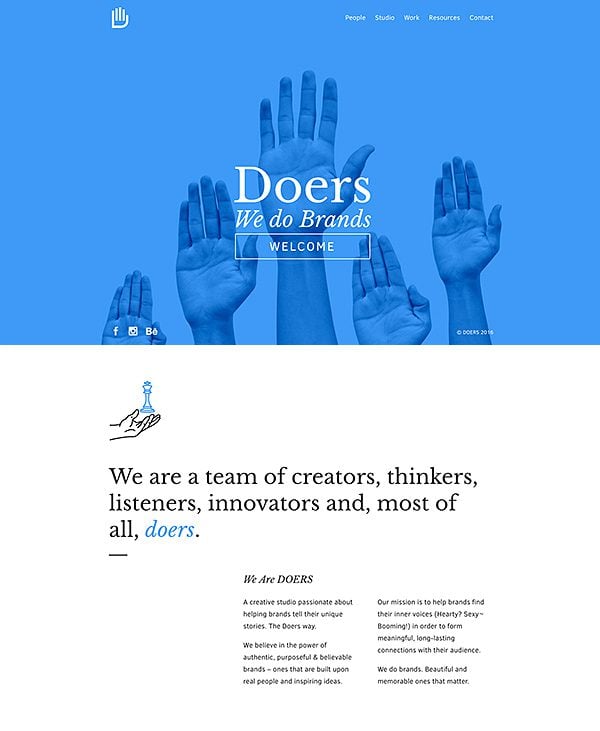 Doers is our first place winner, and deservedly so. Their website goes to show you the power of clean and simple design. Sometimes the most simple of designs are the hardest to create because every single design choice needs to be a good design choice lest your mistakes become glaringly evident. Doers pulled it off with stellar typography, good white space, a sophisticated sense of rhythm and just a little bit of flare in the form of fun animated gifs. As our first place winner, Arthur Lim will be walking home with a huge list of prizes thanks to our long list of generous sponsors!
The Prizes
Second Place: Pensiunea Roua Muntilor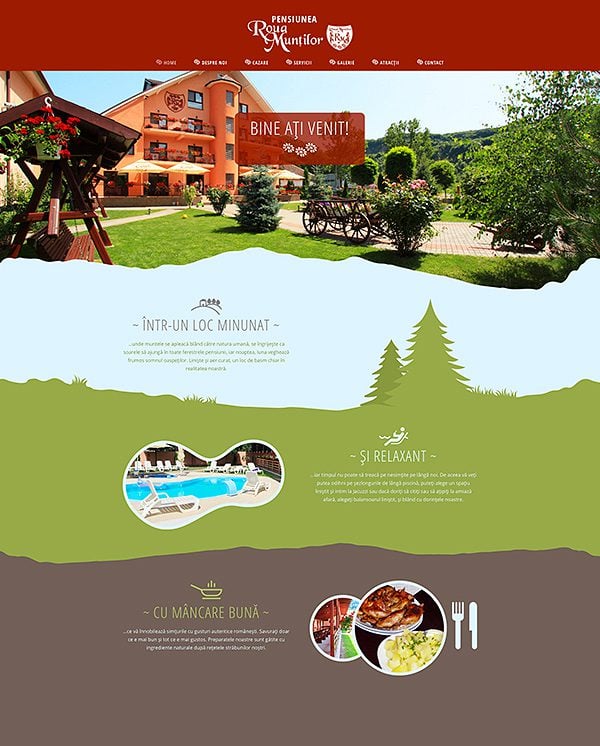 Pensiunea Roua Muntilor is our second place winner, differentiating themselves with a fun color scheme and playful illustrated elements that speak to the retreat's strengths and values. Their design replaces sharp edges and fine lines with organic shapes that mimic nature, and I think the Divi community was impressed by the unique style the designers were able to create. It's a great example of the power of Divi because it shows everyone how creative you can be once you have mastered the Divi Builder's design settings. As our second place winner, Cristian Dragos will be claiming a whole slew of goodies thanks to our awesome sponsors!
The Prizes
Third Place: Hyphen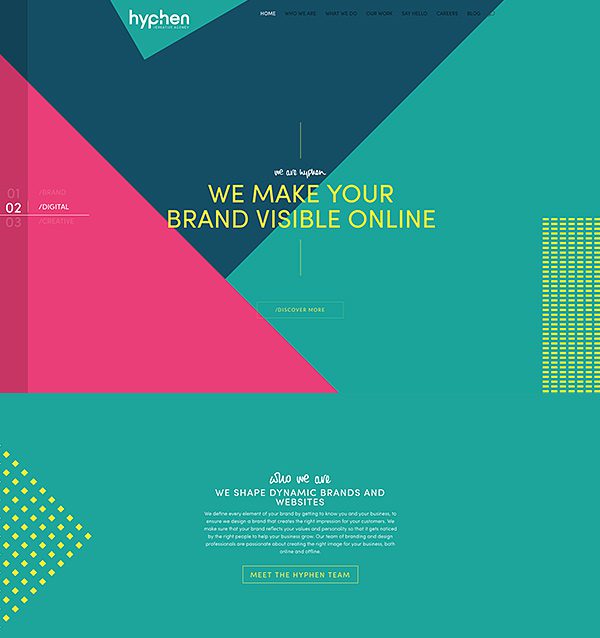 Our third and final winner is Hyphen, a bold and beautiful website with a standout design style filled with strong geometric elements. With a company name like "hyphen," it's no wonder their design is all about lines. Lines that create repeating triangles and skewed rectangles starting from the logo and continuing all the way down to the footer. It makes it a joy to scroll down the page as you follow the slanted lines from one section to another. It creates a striking contrast with our first place winner, which goes to show you that that are many ways to approach a successful website design. As our third place winner, Jenni Cabrelli will be treated to quite the pool of prizes thanks to all our lovely sponsors!
The Prizes
A Big Thanks To All The Participants
I want to say thanks to everyone who participated in this contest. Not just the contestants, but also the thousands of community members who commented their compliments and spent the time to vote and help us pick our winners. We couldn't have done it without you! That being said, this contest isn't just about picking three winners. It's a way to celebrate the Divi community as whole, to showcase the power of Divi and to provide everyone with the inspiration needed to make their websites even better. I have no doubt that this contested will become a most loved yearly tradition, and I am already looking forward to seeing what wonderful websites you build next year!

Divi 100 Day 59
The Countdown To Divi 3.0
This post is part of our Divi 100 marathon. Follow along as we post free Divi resources for 100 days in a row! This 100-day countdown will end with the game-changing release of Divi 3.0, including our brand new visual editor built from the ground up using React. Divi 3.0 will change the way you build websites with the Divi Builder forever!
Let the countdown begin.