Are you looking for a unique font to add to your designs? A calligraphy font might be just what you need. With plenty of free calligraphy fonts available online, you can easily add a little extra something to your projects. Calligraphy lettering comes in many different styles, from neat and tidy to super decorative. In this post, we've put together a collection of free calligraphy fonts which you can download today.
Some of the fonts in this list are free for commercial use and others are free only for personal use. Make sure to doublecheck in the designer's instructions about each particular license. Just like the licensing rights, check the type of file each font comes with to know if it can be used for the web.
Turning a regular font into a Webfont is not too difficult and can be done in just a couple of steps. Host the Webfonts in your site's server, that way it won't matter what device it's viewed on. You can also choose to use a plugin like Use Any Font which will show your custom font no matter the browser or computer it's viewed on.
Some calligraphy fonts have Open Type capabilities which offer different swatches and letter styles. These fonts will work on websites only if they have a Webfont version. You will need some minimal CSS tricks to access the Open Type features. For fonts that look a little more complex, simply contact the designer for specific Webfont usage for their Open Type designs.
I hope you like this free calligraphy font collection. Happy designing!
Subscribe To Our Youtube Channel
15 Free Calligraphy Fonts for Every Occasion
1. Great Vibes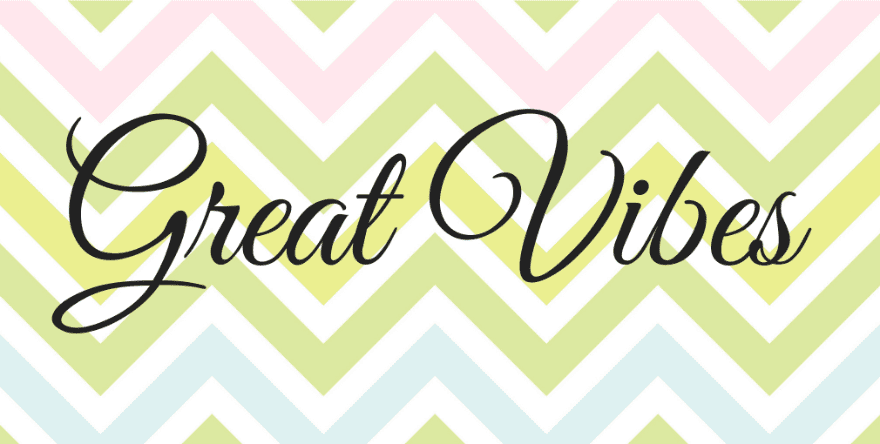 Great Vibes is one of the all-time favorites when it comes to calligraphy fonts.  It's easy to read with large capital letters and an even baseline. The letters are cleanly connected and the ascenders and descenders are looped. This font is perfect for larger titles and subtitles and looks great paired with a simple sans font like Roboto and Open Sans. Great Vibes is free for both personal and commercial use and has a Google Webfonts version as well.
2. Arizonia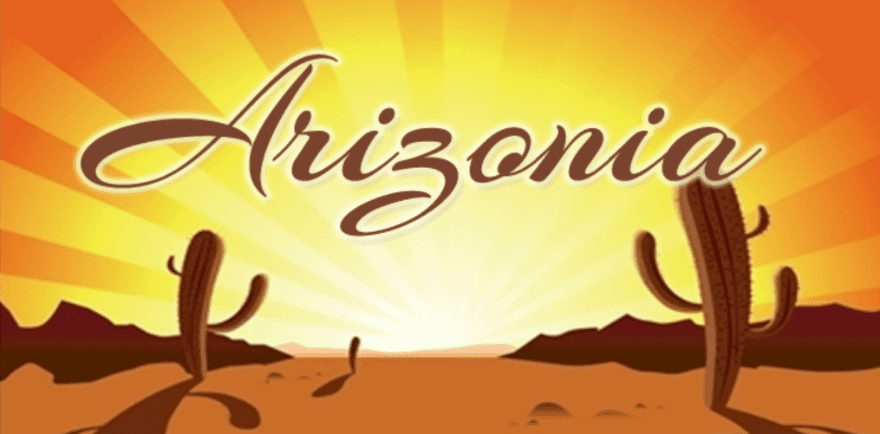 Arizonia is a contemporary calligraphy font with a subtle Arabian twist. It was inspired by the letters created by a sign painter's camel-hair brush. The upstrokes are thin while the downstrokes are heavy, creating a nice balance. The slight angle to the right gives the font personality. This font is perfect for larger titles and quotes. Pair it with Josefin Sans or Merriweather for fun and airy designs. This font comes with free personal and commercial licenses and is in the Google Webfonts directory.
3. Mrs Sheppards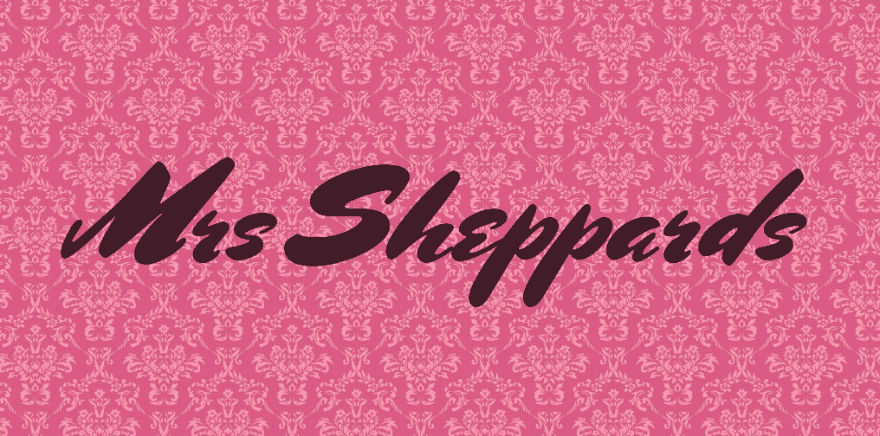 Thw Mrs Sheppards calligraphy font is part of the Charles Bleumlein Script collection. This is a collection of fonts digitally recreated from original hand created script fonts between the 1930s and 1950s. These fonts were created using real peoples' signatures and were titled with fictitious names to keep that signature spirit alive. This font has fun thick strokes, making it a bit more contemporary than other fonts in the collection. Use Mrs Sheppards font for blurb titles or menu headers and pair it with Lato or Montserrat for a clean design. This font comes with a free personal and commercial license and also a Google a Webfonts version.
4. Ruthie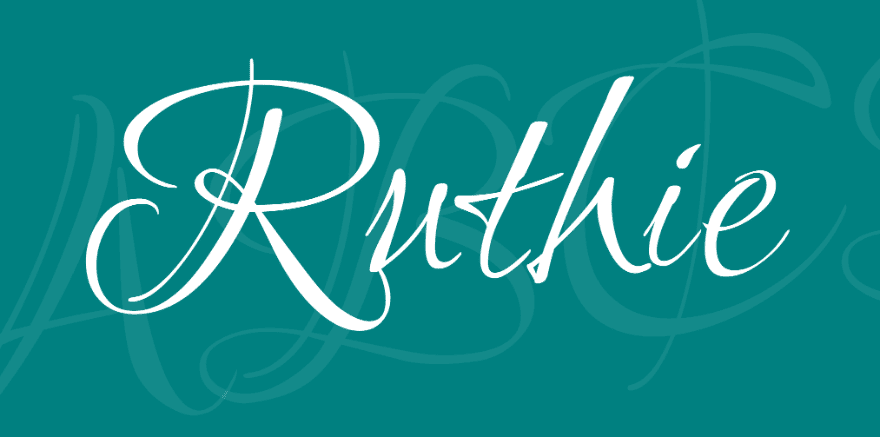 Ruthie is a calligraphy font with a personal touch. The letters are not connected but instead have a personality all their own. The capital letters have a decorative style with short swirls at the ends. The dot on the letter i looks like a slanted drop or a candle flame. This is a unique calligraphy font with a lot of potential. Ruthie has free licensing for both free and commercial use and a Google Webfonts version.
5. Endestry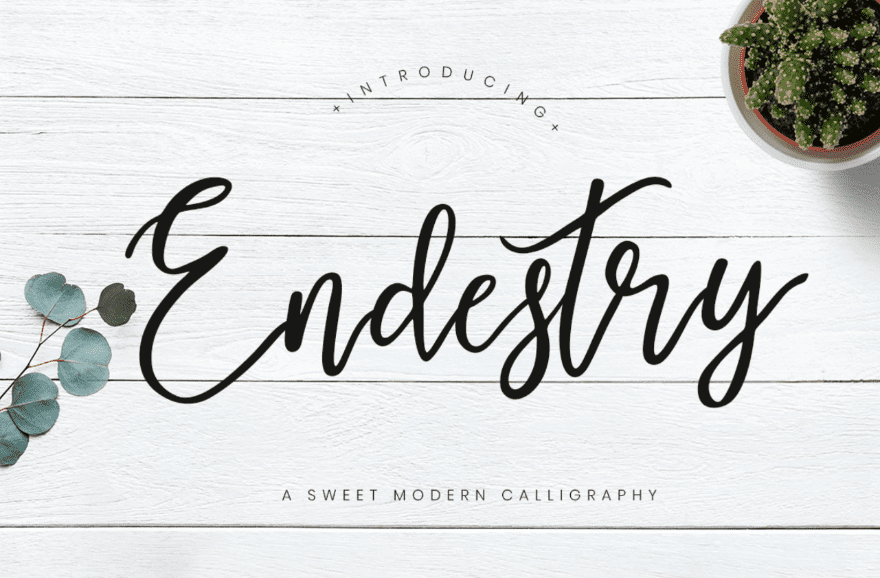 Endestry is a modern calligraphy font with a fresh look. It's similar to the favorite fonts on Instagram and feminine websites. This font has gorgeous loops and unique letter connectors. Pair it with an all caps simple font like Montserrat or Raleway and it will look great on any creative project. Endestry is free for both personal and commercial use and includes a .woff (Webfont) file in the download folder.
6. Salmela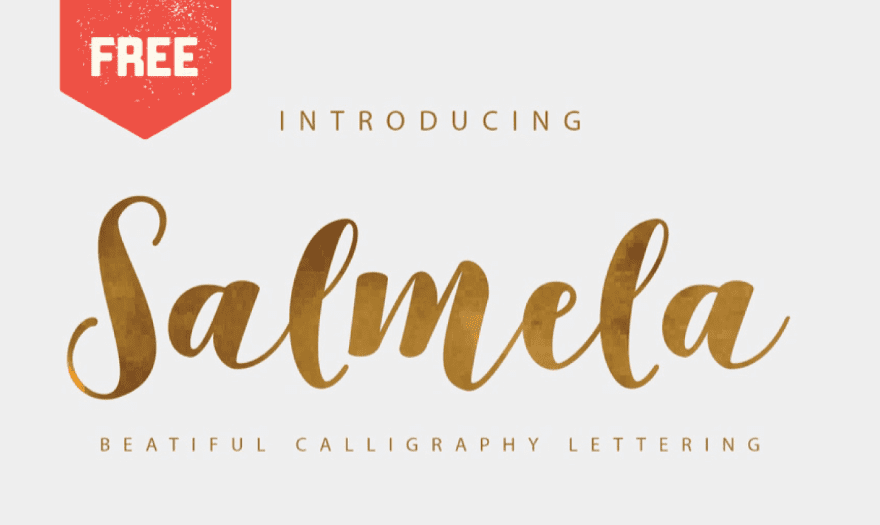 Salmela is a pretty and fun calligraphy font with an uneven baseline. This is the kind of font that looks great on its own and in big letters. It's great for large headers and even logos. Salmela is on the verge of being a feminine font but can also be used for more gender-equal designs due to its thick strokes. This font is free for both personal and commercial use but doesn't have a Webfont file. To use this font in WordPress, you will need to convert it to .woff or use the Use Any Font plugin.
7. The Queen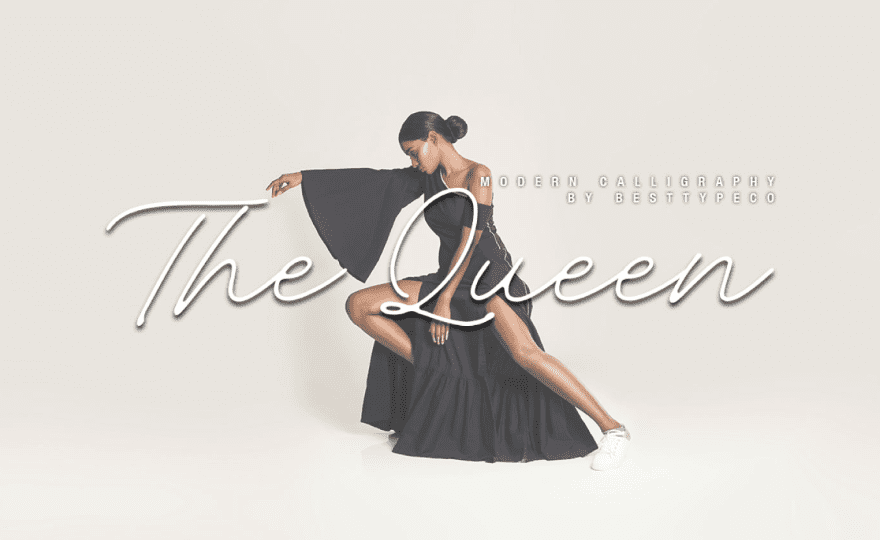 The Queen is a thing and delicate modern calligraphy font perfect for many project styles. Free calligraphy fonts like this one are especially versatile because they work for both titles and block texts like quotes or testimonials. This font can give a personalized look to an otherwise minimalist or standard design. The Queen is free for both personal and commercial use and is downloaded with a Webfont. This font is ready for your web design projects.
8. Sydnee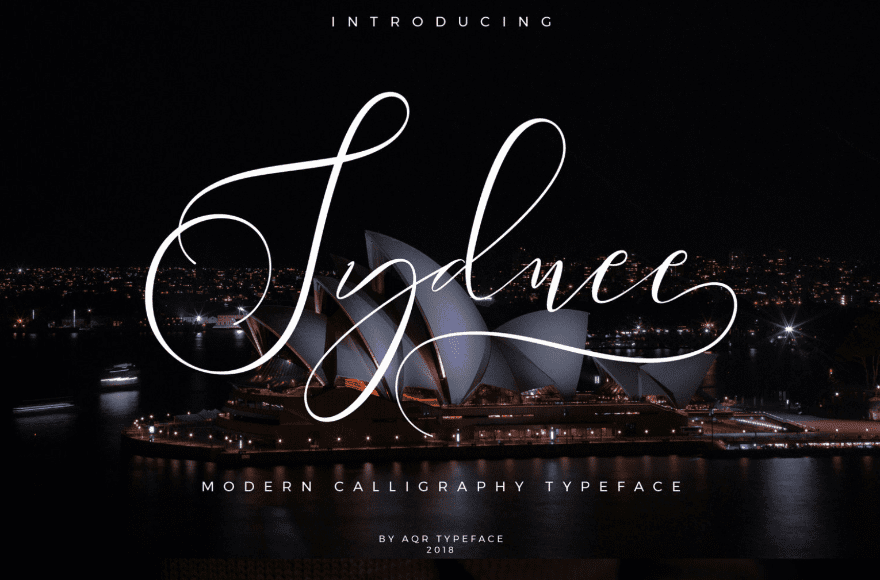 Sydnee is an elegant calligraphy font with gorgeous loops and swashes. The demo font is free for personal and commercial use. The free version only has a .otf file so you'll need to use the plugin for it to work. The complete paid version does come with a Webfont and many different swash and ligature styles. This is a beautiful stylized font for wedding-related websites and feminine designs.
9. Hanston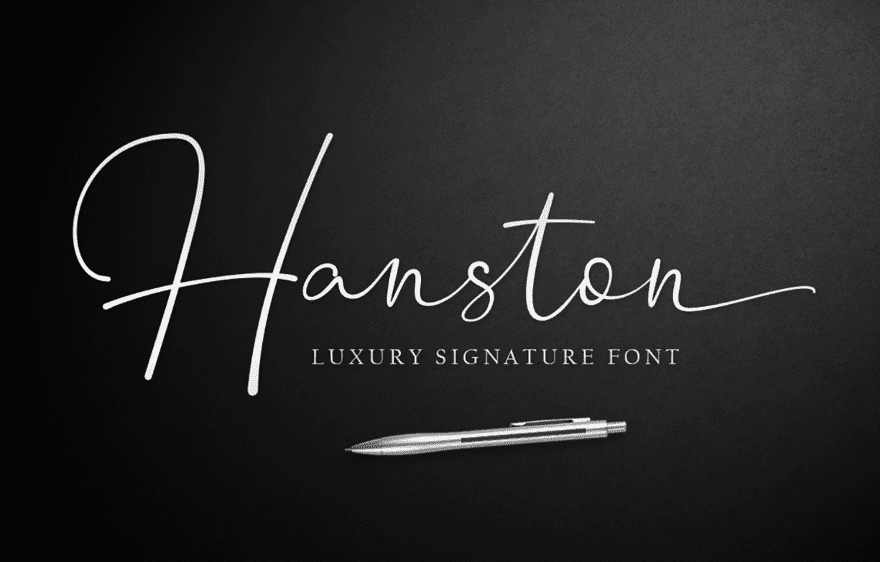 Hanston is an elegant and luxurious calligraphy font. It's simple and classic style works for many different types of designs. The capitals are oversized, while the small case letters are on the smaller. This size difference creates a gorgeous balance between the two. This font is available free for personal use only. If you want to use it commercially, you will need to buy the license. The commercial license comes with a Webfont version.
10. Beautiful Heart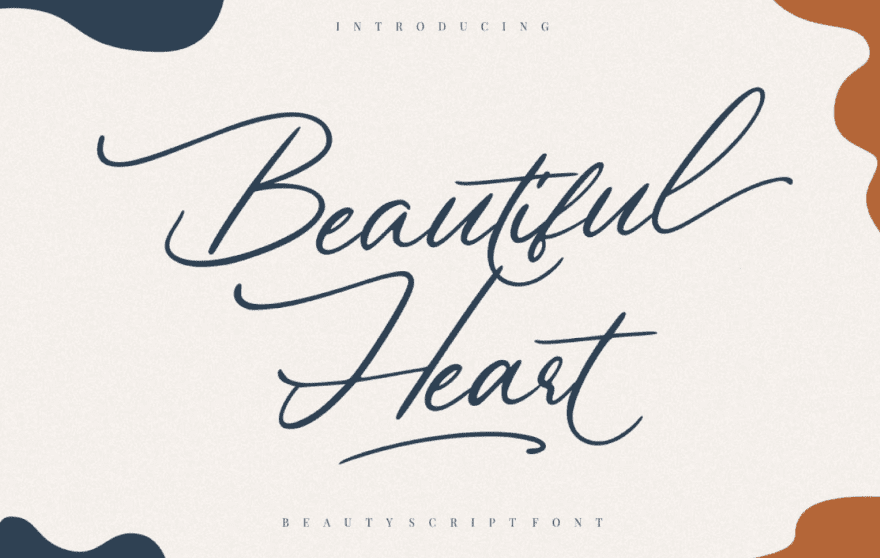 Beautiful Heart is a light-spirited calligraphy font. The strokes are similar in thickness, and the loops are slanted. This is a great font for decorative purposes in large letters. With a lettering style of large capitals and smaller lowercase letters, this is a gorgeous font for modern elegant designs. This calligraphy font is only free for personal use and comes with a .otf file. The commercial license needs to be purchased and does include a Webfont version.
11. Easy November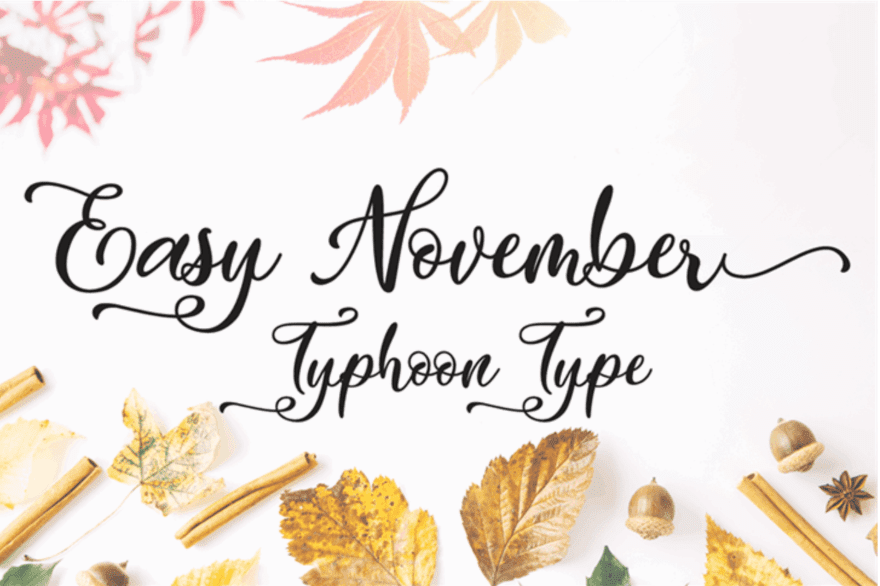 Easy November is a swirly font with unique letter shapes and stylings. The loops are different for every letter and the baseline is uneven. It's a fun font for creative designs that need a little extra personality. This font is free for personal use and a license can be purchased from the designer's website. There is no Webfont readily available so you would need to generate it or use the plugin mentioned above.
12. Bitthai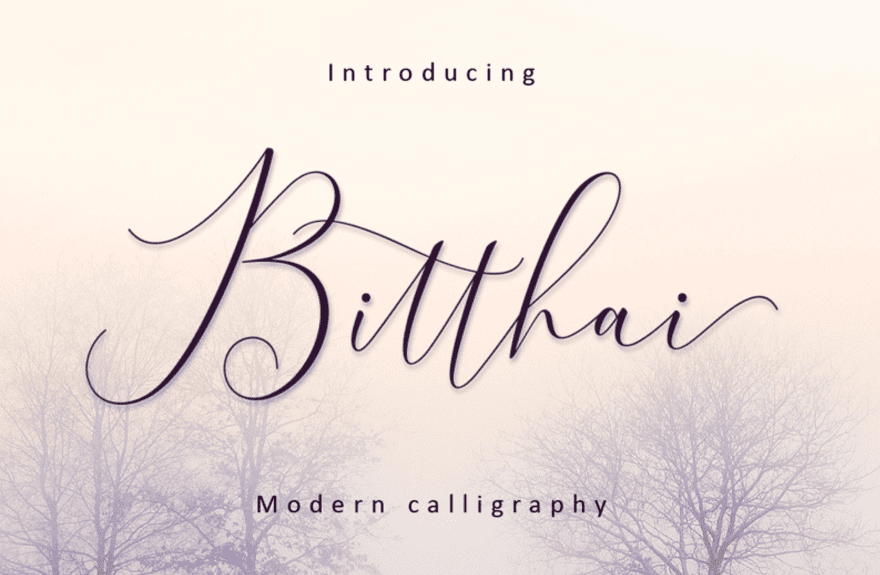 Bitthai is a gorgeous thin style calligraphy font. It's perfect for elegant and feminine designs. The loops are large and the vowels are small, therefore creating a fun and visually rich balance. This is a free demo font only for personal use. The full licensing details are in the designer's Creative Market sales page. It, unfortunately, doesn't have a Webfont version but can be easily added with the plugin I mentioned above. Make sure you have the desktop license to use the font in a design you are getting paid for.
13. Chandrawinata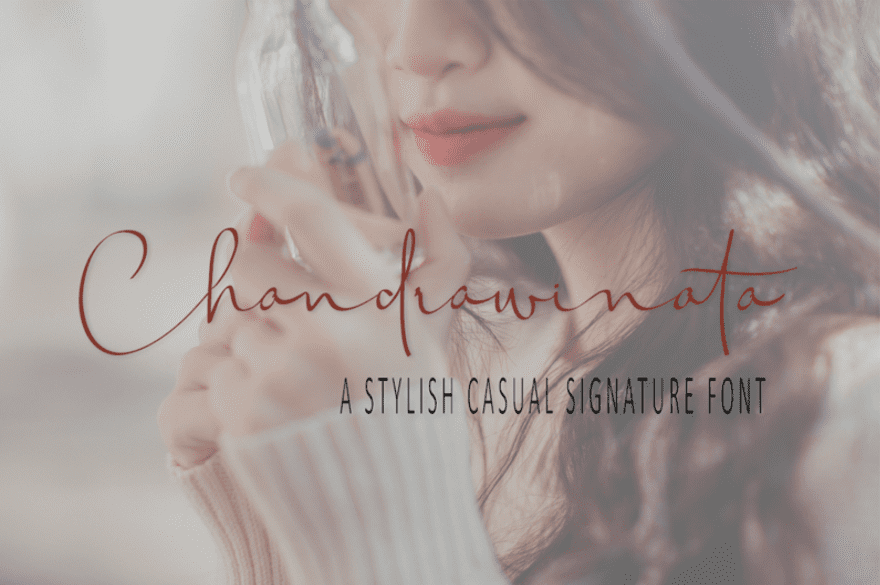 Chandrawinata is a casual calligraphy font with two styles; normal and italic. This font is stylish and fun with unique letter connectors that make the words look relaxed and stretched. The free license is for personal use only and comes in all standard font files including .woff. The free version is not a demo font, it's actually the entire font design. The commercial license is available via Fontbundles.
14. Brillyo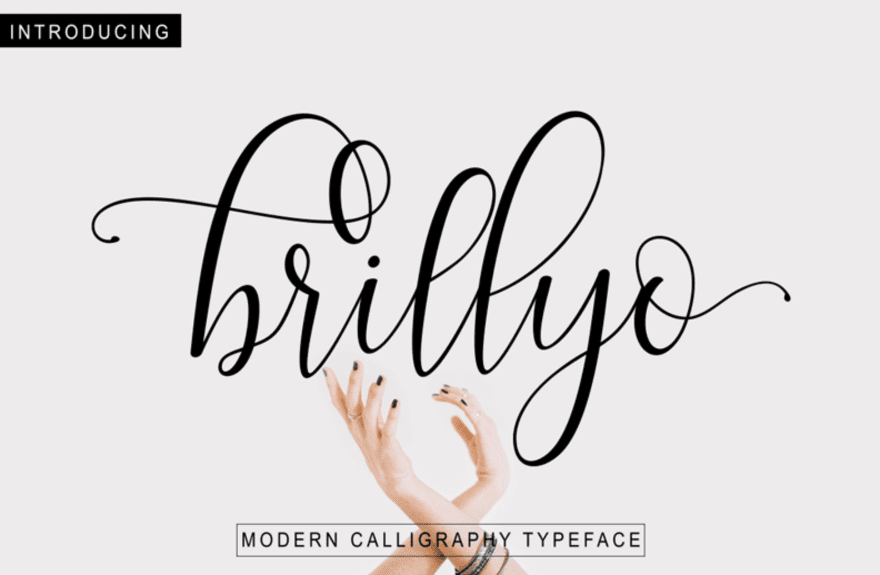 Brillyo is a fun and modern calligraphy font with cute swatches. It's a young and spirited font which looks great in Millenial style designs. The free version is for personal use only and the commercial license is available through Fontbundles. The full commercial font includes a Webfont version. Additionally, the Open Type styles in this font can be accessed with some CSS but only with the commercial license.
15. Desyanti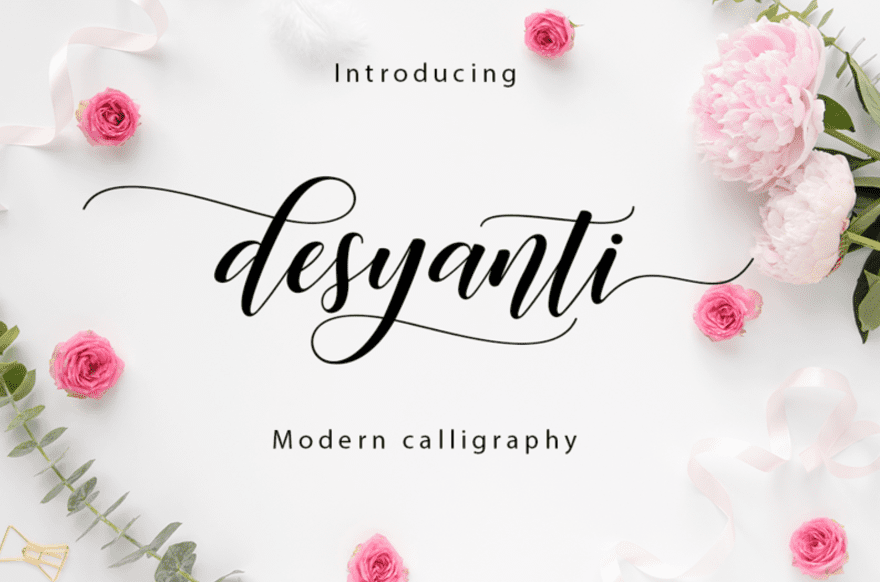 Desyanti is an Instagram ready font which looks great on any feminine design. The crosslines are thin and dainty, playing with the thick upstrokes of the letters. The baseline has a dancing design, making the font playful and full of life. This free calligraphy font is only available as a demo for personal use. For commercial use, you will need a license. This font doesn't have a Webfont version but you can use it without Open Type features by using the Use Any Font plugin.
Conclusion
Have you tried using calligraphy style fonts in your designs? As you can see, they can add visual richness to any project. Also, each font is unique in their own style while others have a similar look. Use any of these fonts in your web designs with a little help from Webfont generation, a versatile plugin like Use Any Font,  and in some cases, some CSS.
We hope you like these free calligraphy fonts. Which is your favorite?
Featured image via Elnour / shutterstock.com