Notion is an all-in-one digital platform for storing and organizing your everyday projects, business essentials, and personal documents. It's perfect for individuals, professionals, and teams. From project tasks to design assets for professional needs to personal needs such as recipes or fitness tracking, Notion is a solution to visualize all your information in one central location.
Do you have trouble organizing all your various notes, projects, documents, and general information? Do you have your information spread out in several different areas or apps? Do you currently use a WordPress plugin for project management, but want something more fully-featured?
Notion can help you organize your information and let you customize your space exactly the way you need it. Notion features note-taking, project management, task management, and structure for all your personal and professional life needs.
Let's look at everything you can do with Notion and how this tool can streamline your processes.
What is Notion?
Notion describes itself as an all-in-one workspace, a set of building blocks for creating things you love to use. Their tagline is – "Write, plan, collaborate, and get organized. Notion is all you need — in one tool." It can replace your note-taking app, your to-do list app, your spreadsheets, and your project management app so you can keep everything in one space.
We're using Notion to do what normally would have required three different tools cobbled together. Having it all in one place makes everything easier.

— Sachin Monga from Cocoon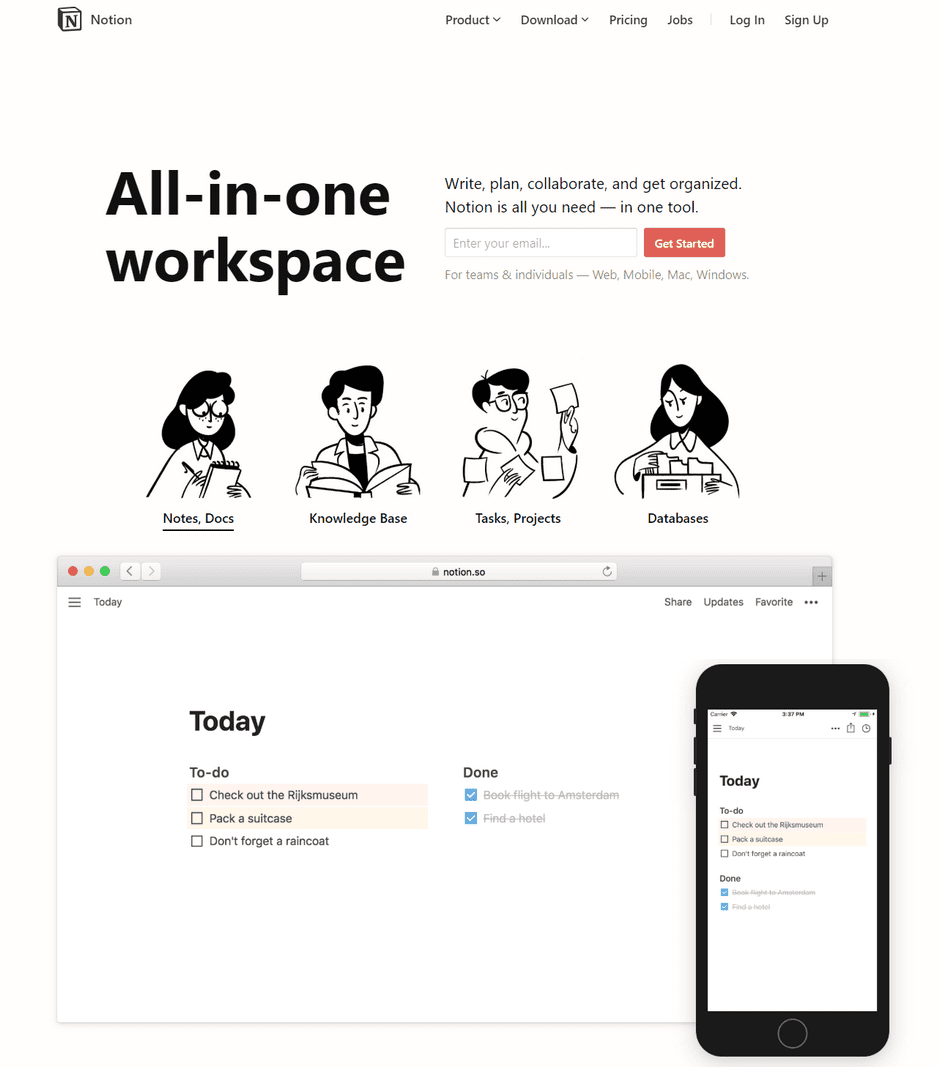 Notion provides a central location for all your short-term and long-term goals. You can manage a small business with Notion or create a dashboard for all your personal and family needs. Use Notion to manage web design projects, a recipe database, a fitness log, a marketing calendar, a content web clipper, or event planner. If you need to organize data, Notion can be the tool you need.
How to Use Notion to Organize Your Professional and Personal Content
Notion is made up of "Pages" and "Blocks". Pages contain Blocks. Every piece of data and information is a Block. You can add Pages inside of Pages infinitely.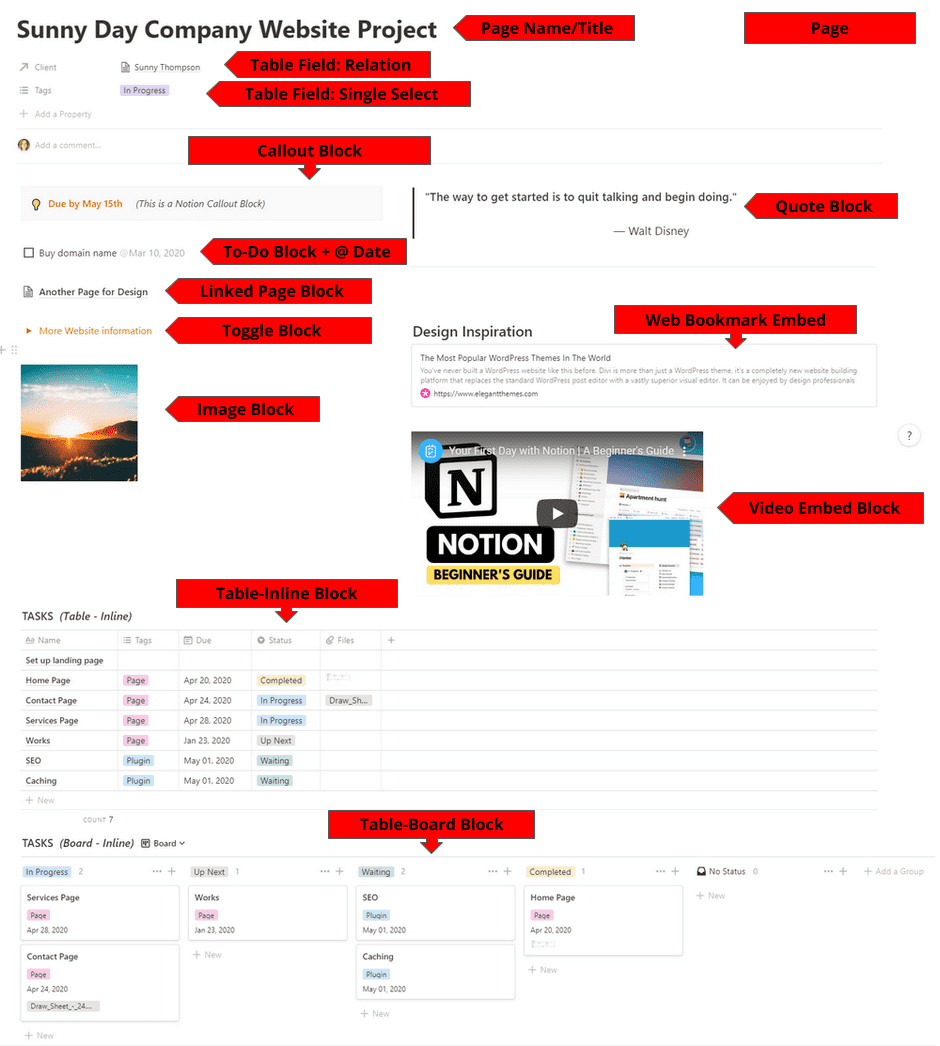 Current Blocks include:
General Blocks
Text: Any simple text or notes
Tables: Databases (Includes Multiple views such as Kanban, Table, Gallery, List, Calendar, and Board)
To Do: Checkboxes
Toggle: Drop-down arrows to organized information
Bullets: Add bullets to your list
Numbering: Add numbering to your list
Quotes: Highlighted quotes
Dividers: Section dividers
Callouts: Highlighted boxes to display important information
Mentions: Collaborate with others on your Pages
Dates: Tag any page or block with a date using @
Code: Add code snippets in your set programming language
Upload and Embed Blocks
Embeds: Useful for embedding any other website into Notion
Images: Upload any image
Bookmarks: Save URLs
Video: Upload or embed from any video service
Audio: Audio tracks, podcasts, etc.
Files: Add any type of file to your workspace
PDFs: Display a PDF in full view
Advanced Blocks
Math Equations: Display a math formula using TeX
Breadcrumbs: Show your current page location
Table of Contents: Creates an outline of your entire page
Template Buttons: Preconfigured Blocks you create to speed up your workflow
They have multiple Blocks with direct integration to other useful software, including:
Blocks can be moved around anywhere in your Workspace. Its drag-and drop-feature makes it simple to reorganize your data when needed. You can move Blocks around on their original page or you can move them to an entirely new page by simply dragging it over.
Setting Up Your Notion Workspace
The best way to get started with Notion is to use a pre-made template and then adapt it as you learn what works for you. While you can always start with a blank canvas, Notion has a variety of built-in templates for many different industries such as Design, Education, Sales, Marketing, Human Resources, and Personal.
Once you've created a Notion account (you can start with the Free version), you can import a template with just a few clicks.
I will show you how to set up a Sales Customer Relationship Manager (CRM). This CRM is a pre-made template in Notion.
Click New Page
Click Templates
Click the Sales toggle
Choose Sales CRM
Then click the Use This Template button
The CRM will be automatically added to your Workspace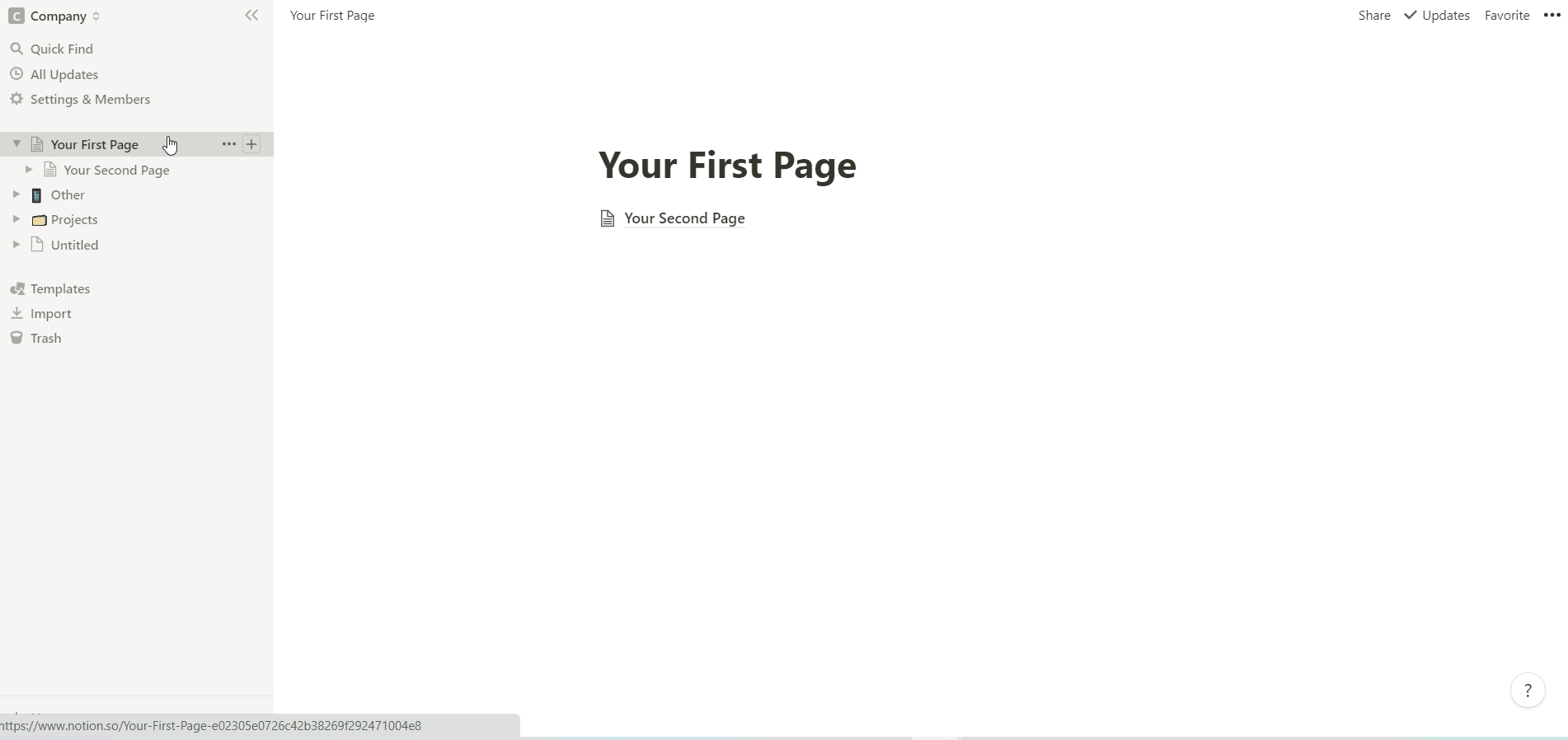 The CRM is a Notion Table Block.
A table in Notion is actually a relational database! This means you can connect your CRM data to any other table anywhere in your workspace.

Now, let's add a client. Simply click into the box below the name. If you've ever used a spreadsheet, this should feel familiar. I added the name Sunny Thompson. When you click the name, "Sunny Thompson", you are now inside an entirely new page. The page contains all the table fields you can customize and define. You can also add any Blocks on this page like any other page.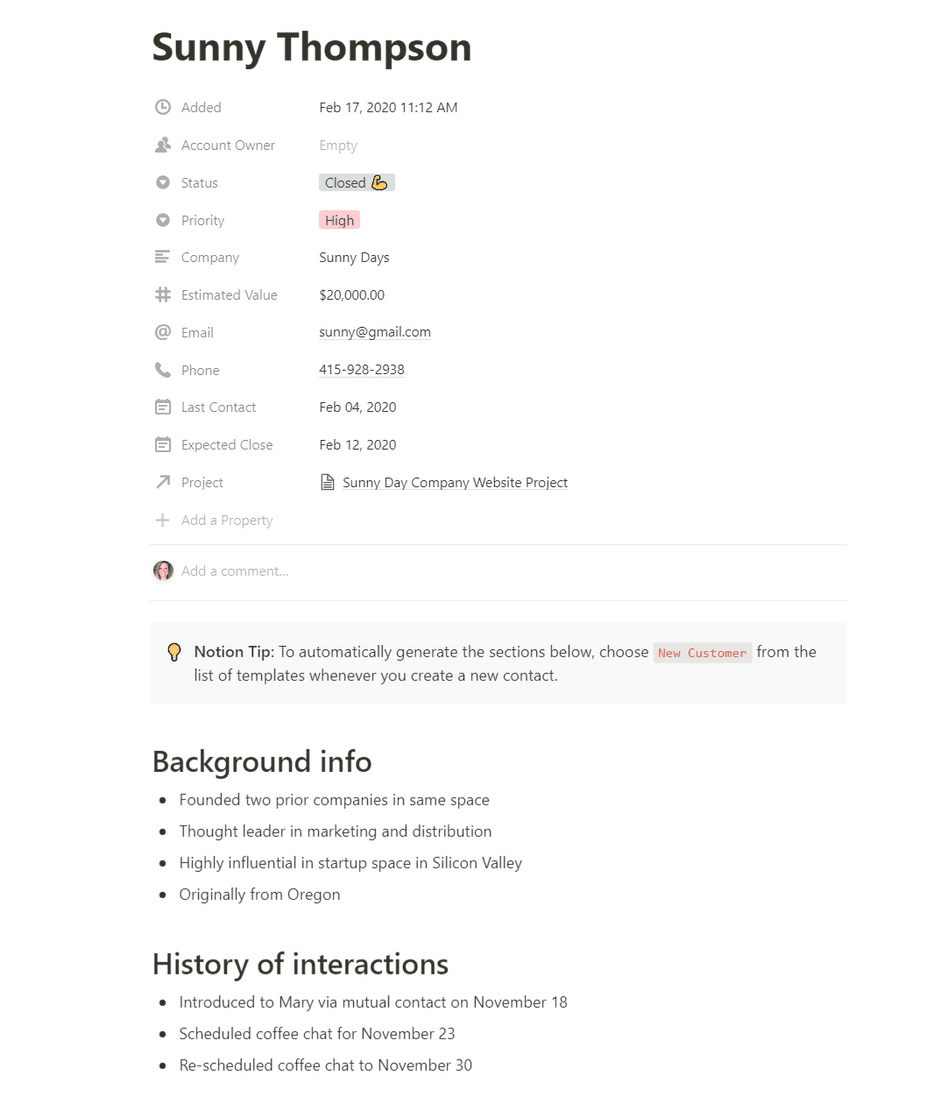 Table Fields are:
Date
Text
Time
Number
Single Select
Multi-Select
Image
Email
URL
Person
Created Time
Created By
Last Edited Time
Last Edited By
For power users:
Now that you have a CRM, you can create another table as your Project Manager and link the two tables. This Projects table includes the fields Relation (Client) and Single Select (Tags).

Using a Relation field, you link directly back to the CRM you just created. This will allow you to see all Projects related to Sunny Thompson in both tables.

With all tables, you can create multiple views such as Board (Kanban), Gallery, List, and Calendar. These templates are helpful starters for any project. Be sure to read our quick start guide to project management.
You can also embed any table inside any page. Here is a Project page from our Projects table. It has another table labeled Tasks embedded in the page in both Table view and in Board (Kanban) view.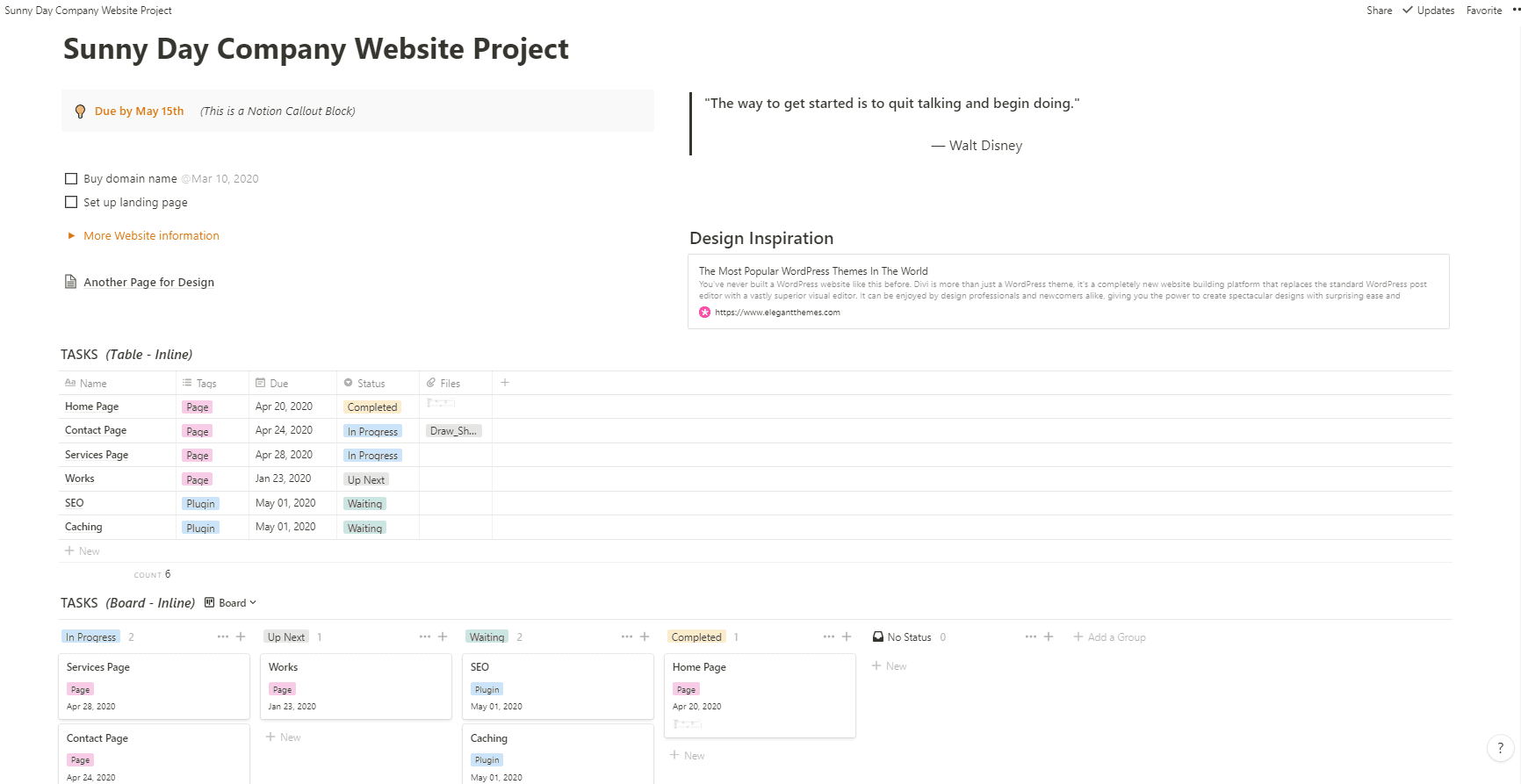 Be sure to explore more templates in Notion's User-Submitted Template Gallery to see what other users have created. Some templates you might try are the Content Calendar, Design Tasks, Design System, Contracting Proposal, and Work Portfolio. Add any of these templates to your Notion Workspace and you now have a centralized Dashboard.
Other Use-Cases for Notion
Check out these other ways individuals and companies have used Notion:
Personal Finances – includes a categorized Kanban board of expenses, debts, and extra expenses. Also includes a Cash Flow Calendar.
Recipes – an online database for recipes. Use the web clipper to add them and then sort by category. You can also easily copy & paste the Shopping List into a separate Groceries page to simplify the grocery shopping process.
Company Help Center – Create a centralized company overview with all pertinent company information like the handbook and important announcements. Employees can access this anytime and it's always up-to-date.
Hiring Pipeline – Keep track of all potential hires with this template. It contains the applicant's name, interview status, skills, and links to their online profiles.
A few more ideas to jump start your Notion workspace:
Knowledgebase
Bullet Journal
Code Guidelines
Product Roadmap
Podcast Management
Home Projects
Writing a Book
Job Search
Travel Agenda
Game Collection
Additional Features
Notion is also a great tool for collaboration with others. You can tag others by @ mentioning their name. You can also share Pages with anyone with a link.
Notion workspaces have Members and Guests. Members can create, edit, comment, and share pages. Guests are external people you invite to see your workspace or a specific page. Depending on which permissions you allow, they can either edit, comment, or read. Guest access is useful for your clients or contractors with which you need to quickly share information. You can also create Groups of users to manage permissions for all.
With Notion, you can access your data from anywhere. They have apps on several platforms including iPhone, Android, Windows, Mac, or you can use your browser.
Pros
Notion can be used to organize many different areas in your life. The pros include:
Access anywhere
Customizable
Unlimited File Uploads
Databases
Share any Page Externally
Helpful and Friendly Support Team
Version History
Cons
Notion does lack several features that may deter you from using it. Some current cons of Notion are:
Lack of an API to connect it to other software services (However, they are actively developing this)
More advanced permissions when sharing pages
Needs more intensive calculations and formulas
No handwriting support
Doesn't sync with any calendar services
Better offline support
Better text formatting such as font customization and better copy/paste
Pricing
Notion has several plans to fit all types of individuals or companies. For starters, they offer a free plan for up to 1,000 blocks and a 5MB upload limit. Their personal plans are $5 per month or $4 per month paid annually. This is a generous plan including unlimited blocks, unlimited file uploads, and 30 days version history. You can even demo Notion directly on their homepage without creating an account.
For teams, each user is $10 per month or $8 per month paid annually. Team accounts include Admin tools and advanced permissions. Their Enterprise plan includes unlimited version history, SSO and SAML sign on, a dedicated manager, and more.
Notion is free for Educators and Students and gives a credit to Startups.
Tutorials and Communities to Help You Get Started
There are a few Notion communities and power users who are showcasing everything Notion can do. These are some of the most helpful:
Notion has a Community page dedicated to showcasing all the most helpful Notion communities.
Notion's own Help and Support page has useful information for beginners and advanced users.
The Facebook group, Notion Made Simple, is one of the most active Notion user communities. With almost 12,000 members, it's a great place to ask questions.
The Reddit Community is another place to get insights into the best way to use Notion.
Power users such as Francesco D'Alessio, Marie Poulin, and William Nutt have created a large variety of in-depth videos and articles encompassing the many ways to use Notion.
Final Thoughts
Keeping all your information in one place will help you focus on your business or personal life without having to remember everything or have it separated out in multiple apps. Notion's all-in-one workspace can capture all your important data.
There are a variety of collaborative centralized apps available but Notion's features and price point make it a solid option. Use Notion to help you gain an overall view of what you've accomplished and what goals you will start on next.