When the Rolling Stones covered "Time is On My Side" by Kai Winding in 1964, they clearly didn't foresee a world where we'd be fighting so hard to maintain control of our time. Although the value of a second hasn't changed over the years, it certainly feels like time has become a more precious commodity.
As a small business owner, one of the best ways to improve you time management is to become more organized and to automate repetitive tasks wherever possible – that includes things like scheduling client appointments.
Before WordPress, meeting with clients, patients or customers required spending time on the phone and flipping through your calendar trying to find a mutually agreeable time. Thankfully, this approach is no longer required. With so many businesses running WordPress, it's relatively easy to begin organizing and tracking your schedule with the same software you're already using to run your website.
In this post, we're going to take a closer look at five of the Best WordPress appointment plugins that your money can by. If you're looking for a way to ease the burden of appointment booking and tracking, we're about to solve that problem for you.
Let's get started.
Appointment Plugin Criteria
I tried more than the five plugins reviewed in this post and for one reason or another, many of them didn't make the cut. The expectation was that to be called one of the best WordPress appointment plugins, each one should meet some minimum criteria.
Mobile responsiveness was one of those criteria as was a sales website that invoked a feeling of trust. Quite a few of the plugins that were looked at had demo sites that were not functioning properly. For others, it appeared that the plugins were broken or not compatible with the current version of WordPress.
The five plugins that are covered below should comfortably represent the best of the best. Well designed, easy to use, with a viable and functioning online demo and a marketing site that makes me comfortable enough to pull out my credit card.
If you're looking for a plugin to ease the burden of scheduling and managing appointments, I think you'll find that any of the plugins below should fit the bill.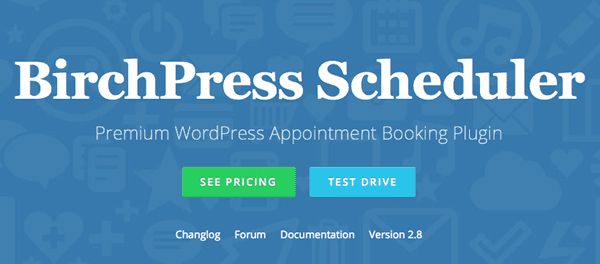 Pricing:
Personal: $79/site
Business: $79/site
Business+: $79/site
Developer: $300 /10 sites
Birch Press Scheduler bills itself as a premium WordPress appointment plugin and I can't find any reason to disagree with that statement. BPS allows you to embed your customizable booking form into any page or post on your site. Custom fields and a personalized design are all possible.
As soon as someone books an appointment, it will be synced with whichever calendar you're currently using – iCal, Google, iPhone or Outlook. Syncing happens both ways. If you're on the go and you add an appointment through your phone, your availability will be updated within Birch Press.
Appointment reminders were once a time-consuming process but not anymore. Notification emails can be easily configured based upon your individual requirements. For example, if you have multiple staff members in your office you might choose to notify them via email anytime an appointment has been booked. You can also notify clients at a predetermined time before the appointment to reduce the chances of a no-show.
Additional features:
12 Months of support and updates
Custom email messages
Holiday blocking
Cancel / Reschedule Appointment (business plans)
Color coded appointments (business plans)
Post-booking page redirection (business plans)
Returning user bookings (business plans)
Length of time slot
Payment gateway integration
WooCommerce integration (Business+ plan)
Access control (Business+ plan)
As you can see, Birch Press is one of the top choices in the category in terms of features and functionality and definitely worth taking a closer look at.

Pricing:
$19/month – Unlimited sites, downloads, and support
Appointments+ is a great appointment plugin from the team at WPMU DEV. It's designed specifically for small businesses including salons, studios, massage therapists, medical clinics and more – basically anyone who books time with clients or patients.
Appointments+ allows you to create custom profiles and availability for each team member. No matter what size your business is, this plugin can meet your needs. With unlimited employee/practitioner profiles and unlimited services, there is no limit to what can be accomplished.
Attached to each profile are black-out dates and times, working hours and break times. Clients can book their own appointments or if you want to book their next appointment before they leave your office, manual bookings are possible too. Some of the additional features available with Appointments+ include:
Easy to set-up appointment page
Separate widgets for calendars, team members, and services
Shortcode integration
Let clients login via Facebook, Twitter, Google+ or WordPress
The ability to display weekly or monthly schedules
Limit advance bookings to a specific timeframe
Sync with Google Calendar & Google Maps integration
Convenient appointment reminders
Multiple locations
The ability to require payments or deposits at the time of booking
With dozens of other features and add-ons, Appointments+ is another top choice worthy of serious consideration.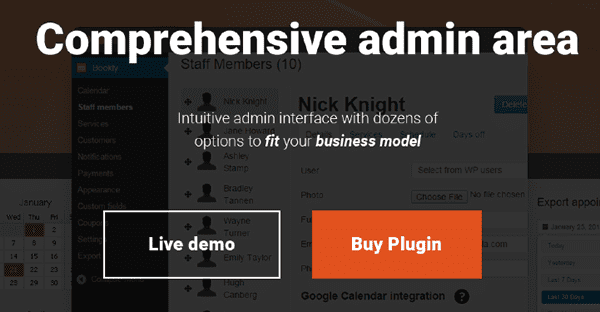 Pricing:
Single Site License: $46 including 6 months of support
Bookly is a well-designed, attractive and fully responsive appointment booking plugin available from CodeCanyon. Within just a few seconds, you can tell that a fair amount of time and effort has gone into thinking about the front-end user experience.
Before you brush off the importance of user experience, think about how an incredibly simple process might increase the odds of an appointment being booked on your site. Making the appointment booking process as quick and easy as possible is more important than you might think – Bookly delivers, hands down.
As it turns out, the admin interface is pretty intuitive as well. With unlimited staff members, Bookly is a snap to get set up and running. Employees or team members can set their own working hours, breaks and holidays. Email reminders are fully customizable and automated – an important feature because reduced no-shows increase billable hours. Customers can also cancel their own appointments by following a simple link that's included in the reminder email.
Your booking form can be customized right down to standard fields, custom fields, and default values. Accepting payments via PayPal, Authorize.net or Stripe is possible, or you can skip payments altogether. Once you're happy with your form it can be easily inserted into any page or post with a simple shortcode.
Additional features include:
Google calendar sync
WooCommerce Integration
Group bookings – let clients book appointment with more than person at a time
Send email and SMS reminders
Export your appointments to CSV
Offer discount coupons
Payment reporting
Another top choice, Bookly sets the bar when it comes to u/x and is worth a closer look.

Pricing:
Single Site License – $249 – all options include 12 months of support and updates
5 Site License – $299
25 Site License – $449
As the official offering from Woo, you can rest assured that this plugin will function as advertised. If you're someone who sells their time, WooCommerce Bookings might be just what you're looking for.
WC Booking is a flexible plugin in that you can use to allow the booking of time. Anything from a 30 minute Chiropractic appointment to a weeklong cottage rental is possible. WooCommerce Bookings has a few more features than some of the other plugins and it's also suitable for more business types. For that reason, you should expect to spend a little more time on the setup process.
Selling your time involves creating a bookable product and then deciding exactly how clients or patients will be able to book your services. You can create fixed blocks of time or even let your clients decide. You'll also have control over whether a booking is automatically generated or requires your approval. Once a time is booked, you can customize your email notifications – new bookings, confirmations, reminders, and cancelations are all possible.
Some additional features of note include the following:
Complete control over availability
Flexible pricing based on services, blocks of time, and service providers
Custom fields using the Product add-ons extension
View your booking in a list or calendar format
Google calendar integration (one way only – bookings to calendar)
Access to multiple payment gateways
12 Months of support and updates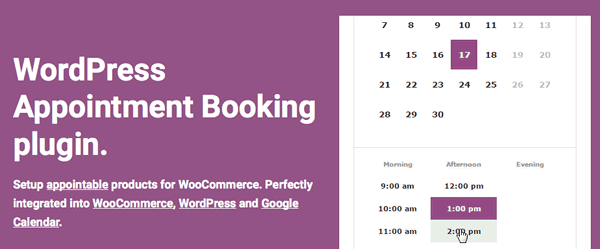 Pricing:
Single Site License – $69 – all options include 12 months of support and updates
10 Site License – $129
25 Site License – $199
WooCommerce Appointments is a Woo compatible appointment plugin from BizzThemes. This particular plugin is geared specifically towards appointments only. It's an easy to use plugin for both customers and administrators alike. In particular, the appointment booking process for customers is simple and intuitive.
WC Appointments includes the ability to manage multiple staff members including individual calendars, availability and admin access. Two-way Google calendar sync is also available which means when you add an appointment directly to Google calendar it will be automatically added to WooCommerce Appointments as well.
Because this plugin is built on top of WooCommerce, you'll be able to access multiple payment gateways or, if you prefer, you can just stick with regular confirmation and reminder emails and collect payment at the time of service. Some of the additional feature included are:
Highly customized and employee specific availability rules
Easy global settings
Adjustable advance notice requirements
Padding time between appointments
Compatible with WooCommerce follow-up email extension
Integrates with WooCommerce Gravity Forms extension
Wrap Up
All of the plugins covered in this review are great. Some are quick and easy to set up. Others are more challenging but balanced by the fact that they are more extensible or offer a better choice of payment gateways.
As with any plugin decision, the best solution is to spend some time playing with the demos of each plugin. Consider which features are mandatory and which you can do without. No plugin is perfect for every business so it's important to do your own research based upon your specific needs.
If you have a favorite plugin that you like to use and it's not listed in this review, please share in the comments below.
Article thumbnail image by Bishopdesign / shutterstock.com