WordPress can be used in a number of weird and wonderful ways. The platform can be used to develop blogs, online magazines, eCommerce stores, portfolios, discussion forums, directories, membership websites, and much more.
Whilst WordPress is fantastic, it is not infallible. Things can, and will, go wrong. As a WordPress user, you will undoubtedly face many problems with the platform.
When you first start learning WordPress, you will have many questions about how WordPress works and how to configure your theme and installed plugins. Problems do not dissipate after you have gotten to grips with how WordPress works.
You will experience conflict errors between WordPress, your theme, and your activated plugins. You will also face the infamous White Screen of Death, internal server errors, database connection errors, PHP errors, 404 page errors, and other common WordPress errors. This is why there are millions of WordPress related questions online.
Unfortunately, a large number of these questions go unanswered. Your hosting company may help you with hosting related issues and your theme developer may help you with using their theme. Beyond that, you may struggle to find the help you and your business needs.
Today, I would like to share with you a list of resources in that will help you with your WordPress related problems when you are completely lost.
Of course, if you are an Elegant Themes member, the first place you should go with any theme-related issues is the Elegant Themes support forum! We have over 20 tech support specialists on staff, doing their best to help out our customers around the clock. Support has always been big focus here at Elegant Themes, and it will continue to be at the top of our priority list.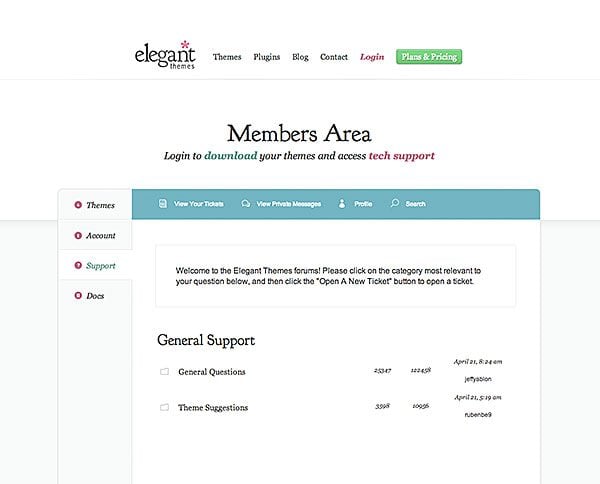 If you find yourself in need of help with something that goes beyond the scope of our support forums, however, then there are many other resources available to you online. Let's go over some of the top places to find WordPress help outside of Elegant Themes.
The WordPress codex is a fantastic resource for developers as it explains how to develop themes and plugins for WordPress. It also contains details of every WordPress function and template tag.
In the Getting Started with WordPress area, you will find useful tutorials for beginners and intermediate users, including a useful WordPress installation guide.
Sadly, a lot of the codex is out of date. Many articles recommend plugins that have not been supported for years, and while the codex is a useful reference, the information is not structured well. Therefore, you may find it hard to find a solution to your problem.
The official support forums at WordPress.org is the first place where many WordPress users look for support. Four million posts are testament to this.
If you have a WordPress related problem, you can be sure that someone else has opened a discussion about the same issue in the official support forums. Unfortunately, a high percentage of the discussions in the forums go unresolved. Many threads have no replies whatsoever while others only have replies by others that have the same problem.
The situation is a little better in the plugin forum room. WordPress are trying to encourage plugin developers to support plugin users through their support forums. Each WordPress plugin has a dedicated support room on WordPress.org and the plugin listing details how well the plugin is being supported. For example, a plugin listing might state something like "144 of 264 support threads in the last two months have been resolved". This gives users an indication of how well a plugin is being supported.
I recommend checking the WordPress.org support forums to see if there are any resolved solutions for your problem. However, do not expect any support threads you create to be answered in a timely fashion.
WP Curve
WP Curve are a WordPress support company that offers unlimited support with small thirty minute jobs from only $69 per month. Members can email WP Curve any problems they have at any time of the day and get the issue resolved on the same day (they advise that problems are normally resolved within six hours).
Their $99 per month professional plan offers additional features such as a monthly security scan, offsite backups, and proactive WordPress and plugin upgrades.
WP Site Care is a maintenance service that offers website optimization, automated backups, security monitoring, and WordPress video training. They also offer WordPress Support.
Their specialized plan retails at $99 per month and offers ticket support for any problems you have. Their business plan at $299 per month includes phone support and two hours of design and development.
BobWP is a WordPress tutorial website that offers written and video WordPress tutorials. Bob's tutorials focus on WordPress basics, configuring advanced plugins, the Genesis framework, and WooThemes designs. Check out "The Differences Between Posts and Pages" for an example of the high standard of video tutorial you can expect to see on the website.
A membership to BobWP retails at $29.99 per month, $59 for three months, or $99 for six months. He also offers one on one coaching for $125 per hour.
Founded by Shayne Sanderson, Maintainn is a WordPress maintenance and support service that offers security scanning, daily backups, video tutorials, upgrading support, and development support.
Their basic plan at $39 per month per website offers thirty minutes of support per month. Their premium plan at $99 per month per website includes two hours of support per month.
ClickWP is a WordPress service that offers maintenance and technical support. Their ClickProtect plan retails at $25 per month per website. It offers daily backups, WordPress, plugin and theme updates, and security and monitoring. They will also answer any question you have by email.
The ClickAssist plan retails at $60 per month per website. This plan includes all the features of the ClickProtect plan as well as basic server management, website optimization help, and configuration of your email list. They will also give you hands-on support with up to four incidents per month.
Rise Forums is an internet marketing forum that I launched at the end of last year. I share my nine years of working with WordPress and provide support to forum members on a wide range of WordPress related issues. We also discuss other topics including blogging, search engine optimization, social media, productivity, and making money online.
A membership retails at $9.99 per month or $97 per year and includes a seven day money back guarantee.
What Service is Right for You?
Having an understanding of what caused a problem will make it easier to decipher exactly what went wrong. It will also help others help you resolve the issue. It is difficult to find help when you are faced with the White Screen of Death if you do not what caused it. However, if you know that the problem occurred directly after you installed a specific WordPress plugin, you may find a solution quickly.
If you have an idea of what is causing the problem on your website, I recommend doing a search about the issue on a search engine. You may find an answer to your problem through a WordPress related blog (such as this one) as they publish articles on common WordPress related issues.
The problem is that your own problem may be unique. While you may find a tutorial that addresses the problem you appear to have, the given solution may not resolve your issue because your website configuration is different.
The benefit of resolving issues issues on your own is that it does not cost you money. It is, however, time consuming. You may spend several hours trying to resolve a situation that someone with experience could resolve in minutes.
While I do think it is in every website owner's best interest to become competent with WordPress, not everyone needs to become a WordPress expert. If you feel that your time would be better spent developing and promoting your website, you may want to pay for premium support. This ensures that when you need help, you get it.
I recommend choosing a service that matches your budget and your expectations of good WordPress support. Be prepared to switch to a different service if you are not happy with the service you receive.
Where do you go for help when you have a WordPress related problem? Please share with us your support solution in the comment area below.
Article thumbnail image by Jane Kelly / shutterstock.com