When the Internet was naught but a youngster, the question of whether viable businesses could be built upon open source platforms was frequently agonized over.
Fast forward a few years and open source is the core idea behind the majority of software powering the modern web, with mobile frameworks such as Android and breakthrough offline technology offerings from companies such as Tesla.
WordPress, of course, was early to that particular game and has been one of the world's leading open source software projects since 2003. In that time, it's blossomed from a simple blogging engine into a monetizable digital ecosystem supporting a huge number of innovative, profitable businesses worldwide.
To showcase the range of firms betting big on WordPress – and to inspire you in your own pursuits – in this article we've made our pick of fourteen of the most influential WordPress businesses in operation today.
Let's start with the elephant in the room.
Automattic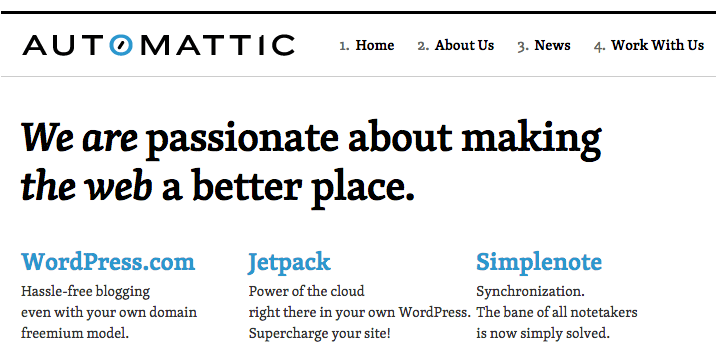 Most WordPress users know Automattic as the company behind WordPress.com, and the most significant contributor to the work of the WordPress foundation. What you might not be aware of is the staggering success it has achieved as a company in its own right since its foundation in 2005.
In May 2014, a $160 million funding round led by Chris Sacca put an eye-watering $1.6 billion provisional valuation on the company as a whole. And with Matt Mullenweg stepping up to CEO in January of that year, the feeling is that Automattic is gearing up for a major push across all areas of its operations.
They certainly have headroom in terms of staffing if they're looking to spend some of that venture capital money. Automattic runs a legendarily tight ship, with a mere 321 employees responsible for serving up over 15.8 billion pages a month via WordPress.com. As they're rightly proud of pointing out, that compares extremely favorably with sites of comparable size.
A big part of Automattic's success is down to the enlightened approach to work culture those employees enjoy. As documented in The Year Without Pants, the company was an enthusiastic early adopter of remote working practices and continues to provide generous budgets for equipment, office and travel to its geographically dispersed workforce.
The main focus of that workforce – outside of the contribution to WordPress core by people such as Ryan Boren, Andrew Ozz and Peter Westwood – is in running the commercial WordPress.com and WordPress VIP services.
Automattic is no one-trick pony however. A quick glance at their homepage shows the wider set of projects they're actively involved in. This covers WordPress contributions such as bbPress and BuddyPress, monetized offerings such as VideoPress and VaultPress, and various other long-standing products such as Polldaddy and Akismet.
The last few years have also seen Automattic flexing their economic muscles and starting to make interesting acquisitions outside their previous core set of concerns, with companies such as Longreads and Simperium joining the fold.
Those looking to see which direction Automattic may head in the future could do worse than follow the activities of Audrey, Matt Mullenweg's angel investment vehicle.
We've put Automattic first on our list due to the obviously unique space it occupies in the WordPress universe. No other company comes close in terms of size, revenue, expertise or influence over the platform itself.
There's more than enough room in the wider ecosystem for other companies to thrive however. We'll spend the remainder of the article showcasing the most influential businesses across a diverse group of market segments.
Let's continue with an area that is both dear to our hearts and one of the biggest market opportunities WordPress has created to date – premium themes and plugins.
Premium Themes and Plugin Developers
The premium theme and plugin market has been one of WordPress' most visible commercial successes. Sales have been swift across the board for two primary reasons:
Site owners are increasingly reluctant to spend big on a completely bespoke design or custom development.
The flexibility that plugins afford to most modern themes makes them an excellent all-purpose solution for businesses large and small.
Let's look at three of the leading companies that have successfully addressed the market need in this department.
Elegant Themes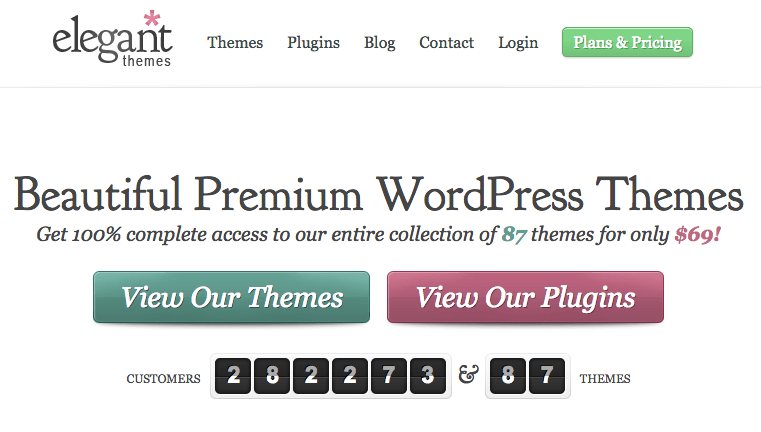 It may be a little cheeky putting ourselves in at the top here, but with eight years in the premium themes business and 282,273 satisfied customers worldwide, we're proud to stand on our record.
Our simple yearly membership model offers over 80 fully-featured themes and a carefully curated collection of essential plugins. Have a browse of our Customer Spotlight section to find out more about the real value products such as Divi have brought to businesses worldwide.
We're also committed to giving back to the wider community by providing a steady stream of high-quality, useful content right here on the blog. Be sure to check out our Freebie of the Week, Resources and Tips and Tricks sections in particular.
WooThemes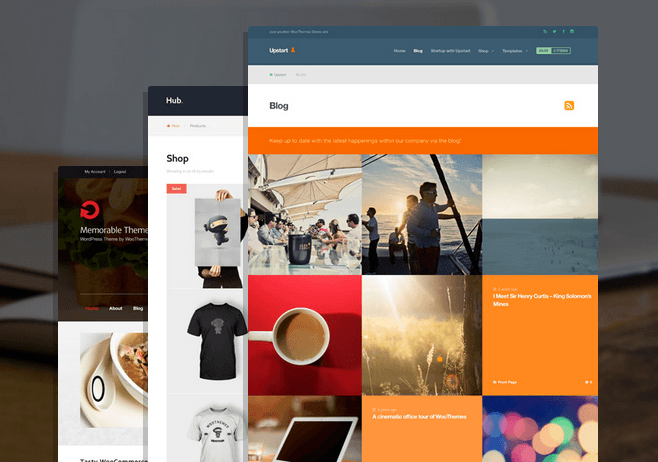 WooThemes have been going strong since 2008, offering a range of plugins and premium themes. However, it's the world of eCommerce that they've really made their own with the incredibly popular WooCommerce plugin.
According to WooThemes' own estimates, WooCommerce now powers over 25% of all online stores and has been downloaded over seven million times – a staggering achievement. They're even running conferences dedicated entirely to its use these days.
With WordPress facing increasing competition from sources such as Squarespace and Shopify, the creation of a solid WordPress-based eCommerce solution that plays well with other themes has been a major contribution to the industry at large.
Factor in their active participation within the wider community and promotion of third-party WordPress service providers and it's clear to see that WooThemes is set to remain an influential presence for years to come.
Envato
Mention website themes in general and sooner or later the conversation will turn to Envato. Their ThemeForest service is the 800-pound gorilla of the theming space and an occasionally polarizing presence in the wider WordPress world.
There's no denying the figures though. ThemeForest is the 88th most trafficked web property in the world and boasts over 31 WordPress developers who've sold more than $1 million of products through their market.
With those types of numbers – and a wider network of sites that includes perennial favorites such as Tuts+ – Envato won't stop making waves anytime soon.
Hosting Providers
Despite the relative ease of its Famous 5-minute Install, reliable hosting has long been a bugbear for WordPress site owners of all sizes.
With WordPress powering over 23% of the web, hosting companies have been forced to sit up and take notice, and most high profile providers now offer at least some sort of offering specifically tailored to WordPress.
The last five years have also seen the rise of a number of companies exclusively dedicated to solving the WordPress hosting problem for their customers. Here are three of the most influential examples.
WP Engine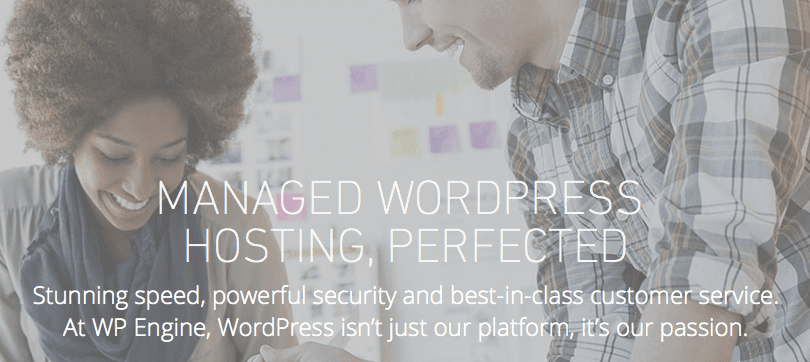 With over 250 employees, 300,000 sites hosted and a successful funding round of $23 million recently secured, WPEngine is making a serious play to be the market leader in the managed WordPress hosting space.
Their promise to remove the hassles of system administration from site owners' lives naturally comes at a price, but they're backing up their words with an emphasis on security, support for cutting-edge technology (such as Facebook's HHVM) along with their own in-house innovations.
WP Engine's blog is also an excellent source of technical information for WordPress developers of all experience levels in series such as the Finely Tuned Consultant.
In addition to writing an excellent blog, CEO Jason Cohen is a regular and entertaining speaker online on the subjects of both hosting and entrepreneurship. His thoughts on the subject of growth hacking and his recent overview of the world of WordPress hosting are both well worth watching.
Flywheel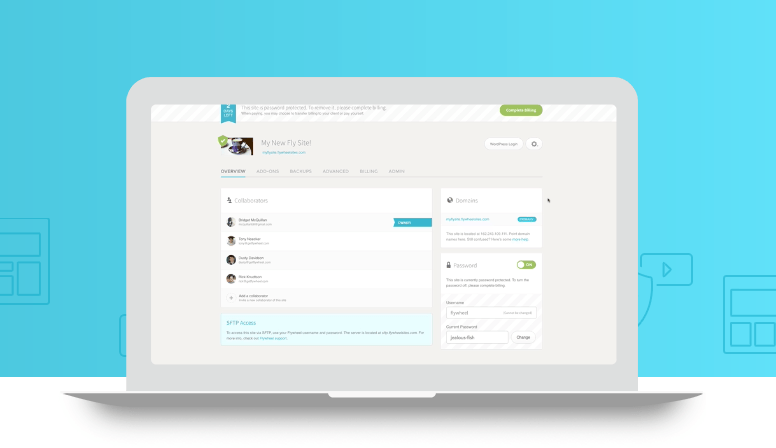 Designers and creative agencies have long leaned on WordPress as their CMS of choice for client work. Flywheel are trying to corner this market by offering dedicated hosting targeted at the requirements of that exact niche.
It's a smart idea. System administration is generally not exactly at the top of the list of agencies' core competencies, and the option of being able to seamlessly hand off that part of the equation to experts – while selling the service onto clients – is an attractive one.
Flywheel's integration of designer-focused tools for collaboration and previewing along with well thought-out solutions for site staging and invoicing show their commitment to addressing the needs of this segment in depth.
Flywheel also provides an excellent blog and series of introductory guides targeted specifically at designers and agencies.
Pantheon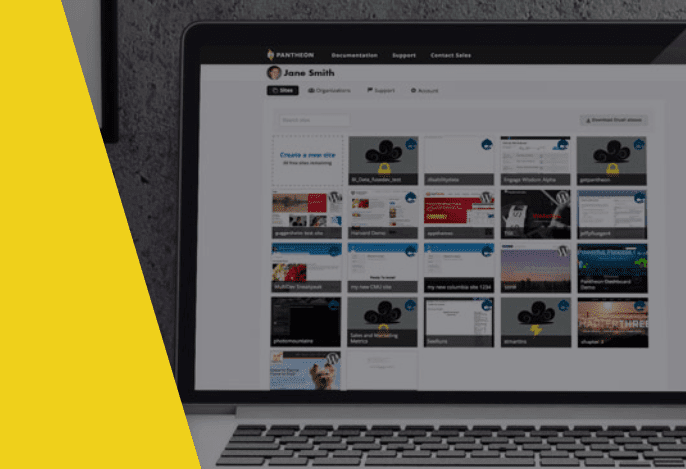 Pantheon is something of a dark horse in the WordPress hosting space.
Originally founded to cater exclusively to Drupal setups, they've recently taken the plunge into supporting WordPress and are attracting high-profile initial buzz for their developer-friendly services. One to bookmark for the future.
Outsourcing
The growth of WordPress over the last decade has opened up a world of freelancing opportunity for experts across the globe.
This has been more than matched on the demand side with a huge range of firms looking to hire remote workers rather than limit themselves to local candidates.
A number of businesses have naturally sprung into the resulting gap as intermediaries, looking to match seekers and providers in return for a cut of the action. Here we list three of the most important ones.
Upwork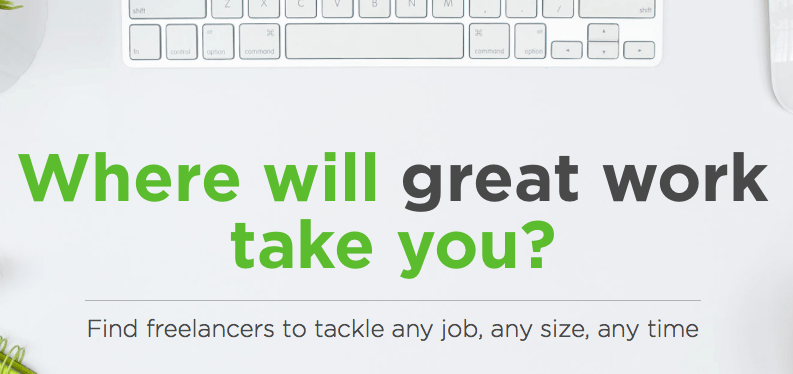 Upwork might be a new online presence, but the names oDesk and Elance should ring a bell for most WordPress users. Their respective marketplaces have provided the backbone of many independent service providers' incomes for many years.
By providing reliable systems for portfolio listing, client acquisition and billing, both companies made it easier for WordPress experts to step outside their local environments and offer their services worldwide – a truly revolutionary change in the world of freelance work.
The recent merger of these two outsourcing giants under the Upwork moniker suggests that they are looking to make a serious play for the space as a whole, so expect them to be facilitating WordPress work opportunities for quite some time to come.
WP Curve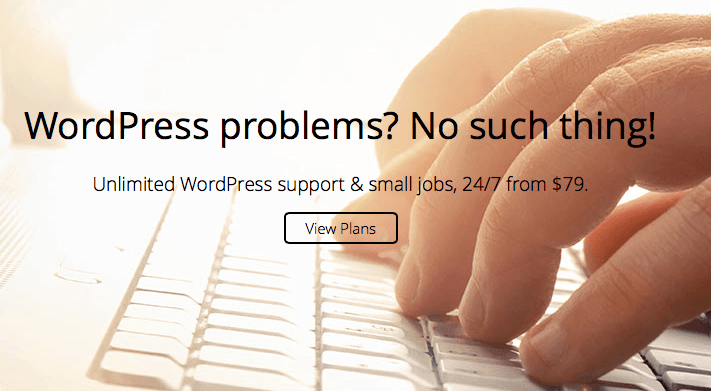 WP Curve have approached the problem of WordPress freelancing from an interesting angle – a simple monthly flat-rate fee gives site owners access to an unlimited amount of minor site changes and repairs from a small team of expert developers.
It's an interesting model, effectively productizing a set of services that have traditionally been a nightmare for site owners to manage in any kind of cost-effective way.
Founder Dan Norris has also taken the lessons learned during the creation of the business and turned them into a compelling book – The 7 Day Startup – that will be of considerable use to business owners starting up in any number of other niches.
Codeable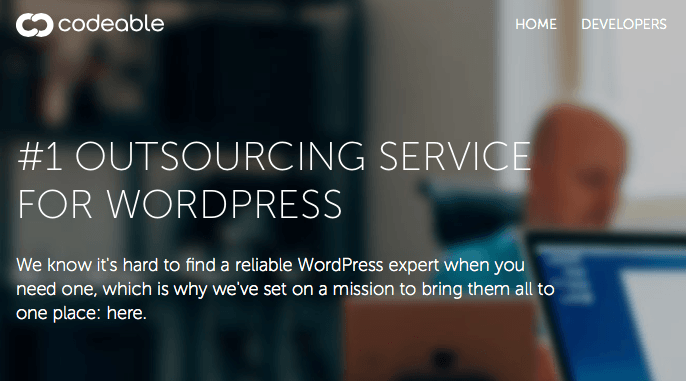 Heavily featured on WooThemes' partner provider directory, Codeable claims to be the number one dedicated WordPress outsourcing service in the world.
They've come a long way in a short time since being founded in 2012, swiftly scaling up to provide on-demand expert WordPress assistance from a hand-picked pool of over 140 developers.
It's an approach that seems to be working with some extremely impressive stats posted on their site including 72% of first-time customers returning with new projects.
All-rounders
WordPress is rightly famous for its flexibility as both a CMS and site-builder, and is regularly used by a mix of business owners, content managers, designers and developers for all manner of use cases.
This multi-disciplinary background is reflected in the rise of a number of influential firms in the WordPress world whose range of operations is far from limited to just one particular area of expertise.
Here we highlight three of the most influential all-rounders in the WordPress world.
Copyblogger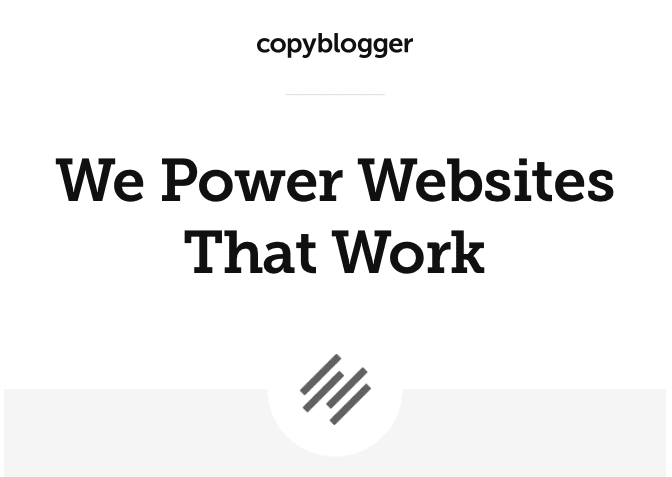 Copyblogger's journey to success mirrors that of WordPress itself in many ways. From basic blog beginnings, it has grown to become a fully-fledged online content empire, astutely leveraging WordPress to ride the content marketing wave as it's scaled up.
Copyblogger has long been a must-follow resource for any aspect of online content creation, but has recently branched out into a series of spin-off businesses with WordPress very much at their core. Chief among them are the Synthesis hosting platform and StudioPress theme suite.
The truly superb Copyblogger blog is also a must-read for any business owner due to its reliably excellent mix of copywriting, marketing and content advice.
Incsub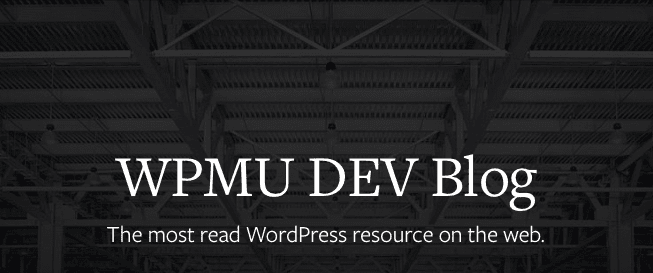 The name Incsub may not instantly mean much to most WordPress users, but their two core properties – WPMU DEV and Edublogs – certainly will.
Edublogs has been one of the most high-profile WordPress Multiuser community platforms in the world for many years, and the expertise garnered in creating it has been poured into WPMU DEV, one of the industry's leading theme and plugin membership sites.
WPMU DEV has long distinguished itself as a service through its active community, range of white-label video offerings and comprehensive support options. Their blog is also rightly regarded as one of the leading WordPress resources online.
Yoast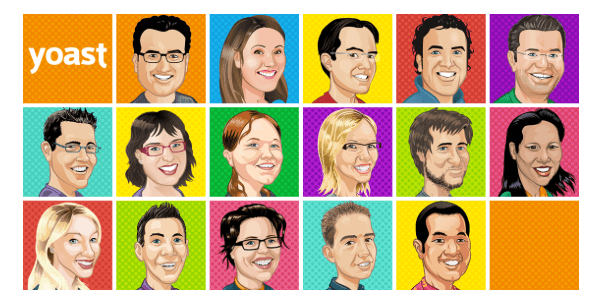 Starting life as CEO Joost de Valk's personal online presence, Yoast has morphed over the years into one of the leading SEO and website optimization companies on the planet, with a particular emphasis on WordPress.
That's been due in no small part to the series of must-have tools they've developed for the community during that time, including the widely used WordPress SEO Plugin.
Joost is a regular speaker at events around the WordPress world – in addition to hosting YoastCon – and the company's blog is a go-to resource for business owners looking to maximise the SEO and conversion potential of their sites.
News
Keeping up with developments across the WordPress world has become more and more of a full-time job in recent years as the platform has expanded.
Luckily, several sites are doing an excellent job in that area, keeping WordPress users in the loop with a steady stream of news, articles and timely opinion pieces.
Many of the best resources out there are actually in the blogs of companies mentioned above, so we will limit ourselves here to just one main additional offering, along with some honourable mentions.
WP Tavern

WP Tavern has been serving up comprehensive coverage of WordPress since 2009 with a mixture of news, opinion pieces, interviews and its must-listen weekly podcast.
Its core team of writers keeps quality consistently high and offers a refreshingly non-commercial and non-partisan take on all aspects of the WordPress ecosystem.
The low-key purchase of WP Tavern by Audrey in 2011 led to it being able to pursue a non-advertising based existence, and the community as a whole has benefited substantially from this freedom ever since.
It has become a true authority site, a great read, and one of the most influential sources of industry news.
Further honourable mentions in this space – in addition to the resources we've highlighted above – have to go to Matt Report, WP Lift, WP Mayor and the WP Engine-affiliated Torque Mag.
Conclusion
We hope the businesses above demonstrate both the massively increased viability of WordPress as a platform and the range of interesting companies taking advantage of it.
Even with all of WordPress' phenomenal growth, there's a feeling that we're really only at the beginning of this story. We'd love to get your feedback on where you think it's heading.
What areas do you see the next wave of big WordPress companies coming from? Are you running your own WordPress-based business and looking to share your story? Which direction should the platform be growing in and how much bigger can it get?
Let us know your thoughts in the comments below!
Article thumbnail image by Biro Emoke / shutterstock.com
Disclosure: This post contains affiliate links that support our team and keep the free blog content flowing. When you purchase something after clicking an affiliate link, we may receive a commission.