When you think about all the pieces essential to your site's design, typography should be up at the top of the list. The typography you choose for your website will–to a large degree–determine how your brand is perceived, if your content is consumed, or even how effective a call to action is. That's why in today's post I've compiled a list of 33 free cursive fonts you can use (with the help of a certain plugin) to add something special to your WordPress website.
Subscribe To Our Youtube Channel
Find Your Match: 30 Free Cursive Fonts You Need to See
It requires a lot of thought and planning when trying to define each element of your site's design. The same holds true for your typography, so make sure not to skimp on that part of the process.
While it's not really difficult to find high quality free cursive fonts, you'd be better off spending your time looking at fonts that fit your specific style rather than sifting through multiple lists to find one or two that you maybe like. That's why we've compiled this list of free cursive fonts, broken down by the following categories:
Standard
Casual
Hand-Drawn
Modern
Ornate
Standard Cursive Fonts
These tend to work really well for websites related to education, children, or for anyone who wants to showcase their lighthearted side.
1. 5th Grade Cursive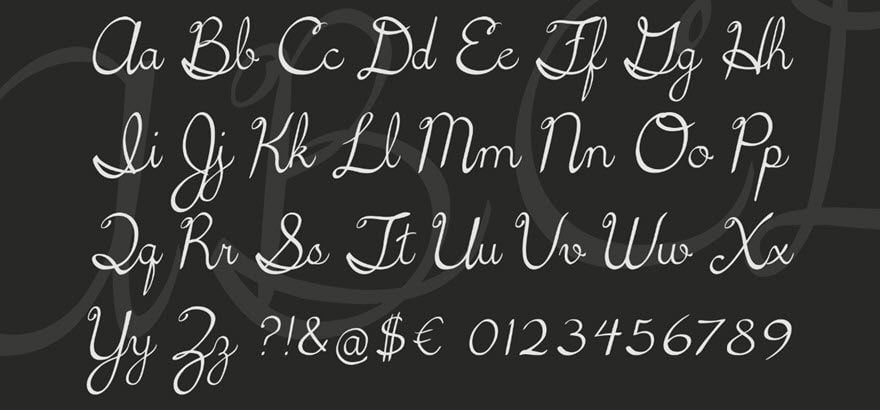 For when you're feeling nostalgic about those cursive handwriting classes they made you take in elementary school (or because you have an education-related website this would look great on).
2. Alex Brush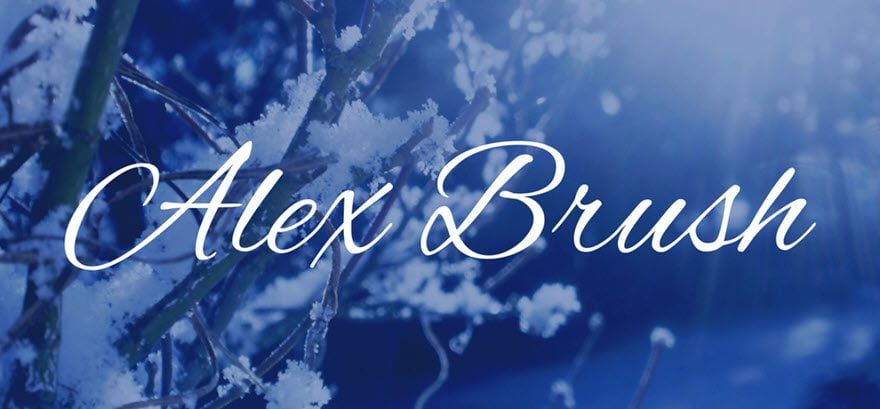 For when you want to add a little more swoop to what would otherwise be a standard-looking cursive font.
3. Allura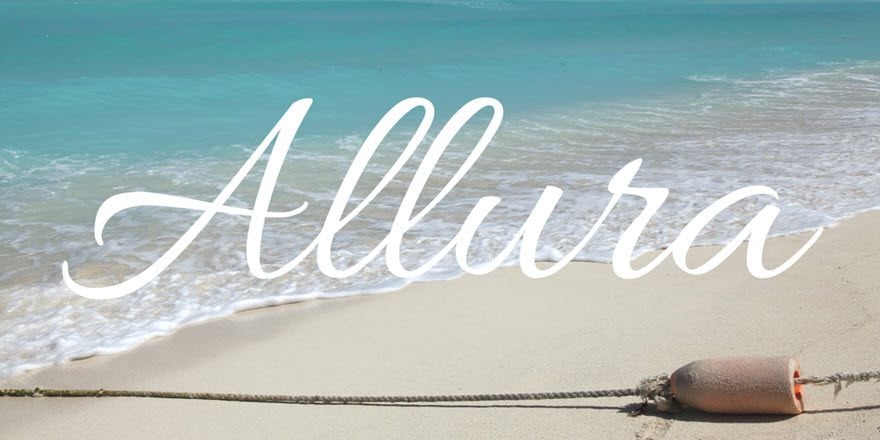 For when you want an easy-to-read cursive type that reflects your laidback style, but you need an extra dash of flare.
4. Learning Curve BV

For when you want to kick it old school: chalkboard style. Here's a simple, clean cursive font that works just as well for bloggers as it does for educators.
5. Little Days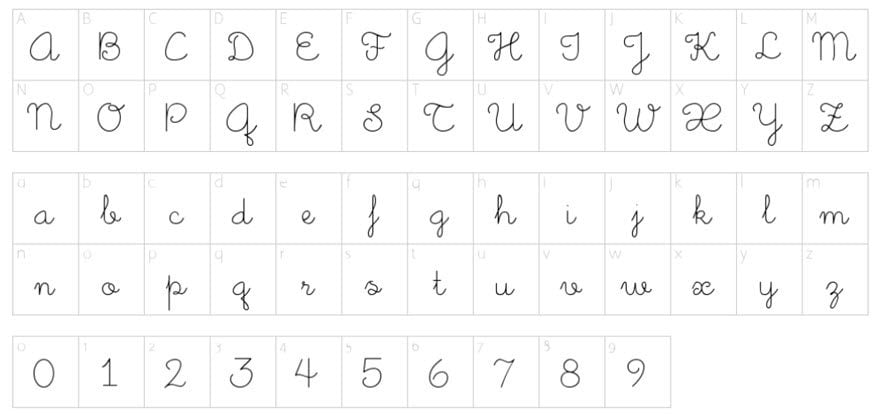 For when you need a font that shows off your website's inner child… or when you just want to get playful with your typography.
Casual Cursive Fonts
These are some of the more versatile fonts, working well for you personally, professionally, or somewhere in between.
6. Dancing Script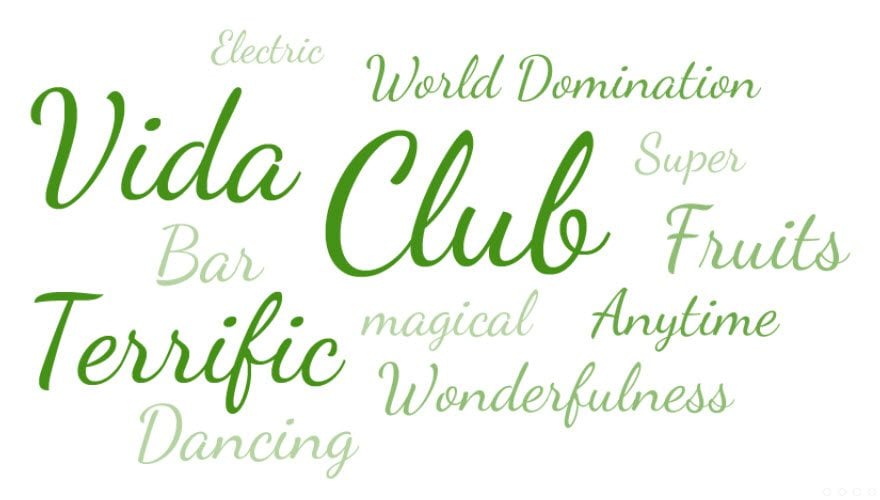 For when you need a little extra spring in your step… and your typography, this casual cursive font works great in a professional setting.
7. Honey Script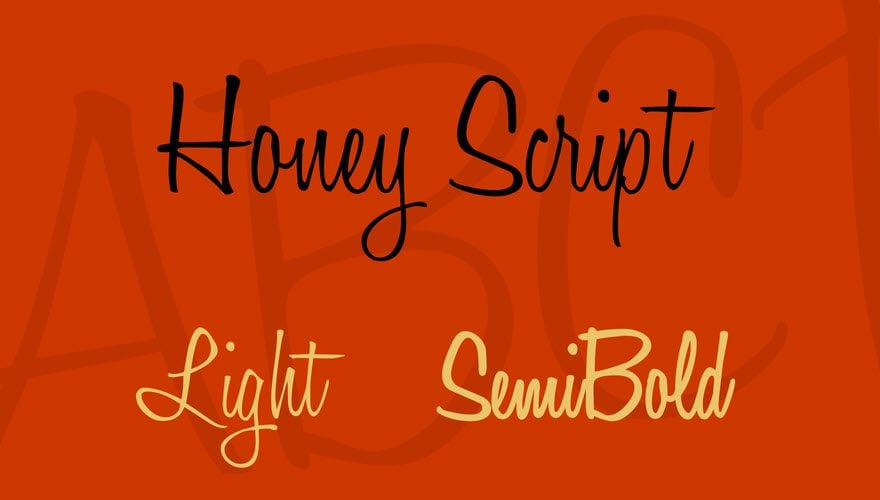 For when you're looking to convey a dash of speed and urgency, but still want to keep it lowkey, check out this font that gets the "point" across.
8. Variane Script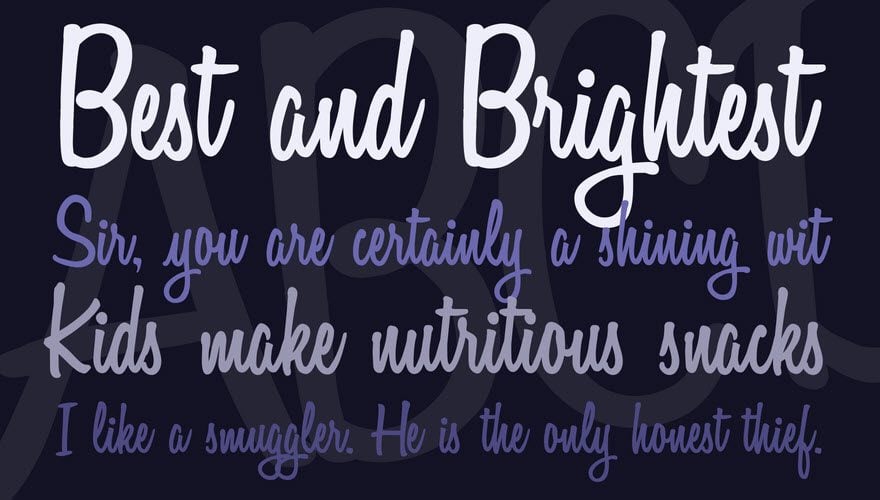 For when you're feeling adventurous and want to venture out with a bouncy, rounded cursive font that's not afraid to play around with with handwriting styles.
Hand-Drawn Cursive Fonts
For businesses (and other website owners) that want to show that there's a person beneath all this great-looking imagery.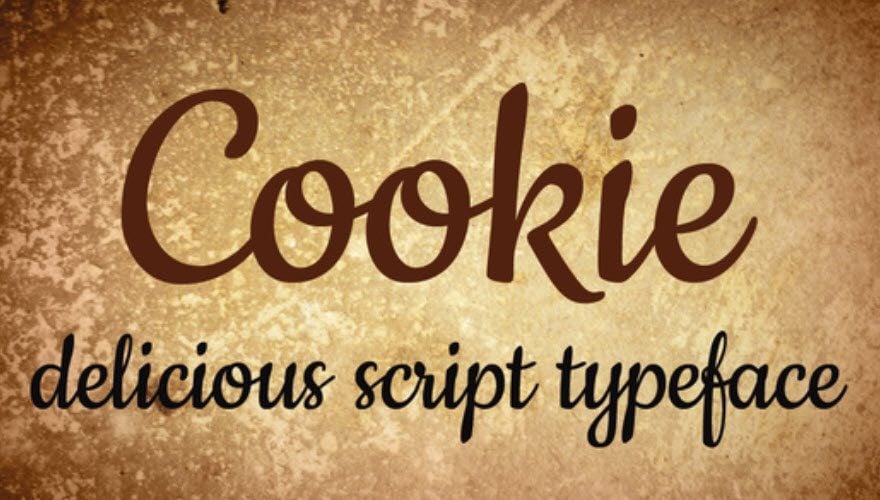 For when you want a cursive font that gives your typography a realistic spin and can work in a variety of settings.
10. Crunchy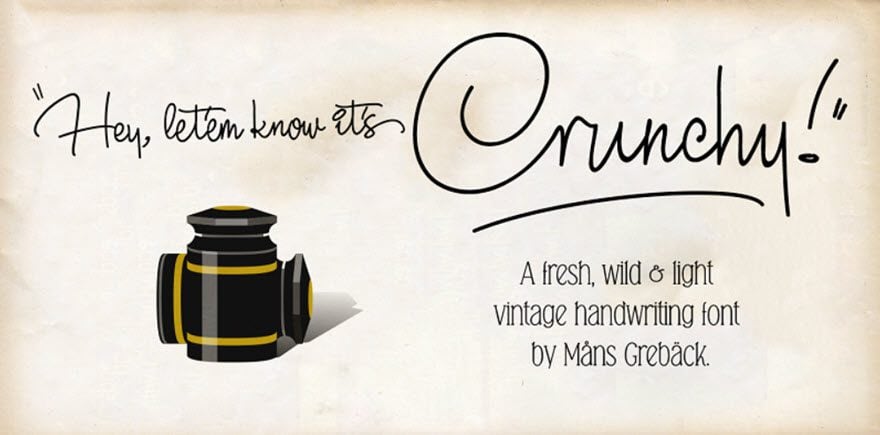 For when you want a font that looks like you took the time to personally handwrite each and every single note on your site.
11. Dawning of a New Day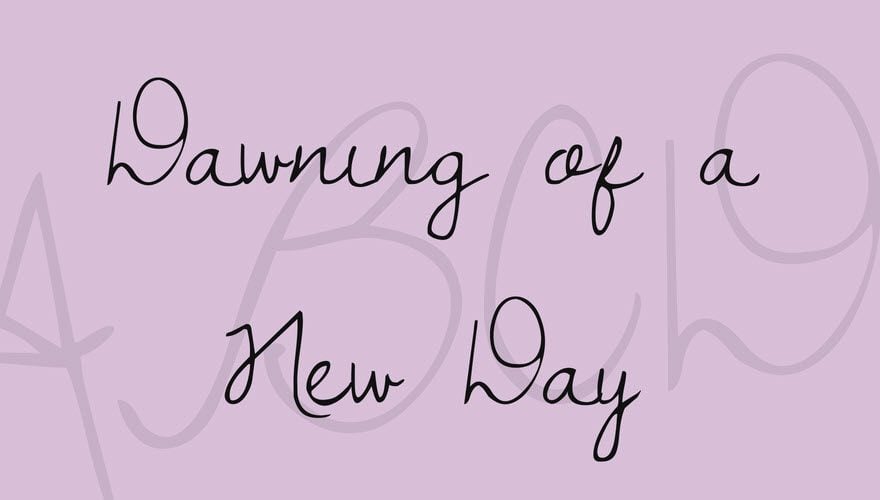 For when you want to put a fresh spin on your cursive typography and make your website resemble a journal entry or a school essay.
12. Hickory Jack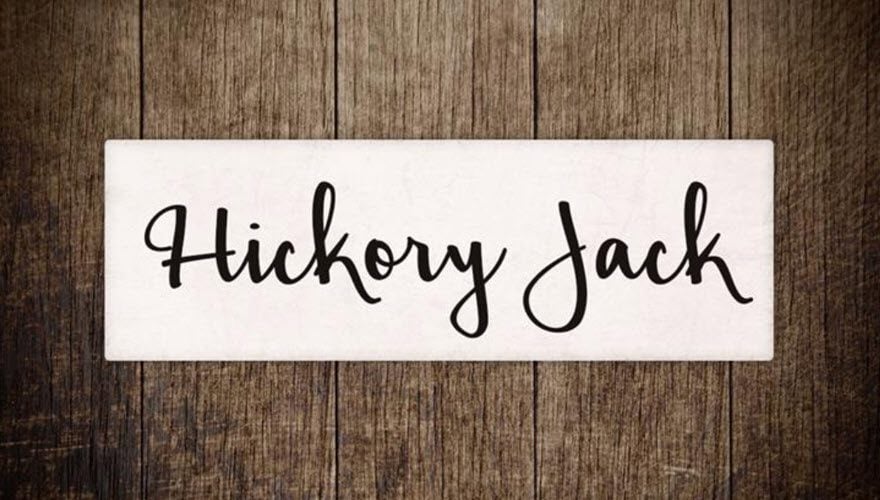 For a pretty font with a laidback style, the Hickory Jack font is fun, easy to read, and can be used in a variety of settings.
13. I'm fashionista

For when you want a fancy and stylish message to splash across your home page or any super-simplified, but colorful banner space.
14. Nickainley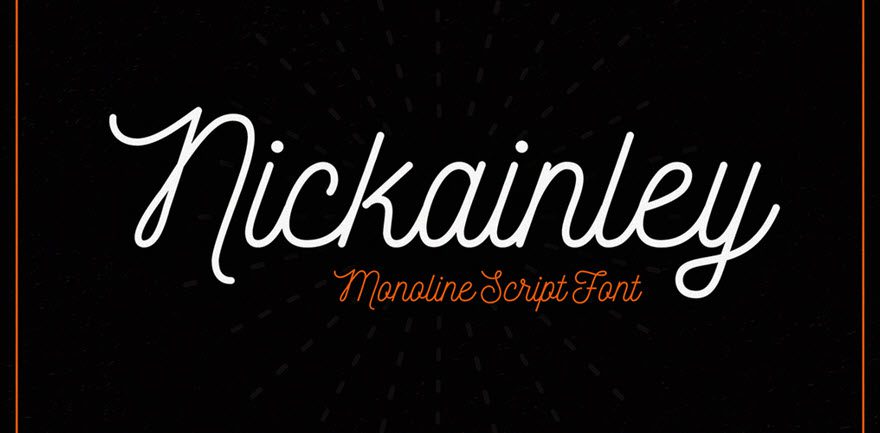 For a mix of modern and vintage to pair with your minimalistic web designs and eye-catching photography.
15. Sacramento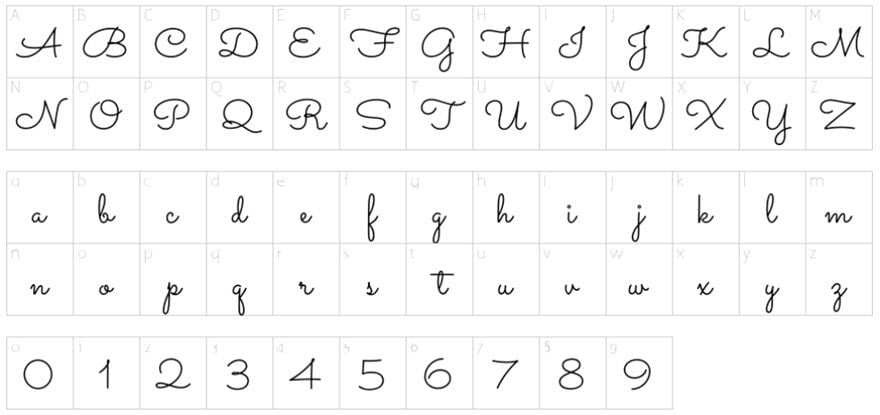 For when you want your website to reflect how easygoing, yet super organized you are, choose this clean and imperfectly perfect cursive font.
16. Serendipity Script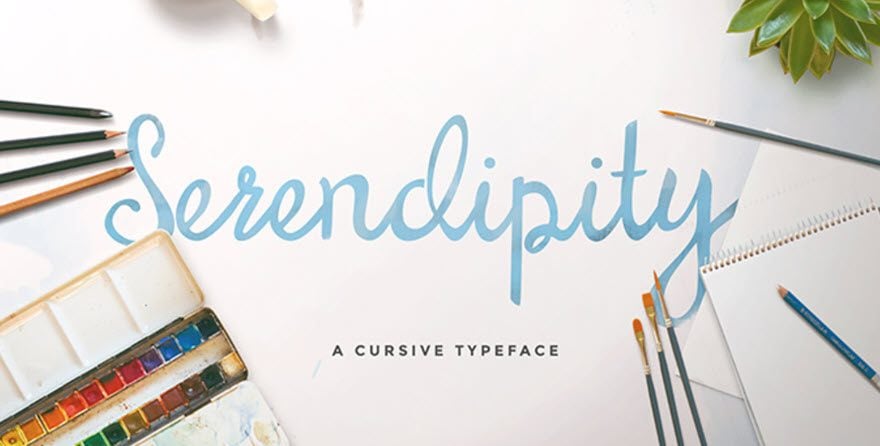 For when you want your inner artist to shine through, turn to a cursive font that looks like you brought your paint brush to the game.
17. WindSong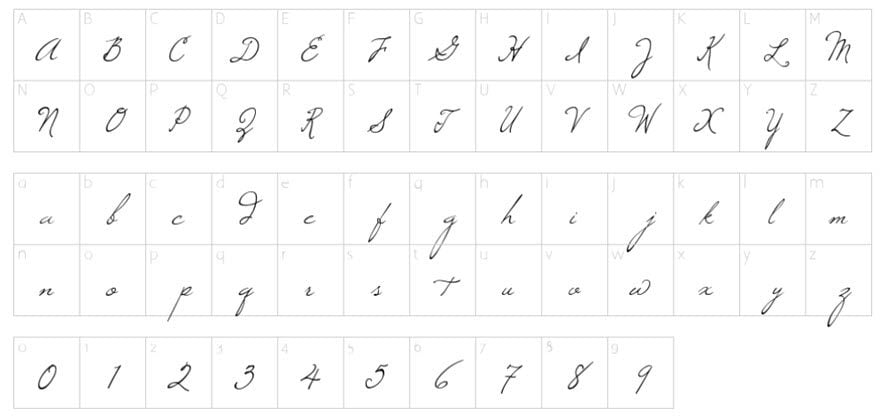 For when you want to give your messaging a flair for the dramatic… or you want to include a "handwritten" note to your site's visitors.
Modern Cursive Fonts
These are the funkier fonts of the bunch. They work really well on minimalistic web designs that want a serious pop of content here and there.
18. Badhead Typeface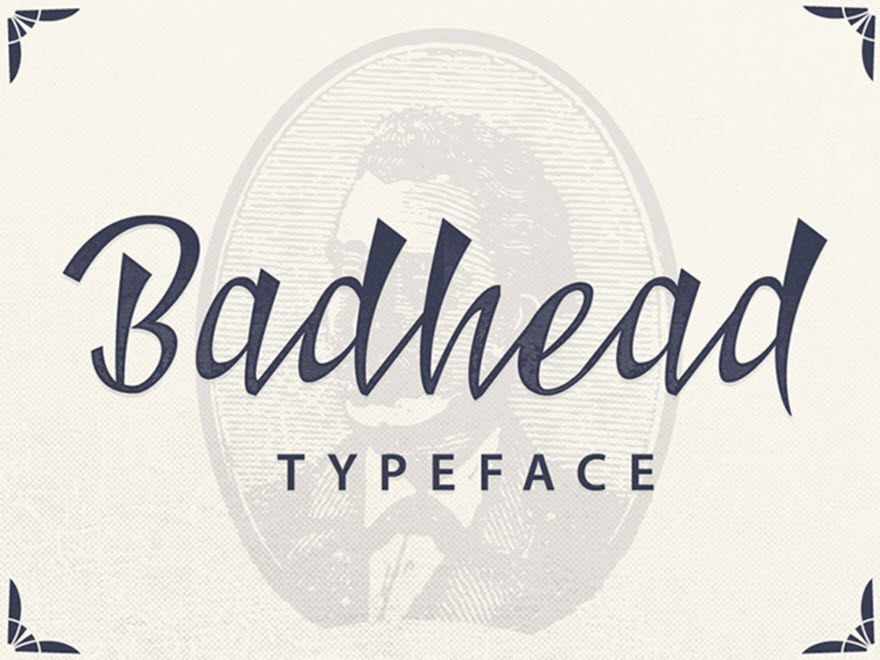 For when you want a super cool and edgy font worthy of inclusion in a Quentin Tarantino movie.
19. Blenda Script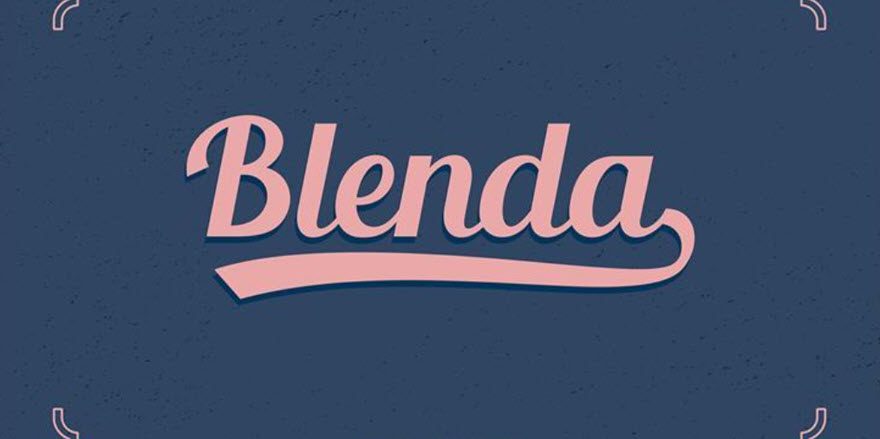 For when you want a cursive font that doesn't look like real cursive, but still gives you that super streamlined and connected flow of lettering.
20. Fabfelt Script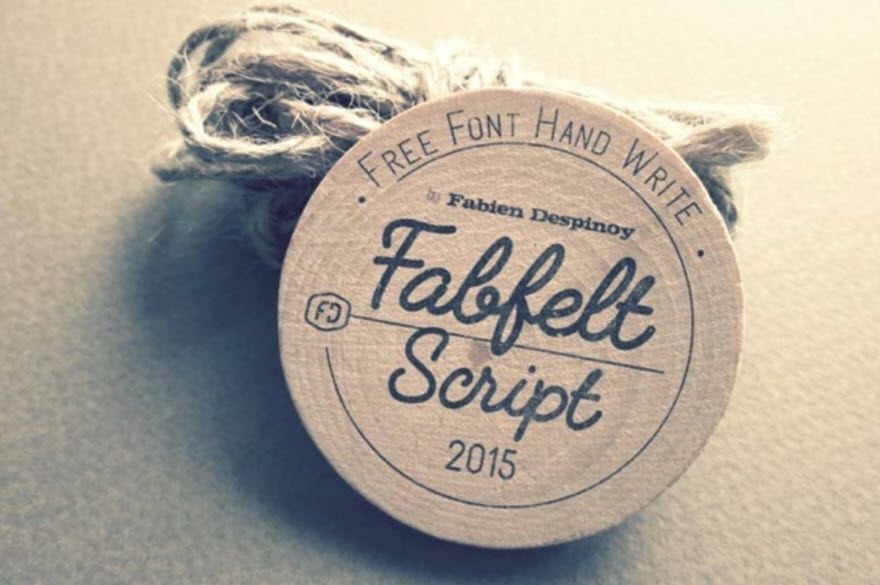 For when you need a casual and playful font to better draw attention to your main content.
21. Grand Hotel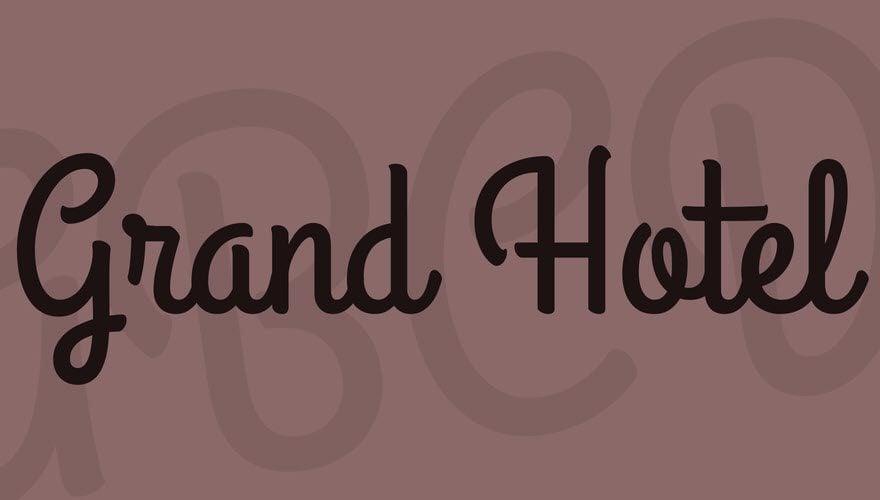 For when you're feeling festive or just want to add extra fun and pep to your words, this easy-to-read font can be used across your website.
22. Hamster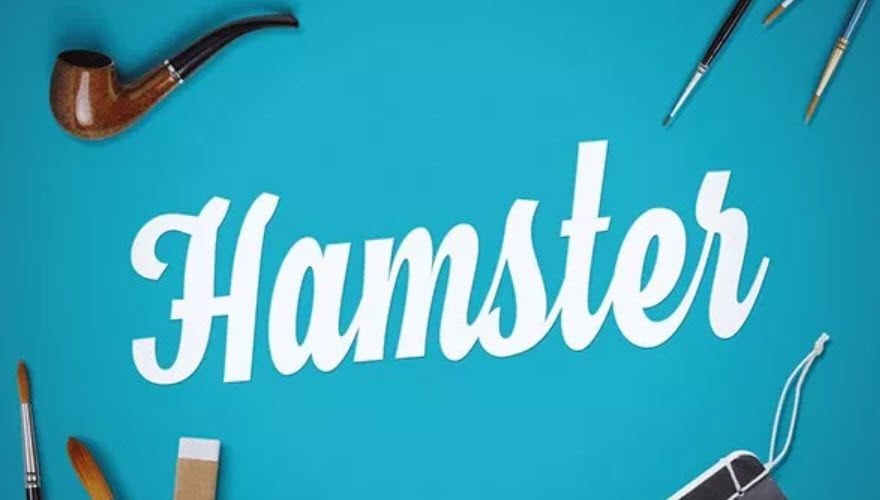 For when you've got a really cool headline or title that could do with some extra flash and chunky letting.
23. Beautiful Bloom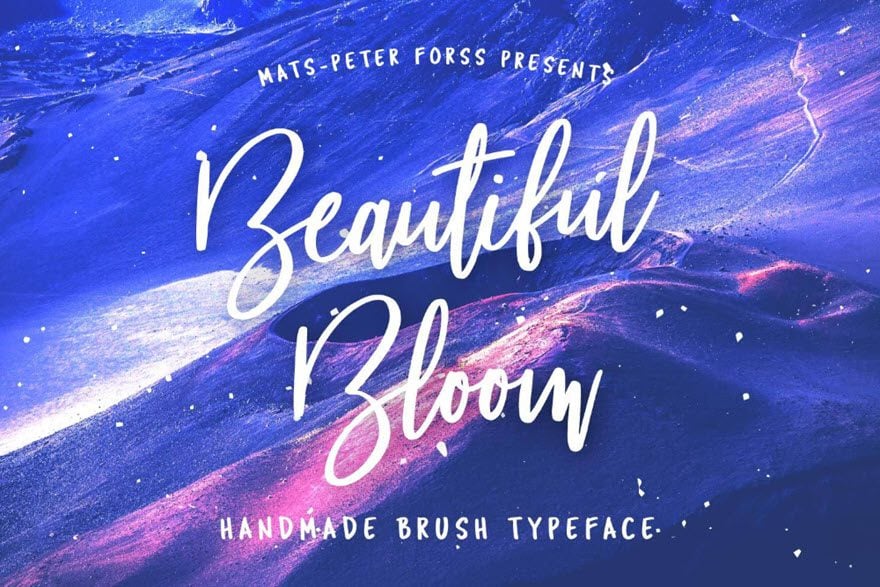 For when your web design deserves some bold brushstroke typography that's imperfectly aligned, but still really pretty to look at.
24. Lobster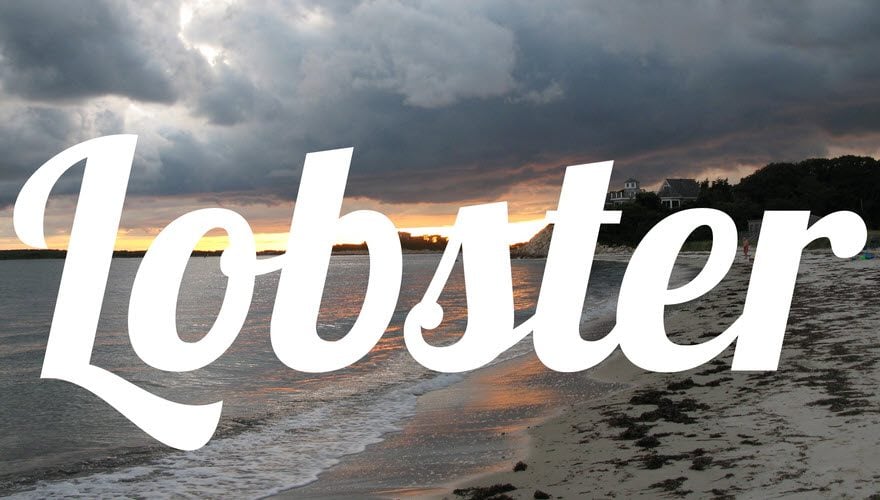 For slick marketing-savvy typography that'll put your website on par with the likes of Abercrombie & Fitch.
25. Marketing Script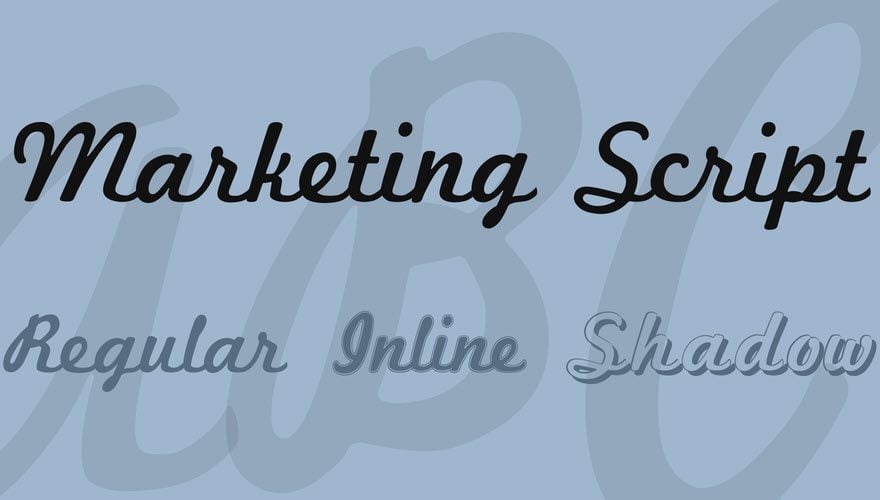 For a smooth, streamlined cursive font that has the built-in flexibility for all your marketing needs.
Ornate Cursive Fonts
For a website (and business) that prides itself on being classy and doing things the traditional way, an ornate font is the perfect complement.
26. Aguafina Script Regular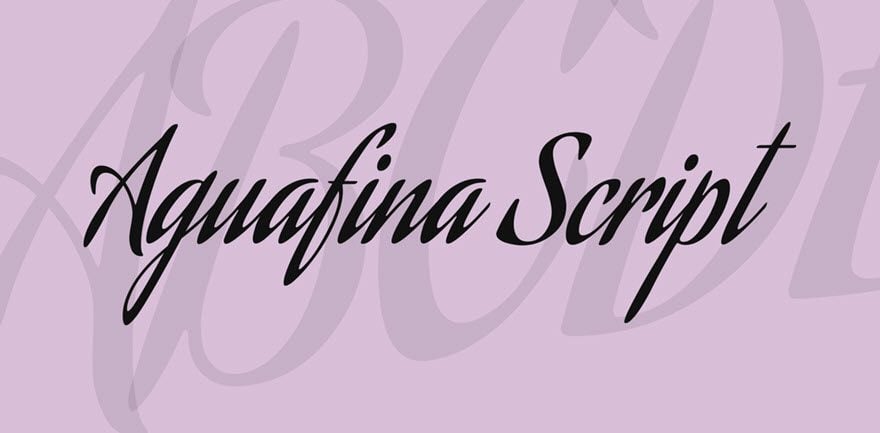 For when you want to demonstrate your brand's edginess through sharper and slender lettering.
27. Blessed Day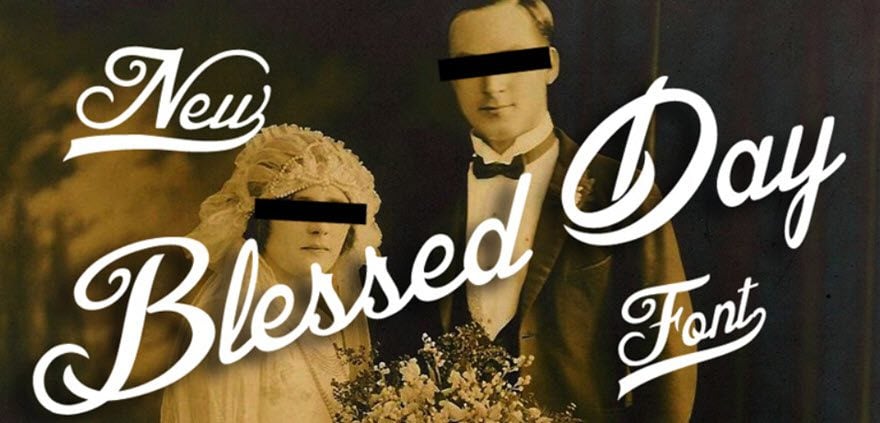 For when your website sells cupcakes… or does something equally worthy of this cute font.
28. Great Vibes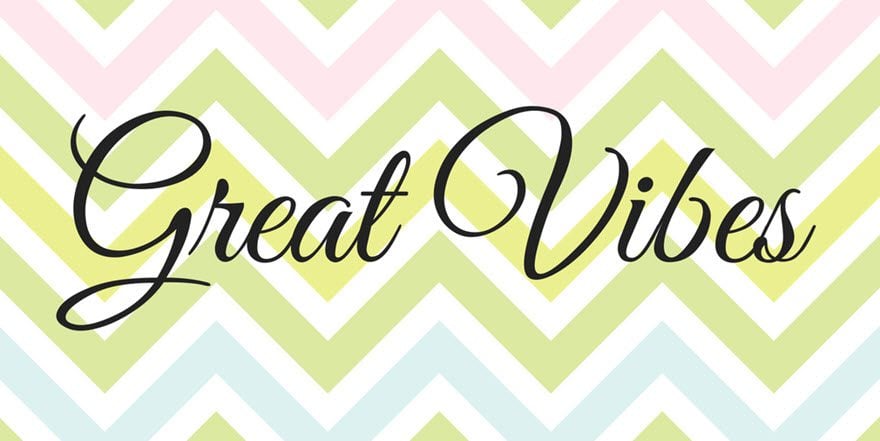 For when your visitors deserve a more grandiose welcome or when you want to add a touch of flare to the top of every page.
29. Precious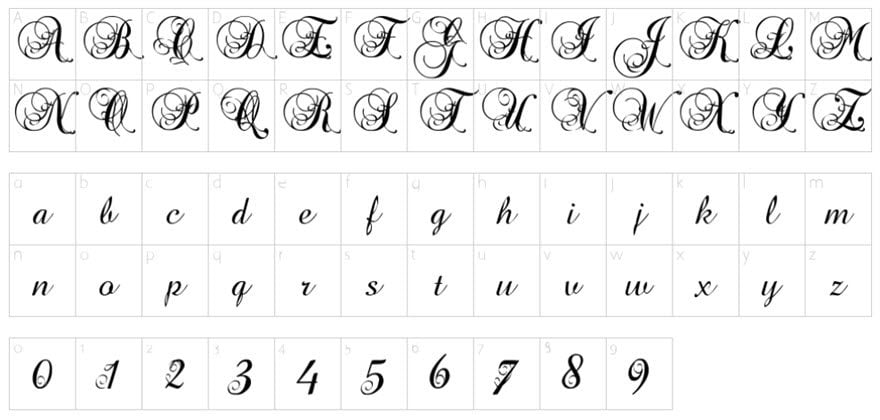 For websites that want to give their initial letters a literary flare while preserving a simplified sense of professionalism throughout the rest of the text.
30. Wisdom Script

For when your high-class, professional web design deserves a sophisticated cursive font to go alongside it (or, rather, on top of it).
31. Wolf in the City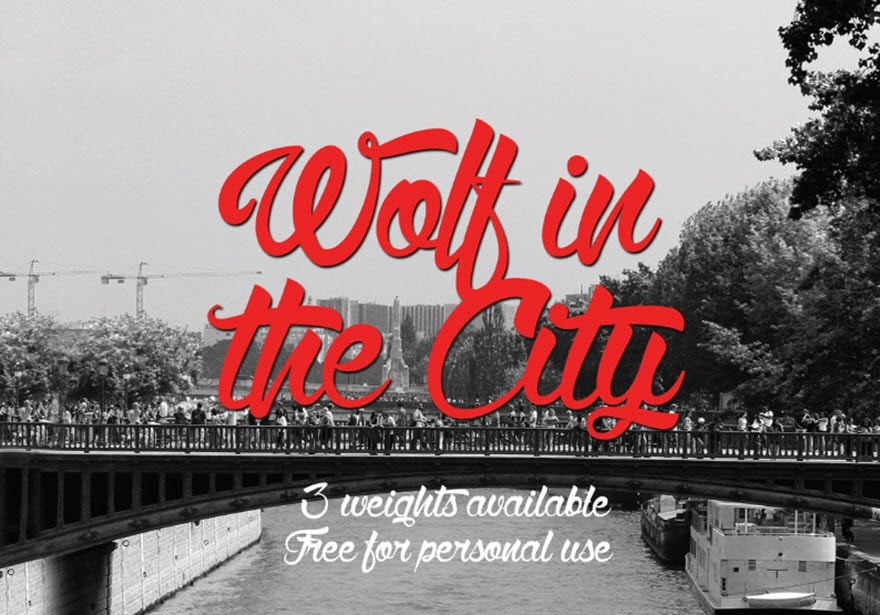 Elegant enough to use in any professional setting, but not so formal that it makes your business seem aloof.
32. Milton One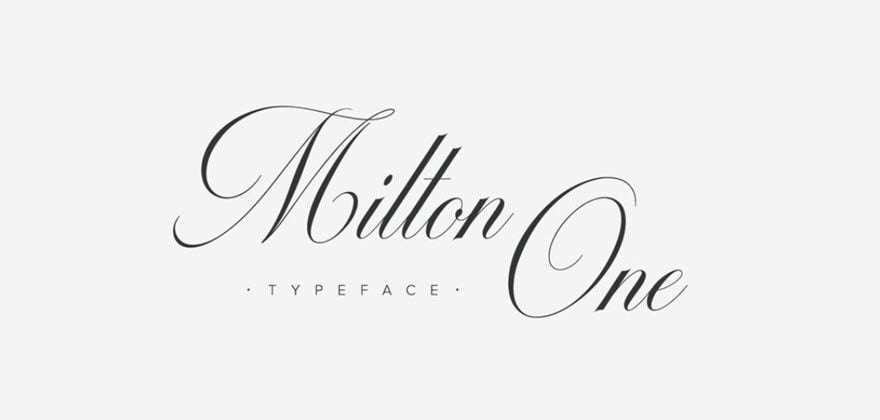 Sometimes you see a font, and you know exactly what kind of event or business you're dealing with. Milton One gives you that impression for sophistication, elegance, and class.
33. The Secret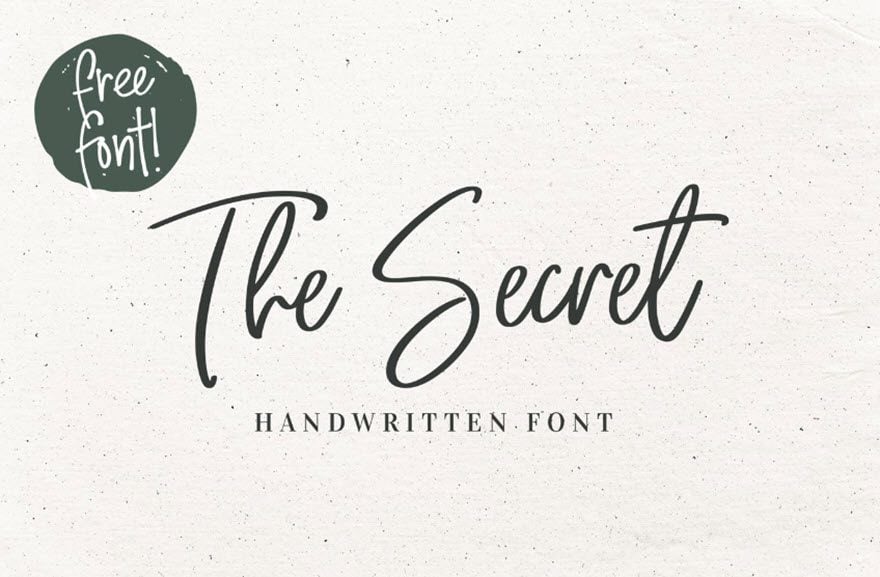 Walking the line again between casual and sleekly formal, this font should remind people of the time it took you to write that thank you card or letter. Top-tier and personal.
A Few Things to Keep In Mind
The cursive font you select—whether it's one of the ones we've recommended or one you've found on your own—should abide by the following:
The kerning, tracking, and leading shouldn't detract from the readability of the font.
Use only one cursive font per website.
Align the cursive font's style with the overall look of the website.
Choose a font that invokes the right type of emotion from your visitors.
Check the font across all browsers to test for compatibility and responsiveness.
Once you've found a winner, add it to your site and give it one more gander. At the end of the day, you want any typography that appears on your website to somehow reflect who you are. If you choose an ornate cursive font that screams "super sophisticate", but you're running a website around selling kids toys, that will clash just as badly as mismatched photos or an incompatible color palette will.
Conclusion
If you think about it, free cursive fonts are a pretty useful tool to have in your arsenal as a web developer. Not only are they a really fun way to add an extra bit of flavor to your website, but they're also a quick and free way to give your website a facelift every now and again.
Over to you: let us know what makes a good font choice for you and if you found a match for your project in our list of free cursive fonts!
Article thumbnail image by lyeyee / Shutterstock.com