The WordPress Admin has a long history of slow design innovation. Up until recently it was still quite ugly. But the rise of new competitors such as Ghost, who made a name by promoting a radically new vision of what a blogging admin could look like, forced WordPress to make significant strides in beautifying its backend.
As much as most WordPress users are happy about this (in a general sense) the possibilities of what's possible with WordPress on the front-end have so far outstripped the user experience on the backend that simply cleaning up the existing admin may not be enough.
According to some interesting articles popping up recently on Medium and WP Tavern, WordPress Admin themes are going to be all the rage in 2015. Their potential to alter the user experience for site administrators in the same way that traditional WordPress themes have for front end users is stirring up a lot of excitement. And more than a little debate.
That's why in today's post I'd like to explore what WP Admin themes have been so far and what they might become in the future. And of course the discussion as to whether or not that's the best thing for WordPress will rage on in the comments.
What Are WordPress Admin Themes & Why Use Them?
WordPress admin themes are similar to regular WordPress themes in that they alter the design and user experience of the WordPress admin.
In the beginning of their use (and to a certain degree up until today) WP Admin themes have primarily been about changing the design of the WordPress backend.
For years WordPress had a bad reputation for an ugly and clunky admin that many felt was a drag to use. WP Admin themes were mostly a way to give a design face-lift without altering the overall experience too much.
I've included all of the most popular examples of altered WP Admins up to this point in the section below.
Some Current Examples of WordPress Admin Themes
The WP Admin theme examples below all change the design of the admin to match an aesthetic design sensibility not offered by the default WP Admin–with a few added bonuses such as customizability, branding, etc.
Slate Admin Theme

Slate is designed to bring a clean and simple look to the backend of WordPress. The goal is to simplify the visual design so that writing can be the primary focus.
Price: FREE | More Info
Cream6 Admin Theme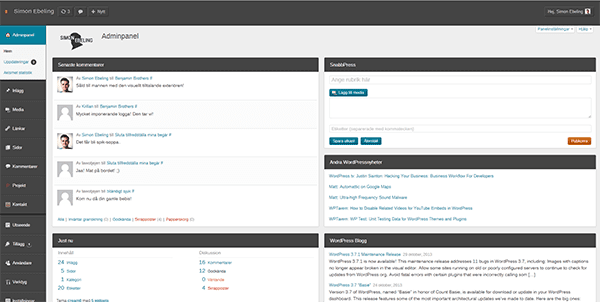 Similarly, Cream6 is another design face-lift style WordPress Admin theme that basically leaves everything the same–only changing arbitrary design elements to make the backend more "user-friendly".
Price: FREE | More Info
Bootstrap Admin

Bootstrap Admin takes the famous Twitter Bootstrap framework and applies it to the backend of WordPress. Like the other options here in this first list, it merely skins the admin without really changing it.
Price: FREE | More Info
Forest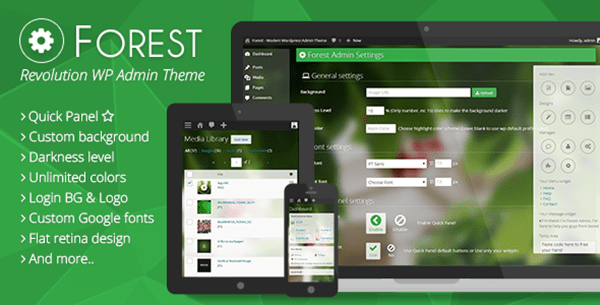 The Forest Admin theme is designed to make the traditional WP Admin less boring. It brings a lot of flat design elements and beautiful transparent background images into play. You are also able to custom brand the backend to match whatever install you're working on.
Price: $14 | More Info
Micropanel 2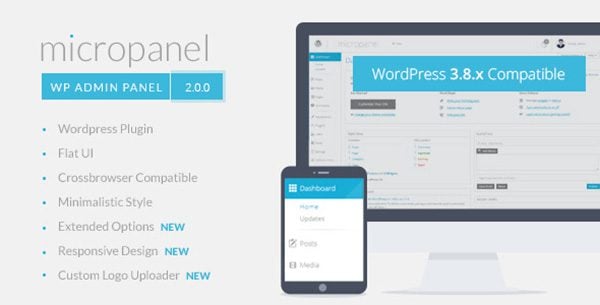 Micropanel 2 also uses flat design and minimal style to make using the traditional WP Admin more enjoyable. As with Forest, you're able to add custom branding elements to the backend too.
Price: $14 | More Info
Rebrand WordPress Admin Theme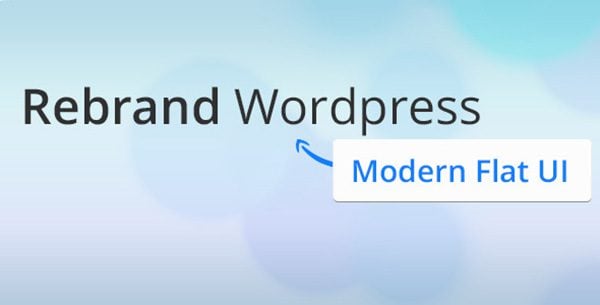 The Rebrand WordPress Admin theme focuses on providing custom branding options to the login and admin areas of WordPress.
Price: $14 | More Info
Blue Press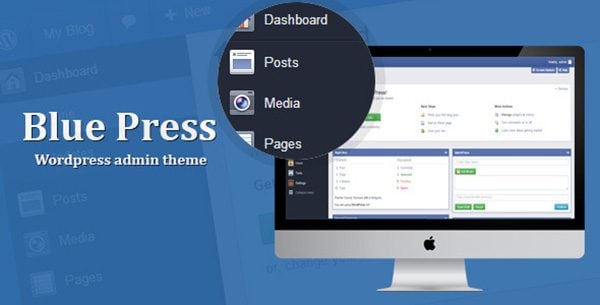 Blue Press is designed to make the backend of WordPress feel a bit more like your favorite social networks. Not in terms of functionality, but in terms of color schemes and design elements.
Price: $14 | More Info
Easy Blogging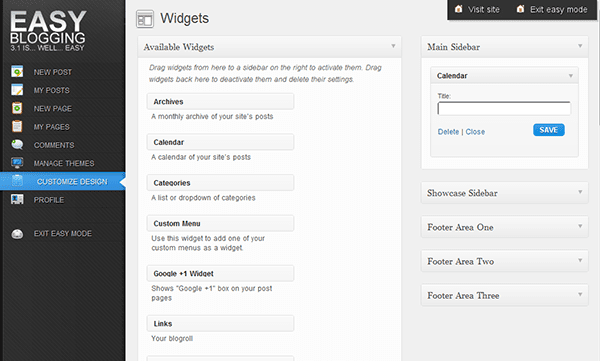 Easy Blogging is meant to simplify the often intimidating WP Admin so that blogging is easier for new WordPress users. This is great for clients who will want to create posts/pages but are not cut out for managing the more complex elements of the WP Admin.
Price: $19/month | More Info
The Problem with the Current Approach
The current approach is ok if all you want is to change the purely cosmetic elements of the WP Admin. With the exception of Easy Blogging, all of the above examples fail to offer up a fundamentally different experience. Which, it is becoming more and more clear, is going to be the most important element of a WP Admin theme moving forward.
If all you want is a different color scheme than what WordPress comes with there are several options to choose from in the user profiles section. What is going to really define the future of WP Admin themes in 2015 and beyond is their ability to provide custom tailored WordPress experiences for the different use cases WordPress is put to.
In fact, I would go so far as to suggest that a better way of referring to WP Admin themes would be WP Admin experiences. I've gathered a few examples below to show you why.
A Few New Approaches to Custom WordPress Admin Experiences
Each of the examples below are different takes on WP Admin themes. What sets them apart from each other and the default WP Admin alike is that each one is catered to a specific WordPress use case instead of just a different design preference.
Now granted, Pickle is the only one out of the examples below that do not require you to join their managed WordPress Platform as a Service. However, all of these examples show what is possible when it comes to creating unique experiences on the backend of WordPress and I think more will follow in Pickle's footsteps to create a CMS experience that reflects what you're trying to accomplish on the front-end of the website and nothing more.
Pickle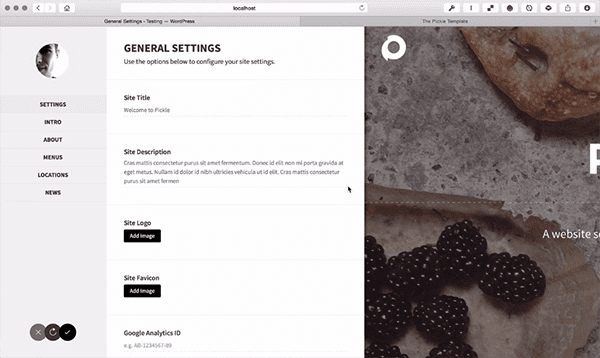 If I'm understanding the preview video (which you can see by clicking the more info link below) Pickle is a WordPress theme that alters both the front and back ends of WordPress. The goal being to match the backend CMS to the exact needs of the front-end website–and drop everything else.
The image above shows what the backend looks like. All of the traditional WP Admin options and styles have been stripped away. The only things you are able to do in the admin are set the theme options.
Happy Tables
Happy Tables is a Platform as a Service built on WordPress. It's designed to make building and managing restaurant websites easier and more effective. As you can see in the image above, the WP Admin is themed so that the CMS experiences is catered to someone running a restaurant.
Jetty
Jetty is an enterprise conversation management platform built on WordPress. It allows its customers to monitor conversations, collaborate on content, launch relevant websites, and distribute content–all from one place. As you can see in the image above, they've heavily modified the WP Admin to facilitate this process.
Rainmaker Platform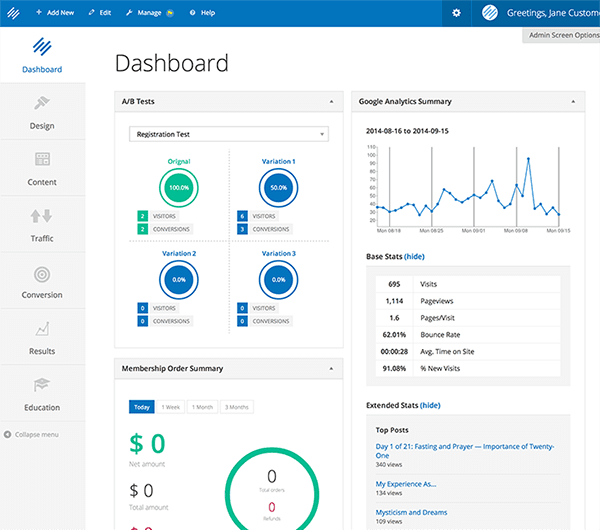 The Rainmaker Platform is our final Platform as a Service built on WordPress. This customized WordPress experience is geared towards online marketing and sales websites who create digital products and membership programs. Everything about their platform and Admin is designed to facilitate the success of this particular type of WordPress user.
Final Thoughts
Not everyone is on board with WP Admin themes. Nick Haskins, creator of the Aesop Story Engine, recently wrote a blog post about how he doesn't believe WP Admin themes are the answer.
In a nutshell, he suggests that in many cases there is no need for a WP Admin at all. He proposes that we move in a direction in which the front-end editor is robust enough to seamlessly create all of the page and post content most WordPress users are interested in without ever having to bother with a backend admin section.
I agree with this approach, to a point. As I stated above, I think the key thing to consider moving forward with WP Admin themes is whether or not they provide a valuable experience that is catered to a specific use case. But even for people who just want to blog, there are still valuable uses for a WP Admin.
Much like what the Rainmaker Platform is doing, I think most content creators will still want tools for tracking site analytics, users, A/B tests, and more. Which (probably) cannot be best accomplished on the front-end.
My guess is that we will see something evolve that strips the WP Admin down to the bare essentials for each use case while the front-end editor becomes the primary tool for creating new posts/pages.
What are your thoughts about WordPress Admin themes? Please take a minute or two to share them with the whole community in the comments section below.
Article Thumbnail via kmlmtz66 // shutterstock.com