Hopefully you have had a chance to download our latest theme, Divi. As mentioned in the Theme Launch Post, we will be writing a Divi-related post on our blog every day for the next 12 Days of Divi. Be sure to tune in each day for the next twelve days to get your hands on tons of Divi-related tips and resources! If you haven't checked out Divi yet, then click the link below to view the release post with all the juicy details, and for your chance to win a free Lifetime Membership!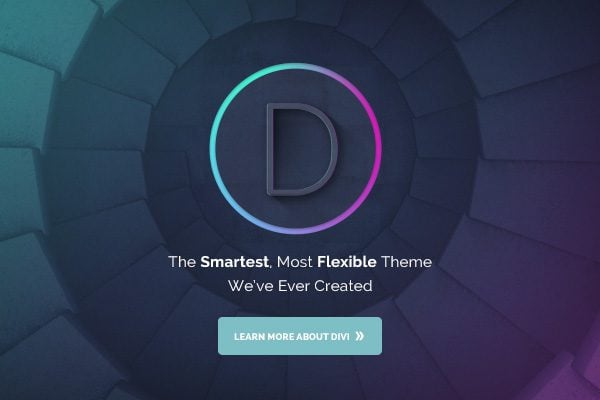 Six New Premade Layouts For Designers
Yesterday we released a tutorial on how to import and export saved layouts in Divi. On that same note, today, we are releasing a portfolio layout pack that you can easily import into your Divi Theme. This download includes 3 creative homepages and 3 project layouts that you can populate with your own content and images. Below are the six premade portfolio layouts that come in this pack. Click on their demo links to see them in action!
Download The Pack
Creative Agency Homepage
This layout is perfect for displaying your portfolio right on your homepage, while also featuring your clients and their testimonials.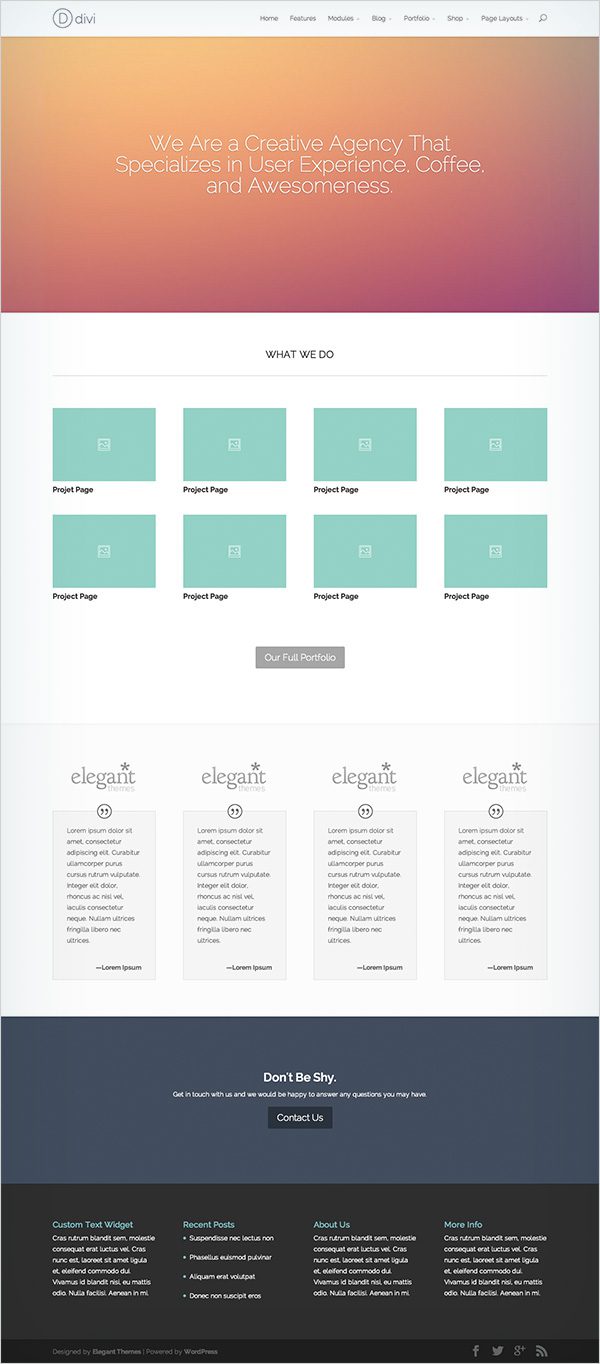 Masonry Images Homepage
This image based homepage is a nice way to display a bunch of images, no matter their aspect ratio.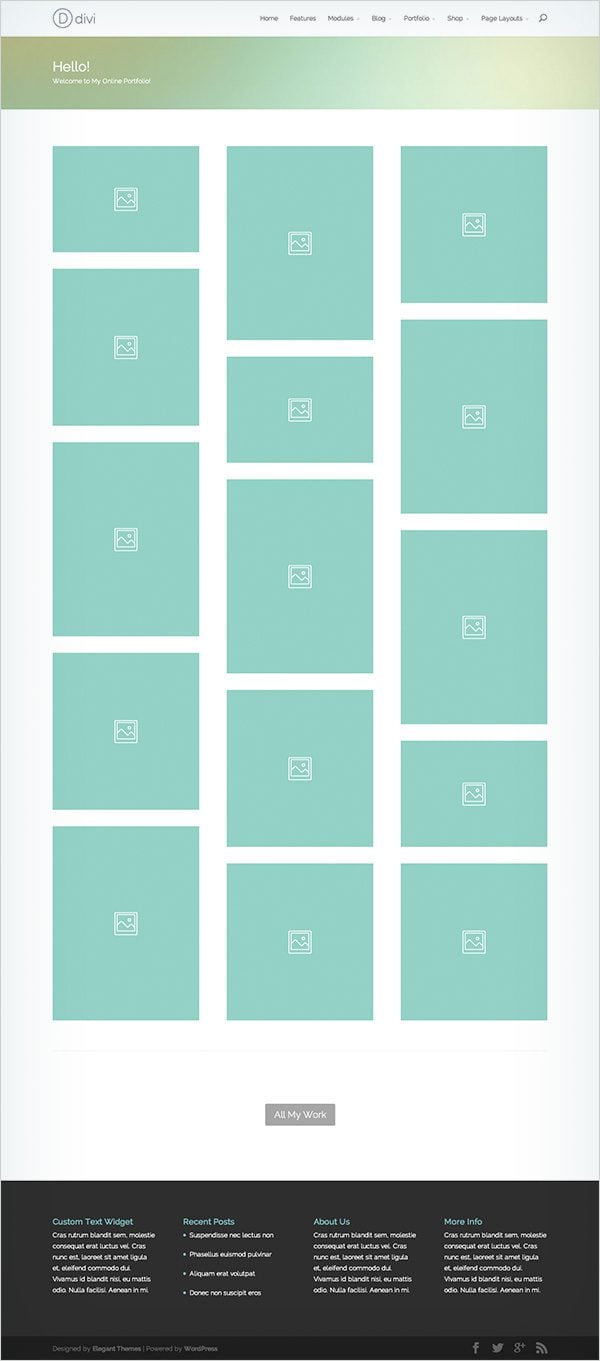 Creative Agency Landing Page
The Agency landing page is a nice welcome page to display your logo, tagline, and a link to your full portfolio. By turning on the parallax effect and uploading the same background image for the top and bottom sections, you can create the illusion of the white banner floating across a single image as you scroll.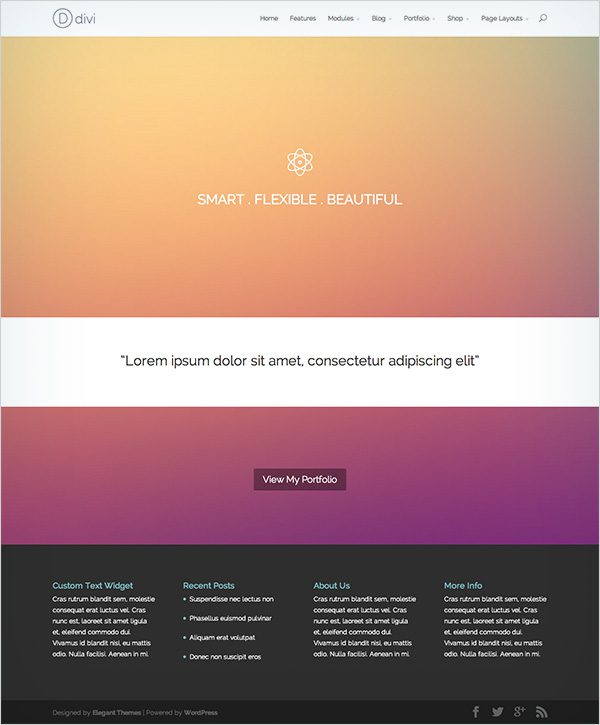 Extended Project 1
By default, Divi formats your project pages for you. However, you can use the Divi builder for project pages as well. This template displays a main image wtih the project description and meta data below. Beyond that are four blurbs, a river of images and a project grid for easy navigation to your other projects.

Extended Project 2
This two column layout is a simple and organized way of placing your project info and images side by side. This template is also capped off with a grid of image for convient access to your other projects.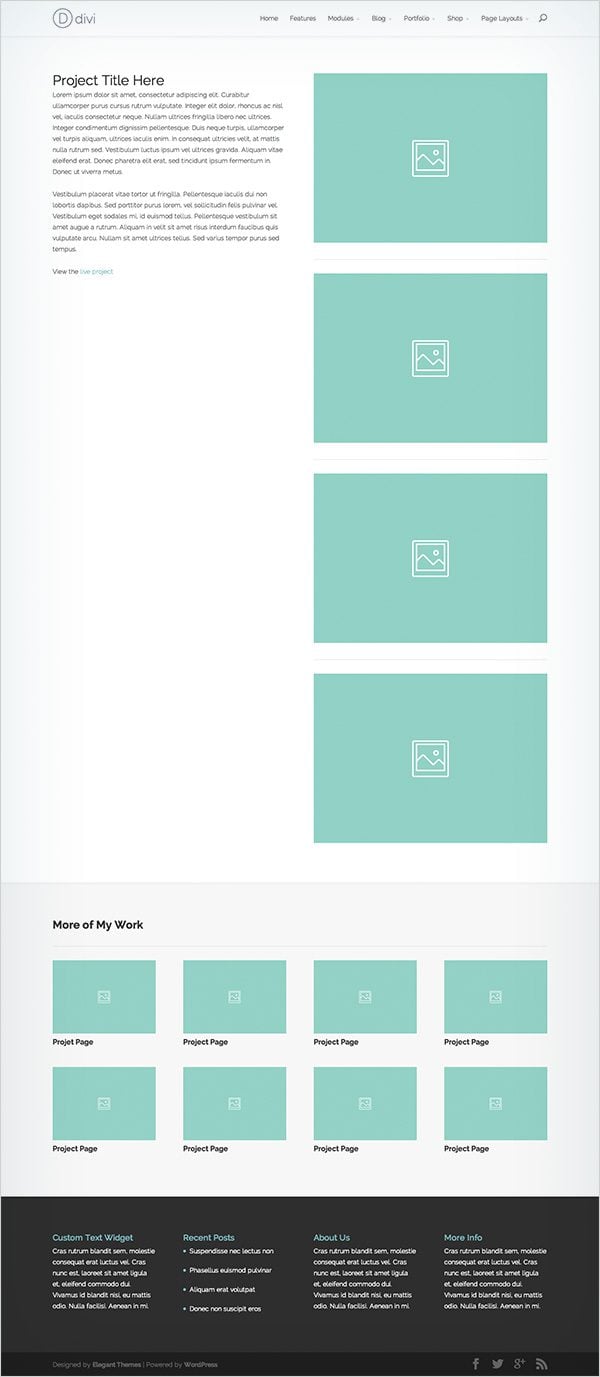 Extended Project 3
This layout is very similar to the Extended Project page in the Divi Demo. The diversity and length of this layout makes it great for case study pages and extensive branding projects.

How To Use These Templates
As outlined in our post yesterday, custom layouts can be easily imported and exported when using Divi. To import these new custom layouts, simply use the WordPress Importer plugin to import the XML file in the download pack above (you must first unzip the download folder to uncover the XML file inside). Once imported, these beautiful new layouts will appear when you click the "Load Layout" button in the builder! I hope this illustrates the usefulness of premade layouts, as well as the power of Divi's importing/exporting feature. Enjoy the layouts 🙂