One thing that has made WordPress so popular with professionals serious about their website's performance is the fact that with the right set of tools you can track, measure, and optimize just about every aspect of your WordPress install. From landing pages, forms, sidebar ads, individual links, whole blog posts or pages, all of it can be analyzed and optimized for peak performance.
In today's post I'm going to highlight some of the best tools and services for analyzing the activity on a WordPress website. With one notable exception of course.
The Best WordPress Analytics Tools on the Web (Other Than Google Analytics)
When it comes to analytics, Google Analytics is nearly ubiquitous. Everyone knows about it and it rightly gets a lot of attention as one of the absolute best options out there for WordPress users. In fact, we published a great post about it not too long ago for those who are interested in a proper introduction to the free service.
In the section below however, my goal is to highlighting other options that do similar or complimentary things for WordPress users. Some of these tools (like Google Analytics) are free, others premium. Each one has its strengths and weaknesses compared to the rest. I've tried to provide all the necessary information you'll need in order to "research in the right direction" before making a decision on which tool and/or service is right for your particular needs.
Let's get into it!
Jetpack

Jetpack is much more than just a WordPress analytics tool, but that is one of its most highlighted features. This free plugin by Automattic uses a WordPress.com connection to bring some of the best features of the fully managed WordPress platform to independent WordPress.org websites.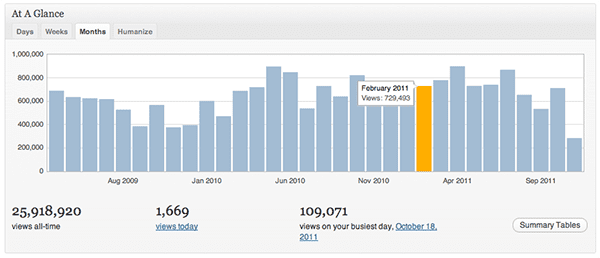 With Jetpack you can measure your traffic by day, week, month and more. There are some other stats you can drill down into, but it is not as extensive as Google Analytics or many of the other options compiled below. However, it comes with a great many other useful features and for a lot of WordPress users this level of engagement measurement is all that's needed.
Key Features:
Price: FREE | More Information
Chartbeat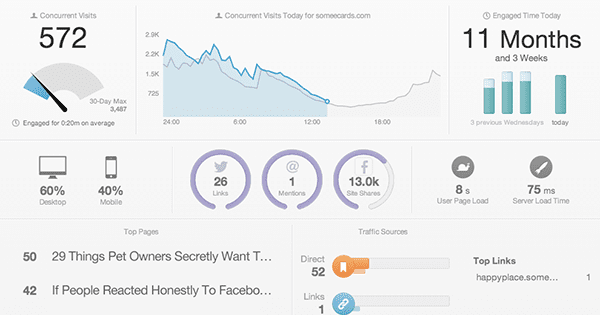 Chartbeat is a real-time analytics service that uses a free WordPress plugin to place the necessary tracking code into your website. You are then instantly able to view real-time stats for you website and audience behavior through their gorgeous dashboard.
Key Features:
Real time traffic
Real time audience behaviors
Tracks website, social, and iOS apps
Price: starts at $9.95/month | More Information
Foxmetrics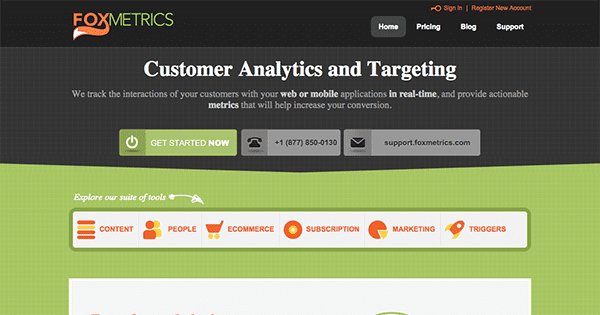 Foxmetrics is one of the few on this list that combines "traditional" page view/session (like Google Analytics) with real-time stats and behavioral information too. They aim to provide an all purpose analytics solution by measuring user engagement and behavior over time and in real-time across content, ecommerce, social, email, and more. At a pretty reasonable price too.
Key Features:
Tracks page views
Tracks behavior
Tracks eCommerce
Tracks Subscriptions
Tracks Email/Social Campaigns
Price: starts at $20/month | More Information
Heap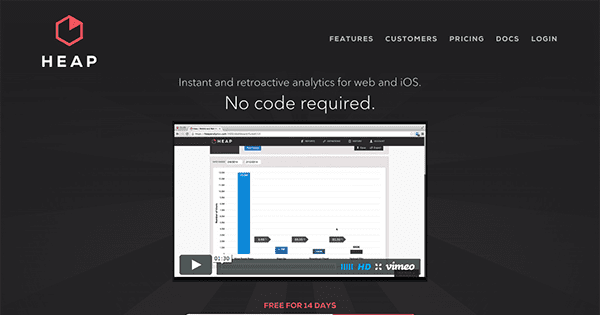 Heap is an attractive, powerful analytics option perhaps especially well suited for web apps. But it will work for conventional sites just as well.
It also seems to be meant to cater to anyone who is especially visual and does not care to mess around with embedding code. Or touching code at all for that matter.
Additionally, all of the features, reports, etc. have a focus on immediate comprehension. One frustration many analytics users often feel is that they don't understand what the data they've captured means. With tools like Heap's event visualizer (and more) that problem is solved instantly for most people.
Key Features:
One Minute Install
Retroactive data
Instant data capture across Web and iOS
Event Visualizer
Real-time Insights
Funnel comparison and analysis stats
Conversion and retention tracking
User-level activity tracking
Price: Starts Free | More Information
Kissmetrics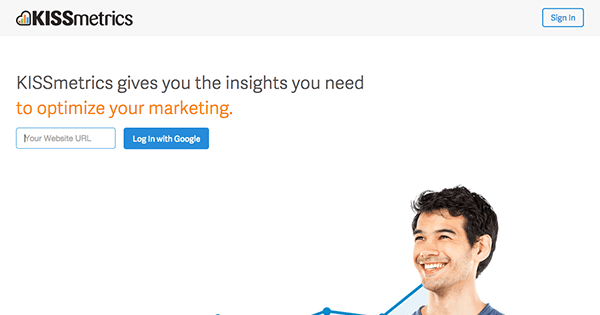 Kissmetrics is all about personalizing the data you track and measure. It is designed specifically to connect each data point with a visitor/user of your website–no matter where they enter at; be that a mobile device, desktop, or multiple browsers.
In a nutshell Kissmetrics wants to tell you how to optimize your content and funnels for people, so you can turn visitors into customers. And they do a great job! But the price isn't small…and therefore probably not for the average WordPress user.
Key Features:
Accurate data on people (not just clicks)
People tracking across devices and browsers
Funnel reports
A/B test reports
Revenue reports
Behavior reports
Price: starts at $200/month | More Information
Crazyegg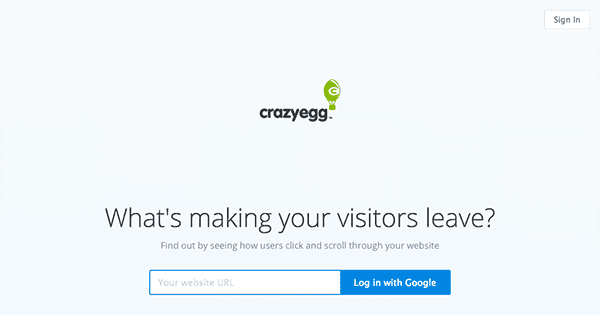 Crazyegg is all about understanding how your users click and scroll through your website. Use heat map style reports it shows you concentrations of clicks, how many people scroll down a page and where they stop, where people come from and who clicks on what the most. It's pretty cool and affordable for most WordPress users too.
Key Features:
Simple setup requiring zero technical know-how
Scroll tracking
Click Tracking
Price: starts at $9/month | More Information
Piwik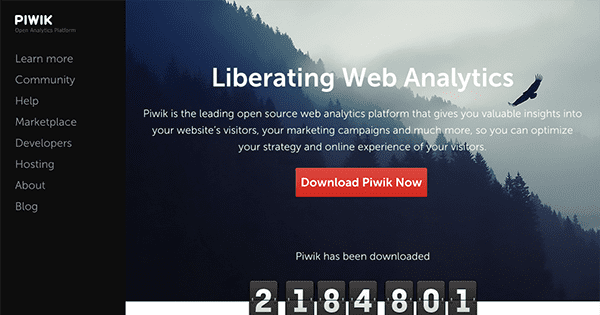 Piwik is a free open source analytics tool for those who wish to keep all of their data to themselves while still tracking everything important to their website. Piwik tracks everything that Google Analytics tracks, takes minutes to install, and can be customized for your needs across desktop and mobile dashboards.
Key Features:
Free and open source software
Tracks all standard visitor metrics and annotations
Customizable Dashboard
Free iOS or Android Apps
Real time data
History explorer
Geolocation
And more
Price: FREE | More Information
Clicky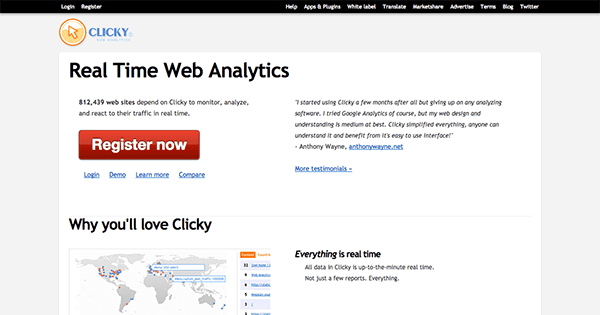 Clicky is similar to both Piwik and Google Analytics in that it basically covers all of the standard data points. Where attempts to set itself apart from the competition is in ease of use, by which I also mean ease of understanding.
I said earlier that many analytics users often feel lost in the complex dashboards of services like Google Analytics. Clicky attempts to combat this by making their dashboard as human readable as possible. It's not a sleak as a few others on this list but everything is easily understandable and what you get for the cost is a great value.
Key Features:
Everything in real time
Individual visitors and actions
Heatmaps
On-site visualizer
Uptime monitoring
Alerts
Ease of use
And much more
Price: $9.99/month | More Information
Woopra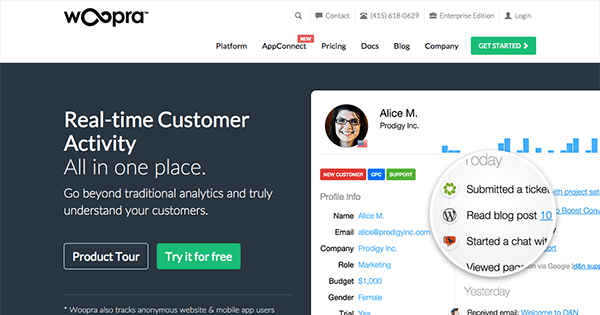 Woopra is a beautifully designed, personal, and real time analytics solution. It not only tracks users (creating user profiles so you can easily see a user's history on your site) but it also uses your data to create automated actions that respond to user behavior–such as displaying personalized content or providing real-time notifications and more.
As far as standard analytics go its got your covered too. You can personalize your dashboard, create segmented reports, funnels, track retention, and a lot more.
Price wise it may be a bit much for the vast majority of WordPress users, but small business and ecommerce stories could really benefit from this service.
Key Features:
Customer tracking
Customer profiles
Real-time analytics
Automated actions
Price: starts at $79.95/month | More Information
Mixpanel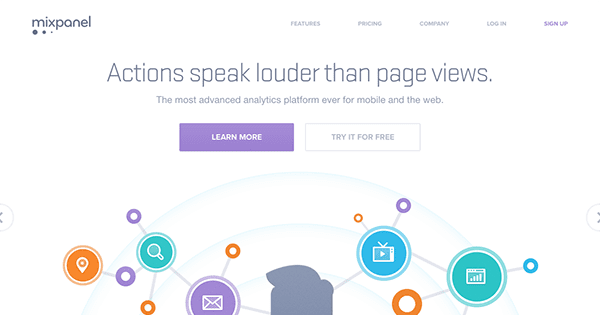 Mixpanel boasts that it is the most advanced analytics platform ever for mobile and web. That's a big boast to be sure, and I'm personally not the right person to be able to answer whether or not it has any merit. What I can say though is that what Mixpanel does is pretty impressive.
Instead of focusing on page views and sessions, Mixpanel focuses on tracking actions and their causes. It also aims to be able to answer some of the harder questions for data analytics to nail down, but which everyone wants to know.
Such as:
"How do my users invite friends?"
And
"Which Google Adwords Campaign gives us the most paying customers?"
Key Features:
Segmentation
Funnels
Retention
Personalization
Notifications
Price: Starts Free | More Information
In Conclusion
There are a great many analytics options out there for WordPress users to choose from. One of the perks of working with the web's most popular website building platform is that just about every major analytics tool or service is compatible.
As I mentioned above though, only you will be able to decide which option is right for you and your needs. Some of these services will be better for those building web apps on top of WordPress, others for ecommerce sites, and still others for more traditional publishing sites.
Thankfully there is something for everyone and something in everyone's price range. My personal recommendation would be to start with the free tools that are available to you. Optimize as much as you can with those tools in order to increase the profitability of your website. Then, if you still find that there are blind spots in your data and analysis, perhaps you can spring for a premium option that has different features.
What analytics tools and services do you use currently? Did you make a switch from others in the past? Share your thoughts and recommendations in the comments section below!
Article thumbnail via TCmakephoto // shutterstock.com