Google AdSense can be a fantastic revenue stream for web marketers running high-traffic blogs and niche websites. However, optimizing your site in order to get the maximum Click-Through Rate (CTR) on your ads can mean lots of additional work. Plenty of theme developers have picked up on this, and as a result, there are some fantastic WordPress themes out there that can help remove some of the burden.
This article will begin by revealing some of the key features you should look for in a Google AdSense-optimized theme. We'll then tell you all about our 12 favorite picks for 2017. Let's get started!
What to Look for in a Google AdSense-Optimized WordPress Theme
There are many themes that claim to be Google AdSense-optimized, but the actual features they include will vary. Typically, most themes that fall under this description will offer strategic ad locations and responsive ad units. These features are often found in news and magazine themes, so you'll see a number of those on this list. Other less common features include an ad-blocker detector, a fixed sidebar, and ads that are randomized to draw more attention.
Another factor to consider when choosing an AdSense-optimized theme is Search Engine Optimization (SEO). Successful AdSense marketers often rely on high volumes of targeted traffic, and ranking well in search engines is key for success. SEO features to look out for when choosing a theme include clean code, fast loading times, and rich snippets integration.
12 Best Google AdSense Optimized WordPress Themes for Web Marketers in 2017
Now we know what to look out for, let's take a look at our top picks. For this roundup, we've chosen popular themes that have excellent reviews and ratings from their users, and are updated regularly. Let's start with a couple of themes you may know!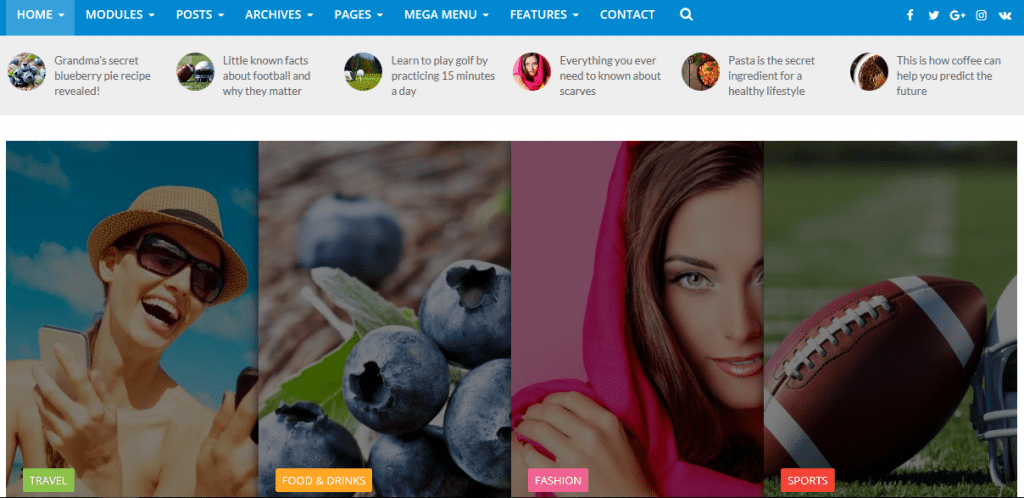 Herald is a modern theme with a clean and striking look. Created for news and magazine sites, it prides itself on its optimized speed and seamlessly responsive design. Its flexible modular system enables you to choose from over 500 post layout combinations.
You can add sticky sidebars to keep ads in view upon scrolling, and banner ads can be placed in multiple locations – including on the homepage, archive pages, or a single post.
Key Features:
Offers multiple ad locations.
Includes a sticky sidebar option.
Provides plenty of speed-optimized code under the hood.
Price: $69 | More information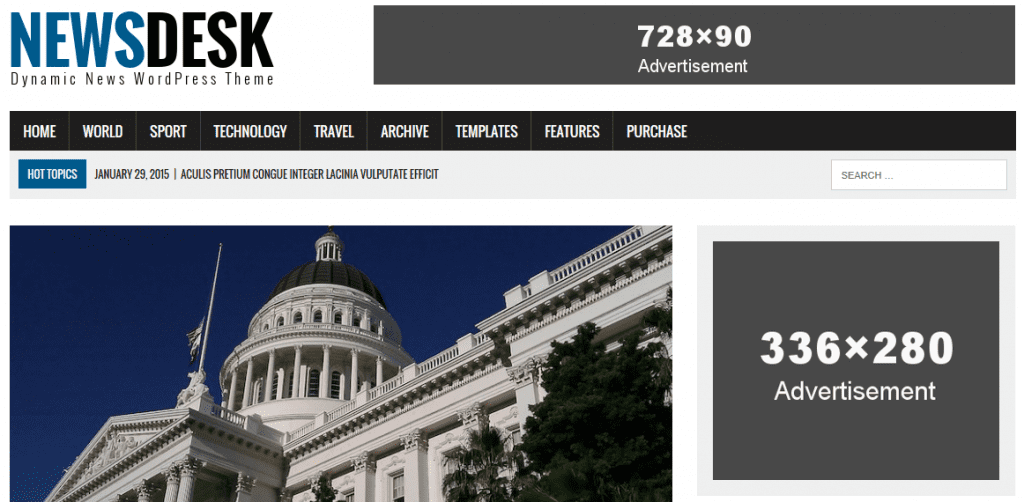 MH Newsdesk boasts an attractive, flat layout that's on-trend with many modern news sites. While it puts articles, headlines, and images in the spotlight, there is also a large focus on where to place your all-important ads. You can choose up to 14 locations to insert your advertisements (or other widgets).
This theme has been coded with SEO best practices in mind, so site speed should be no issue. Finally, flexible layout options and a selection of Google Fonts will enable you to fully tailor it to make it your own.
Key Features:
Provides 14 widget locations.
Follows SEO best practices under the hood.
Offers flexible layout options.
Price: $49 | More information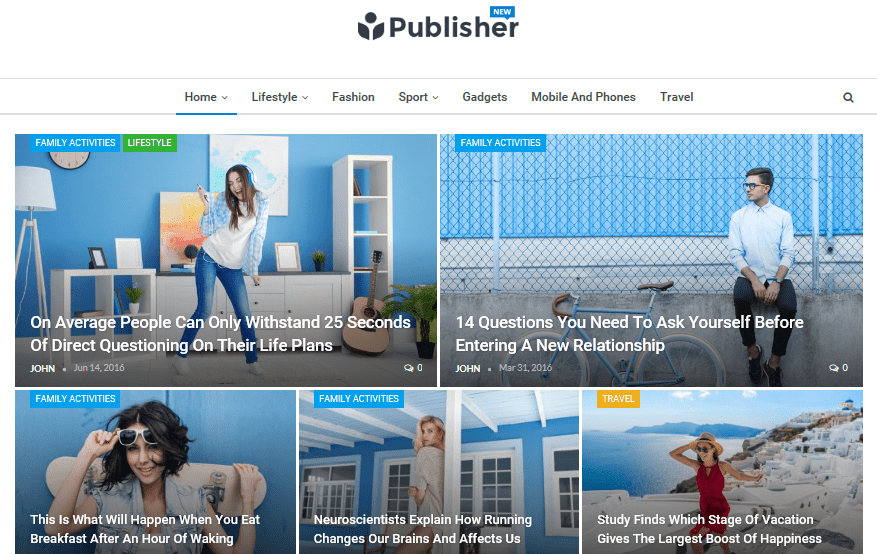 Publisher is a flat, modern theme that comes with ten stylish demos. While admittedly none of them have the 'wow' factor, they're ideal for functional websites, can be installed with one click, and can be fully customized. What we like most about this theme is the number of AdSense-optimized features it packs in.
There are plenty of advertisement areas placed in prominent spots, which enables you to easily manage your ads. It also comes with an integrated ad-blocker detector and a sticky sidebar option, so your ads remain in view while users scroll. Finally, Publisher is lightweight (so site speed should be optimal), and it implements rich snippets – another SEO plus.
Key Features:
Price: $35 | More information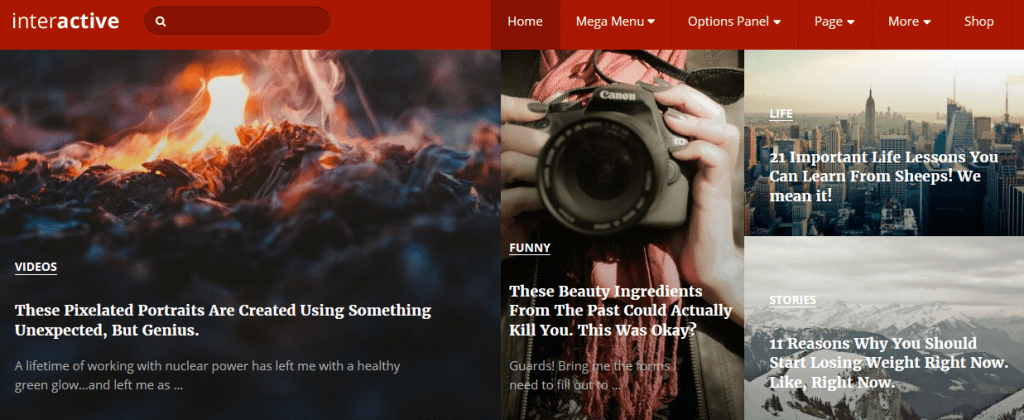 Interactive has a bold, impactful design that lends itself to big imagery and attention-grabbing headlines. The demo can be installed with one click, and elements can be customized and tailored to your requirements, including backgrounds, colors, and a choice of Google Fonts.
The theme also comes with several ad placement locations, as well as options for when to show ads (for example, after a certain number of days). Finally, two more plus points for Interactive are its clean code and extremely fast loading times.
Key
Enables strategic ad placement on your site.
Provides clean code on the back end, and fast loading times on the front end.
Offers a number of customizations.
Price: $59 | More information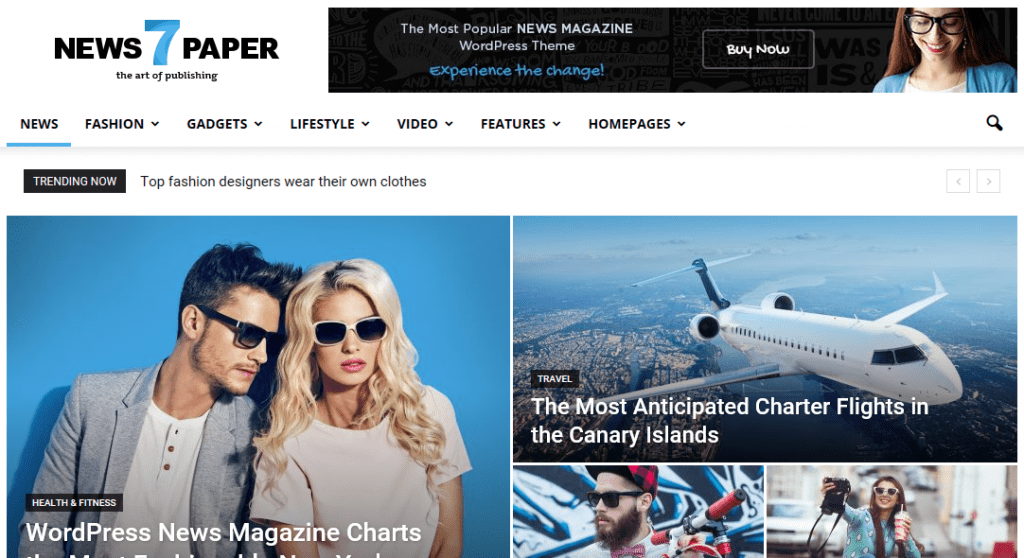 Newspaper is a chic theme with 25 beautiful, yet very different home page demos. If you're not sold on this theme from it's demos alone, don't worry – it has lots more to offer.
A handy feature of this theme is the custom sticky sidebar, which automatically moves to accommodate your screen size and number of widgets. It also includes an ad box widget, and supports both responsive and inline ads for AdSense and other third parties. Newspaper also uses SEO best practices including clean code and rich snippets to make sure you have a lightning fast – and search engine friendly – website.
Key Features:
Includes the Visual Composer and Slider Revolution plugins.
Offers a custom sticky sidebar.
Provides compatibility with rich snippets.
Price: $59 | More information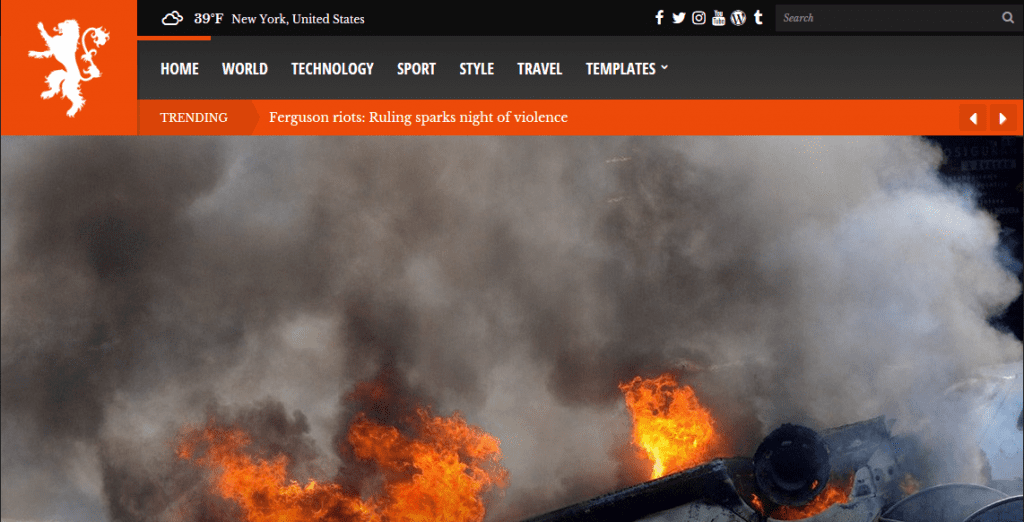 Tabloid offers a striking look upon which to base an incredible news or magazine site. It comes with two color schemes, multiple category layouts, and various widget options.
There are ad placement options (AdSense supported, of course) in various appropriate locations including below the header, between posts, and in the sidebar. This theme is also speed optimized to help you rank higher in search engines.
Key Features:
Offers multiple category options.
Provides you with designated advertising space.
Optimized for speed.
Price: $49 | More information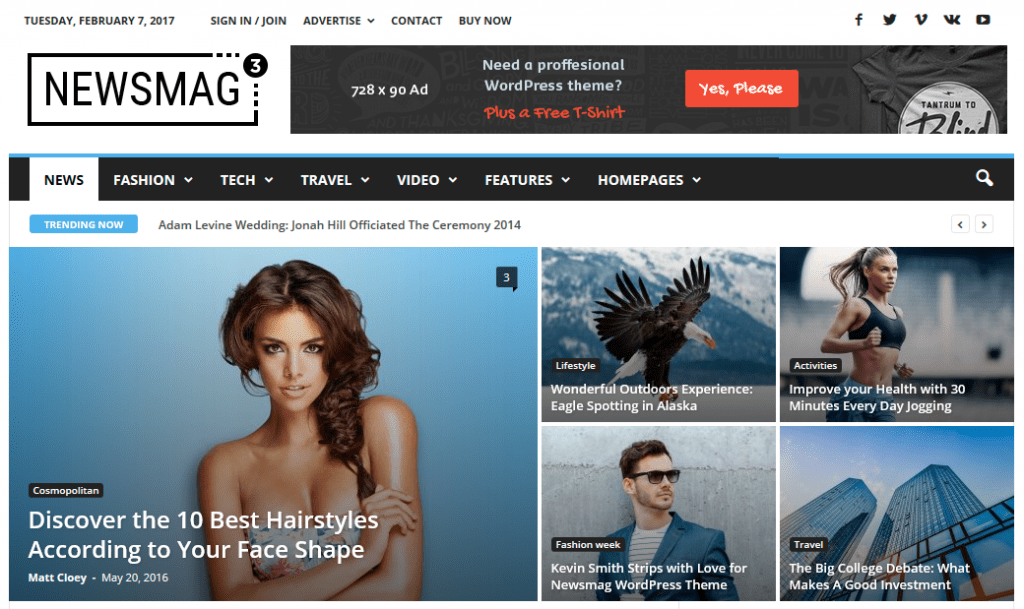 Newsmag is a flexible, easy-to-use theme designed (as its name suggests) for news and magazine sites. With ten gorgeous demos to choose from, it not too hard to find something suitable for your needs. It also includes ten predefined ad spots in key sections of posts and pages, which the developers refer to as an "intelligent ad system".
Newsmag also includes an ad box widget, and supports both responsive and inline ads for AdSense (and similar). The developers have worked hard to ensure the theme adheres to SEO best practices, and it also includes rich snippet integration.
Key Features:
Includes ten predefined ad spots in key locations.
Supports inline and responsive ads.
Offers clean code under the hood, and rich snippets for improved SEO.
Price: $49 | More information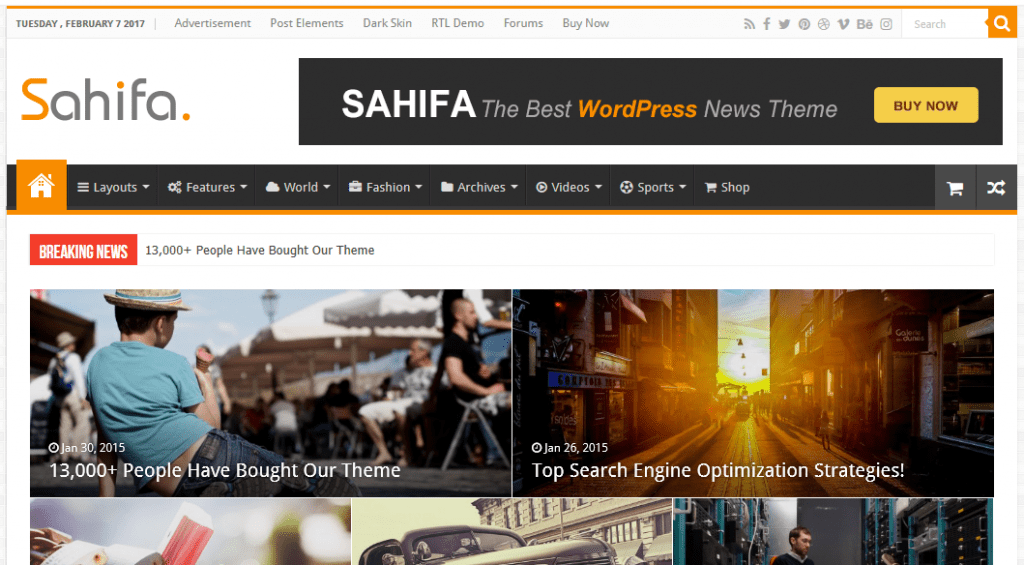 Sahifa is a bright, fresh theme that offers a highly flexible design, ready for you to make your own. The demo can be installed with one click (but can be customized further), or you can use the built-in drag-and-drop page builder to create your site. There are a myriad of available options including 35 custom widgets, over 650 Google Fonts, and practically unlimited colors. It also packs in several premium plugins including iLightBox and Taqyeem.
This theme also supports responsive AdSense ads (as you'd expect), and includes the Theia Sticky Sidebar plugin to help keep your ads in view.
Key Features:
Includes four premium plugins including Theia Sticky Sidebar.
Supports responsive AdSense ads.
Offers optimized code for increased SEO.
Price: $69 | More information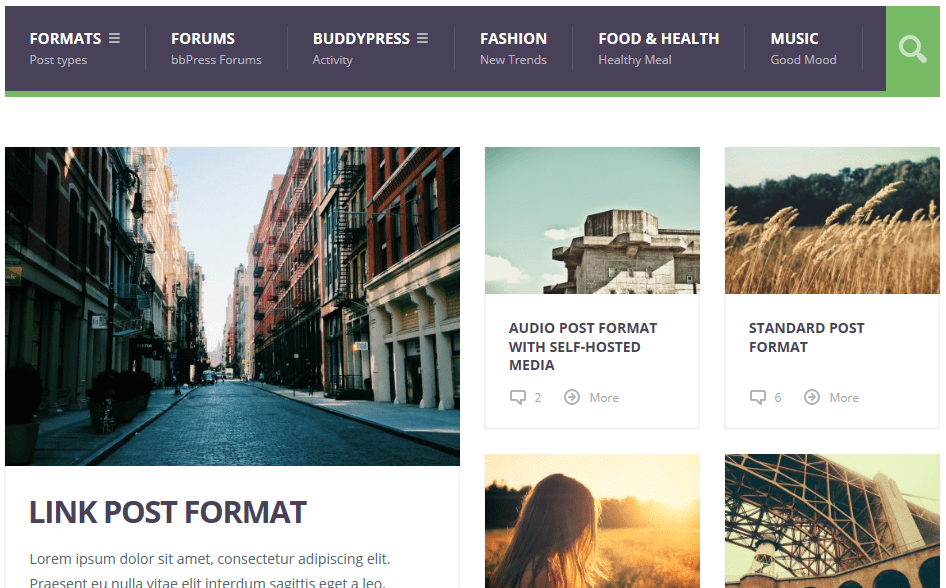 Grimag is a modern, clean, minimalist theme that packs in a plethora of features to help you tailor your design. It has been designed with monetization in mind, and is sold primarily as an AdSense-optimized theme. There are numerous advertisement areas in prominent spots so you can seamlessly integrate your ads into the sleek, professional layout.
If you'd like to display wide sidebar ads, you can opt for the 300px feature in the theme panel. Finally, like some other themes on this list, it has a built-in solution for responsive AdSense ads; the developers have instructions on their website for how to implement it.
Key Features:
Includes plenty of prominent ad placement options.
Supports responsive AdSense ads.
Offers a 300px sidebar option.
Price: $59 | More information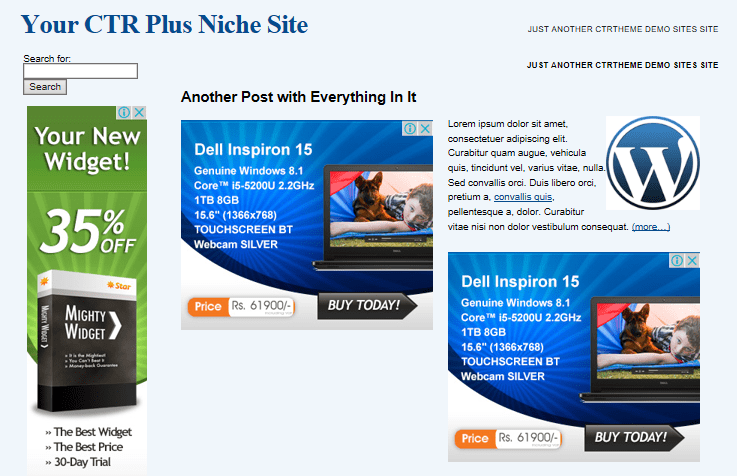 CTR Theme is the most focused AdSense-optimized theme on this list, so it doesn't disappoint when it comes to ad optimization features. Unfortunately, the overall look of the theme is lacking and rather dated. The overall aesthetic aside, this theme is still a solid contender, as as it packs in some neat options.
Similar to others on this list, CTR Theme places ads in strategic locations. However, you can also randomize ad placements so that they appear in a different place for each page view – an attempt to combat 'ad blindness'. You can also choose to hide ads for traffic coming from certain domains. Finally, CTR Theme is also optimized for fast loading to reduce bounce rates.
Key Features:
Provides strategic ad placement.
Includes a unique ad randomization feature.
Offers the option to hide ads for certain traffic.
Price: $67 | More information
For Elegant Themes Members
If you're a member here at Elegant Themes and you're in the market for a theme that's perfect for use with Adsense then we've got two that you'll love. Our flagship theme Divi and Magazine theme Extra are designed to work wonderfully with Google Adsense or other types of ads.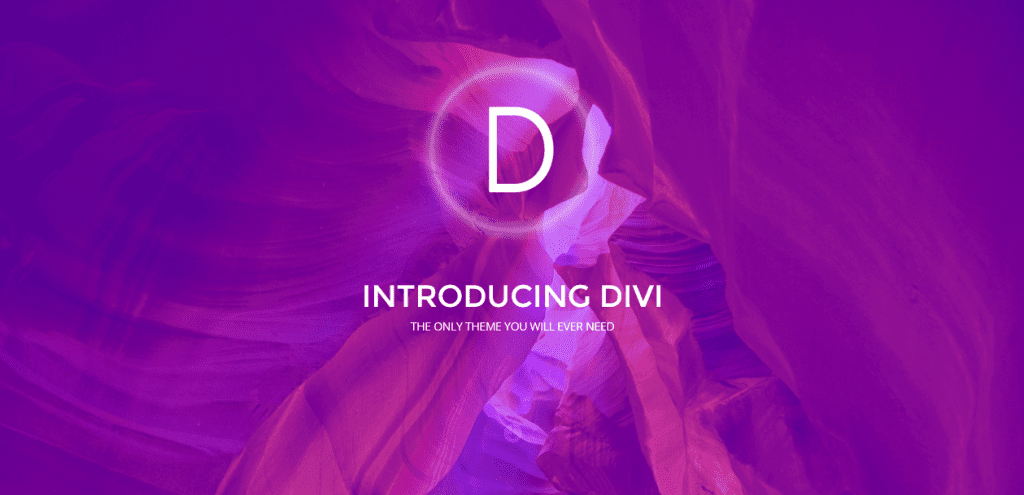 Divi is a chic multipurpose theme with virtually endless possibilities when it comes to customization. Its modular system – i.e. the Divi Builder – and front and back end builders make creating layouts a breeze.
Ads can be placed in sidebars, posts, and pages using the Theme Options or a Text module. This theme is of course fully responsive, and Divi's clean code makes for a speedy site that keeps search engines happy.
Key Features:
Offers a wealth of customization.
Enables you to easily manage ad placement.
Provides clean, search engine optimized code.
Price: $69 | More information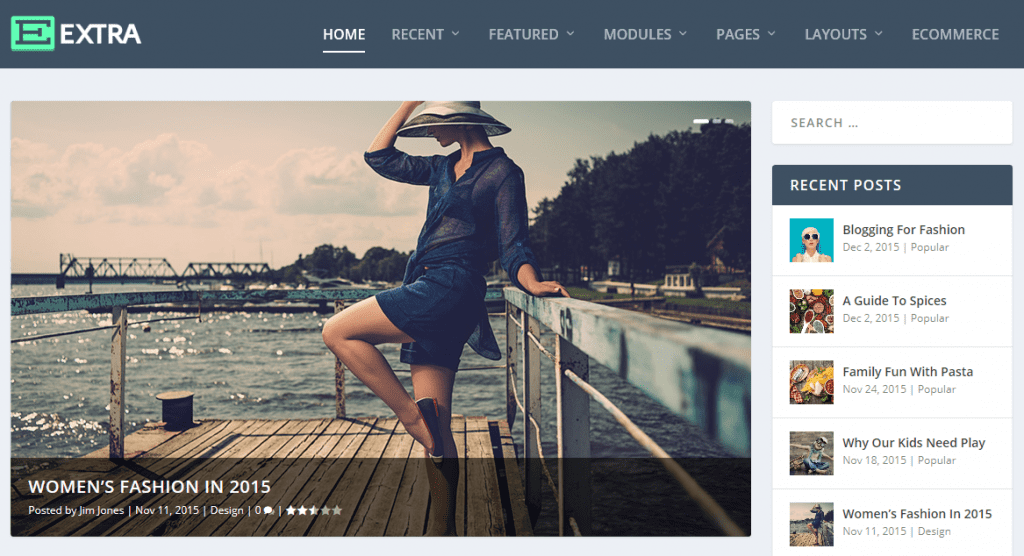 Extra is a stunning theme crafted specifically for news and magazine websites. Powered by the intuitive Divi Builder, it also comes with an incredible set of additional modules to help you tailor your site. Among them is the Ads module, which makes it simple to plug advertisements into your category feed.
This theme has plenty of design flexibility, including the ability to tweak colors, fonts, sizes, spacing, and more. It also has plenty of header options, multiple menus, and custom widgets to choose from.
Key Features:
Comes with a dedicated Ads module.
Powered by the Divi Builder.
Offers clean, search engine-optimized code.
Price: $69 | More information
Conclusion
With all of the work involved in running a high-traffic website, relief from the constant worry about optimizing your ads should be welcome. Selecting the right AdSense-optimized theme can mean you maximize your click-through rate, while having more time to run your business.
In this post, we've provided a stellar list of 12 of the best Google AdSense-optimized WordPress themes for web marketers in 2017. All you have to do is choose your favorite and get advertising!
You can also leverage any theme and use one of these popular Advertising plugins to integrate with AdSense.
What elements would you like to see in a Google AdSense-optimized theme? Let us know in the comments section below, and don't forget to subscribe so you can follow the conversation!
Article thumbnail image by VectorsMarket /shutterstock.com.