For businesses with an online presence, content marketing has become an important tool to help attract customers, form relationships, and generate leads and sales. While most people know about creating original content as a form of marketing, you may be less familiar with the concepts of content curation and aggregation.
In this piece, we'll provide an introduction to these strategies, and give examples of how and where they might be used. We'll also tell you about the pros and cons of each one to help you decide if they might be right for your business. Finally, we'll reveal some of the best content curation and aggregation tools available, along with how you can use them within your WordPress website.
An Introduction to Content Curation and Aggregation
Put simply, content curation involves taking content from external sources and presenting it to your readers in a different way. While all curated content must be properly attributed to its original source, you can add things such as commentary, images, or headlines to make it more valuable to your target audience.
On the other hand, content aggregation typically doesn't involve adding commentary or other elements. You simply pull existing content (either your own or others'), and present it without making changes. Content aggregation can take many forms, but is often automated based on keywords or tags.
The age of content marketing has arguably introduced increasing pressure on businesses to provide their readers with a steady stream of relevant and interesting information, and constantly creating quality original content could be infeasible for many small websites. This leaves a gap to be filled – enter content curation and aggregation.
Examples of Content Curation and Aggregation in Action
One of the best ways to fully explain these concepts is to look at some examples – let's take a look.
Content Curation
Content curation can appear in many forms. In fact, you may already be doing it without realizing it! If you share links on social media platforms and add you own thoughts or comments, you can consider yourself a curator. For example, this Facebook post doesn't have a lot of original content, but can still be considered curation:
Other examples you may be familiar with are sites such as Scoop.it, StumbleUpon, and Google+. These are community based platforms where people can share existing content, but also add their own commentary to provide additional value.
A more augmented example of curated content is Kottke.org. Most of their posts involve taking snippets of existing articles, videos, or other media, and adding thoughts and opinions to make it their own story.
Content Aggregation
Similarly to curation, content aggregation also has lots of different forms. The context you're probably most familiar with is Search Engine Result Pages (SERPs), where content is collected, sorted, and displayed based on the search term you enter: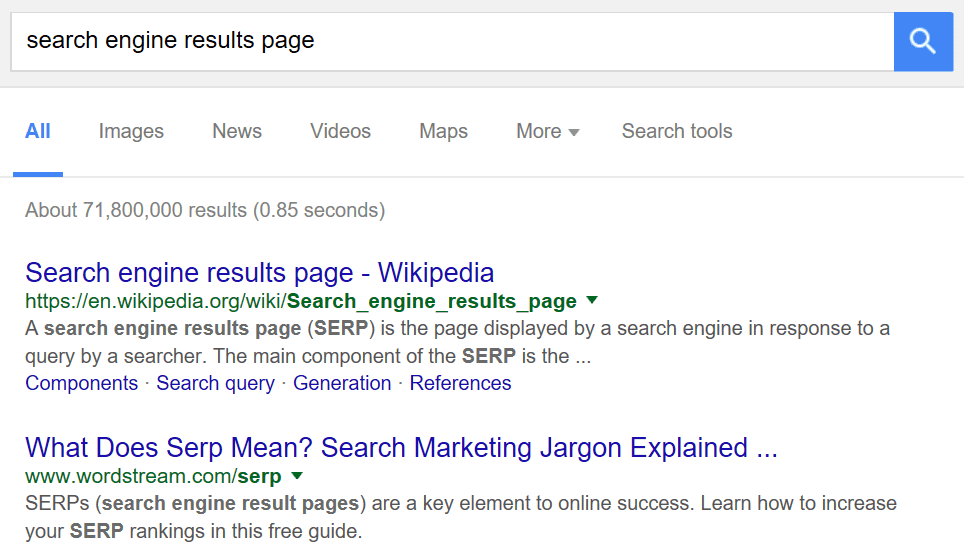 A similar form of aggregation occurs on Twitter, with content organized as hashtags. Another example you may have come across is a RSS (Rich Site Summary) feed. Bloglovin is a great example of how simple RSS feeds can be used as the basis for a very successful company.
The Pros and Cons of Content Curation and Aggregation
Many marketing experts say that content curation is superior to aggregation and should therefore be the major focus. However, both techniques come with their own benefits and challenges. Let's take a look at some of the pros and cons.
Content Curation
Content curation has become popular for lots of reasons:
It provides additional value: Curating might involve adding opinions, providing additional imagery, or tweaking headlines and descriptions. All of these things are done with your target audience in mind to deliver the content in the best way possible.
It can amplify your brand: Given the curation process, you have the perfect opportunity to add a unique voice to your brand.
It offers better Search Engine Optimization (SEO): Original content is preferred by search engines, so curated posts will typically fare better than aggregated ones.
As you can see, curation offers some key benefits over aggregation. However, it does have its challenges:
There are many best practices to learn: It's imperative that any curated content is properly attributed to its original source. This and other important considerations must be taken into account in order for curation to be executed effectively.
It's relatively resource intensive: While curation should be less work than creating original content, it's still more time consuming than aggregation.
There's limited real time potential: Since it takes time to add your commentary or other elements, which can't be automated, it isn't practical to try to curate content in real time.
Overall, curation can provide lots of value to your audience and subsequently your brand, but it's quite a resource intensive process.
Content Aggregation
Content aggregation may be used as an alternative to (or complement for) curation depending on your goals. Some of the benefits of aggregation include:
Automation: Aggregation is often an automated process. With the right tools in place (more on that later), you can simply adjust your settings and let the content stream.
An ability to fill content voids quickly: Since aggregation requires very few resources, you can offer readers large volumes of content with minimal effort.
Real time potential: Content can be delivered to your readers as soon as it is published by the original source.
While it offers some advantages over curation, aggregation also has its limiting factors:
A lack of voice: With no added commentary, aggregation offers little opportunity to add your voice and branding.
A lack of context: Some content may actually lose value when read out of context with the original site, defeating one of the key aims of the strategy.
Limited SEO potential: Since you are not adding anything original, it's unlikely that aggregation will help your search engine rankings.
Generally, aggregation offers the potential for sharing large volumes of real time content. However, it typically doesn't offer as much value to readers as curation.
How to Decide Which Strategy to Use
Armed with all of this information, you may be wondering which one is right for you. As you can see there are benefits and challenges when using both of these forms of marketing. If you want to add your voice to the content you share, and you have the resources to do so, curation is an excellent choice.
However, if you simply don't have the time to curate content (and you have space to fill), aggregation could be just what you need. Of course, you could also choose to implement both strategies, finding an optimal balance between original, curated, and aggregated content.
Let's now take a look at three tools that can help you curate and aggregate your content.
3 Content Curation and Aggregation Tools for WordPress
There are lots of plugins available to help you with content curation and aggregation on your WordPress website. We've chosen three top-rated examples that offer the means to integrate content curation, aggregation, or both.
Let's check them out!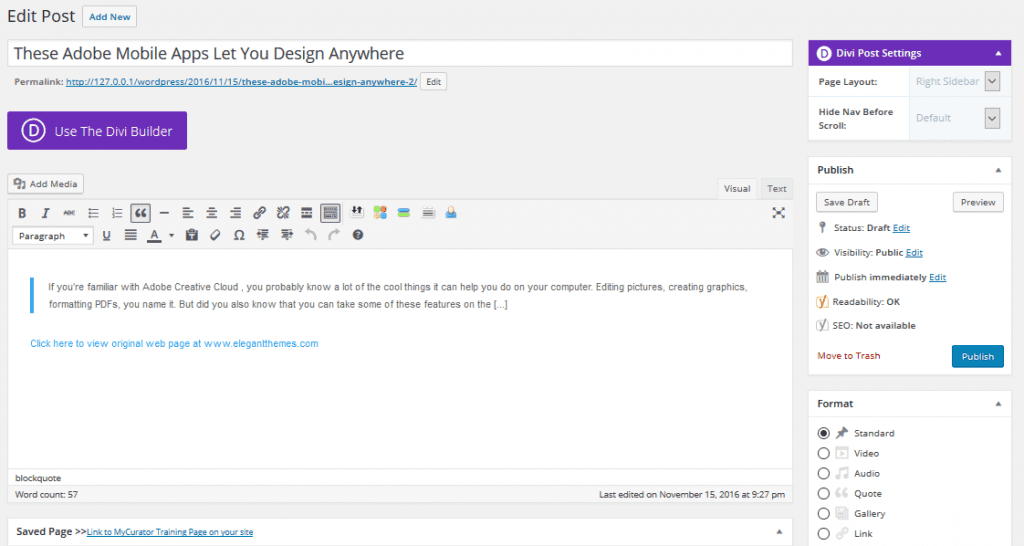 MyCurator combines content aggregation and curation to enable you to deliver the most relevant content to your readers. After selecting your sources, content is delivered via RSS feeds, and you can curate articles from those or find others manually. When you choose an article, MyCurator will pre-fill a post with some of its info, enabling you to edit and add your own commentary. This is ideal if you want to create full posts around curated content in the style of Kottke.org mentioned above.
Key Features:
Price: FREE | More information
This simple yet powerful plugin enables you to stream RSS feeds from multiple sources directly onto your website. You simply select your sources and embed a shortcode on your posts or pages. You can tailor the feed output using customization options such as selecting how many posts to show, limiting the age of posts, and scheduling imports from each feed. Alternatively, you might consider using the native WordPress RSS block, which can be used to aggregate content from RSS feeds and display it inside your posts and pages.
Key Features:
Import any number of feed items.
Show or hide feed sources and dates.
Set open link behavior.
Price: FREE | More information

Curation Suite is similar to MyCurator, but doesn't have a built-in RSS feeder. However, it offers a friendly user interface and more curation options. Once you've activated the plugin, you can pull up a dedicated curation sidebar alongside your WordPress visual editor. From here you can quickly and easily curate text, images, videos, and social embeds.
Curation Suite is a premium plugin, but may be worth the investment if you want to make curation a core component of your content marketing strategy.  You can also upgrade to the Listening Engine, which limits time spent searching for content.
Key Features:
Price: $97 | More information
How to Begin Curating and Aggregating Content
Now we've introduced the tools, it's time to use them. We'll show you how to use both curation and aggregation within your WordPress website using two of the tools mentioned above.
How to Curate Content with MyCurator
First we'll take a look at how to create a curated post in WordPress using the MyCurator plugin. There's a lot of functionality to wrap your head around, but we'll show you how to get up and running.
Once you've installed and activated the plugin, go to the MyCurator tab on your WordPress dashboard. You'll firstly need an API key, and once you have it, go back to the MyCurator tab, select Options, and enter it in the API Key section: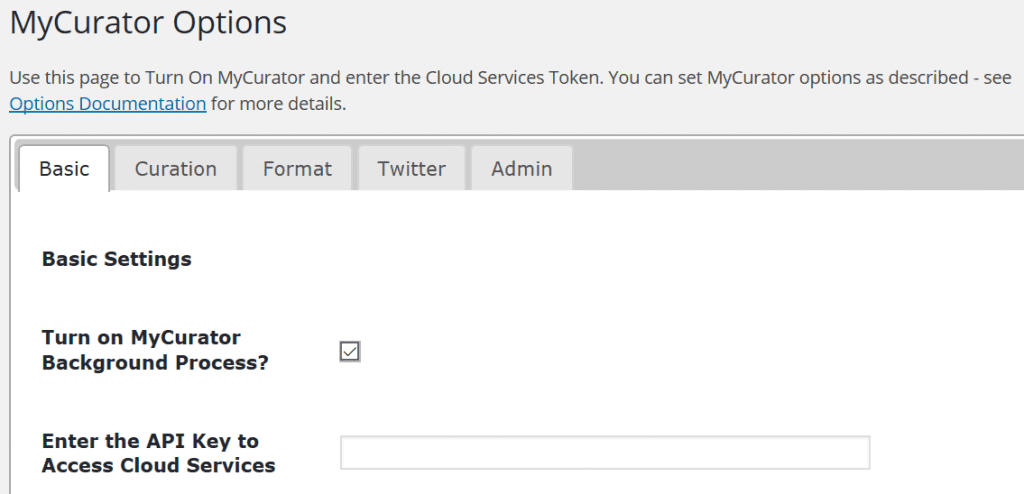 Most of the options in this screen are preset for general curation, and are good enough for our purposes. Next, go to the Get It & Source It tab and drag the Get It bookmarklet to your browser's bookmarks bar. Sometimes it may not work – if so, follow the instructions directly below the button:

Next, select an article from the web that you'd like to curate, then click your Get It bookmark – you'll see a popup window that prompts you to save the article. Select Save and Edit, and you'll arrive at a pre-filled post edit screen:

The post will contain a title, excerpt, source attribution, and featured image. To view the full article, expand the Saved Page section below the editor using the small arrow on the right:

Here you can take content from the article you're curating, and add your own original commentary or images.
If you're using Divi, you can select the Divi Builder button once you've finished pulling content from your source article. Everything that is currently in the visual editor will appear in a Divi Text module: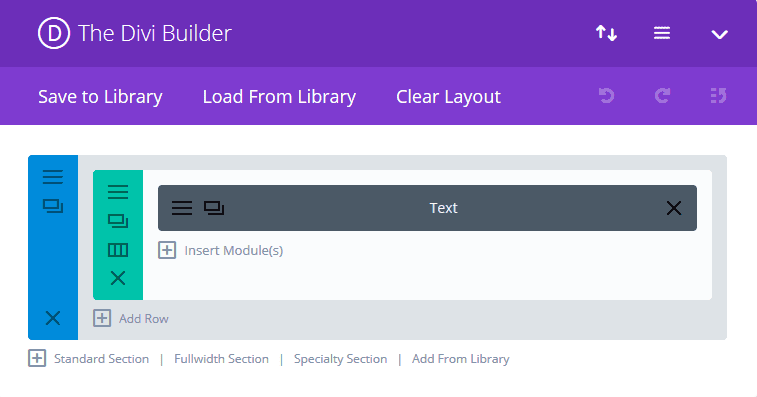 You can then add elements to this post using the various other Divi modules before you publish it.
As we suggested, MyCurator offers a lot of functionality under the hood. The developers' website features lots of training videos and documentation for you to explore some of the of more advanced options within the plugin.
Alternatively, if you think content aggregation is more suited to your website, it's incredibly simple to get started with WP RSS Aggregator. Once installed and activated, go to the RSS Aggregator tab on your WordPress dashboard, and select Add New. From here, enter the source feed you want to use, adjust the settings, and hit Publish: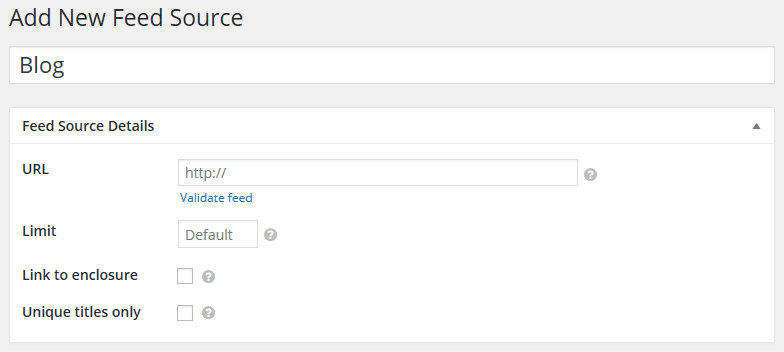 Once you've selected your source, embed the [wp-rss-aggregator] shortcode wherever you want the feed to appear on your site. While this will get you up and running quickly, there are a wealth of features and add-ons available. The developers' website features lots of tutorials to explain every aspect of the plugin's functionality.
Conclusion
The pressure to deliver a steady stream of content to maintain relationships with your customers can be overwhelming. What's more, trying to satisfy these demands can be a huge drain on both your time and other resources. On the flip side, your business can benefit from curating and aggregating content that you think will be of value to your readers.
Both content curation and aggregation offer excellent solutions for filling content voids, while also forging connections with your customers. Let's recap the differences:
Content curation, although often resource intensive, offers a way to add your brand and voice to existing content.
Content aggregation is a useful alternative to quickly and easily provide relevant content to your audience.
Do you have any questions on content curation and aggregation? Let us know in the comments section below, and don't forget to subscribe so you can follow the conversation!
Article thumbnail image by emojoez / shutterstock.com.