When it comes to figuring out what your users think and want, there are few better ways to do it than with a good old survey. If used correctly, a survey will enable you to engage with your audience, and they can even be fun (if you ask the right questions).
The first step to creating a successful survey is finding the perfect tool. Fortunately, there are plenty of dedicated survey services around these days, and in this article, we'll introduce you to seven of the best. Let's take it from the top!

Survey tools don't get more straightforward than SurveyNuts. This service enables you to create your first survey without even having to log into the platform, which provides you with the perfect opportunity to test its features. What's more, it's very simple to use. You pick which types of questions to add and write them out, then it's just a matter of sharing your survey and keeping an eye on its results.
On top of questions with a set answer, you can also add open-ended ones, and even use images. The surveys themselves look modern, but there are few styling options available. Overall, this tool is perfect if you're looking to set up surveys quickly, without worrying about tweaking every design aspect.
Key Features:
Create simple surveys using multiple types of questions.
Add cover pages for your questionnaires.
Share your survey via social media, email, or direct linking.
Stay on top of your results using a built-in analytics dashboard.
Price: Free and premium plans available | More Information

SurveyPlanet is all about offering as many features as possible to make the most out of your surveys. For starters, it includes dozens of templates for common surveys, and it also comes with its own theme system – layouts can be implemented with a few clicks.
Creating your first survey with SurveyPlanet can be remarkably simple if you stick to its basic functionality. However, there are a number of additional features that target professional users.
For example, SurveyPlanet's premium plan enables you to export your results in multiple formats, create your own themes, and even white label your surveys. In short, the platform is an excellent choice for both casual and professional projects.
Key Features:
Provides the ability to ask an almost unlimited number of questions.
Includes over 90 survey templates to get you started.
Offers a theme feature to style your questionnaires.
Lets you share your creations through social media and email.
Enables you to delete participants you don't want from your results.
Lets you save your data and responses on their platform for a year.
Price: Free and premium plans available | More Information

If you're looking for a professional solution to survey-building, Polldaddy might be right up your alley. Despite its casual-sounding name, this survey tool boasts some famous clientele, including companies such as the BBC and Microsoft.
Similarly to the other choices here, Polldaddy offers several tiers offering varying levels of functionality. The platform's free plan includes a drag-and-drop question editor – which makes it easy to create surveys – and supports over 15 types of questions.
In addition, you can also add videos, images, and other elements such as Google Maps as part of your questions. On top of providing you with a lot of customization options, Polldaddy also enables you to brand your surveys. It even provides you with an iOS app to help collect responses offline, which makes it a perfect tool for on the ground polling.
Key Features:
Lets you edit your surveys using drag-and-drop features.
Enables you to add multimedia content to your surveys
Supports HTML and CSS snippets.
Lets you brand your survey using logos.
Enables you to collect responses offline using an iOS app.
Integrates with WordPress.
Price: Free and premium plans available | More Information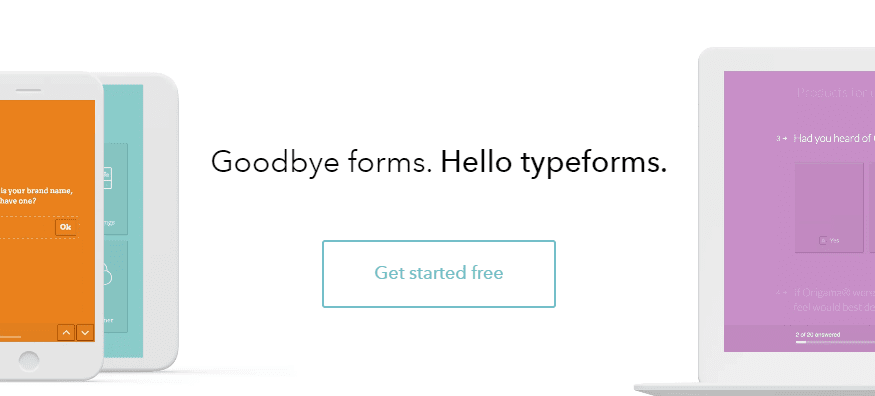 Unlike the other entries on this list, Typeform isn't a dedicated survey tool, it's a form builder and one of the most engaging form solutions for WordPress. However, its set of features lends itself particularly well to creating modern questionnaires.
As far as ease of use goes, Typeform is in a different league thanks to its modern interface and powerful form builder. Creating surveys is as simple as picking the elements you want, then using the built-in drag-and-drop editor to move them around.
However, Typeform really shines when it comes to design. Its surveys offer plenty of customization options, and they look and behave like modern apps. That means your survey takers should feel right at home answering your questions.
Overall, Typeform is a stellar option for creating surveys. In fact, we'd go as far as to say that the only downside to Typeform is its response limit, which is 100 per month on the free plan. Depending on your needs, you may want to jump straight into their premium packages.
Key Features:
Craft surveys using a drag-and-drop editor.
Customize the design of your creations.
Includes multiple notification settings.
Their surveys are fully responsive, and they look great on mobile devices.
Provides you with insightful analytics.
Price: Free and premium plans available | More Information

SurveyMonkey is a bit different from the other tools we've covered so far. Sure, it has a free tier that offers all the basics you need to create decent surveys, but it only supports up to 100 responses.
Where SurveyMonkey differs to its rivals is the additional services it offers. For example, they can find you participants for your surveys that fit your demographics (for a price). They also enable you to compare your results with other surveys created by their clients, without divulging any personal information. That way, you'll always have a benchmark for your results.
The platform itself is very easy to use, as is creating surveys with it. However, you will need to opt for one of their premium plans if you want access to their entire set of features.
Key Features:
Enables you to customize your surveys.
Lets you test your results for statistical significance.
Enables you to randomize the order of your question.
Helps you find targeted audiences to answer your survey.
Offers anonymous results of other similar companies to help provide you with a benchmark.
Price: Free and premium plans available | More Information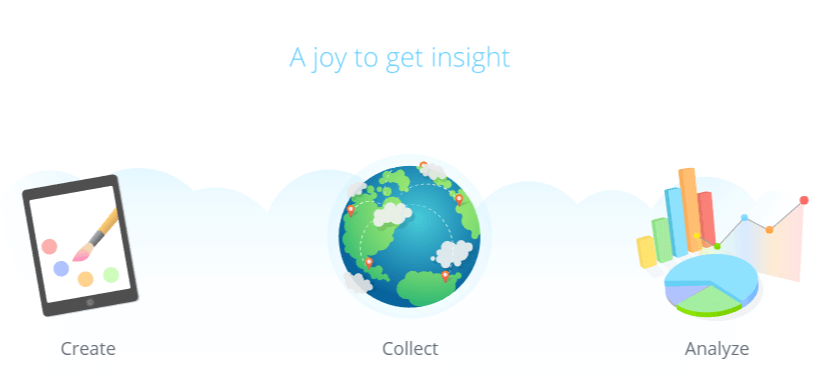 When it comes to ease of use, SurveyLegend is one of the best survey tools available. The platform is designed to make the survey creation process as simple as possible, no matter the device you're working from. That means you can tweak your creations on the go from your tablet, or your smartphone if necessary (although a large display always helps).
Furthermore, the service also emphasizes modern design, which is evident if you take a look at some of their examples. To help you get there, they provide you with multiple themes and plenty of customization options.
Finally, SurveyLegend also boasts a broad range of plans, and they don't neuter their free tier as some other survey tools do. In fact, we recommend that you stick with it unless you need to create a large number of surveys or you mind the fact that it includes ads.
Key Features:
Customize your surveys using a drag-and-drop editor.
Add multiple types of questions, including ratings and scales.
Create 'branching' surveys.
Customize your questionnaires using mobile-friendly themes.
Price: Free and premium plans available | More Information

QuestionPro is a survey tool geared squarely towards the enterprise crowd. While it does offer a free tier with a lot of features, it's also limited to 100 responses per survey, which just isn't enough in some cases.
If you don't mind paying for the service, you'll find it packs in a lot of functionality, including survey templates with hundreds of carefully-crafted questions. You also get to choose from a modern collection of themes, the ability to password-protect your surveys, and even brand surveys with your logo.
Ultimately, the survey creation process isn't as intuitive as some of the others we've featured in this list, but it makes up for it with a broad range of perks and powerful analytics. If you're looking for a robust survey tool geared towards companies, this might just be it.
Key Features:
Includes several survey and question templates.
Lets you customize your surveys using a theme system.
Supports over 30 question types.
Enables you to randomize your tests and create multiple branches.
Offers a powerful analytics dashboard.
Price: Free and premium plans available | More Information
Conclusion
Picking the right tool is the first step to crafting a successful survey, but once that's out of the way, there's still work to be done. You'll also need to figure out what questions to ask and how to use those results to engage your audience. However, the right platform should make this process simple by providing you with almost all of the features you'll need.
Let's briefly recap the seven survey tools we introduced earlier:
Admittedly, there are several solid WordPress plugins for survey building which are also viable options.
Do you have any questions about how to craft an excellent survey? Ask away in the comments section below!
Article thumbnail image by Irina Adamovich / shutterstock.com.