In past posts on social media and content strategy I've always included a section called something along the lines of "measure, iterate, & repeat". This essential step in content strategy is where you take time to reflect on your content's performance, make data driven changes to your existing strategy, and try again. All of which is pretty hard to do if you don't have some way of measuring your efforts.
That's where social media analytics tools come in. They allow you to make informed decisions about your content strategy and (ideally) improve with each round of iteration. Which is why in today's post I'll be providing an overview of a wide variety of social media analytics tools WordPress users may wish to integrate into their overall content strategy efforts. Beginning with some of the best free social media analytics tools available.
The twenty free social media analytics tools below are all freely accessible but also completely separate from WordPress itself. As such, it's probably impractical to try and use them all or even a handful of them at the same time. If any of them end up being what you are looking for then it's probably a good idea to pick just one or two that meet most of your needs. Otherwise you may find yourself scattered and overwhelmed between too many services/dashboards.
1. Google Analytics
Google Analytics is probably the most popular analytics tool for WordPress users for general website traffic. However, what you may not know is that you can also use Google Analytics to drill down into social insights as well. All you have to do is navigate from Acquisition > Social and you will be able to see how many site visitors are being sent to you from various social networks. You can then use this data to set goals within GA and measure the impact of your social efforts.
2. Buffer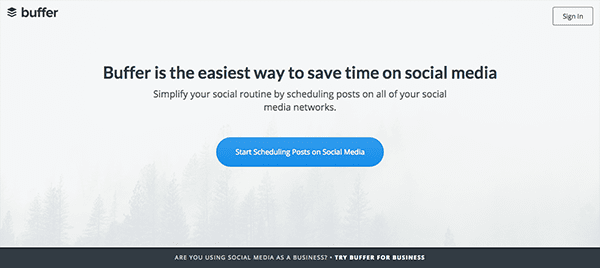 With Buffer's free plan you can post updates to several social networks and get basic engagement stats on each one. There's even a "Top Tweet/Top Post" feature that notifies you of content that performs above average.
3. Hootsuite
The free Hootsuite plan allows you to post to up to three social profiles, generate enhanced analytics reports, allows for message scheduling, and much more. You can track the performance of individual pieces of social content as well as total engagement over specified time frames.
4. Followerwonk
Followerwonk can be used to quickly generate useful reports on your Twitter followers. Simply by entering in your username you can see a detailed breakdown of your followers with helpful information, such as when your followers are online, authority rankings, best times to post to them, and more.
5. TailWind
Tailwind is a suite of tools specifically for Pinterest. It allows you to create pin schedules, organize an editorial calendar, and track repins, likes, comments, traffic and revenue on scheduled pins over time.
6. Quintly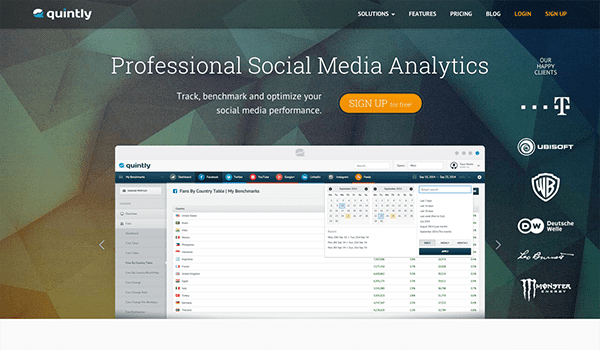 Quintly is a centralized social media analytics solution for individuals and businesses. It provides features such as competitive benchmarking, smart reporting, custom dashboards, overall metrics, and more for almost all of the biggest social networks (Facebook, Twitter, YouTube, Google+, LinkedIn, Instagram, and even blogs).
7. WolframAlpha Facebook Report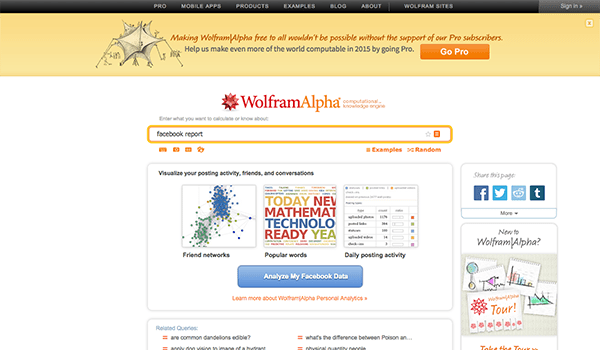 The WolframAlpha Facebook Report is a social media analytics tool by the Wolfram Alpha search engine. It provides a wide range of interesting and useful demographic information on your Facebook profile.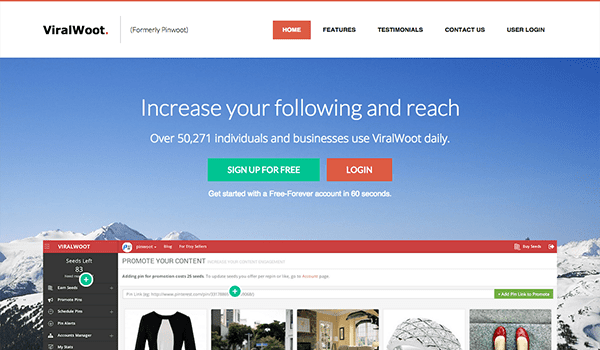 ViralWoot is another service aimed specifically at Pinterest that does more than just track metrics. It allows you to schedule pins, promote pins, create alerts, manage and grow multiple accounts, as well as gain new insights via analytics.
9. beevolve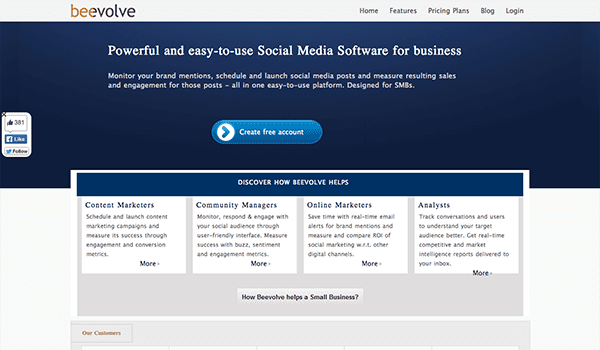 Beevolve is a powerful suite of tools for content marketers, community managers, online marketers, and analysts. In addition to a wide range of other tools you can track social conversion rates, get user reports, and a lot more.
10. IconoSquare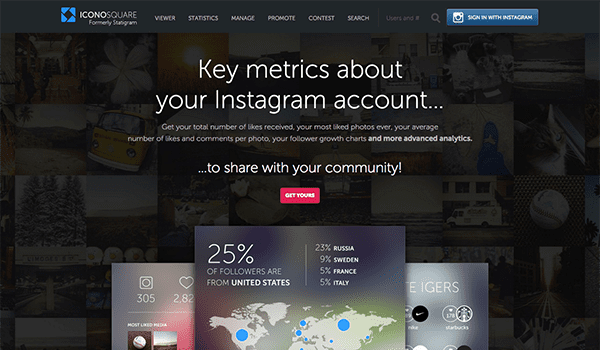 IconoSquare is an Instagram only tool. Which is actually pretty valuable considering the huge growth the photo sharing mobile network continues to see. With IconoSquare you can view photos and videos, like photos and videos, post comments, search, and receive Instagram insights about your followers. It also integrates with Hootsuite.
11. Riffle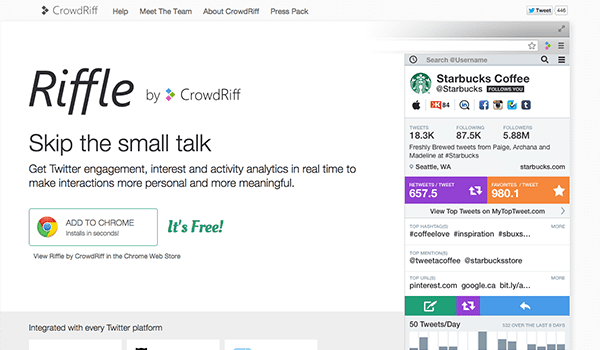 Riffle is a real time analytics tool for Twitter that integrates with Hootsuite, TweetDeck, or Chrome itself. With Riffle you get a wide range of data about your Twitter activities, including: number of tweets, follower count, following count, retweets, favorites, tweets per day, clients/platforms used to engage with your tweets, and a lot more.
12. SumAll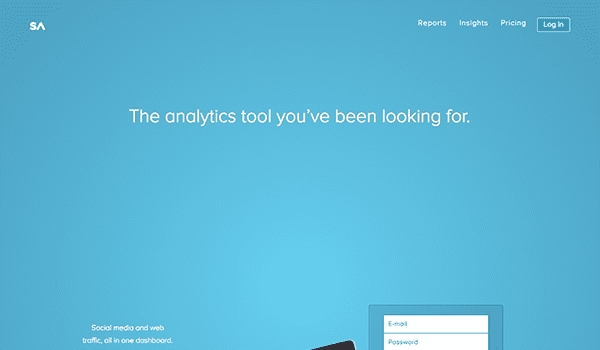 SumAll is a freemium analytics tool that puts all of your data in one place. It will combine insights and reporting for Twitter, Facebook, Instagram, and Google Analytics all in one dashboard with synchronized reporting.
13. Keyhole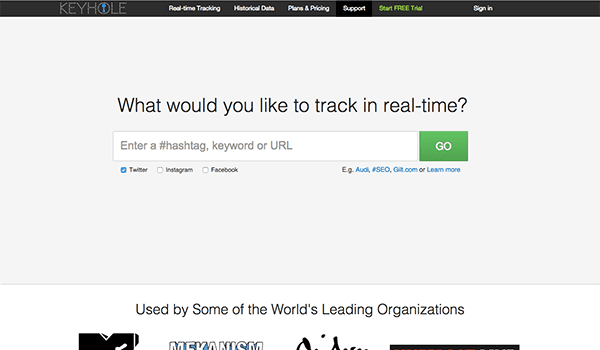 Keyhole is a cool real-time tracking tool for Twitter, Instagram, or Facebook. You can quickly and easily track hashtags, keywords, or URLs. You can also get historical data to compliment your real-time findings.
14. MyTopTweet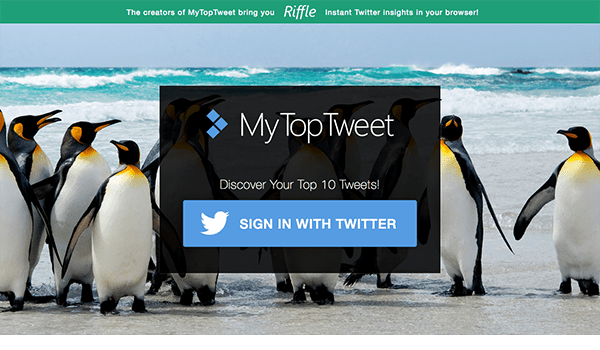 By the same people behind Riffle, MyTopTweet is pretty straightforward but nonetheless useful. Sign in with Twitter and find out which of your tweets is performing best.
15. Cyfe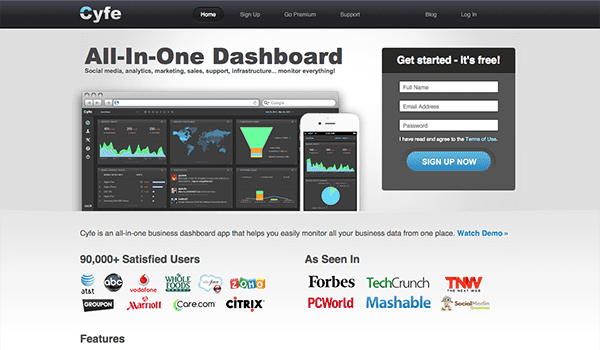 Cyfe takes the all in one dashboard to yet another level. It not only includes social and standard web analytics but it also includes marketing, sales, support, and more. This is a powerful tool capable of scaling up for large operations.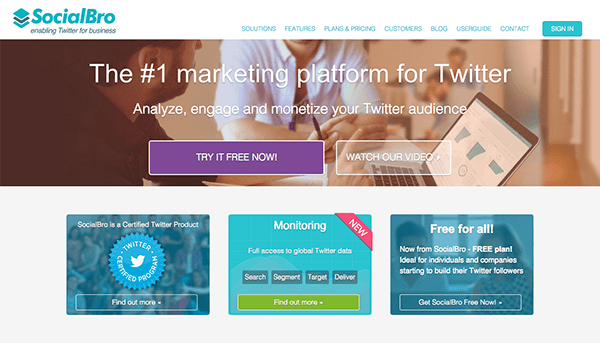 SocialBro bills itself as "the #1 marketing platform for Twitter". It allows you to browse your community, see when the best times to tweet art, identify influencers, analyze competitors, and much more.
17. Klout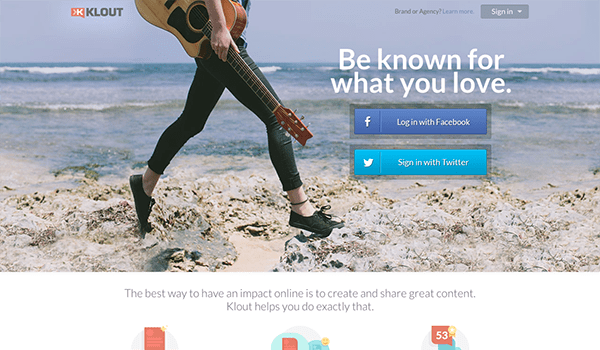 Klout is a pretty popular free service that helps you gage both your own and others' influence on social networks such as Twitter and Facebook.
18. Collecto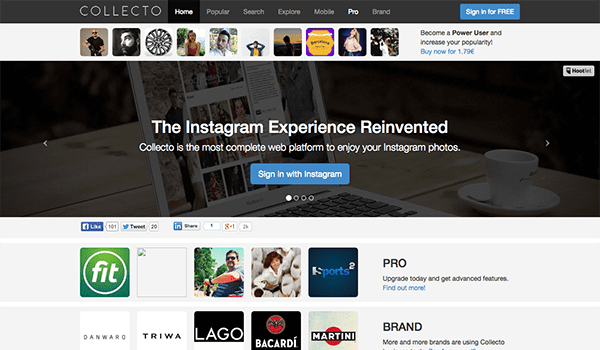 Collecto is another Instagram only tool/service. In addition to other great features, it allows you to see a wide range of interesting stats about your Instagram account.
19. TweetReach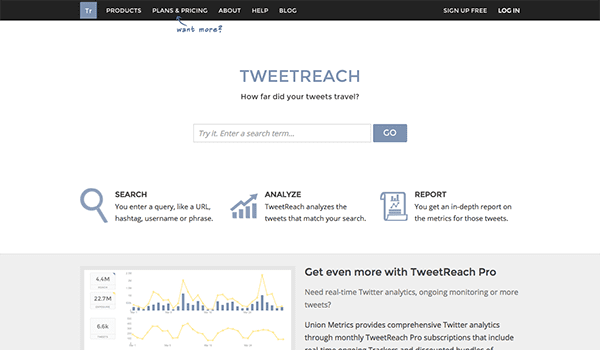 TweetReach is a really simple tool that helps you view and understand the "distance" your tweets have. You can also get reports on specific search queries, url's, hashtags, usernames, or phrases.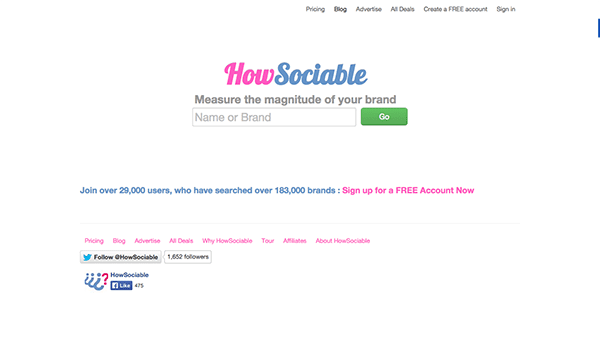 HowSocial is an interesting tool that measures your brand presence or "magnitude" across multiple social platforms. A good benchmark to be aware of.
These premium tools for social media analytics are great, but many are on the pricey side. While I think all of these are great options, I would highly recommend starting out using the free options above; particularly the freemium ones that can be scaled up as your brand grows. Then, if those tools/services end up not being enough then taking a closer look at these more expensive options.
1. CrowdBooster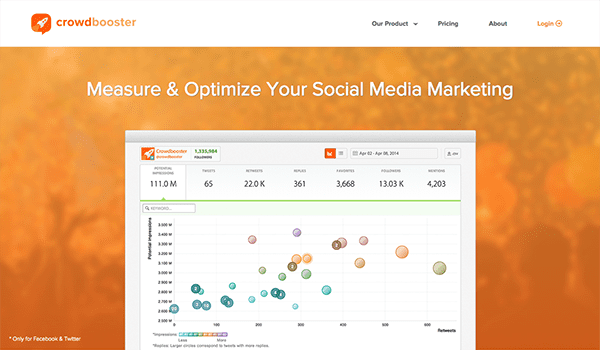 CrowdBooster is a powerful and highly focused analytics suite; compared to some of the do-it-all suites above. It provides you with a wide range of simple analytics and data driven insights that help you know your fan/follower base and reach them more effectively.
Price: starting @ $9/month | More Information
2. RivalIQ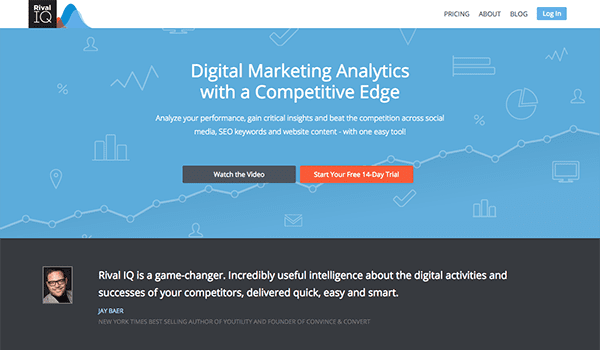 RivalIQ is definitely one of the higher end tools on this list. At $199/month, this is not for the average or even passionate individual. This is a tool for large brands/companies that want and need a great social analytics tool. RivalIQ provides social analytics across multiple channels, real-time trend alerts, and comparative analysis with competitors.
Price: starting @ $199/month | More Information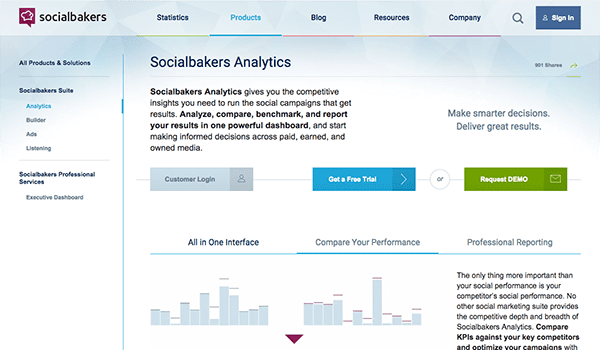 SocialBakers provides a single dashboard for all of your social analytics. It helps you set goals, generate (and understand) reports, and much more.
Price: pricing upon request | More Information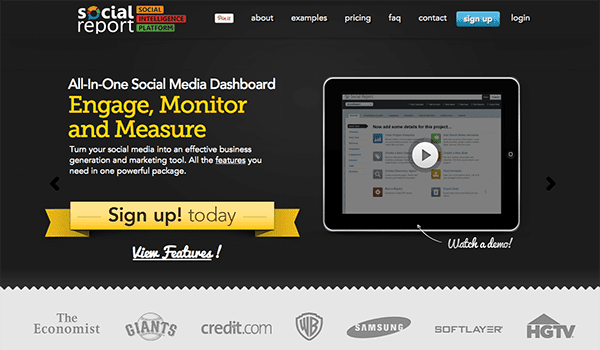 SocialReport not only offers social media analytics across multiple platforms but it also helps you see exactly how those metrics are impacting your bottom line.
Price: starting @ $9/month | More Information
5. Moz Pro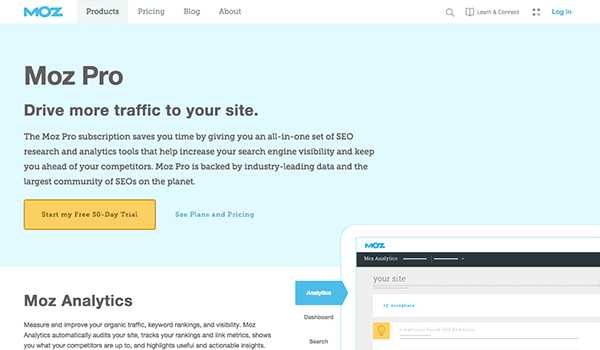 Moz Pro is all about getting the most SEO juice from your social efforts. This subscription gives you access to Moz Community Q&A, Moz Academy, Moz API, and more.
Price: starting @ $99/month | More Information
6. 33Across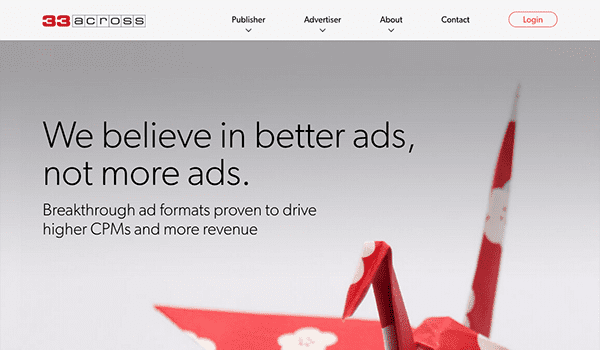 33Across is a real-time analytics solution for content creators and publishers. It puts all of your analytics–site and social–in one place with a lot of helpful tools for traffic building, monetization, ad performance, and more.
Price: pricing upon request | More Information
7. Brandwatch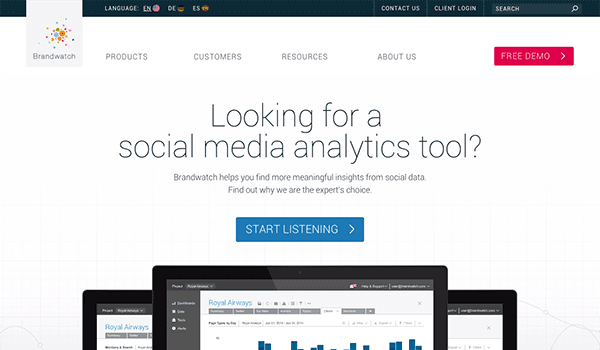 Brandwatch, another pricey but powerful solution, allows you to monitor conversations about your brand across social platforms and gain valuable insights along the way. Brandwatch is not a single product, but rather a suite of products you can use all together or just the ones you need.
Price: starting @ £500/month | More Information
8. Qualia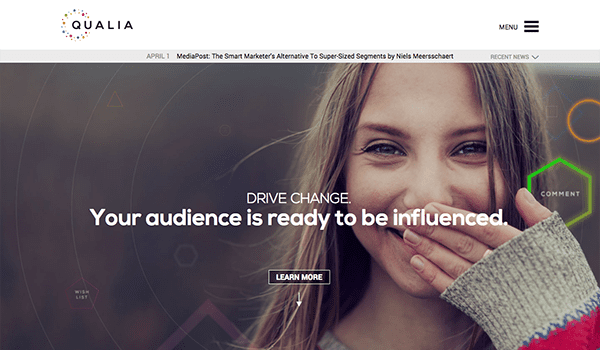 Qualia is a very interesting social tool. It helps you discover your audiences intent by monitoring their behavior over multiple social networks. This is great if you're looking to refine your social efforts in order to drive sales and/or build funnels, grow your influence, and in general understand how best to use the social platforms at your disposal.
Price: pricing upon request | More Information
9. Salesforce Marketing Cloud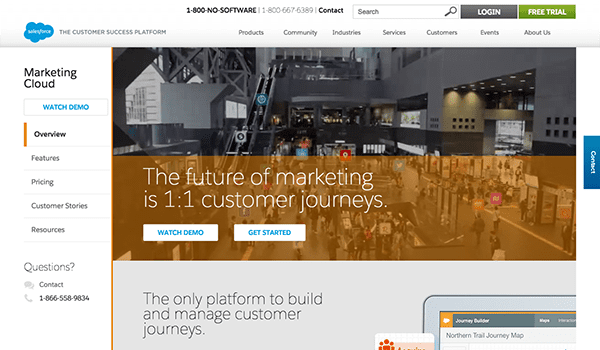 Salesforce is a powerhouse in the SAAS CRM market. What you might not know about them is that they do a lot more than just traditional CRM software. They also build great marketing tools too. Their Marketing Cloud takes a unique "customer journey" approach that allows you to create a customized pathway for your customers from social web to product.
Price: pricing upon request | More Information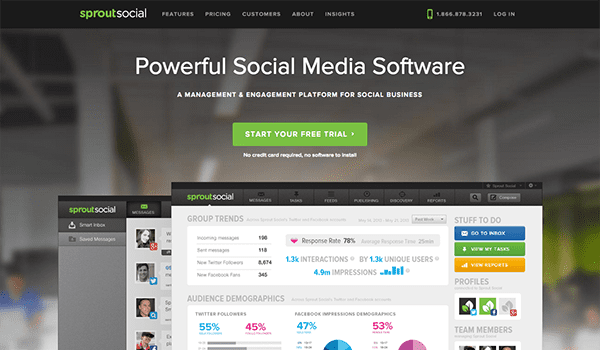 SproutSocial is a platform for team engagement and management of your brand's social networks. As part of its full suite of features it also provides excellent social analytics.
Price: starting @ $59/user/month | More Information
With all of his focus on third parties, it's important to remember that more than a few of the most popular social networks have themselves created analytics tools for us to use too.
Google+ Insights
Google is no stranger to high quality free analytics tools. However this one is specific to Google+ accounts and provides stats on profile visibility, engagement, and audience. To access your Google+ Insights navigate to your company page and select Manage Page. The resulting page will have your Insights in a dashboard-like layout.
Facebook Insights
Facebook comes with its own analytics baked in, called Insights. To access them on a page you've created (not a personal account, sorry) all you have to do is go to the Insights tab on said page. Of course this is only available to page admins, so it'll have to be on a page you personal administrate.
These insights will help you gage your page's performance by telling you of its reach, likes, comments, shares, etc. It's a really useful set of analytics and may be all most users really need.
Twitter Analytics
Twitter provides a 28 day summary of your account activity, with key stats and engagement. To access this report all you have to do is click on your image in the top right hand corner and select "analytics" from the drop down menu.
Pinterest Analytics
The official Pinterest Analytics dashboard, available at analytics.pinterest.com, is a great tool for brands/businesses. In fact, you have to have a business account to use it–but that's not very hard. You can even convert your personal account into a business account for free if you want. But what do you get? You get to keep an eye on impressions, followers, audience stats, and more.
LinkedIn Analytics for Business
LinkedIn Analytics (both for personal and business) are very comparable to what Facebook and Google offer. To access LinkedIn Analytics for business go to your business page and click on the Analytics link at the top of the page (by the home button).
LinkedIn Analytics for Individuals
LinkedIn Analytics (both for personal and business) are very comparable to what Facebook and Google offer. To access your personal LinkedIn Analytics navigate to Profile > Who's Viewed Your Profile and take a gander!
Finally we come to some integrated social media analytics tools that bring things into WordPress itself. Personally, I love this approach because I hate having to jump from web app to web app, account to account, and trying to make things work from outside of my site itself. For me, these tools really help keep me focused on my site and content.
1. Monarch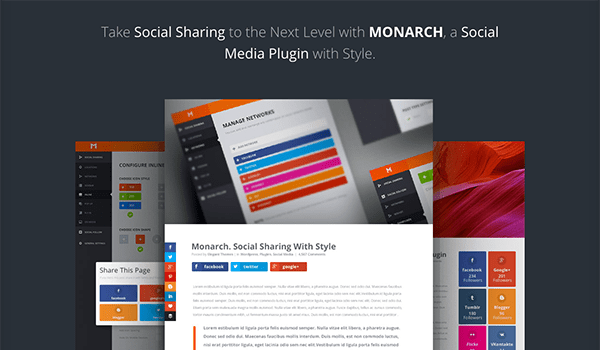 Monarch by Elegant Themes is a fantastic plugin. I think it's the best of its kind (and not just because I write here, I also use ET products as a customer) and certainly the most polished. This plugin not only provides social integration but a great set of metrics on the backend too. All easily configured and tracked from the WordPress Admin.
Price: free w/ membership | More Information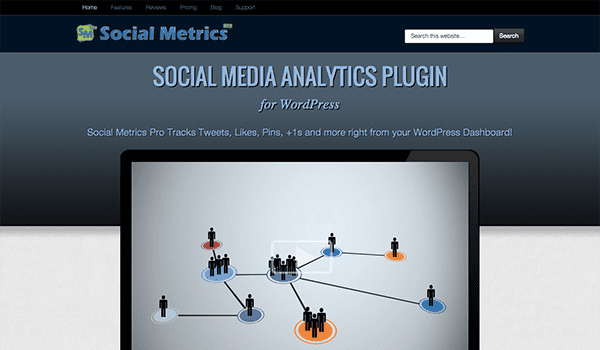 Social Metrics tracks tweets, likes, pins, +1's, and more right in the WordPress Admin.
Price: starting @ $27 | More Information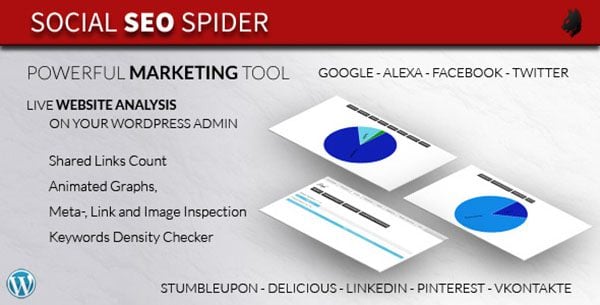 The Social SEO Spider's goal is to gather all of your important SEO related data into one place–your WordPress Admin. That means it is tracking a wide variety of social activity and providing you with backlink numbers, social shares, key word density, and more.
Price: $16 | More Information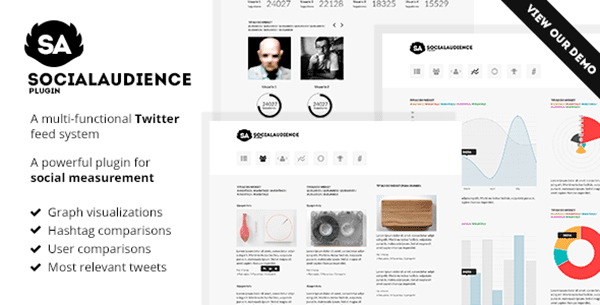 Social Audience brings twitter data and analysis into your WordPress Admin. It provides graph visualizations, hashtag comparisons, user comparisons, relevant tweets, and more.
Price: $18 | More Information
In Conclusion
As you can see, there is no shortage of social analytics and management tools available to WordPress users. However, as I mentioned above, I would highly recommend sticking with the free or freemium tools until you get a good idea of what exactly you need in order to work best.
In my case, I've been using a combination of Hootsuite, Google Analytics, and Monarch for my own projects. For me these tend to be the right combination. I can bring all of it either right into my WordPress Admin or (in the case of Hootsuite) into Chrome via extension–meaning I don't have to jump around.
What is the right combination of tools for you? Are you considering trying any of these tools that you haven't used or heard about before? Take a minute and share your story with us in the comments section below.
Article thumbnail via Bloomua // shutterstock.com