It's Monday! And that means you get something awesome for free. Today, we are giving away a Divi Layout Pack for a Travel Website. With 8 different page layouts to choose from, you should have everything you need to have a fully designed Travel site up and running in minutes.
The Travel industry is booming. Everyone is searching online for their next great destination. So it doesn't really make sense to downplay the significance of a well-designed travel website. If you need a website designed for you travel business/blog, need a web design upgrade, or need a pre-made travel layout to jumpstart your next Divi project, today is your day.
In this post we give you a thorough preview of the layout pack including fullpage screenshots of all 8 page layouts and links to live demos for each page. We will also give you instructions on how to download and install the layouts on your Divi Theme.
Enjoy!

Check Out The Divi Layout Pack
for Travel Websites Below

Landing Page Design

Homepage Design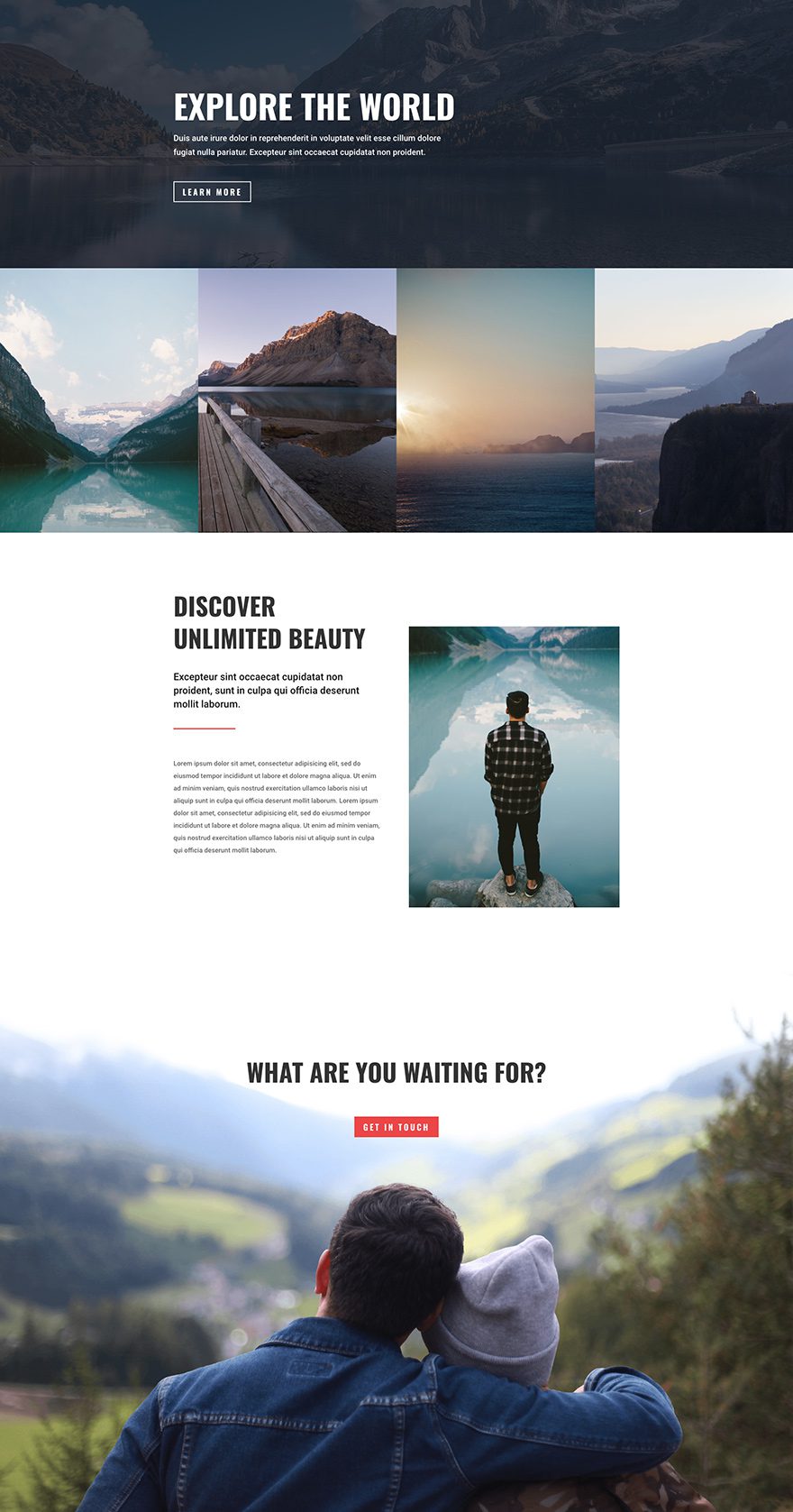 About Page Design

Team Page Design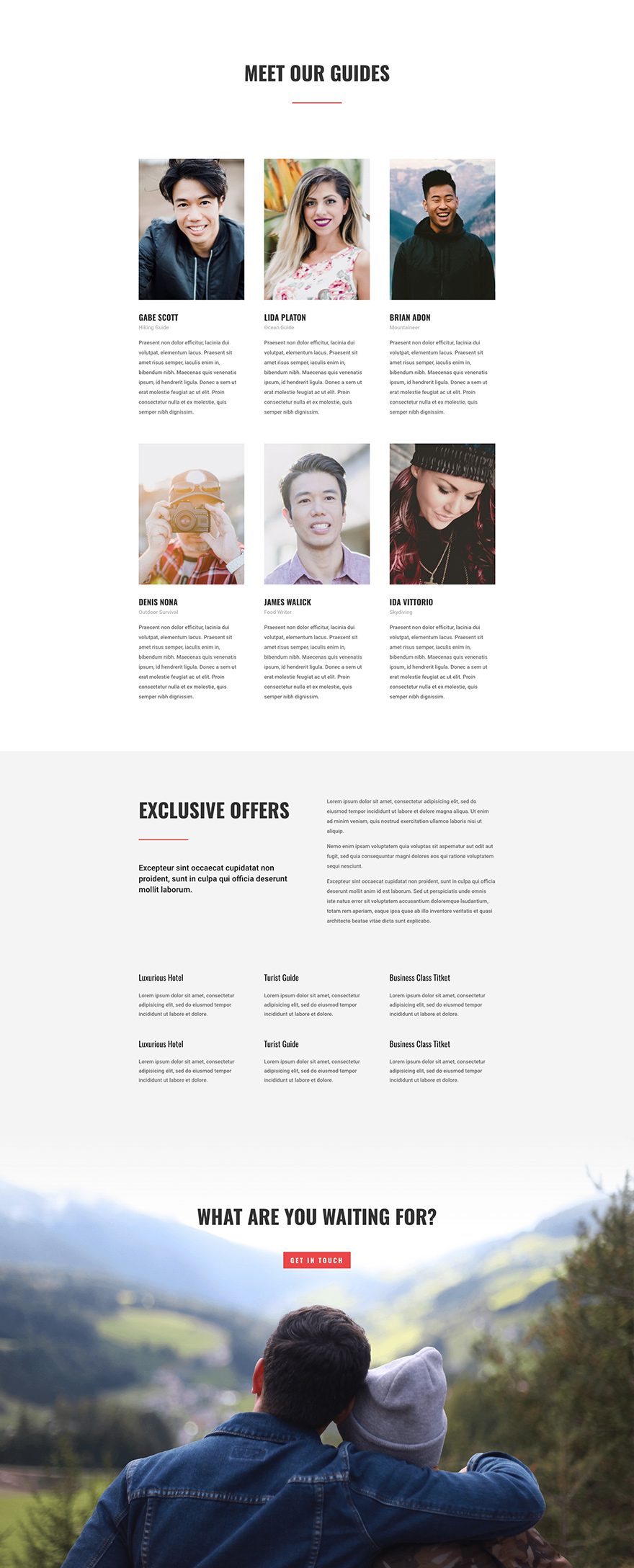 Travel Packages Page Design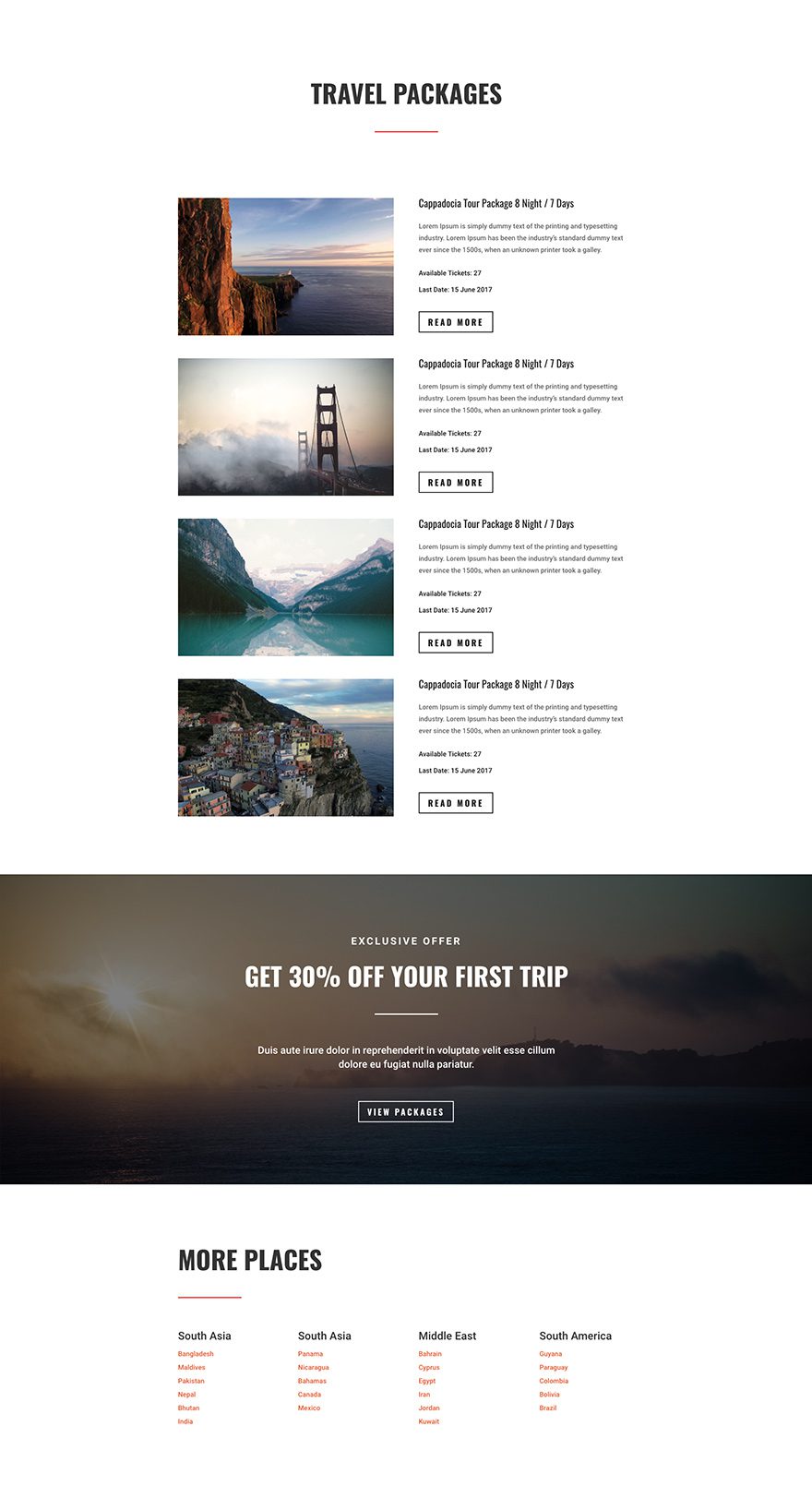 Shop Page Design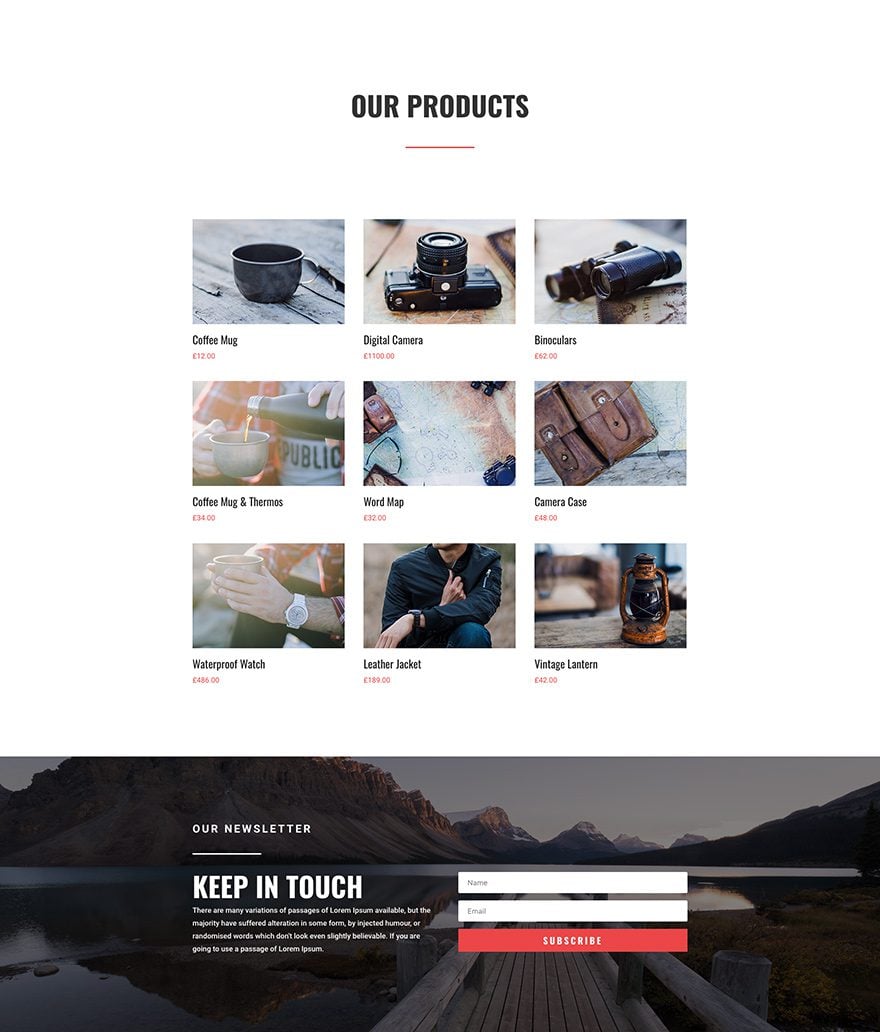 Blog Page Design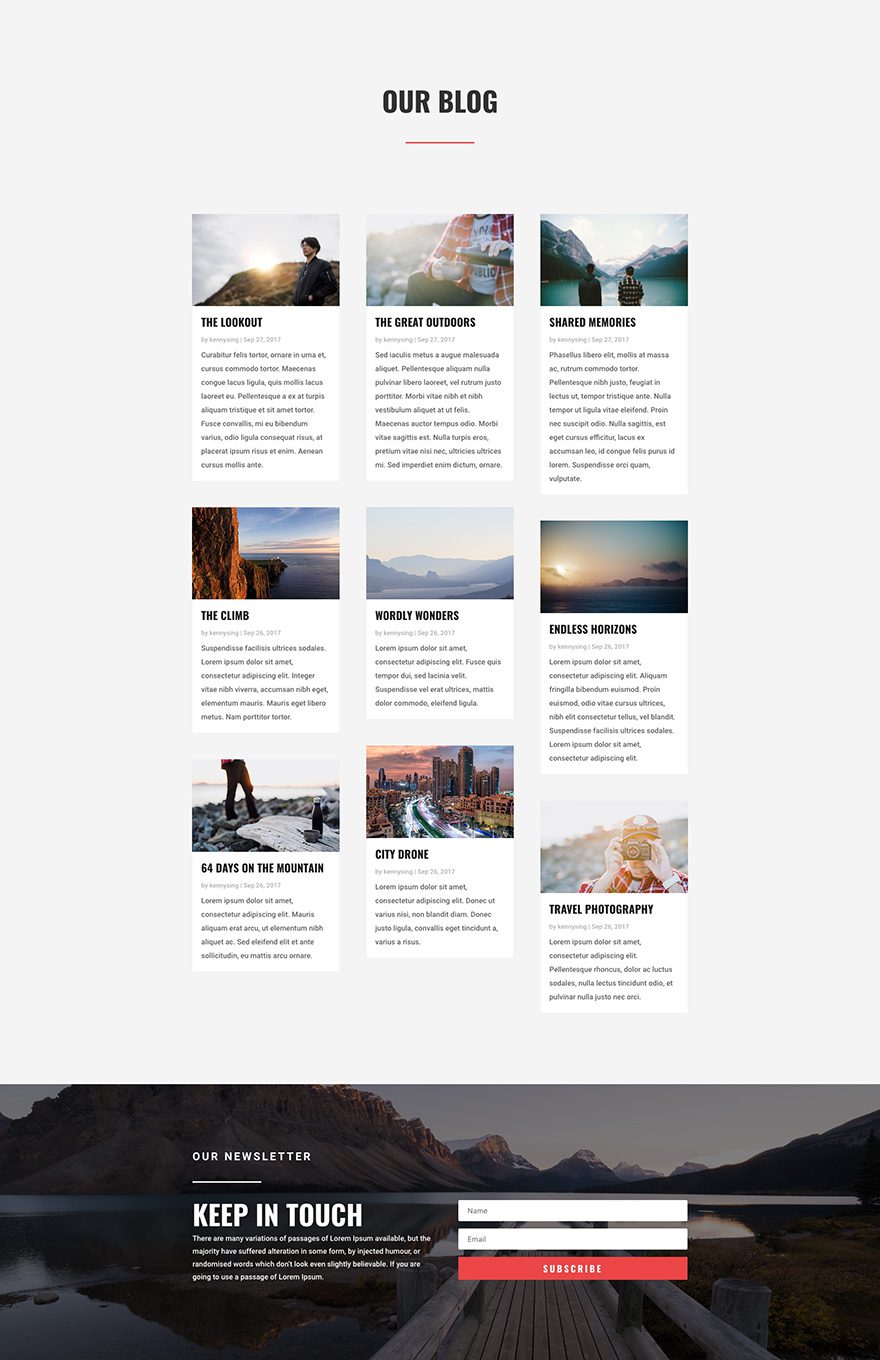 Contact Page Design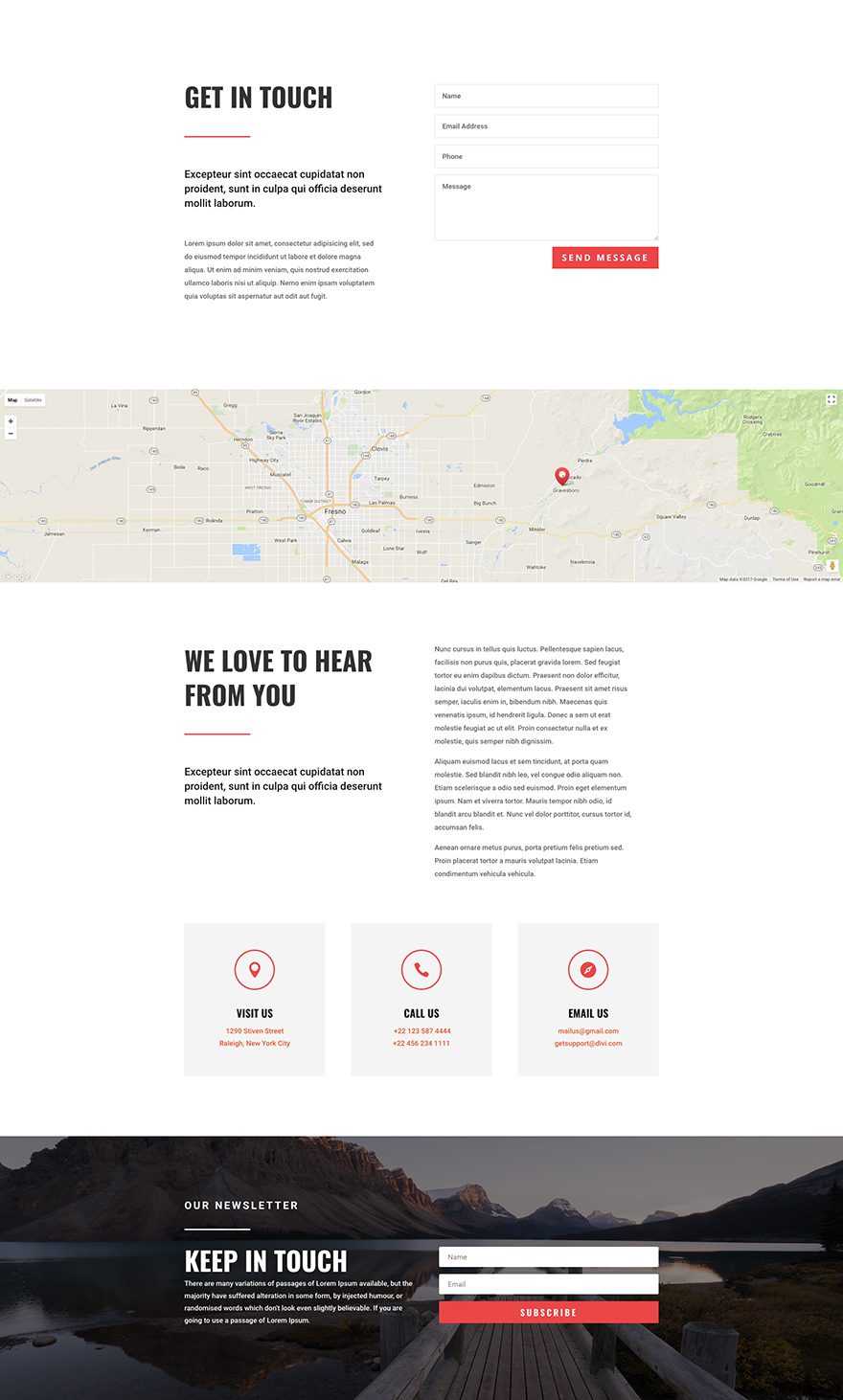 Key Features
Overall this layout is designed to look amazing out of the box. One standout feature in this layout pack is the CTA in the Footer on the Homepage. The use of parallax with those striking images are a beautiful combination. A similiar effect can be found at the top of the about page. Another thing that stands out is the way images are displayed. The layout purposefully let's the photos speak for themselves which is what you want in a travel site. Plus, I can see those background images working well with different color schemes.
Live Demos
Click the links below to see a live demo for each of the layouts included in the pack.
Download The Layout Pack
To use the Travel Layout Pack on your own Divi website, you will first need to download it using the button below. To gain access to the download you will need to subscribe to our newsletter by using the form below. As a new subscriber you will receive even more Divi goodness and a free Divi Layout pack every Monday! If you're already on the list, simply enter your email address below and click download. You will not be resubscribed.
How To Import The Divi Layout
Once you have downloaded the layout pack, locate the layout-pack-travel.zip file in your downloads folder on your computer. Double click the folder to unzip it and then navigate inside the layout-pack-travel folder. Inside this folder you will find 8 files, each of which is a unique layout that you can import into your Divi Library. To do so, navigate in your WordPress Admin to Divi > Divi Library > Import & Export. You can select the individual layout you desire or choose the All Layouts file to important everything at once.
Travel_All_Layouts.json
Travel_About.json
Travel_Blog.json
Travel_Contact.json
Travel_Landing.json
Travel_Shop.json
Travel_Home.json
Travel_Packages.json
Travel_Team.json
To load one of these layouts onto your page, activate the Divi Builder and then look for the "Load From Library" icon in the page settings bar (it looks like a plus symbol). Click this icon to launch the Load From Library popup and then navigate to the Add From Library tab. Here you can choose any of the eight layouts we've included in this pack to add to your page.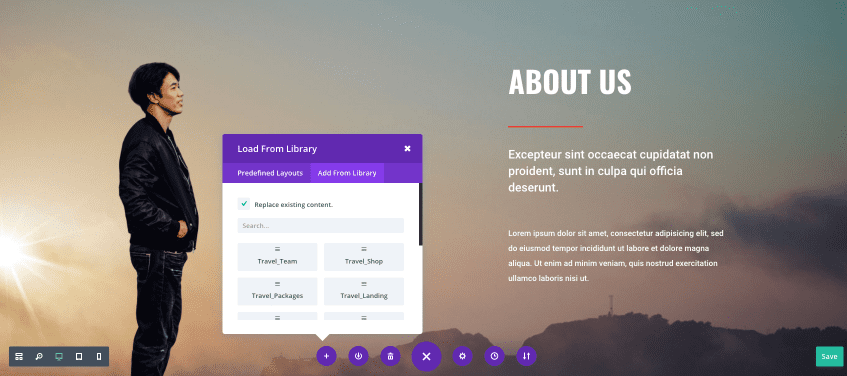 No Licensing Restrictions
The photos included with these layouts have no licensing restrictions. This means you can use them in all of your commercial projects without having to worry about paying licensing fees or attributing the photographer. Use them in your commercial websites, sell them within your Divi child themes, include them in your own Divi layout packs or just use them on your blog. We know how challenging it can be to find good photos and how confusing and scary the licensing that governs those photos can be. We want to fix that problem for our users.
I hope you enjoy this travel layout pack. Don't forget to check back every week on Monday to download a brand new layout pack!