Divi is a great choice for building professional trades websites – businesses such as white collar work or degreed professions. If you don't want to build your site from the ground up, and you don't want to use a child theme, you can use one of the high-quality layouts available to help you get started quickly. Layouts allow you to use as many of the layout elements as you want, and you can modify them to make a design all your own.
9 Premium Divi Layouts for Professional Trades
If you're looking for Divi layouts to build a website for professional trades you're in luck. There are several excellent premium layouts to get you started. In this article we'll take a look at 9 premium Divi layouts for professional trades. The layouts are in no particular order.
1. AmeriPet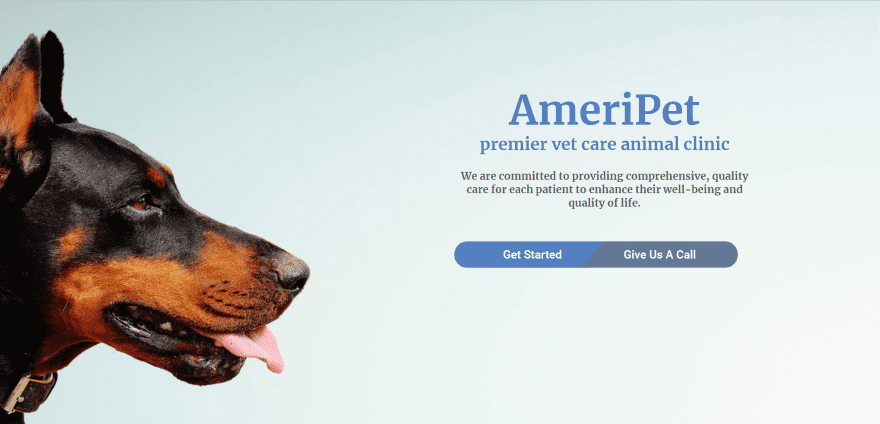 AmeriPet is a one-page layout that was designed for animal clinics. It includes a hero image area with header text, tagline, information, and a two-sided CTA button (like button #3 from day 82 of the Divi 100) placed on the right. The two-sided button is styled separately for each side. Services are listed with icons as bullets. Articles are displayed within a styled blog section. A couple of styled options are available for testimonials. It also includes a footer for contact information. The large typography for the header text looks great within the clean layout.
Price: $10 | More Information
2. ClinicHQ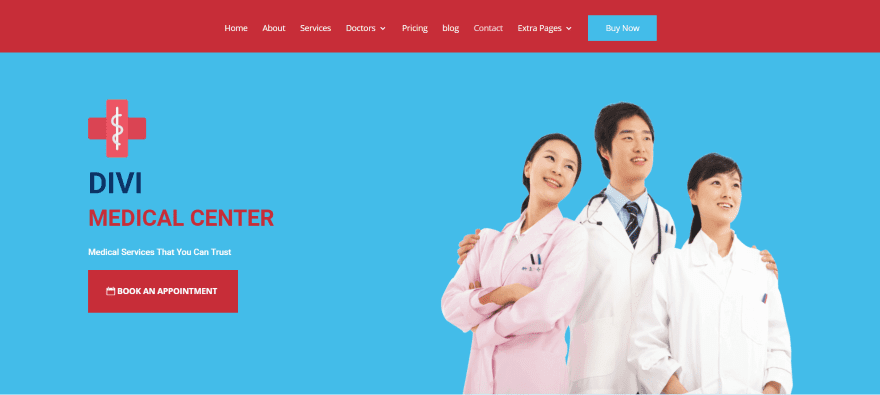 ClinicHQ includes around a dozen pages designed for medical professionals. The home page displays a hero image with logo, header and tagline text, and a CTA off to one side. Services are displayed in two columns with an image in one column and services in the other. Services use bordered blurbs with icons to one corner. An about section includes a styled contact form. Team members are shown with hover effects. Also included are styled pricing tables, blog, number counter, and many other styled modules within the various pages. The layout makes great use of color branding.
Price: $67 | More Information
3. Good Medical Health Care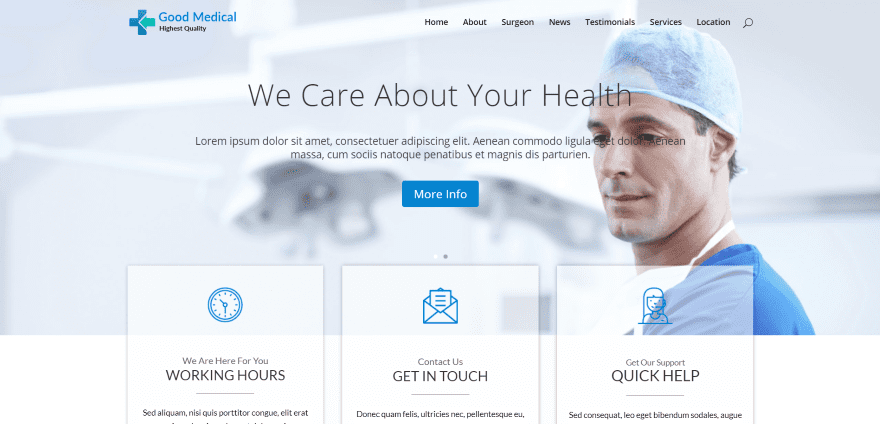 Good Medical Health Care is a one-page layout for medical facilities. The tagline, information, and CTA are placed over a full-screen slider. Blurbs for information overlap the slider and next section, and have an interesting deign where the icon portion is transparent. An about section displays an image and information within a boxed background in parallax. The styled person module highlights team members. Number counters show medical icons. Also included are a styled blog, testimonials, blurbs, and a map in dark gray with red highlights. The layout makes excellent use of color and icons.
Price: $17.99 | More Information
4. Medicare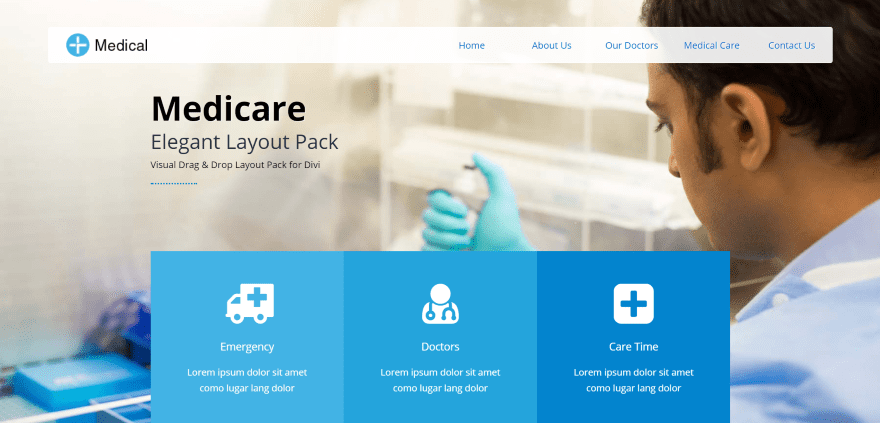 Medicare is a one-page design for healthcare professionals and medical organizations. Most of the layout is placed over a background image in parallax with different overlays for the various sections. The header includes a styled menu module, header text with tagline and information, and a flip box to show the service icon, title, and description, and then it flips around on hover to display a title and more information. Features are displayed within styled toggles and doctors are placed within styled person modules. Another section with flip boxes open the boxes on hover. Other styled modules include a map and contact form.
Price: $18 | More Information
5. The Dentist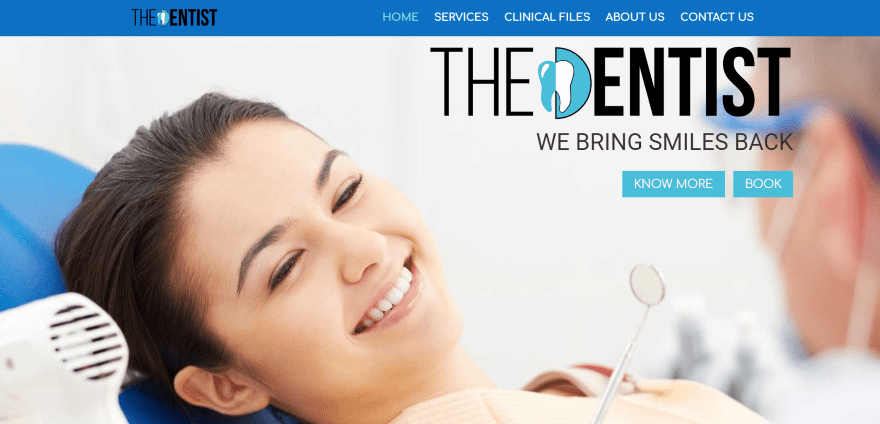 The Dentist includes 5 pages for dentist's offices or dental clinics. It includes a large hero section with an overlay to display the logo, taglines, and two CTA's. An about section provides information and an image in two columns with a button to the About page. Services are shown with large icons and a button to the Services page. Other styled sections include a quote, testimonials, a contact section that includes a styled section separator displaying graphics of dentist's tools in silhouette, and a full-width map with instructions on how to zoom in an overlay that displays on hover. I love the colors and large icons.
Price: $29 | More Information
6. Kriar Law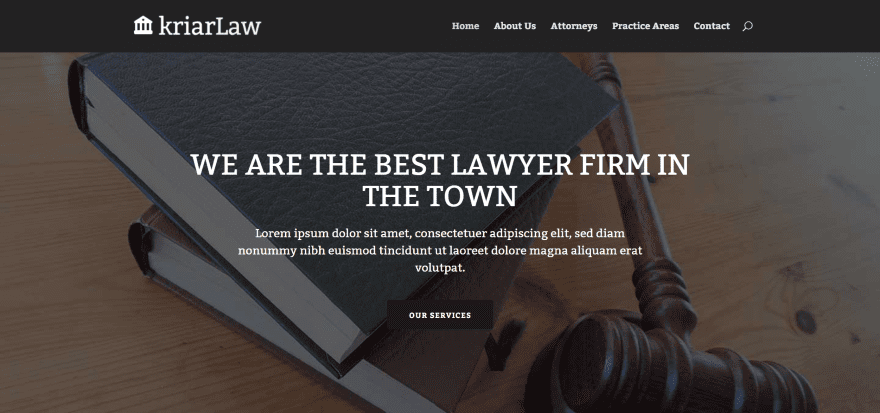 Kriar Law includes 5 pages designed for lawyers and law firms. The homepage displays a full-screen hero header with header text, tagline, and CTA in parallax. A two-column about section shows an image of the office in one column and information in the other. Practice areas are displayed in blurbs with borders and includes the name of the service and an icon. A full-width team section shows images of team members with their name and title. A styled contact section includes contact info and a contact form. The black with white colors work perfectly for this genre.
Price: $12 | More Information
7. Law & Associates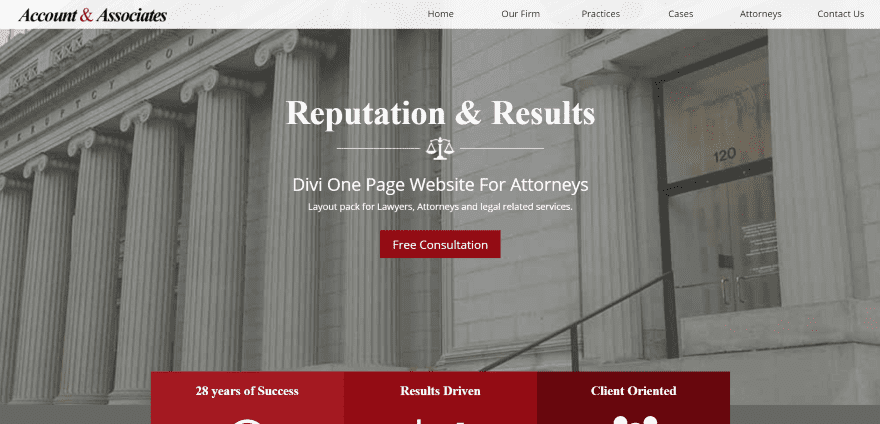 Law & Associates is a one-page design for law firms that uses a full-screen background with reverse parallax on scroll. The header also includes a logo, header text, tagline, and CTA. Information is provided within a flip box with icons and description. It's styled to let the gray background show through on hover. Image flip is used with several different effects to show the practice areas. About information is displayed with an image and bullets. Team members include a bar chart to show skills for a featured team member. CTA and quote sections use parallax. Example cases are shown within toggles. The gray and dark red color scheme works perfectly for the genre.
Price: $19 | More Information
8. Veterinario + Car Service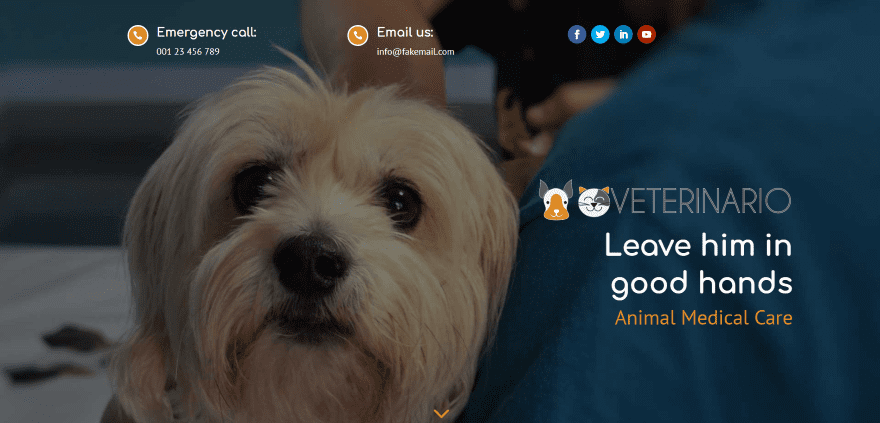 Veterinario + Car Service is a dual-purpose one-page layout made with animal clinics in mind. A clickable phone number, email, and social buttons are placed at the top. The logo and tagline are placed over the background image in parallax. A two-column about section displays an image in one side and information in the other. Services are displayed with circled images over a parallax background. Team members are shown within styled person modules. A styled email optin is placed over a background in parallax. Other styled modules include testimonial and a contact form. Contact information is given within an overlay in parallax.
Price: $15 | More Information
9. Mermaid Bundle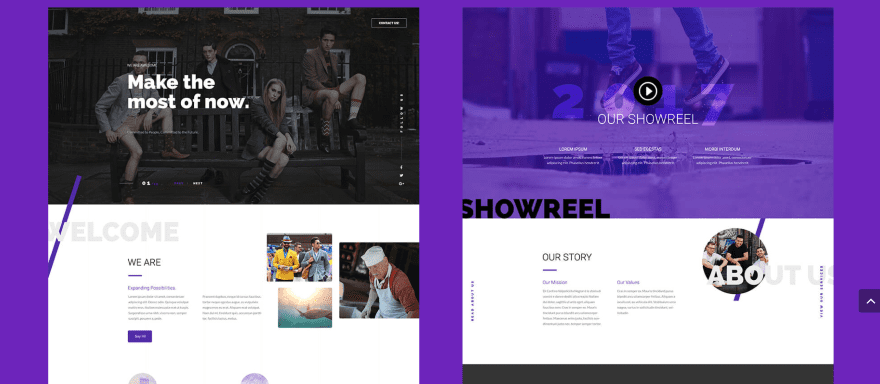 Mermaid Bundle by Divi Den is a UI kit – a collection of 57 Divi products including lots of styled modules that you can mix and match to create your own layouts or use one of the 12 pre-made layouts to create practically any type of layout for any type of business. It has 16 buttons with hover effects. Two interesting mask effects reveal the background image through columns or triangles. It's well-suited for professional trades. It comes with a plugin that adds library views so you can easily choose your layout or modules. It also includes PSD files.
Price: €33 | Get Divi Den Pro
Ending Thoughts
Well that's a look at nine premium Divi layouts that are perfect for any type of professional trades businesses. They include both one-page layouts and multi-page layouts. Color schemes are well-suited to their specific genres and target audiences. Any of these layouts are a great place to get a quick start on your next Divi design.
If you'd like your own design considered please feel free to email our editor at nathan at elegant themes dot com. Be sure to make the subject of the email PREMIUM DIVI LAYOUT SUBMISSION or FREE DIVI LAYOUT SUBMISSION depending on the type of layout you're submitting. We can't wait to see your layouts!
We'd also like to hear from you in the comments! Tell us what you like about these layouts and if there is anything they've done you want us to teach on the blog.
Featured Image via Sentavio / shutterstock.com
Disclosure: If you purchase something after clicking links in the post, we may receive a commission. This helps us keep the free content and great resources flowing. Thank you for the support!