Welcome to Day 37 of our Divi 100 Marathon. Keep tuning in for 100 days in a row of awesome Divi resources as we count down to the amazing release of Divi 3.0 on the final day of the series!
---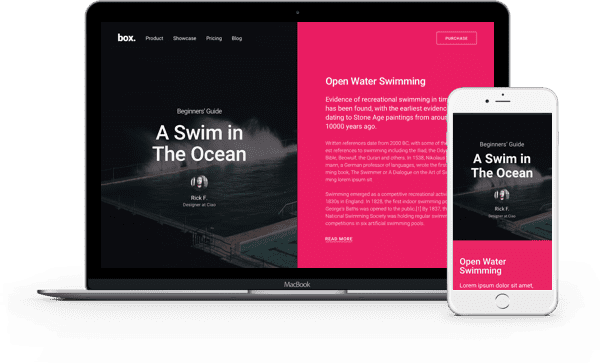 One interesting trend in web design this year has been split screen design. There have been many fun iterations on this simple idea floating around and so we thought we'd not only get in on the action but help our community join the fun too. Today we are pleased to be giving away a brand new Divi Layout Kit designed to boldly display articles, pricing options, feature lists, and anything else you can imagine.
Downloading & Using the Free Divi Split Screen Layout Kit
To use this layout pack on your Divi website, download the layout's zipped folder. Locate that zipped file in your downloads folder and unzip it. Then, navigate in your WordPress admin to Divi > Divi Library and click the "Import & Export" button at the top of the page.
When the portability modal pops up, go to the import tab. Click the "choose file" button and select a file from the folder you unzipped a moment ago called "divi-100-split-screen-layout-kit" and then click the blue "Import Divi Builder Layout" button.
When the import is complete you will now be able to use the above layout on any post or page by selecting it from Load From Library > Add From Library within the Divi Builder. Additionally, the "components" file, once imported will be available for you to use from the "Add From Library" option next to the section controls within the Divi Builder.
Subscribe To Download For Free
Get These Unique Split Screen Layouts
The designs below include two featured article layouts, one featured list layout, and one pricing table layout. But of course you can feel free to mix and match elements, replace content, or simply branch out using the same general concept to come up with an endless supply of unique variations all your own.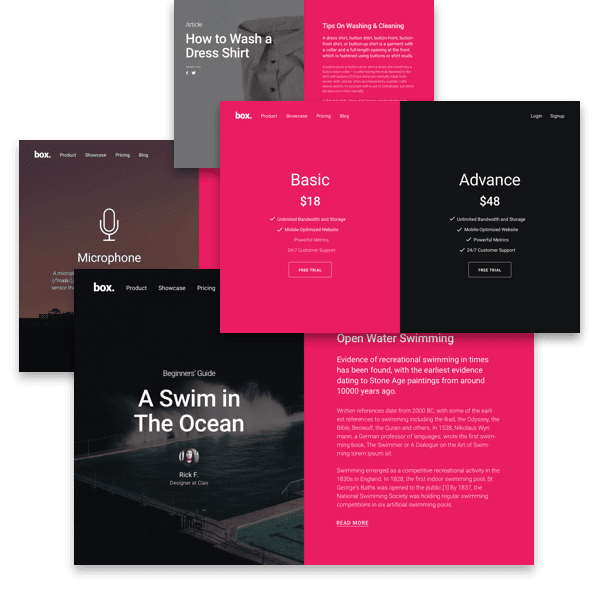 You won't want to miss tomorrow's blog post as Nick will be sharing another sneak peek of Divi 3.0. This sneak peek will focus on the new inline editor coming to the front-end builder. One of many new features we're excited to get into your hands. Stay tuned!
Be sure to subscribe to our email newsletter and YouTube channel so that you never miss a big announcement, useful tip, or Divi freebie!

Divi 100 Day 37
The Countdown To Divi 3.0
This post is part of our Divi 100 marathon. Follow along as we post free Divi resources for 100 days in a row! This 100-day countdown will end with the game-changing release of Divi 3.0, including our brand new visual editor built from the ground up using React. Divi 3.0 will change the way you build websites with the Divi Builder forever!
Let the countdown begin.