Welcome to Day 23 of our Divi 100 Marathon. Keep tuning in for 100 days in a row of awesome Divi resources as we count down to the amazing release of Divi 3.0 on the final day of the series!
---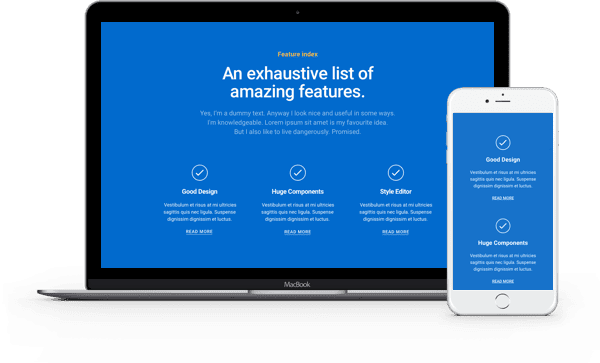 Anyone selling a product or service on their website can get serious mileage out of a good feature list. These lists cut straight to the point by showcasing the "features and benefits" associated with your product or service. Designing a visually appealing feature list will contribute to how enticing your offer is to potential customers. That's why in today's post we're giving away a brand new Divi layout pack with eleven feature list sections for you to use on your Divi website.
Downloading & Using the Feature List Layout Pack
To use this free layout pack on your own Divi website, download the zipped file by using the button below. Locate that file in your downloads folder and unzip it. Next, navigate in your WordPress Admin to Divi > Divi Library and click on the "Import & Export" button at the top of the page.
When the portability modal pops up, go to the import tab. Click the "choose file" button and locate the file within the newly unzipped download that you would like to add to your website. After your selection has been made click the "Import Divi Builder Layout" button and wait for your import to finish.
You will now be able to add these feature list sections to your Divi website by click the "Add From Library" option next to the add new section icon in the Divi Builder.
Subscribe To Download For Free
11 Enticing Feature List Section Layouts
Divi is a fantastic tool for creating landing pages. Often one of the most important sections on a landing page is the feature list that showcases what exactly it is your product or service is offering. Having a well designed feature list can do a lot for your conversions. That's why we're providing you with eleven enticing feature list designs for you to use (or tweak) to your liking.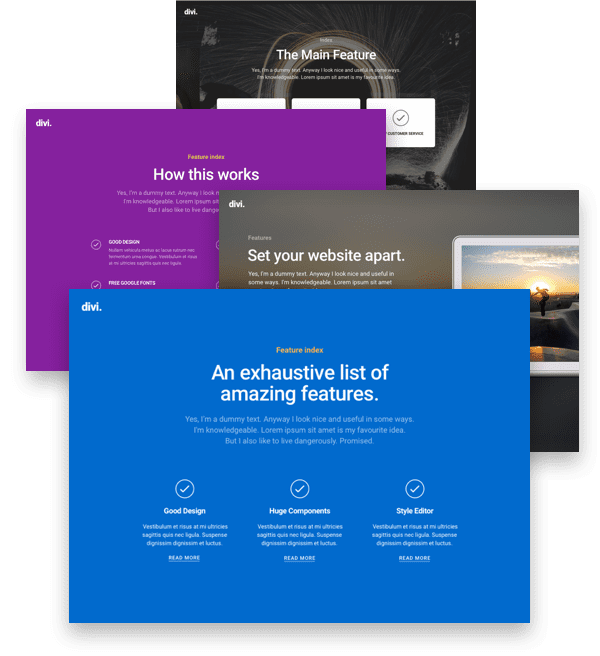 We Need You! To Participate in Tomorrow's Divi Survey
Tomorrow's post is very important for the future of Divi and the Divi Community. We are conducting a Divi Survey that will help to guide the future direction and development of our flagship product. If you want to contribute directly to the improvement of the tool we all use and love, then participating in this survey is the most helpful thing you can do at this moment. Thanks in advance! See you tomorrow!
Be sure to subscribe to our email newsletter and YouTube channel so that you never miss a big announcement, useful tip, or Divi freebie!

Divi 100 Day 23
The Countdown To Divi 3.0
This post is part of our Divi 100 marathon. Follow along as we post free Divi resources for 100 days in a row! This 100-day countdown will end with the game-changing release of Divi 3.0, including our brand new visual editor built from the ground up using React. Divi 3.0 will change the way you build websites with the Divi Builder forever!
Let the countdown begin.