Divi is an excellent theme to build travel websites. Whether you're building a website for travel agencies with booking built in or creating a personal blog about your travels, you can build it with Divi. Of course, you can build from scratch or use a layout or child theme to build any type of travel site you want.
In this article, we'll take a look at ten Divi child themes for travel websites to help you get started on your next travel design. The child themes are in no particular order.
Subscribe To Our Youtube Channel
1. Oceanz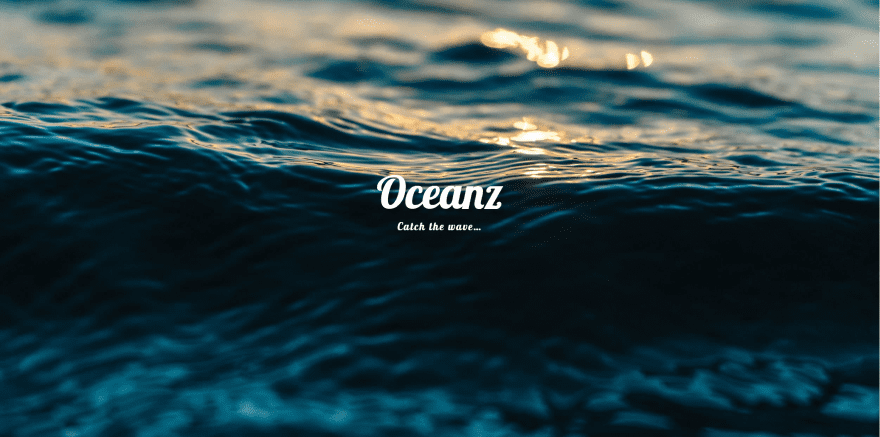 Oceanz is a great choice for a travel agency or blog. It comes with 5 page-layouts including the homepage, about, blog, services, and contact. Wavy section dividers give the impression of water by utilizing transparency over the background images of the ocean. Royalty-free images are included as well as a features grid with CSS and lots of animations throughout the theme. The homepage uses lots of parallax and full-width images and transparent elements. Each of the pages follows a similar design of the homepage, but add unique elements such as overlapping images.
Price: $49.95 | More Information
2. Travel – Divi Child Theme for Tours & Hotels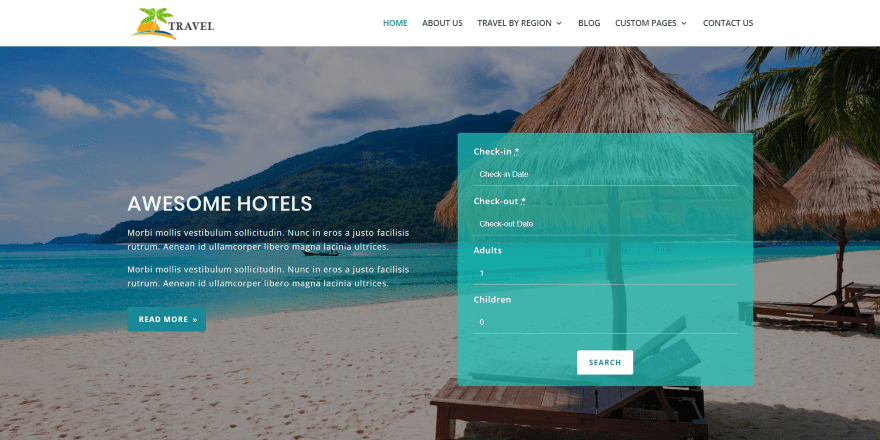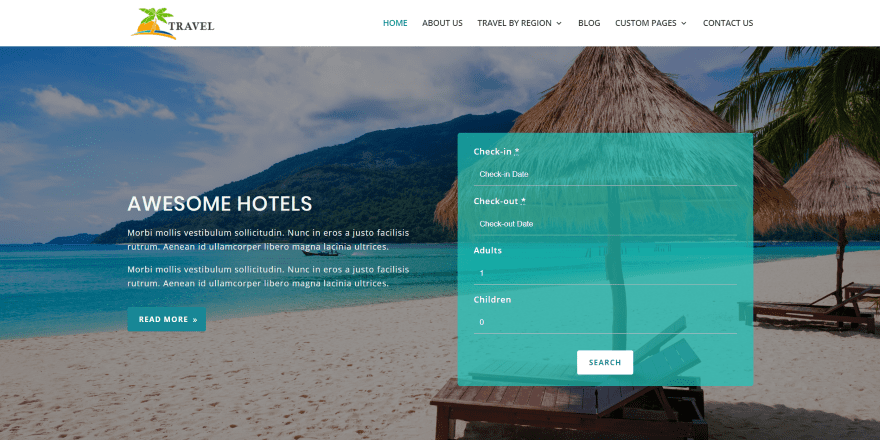 Travel – Divi Child Theme for Tours & Hotels was designed with travel agencies in mind with specific attention to traveling, tours, beach villas, resorts, and hotels. It comes with 13 pages including hotels in the area with listings, packages and pricing, travel by region, galleries, 404 page, maintenance page, and more. It also has a payment gateway page. Plans can be set up as pages or as products. It includes built-in searching with filters to find the perfect accommodations for your needs.
Price: $69 | More Information
3. Holiday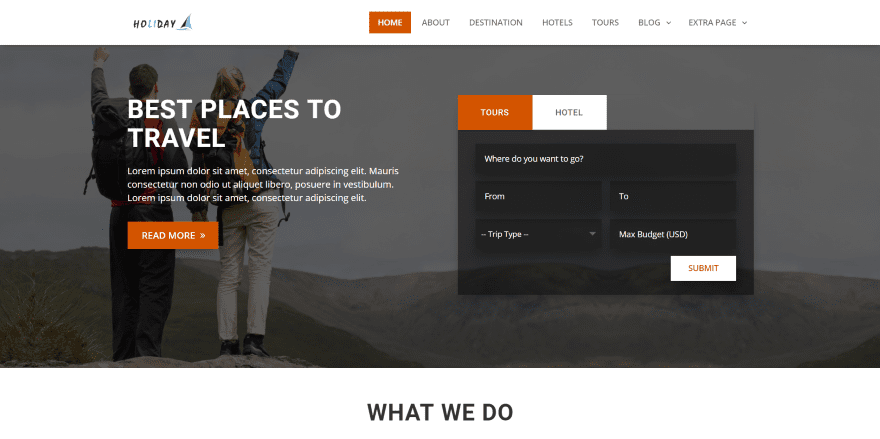 Holiday was designed for travel and tourism websites and includes search features for tours or hotels. It comes with 10 pages that include destinations, hotels in the area, tours, 404, coming soon, and more. Display hotels in the area with ratings, set up the booking for flights, hotels, and tours. The destinations, tours, and hotels pages use nice card designs with both grid and full-width layouts. The blog pages include styled sidebars.
Price: $69 | More Information
4. Vryn Travel Agency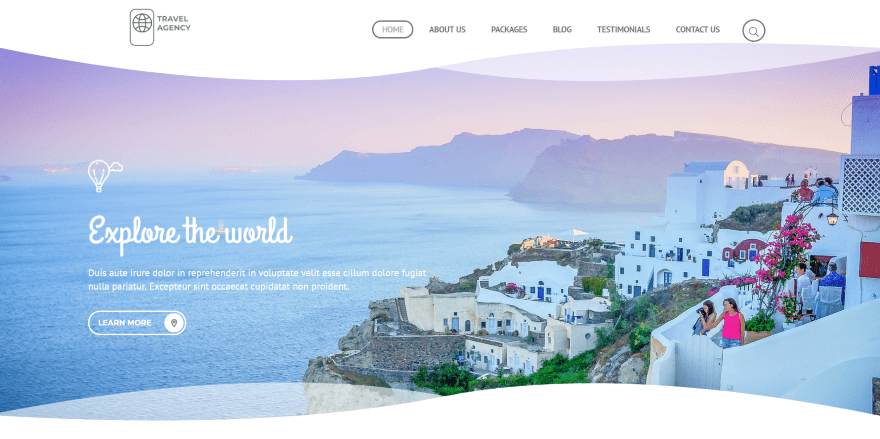 Vryn Travel Agency was designed with agencies in mind. It comes with 6 pages including the homepage, about, packages, testimonials, blog, and contact, and interesting styling for the menu. The homepage displays packages in blurbs that show the images with titles and number of days and nights for the package. Another section shows images with buttons that appear on hover. It uses lots of hover animations throughout the site. It has lots of wavy section dividers for sections with solid backgrounds. The packages page shows packages in a similar layout as blog posts and includes styled pricing tables.
Price: $90 | More Information
5. Travel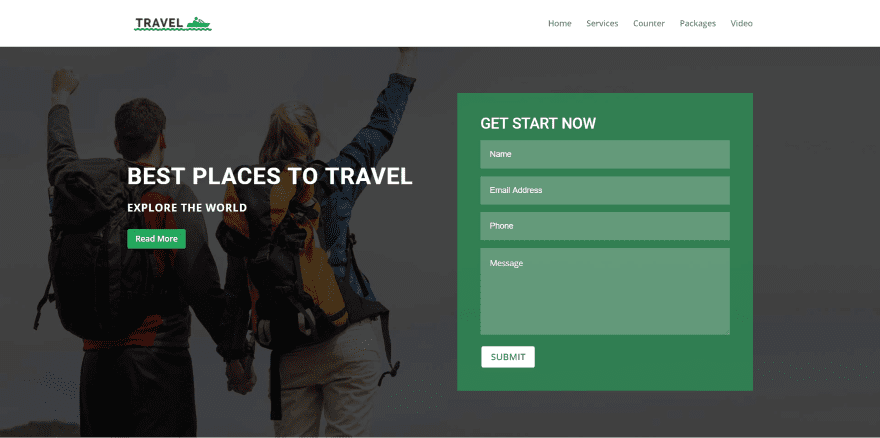 Travel was designed for travel agencies and travel guides. It's a one-page child theme with lots of styled sections and modules. Services are shown as blurbs with icons and titles. Packages are displayed with three different designs including a unique card with travel information, cards made with images and text modules, or as blog posts (or custom post types) in full-width. It includes a contact form in the hero section.
Price: $29 | More Information
6. Ozma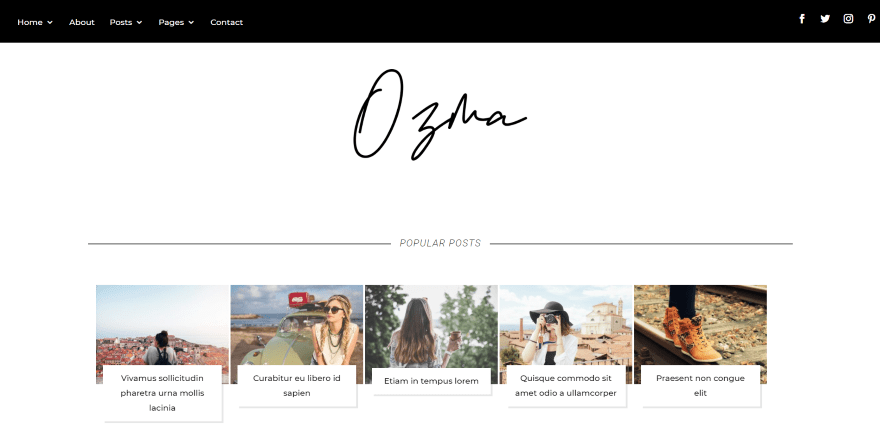 Ozma is a minimalistic design that's perfect for travel blogs. It comes with 7 page-layouts that include 2 homepages (with and without sidebars), about, post layouts with multiple sidebar options, FAQ, pages with and without sidebars, and a contact page. The homepage displays a large header with the logo followed by a section with the most popular posts, which are displays as cards with images and titles that overlap them. An Instagram feed is embedded near the footer area.
Price: $29 | More Information
7. Her Fantasy Trip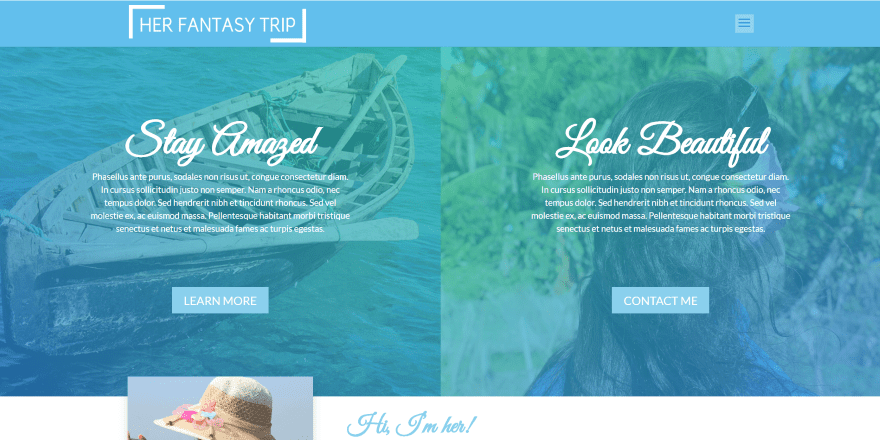 Her Fantasy Trip was made for travel enthusiasts and works great for a travel blog, travel photography, and tours. It comes with 6 page-layouts that include 2 homepages, about, 2 blog pages, and a contact page. It includes a custom hero section that's split into two parts that change size depending on the location of your mouse pointer. The second homepage includes a post slider. It also has lots of animations, a slim opt-in form, a custom sidebar, and a custom preloader.
Price: $35 | More Information
8. Mko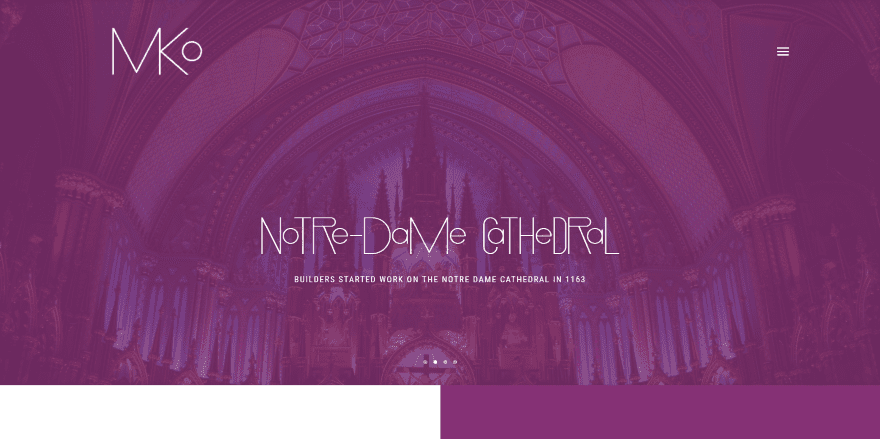 Mko was designed for personal travel blogs. It has several custom post pages to display the locations. It includes bold colors and a unique layout that displays categories with bold backgrounds within a multi-layout grid. The grid includes images and broken spaces where the parallax background shows through. The full-width slider shows the photos behind a dark overlay. The theme uses unique fonts for the titles. Show photos of your travels in a gallery in a full-width grid. Pages for each location show the photos in full-screen with styled titles. Locations include embedded video and maps. It includes a styled back-to-top button.
Price: $59 | More Information
9. Luca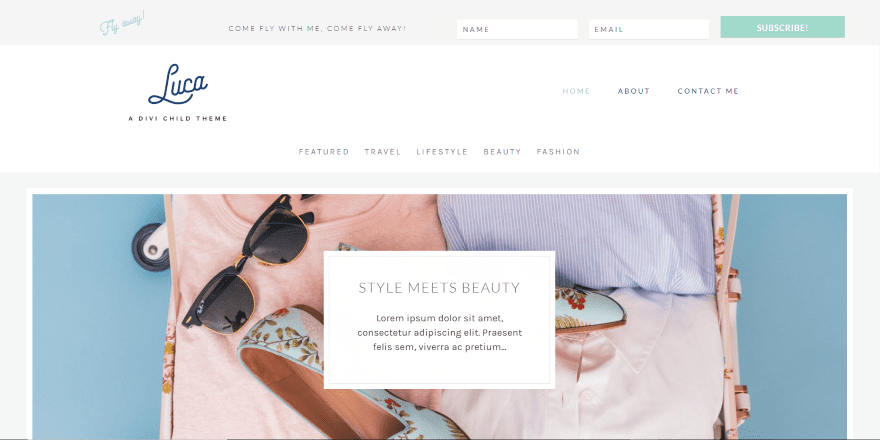 Luca was designed with travel bloggers in mind. It has several pages including home, about, contact, and several blog pages. A slim opt-in form is placed above the header. Below the header are links to each of the categories. Following this is a featured post that's styled with a thick border. The post title and excerpt are centered. Featured posts display in a grid followed by the standard blog with a styled sidebar. The blog cards have an elegant design. An Instagram feed is embedded at the bottom of the page.
Price: £65.99 | More Information
10. Parisienne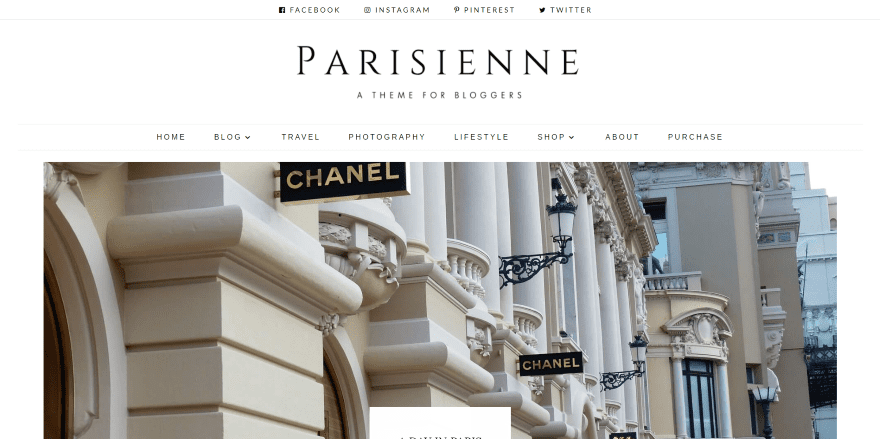 Parisienne was designed for travel bloggers. It provides social follow links centered across the top. Categories are added to the menu. A post slider shows the latest posts with a styled title that sits within a box at the bottom of the image. Under this is a section of featured posts with images and a title. The blog section shows the posts in full-width with a styled sidebar. The theme has a black and white design that looks sophisticated. It has multiple blog designs to choose from.
Price: £65.99 | More Information
Ending Thoughts
That's our look at ten awesome Divi child themes for travel websites. These child themes can create just about any type of travel-focused website you need including travel agencies with booking for hotels and tours, and travel blogs that focus on photography, information about the destinations, and more. No matter what type of travel website you need, you're sure to find something on this list to help.
We want to hear from you. Have you tried any of these Divi child themes for travel websites? Let us know what you think about them in the comments.
Featured Image via Vadim Georgiev / shutterstock.com