Welcome to Day 33 of our Divi 100 Marathon. Keep tuning in for 100 days in a row of awesome Divi resources as we count down to the amazing release of Divi 3.0 on the final day of the series!
---
Designing a solid business website is a complex process. To pull it off just right, you need to know the ins and outs of your field, be certain about what your clients need, and understand how to fulfill those desires.
Previously, we've presented you with several roundups of business websites built using Divi. Today, we want to go beyond that and talk about something a little more useful for budding businesses – child themes.
If themes are the foundations upon which your WordPress house is built, think about these child themes as the finished product, all ready for you to move in as soon as you're done bringing in your furniture. Our list of ten premium Divi child themes even features solutions for multiple themes. Let's take a look and see if any of them fit your needs!
10 of the Best Divi Child Themes for Businesses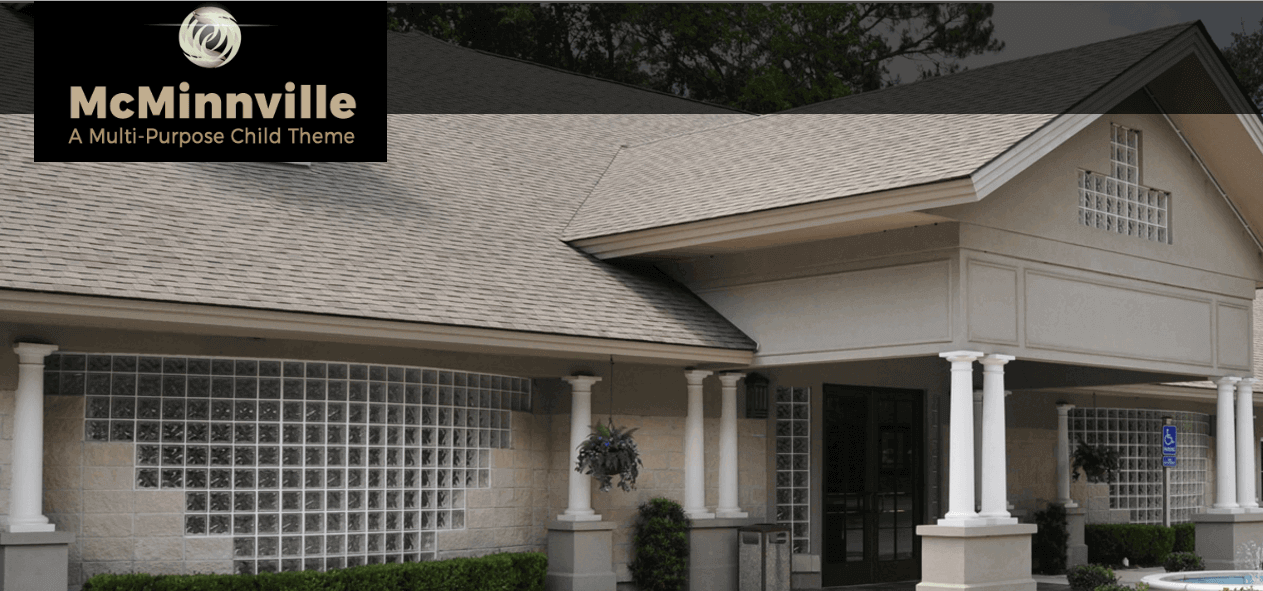 McMinnville is a multi-purpose theme with a very professional feel – perfect for businesses that need their sites to have a distinguished look. It's mainly marketed towards construction, medical, and legal professionals, although it could easily be re-purposed for nearly any kind of field that fits the criteria above.
But what is it exactly that makes it so great? Well, for starters, it's got a solid homepage, a dedicated service page, an About Us section, a basic gallery, and, of course, a blog thrown in for good measure.
The theme's homepage may not win any awards for creativity, but what it does, it does well. It includes the ever popular full-width header image made, a Blurbs module, a small biography section, a Testimonial module, a subscription form, links to your blog, and social media icons.
If we had to pick favorite pages, we would choose the About Us and Contact Us pages. The first makes great use of the Text module for five individual biographies, and the second combines a solid contact form (with extra fields) with the Map module.
Key features:
11 custom pages and post layouts available right out of the box.
Primary and secondary custom menus with an overlapping header design.
Custom login page.
Price: $175 | Demo site
2. Listate (Real Estate)

Listate is a powerful and colorful real estate child theme, perfect for realtors who want to gain an edge over their competition by displaying their listings in all their glory. For the theme to work properly, you'll need to install the free IMPress Listings plugin, which powers the listings functionality which represents the heart and soul of the theme.
The theme features an eye-catching blue and orange color combination; the contrast does wonders in highlighting key information. Its homepage includes a search function for your listings that is placed front and center, featured listings, a filter to look through available properties, a contact form, and even a small Accordion module, which includes guides for renting and selling.
The individual listings themselves are, of course, the most important part of this theme, and they're displayed in a very attractive manner, with all of the relevant information upfront. Our only quibbles with the theme would be that the default text size for the listing information bar below the photographs is a bit too small, and the price doesn't pop as much as it should. Furthermore, the empty space next to the Listing Inquiry section could be put to great use by including the Map module, or perhaps even a related listings section.
Key features:
Over seven custom pages and post layouts available right out of the box.
Custom login screen.
Full integration with the IMPress Listings plugin, which you will be prompted to install when activating the child theme.
Geared for use by multiple realtors simultaneously.
Price: $35 (Minimum) | Demo site
3. Landscapes (Small, Local Businesses)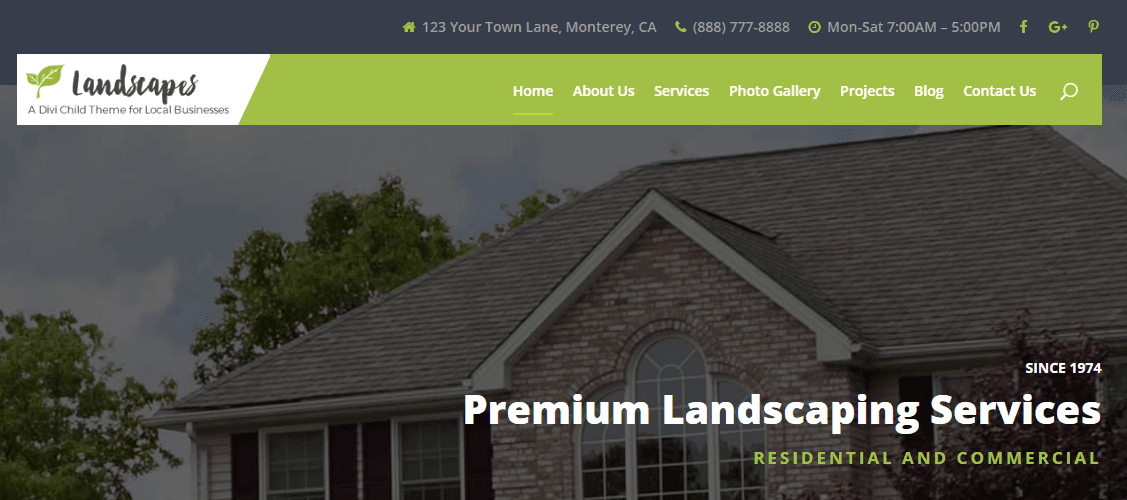 Although we've never dipped our toes into the landscaping business – WordPress just seemed like a better fit – we've got to admit that after taking a good look at this theme, we were of half a mind to drop our gigs and go join a landscaping crew. The aptly named Landscapes theme makes fantastic use of an appropriate green color palette, and its demo site is filled with gorgeous greenery.
We're big fans in particular of the small, fixed navigation bar on top of the dark background, which has a section dedicated to operating hours – a slight detail that a lot of business sites overlook or simply throw in someplace where customers will have to go looking for it. Take a page from their book and place it front and center!
The theme also makes good use of parallax backgrounds, white space, calls to action, and a basic Recent Projects section.
Key features:
Seven custom pre-designed pages ready to go.
Custom three-column portfolio grid design.
Clickable phone number and address in the top header.
Custom login page.
Unique custom animations for blurbs and gallery images.
Price: $175 /| Demo site

As you might imagine, the key to success in the field of mentoring is to foster your credibility, and the Success Trainer theme seems to be built around that very simple concept. Its homepage features a full-width header section with a semi-transparent color overlay, which plays into the palette of the rest of the site. The theme is topped by a strong, confident logo.
This is followed by an As seen on section, which is always a nice touch, provided that you can link to sources to back up your claims. We can't tell you how many times we've come across such sections and left disappointed because we couldn't check out whether their claims were true.
Next, we've got a short bio section which links to the About Me page, and is followed by our favorite part of the whole theme – its case studies. Each case study is comprised of a project page, which includes descriptions, links to social media, examples of the Number Counter module, and individual contact forms.
Key features:
Nine custom page layouts and five different e-commerce store designs.
Two different homepage designs.
Diagonal section separators.
Unique project portfolio grid.
Comes with its own stock images, which are free to use (although you should probably look into replacing them!).
Price: $75 | Demo site
5. LocalBiz (Construction)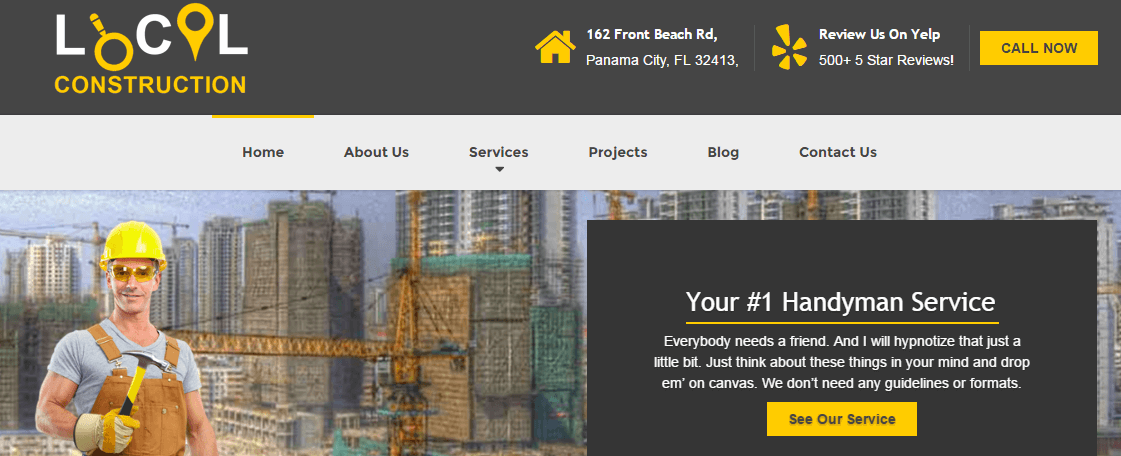 The LocalBiz child theme came as a bit of a surprise to us –not because we didn't expect a construction theme to look so professional, but rather because we had no idea that there were so many stock photos of people standing around in hard hats laying around the internet. If we made a drinking game out of all those pictures, we wouldn't make it to the end of this list.
On a more serious note, the LocalBiz theme makes great use of its navigational bar by including a strong call to action right at the top, and the single image of the construction worker as an overlay over the parallax construction background makes for a very nice effect.
Aside from that, we also enjoyed the addition of a dotted list on the homepage using the Text module, the full-width map, and the simple Testimonials module section alongside a clean-cut contact form – with a lovely little Best Time To Call field added for good measure.
Key features:
Over ten custom page styles.
Ready for WooCommerce integration.
One-click demo version import available.
Custom mobile menu.
Includes video instructions.
Price: $150 | Demo site

Startmetric is a modern-looking child theme targeted towards startups. Its design is focused on increasing conversions, and it features a minimalistic style.
The theme features its own back end menu, and two separate menus for your pages, so you'll be able to play around with their settings and create something that stands out from among other sites. As a conversion driven theme, it makes great use of calls to action throughout its pages, the Blurb module to expand on its unique features, the Testimonial module to build trust, and a simple pricing table example also constructed using Divi.
Key features:
Seven unique page layouts, including two different contact pages.
The back end menu includes its own design, which mimics the style of the child theme.
Includes several pricing table designs.
Optimized for mobile.
Price: $97 | Demo site
7. Versatile (Mentoring and Online Courses)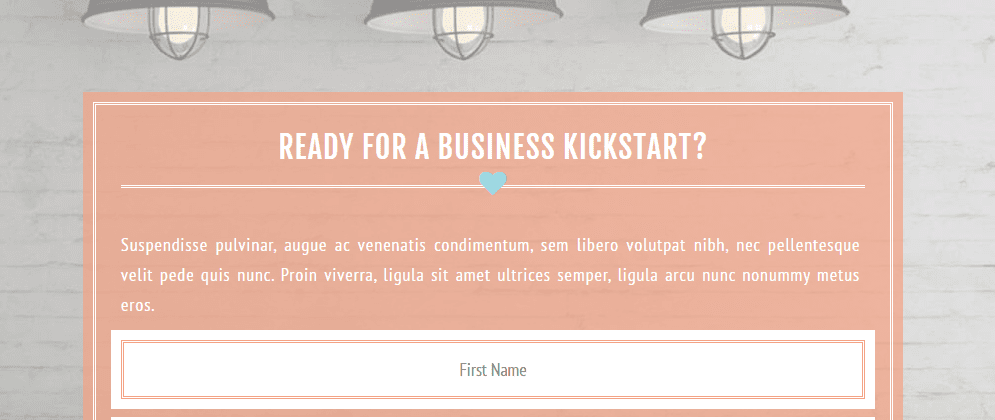 Versatile is a Divi child theme with a soft color palette and modern, stylish design aimed towards coaches, mentors, and online course developers of all kinds to market their services and products.
We're particularly in love with the contact form included at the top of the page – although its fields could be mistaken for buttons due to their styling – the firm call to action attached to said form, and the handwritten font used on the logo below the full-width header. If you were to replace the picture included in the demo site with your own and upload a new logo below, you'd be well on the way to achieving a unique look for your own mentoring site.
The Testimonial module is also used to great effect in this theme, with a lot of unique, colorful icons, as well as the links to social media at the bottom of the page, which also get a welcome makeover.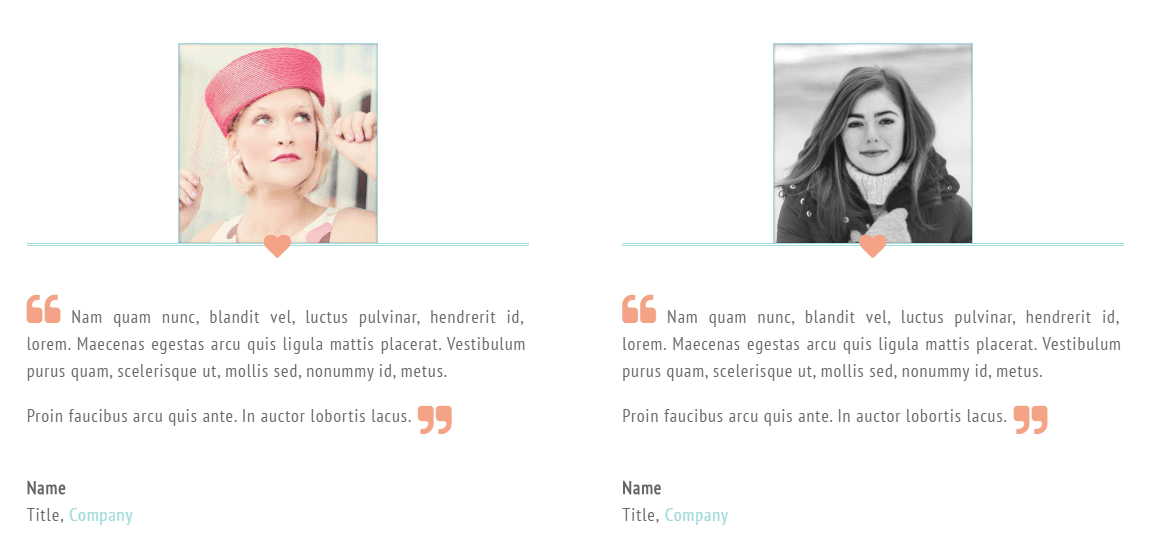 Key features:
Nine custom page designs, including a custom landing page.
Ready for integration with the Monarch Social Sharing and Bloom Email Opt-In plugins.
Unique designs for the Divi Contact Forms and Testimonial modules.
Price: $97 | Demo site
8. Freshness (Freelancing & Small Businesses)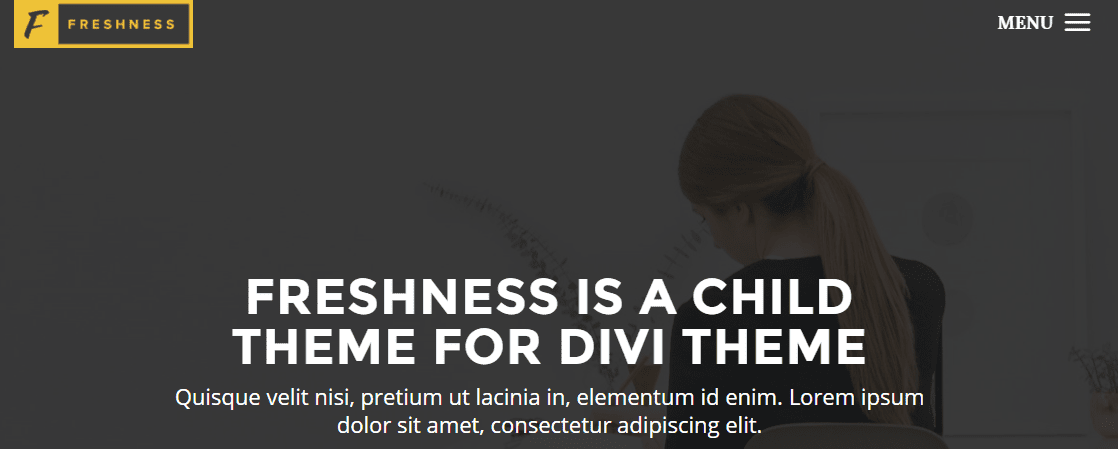 Freshness is a minimalistic child theme, designed to be used both by freelancers and small businesses. Somehow, it manages to pull off that disparate combination.
The theme features a non-intrusive navigational bar and a sidebar hidden behind a mobile menu – even on desktop displays. The black and yellow color combination works well, and we particularly enjoy what the developers have achieved with the Blurbs module through the simple use of color backgrounds and multiple rows.
Key features:
Seven different page and custom post designs, including a separate landing page style.
Custom sidebar behind a mobile menu, including a search bar and social media icons.
Unique hover effects for your portfolio pages.
Custom slider for the Divi Testimonials module.
Price: $47 | Demo site
9. Thrive (Mentoring and Consulting)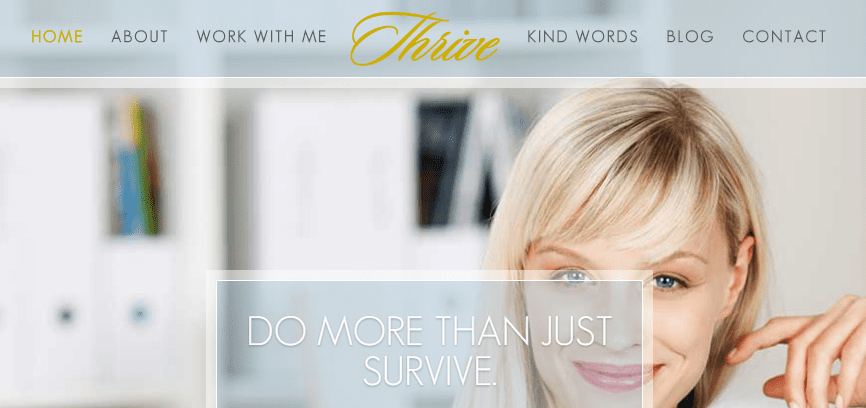 Thrive is an elegant child theme (see what we did there?) much in the same vein as Success Trainer and Versatile, in that it focuses mostly on building up your personal brand as your primary source of business.
It does a particularly good job with the customization of the Divi Testimonials module, its simple About page layout, and the inclusion of subscription forms on every single page to maximize conversions.
Thrive also serves as an excellent example of how to reinforce identity throughout sites built around a single person's brand, using personalized pictures of the mentor on each page.
Key features:
Six unique page designs.
Prominent Email Optin module placement.
Fixed semi-transparent. navigational bar.
Customized design for the Testimonials module.
Price: $50 | Demo site
10. Villa (Single Real Estate Listing)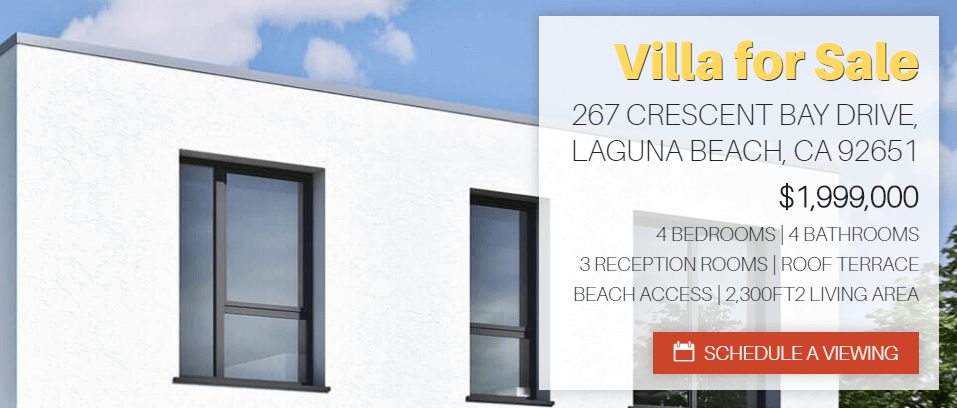 Villa is a bit of an oddity when it comes to real estate child themes, since it's only meant to display a single property at a time. Despite filling a tiny niche for upscale properties, it is still an excellent example of a well-built Divi child theme.
The theme is, of course, designed around highlighting the key features of your listed property, which is achieved through lots of high-quality screenshots. It opens right from the top with a call to action to schedule viewings as well as pricing information, and closes with views from multiple angles of the property as well as a small Map module.
As far as the menu is concerned, the developer made a bold choice by deciding to go the fullscreen route. Normally this is something that we wouldn't be too keen on for usability purposes, but somehow this site manages to pull it off due to the exclusive vibe it exudes. Think twice before doing the same on your Divi site!
Key features:
Price: $97 | Demo site
Conclusion
Every business owner or designer using WordPress naturally wants their sites to excel in order to increase revenue, and the ten child themes we've featured in this article will provide you with a rock-solid framework to build your projects upon, should you choose to try them out.
Most of these child themes don't include the images using in their demo sites, unless they happen to be free for use by the general public. Because of that, we've taken the liberty of adding a link to one of our past articles below, which is filled with free stock images for business sites — as well as a couple more articles you might find useful:
What feature should every business site built using WordPress include?
Be sure to subscribe to our email newsletter and YouTube channel so that you never miss a big announcement, useful tip, or Divi freebie!
Article thumbnail image by Cat with tail / shutterstock.com

Divi 100 Day 33
The Countdown To Divi 3.0
This post is part of our Divi 100 marathon. Follow along as we post free Divi resources for 100 days in a row! This 100-day countdown will end with the game-changing release of Divi 3.0, including our brand new visual editor built from the ground up using React. Divi 3.0 will change the way you build websites with the Divi Builder forever!
Let the countdown begin.