For freelancers around the world, the equation is simple: the more hours you bill, the more you earn. The problem? Not all of a freelancer's hours are 'billable.'
Organizing your workload, communicating with clients, and collecting payments are all integral parts of a successful freelancing business. For most freelancers, however, these tasks fall outside the realms of billable hours. Unfortunately, these tasks are surprisingly time-consuming, too.
But what if you could cut back on the amount of time these administrative tasks take? That would increase your earning potential substantially, wouldn't it?
Well, WordPress users are in luck! Today I'm going to show you how to manage a freelancing business entirely from the WordPress dashboard. If you're fed up with jumping between emails, Trello, and PayPal, this is just what you need.
If you want to manage your freelance business in WordPress, I recommend the WP Project Manager plugin. The plugin can help with the majority of behind-the-scenes tasks a freelancer faces, including project management, communication, and invoicing. To show you just what the plugin is capable of, allow me to walk you through its many features.
Getting Started with WP Project Manager
Although a free version of WP Project Manager is available, the functionality is too limited to run your entire business. Instead, you'll need the more advanced, premium version: WP Project Manager Pro. A single site license of WP Project Manager Pro is available for just $59.
Even the Pro version doesn't have the functionality to power an entire freelancing business by itself, though. If you want an all-in-one freelancing solution, you'll need to extend the core plugin.
WP Project Manager PRO currently supports nine premium add-ons – not all of them are relevant to freelancers, though. If you're serious about your freelancing business and want to kit your website out with all the functionality it could possibly need, I recommend these six add-ons:
Invoice ($39) – submit PDF invoices or collect payments through PayPal by adding invoicing functionality.
Invoice Stripe Gateway ($29) – accept card payments for your invoices using the Stripe payment gateway.
Sub Task ($19) – break projects down into smaller sub tasks.
Kanban Board ($29) – visualize and organize your projects with drag-and-drop, Trello-like boards.
Time Tracker ($29) – bill per hour and improve budgeting by tracking how much time is spent on each task.
Gantt Chart ($29) – visualize your project schedule in Gantt chart form.
Not all of these add-ons will be relevant to every user, so consider what functionality your website really needs – if you're on a budget, the only one you really, really need is the Invoice add-on.
The Pro version of the plugin and the nine add-ons are all available from WP Project Manager website.
Running a Freelance Business in WordPress
After purchasing WP Project Manager Pro and the extensions you want, it's time to install them — you'll have to upload and install each one manually.
With the plugin installed and activated, you can start using the plugin immediately. You won't find an endless list of settings, so you can use the plugin pretty much straight away.
You will need to configure your categories, however. This is done by navigating to Project Manager > Categories. Now, the categories allow you to organize your many clients/projects under different headings. Consider the main headings you'd use to classify your work, and create a different category for each — for example, you might use Blogging, Development, and Consulting to divide your work.
Creating a category is simple: give your category a name, then click the Add New Project Category to create it.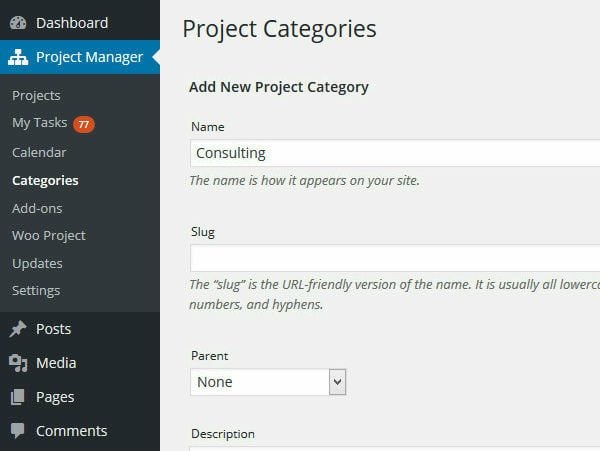 Easy enough so far, right? Now you can create your first project — navigate to Project Manager > Project > New Project.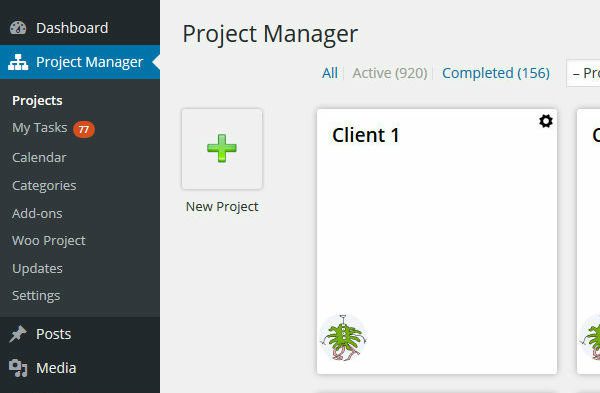 This will bring up a lightbox for you to setup your new project. Give the project a name, assign it to the relevant category, and then give it a brief description. If you're collaborating on the project, you can also invite other users to work with you — users can be assigned a Manager, Co-worker, or Client role. If you're a one-man show, however, don't worry about this step.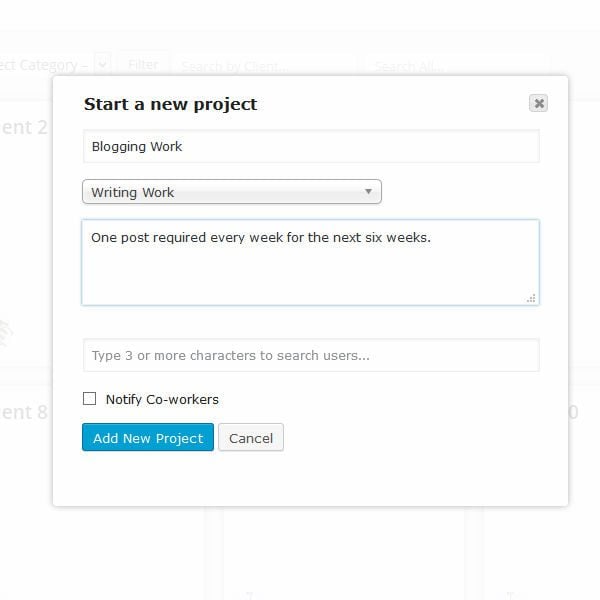 When you're ready, click the Add New Project button.
This will take you to the project overview screen, with a number of tabs along the top – the actual number will depend on how many add-ons you've installed. Behind these tabs, you'll have all the functionality you need to manage your freelancing business.
Now, in my opinion, you could divide this functionality into three broad categories:
Project Management
Collaboration
Invoicing
Let me take you through each in turn.
Project Management
Let's start by looking at the project management side of your business.
Now, WP Project Manager allows you to break your overall project down into smaller, more manageable chunks. This is done from the Milestone tab.
When you're on the milestone screen, simply click the Add Milestone button. You'll be able to give your milestone a name, set a due date, and give it a brief description. If you don't want anyone else to see the milestone, you can also set it as Private.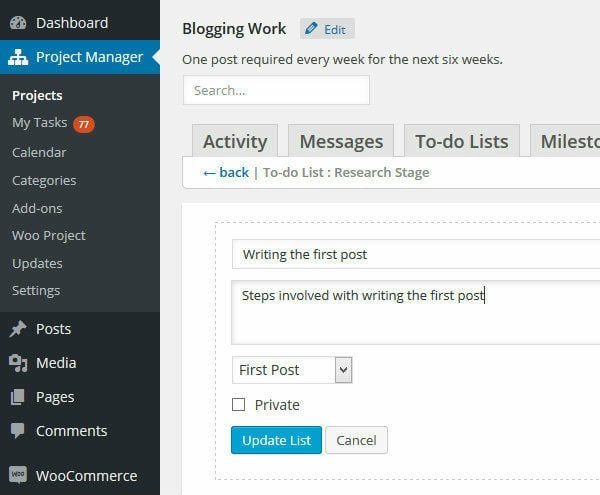 The plugin also lets you break a milestone down into smaller tasks by using a to-do list — head to the To-do list tab. To-do lists work slightly differently to milestones, as each individual task can be given a start and due date, and can be assigned to one of the users on your team.
It's worth pointing out that if you've installed the Sub Task add-on, you can break yours tasks down into even smaller chunks — this can be helpful, but isn't absolutely necessary.
When you finish a task, simply mark it as complete, and this will update the overall progress bar for each milestone.
If you're already a freelancer, you'll know that managing your time is one of the most difficult aspects of freelancing. If you don't know how long things take, how can you budget effectively? This is where the Time Tracker add-on can prove invaluable.
Next to each task, you'll see a small blue clock. Click it, then click Start, and the plugin will begin timing how long the task takes — just remember to hit Stop when you're done. Of course, this function is also useful if you bill your clients by the hour.

WP Project Manager Pro also allows you to visualize your tasks in two ways. The first, requires the Gantt Chart add-on, and is found behind the Gantt tab.

If Gantt charts aren't your thing, you can also view an overview of your tasks in a calendar view — this is found by clicking Project Manager > Calendar.
Both the Gantt charts and the visual calendar support drag-and-drop functionality, allowing you to reschedule your tasks by dragging them to a more convenient time.
Collaboration
Although I run a one-man freelancing business, many of you won't. If you work with others, you'll want an effective way to collaborate. Email works for some, but it can be hard to keep track of all the different conversation threads.
WP Project Manager makes it super-easy for you to collaborate, by giving you dedicated space to discuss any given project. All users invited to view a project will be able to leave comments by navigating to the Message tab. Just click Add New, then type away. If you want to discuss a specific task, you can also save a message under any of the project's milestones.
If you need to share files with each other, you can upload your files directly to the message – if you don't want to dig through all your messages to find a given attachment, you can access them directly from the Files tab.
As useful as messaging is, there's one particular tool that has revolutionized how we collaborate online: Trello. By installing the Kanban Board add-on, you can add Trello-like functionality to the plugin – found behind the Kanboard tab. You can use the drag-and-drop interface to move tasks into different columns — for example, work in progress and complete. This will automatically update the status of the task.

Invoicing
As any freelancer will tell you, the best day of the month is pay day. One of the worst days of the month, however, is actually submitting those invoices — it's a timely administrative procedure that prevents you from doing actual client work.
Although a service like PayPal is really easy to use, it is still relatively time consuming. Being able to submit your invoices directly from the WordPress admin would make life a whole lot easier, wouldn't it?
Well, now you can, thanks to the Invoicing add-on.
Before you can invoice, however, you need to make sure you've configured everything correctly. Navigate to Project Manager > Settings > Invoices. This screen lets you input all your personal data, including company name and address. The most important fields, though, are the currency fields and your PayPal email address – this needs to be right, otherwise you won't receive your clients' payments. If you want to accept payments in PayPal, make sure the PayPal payment gateway box is ticked, and sandbox mode is deselected.
With everything configured, head back to your project – Project Manager > Projects > select the relevant project > Invoice tab. Click New Invoice, then work your way through the invoice form.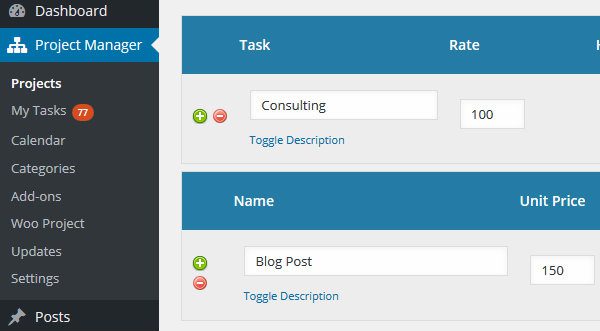 You can bill for as many different tasks as necessary. You can specify the rate for each task, as well as the tax rate. At the bottom, you can even leave a note for your clients. When you're done, hit Add Invoice, which will bring up a preview of the invoice.
You have two options:
download the invoice as a PDF to email to your client
email the invoice directly, including a PayPal payment link.
For speed and simplicity, I would always choose the email option. You will then see a list of your invoices, with a reminder of which have been paid and which are unpaid.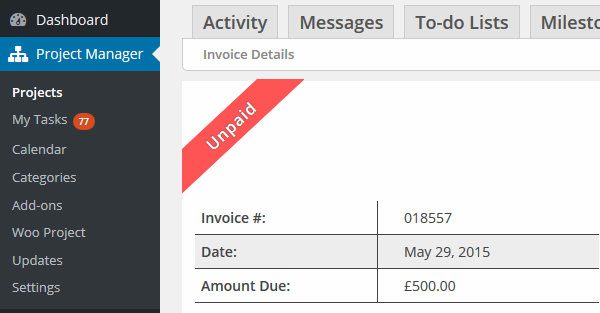 When you receive payment, you'll have to update the invoice manually. This is done by heading back to the Invoice tab, clicking the relevant invoice name, then selecting the Enter Payment button.
Fill in how much was paid, then hit Enter Payment. This will automatically mark the invoice as paid, so you won't need to chase it up again
Final Thoughts
The WP Project Manager plugin is a great way to improve the efficiency of your freelancing business by moving everything over to the WordPress dashboard. The plugin lets you control all aspects of your freelancing business — task management, collaboration with other team members, and collecting those all-important payments. If you like the idea of running your freelance business from one place — WordPress — why not give the plugin a try?
Would you like to manage your freelancing business from within WordPress? Share your thoughts in the comments section below!
Disclosure: If you purchase something after clicking links in the post, we may receive a commission. This helps us keep the free content and great resources flowing. Thank you for the support!