Many bloggers start their blogging careers with the idea that they should just choose a platform and then migrate to another platform later if needed. Often this involves moving from free hosting to a self-hosted site. Once they get established with the process of blogging, they decide they want more control over their websites. This is a totally reasonable approach. I mean, not everyone sets out to be a consistent blogger when they first start out.
Now, one of the most popular starting platforms is Blogger because it's very easy to use. But it definitely falls short in terms of customization features. For more information, take a look at our WordPress vs Blogger comparison where we break down the features of the two platforms. In order to migrate Blogger to WordPress successfully you need to keep your search engine rankings, traffic, and subscribers. In other words, the migration needs to be harmless.
Here's a handy list of what needs to be migrated:
Posts
Pages
Categories
Comments
Media
Permalinks
Feed
Authors
Traffic
In this article, we will go step by step through migrating Blogger to WordPress using a simple site as an example. To help with this, I created a small Blogger test site with two posts and one page that contained text and images. Three of the images contain captions. I also added four labels to further demonstrate what the migration process looks like.
Blogger Site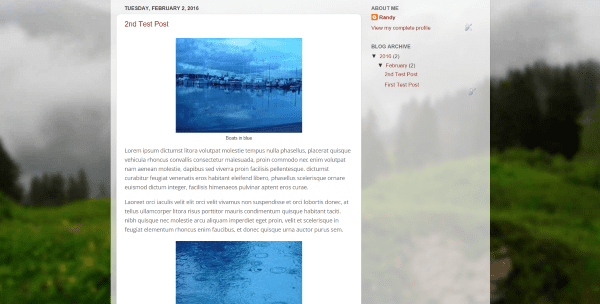 Before migrating make note of everything – labels, permalinks, widgets, images, fonts, comments, SEO, etc. The content will migrate and you'll need to make sure it works as expected. Styles will not migrate, so you'll have to choose your own theme, fonts, colors, widgets, etc.
WordPress Site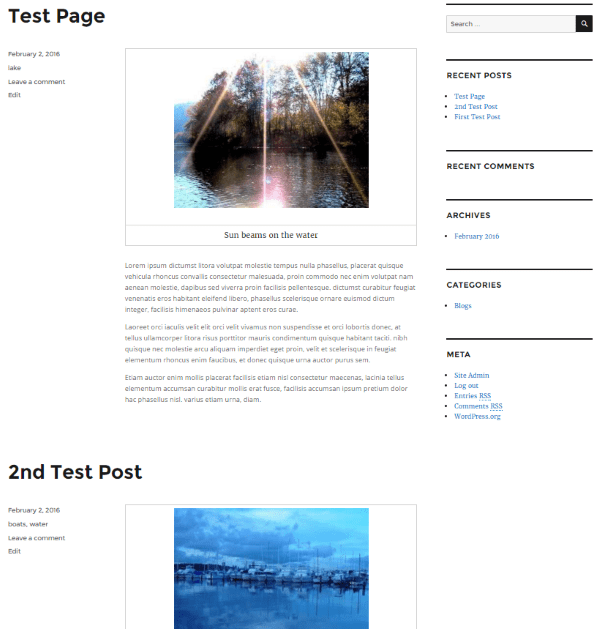 Create a WordPress site. This can be on a local server (to be moved later) or on a host. For a site on a host you can use a temporary URL if you're going to move the URL from your Blogger site to the WordPress site. If the site is on a host then place your WordPress site in maintenance mode. This way anyone that finds the site won't think it's broken while you're working on it and you still get a chance to make a great first impression.
Migrating Blogger to WordPress: Export from Blogger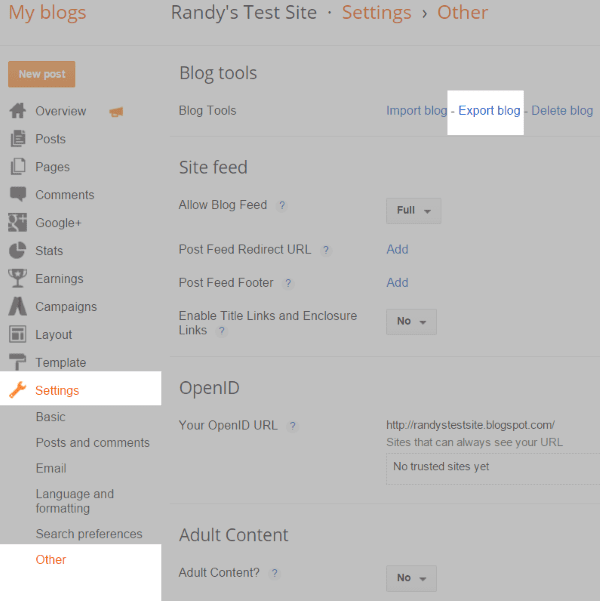 The first thing you'll need is your Blogger files. You will download this from Blogger as an XML file. Go to Settings and open Other. The first setting is called Blog tools. It has the option to Import, Export, and Delete. Click Export.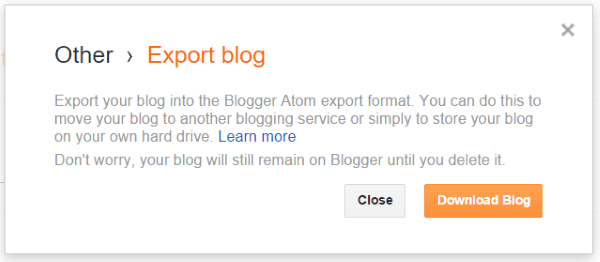 This will open a dialog box with information about downloading your website to your local hard drive. Click Download Blog to download the XML file that includes your posts with their comments.
Import to WordPress
Next, you'll need to upload that XML file to your WordPress installation. In your WordPress dashboard go to Tools and select Import.

This will open a list of platforms that you can import from. Choose Blogger and install the plugin. After the plugin installs you'll have the option to run the plugin.

Blogger Importer will import posts (published, scheduled, and draft), images (including captions), categories, and non-spam comments. It does not import pages, widgets, templates, and avatars. These are platform specific.

Next choose the file and click the Upload file and import button.
After the file uploads you'll get the option to import the authors. You can create new users or associate the original authors with new authors.

All of my posts and categories have been imported. The test page that I created was also imported as a post.
Results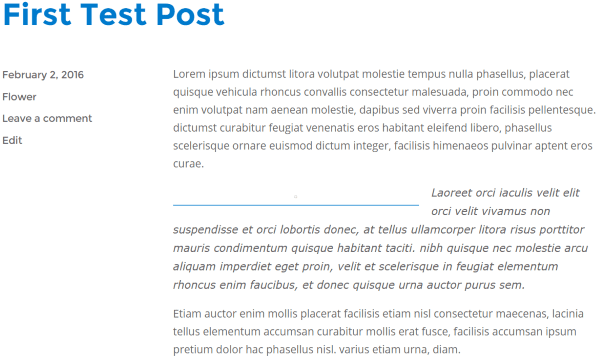 As you can see, I had trouble migrating the images. When I went to the media folder there were no images there. Sometimes there are issues with migrating images using this plugin. Fortunately, there are other options. It did keep my text formatting. Another issue it had was my labels became categories instead of tags. That's easy to fix using a converter.

If the plugin you're using imports labels as categories rather than tags you can use the WordPress Categories to Tags convertor. Go to Tools, Import, and select the Categories and Tags Converter. Install the plugin and run it. It will give you a list of categories to convert. Simply choose what to convert and click the convert button.

Blogger Importer Extended is a free plugin that will import more than the standard plugin and will perform other tasks such as 301 redirects. It will import pages, images, tags, comments, links, and posts. It does format conversion and will even preserve the slugs. One issue though is the data goes through their own server and the Google API limits what they import, so the plugin might or might not be available the day you need it. It wasn't available for me. If the service is available then I highly recommend giving this one a try.

CMS2CMS Blogger to WordPress Converter is a premium plugin that will migrate posts, pages, images, comments, and tags. Although no migration tool will import themes and styles, this one will give you theme suggestions based on your Blogger website's color scheme. This can save you a lot of time in searching and making decisions. Prices start at $39.
It's easy to use. The first step is to connect your Blogger website. Next you'll either login in to CMS2CMS or create an account.
When you start the migration you'll have to give CMS2CMS permission to access both of your sites.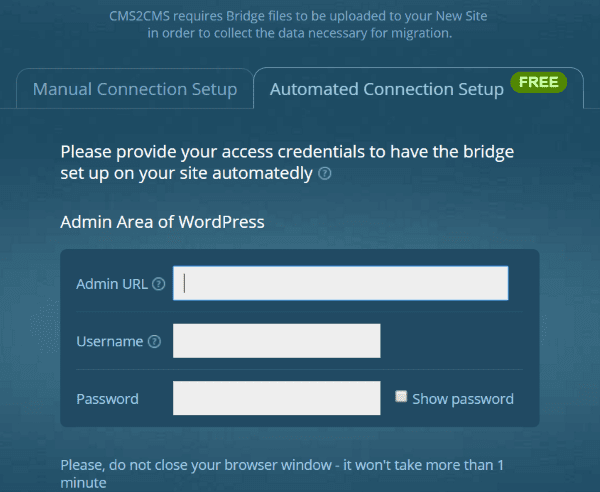 You can either install the bridge file manually or run the automatic tool. I opted for automation. It has a video with detailed instructions if you want to install it manually.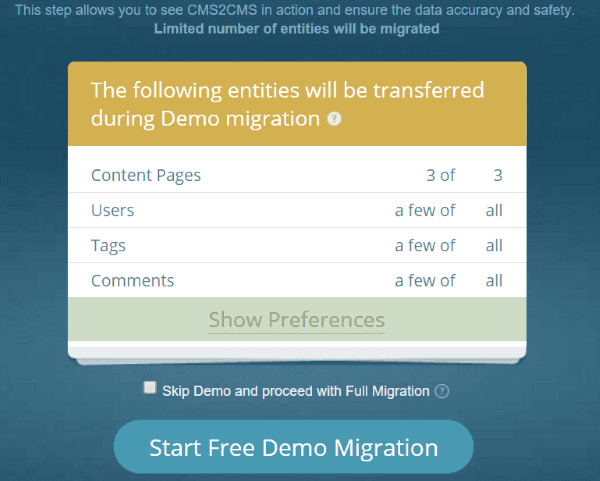 Since this is just a demo I continued with free migration. The demo won't migrate everything, but this will let me see how well it works.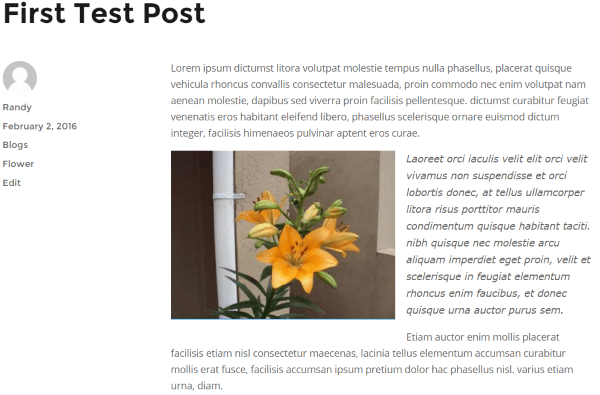 This one imported the images and included the captions. The labels were imported as tags. It created the Blogs category. It kept the post formatting intact. I was happy with the results.
Redirecting Your URL
If you own the URL then you'll want to redirect it to your new website. Make sure all of your permalinks match exactly. The majority of users will have a Blogspot URL. If you're using a Blogspot URL, do not delete the Blogger site. You'll want to use it for redirects to your new site. Let's look at permalinks and redirects. At this point, your WordPress site should be on the hosts' server and be placed in maintenance mode.
Set Up Your Permalinks
The permalinks are not imported. The default settings are different between Blogger and WordPress. For example, my first test post for Blogger had the default URL:
testsite.blogspot.com/2016/02/first-test-post.html
The same post in WordPress defaulted to:
sample.com/testsite/2016/02/02/first-test-post/
The first URL includes blogspot. If you use your own URL for Blogger then you'll be able to redirect all of your links to your new website automatically.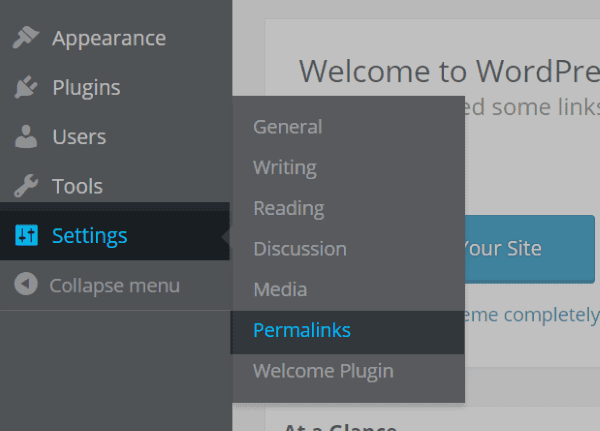 In your WordPress dashboard go to Settings and select Permalinks.
You can choose from pre-made common settings or create your own custom structure. You can even include categories and tags in your structure. If the common structures do not match what you were using on Blogger, simply use the custom structure to recreate it. As an example, if my Blogger structure (using my own URL) looked like this:
sample.com/testsite/2016/02/first-test-post.html
I would use the year, month, and post name to create a custom structure, which looks like this:
/%year%/%monthnum%/%postname%/
Each part of the structure is surrounded with percent signs "%" and there is a backslash between each part of the structure "/".
It shows samples of each structure so you can see how to build your own. Save the changes and your URLs will match your originals.
Feed Redirect
You'll also want to redirect your feed so you don't lose your subscribers.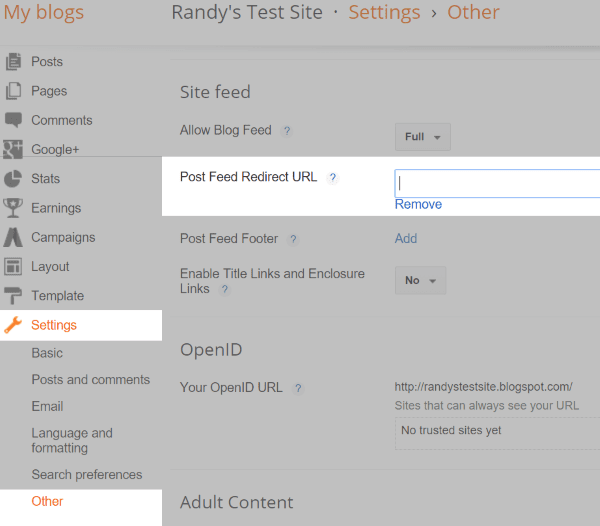 In Blogger, go to Settings, click on Other, and click Add next to Post Feed Redirect URL under Site feed.
Enter the new URL of your feed and save it.
301 Redirect
To help with SEO after the migration it's best to do a 301 redirect. This tells search engines that your website has moved and your traffic will redirect to the new address. Blogger can do this if you place code within its template files. I recommend using a plugin for this.

Blogger 301 Redirect is a free plugin that will perform a one-to-one mapping of your posts. It has the added benefit of redirecting your post and comment feeds as well as your archived pages. This will help ensure that you don't lose traffic after the migration. It redirects blogspot.com and custom domains, so if you're using your own domain on your Blogger website this plugin will handle the forwarding for you. It also has redirection statistics so you can see how many redirects you've gotten for each type of redirect and how many 404 errors there were.
It will give you some code to place within your Blogger template and shows step-by-step instructions on placing the code within your Blogger template for both new and classic templates. This will ensure the redirection works correctly. This is an easy plugin to use. It has a checklist of items to perform before starting the migration from Blogger.
Final Thoughts
I ended up with a nice WordPress version of my Blogger website. There are several free migration tools, but if they don't do what you need you can pay for a more complete solution. For large sites, CMS2CMS could save a lot of time in migrating the images alone. This would be well-worth its money.
Migrating Blogger to WordPress isn't that difficult with the right tools. In order to keep your traffic and SEO make sure to go through all of the steps including setting up your permalinks and 301 redirects. Once you've tested that everything is working the way you want it to it's time to take your new WordPress website out of maintenance mode and go live.
I'd like to hear from you. Have you migrated a site form Blogger to WordPress? What tools did you use? Did I leave out your favorite? Do you have any tips to add? Let us know in the comments.
Article thumbnail image by yod67 / shutterstock.com