You have a domain name, you've designed your website, and it's looking sleek and professional. It's been browser tested and you're confident it can be viewed by visitors whether they are using Chrome or Explorer, or their mobile device.
It's now time to start thinking about your marketing strategy and how to capture and use data gathered from those who click on your pages. Plus, you need to consider how to set up a way to communicate with your visitors to encourage them to become customers and then after that, generate loyal, repeat sales.
The way to do this is through email marketing and iContact is a software package that can do the job for you.
What Is iContact?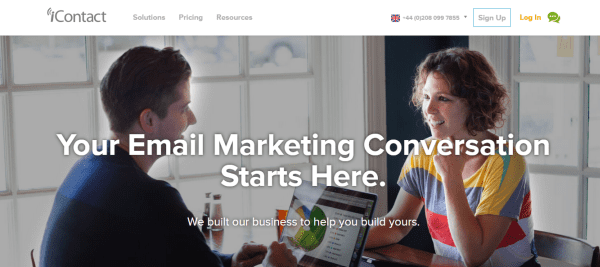 iContact is an email marketing specialist. Working from its base in North Carolina, this award-winning company provides software package services that are primarily aimed at the small and medium business sector.
With over 50,000 brands as clients of iContact, it is renowned for offering excellent solutions for businesses with little or no knowledge of email marketing, as well as working with companies that have email marketing in place but need to refine and improve how they work.
In a nutshell, iContact focuses on software that gives customers the opportunity to create, track, and send emails and social media messages.
What Are The Features Of iContact?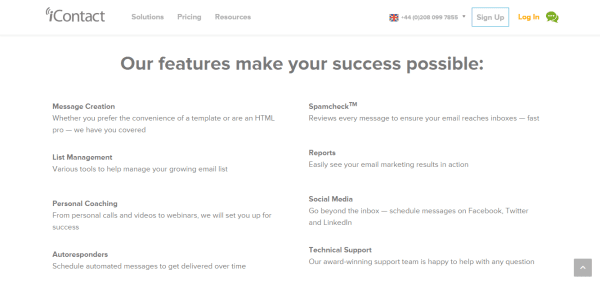 The features for iContact cover every eventuality and need within email marketing:
Contact management
Email creation
Surveys
Sending and reporting services
Support when you need assistance
Contact Management
The contact management feature of iContact means it's really straight forward to set up a great email marketing campaign without having specialist web development or marketing experience. The interface you'll use is simple and clean looking, plus the navigation is easy to understand and pick up. After logging in, there's a row of tabs that are clearly marked as to their function and these help you set up the campaign and then see the results. Click on a tab, follow the setup steps, and you'll be taken through the process one step at a time.
You'll need a list of email recipients and subscribers to send the email to. You can easily import your existing contact list into the software and then expand it by creating sign-up forms from the array of templates available to you. These can be placed on your website, blogs or through social media messages.
Once armed with your contact list, you need to think about your target market if it's not an element you're already decided upon. With iContact, you can send emails to those in a particular demographic as well as filtering your contact list so it works for you. As an example, this could be because you only want to target those who are in a particular age group for a product or service and this is easily done through the segmentation part of the content management feature. As well as 13 standard criteria fields, there are a number of others you can add as options and in turn create customized target emails.
Social media is now pretty much the most popular way to market to large numbers of people. This boom in communication has been taken up by iContact through its features that are for use with Twitter and Facebook users. Marketing messages, sign up forms, newsletter promotion, and even automated tweets can be posted for you at the same time you send marketing emails.
Autoresponder messages are a cornerstone feature of iContact. You can set up any number of messages that will send at pre-chosen times or when events such as a product launch takes place. As an example, when a new subscriber joins your contact list by completing the sign up form, a welcome email will automatically appear from you in their inbox followed by emails at set times, such as an exclusive coupon on their birthday.
Email Creation

If you're not good with words and don't know how to grab the attention of your subscribers and customers, don't worry. With iContact you can use its already designed templates and simply personalize where needed. It's a step by step task and you can see how it will look before you send it with its MessageCoder tool.
You can also save your emails within the templates so you can refer back to them in the future. With over 500 templates, there's one for every brand whether you're looking to create a message, a newsletter to attach to an email, or a customer survey. If you are keen to ensure the campaign design mirrors your brand, this is perfectly possible as you can change everything you create to add your own images, links, colors, and a number of other formatting features. This way you can promote your brand as it'll be aligned with your website design and instill customer respect and loyalty through the professional image you project.
If you're pretty tech-savvy, there's plenty of opportunity to get your teeth into some advanced email creation work with iContact. There's a full HTML editing feature so those with experience of working behind the scenes of content creation will be able to customize to their heart's content.
Surveys
Surveys are a prominent part of the iContact software. They are vital in finding out what your target market actually wants and once you've sold products, their thoughts about the whole user experience. It's also important that it's a two-way communication in that you ask the questions, hear the feedback, act on the comments, and then report this to your audience so they know they can give further comments in the future and that they are acted on.
Sending And Reporting Services
Click on the tab named 'Track' and you can create and view analytic reports on your emails. You can see at a glance exactly what happened to each one; how many were bounced, undelivered, read, forwarded, and any on your contact list who unsubscribed. You'll also see statistics on the click-through rates and the pages viewed by the visitor. Choose tables or charts – whichever you prefer to use – and even export the charts into other applications if you want to create data on the effectiveness of campaigns over time.
Social media is also covered in the reporting capabilities. Clicks to your site from Twitter or Facebook are tracked, which gives you invaluable information on the success of your campaign using social media and where you can direct your messages to with your next post.
Detailed as the reporting systems are, if you want to see conversion figures from your campaigns, you'll need to sign up for the Salesforce level account with iContact.
Support When You Need Assistance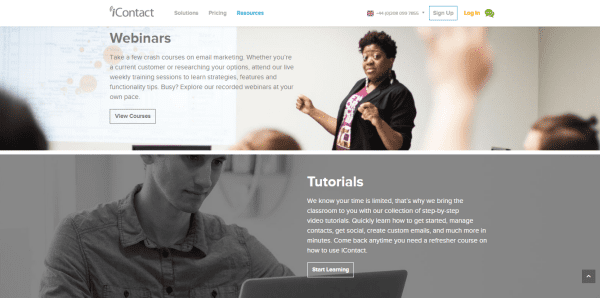 If you're concerned about taking the plunge and signing up for iContact if you don't have experience in marketing or the technical expertise you think you'll need, don't be. There are online tutorials, webinars, a user manual, and live support by phone, email, or live chat. You really do have every mechanism in place to be able to succeed using iContact to really benefit your business.
What Are The Different Packages Offered?
iContact recognizes that businesses at different stages of growth and size require as bespoke a service as possible. There's no one size fits all concept with iContact as it tailors its features and offerings depending on the needs of the customer. The different levels of package are:
iContact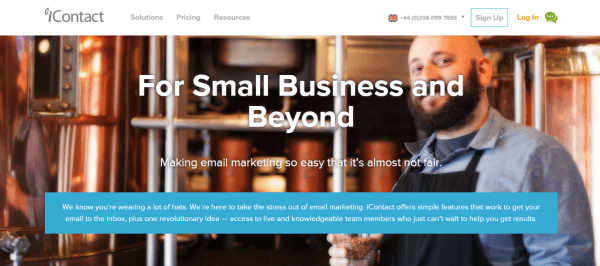 The standard iContact offers all the key features such as email creation using templates, tools to grow and manage your contact list, the facility to create and schedule autoresponder messages, a spamcheck tool so your emails reach inboxes rather than spam lists, analytic reports, use of social media message scheduling, and technical support with personal coaching. This is a great choice for those taking their first steps into email marketing as it covers all the basics you'll need.
iContact Pro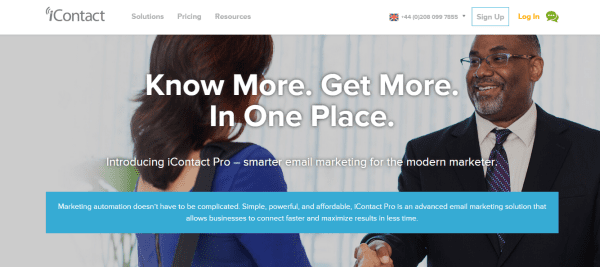 A more advanced offering that along with everything in the standard iContact package includes more in-depth reporting, more knowledge about your subscribers so you can send more targeted communication, monitoring of social media for relevant keywords you can use, an extension of the basic email marketing feature with more options to personalize messages, the option to create landing pages to capture new subscribers when they visit your site, and a scoring system that shows who are the most likely to convert from being a lead into a sale.
iContact Premier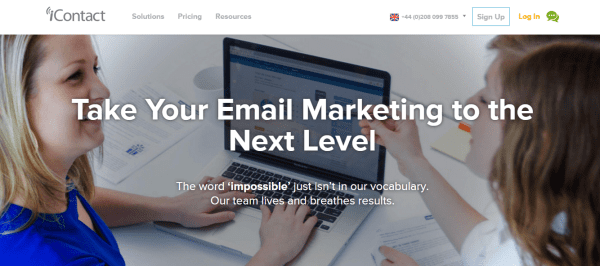 This is the service for companies that are expanding or have very large subscriber lists. Up to 5 million contacts can be segmented and sent relevant emails at this level of membership. The sending strategy is optimized to overcome common delivery issues, there is access to a dedicated email marketing strategy team to advise on your campaigns, as well as the use of a design service to customize your sign-up forms or to create bespoke headers and footers for emails. This is of course in addition to the standard iContact features.
iContact For Salesforce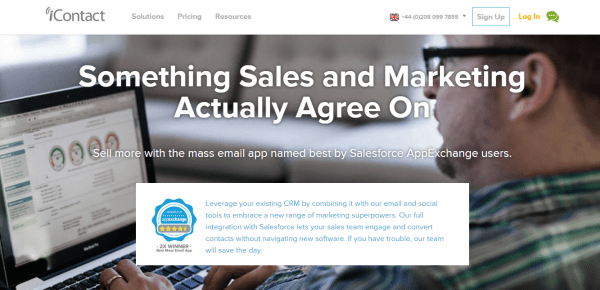 iContact for Salesforce is the ultimate offering and really digs deep into the data you hold on your subscribers to create the most targeted communication possible. It's the natural add-on for any company already using the customer relationship management product Salesforce and means there's no need to learn new software. Reports give information on conversions from click-throughs and with intense social media integration, you can add Like and Tweet buttons to your site. This option offers absolute personalization and customization on all the email marketing and isn't only for large companies, it's just as useful for new or stand-alone businesses.
What Are The Benefits Of iContact?
The fact that iContact can be used by a beginner or expert really is the main benefit of the service. For those who don't have the expertize to embrace technology in the way they know they should be, it's a great way to quickly create campaigns and to manage them from day one.
iContact ensures your company is placed in front of the audiences you want to reach through their email inboxes, but in addition also has a strong focus on where many people look for their marketing messages: social media. This is a fantastic benefit, as not only can you launch new campaigns to email contacts, you can also push messages through Twitter, Facebook, Google Plus, and LinkedIn.
With easily created click buttons, customers can use and share coupons that means they are acting as outreach ambassadors for you. It also means they are reading your news and updates. An extra benefit is that with the mobile compatibility platform covered by iContact, it's just as easy to access campaigns this way too.
Is iContact Right For Me?
If you consider yourself to be in any of the following categories:
Startup enterprise with no email marketing in place
A young business that needs to grow and hasn't considered email marketing solutions
A business with a track record and has email marketing already but doesn't find it saves time, effort, and/or cost
An established company with up to 5 million email contacts
…then the answer is yes, iContact can work for you.
The purpose of any email marketing service is that it ensures that customers and business stay connected through electronic communication. It seems that iContact has really found the formula for succeeding in this arena as it has all the tools that are needed and have combined them in such a way that the right audiences are reached to become customers and in turn repeat business.
Trying to manage a number of email campaigns at the same time can be really challenging and you can easily find yourself confused at where each campaign is at any one time. But with iContact it's kept really simple. With the inclusion of such a wide range of templates and coding options to choose from, it gives you the control over how involved you want to be running and personalizing each campaign.
What Are The Costs?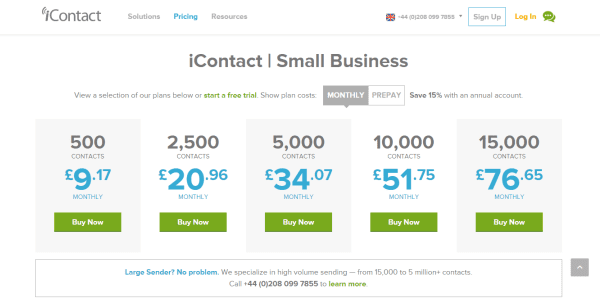 If you're not sure which package is for you, iContact offers a free trial so you can try the features for yourself.
Once you've seen how the features work alongside each other, you can choose which level is best suited to your business and then correlate this with how many contacts you currently have. Monthly payments are available as well as annual; paying for 12 months upfront comes with a discount of 15%.
Overall Thoughts
iContact has an incredibly straight forward offering and one that will benefit anyone in business, whether they have experience of email marketing or not. The step by step processes combined with professionally designed templates mean that with just a few clicks, emails, newsletters, and reports can be created.
iContact is a product that does exactly what it says it will – create and track an email campaign with the result that get your campaigns off the ground effectively. Plus it has the tools for you to follow up over the weeks and months to come.
With the support team on hand to help with your questions, iContact is one of the best email marketing products available. It's definitely one for the start-up enterprise looking for a package that can be used straight away with very little technical knowledge required.
Now I want to hear from you. Do you use iContact? If so, what has your experience been like. Please feel free to share in the comments below!
Article thumbnail image by Studio_G / shutterstock.com