Welcome to Day 97 of our Divi 100 Marathon. Keep tuning in for 100 days in a row of awesome Divi resources as we count down to the amazing release of Divi 3.0 on the final day of the series!
---
Developing an eCommerce site can be time-consuming. The time spent uploading products might not give you enough time to design the website itself. The easiest and fastest way to create an eCommerce site with Divi is to use a pre-made child theme.
Pre-made child themes provide layouts for landing pages, various home pages, about us pages, various layouts for blogs, multiple types of galleries, pages for your store, and more–all pre-designed for you so you can spend your time on something else. Many even provide login customizations, footer editors, 404 pages, demo content to help you get started quickly, as well as styling and add-ons for the #1 eCommerce solution for WordPress – WooCommerce.
Although you can use several plugins and solutions for eCommerce, the best Divi eCommerce child themes are those that are integrated with WooCommerce. WooCommerce uses clean code with great features and a nice interface. The Divi Builder contains several modules that work perfectly with WooCommerce including the shop module and the ability to add shortcodes within text modules.
The 10 Best Divi eCommerce Child Themes
Let's take a look at my picks for the 10 best Divi eCommerce child themes. Stick around to the end and you'll see a bonus plugin that will make your WooCommerce pages even better. Here are the 10 child themes in no particular order.
1.     Nellie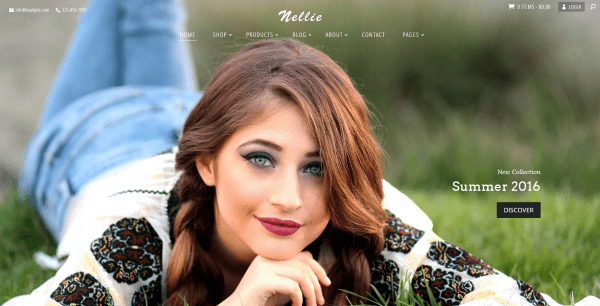 Nellie is an eCommerce Divi child theme from Ayanize Co. Nellie was specifically made for WooCommerce and includes lots of WooCommerce customizations. Many custom pages are included as well as two new modules, a footer builder plugin, AC Shortcodes plugin, CSS editor, a 404 page, custom login page, header customizations, and demo content. You can even use a Google Map as a background.
It includes a brand-able custom admin area where you can make your adjustments. A getting-started tour steps you through all of the features and it includes detailed documentation. This is an excellent choice for online stores of any kind.
Key Features Include
Custom pages
Custom WooCommerce options and styling
Two new modules
Custom 404 page
Use Google Map as a background
Footer builder
WP Login styling
WP Admin area styling
Custom sitemap
Additional homepage and other page layouts
Easy import dummy content
Wishlist
Mobile menu (expand/collapse responsive menu)
Create the header section using Divi page builder
Code editor to add custom CSS
Styling options
AC ShortCodes plugin
Theme options page
Get started easily with the theme options tour
Detailed documentation
For use on unlimited sites
2.     RoyalCommerce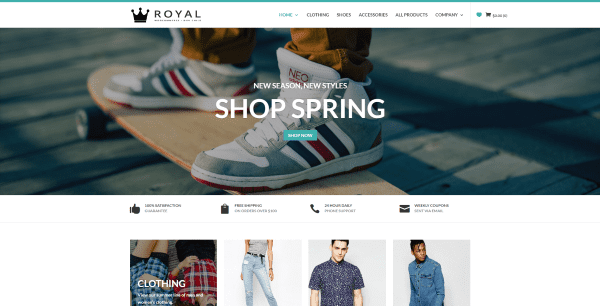 RoyalCommerce is an eCommerce theme from Time Strifler of Divi Life that was made for WooCommerce. Top online stores were analyzed in order to create a child theme with all the best features that users wanted. It uses a minimalist design so the focus is on the shopper's experience with the goal of increasing sales.
Choose from four designs with each having its own layout, colors, and fonts, and change all of the fonts and styles (including the integrated features) to suit your own branding. The Divi Logo Swap plugin is included. This is a great choice for any stand-alone online store.
Key Features Include
Four style options
Quick view for details, images, and add-to-cart without leaving the page
Product slider and carousel
Wishlist
Image zoom
Ajax product filtering
Sticky shopping cart
Enhanced header icons for wishlists and shopping cart totals
Zoom on hover
Banners
Divi Logo Swap plugin
Demo content
For use on unlimited sites for you or your clients
Free updates
PDF and video documentation
Price $150 | More Information
3.     Imagine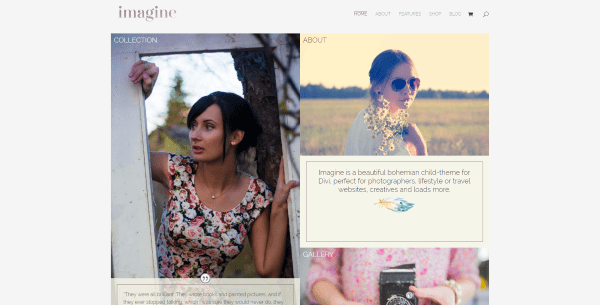 Imagine is a Bohemian child theme from Make a Spectacle with WooCommerce integration. It has lots of custom pages, custom styling for sidebar and footer, and a magazine layout with an asymmetrical grid. The custom blog module, category, and search pages will make your site stand out from the crowd.
It adds an extensive library of pages and modules, and even a few new social media icons. This is a fine choice for photographers, artisans, or lifestyle and travel magazines that want to sell products from their site. Documentation and email support is included.
Key Features Include
Magazine style home page
8 page layouts
Light and dark menus
Customized blog grid
Customized category / search page
Custom sidebar
Custom footer
404 page
Light and dark menu
Customized WooCommerce product page
Additional social media icons
Page module library
Library includes 29 modules and sections
Detailed documentation
Email support
4.     Artisan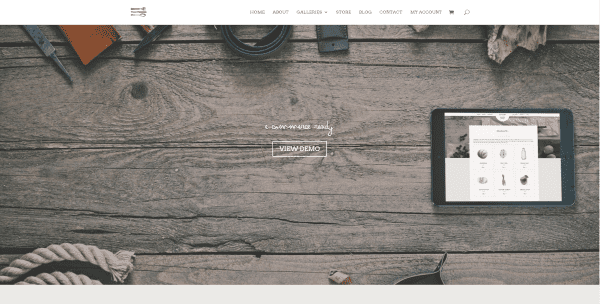 Artisan from The Design Space Co is a clean Divi child theme that integrates with WooCommerce to build any kind of store or website with a minimal but elegant design. It has 6 custom layouts including home, about, galleries, store, blog, and my account.
Show off your products using 3 different galleries including slider, lightbox, and full width. This is a great choice for photographers, creatives, food bloggers, or any other artistic blog with a WooCommerce store.
Key Features Include
One click install
Auto install of free plugins
Links to free fonts
6 page layouts
3 galleries
Layered PSD files
Detailed documentation
Support area with ticketed system
Price $125.75 | More Information
5.     Solo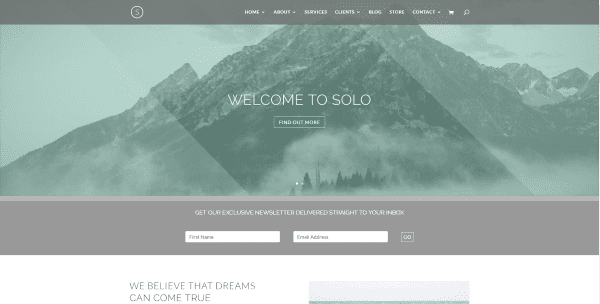 Solo from The Design Space Co can be a services website with a shop, or a stand-alone eCommerce store with WooCommerce integration. It come with 9 custom page layouts including 3 different home pages with a splash page, about, services, clients, blog, store, and contact page. The built-in newsletter sign-up form is elegantly styled.
This clean and modern child theme is great for entrepreneurs, small firms, and small businesses that wants to add an eCommerce element to their website, or a complete eCommerce store of any kind.
Key Features Include
One click install
9 page layouts
Newsletter form built in
Styled WooCommerce features
Layered PSD files
Links to free Google fonts
Detailed documentation
Support area with ticketed system
Price $125.75 | More Information
6.     Café

Café from Aspen Studios has several pre-made pages including a home page, menu, shop, a 3-column blog page with a grid layout, and a gallery. It comes with the Divi Footer Editor and WP Login Area Customizer plugins. It also contains a customized contact form and 404 page. Other pages include home, menu, shop, blog, and gallery.
It's a clean and elegant theme for cafés, coffee shops, bakeries, restaurants, or any similar shops that want to sell from their websites.
Key Features Include
One click install
Automatic updates
Food and drink menu
Contact form
Image gallery
3-column blog page with grid
Divi Footer Editor
WP Login Area Customizer
404 page
Customize colors to match your brand
Documentation
Unlimited usage
7.     Rise and Shine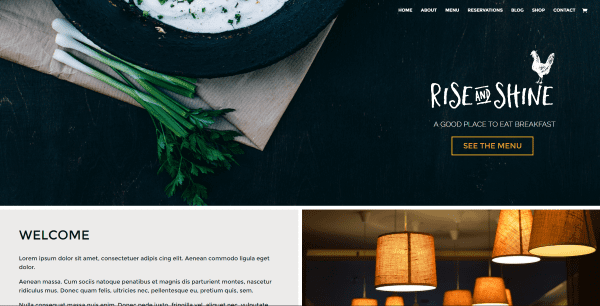 Rise and Shine from Elegant Child Themes is a highly customized restaurant theme with WooCommerce integration. It comes with 10 layouts including a home page, about, menu, reservations, blog, shop, contact, coming soon, and a custom login page.
There's also a unique split-column home page layout, a custom styled reservation system, and a recipe card system for unique blog post content. This is a great choice for any type of restaurant that wants to sell products from their website.
Key Features Include
10 page layouts
Custom shop page
Split-column layout
Custom overlay restaurant menus
Restaurant Reservation integration
Recipe Card integration
Font Awesome integration
Custom opt-ins
Demo content
Links to PSD files
6 months support
Use on unlimited websites
8.     Ellis Grant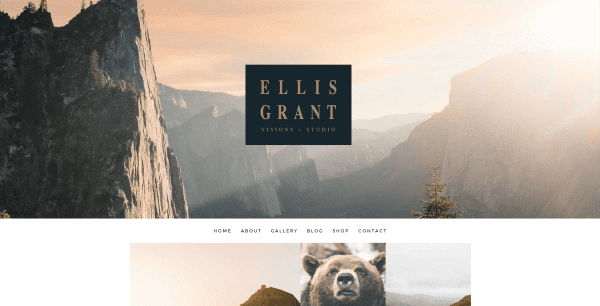 Ellis Grant from Dawn Alderman Design is an adventurous child theme with a large image slideshow followed by a categorized grid system provided by the included Essential Grid premium plugin. It has 8 page layouts that include the home page, about, 3 different galleries, blog, shop, and contact page.
The grid system places the focus on the photos making this a nice theme for any type of online store that's looking for a special flare of elegance and sophistication.
Key Features Include
One click install
8 page layouts
Premium Essential Grid plugin
Pre-styled settings for Monarch
Professional font pairings
Free fonts
Gallery PSD templates
Layered PSD files
Unlimited usage
9.     Velvet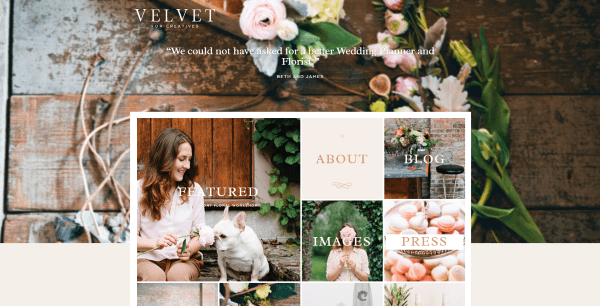 Velvet from Dawn Alderman Design uses a grid design to create an elegant homepage with CSS animations. It comes with 8 page layouts including the home page, about, images (with 3 different gallery styles), press, blog, shop, and contact pages.
The premium edition of the Essential Grid plugin is included. Velvet uses soft colors with an elegant style and is great for feminine shops of any kind.
Key Features Include
One click install
8 page layouts
Premium Essential Grid plugin
Font pairings
Free fonts
Gallery PSD templates
Layered PSD files
Unlimited usage
10. Shop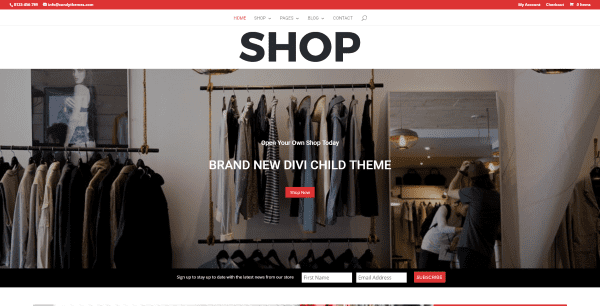 Shop is from Candy Themes and was made specifically for creating online stores. It integrates with WooCommerce and comes with multiple layouts and pages including home, shop, about us, FAQ, blog, and contact pages.
It has multiple shop and blog layouts, and several custom pages including a sitemap. Font Awesome icons are included. It's a simple design that looks great for any kind of stand-alone online store.
Key Features Include
6 page templates
Multiple layouts
Font Awesome
Animate.css
Customizer footer editor
Custom category list page
Custom archive page
Custom tags page
Custom sitemap page
Unlimited usage
Bonus – An eCommerce Plugin for Divi – Divi Commerce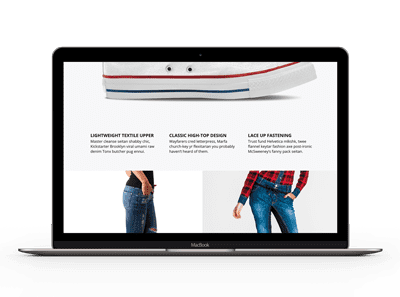 Divi Commerce is a plugin from Bolt Themes that adds lots of customizations to WooCommerce product pages. Bolt Theme's goal is to create the ultimate Divi/WooCommerce tool. It lets you style your product pages so they look more unique by allowing you to use the Divi Builder on your product pages. It also adds lots of customizers so you can style the checkout form and the tab section, and you can add in a custom top or bottom section of your product page.
Other features are currently in the works that will add WooCommerce page elements as modules to the Divi Builder and will include standard Divi module styling options. These and other features might be added by the time you read this.
Key Features Include
Use the Divi Builder on product pages
50 customizers
Form styler
Sidebar options
Tabs customizer
Login and registration options
Account options
Installing a Child Theme
– One important thing about child themes –
Before you can install the Divi child theme you might need to unzip it first. There may be other files included within the downloaded zipped file which means the theme file could be a zipped file that's included within those files. If you upload it without unzipping first then WordPress won't recognize the theme file.
Unlike normal themes, many child themes include files for settings. They sometimes come with such as a document with instructions, Divi Builder layouts, Customizer settings, and theme options. Some include demo content and settings for plugins such as Bloom, WooCommerce, and others. Among these files you'll find the zipped child theme file. This is the file that will be uploaded as the theme file.
Many developers have videos on their sales pages that step you through the installation process. These videos will tell if you need to unzip the file. I highly recommend watching their videos to step you through the installation process.
I can't stress this enough. The #1 support question that I've heard about child themes comes from the file not being unzipped first. If you're not sure then watch the video or online documentation.
Final Thoughts
While Divi has great features for building your own store, such as pre-made shop layouts that let you create your own store layouts and the ability to create shopping cart and checkout pages using the Divi Builder, there are several pre-made eCommerce child themes available for Divi that make spectacular eCommerce websites and save you lots of design time.
Rather than just adding add WooCommerce to a regular WordPress theme, child themes that are designed for eCommerce have specially designed features to make your store easier to use and look outstanding at the same time. No matter what kind of store you're building, one of these 10 eCommerce child themes for Divi are sure to fit the bill.

Divi 100 Day 97
The Countdown To Divi 3.0
This post is part of our Divi 100 marathon. Follow along as we post free Divi resources for 100 days in a row! This 100-day countdown will end with the game-changing release of Divi 3.0, including our brand new visual editor built from the ground up using React. Divi 3.0 will change the way you build websites with the Divi Builder forever!
Let the countdown begin.