One of the strengths of Divi is its compatibility with WooCommerce and other eCommerce platforms. Divi is well suited to create any type of product or service eCommerce website you can image. Fortunately, you don't have to start from scratch. Another advantage of Divi is the amazing number of professionally designed child themes available in the marketplaces from third-party developers.
In this article, we take a look at the 10 best Divi eCommerce child themes to help you build your eCommerce website. The child themes are in no particular order.
1. RoyalCommerce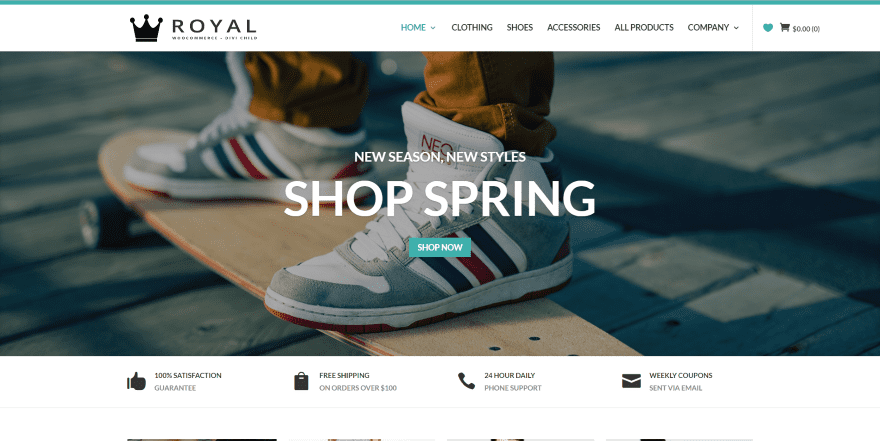 RoyalCommerce was made for any type of store. It uses a minimal design to put the focus on your products. It has four style options and lots of pages. The design and features are based on the top eCommerce websites to improve the shopper's experience. Features include quick view, slider, wishlist, image zoom, Ajax filtering, sticky shopping cart, header icons, fixed header on mobile, banners, and more. It also includes the Divi Logo Swap plugin. Each of these can be turned on or off.
Price: $150 | More Information
2. Luxe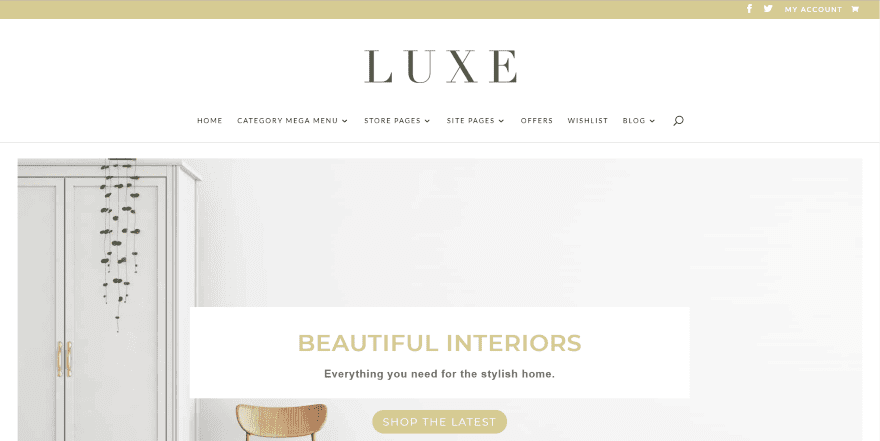 Luxe is an online store child theme for any type of store. It comes with 20 layouts including lots of store and site pages. It includes several marketing pages, and also comes with email sign up and thank you pages. It includes the premium plugins Divi Woo Layout Injector and The Grid so you can style your store to match your branding. It also includes the free YITH Wishlist plugin and a Mega Menu.
Price: $227.68 | More Information
3. Fleur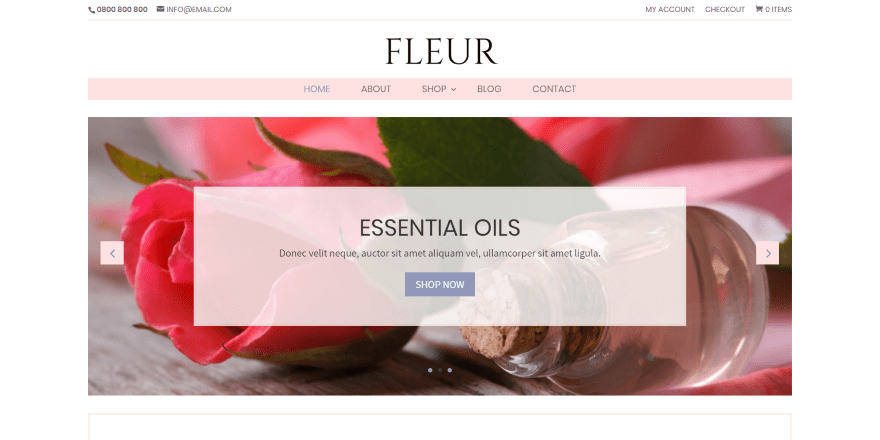 Fleur was designed with crafters, female entrepreneurs, and bloggers in mind. It's now on version 2.0, which has had lots of updates with the goal of being the easiest WooCommerce child theme to use. It has specialized styling for the home, blog, blog archive, search, shop, product, checkout, and account pages. It comes with several premium plugins: CPT, Divi Layout Injector, Woo Layout Injector, Search, and Taxonomy. It also includes Woo Product Carousel. Colors are set in the stylesheet.
Price: £120.00 | More Information
4. Shop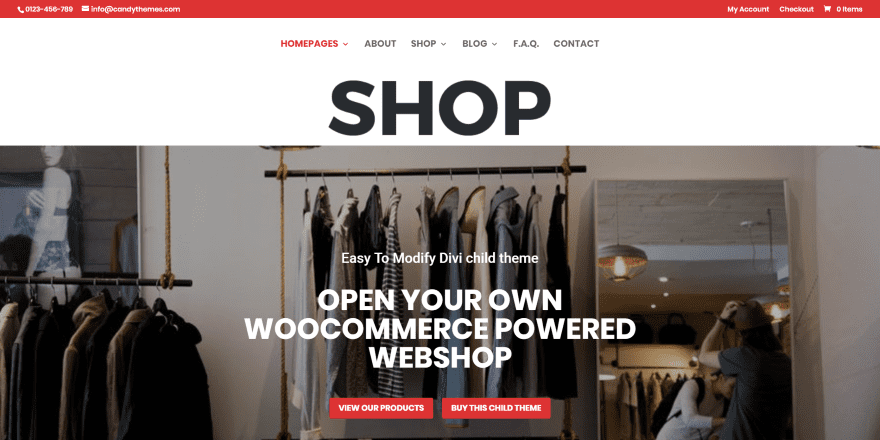 Shop was developed to build any type of web store. It comes with lots of pages to build your store. Pages include 6 home pages, about, 9 shop pages (including on sale, featured products, recent, top rated, etc.), a product page, account, cart, checkout, 7 blog pages, FAQ, and a contact page. All of the designs are simple and elegant.
Price: $49 | More Information
5. Divi eCommerce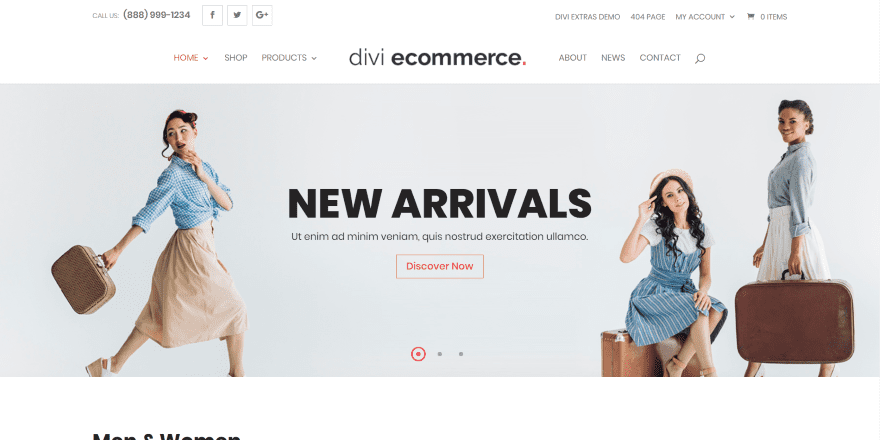 Divi eCommerce was designed to showcase both products and services for any type of business. It has lots of elements to drive sales. It includes two home pages with elements to display Featured and Trending Product, a Deal of the Day countdown for time-sensitive sales or offers, and a styled email optin form. It also includes a shop page with a custom WooCommerce sidebar, 3 product pages, breadcrumbs, vertical tabbed displays, blog, about, contact, and WooCommerce pages.
Price: $59 | More Information
6. D-Market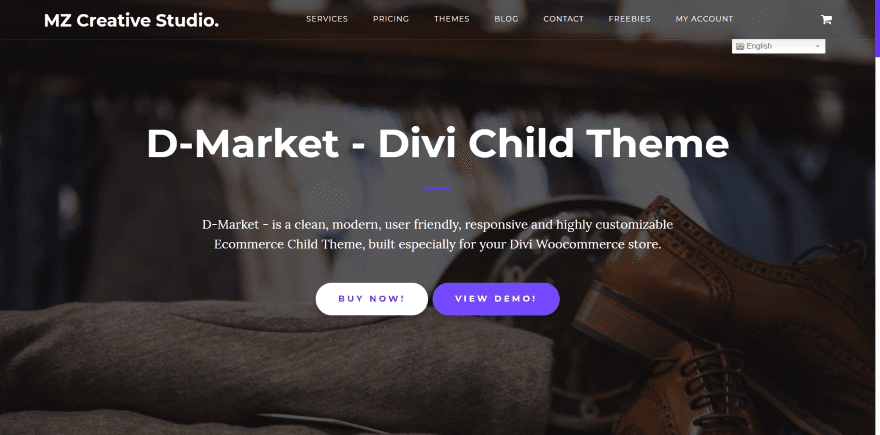 D-Market was designed with fashion shops in mind and it's suitable for any type of clothing or accessories store for men or women. It uses a flat design and is optimized for speed. It comes with over 12 pages, integration for the YITH Wishlist plugin, and a newsletter popup form using the Bloom plugin. This Divi child theme requires Contact Form 7, YITH WooCommerce Wishlist, WP-PageNavi, and of course WooCommerce. Most of the images in the demo are also included.
Price: $35 | More Information
7. Divi Shopper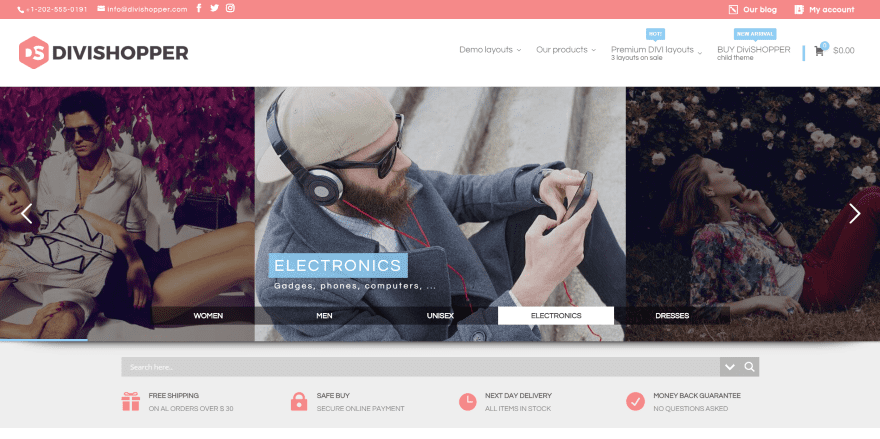 Divi Shopper was made for any type of eCommerce website to sell products or services. It has a minimal layout design with 13 sections and 4 landing page options. 12 of the section are unique and were designed specifically to fit perfectly on smartphone and tablet screens. It includes a few premium plugins: Slider Revolution and QuadMenu. Features include animated sections, breadcrumbs, a secondary product thumbnail flipper, quick view, a social sharing option, a dropdown shopping cart, and more.
Price: $140 | More Information
8. Store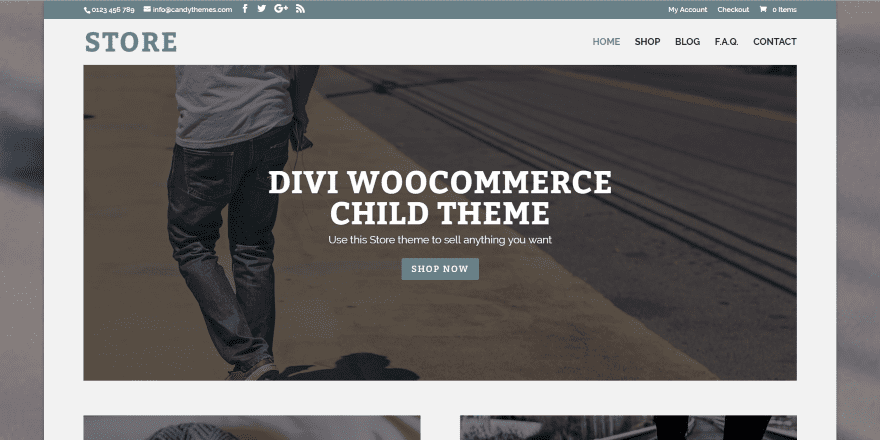 Store was designed to build any type of online shop to sell any type of product. It comes with lots of pages to build your store with such as a home page, store page, single product page, shopping cart, account, checkout, blog and blog single post, FAQ, and a contact page. This child theme has lots of styled modules that make elegant use of imagery and parallax.
Price: $49 | More Information
9. WooU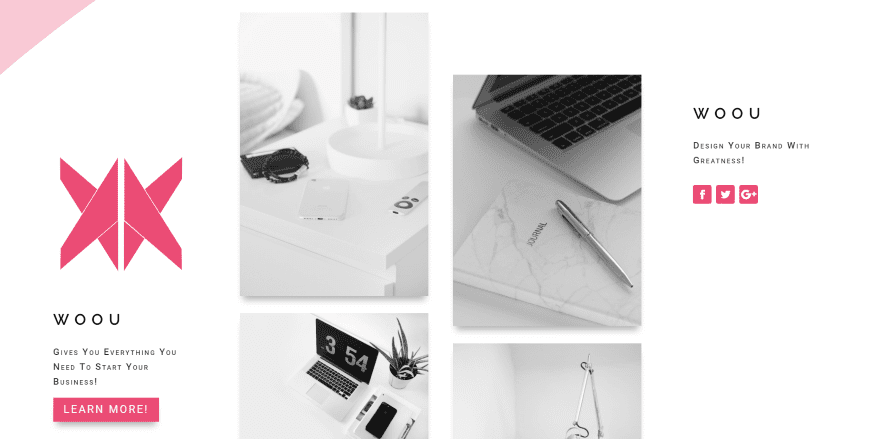 WooU is a multi-purpose eCommerce child theme that's designed for any type of business. It has a unique layout with elements that are offset from each other. It comes with 20 pages for WooCommerce, services, pricing, FAQ, support, tools, etc., as well as styled elements such as testimonials, sliders, modals, contact and registration forms, section styling, and more. It includes lots of plugins: Gdo-Modal, Gdo-Posts, Gdo-products, Gdo-projects, Flex-projects, Flex-Gallery, and Gdo-Slider. It also has animations and it has the famous Ken Burns effect to make your images stand out. It comes with several files: social media icons, SVG image files, PNG logo, and favicon files.
Price: $59 | More Information
10. Woo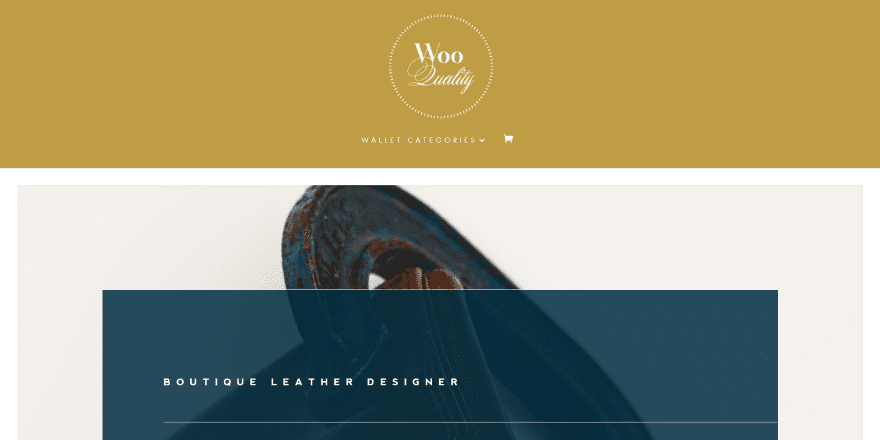 Woo is a simple design made for events and startups, but it would work well for any type of eCommerce website with a focus on simplicity. It has a single homepage and the expected WooCommerce pages. Pages include home, shop, categories, cart, and checkout. It also includes styled contact forms. Even with its focus on simplicity it still makes great use of background images and color overlays to create elegant calls to action for your shop pages. It also includes an elegant image gallery and a styled newsletter form.
Price: $49 | More Information
Ending Thoughts
That's our look at the 10 best Divi eCommerce child themes to help you get a head start on building your online store with Divi. Each of the child themes includes lots of pages, features, and styling options.
Several even include premium plugins: some that were made specifically for Divi and others that are not usually available in a Divi child theme. Between them, you're sure to find the perfect child theme for your next Divi eCommerce project.
We want to hear from you. Have you tried any of these Divi eCommerce child themes? Let us know what you think about them in the comments.
Featured Image via Studio_G / shutterstock.com