Extra is often an overlooked and hidden gem of a theme. It uses the Divi Builder for its pages and posts, but what makes Extra stand apart from Divi is its Category Builder (which uses it's own smaller set of modules to create blog index pages). One common user request though is the inclusion of the classic Divi Builder modules within the Extra Category Builder.
Enter: the third party plugin by WP Zone, Extra Module Mate. With this plugin the 40+ Divi Builder modules can now be used within the Extra Category Builder to supercharge your Extra theme and the index pages you build with it.
In this plugin highlight we'll take a look at Extra Module Mate and show you a few examples of what can be done with the Category Builder when the Divi Builder modules are added.
Let's dive in!
Category Builder Modules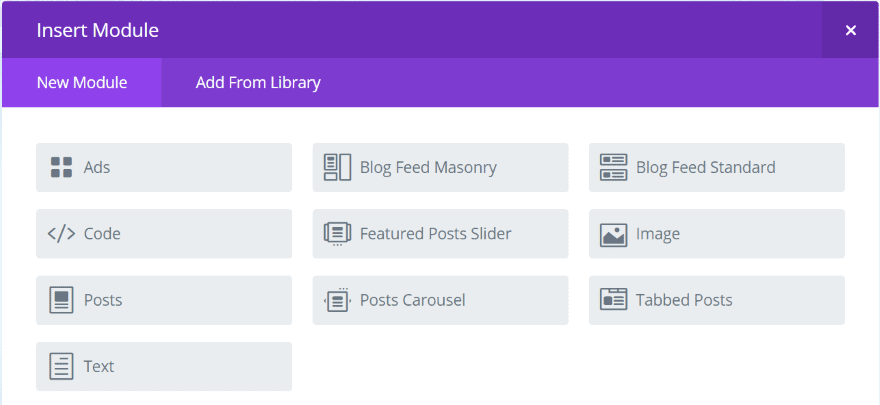 One of the things that sets Extra apart from Divi is the Category Builder. This builder uses its own modules to create magazine or similar modular layouts based on categories. The Category Builder gives you 10 new modules. As you can see the focus is on content, images, text, and ads.
You can do a lot with these modules to create interesting layouts. Using a code or text module you can add shortcodes, however modules such as contact forms, accordions, maps, timers, portfolios, comments, galleries, blurbs, call to actions, search, shop, counters, buttons, etc., are not normally available to the Category Builder. This can limit your options for homepage designs.
Adding Divi Builder Modules to the Category Builder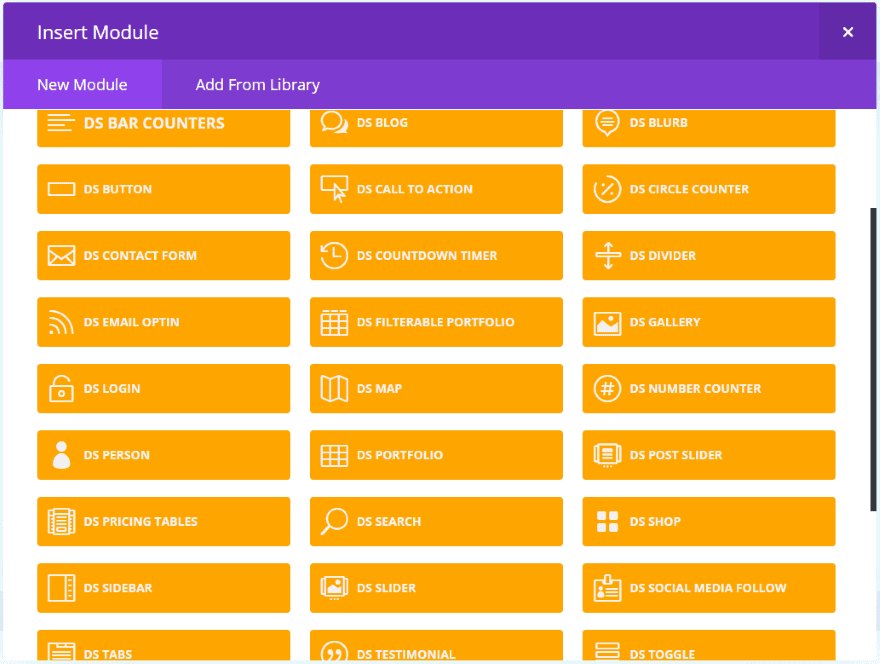 Once Extra Module Mate is uploaded and activated, the Divi Builder modules will be available in the Category Builder. The plugin adds the Divi Builder modules in yellow with the prefix DS. The modules work the same as they do in the Divi Builder including all of their features and settings. You can even make them global to other Category layouts if you want.
Example – Magazine Layout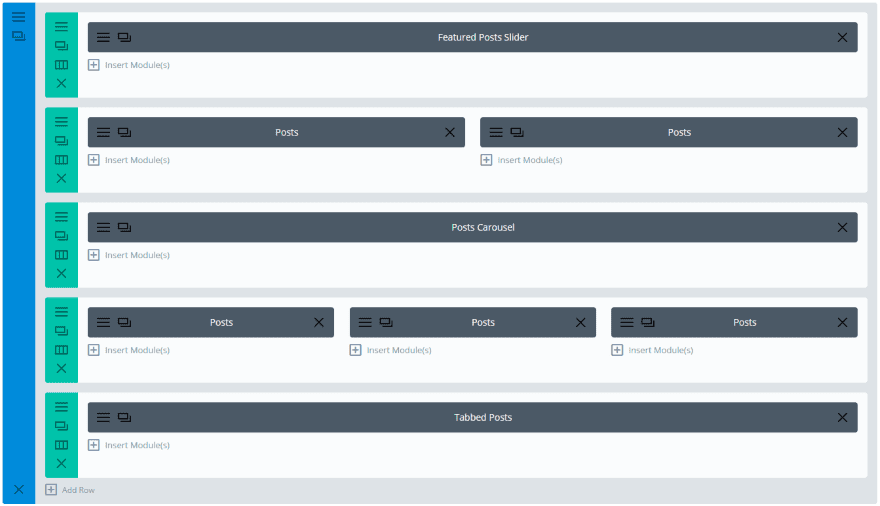 For this example I loaded the magazine layout in the Category Builder and set it as my homepage layout. I will add my Divi modules to this layout.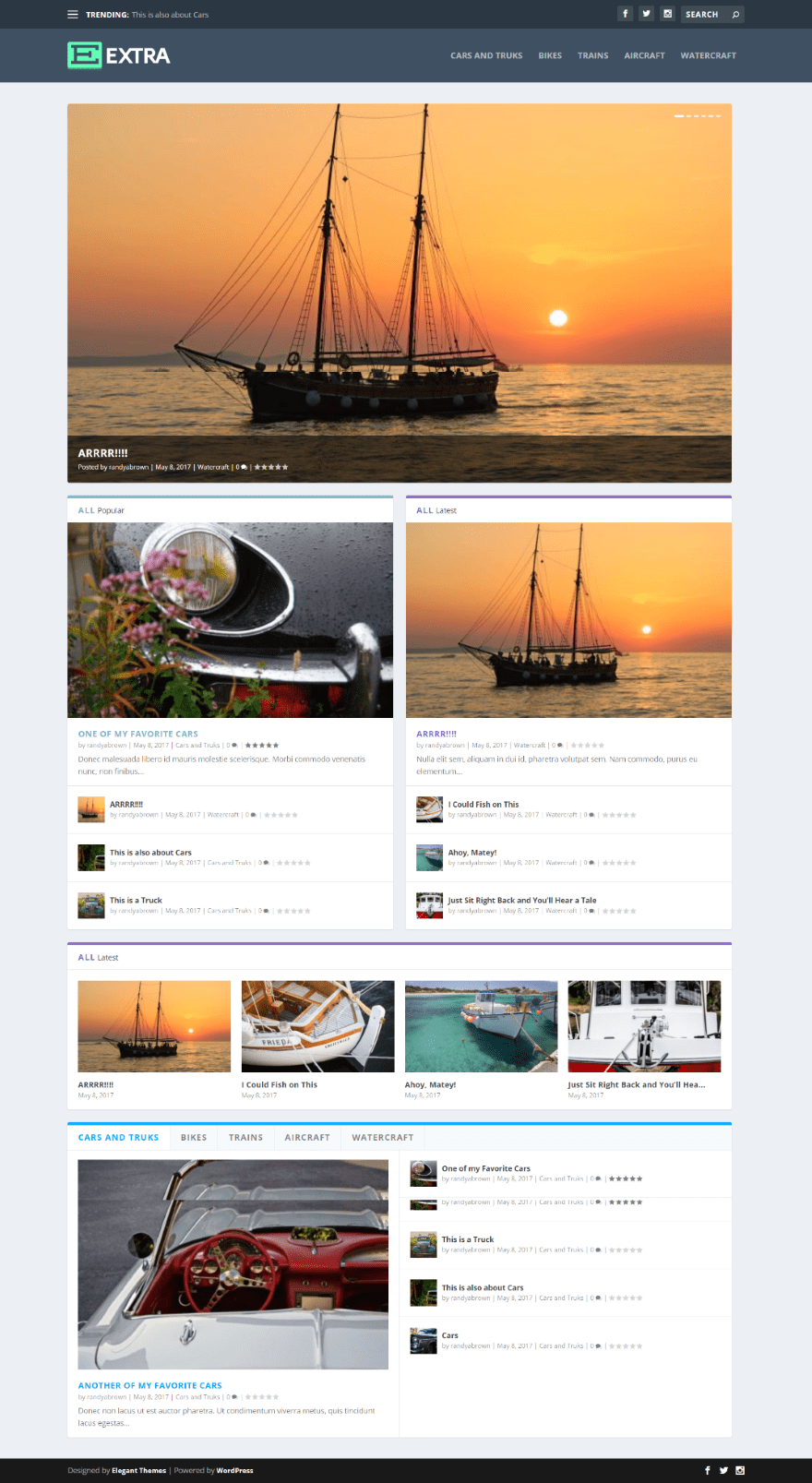 Here's a look at the layout using my mockup content. I chose not to use a sidebar and I removed the row of three posts because it was repeated content (without me creating more categories). Since this is a test site with no actual visitors, popular and top rated are the same. In reality, organic traffic will shape your content so you won't see the same articles multiple times.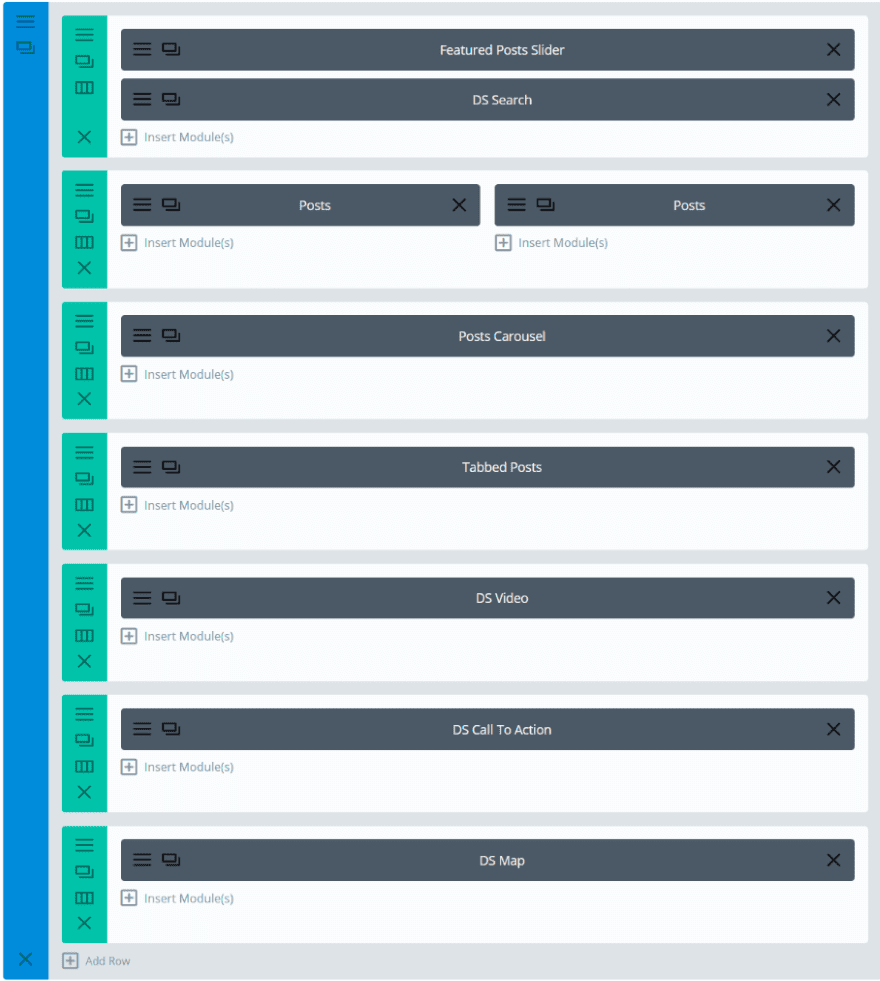 Here's a look at the layout with the Divi modules I've added. The layout now includes Search, Video, Call to Action, and Map modules from the Divi Builder. I styled them to match the homepage layout.

Here's the layout with the Divi Builder modules. I've added the search box just under the post slider, which can be helpful for review sites or sites with lots of content. At the bottom I've created a call to action using a video, CTA with image and button, and a map to show the location. This is a great way to place a CTA for an event, subscription, or product on your homepage.
Example – Another Magazine Layout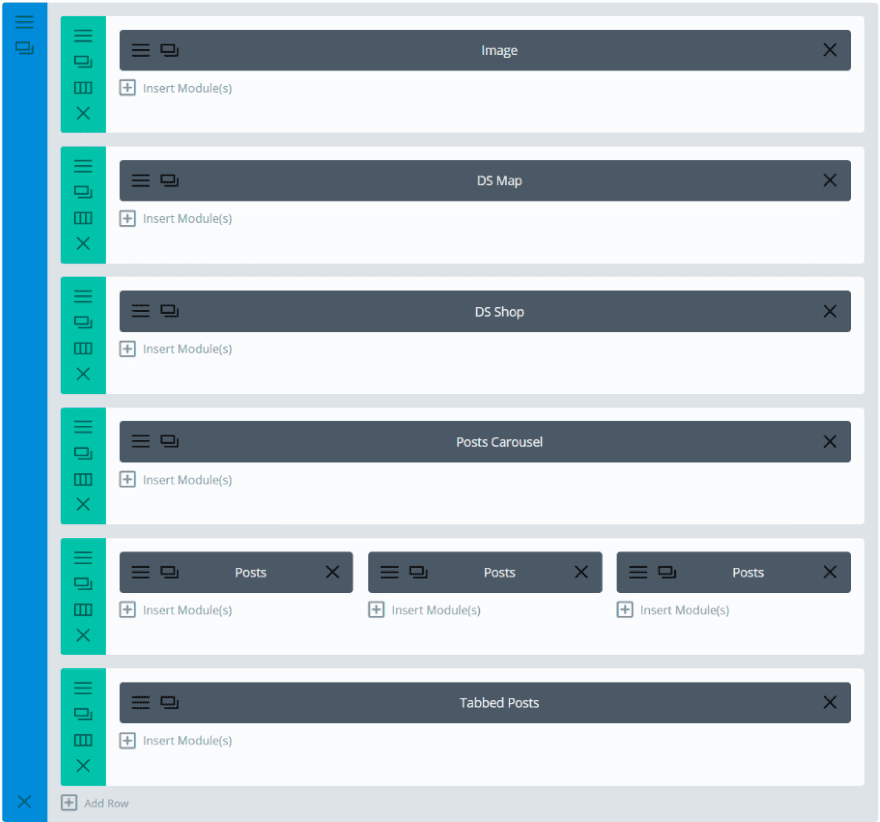 Here's another modification of the pre-made magazine layout. I added a featured image and then added two Divi modules – map and shop. I also removed the two-column post row; this time leaving the three-column post row.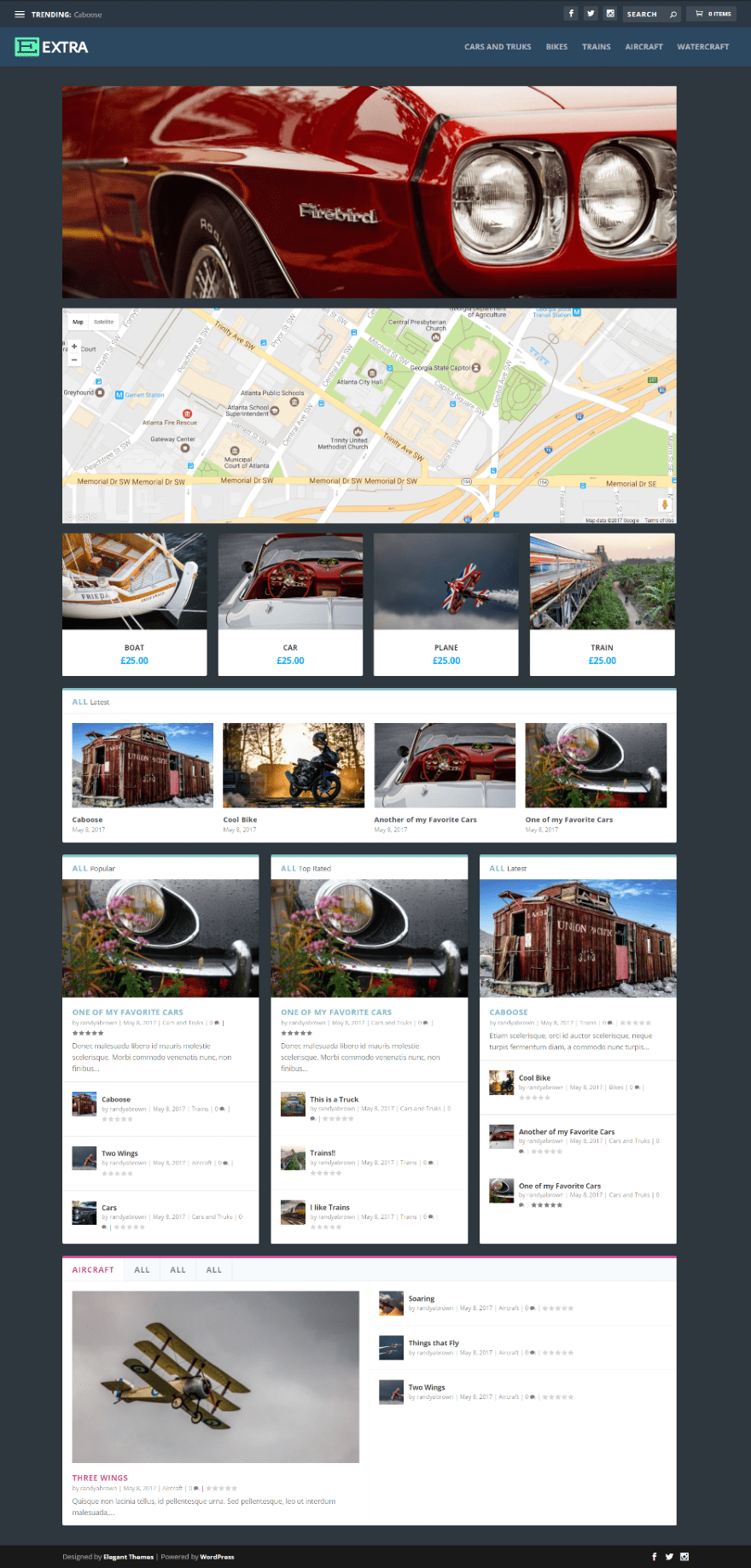 As you can see this is just a small change but it makes a major difference to the layout. Only the map and shop are new and they integrate perfectly into the magazine layout. In reality I wouldn't make it quite so busy but this shows the advantage of adding Divi Builder modules to your Extra Category layouts.
Example – Portfolio with Blog

For this example I want to create a portfolio with blog, testimonials, and a shop so someone could sell their photographs, art, or similar products. I'm starting with the masonry blog layout with featured posts slider premade layout.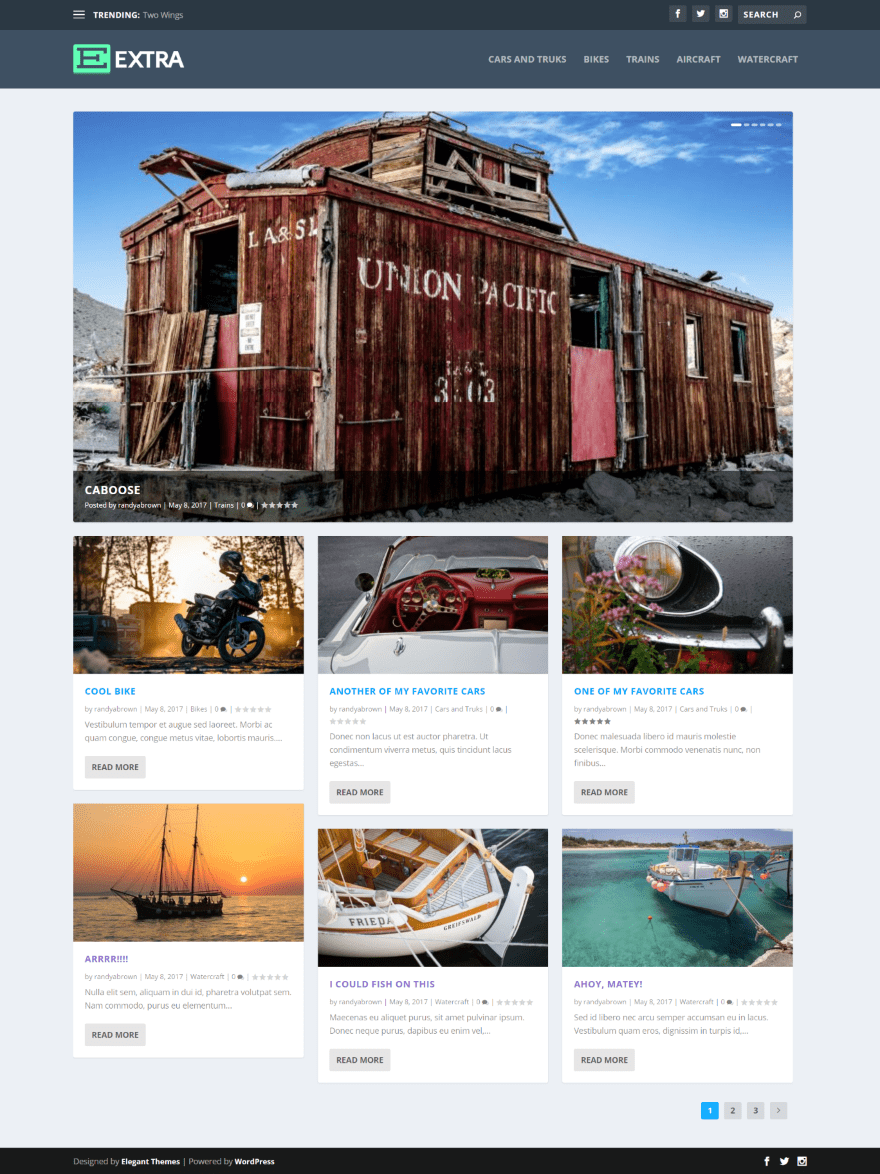 Here's the layout before I make any modifications. It's a clean three-column blog with a featured post slider. I'm using the slider to display a single featured post.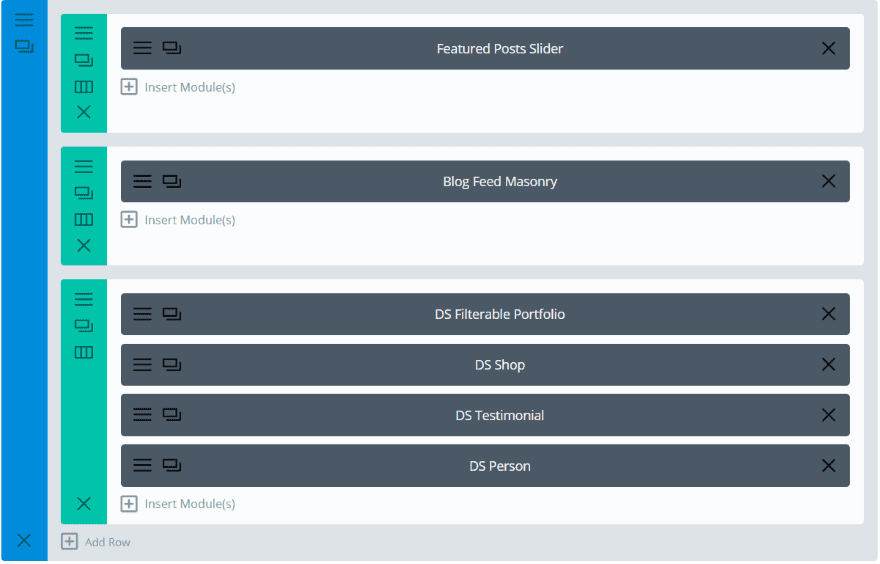 My new layout includes a filterable portfolio, WooCommerce shop, testimonial, and a person module so readers can learn more about the photographer or artist.
Here's how the new elements look within the layout. I've reduced the blog post count from 6 to 3 to help keep the layout clean. This can be used to blog about the products, show the products as projects, and provide links to the shop pages where readers can purchase.
Example – Custom Layout with Specialty Section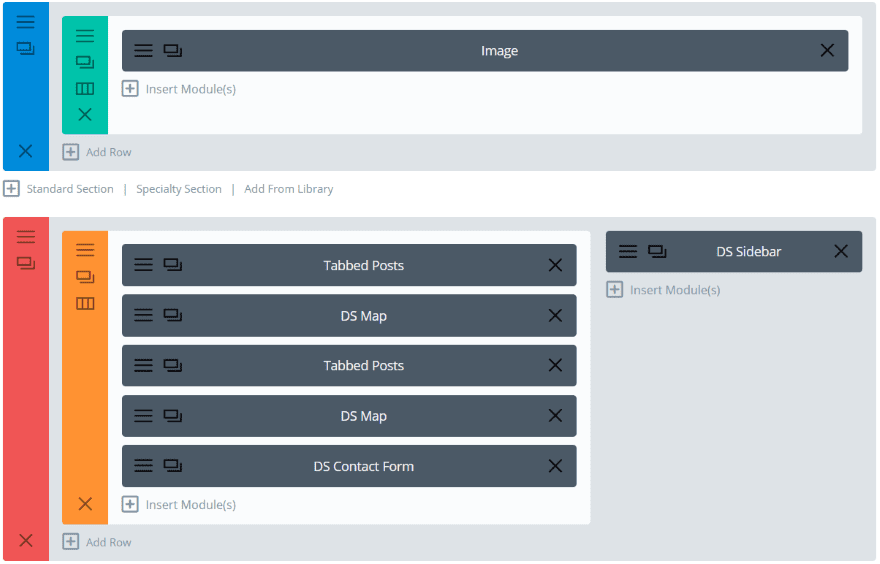 For this example I built a layout from scratch using an image as a header followed by a specialty section that includes tabbed posts, maps, contact form, and a sidebar.
Extra Module Mate works great with specialty sections. The layout includes two sections with tabbed posts and a map followed by contact form. This can be useful for showing events, or anything else that could benefit from showing a location, in tabbed posts and then placing pins for each location on the map that follows it.
Example – Blog with Pricing Table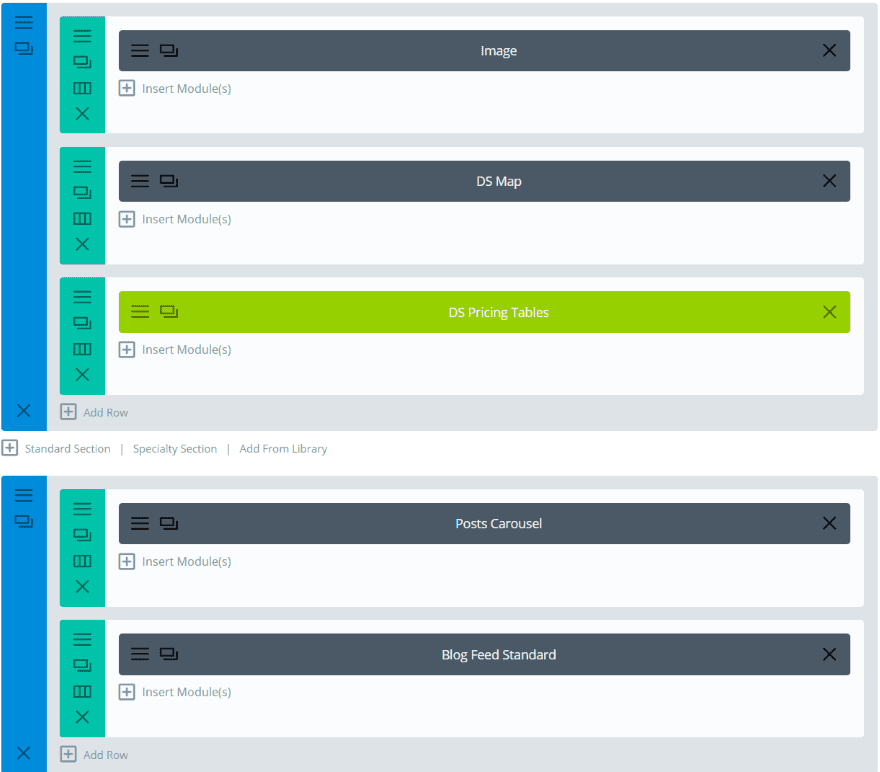 In this example I wanted to create a standard blog and add pricing tables and a map. To take advantage of the Category Builder modules I added a post carousel and standard blog feed so I could use the star ratings. I've made the pricing table global so it can be used with other Category layouts if I want to create a new homepage.

Here's my new blog layout with the Divi modules added. This would make an interesting blog for a travel agency. The map and pricing tables (the only Divi Builder modules in this layout) are great for creating CTA's.
Price and Documentation
Pricing for Extra Module Mate starts at $16 for a single site license. Documentation is provided in the information section of the sales page.
Final Thoughts
Extra's Category Builder uses its own modules rather than the standard Divi Builder modules to create magazine-style layouts. Although the Category Builder only has 10 modules, they're enough to create the most popular and common magazine layouts with ease. However, this can be limiting if you want to create a layout that's more unique.
Extra Module Mate adds the standard 40+ Divi Builder modules to the Category Builder, giving those who want to add more to their layouts the Divi modules they need. The layouts I've created in these examples would not be possible with the Category Builder modules without using code or shortcodes. Thanks to Extra Module Mate, creating them was as simple as using the Divi Builder.
This is just scratching the surface of what can be done with Extra and creating Category layouts with Divi Builder modules. I can imagine lots more possibilities and I'm sure it wouldn't take long to come up with even better designs than I've shown here. Extra Module Mate is easy to use and is essential for anyone wanting to use Divi Builder modules within Extra's Category Builder.
We'd like to hear from you! Have you used Extra Module Mate? Let us know about your experience in the comments below!
Featured Image via antishock / shutterstock.com