Business consulting is as popular as ever and is growing every day. With that growth comes the need for new websites. Fortunately there are several websites of business consultants that were built with Divi to provide design inspiration for your next business consultant project. In this article we will take a look at 10 examples of business consultant websites built with Divi to help spark the imagination of any Divi designer.
Whether the business consultant provides services such as on-site training, courses, workshops, personal coaching, business strategy, planning, leadership, employee training, etc., these sites can help with inspiration for your next design. They're in no particular order.
1. James Robbins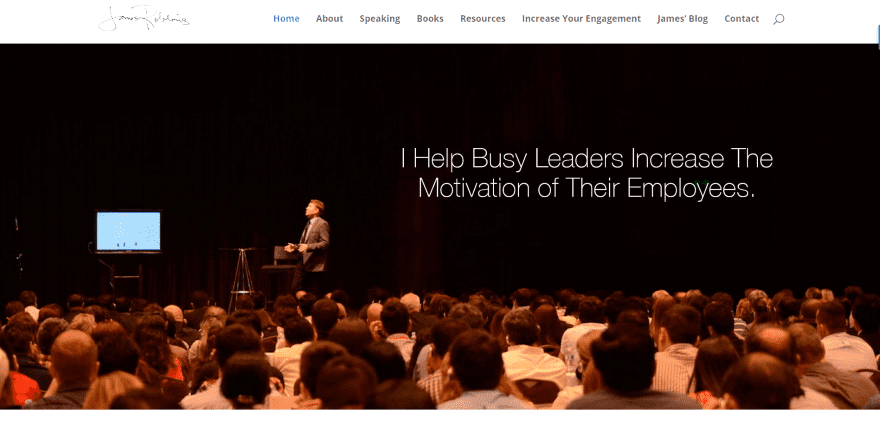 James Robbins includes a hand-written logo and full-screen image with tagline. Scrolling reveals an information section with testimonials, categorized information with bullets, images, video, and CTA's. Following this includes a full-width image with company quote, blurbs of services, and CTA's. The pages display text and images using multiple layouts. The images do a great job of creating the setting to help potential clients get the idea of services that are provided.
2. More Sales Advisors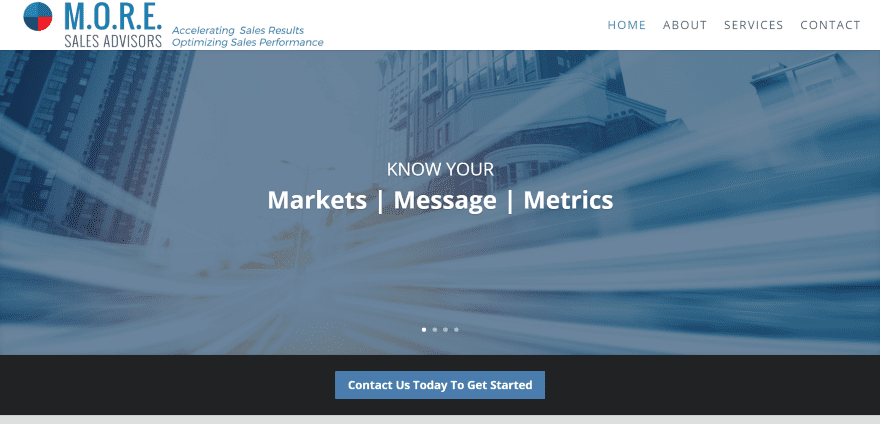 More Sales Advisors includes a full-width image slider with CTA, an about section that covers the services provided, an about section with link to About page, and a full-screen image with overlay in parallax about the owner. Throughout the homepage are slim sections with business quotes and stats. The About page provides company info in sections with each section in a different color. The Services page provides information within toggles. The site makes great use of color and the quote sections stand out without taking over the design.
3. Andreas Dittes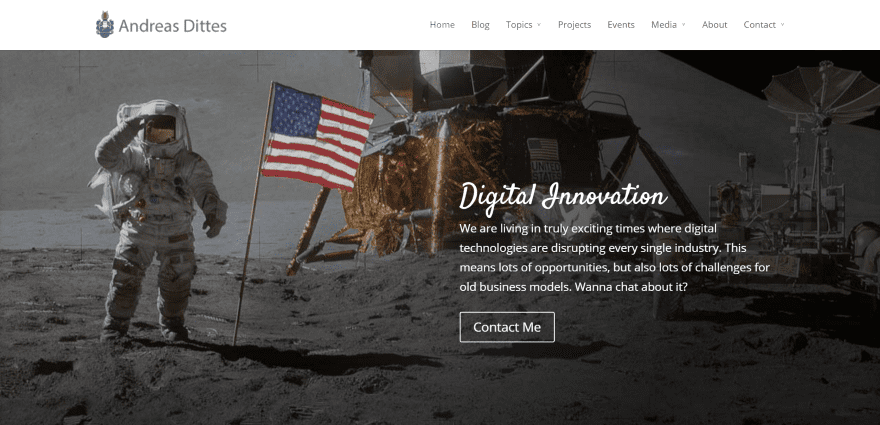 Andreas Dittes uses a full-screen slider with CTA's followed by a testimonial section, a Mentioned In The Media section with media logos, a contact button, and a footer with links. The Projects page displays projects in a grid. The Books page display book covers, descriptions, and links. The site is simple and uses an elegant font.
4. Pamela McCauley Bush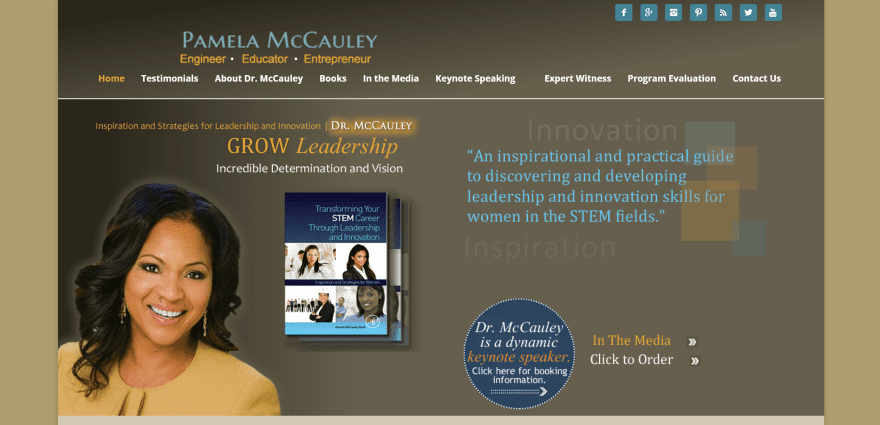 Pamela McCauley Bush uses a boxed design with an image, quote, and CTA on-screen. Scrolling displays an About section with button and embedded video, a Recent News section with image and text, an awards section with an image and text with link to the full story, a three-column section with text links to the blog and various articles, and a resources section with links. The various pages display information within bullets and include images, creating page-layouts that are easy to follow. The site makes great use of color branding.
5. Arndts Business Club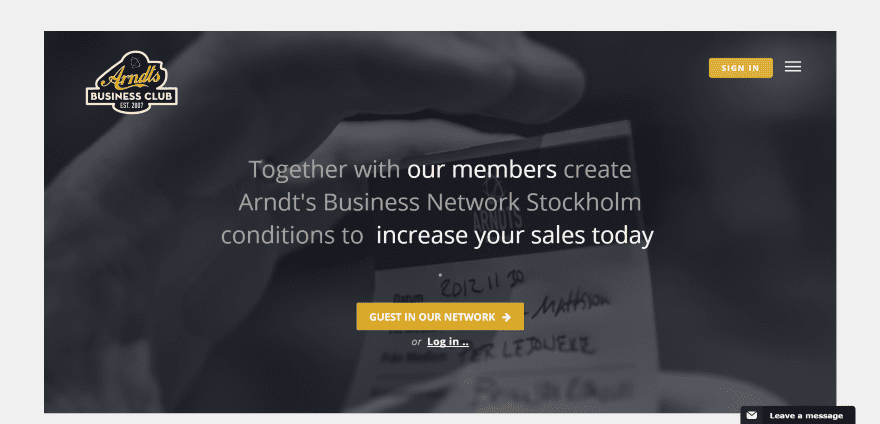 Arndts Business Club has a boxed design. The homepage includes a full-screen image with CTA overlay, a mobile-style right-side menu with label, pages in a grid, a nice calendar system animated CTA for each of the events, alternating images with text that have branded colors as backgrounds and horizontal module separators, sign-up form, and custom footer with links to pages. A button to leave a message remains on the screen but out of the way. The site is clean and easy to follow.
6. Hill Consulting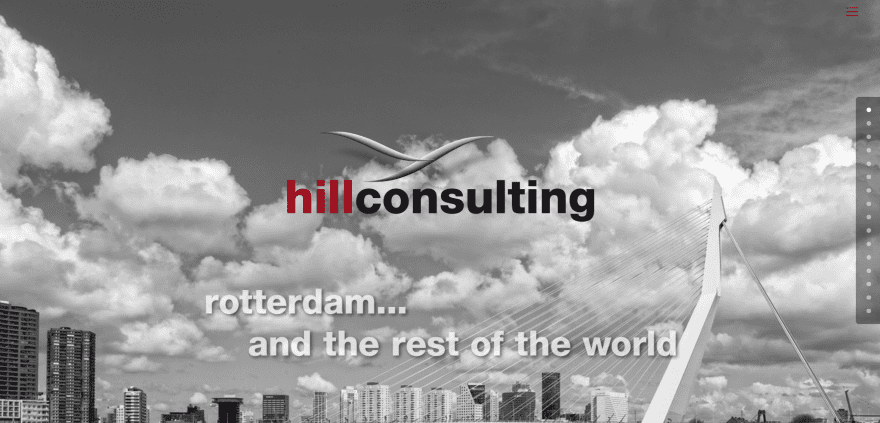 Hill Consulting uses a one-page design that includes a full-screen background with overlay in parallax with a hamburger icon for the full-screen menu and dot navigation. Scrolling displays a section with company information, a larger company information section, and several sections that answer, what, who, how, clients, media, and contact that includes full-screen sections with images and taglines in parallax between each of the sections. The site makes great use of parallax and monochrome images.
7. Niklas Modig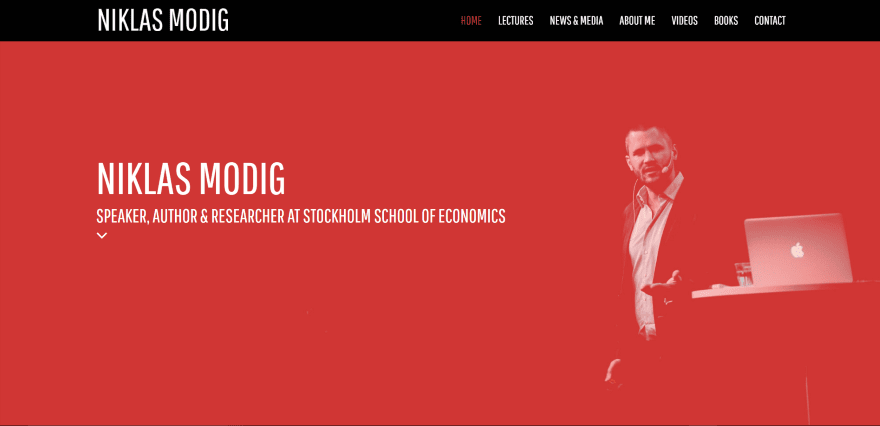 Niklas Modig displays a full-screen image in bold red color and a tagline with down-arrow. Scrolling reveals a section with newsletter signup, a two-column section with image collage and information with CTA's, a styled testimonial section with an image collage in the background, a CTA, personal quote, embedded video, a section with information about the various courses, a styled blog section, and a large custom footer with embedded tweets and a contact form. The pages use image headers, sections as titles, and lots of images and text with multiple layouts. The site makes excellent use of branded color and the image collages give it a unique look.
8. On Point Coaching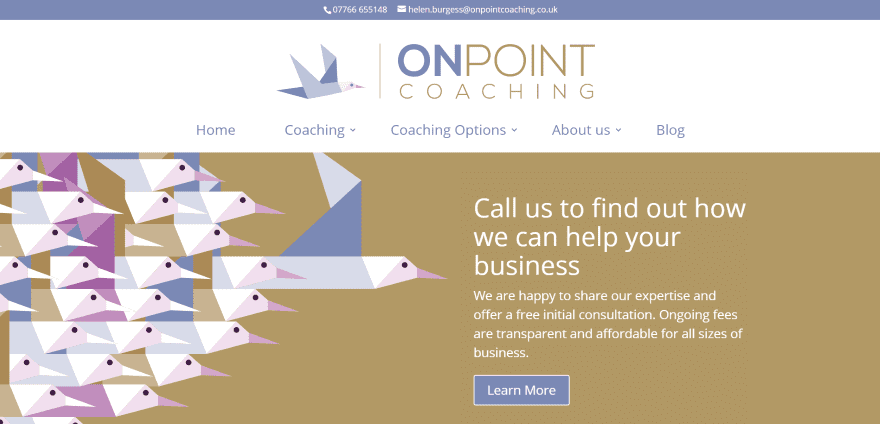 On Point Coaching uses a large logo and a full-width image with post slider. Following this is a two-column About section with CTA, another section shows company and client goals, a testimonial, information about the process, a section in parallax that discusses measuring success, several sections with testimonials and services, information about a specialized group for clients to join, and information about the owner followed by a personal quote and contact information. The various sections use branded colors and images. The site makes excellent use of color and the sparing use of parallax is effective.
9. Collaborate Consulting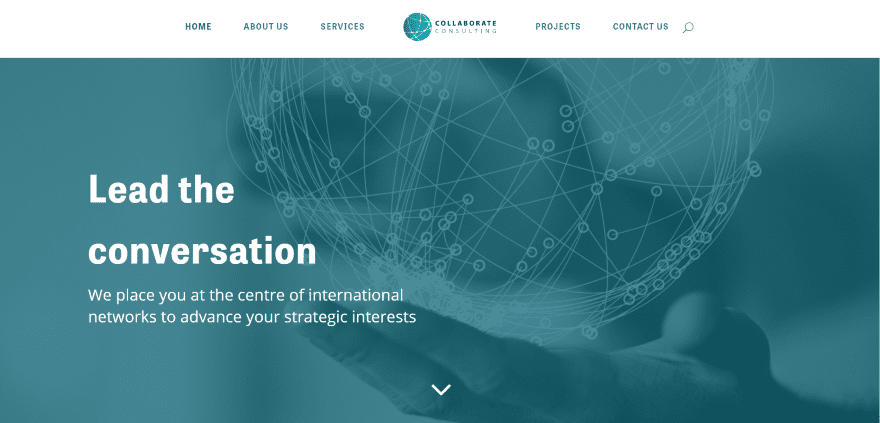 Collaborate Consulting uses a full-screen image with tagline, an About section with title that stands to one side, a three-column section with an image and information with links, a section highlighting the ideal client followed by a section with icons for the sectors that are served, a large section with testimonial, and a contact section. The pages use the same text layout with the title to one side. The site uses elegant colors and layouts and makes great use of images and background patterns.
10. Alison Crabb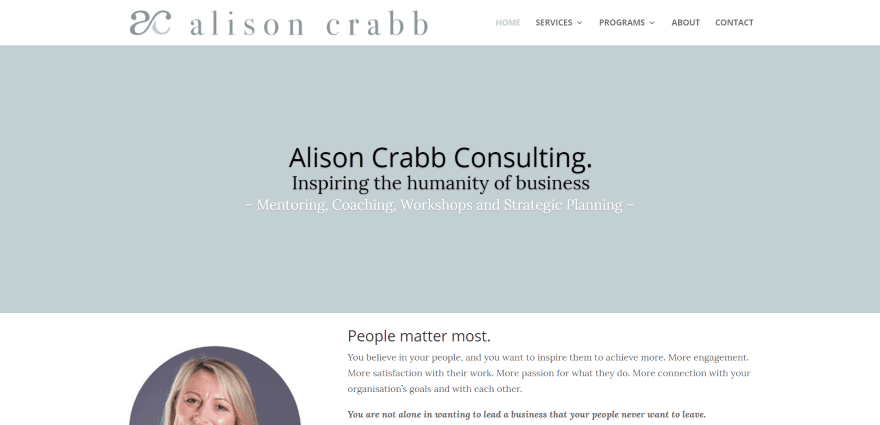 Alison Crabb displays a message with tagline and an About section with image and contact button. Following this is a section describing the services using text and a chart, a CTA with free download, a quote from John Maxwell, testimonials, and a contact section. The services pages follow the same design and add text sections highlighting the services and benefits. Quotes are used throughout the site. The site makes excellent use of color and has one of the more interesting CTA designs and free offer.
Final Thoughts
These 10 examples of business consultant websites built with Divi are good examples to show that Divi can be used to create any type of consulting agency website. Whether the site is a simple brochure or a large site with blog, courses, and workshops, it can be built with Divi.
These sites a great for providing ideas for layouts, branded colors, images, animations, video, CTA's, navigation, and more. These websites are sure to inspire you for your next business consultant website design.
What are some of your favorite elements of these Divi business consultant websites? Let us know in the comments below!
Featured Image via nanmulti / shutterstock.com