Photography is a popular industry and photographers need well-designed websites to show off their work and provide information for possible clients. Divi is a great choice for building any type of photography website. One advantage with Divi is you can use a one of the many child themes that are available so you don't have to create your website from scratch. In this article we'll take a look at 10 Divi child themes that are perfect for photographers.
Photography websites include galleries, portfolios, contact forms, booking information, and some even include ways to sell photos through the website. They use unique layouts, nice fonts, interesting animations and transitions, and sometimes bold colors.
The child themes are available in multiple marketplaces and on the developers' websites, so I've only included links to the demos rather than where to purchase them. If you just need a layout rather than a complete child theme then you might want to consider the image grid layout that I've included as a bonus. The child themes are in no particular order.
1. Photography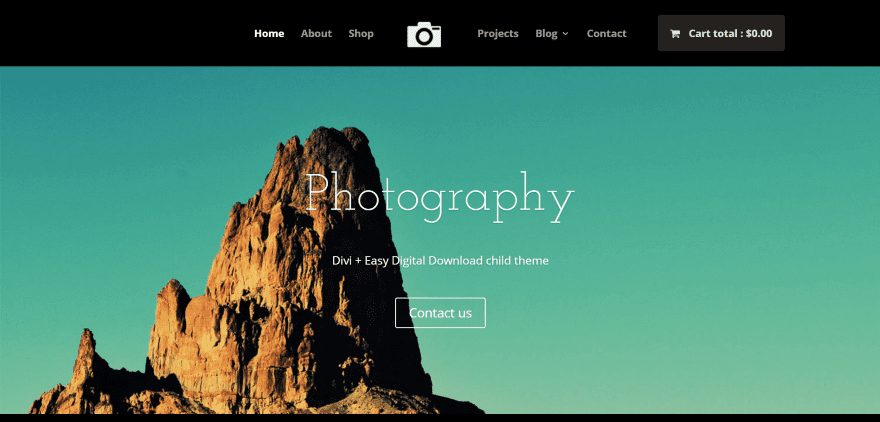 Photography includes Easy Digital Downloads integration so photographers can easily sell their photos from their website. It comes with 14 page templates including a homepage, About, Shop, shop items, Projects (used for the gallery), Blog, 6 blog post layouts, Contact, and Cart. The homepage uses multiple full-screen image sliders, parallax, a project grid sections for galleries, a product downloads grid, full-width images in parallax with section styling, a blog section, and a contact form. The theme works great as a portfolio and as an e-store.
2. Picture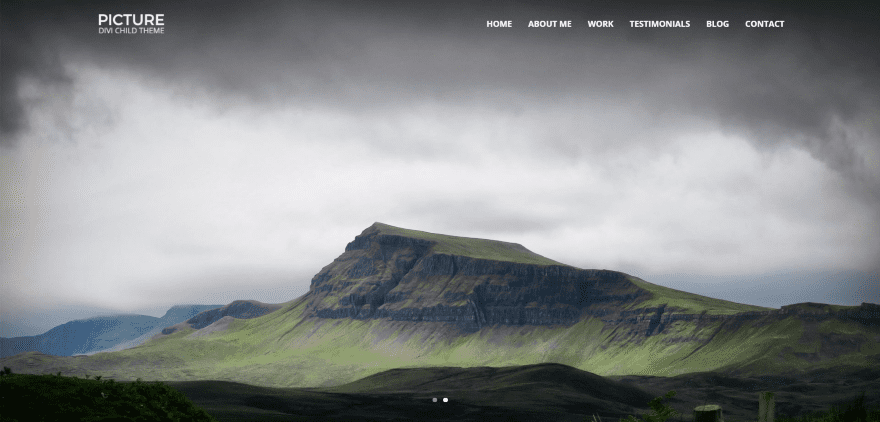 Picture is a one-page theme with homepage, blog page, and post templates. It includes a full-screen image slider that displays the menu on scroll. A two-column About section shows an image in one column and text in the other. The Work section shows an image gallery grid and some photoshoot and client stats. The Testimonials section places transparent testimonials over a background image in parallax. The Blog section displays the latest posts. The Contact section includes a form and icons with contact info. Each of the sections have a full-width title. The blog page and post templates use the featured image as the page header. It's a great choice for a photography portfolio.
3. SlowPhoto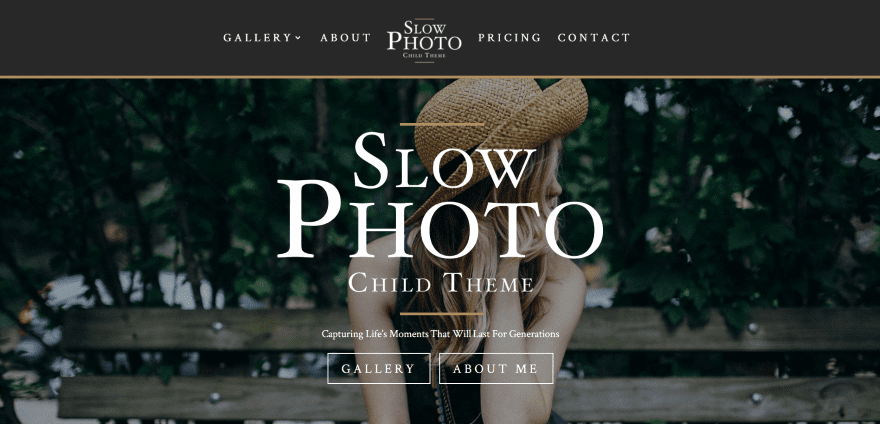 SlowPhoto comes with 5 custom pages for your photography business. The homepage displays a full-screen image with title, tagline, and CTA's in parallax. The next sections show recent work in the various categories with links to galleries. For social proof it shows a section with stats, a testimonial with image in parallax and a rating system, and a section with testimonials. It also includes a full-width contact form. The Gallery pages include a multi-layout image grid with a testimonial with rating. The Pricing page uses a pricing table with shadow effect to give it a 3D look. The theme uses dark overlays with gold trim and square social icons. It's an excellent choice to create an elegant site with fine details.
4. Gold Rush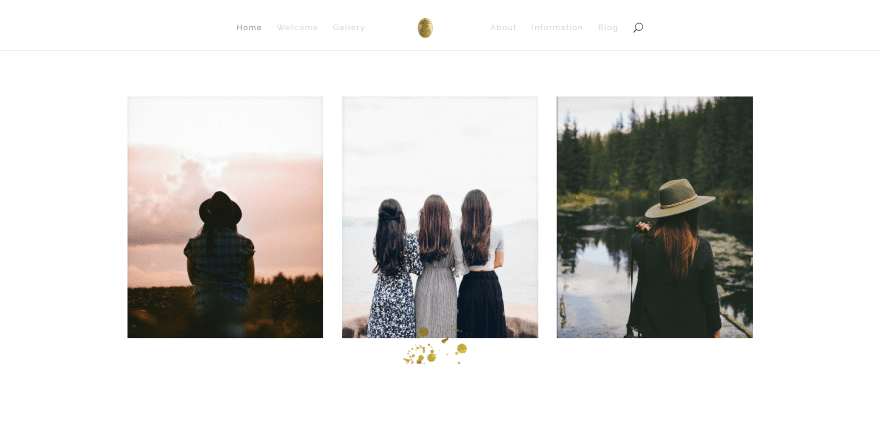 Gold Rush has a one-page design with three image sliders. The Welcome section uses text in two columns to welcome visitors. The gallery section shows images in two columns with a slider on the left and a grid on the right. The About section shows overlapping images with text. The Information section shows a price list that can be used for different photography packages. The Blog shows the latest post. Each of the sections include a gold divider and a touch of gold splashed across the middle or edge. It's a minimal design that's great for showing images and packages.
5. Chloe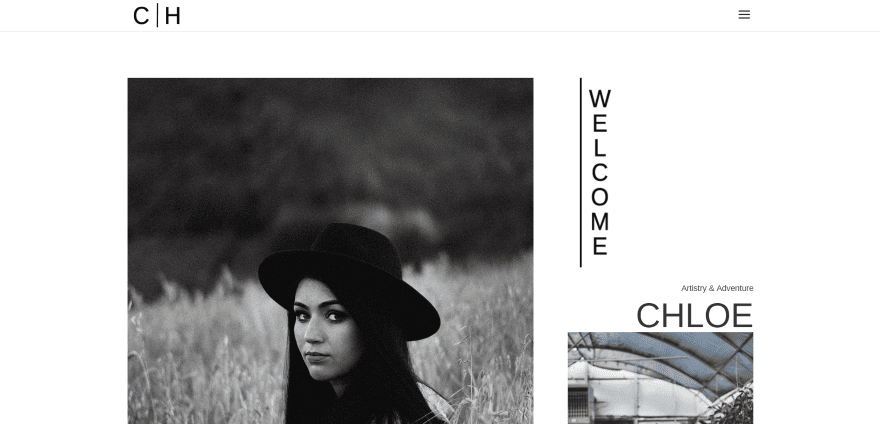 Chloe includes 7 layouts. The homepage has a unique layout with a large image slider in the center and vertical title and a smaller image slider to the right with a title and tagline. The various pages include a similar structure. The About page includes two images on the right with text above them. The Portfolio page includes a vertical title with image grid. The Information page provides an embedded video with booking information and a FAQ within toggles. The Journal page is the blog page and includes embedded Instagram feeds. The Contact page includes a contact form with large image. It's a good choice for a minimal portfolio with right-side hamburger menu.
6. Campus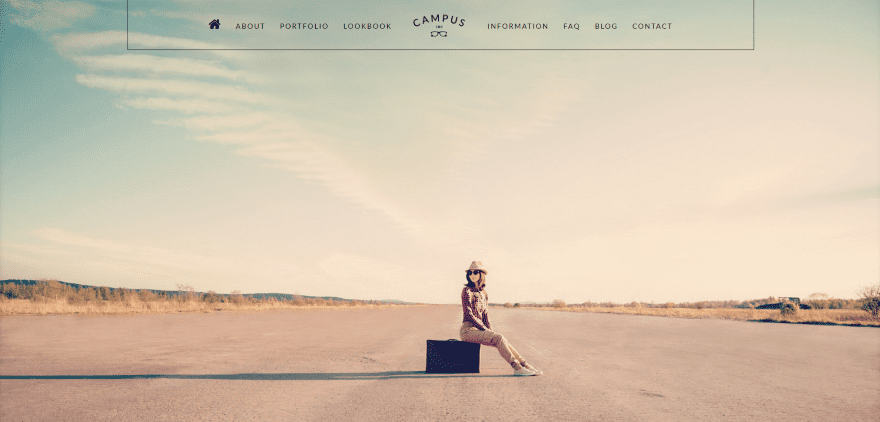 Campus includes 10 layouts, free fonts, and a Font Awesome home menu button icon. The homepage includes a transparent menu and a full-screen image slider. Next is a large quote section with CTA. Following this is an image and text in two columns and a single column image – both with CTA's. Next is another quote with CTA, blog section, and custom footer. The Portfolio page uses a full-width header image with title and an image gallery slider. There are two image galleries to choose from. It also has an interesting Lookbook page that displays items within a grid. It's an excellent choice for showing off your portfolio to potential clients.
7. Divi Scroll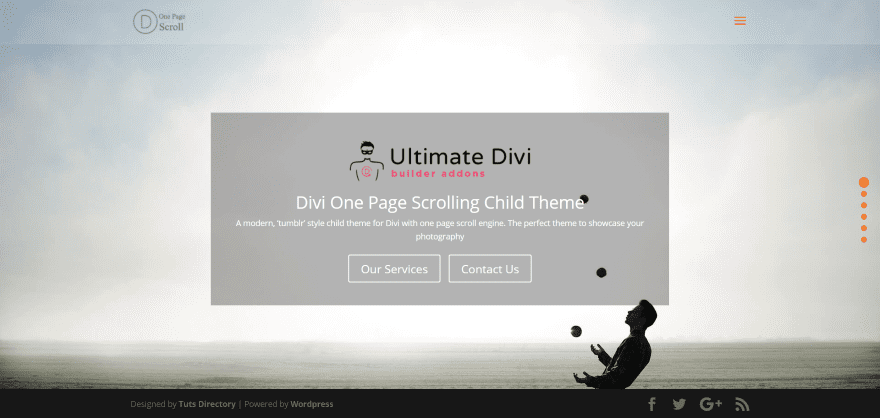 Divi Scroll is unique in that is scrolls a full screen at a time. It includes 8 page templates and is excellent for showing your photos and photography services. The homepage includes 6 full-screen sections for images with text overlays on the sides. It also includes styled dot navigation and a hamburger menu that opens the right-side menu on hover. The various pages include full-screen images with overlays in parallax. The Projects pages works great as a portfolio, displaying images in a grid that open in a lightbox.
8. Reese Dark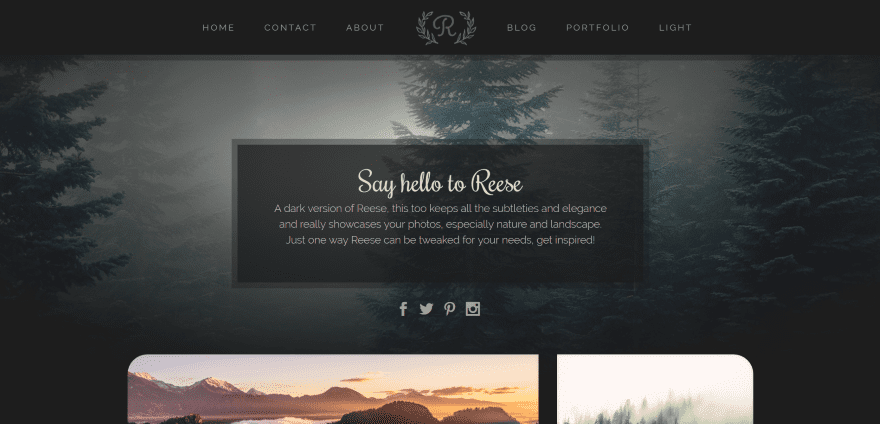 Reese Dark includes 11 page and post templates and styling for both the Contact Form 7 plugin and the Divi contact module. It has a unique text wrap feature and uses dark colors to help your photos stand out. The homepage displays a welcome message with social links, a multi-layout image slider grid, a link to the blog, and a custom footer. The various pages include a full-width featured image and the page title, excerpt, and social icons like the homepage. The Portfolio page displays large images within a slider. It's an excellent choice to showcase your photography with a dark theme and elegant fonts.
9. Photographer Web Page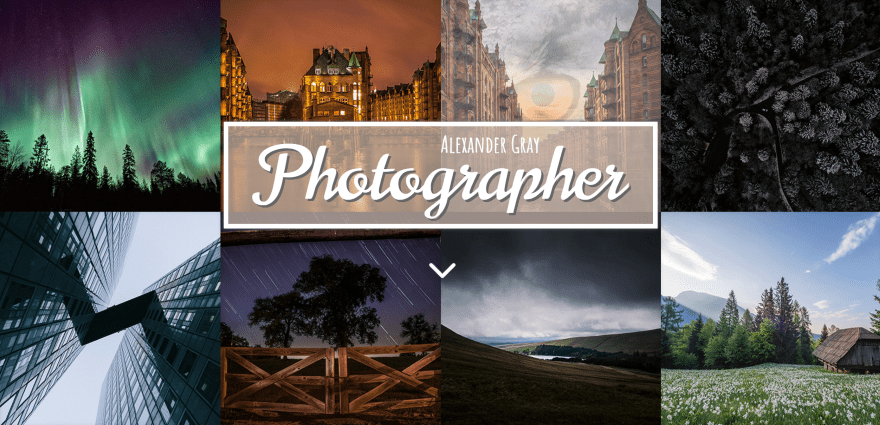 Photographer Web Page has a one-page design that showcases your photography in a full-screen animated background. Under this is a menu that remains at the top of the screen when it reaches the top. The Portfolio section displays your images in a multi-column grid with each of the images opening in a lightbox. The Services section shows the types of photography you specialize in with images, titles, and descriptions of each. An About section displays two columns – one for your image and another for your information with a booking CTA. The Contact section includes a full-width contact form that's styled to match the black and white theme. Each of the sections have a full-width title. Images show brighter on hover. It's an excellent choice for a one-page design with a dark look and fancy fonts.
10. Divi Snap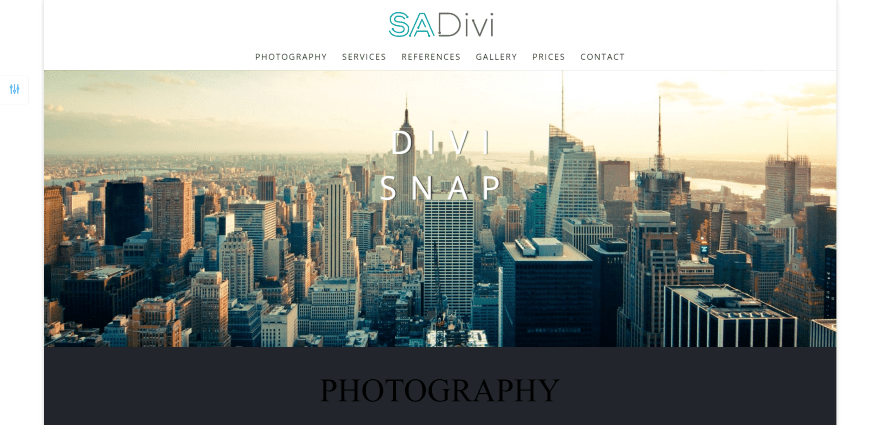 Divi Snap has a one-page design that includes several unique customization features. For example, it includes unique hover animations with overlays, titles, descriptions, and a link to see more. The page title has 3D animation on hover. A hex color selector makes it easy to choose the themes' color. It has a custom gallery to show off your photos. It also has several customized modules. The homepage includes a full-screen image, multi-layout gallery, services with transition animation, references with circled images, gallery with navigation, pricing tables with hover effects, and a contact form. It's an excellent choice for displaying your photos and photography services with pricing.
11. Bonus: Divi Layout – Responsive Image Grid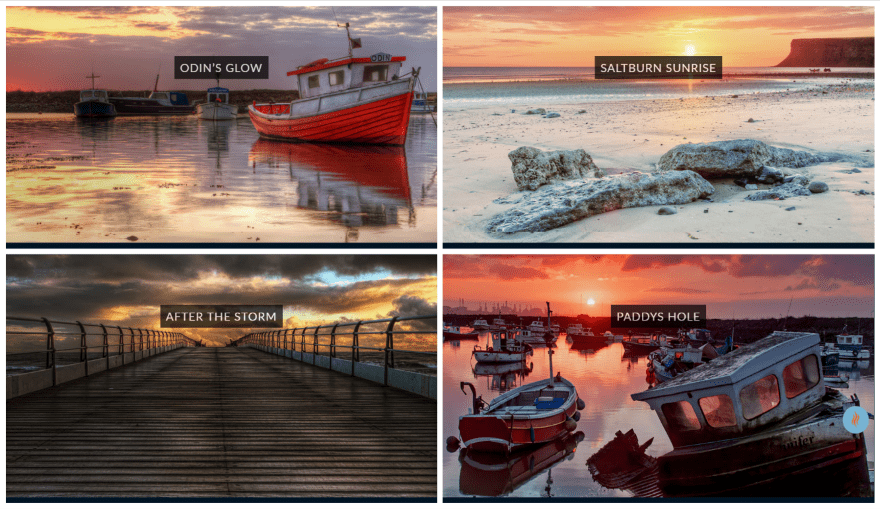 Sometimes you don't need a complete child theme. Instead, you might need a layout to add some amazing features to your current child theme to show off your photos. Responsive Image Grid does this nice by adding an elegant image grid with hover animation that displays an overlay with border, gallery name, description, and link to see the gallery. As the name suggests it is responsive.
Final Thoughts
Divi has plenty of great-looking child themes to choose from to create an elegant photography website. They use nice colors and fonts, unique layouts, and provide you with the features you need to display your images and information about your photography services. With these 10 child themes and 1 layout there's sure to be something to meet your photography website's needs.
We'd like to hear from you. What's your favorite Divi photography child theme or layout?
Featured Image via ProStockStudio / shutterstock.com