MyCuisine is a small-business theme made with Restaurants in mind. That being said, the theme can easily be  adapted for any business that desires a similar aesthetic. The theme's vintage, Tuscan appearances gives the design a warm and classy vibe that is sure to impress your visitors. The theme also comes with some unique features, such as the Location Page, Menu Section and Testimonials Post Type. For a closer look, be sure to check out the Live Demo as well as the Features Page.
MyCuisine Features
Five Unique Colorschemes – MyCuisine comes in 5 colors. If the default Brown version doesn't suit you, then try out the Green, Blue, Black or Red variations.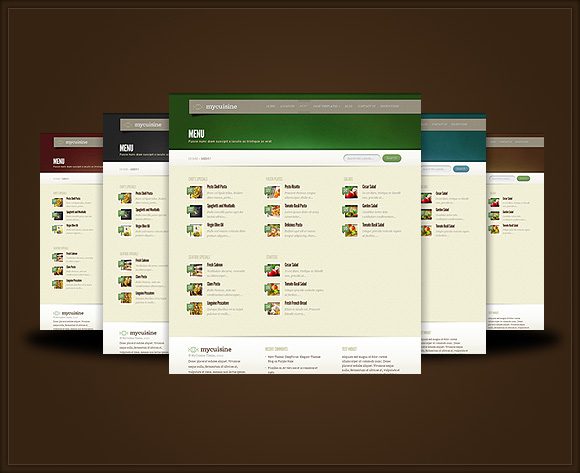 Menu Page Template – The Menu Page Template gives you an easy way to organize your dishes. Here you can display a list of posts organized into different sections (categories), and even include a unique price for each. Even though the theme was created with Restaurants in mind, this "menu" page could be used to display any number of products.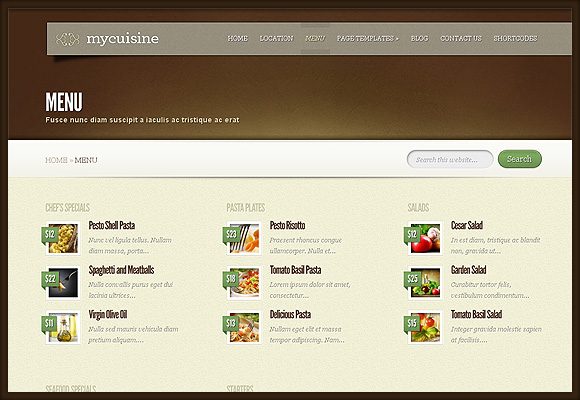 Location Page Template – The Location page makes it easy for your visitors to find your store. One of the most likely reasons that a visitor would browse your website is to figure out where you are located, when you are open, and how to contact you. The location page hits each of these marks, giving your potential customer all of the basic information he/she is looking for in one convenient place.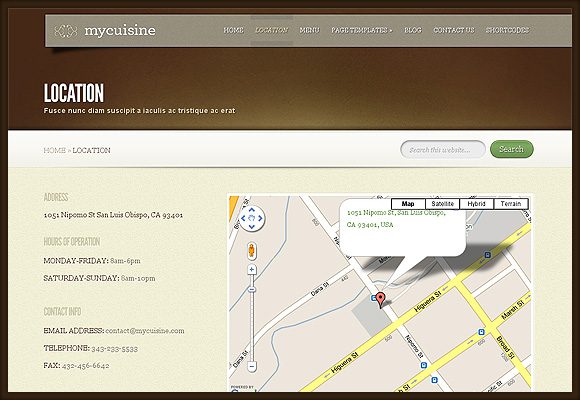 As always, I hope you enjoy the theme. Let us know what you think in the comments!