Our latest theme, LeanBiz, has been released. LeanBiz is a lean, mean, business theme. Its layout is simple and professional and the homepage is sleek and to-the-point. The beautiful homepage slider creates a clear call to action and allows for countless slide variations. My goal with this theme was to remove as much fluff from the homepage as possible. The result is a clean, slider-based design that presents your visitors with a few select pieces of information. For most small businesses, this is an ideal structure. For more info, be sure to check out the Live Preview as well as the Features Page.
LeanBiz Features
1. Four Unique Colorschemes – LeanBiz comes with four different colors, including Grey, Blue, Green and Purple. You can easily switch between these different styles from within the ePanel Theme Options page.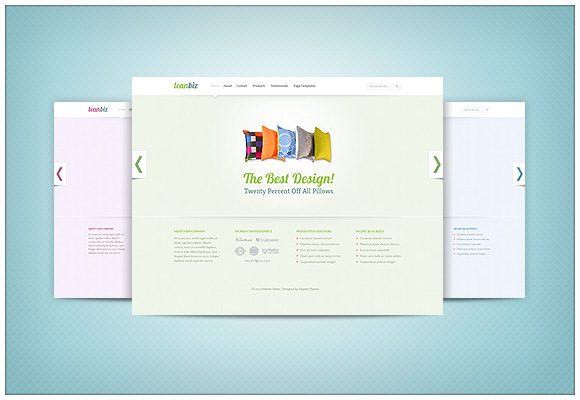 2. Versatile Homepage Slider – The homepage slider is the standout feature of LeanBiz. With 8 different slider variatons to choose from, creating a unique and interesting homepage is quick and easy. The slider makes it simple to add transparent PNG images, bordered image, videos, text-only slides and to align them in various fashions. You can also create a unique title, description and button text for each slide. The slider also allows for variable heights, allowing you to add any length of content to each slide.