I finished another theme today entitled LightSource. This theme is great for personal-style blogs looking for a fun and colorful design.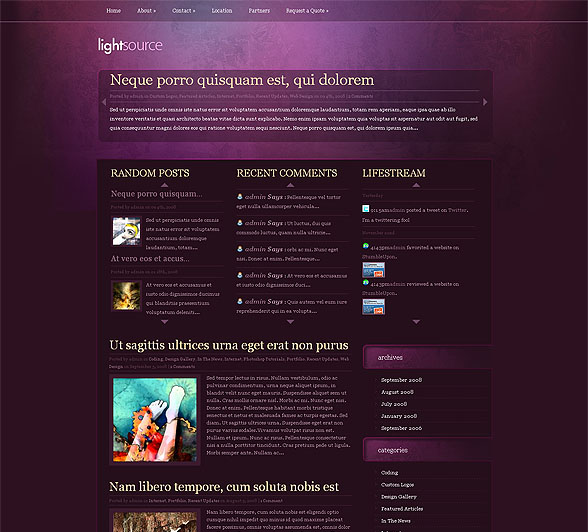 1. Three Unique Color Schemes
The theme comes with three unique color schemes that can be alternated from within the theme's custom options page.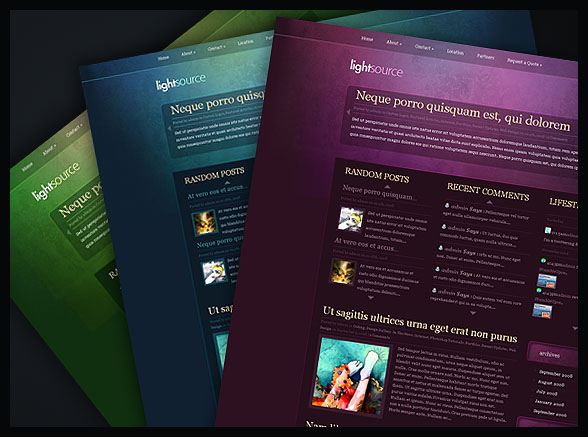 2. Optional Blog-style Post Layout
If you don't like the theme's post structure you can choose to use the optional blog-style layout to display full length articles and images on the homepage.
3. Advertisement Options
This theme comes with three ad-ready areas. You can add up to 4 125×125 pixel banner ads in the sidebar, a 250×250 ad in the sidebar, and a 468×60 pixel banner on the bottom of single post pages. All of these banners are managed from within WordPress.
4. Three Tier Dropdown Menu
By default all pages and subpages are organized into a dropdown menu navigation bar.
5. Automatic Image Resizing
All thumbnail images are automatically resized using timthumb. Each post only requires a single custom field, furthermore, thumbnails are optional.
6. Lifestream Integration
Paralleling the blog's tradition/personal style design, I have integrated a lifestream plugin that can aggregate information from various social media websites (such as twitter, digg, etc). The lifestream is displayed on the homepage as well as in the sidebar, nested within a jQuery slider.
There are more features as well. For more information, check out the live demo and the features page.