A staggering 80% of the population are using smart devices to browse the internet – so an online business that doesn't tailor their website to cater to mobile users is simply leaving money on the table.
Setting up Google Voice for your business' phone number can help you take a solid step towards mobile optimization nirvana. For a start, it saves your visitors time, and also cuts out the frustration involved in copy and pasting a number. Also, while click-to-calls arguably lead to a better user experience, there's no doubt that they offer higher conversion rates for business owners.
In this post, we'll show you how you can set up Google Voice for a business phone number. However, before we begin, let's take a look at why it's important to optimize your website for mobile traffic.
Why You Should Mobile-Optimize Your WordPress Website
Over the past few years, mobile devices have become the preferred method of browsing the internet. Regardless of the niche your WordPress website operates in, optimizing for mobile users is essential.
Before we get on how to set up Google Voice, here are the key reasons for making sure your website is mobile-optimized.
You'll Potentially Receive an Increase in Mobile Traffic
1.2 billion people currently use mobile technology, so if they're browsing the internet, it's likely via a mobile device. What's more, the number of mobile users is expected to continue growing rapidly in the future. In a nutshell, you'll need to optimize your website for mobile traffic simply because everybody uses the platform.
Mobile content consumption exceeds that of desktop computers, and part of the reason is down to mobile's suitability for looking up information such as weather updates, news, and sports headlines quickly. Web sites that aren't mobile-friendly could end up losing traffic, or face an increase in their bounce rate. Your customers don't just want you to have a mobile-optimized site – they expect it.
Mobile Users Behave Differently to Other Internet Users
When surfing the web from different devices, you may have noticed your browsing habits differing from that of your desktop. This happens because people have a tendency to behave differently across multiple devices.
For instance, images and short videos are arguably more prominent on mobile, which could impact the user's habits. Similarly, integrating mobile-ready contact forms enables visitors to connect with your business more easily. Understanding the behavior of mobile users goes a long way in creating a design that's more accessible to them.
You Could Receive More Social Media Referrals
Studies show that nearly 80% of social media time is spent on mobile devices. Online business owners who leverage this with social media marketing campaigns can expect a large part of their traffic to be accessing their site through mobile devices.
It stands to reason therefore, that web sites lacking in mobile optimization are missing out on the number of visitors they could potentially attract from social networks. On the other hand, websites designed with mobile traffic in mind are often able to draw in more visitors who happen upon their site while browsing their social feeds.
Google Takes Mobile-Optimization Into Account
There's no denying that Google's search algorithm favors mobile-optimized websites. Therefore, the responsiveness and accessibility of your website has a direct effect on its potential to attract incoming organic traffic.
Web sites that fail to make their web pages responsive are heavily penalized by Google's mobile-friendly ranking algorithm. If you're worried about your own site's mobile friendliness, you can check out how your site scores by using Google's easy to use Mobile-Friendly Test.
Now we've looked at the benefits of mobile optimization, let's dive deeper into Google Voice, and how it fits into your mobile-optimized website.
What Google Voice Is and How It Can Benefit You
Google Voice gives online business owners some really useful calling features that aren't dependent on your mobile device or carrier. These include voicemail transcription, personalized greetings, international calling, conference calls, and number porting.
Upon registering, you'll receive a phone number free of charge that can be set up and customized through your account. For example, you can have all of your incoming calls forwarded to both your personal and work numbers. You can even switch between the phones you've configured!
Google Voice is incredibly beneficial for users who've listed their business phone number on their website, for the following reasons:
You can unite many different phone numbers under a single number.
It gives you lots of customization and configuration options to determine how calls are handled.
It features voicemail to text transcriptions.
From a mobile-optimization perspective, Google Voice eliminates the need for cramming multiple phone numbers onto a small display, and potentially confusing the visitor. By providing a single phone number, you're giving your customers the greatest chance of contacting you. In addition, mobile users can simply tap the phone number you've listed to place a call instantly – and as we said, click-to-call offers greater conversions.
It's clear that Google Voice has some definite benefits for business owners. In the next section, we'll show you how you can set it up on your WordPress website.
How to Set Up Google Voice for a Business Phone Number on Your WordPress Website
We've already established that since it's likely most of your incoming calls will be from mobile devices, it's important to optimize your website for mobile traffic. By extension, embedding your Google Voice number directly onto your WordPress website enables your visitors to call you by simply tapping on the contact number.
If you don't already have a Google Voice number, you'll need to navigate to the Google Voice page, and log in with your Google Account credentials. Once you're there, navigate to the Get a Voice number link in the left sidebar:

In the Upgrade your account window that appears, click the I want a new number button to proceed: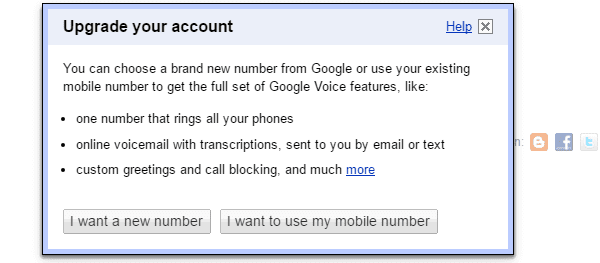 In the next window, add the number you'd like to have your Google Voice calls forwarded to, and click the Continue button. For now you just need to pick one primary number. Don't worry, you'll be able to add more numbers later on: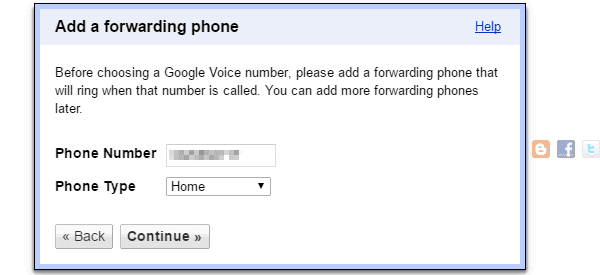 Next, verify the number you listed in the previous step by clicking Call me now and entering the verification code when prompted:

Finally, pick a Google Voice number by adding your area code or some word that's easy to remember to the number given earlier – you'll be asked to enter a voicemail PIN here – and that's all there is to it! You now have a Google Voice number set up that you can embed into your WordPress website.
Next up is adding the number to your site – and it's as simple as using the standard text widget.
How to Set Up Google Voice Using Code
While there used to be a plugin for setting up Google Voice, it's no longer maintained. Therefore, the only way to embed a contact number is by implementing a few lines of code. However, if the thought of coding sends your head into a spin, don't worry! We'll walk you through the process.
It's also worth mentioning here that the proper format for adding any telephone number to your WordPress website is <Country Code> <(Area Code)>-<Local Number>. For example, +1 (234) 567-8901.
Firstly, navigate to Appearance > Widgets in your WordPress dashboard. From here, browse the widgets under the left-hand Available Widgets section, and look for the standard Text widget. Drag it to the area on the right where you'd like to include the clickable number, and once dropped it will expand to show two fields: Title and Content.
From here, you'll need to enter in a line of HTML into the Content section as follows:
<a href="tel://12345556789">+1 (234) 555-6789</a>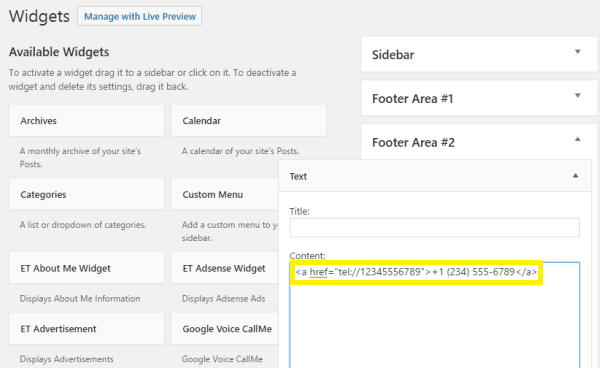 Remember to click the Save button when finished! Once you've saved it, you should see it displayed as a link on your site, ready to be clicked by visitors: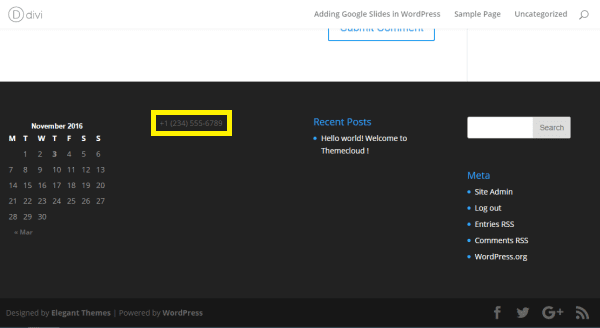 While this code enables your mobile visitors to click and call you, desktop users will get an error message. If you'd like to enable all of your site's visitors to contact you, simply add this line of code to your Content field instead:
<a href="callto://12345556789">Get In Touch!</a>
However, although this method is simple and straightforward, it doesn't give you any options to configure your Do Not Disturb settings. If you have a customer support team, and they're available 24/7 to answer your calls, this will be ideal  – but everyone else will want to weigh up whether this method is suitable.
Finally, adding a click-to-call Google Voice number is easily implementable using Divi by adding the Code Module to your site. It works in exactly the same way as the widget – by adding the code to the Content field. What's more, you can further customize the number by adding specific CSS classes using the options at your disposal.
Conclusion
Setting up Google Voice for your business phone number, and adding the number to your website, makes it easier for mobile internet users to contact you. What's more, it has a positive impact on the customer's experience, and could help increase your revenue.
In this post, we've covered a straightforward method for setting up Google Voice in WordPress:
Obtain a new phone number from your Google Voice account.
Add a text widget (or use Divi's Code Module) to the relevant area of your site.
Paste in a line of HTML code, along with your Google Voice number.
Do you have any questions about setting up Google Voice for a business phone number? Get in touch via the comments section below, and don't forget to subscribe so you can follow the conversation!
Article thumbnail image by smilingfresh / shutterstock.com.