WordPress registration pages enable people to sign up to your site, and subsequently log in using their credentials. WordPress comes with a default registration page that does the job, but it's less than ideal. A better option is to create a custom WordPress registration page that fits your specific needs – the question is: How do you go about creating one?
This article will firstly take a look at why you might want to add a custom registration page to your WordPress website. We'll then guide you step-by-step through how to create your own custom page using one of our recommended plugins. We'll also take a look at several other plugins that may fit your needs.
Why You Should Create a Custom WordPress Registration Page
There are plenty of reasons why you might want users to register for your site. You may want visitors to sign in to view certain content, for example, or perhaps you want to enable registered users to contribute to your site via posts, images, videos, or comments.
If you want to enable user registration for your site, it can be done quickly and simply within your WordPress settings. In the dashboard, navigate to the Settings page, select General, and in the resulting screen under Membership, check Anyone can register:

Here, you can also define the default user role using five options including Subscriber, Contributor, and Author. Once you're done, scroll down to the bottom and hit Save Changes.
If you have the Meta section enabled in your site's sidebar, you'll see a Register tab that users can click on to enter their details. They'll be directed to the default WordPress registration page to enter their username and email: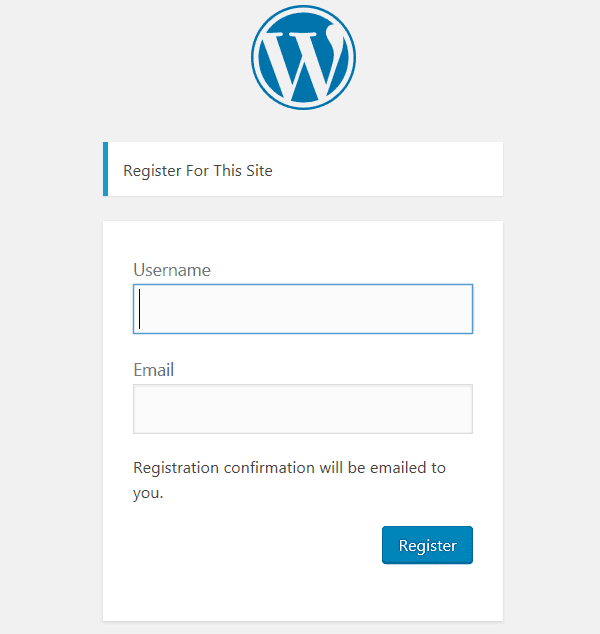 Once complete, they'll receive an email with a link to an automatically generated password that can be altered by the user.
The Problems with the Default Registration Page
While this process is simple and convenient, there are several problems. Firstly, it takes users away from your main site to a WordPress branded page, which can dilute the user experience. Also, the form only offers two very basic fields, and you may want the opportunity get more information from the users that are signing up to your site. In addition, the default registration process gives users access to their profile from the back end of your WordPress site. Even with very limited rights, it's a security minefield.
Finally, even though it's functional, the form is aesthetically unappealing and impractical. Ultimately, it leaves plenty of room for improvement with regard to both the admin and user experience.
The Benefits of Using a Custom WordPress Registration Page
Fortunately, you have the option of creating your own registration forms for your site. Creating a custom WordPress registration form offers the following potential benefits:
Limit admin panel access: You no longer have to rely on the default user role settings, and can decide exactly who sees what.
Create additional fields: You can create as many fields as you need to acquire all of the information that is relevant to your website.
Embed forms on your site: Custom registration forms can be placed on pages, posts, and widgets, so you can tailor the user registration process to suit.
Add custom branding: Since the forms can be placed anywhere, you can also add your own branding or other custom media.
Improve the user's experience: The user isn't taken away from your main site in order to register, and they also get to complete a more aesthetically pleasing form.
With the pros and cons out of the way, let's take a look at how to create a custom WordPress registration page.
Introducing the Ultimate Member Plugin
Custom registration pages can be created manually, but WordPress has a number of plugins to help simplify the process. These enable you to customize your registration form, and even generate a shortcode enabling you to place it anywhere on your site. You may wish to create a dedicated registration page, add the form to an existing page, or place it in a sidebar or footer widget. For this tutorial we'll use the Ultimate Member Plugin.

This flexible and intuitive plugin offers you all the basics for creating a registration form. You can customize your form by using the drag-and-drop interface to add, edit, and rearrange fields. You can place the generated shortcode anywhere you want the form to appear.
As well as registration forms, you can also create custom login pages and user profiles. Ultimate Member offers a range of paid extensions such as WooCommerce integration, user tags, and private messaging.
Key features:
Custom form fields.
Conditional logic.
Searchable member directory.
Price: FREE | More information
How to Create a Custom WordPress Registration Page (in 3 Steps)
Now we'll outline how to use Ultimate Member plugin to create your custom registration form and page in three steps. By the time we're done, you'll have a custom registration page to be proud of – let's take a look!
Step #1: Customize the Design
Once you have installed and activated the plugin, you'll see a new Ultimate Member tab show up on your WordPress dashboard. Expand this tab and select Settings. In the resulting screen, go to Appearance and select Registration Form from the drop-down menu.
Here you can customize your form's aesthetic details including the field label display and button text and behavior: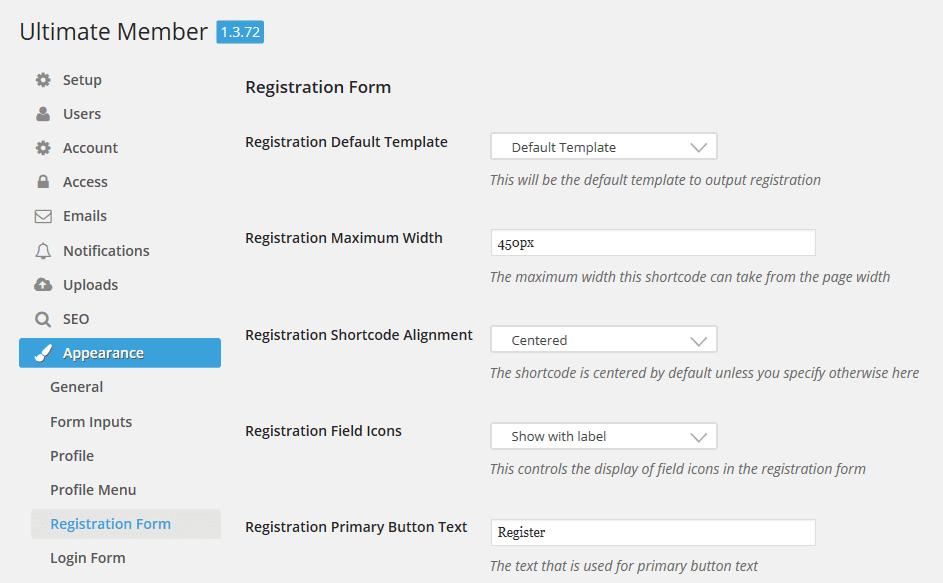 You can also use the General tab to customize form colors, and the Form Inputs tab to alter the appearance of the input fields.
Step #2: Edit the Form Fields
To customize the form fields and layout, go back to your dashboard and select Ultimate Member > Forms. You'll be taken to a screen with three pre-built forms, and it's here you can select and customize the existing registration form. Alternatively, if you prefer to use the default form, you can duplicate it and edit the copy, which is what we've done here:

Next, rename the form and use the drag-and-drop interface to add, remove, or edit fields. To add them, use the blue plus icon in the top right-hand corner: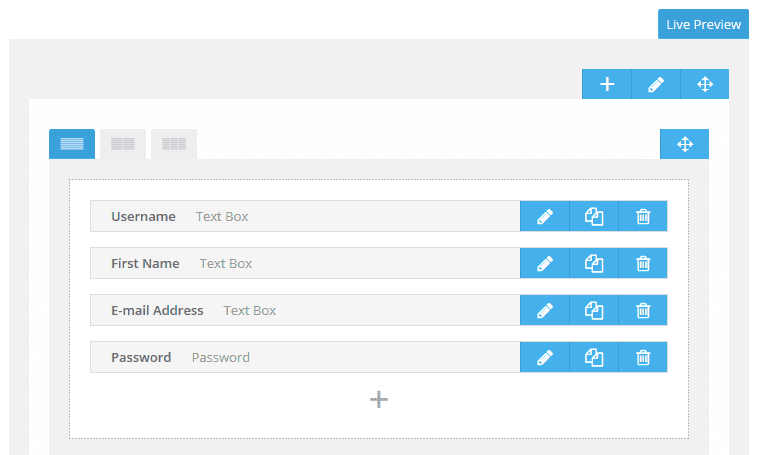 Predefined fields have built-in settings, but you can also create custom fields and tailor them to your specific needs: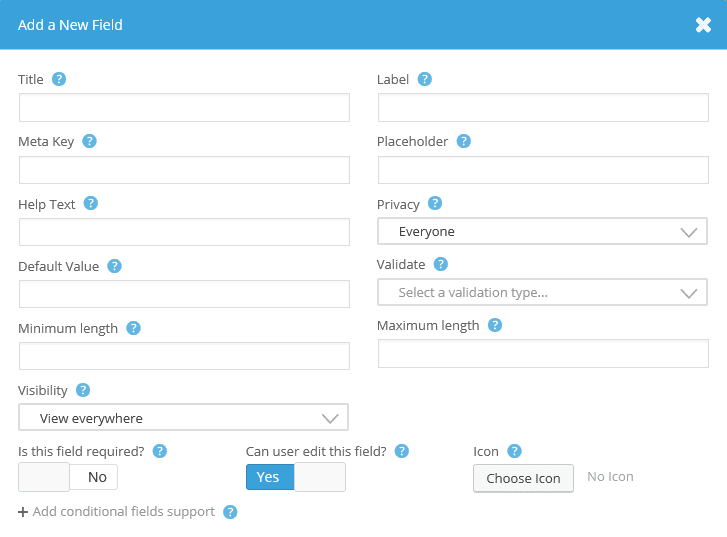 Another option within this interface is to alter the layout by adding additional columns:
Step #3: Embed the Form Into Your Site
Once you're completely happy with the look and functionality of your form, you simply take the shortcode from the upper right corner of the screen and paste it wherever you want your form to appear:

Once you have the form embedded, you can add branding, text, and other design components as you would for any other page on your site.
4 Alternative Plugins for Creating a Custom WordPress Registration Page
While we've used the Ultimate Member plugin in the example above, there are other plugins that can help you achieve similar results. Each one comes with a different set of features, so whichever one you choose will be dependent on your specific needs. Here's a list of four more plugins that we recommend for creating your custom registration page.

This plugin enables you to create a simple registration form that can be placed anywhere on your site. While the interface is a little less intuitive than that of Ultimate Member, it's still simple to create a functional registration form. You can also add a similar profile editing form for existing users. There's also a premium version available, which lets you access additional features such as conditional logic or the option of add-ons.
Key features:
Drag-and-drop interface.
Email notification options.
Username or email login.
Price: FREE | More information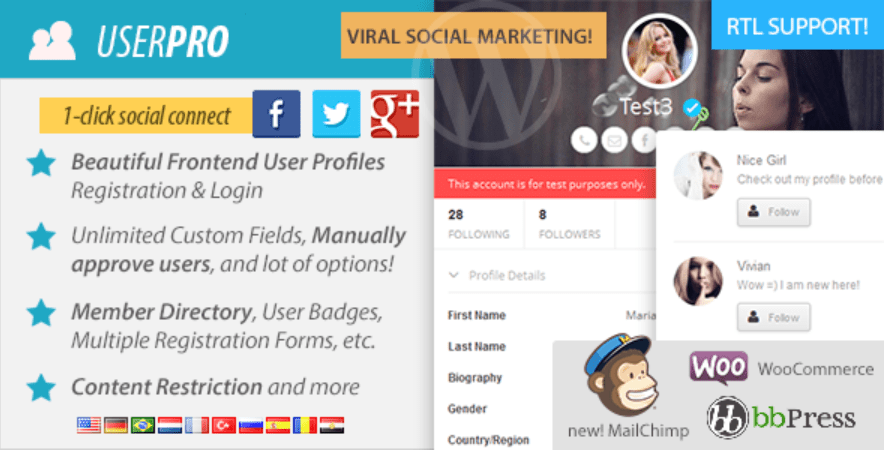 UserPro is a premium plugin that offers lots of customization to create an attractive form. This plugin is geared towards community websites, and enables users to create highly tailored profiles. It also has plenty of additional features such as social connect and integration, user badges, and content restrictions.
Key features:
Searchable member directory.
Follow and unfollow options.
Social activity stream.
Price: $34 | More information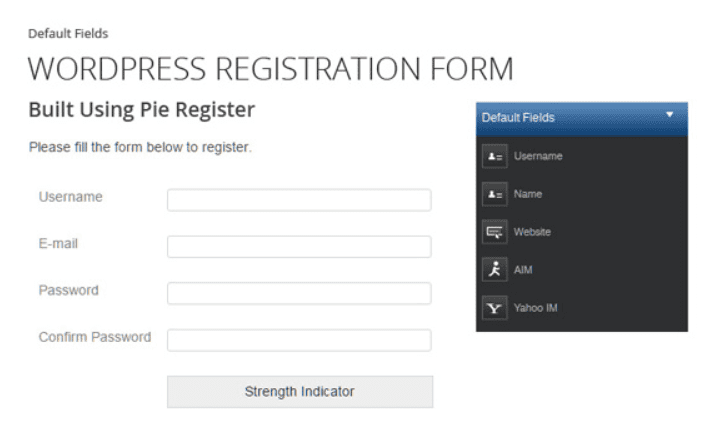 Pie Register has an intuitive interface that enables you to quickly create simple registration forms. This plugin gives you options to verify and moderate registrations, or even offer registration by invitation only. You can also create custom email templates and easily import or export select data.
Key features:
Ability to add a custom logo.
Enables user moderation.
Enables you to hide default WordPress pages.
Price: FREE | More information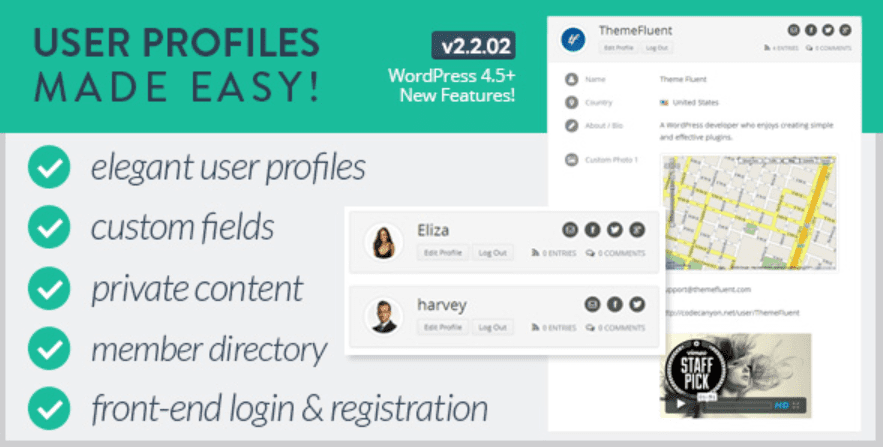 Similar to UserPro, this plugin is a great option if you want your website to be community focused. Aside from options to create beautiful and functional registration forms, users can also have highly customized front end profiles. Additional features include social login, content restrictions, and private profiles.
Key features:
Seven user registration process options.
Search Engine Optimized (SEO) profile permalink options.
Two-factor authentication.
Price: $29 | More information
Using Divi to Create a Beautiful Custom Registration Page
If you're a Divi user, you can create forms with any of the above plugins, which can be easily incorporated into any page, post, or widget. Simply create a Text module, and enter the shortcode. You can then use any combination of the other Divi modules to customize your page. Here's an example of a simple registration page we created in Divi…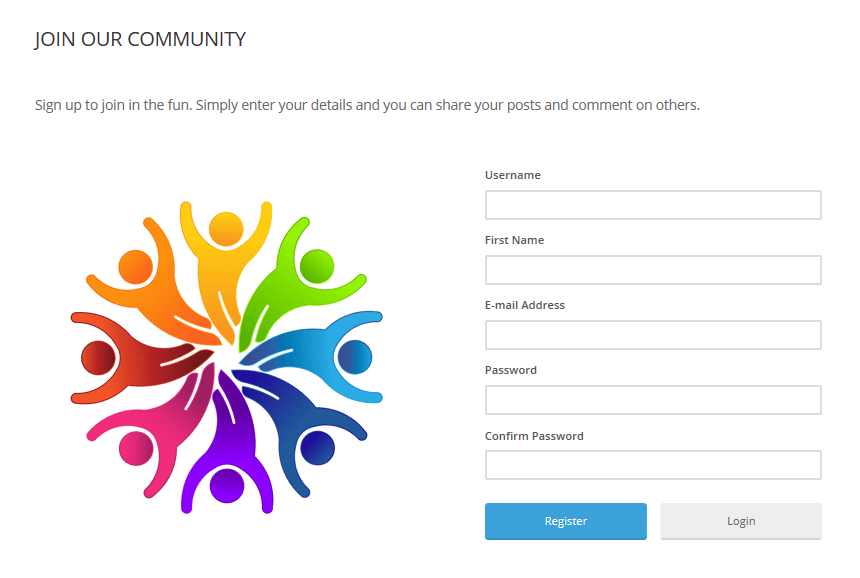 …while the Divi Builder layout we used to create this page looks like this: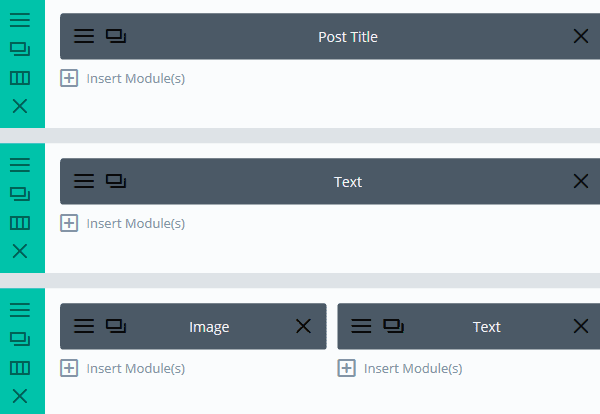 Within these, the bottom right text module contains the Ultimate Member shortcode we created earlier: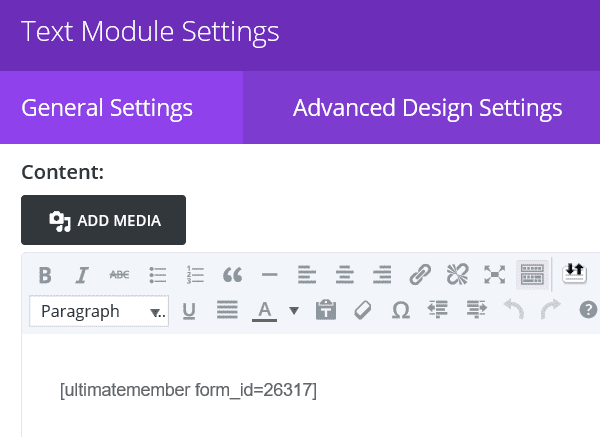 Conclusion
The default WordPress registration page offers a less than ideal solution for enabling users to sign up to your site. It comes with WordPress branding, a very limited number of fields, it's aesthetically lackluster, and it takes users away from your main site – all of which arguably lead to a poor overall user experience.
In this article we've shown you how you can use a simple plugin to create an attractive, practical, and user-friendly form. Let's recap the steps quickly:
Install and activate your chosen plugin.
Customize the design to create your desired aesthetic.
Edit the form fields to enable you to obtain the desired user information.
Embed the registration form anywhere on your site, and add any additional text and design components.
Divi users can also take advantage of its in-built elements to help create gorgeous-looking registration forms.
Do you have any tips for creating a custom WordPress registration page? Let us know in the comments section below, and don't forget to subscribe so you can follow the conversation!
Article thumbnail image by Sentavio / shutterstock.com.