We're bombarded with so many ads every day, it's no surprise many people become fed up with promotions in general. If you want your business to stand out in a sea of generic campaigns, you need to think outside the box. Experiential marketing is one way to do just that.
In this article, we'll break down the concept of experiential marketing and why it can be such a powerful tool for your business. Then we'll go over several examples of campaigns you can launch to see what works best for your brand.
Let's get to it!
An Introduction to Experiential Marketing
Traditionally, marketing is something you're subjected to. You pass billboards, see video and social media ads, listen to influencers promote products, and more. In each case, you're a passive observer.
That approach works well enough for many brands. However, advertising is so pervasive it becomes easy for some people to tune it out. It may not come as a surprise that 84 percent of millenials don't trust traditional marketing channels.
Experiential marketing is a novel approach that aims to turn consumers from passive observers into active participants. Simply put, this strategy involves any type of activity that promotes a business, a brand, or a product.
That's a rather broad definition, to be sure. However, the range of possibilities that open up once you consider what constitutes an "experience" is staggering.
Take Red Bull, for example. In 2012, they broadcast live what was, back then, the longest free fall jump in history. The whole event was orchestrated by the energy drink company, which branded it as the "Stratos" project:

Not only was the event viewed live by millions around the world, but Red Bull also enabled people to experience it with Augmented Reality (AR) and Virtual Reality (VR) technologies.
Red Bull Stratos was, and still is, one of the most unique examples of experiential marketing. Even though the viewers weren't present for the jump, the event fostered a sense of community in addition to building brand awareness.
In practice, you may not be able to orchestrate and fund the world's longest free fall. However, there are several types of experiential marketing events you can try your hand at, regardless of the size of your business.
4 Types of Experiential Marketing Campaigns You Can Launch
While extreme sports have their draw, there are many other experiences you can create to build unique and memorable marketing campaigns. Here are four fairly traditional ones you might want to consider.
1. Conferences
Conferences are a well-known type of event within the business world. They're popular arenas for sharing industry knowledge and networking with others in your field. There are many events centered around WordPress, for example.
However, some conferences have learned to harness the power of branding and transcend into the realm of popular experiences. The best example would be the famous TED Talks: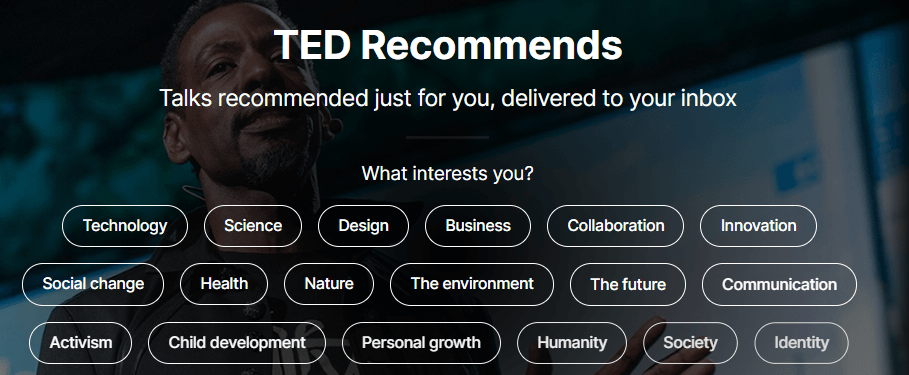 At their core, TED Talks are conferences. They're built around the concept of gathering speakers at the top of their fields and giving them a platform to dive into unorthodox topics and share their findings with attendees:

TED Talks have become massively popular through the sheer power of branding. If you want to similarly transform boring conferences into engaging experiences, you might consider:
Contacting influencers in your field who can drum up interest on social media
Promoting the event using your brand name, so people associate the experience with it
Sharing the best talks online to create conversation around them and reach people who weren't able to attend in person
Putting together a conference isn't an easy task, but it's the kind of event that can get people thinking about your brand as a leader in your field.
2. Parties
On top of being fun, parties can also be excellent venues for experiential marketing. Take the concept of a traditional restaurant or bar opening, for example:
By encouraging future patrons to taste food and drink offerings and generally have a positive experience, brands that practice this strategy are able to create lasting impressions that may lead to future business.
Plus, a party fulfills all the criteria you want an experiential marketing event to have. They're enjoyable, as well as being highly shareable online. Many people enjoy posting about upcoming or even past events they attended on social media.
When it comes to parties, it can be extremely beneficial to promote your event on social media well before it happens. Some level of exclusivity can make it more appealing as well. You might consider creating a unique hashtag that attendees can use in their own posts, for instance.
As far as inspiration goes, it's wise to avoid anything that might be perceived as "cookie cutter". The brand Desperados, for example, often hosts what they call "experiential" parties with creative themes: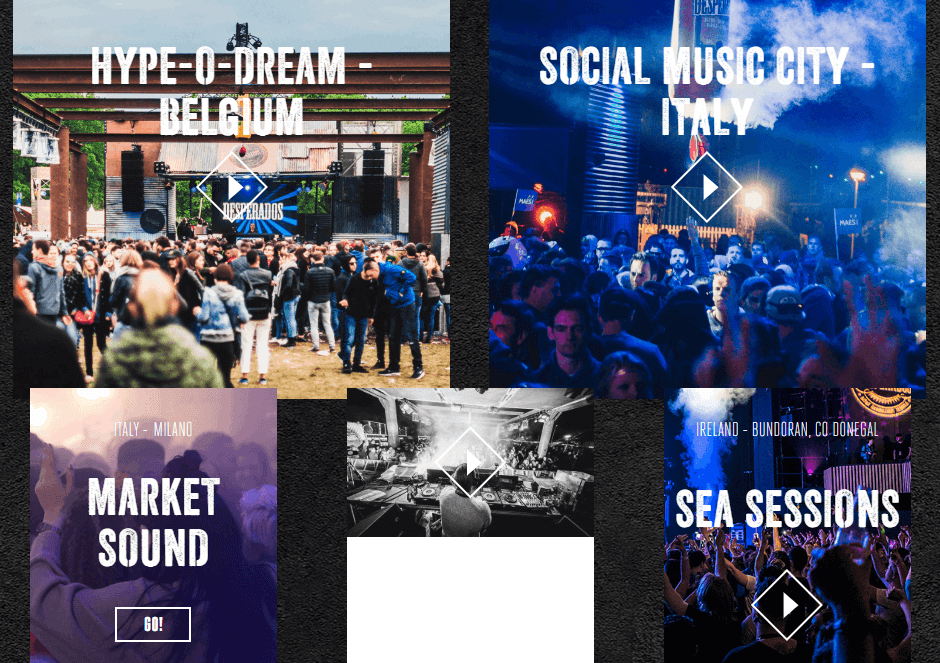 The more unique and exclusive your event, the more likely it is to generate buzz about your business.
3. Pop-Up Shops
Pop-up shops can be hard to pull off depending on what type of business you run. However, by nature, they tap into consumers' Fear Of Missing Out (FOMO) due to the fact that they're only available for a limited time.
Take Netflix, for example. They might not be in the food game, but a few years back, they launched a chain of pop-up coffee shops called Luke's to promote the revival of the show Gilmore Girls: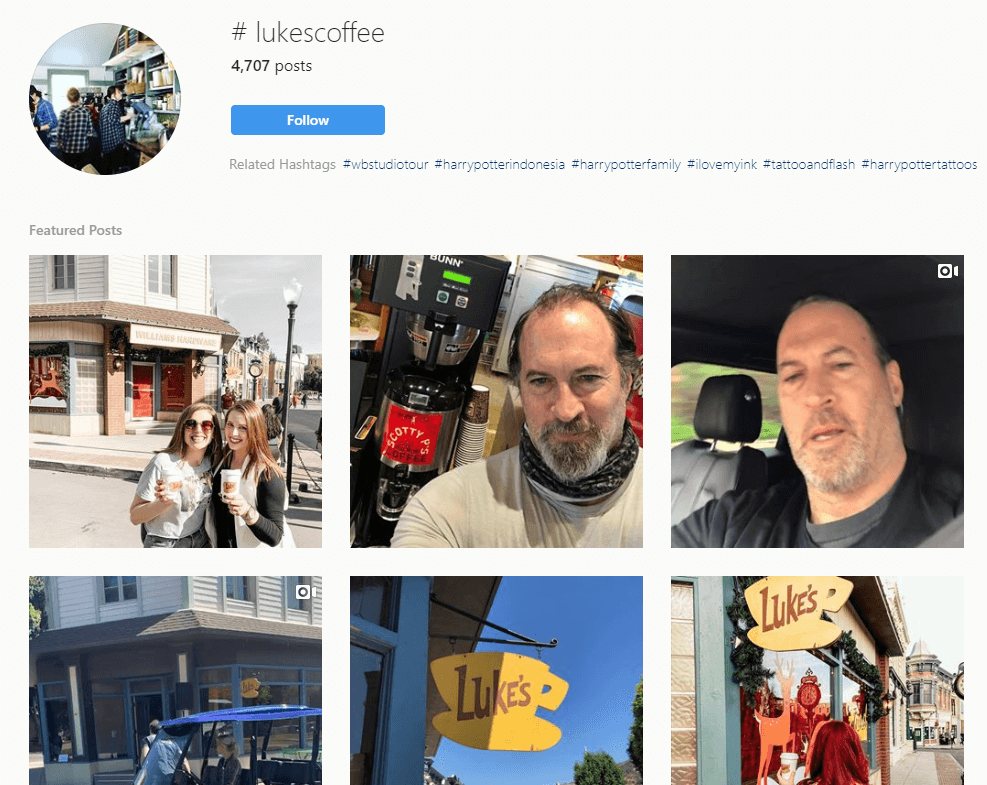 Not only was the coffee free, but nostalgia and an active fandom were enough to drag in thousands of customers. As you can see from the images above, many visitors took photos in front of the sign and shared them online, too. Every selfie became a promotion for Netflix's revival of the show.
Naturally, most businesses don't have the resources to launch dozens of pop-up shops around the country. However, that doesn't mean you can't emulate Netflix to an extent.
One of the most challenging parts of creating a pop-up shop is finding a temporary venue. Platforms including popshop and Peerspace are helpful resources for tracking down options in your area.
As with most experiential marketing events, it helps to make your pop-up shop social-media worthy. For example, if you rent a booth or storefront temporarily and sell clothing and accessories, you might set up a "selfie mirror" where visitors can take pictures of themselves wearing your merchandise.
4. Meetups
Meetups are communities of people created online who get together in person to socialize and network. They're not something you might commonly associate with marketing, even when they're sponsored. However, with the correct angle, you can transform them into opportunities to promote your brand.
The first thing you need to consider is how you can make your gathering a unique experience. One company that does this wonderfully is Built In. They write about tech and, once a month, also host a New York City meetup called Built-In Brews:

Every month, they invite people in the tech industry to have coffee and network in different startup headquarters. In the process, they kill two birds with one stone:
They promote their own brand by hosting the event and reaching out to companies.
Startups get the word out about what they do and attract talent.
There are also benefits for the attendees, who can find job and collaboration opportunities. Plus, there's coffee involved, which is a big draw for many professionals. The incentives for members and hosts go a long way to create a positive association with Built In, which helps make their brand more memorable.
Conclusion
These days, some businesses make the mistake of focusing all their promotional efforts online. Experiential marketing enables you to reach audiences and engage them in a way no other type of campaign does.
In this post, we took a look at four types of campaigns you might consider launching:
Conferences: An excellent event for attracting a more professional crowd, conferences offer an opportunity to create a highly branded experience for attendees.
Parties: By showing attendees a good time, you'll build positive associations with your business that make them want to come back and spend money.
Pop-up shops: The exclusivity of a temporary storefront will tap into customers' FOMO and encourage them to make purchases.
Meetups: Fostering community and providing incentives to members will make your brand name stick in their minds.
Do you have any questions about experiential marketing? Let us know in the comments section below!
Article thumbnail image by Animashka / shutterstock.com